The 6 Best Thrift Stores in Ottawa
Looking good doesn't mean your wardrobe has to cost a hundred bucks per article of clothing.
When you're on a budget, you know full well that there's no need to walk into the nearest luxury clothing store when there are thrift stores all around.
It's also not that rare to find branded items hidden and scattered throughout thrift stores, so you might just strike gold on your next visit.
In this article, we searched for and listed the best thrift stores here in Ottawa.
The Cost of Items from Thrift Stores in Ottawa
When it comes to shopping for items from thrift stores, prices vary depending on the article of clothing or the kind of item you're buying. You can refer to the table below for a look at the estimated costs:
| Service | Average cost |
| --- | --- |
| Pants/jeans | $9+ |
| Skirts | $6-9+ |
| Shirts | $5+ |
| Dresses | $9+ |
| Shoes | $9+ |
Top Thrift Stores in Ottawa
Although some may look down on thrift stores, it's still a shop that offers a service, and we still have to put them through a rigorous selection process. We used the following criteria to decide which ones deserve to be on this list:

1. Society of St. Vincent De Paul (Ottawa)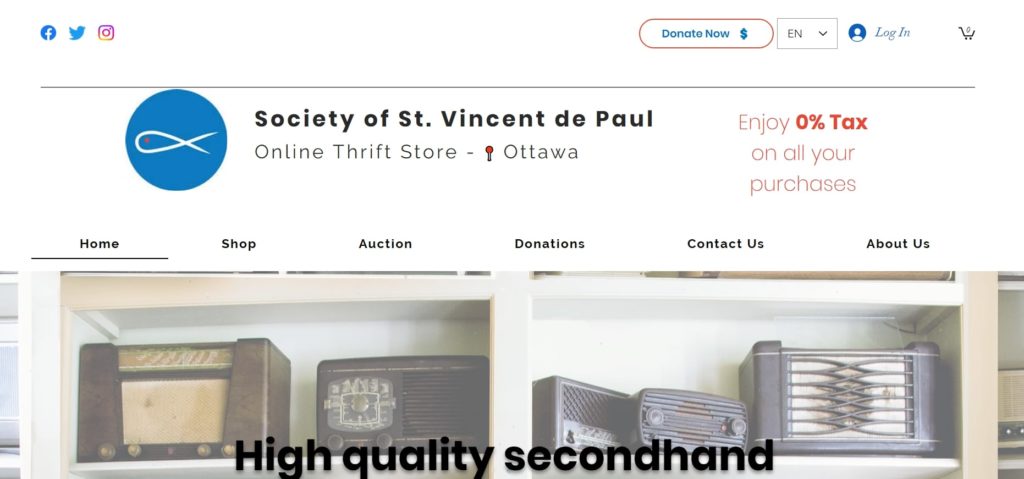 Test
Info
PRODUCTS
Clothes, electronics, kitchen appliances, books, games, DVDs, accessories
WEBSITE
https://www.stvincentdepaulonline.com/
ADDRESS
1273 Wellington St. W, Ottawa, ON K1Y 3A6, Canada
CONTACT DETAILS
613 722 7166
OPERATING HOURS
Monday - Wednesday: 9:00 AM - 6:00 PM

Thursday - Friday: 9:00 AM - 7:00 PM

Saturday: 10:00 AM - 6:00 PM

Sunday: CLOSED
| | |
| --- | --- |
| Selection | ★★★★★ (5/5) |
| Product quality | ★★★★★ (5/5) |
| Orderliness | ★★★★★ (5/5) |
| Customer feedback | ★★★★☆ (4/5) |
The Society of Saint Vincent de Paul is a lay Catholic organization that aims to make something that is secondhand, helping hands instead.
It has 3 locations open in Ottawa, so you can choose whichever is closest to you when you plan on going for a visit.
This shop offers trendy items at low prices, and it's not just clothes because it also sells a good variety of other items like appliances, books, kitchenware, accessories, etc.
Who knows, you might just find that rare collectible you've been looking for right here!
At the Society of Saint Vincent de Paul, you can enjoy 0% tax on all your purchases, and you'll be glad to know that proceeds guarantee meals for the needy. Additionally, it gives the less fortunate a safe and secure place to stay.
A cool thing about this place is that aside from buying retail items in-store, it also holds frequent auctions at its several locations. And, you guessed it, all items purchased are still completely tax-free.
Thrifting in itself is sustainable and eco-friendly, so when you purchase items at the Society of Saint Vincent de Paul, you're helping lives, saving the earth & money too.
It's a win-win situation for everyone, and all you're doing is buying pre-loved stuff.
Take note, there have been some complaints about the pricing still being too high for a few customers.
Proceeds go to charity
Wide selection of pre-loved items
All purchases are tax-free
Negative customer complaints on pricing
Customer Reviews
Amazing prices
"Super friendly staff and AMAZING prices. There is a wide selection of clothing and if you take your time you can usually find some high-end designer items at a really low price. Lots of household items, toys, books etc. all really inexpensive. This place is a wonderful service to the community and I highly encourage all to support them!" – Alice
Friendly, reliable staff
"Love coming to my neighbourhood thrift shop! Great prices and friendly, reliable staff. There are some real gems to find here if you come often enough." – Monida Eang
2. Mission Thrift Store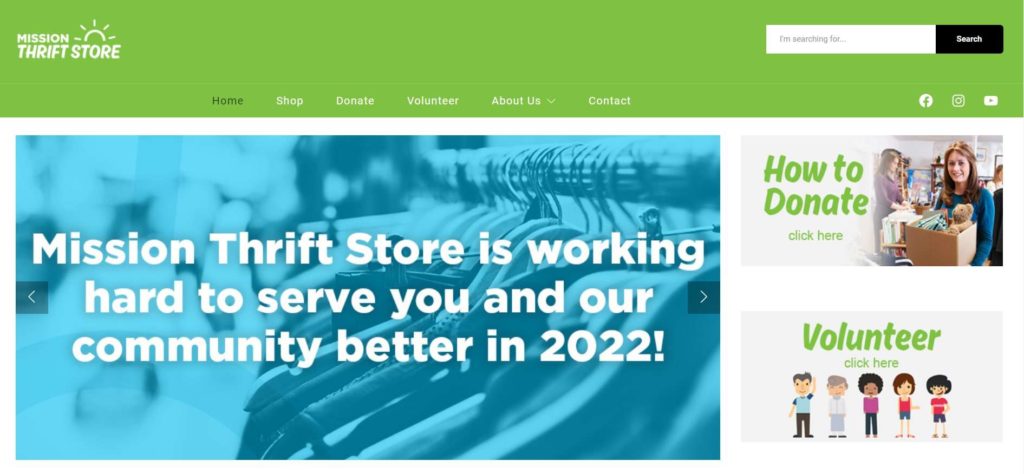 Test
Info
PRODUCTS
Clothes, toys, household items, paintings, books, DVDs
WEBSITE
https://missionthriftstore.com/
ADDRESS
1826 Robertson Rd, Nepean, ON K2H 5Z6, Canada
CONTACT DETAILS
613 288 1996
OPERATING HOURS
Monday - Thursday & Saturday: 10:30 AM - 5:00 PM

Friday: 10:30 AM - 5:30 PM

Sunday: CLOSED
| | |
| --- | --- |
| Selection | ★★★★★ (5/5) |
| Product quality | ★★★★☆ (4/5) |
| Orderliness | ★★★★★ (5/5) |
| Customer feedback | ★★★★☆ (4/5) |
Mission Thrift Store is another non-profit, volunteer-driven, Christian organization that offers pre-loved items of all kinds at its 50 stores across Canada.
Here, donated goods are converted into cash, and all proceeds are sent to fund international programs.
With how many stores it has open, you'll have a harder time deciding which branch to visit.
It's also a big advantage though because it means you can find things you need at the nearest branch if you can't find them at the first one you visited.
Even if you're in another city, chances are, there's gonna be a Mission Thrift Store available for you to peruse and shop at your leisure.
Besides, who doesn't like looking around at all the knick-knacks available and buying cool things for low prices?
We talked to several people who visited this specific branch, and they had a lot of things to say about it.
Aside from the great prices, the store is very clean and organized, and the volunteer staff is filled with kind people.
Additionally, if you have any pre-loved items you're willing to give away, the drop boxes for donations are easily accessible. You can think of it as a small favor for being able to buy quality items at low prices.
Although most customers found the staff to be very friendly, there are those that still expressed their dissatisfaction with the customer service they received.
Non-profit Christian organization
Proceeds donated to international programs
Easy-access donation dropboxes
Customer Reviews
Prices are fantastic
"I have visited this store on numerous occasions and have always found it clean and well cared for. The prices are fantastic and I have found many quality items at very good prices. I would highly recommend a visit." – Bev Allaire
Big thumbs up
"This store has become my go to place for used outdoor gear! I've found backpacks, classic snowshoes, a camping stove, even a brand new Fjall Raven shirt!!! I know this place is staffed by volunteers, so a big "thumbs up" to everyone making this place tick, you all rock! Please keep it going." – Swifty Paddler
3. The Recollective Second Hand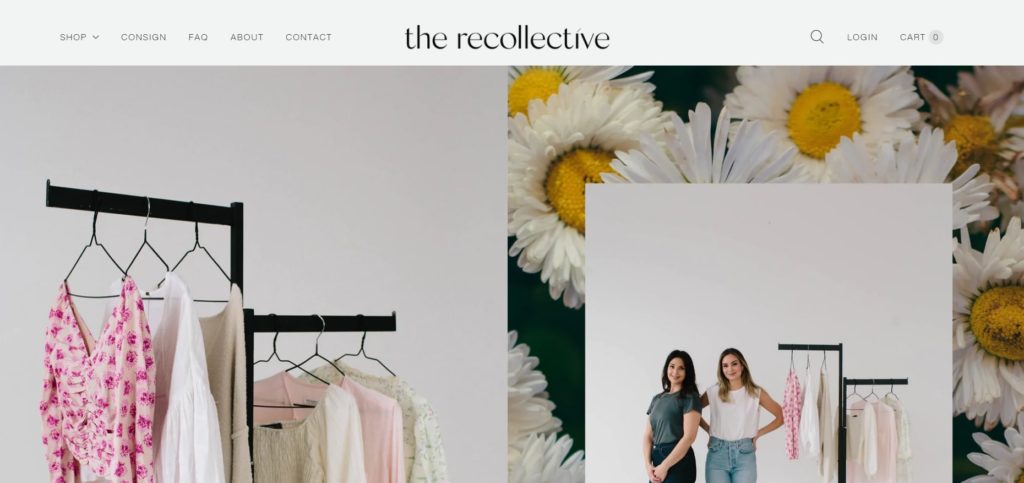 Test
Info
PRODUCTS
Clothing, footwear, accessories, handbags
WEBSITE
https://shoptherecollective.com/
ADDRESS
1281B Wellington St. W, Ottawa, ON K1Y 3A8, Canada
CONTACT DETAILS
613 728 2020
OPERATING HOURS
Tuesday - Friday: 11:00 AM - 5:00 PM

Saturday: 11:00 AM - 4:00 PM

Sunday: CLOSED
| | |
| --- | --- |
| Selection | ★★★★☆ (4/5) |
| Product quality | ★★★★★ (5/5) |
| Orderliness | ★★★★★ (5/5) |
| Customer feedback | ★★★★☆ (4/5) |
The Recollective Second Hand is a carefully curated secondhand fashion boutique in Ottawa. Unlike the previous entries, its main products are fashion items that are only gently worn, including clothes, bags, and shoes.
Currently, it's owned and operated by a pair of sisters that encourage thrifting in the fashion industry as a more sustainable and affordable alternative to regular shopping.
It makes use of its social media a lot to promote its new items, but of course, you can still visit its physical store during its open hours if you prefer that.
There's no shame in wanting to take a look at things you want to buy in person, after all.
If anything, you'll be glad to find out that the Recollective Second Hand carefully curates all the items it receives to make sure it passes the minimum requirements for its wares.
It ensures that all items that pass through its doors are genuine and of high quality.
If you're a bag collector or looking for particular branded items to gift someone important to you, this thrift store also offers branded items, especially handbags, for sale.
Its brands include but aren't limited to Louis Vitton, Gucci, Hermes, Prada, Chanel, etc.
Talk about a star-studded cast, am I right? These designer items are priced a lot more than the regular items, but still at a good reduced price compared to brand new ones.
With that said, our only regret is that it only sells fashion items for sale, so its selection is very limited to these sorts of products. It's also still relatively new, so not many people have gotten the chance to try it out yet.
Checks all items before selling
Has an online store
Offers branded items
Selection limited only to fashion items
Relatively new business
Customer Reviews
Could not recommend this place more
"I absolutely adore this place!! I have both consigned and shopped at The Recollective with Carla and Kelly and they are both amazing to deal with. Shopping here is like shopping with a friend! They are personable, welcoming and overall amazing owners! Their new location is bright and beautiful and their selection of pre loved items range in sizes and styles and the quality of the items they choose to consign are in impeccable condition. Could not recommend this place more!!" – Alanna Godfrey
A lot of variety to choose from
"This preloved shop has such a beautifully curated collection. I love all my purchases from here! They bring in a variety of designer and regular items, so you have a lot of variety to choose from. They also offer consignment services!" – Olivia Lam
4. Value Village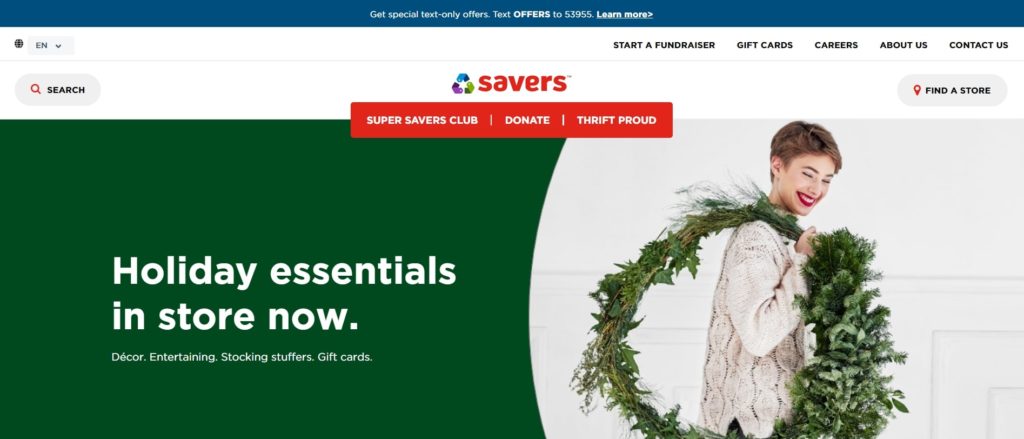 | Test | Info |
| --- | --- |
| PRODUCTS | Clothing, footwear, furniture, books, household items |
| WEBSITE | https://www.savers.com/ |
| ADDRESS | 4345 Strandherd Dr, Ottawa, ON K2J 6E5, Canada |
| CONTACT DETAILS | 613 518 2801 |
| OPERATING HOURS | Monday - Sunday: 10:00 AM - 9:00 PM |
| | |
| --- | --- |
| Selection | ★★★★☆ (4/5) |
| Product quality | ★★★★☆ (4/5) |
| Orderliness | ★★★★★ (5/5) |
| Customer feedback | ★★★★☆ (4/5) |
From its humble beginnings in 1954, Value Village is now a multinational thrift store with branches across the US, Canada, and Australia. It has since partnered up with local nonprofit organizations by buying its supplies through them.
What's more, it funds its own recycle and reuse program that prevents 700 million pounds of reusable items out of landfills yearly. If you ask us, that's definitely a good reason to help by purchasing from this store.
Value Village uses items donated to nonprofit organizations and pays them for their partnership before selling these products at its stores.
Thrifters are unknowingly funding and helping organizations and programs even just by buying a pair of preloved jeans.
In Ottawa alone, there are several Value Villages open that you can visit and take a look at what cool things it has in stock.
A visit to one thrift store can already have you looking around for hours, so what more if it has more than 2 branches in a single city?
It's not like you're going to visit each store once each day, so by the time you drop by again, it's pretty much guaranteed you'll find new things to gawk at.
Fair warning, there have been incidents of staff being rude to customers, so just keep an eye out and don't be afraid to contact management if something like that happens.
Multinational company
Multiple branches within the city
Partners with nonprofit organizations
Customer Reviews
Very unique
"That place is very unique. I spend a lot of gas and time just to buy from there, even it will cost me money, gas and so on because they have an amazing new items every single day. I can't wait for the weekend to see the new stuff. I am busy most of time, but still love to attend" – Hamza Alshehadat
Amazingly helpful
"I haven't shopped here yet as I'm new to the area, but the three times I've dropped off items in their drive-through bay, the staff there have always been amazingly helpful with assisting, even when it's early and they haven't officially opened. Definitely drop off your donations to this location!" – Laura Aliaga
5. Fabrick Collective
| | |
| --- | --- |
| PRODUCTS | Clothes, Footwear, Outerwear, Gears, Toys, and Books |
| WEBSITE | https://www.fabrickcollective.ca/ |
| ADDRESS | 1273 Wellington St. W, Ottawa, ON K1Y 3A6, Canada |
| CONTACT DETAILS | Contact them via their website |
| OPERATING HOURS | Contact them for more information |
| | |
| --- | --- |
| Selection | ★★★★☆ (4/5) |
| Product quality | ★★★★☆ (4/5) |
| Orderliness | ★★★★★ (5/5) |
| Customer feedback | ★★★★☆ (4/5) |
In the ever-expanding realm of thrift stores, Fabrick Collective reigns supreme, offering a harmonious blend of exceptional services and unbeatable convenience that sets them leagues apart from the competition.
At Fabrick Collective, our journey began with a seamless shopping experience that left us in awe.
From the moment we walked through the door, the well-organized layout and meticulously curated sections spoke volumes of the company's commitment to providing a premium thrifting experience.
Our expedition felt like a treasure hunt, with hidden gems waiting to be discovered at every corner.
Our interaction with Fabrick Collective's team left an indelible mark. Their staff's expertise was not only apparent but commendable, as they effortlessly guided us through their diverse collection.
Their passion for sustainable fashion echoed in their guidance, transforming our visit into a fashion education session.
The heart of Fabrick Collective's allure lies in its reputation for quality. It's not just a thrift store; it's a haven for fashion enthusiasts seeking both uniqueness and excellence.
The handpicked selection showcases their discerning eye for trends, ensuring that every piece resonates with fashion-forward individuals.
Amidst the euphoria of fashion finds, the question of cost remains pivotal.
Fabrick Collective stands as a beacon of affordability without compromise. Our shopping basket brimmed with treasures that didn't dent our wallet.
It was a refreshing departure from the exorbitant prices often associated with high-end thrift stores.
The convenience quotient at Fabrick Collective is another chapter worth celebrating.
The strategic placement of items and user-friendly signage created a seamless browsing experience.
We effortlessly navigated from vintage clothing to contemporary accessories, all under one roof. It's a thrift store that values our time as much as our taste.
Sadly, they can get busy during peak days. We advise booking ahead of time.
A thoughtful selection of fashion treasures
Style that suits every budget
Navigating fashion trends with confidence
No special promos at the present
6. The Salvation Army Thrift Store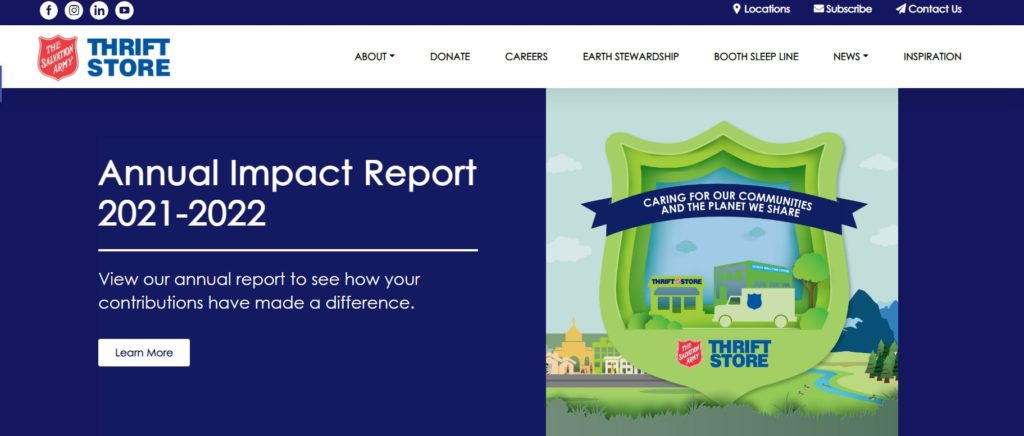 Test
Info
PRODUCTS
Clothing, computers, accessories, antiques & collectibles, electronics, housewares, toys
WEBSITE
https://thriftstore.ca/
ADDRESS
1490 Richmond Rd, Ottawa, ON K2B 6S1, Canada
CONTACT DETAILS
613 726 7136
OPERATING HOURS
Monday - Saturday: 10:00 AM - 8:00 PM

Sunday: CLOSED
| | |
| --- | --- |
| Selection | ★★★★☆ (4/5) |
| Product quality | ★★★★☆ (4/5) |
| Orderliness | ★★★★☆ (4/5) |
| Customer feedback | ★★★★☆ (4/5) |
The last entry on our list of the best thrift stores in Ottawa is the Salvation Army Thrift Store. It has a long history, as its founder created the organization during the 19th century.
These days, the Salvation Army Thrift Stores across Canada are overseen by the Salvation Army National Recycling Operations. Naturally, proceeds from all its sales are redirected to its charity programs and even emergency services.
The advantage of shopping at this thrift store is that you'll probably come across brand-new items because it also receives donations of that sort.
Any preloved item is also gently loved, meaning they're definitely still wearable.
If clothes aren't your thing, Salvation Army also carries a lot more stuff than just wearable items and accessories.
You can find antiques & collectibles, DVDs, vinyl records, toys, and even brand-new mattresses if you're planning on replacing yours.
On the off chance that you changed your mind about the product you bought, its return policy is sadly only applicable to wearable items like clothing and footwear, for example.
Any other type of item purchased from its stores are final sale, so just remember that.
You can't please everyone, and for Salvation Army, there's a small number of complaints about the prices of its wares. Most of them felt the prices were getting a bit too close to prices for brand-new items.
Many locations
Great selection of items
Proceeds are directed to many charities
Customer Reviews
Thank you
"Thank you Salvation Army, every time I visit this store I find true treasures, this time real Royal Dolton and Japanese porcelain!" – Van M.
Very friendly
"The manager is very friendly and her staff too, my experience has been very good on Richmond Road, the prices are always good and I have found better products than other stores so I visit the store." – Ian Kastle
FAQs about Thrift Stores in Ottawa
---
There's nothing like going out somewhere away from home in a fresh new outfit for the day.
You can check out our article on the top bookstores in Ottawa to find a new book and show off your new fit in the process!