The 5 Best Sprinkler Repair Services in Ottawa
What do you do when your sprinklers stop working? You go and get it repaired, of course!
There are a lot of sprinkler repair services available here in Ottawa, but the trouble is choosing the best one for you. In this article, we'll take you on a tour of the best sprinkler repair services in the city.
The Cost of Sprinkler Repair Services in Ottawa
Sprinkler repair costs varies depending on what parts you need to repair and the kind of sprinkler system you have installed. You can refer to the table below for the estimated costs of sprinkler repairs:
| Tests and Screenings | Average cost w/o insurance |
| --- | --- |
| Average cost | $100 - $400 |
| Above-ground system | $50 - $350 |
| Drip irrigation system | $50 - $450 |
| In-ground system | $50 - $500 |
Top Sprinkler Repair Services in Ottawa
While carefully deciding which services would fit best on our list, we based our final choices on the following criteria:
1. Sprinkler Solutions from Nutri-Lawn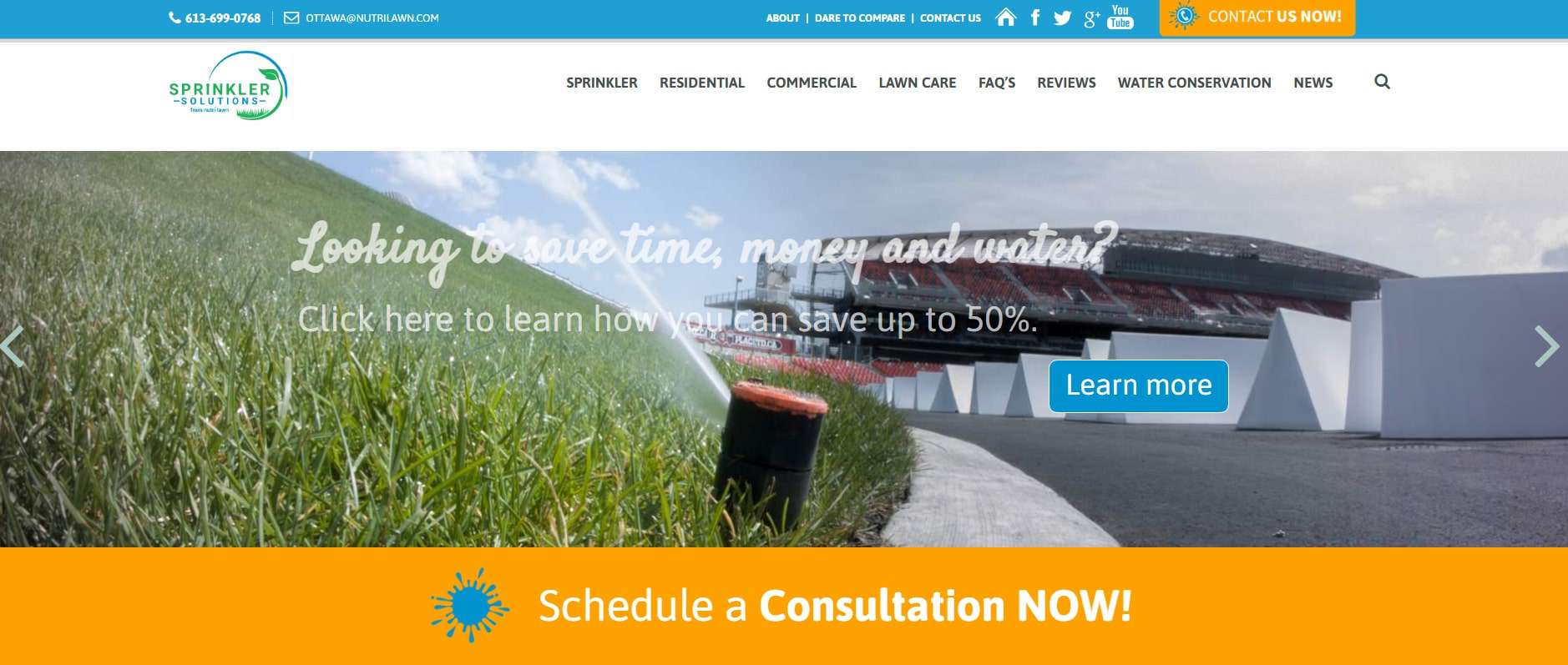 Test
Info
SERVICES
Residential & commercial sprinkler installation, sprinkler maintenance & repairs, lawn care
WEBSITE
https://sprinklersystemsottawa.ca/home.html
ADDRESS
1038 Belfast Rd, Ottawa, ON K1B 3S3, Canada
CONTACT DETAILS
613-699-0768
OPERATING HOURS
Monday - Thursday: 8:00 AM - 5:00 PM

Friday: 8:00 AM - 4:00 PM

Saturday - Sunday: CLOSED
| | |
| --- | --- |
| Rates | ★★★★☆ (4/5) |
| Customer satisfaction | ★★★★★ (5/5) |
| Available services | ★★★★☆ (4/5) |
| Areas of expertise | ★★★★☆ (4/5) |
Whether you need sprinkler repairs for residential and or commercial uses, Sprinkler Solutions from Nutri-Lawn might be the right fit for you! Its team is highly experienced in doing the most minimalist repairs at home or heavy-duty ones of any lawn size.
With a big portfolio of professional sprinkler installations alongside maintenance and repair, it's definitely made a name for itself in the sprinkler service industry. It helps that it keeps itself informed on all sprinkler-related knowledge and innovations.
As a professional sprinkler service, it ensures only the best care when dealing with your property, regardless if you need it for repairs or installations.
Sprinkler Solutions also offers and uses the top sprinkler brands when working with clients as a way to guarantee first-rate results. Plus, all of its team members are fully insured and licensed to meet all the safety requirements.
What we appreciate the most about it is that will patiently explain and take you through all the things you need to know about handling your sprinklers. Heck, written instructions are even provided, which is a big help if you're easily forgetful.
If you ask us, Sprinkler Solutions definitely deserves its spot in this list from its portfolio alone. Fair warning though, while its service definitely lives up to its name, there have been complaints over its customer service, so just keep that in mind.
Can repair residential and commercial sprinkler systems
Extensive portfolio of past work
Uses top sprinkler brands
Insured and licensed specialists
Customer service complaints
Customer Reviews
Amazing job
"I love Nutrilawn…great people, nice, honest and very thorough. Enjoy their help and service with always a smile on their face! Thanks Frank! Youre awesome! Amazing job once again! See you in the spring!" – Bas Mav
No complains
"We moved to our house 2 years ago and revamped an old system installed in 1995 by Nutrilawn. The previous owners hadn't used the system for years it appears. Steve got it up and running and so far, so good. No complaints." – Joe O'Neil
2. VS Sprinkler Systems and Service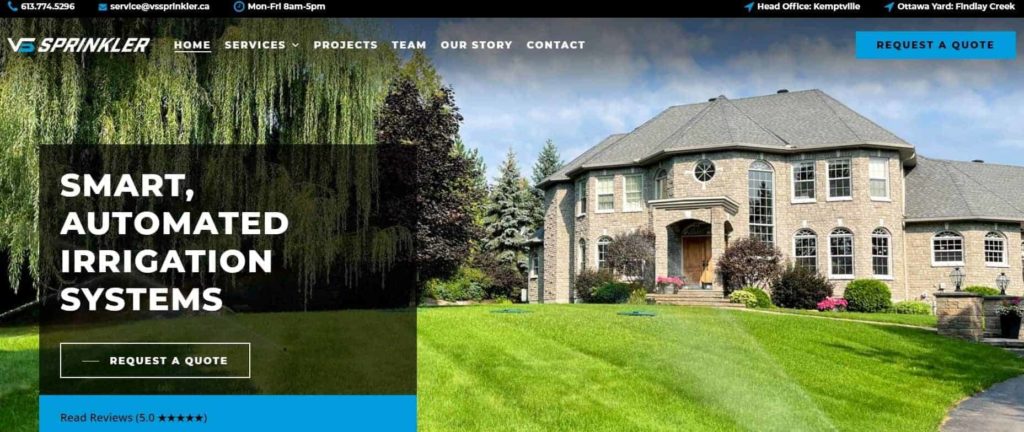 Test
Info
SERVICES
Sprinkler repairs & maintenance, lawn irrigation, landscape lighting
WEBSITE
https://vssprinkler.ca/
ADDRESS
4886 Bank St, Gloucester, ON K1X 1G7, Canada
CONTACT DETAILS
613-774-5296
OPERATING HOURS
Monday - Friday: 8:00 AM - 5:00 PM

Saturday - Sunday: CLOSED
| | |
| --- | --- |
| Rates | ★★★★☆ (4/5) |
| Customer satisfaction | ★★★★★ (5/5) |
| Available services | ★★★★☆ (4/5) |
| Areas of expertise | ★★★★★ (5/5) |
VS Sprinkler is made up of a small yet very experienced group of professionals who have a passion for irrigation and wouldn't want to be in any other industry. It seeks to continuously gain knowledge and learn new techniques to deliver the best service.
What's not to appreciate about a service that doesn't care about who installed your sprinklers and will just fix it up for you when called? There are no hard feelings if you had its competitors install your sprinklers because it'll do a great job repairing it anyway!
VS Sprinklers handles any and all repairs, whether it's some damaged sprinkler heads, water lines, controllers, and even wiring. Its team will do its best to sniff out the source of your problems, repair it, and follow it up with a check-up to make sure it's all good.
Thankfully, it serves Ottawa and other nearby areas, so even if you're not exactly in the city, you can still give it a call if you're near enough.
We interviewed some of its previous clients, and they had nothing but praises for VS Sprinklers. From its excellent customer service to the installation and repair team's expertise and promptness in solving problems, there's not much else you could ask for.
The only issue we have, though, is that it's only open on weekdays. So if you have any sprinkler issues in need of an immediate check-up, you might have to look elsewhere.
Repairs sprinklers regardless of who installed them
Oustanding repair services
Excellent customer service
Services areas near Ottawa
Customer Reviews
Reliable, informative, and very friendly
"VS Sprinkler Systems did an amazing job at our home. They were reliable, informative and very friendly. We would highly recommend them!" – Elissa
Great experience
"Professional from start to finish. Great experience. Really appreciate the thorough walk through of how the system operates and how the property was treated. Thank you to the VS team!" – Phil Carkner
3. HortiTech

Test
Info
SERVICES
Sprinkler repairs, irrigation renovations & add-ons, garden services, lighting services
WEBSITE
http://hortitech.ca/index.html
ADDRESS
Ottawa, ON, Canada
CONTACT DETAILS
613 978 0808
OPERATING HOURS
Monday - Friday: 8:00 AM - 5:00 PM

Saturday - Sunday: CLOSED
| | |
| --- | --- |
| Rates | ★★★★★ (5/5) |
| Customer satisfaction | ★★★★★ (5/5) |
| Available services | ★★★★☆ (4/5) |
| Areas of expertise | ★★★★☆ (4/5) |
HortiTech is a local business that was established in 2012 by its owner and founder who is armed with a Horticulture Technician diploma and hands-on field experience. It offers almost all services related to gardening and irrigation, including sprinkler repairs.
If you need urgent sprinkler services, it has your back with its 24/7 irrigation services that are just one call away. Although it might cost more than its regular services, it's comforting to know you can rely on it in case of emergencies.
Even if you're sprinklers aren't in need of repairs yet, HortiTech also offers irrigation system maintenance packages to help keep your sprinklers working properly. There are even priority service benefits available.
Want more than just repairs done? Aside from its repair and maintenance services, it can also do renovations and has add-ons available for your already existing system.
Starting at just a little over a hundred dollars, you can get its team to run a diagnostic on your sprinklers and do troubleshooting too. As for its urgent services, it starts at just a little over two-hundred dollars, so it's definitely a steal.
We can see why all of HortiTech's clients loved it because if there's one thing we're sure of, it's that you're getting quality services for excellent prices.
Since it's run by such a small team, however, our only worry is that you might have some trouble booking an appointment during certain seasons. Make sure to book in advance or be ready to pay a bit more than usual for its urgent services.
Certified and highly-experienced team
Offers irrigation system maintenance packages with priority benefits
24/7 irrigation service
Does sprinkler renovations & add-ons
Small team
Possibly long waiting list
Customer Reviews
Highly recommended
"I called Nick Tuesday afternoon for my leaked sprinkler pipe and he showed up Wednesday morning. No BS, got the job done quickly. He has been very responsive during the entire process… highly recommended." – Qu
Very efficient and hard-working
"Nick has looked after our gardens, sprinkler system and lighting for three years and we couldn't be happier with what he has done. Nick is very knowledgeable and has had great ideas for improving our lawns and gardens. Nick and Jim are very efficient and hard working and I would strongly recommend them." – Gregory Bell
4. Yates Sprinklers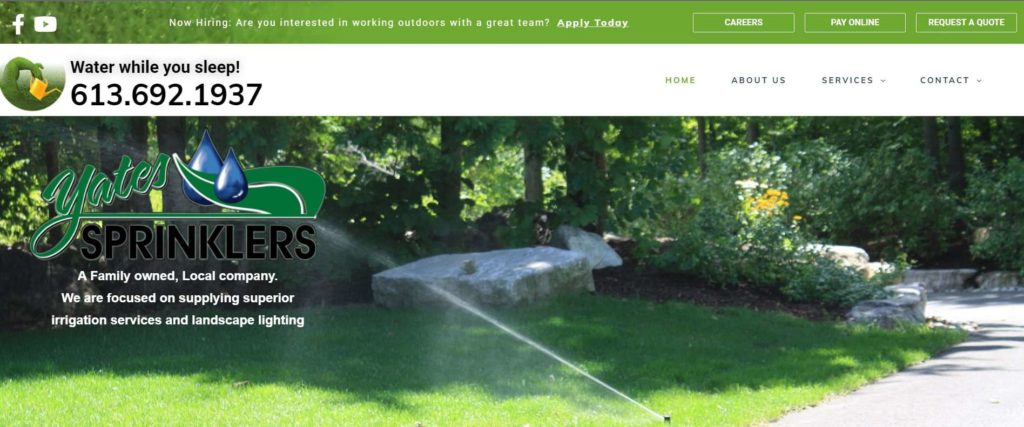 Test
Info
SERVICES
Sprinkler repairs & maintenance, sprinkler installations, landscape lighting, high-efficiency upgrades
WEBSITE
https://yatessprinklers.com/
ADDRESS
2929 River Road, Box 275 Ottawa, ON K4M 1A3
CONTACT DETAILS
613 692 1937
OPERATING HOURS
Monday - Friday: 8:00 AM - 5:00 PM

Saturday - Sunday: CLOSED
| | |
| --- | --- |
| Rates | ★★★★★ (5/5) |
| Customer satisfaction | ★★★★☆ (4/5) |
| Available services | ★★★★☆ (4/5) |
| Areas of expertise | ★★★★☆ (4/5) |
Yates Sprinklers is a family-owned local business that's been servicing the greater Ottawa area since 1990. With over 30 years of experience in the industry, it has what it takes for your residential or commercial sprinkler needs.
The first thing you should be glad to know about it is that it's a member of the Irrigation Association and Landscape Ontario's Horticultural Trade Association. That means it's established and well-known in the industry already.
Yates Sprinklers employs full-time service dispatch to answer each and every call instead of using automated phone services to make it easier for you. Its technicians are all professionally trained and follow its set of guidelines to ensure quality service.
Now, because no two sprinkler systems are alike, it offers comprehensive and economical system maintenance packages to keep your sprinklers in peak condition.
Depending on the season, you may want any maintenance and repairs done on your sprinklers and thankfully it has several annual packages available. It ranges from spring start-ups and mid-summer up to winterizations.
Its annual maintenance packages can start as low as $120 or $326, depending on which package best fits your needs. If you're unsure, you can simply give it a call to talk to one of its agents for assistance and schedule a visit.
Yates Sprinklers isn't perfect, though, because it has a few complaints about its customer service practices. Feel free to check out the other great services in this article if you think it's not for you.
Locally-owned family business
30+ years of experience
Member of the Irrigation Association and Landscape Ontario's Horticultural Trade Association
Offers annual maintenance packages
Customer Reviews
Many years of experience
"I have been using Yates for many years to maintain my irrigation system. As my system was not properly installed by another company, Rick Mowry from Yates has been able to improve it and keep it functioning well. Rick has many years of experience which has benefitted us. We constantly get compliments on our lawn which is due to the irrigation system." – Glen Robinson
Exceptional
"Just exceptional after sale service. Our sprinkler system was installed in summer 2020. This spring (2022) We found that a water drainage pipe had been inadvertently cut during the installation. Without questions, Yates promptly planned and executed the repairs. The technician, Kyle, was courteous, and professional. Although obviously busy with the repair, he took the time to explain his plan and answer any questions we had. The repair was first class. These guys rock. Here is a 6th star for this review!⭐️" – allan751
5. Avangard Fire & Life Safety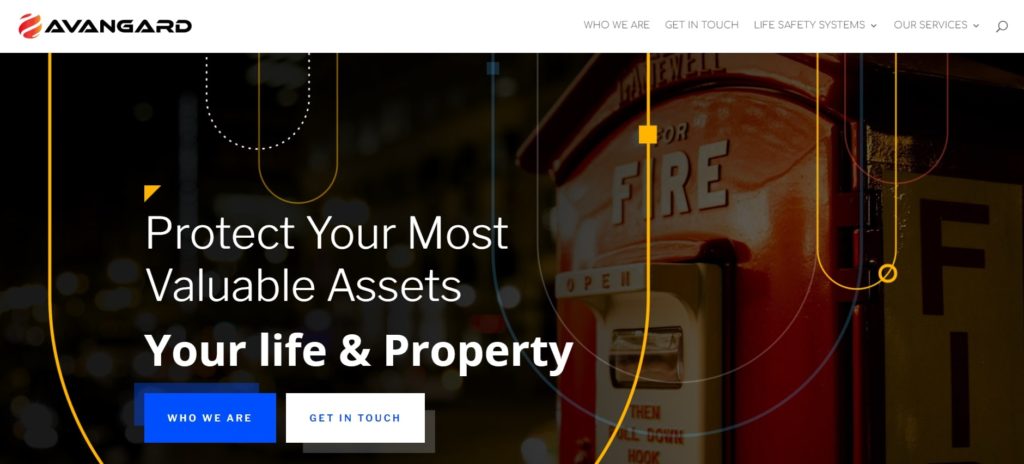 | Test | Info |
| --- | --- |
| SERVICES | Sprinkler repairs & testing, inspection & maintenance, upgrades |
| WEBSITE | https://avangardfire.ca/ |
| ADDRESS | 639 Willowmere Way, Ottawa, Ontario K1T 0K1 |
| CONTACT DETAILS | 613 223 2223 |
| OPERATING HOURS | Monday - Sunday: 8:00 AM - 4:30 PM |
| | |
| --- | --- |
| Rates | ★★★★★ (5/5) |
| Customer satisfaction | ★★★★★ (5/5) |
| Available services | ★★★★☆ (4/5) |
| Areas of expertise | ★★★★★ (5/5) |
If we're talking about sprinklers, it doesn't just mean the sprinklers we use on our lawns to keep it nice and healthy. We also use sprinklers for more crucial situations, such as emergency fire alarms, and that's why we included Avangard Fire & Life Safety.
Unlike all the previous services that specialized in sprinklers as a part of irrigation services, Avangard's specialty lies in making these sprinklers lifesavers. Its trained technicians do all your monthly and annual tests and inspections.
Because malfunctioning sprinklers can be the cause of loss of lives in the event of a fire emergency, it is adept at finding deficiencies and giving lifesaving recommendations. Additionally, following its recommendations is also more cost-effective as well.
Avangard can work with several types of sprinkler systems which include but are not limited to wet pipe sprinklers, dry pipe sprinklers, pre-actions sprinklers, etc. Whatever type you have, though, you can be assured it's equipped to repair and upgrade them.
Because maintaining the sprinklers for your emergency fire alarms are a top priority, it's available 24/7 for even sudden system failures. You can expect its help to get your systems back up and running before you know it.
With that said, repairs and maintenance for fire sprinklers can cost you more than irrigation service repairs since they're actually meant to save lives. Just be prepared to invest more in these types of repairs, especially when lives are on the line.
Specializes in fire sprinkler repairs & maintenance
Highly experienced & professional technicians
Knowledgeable in various types of sprinkler systems
24/7 emergency services
Customer Reviews
Highly recommend
"Highly recommend! We had a problem with our sprinkler system and we were quoted an astronomical sum by another large company to repair it. We found Avangard through a recommendation and decided to give them a chance because they suggested a different and more financially reasonable approach to fix the issue, and they seemed very knowledgeable. We are very pleased with the results and the service we received. Thank you guys!" – Bisher Nussaiba
Very knowledgeable
"We used Avangard to perform annual testing of our fire alarm & sprinkler systems. Their response time and communication is very fast, and their technicians are very knowledgeable." – Adnan Al Ghussein
FAQs about Sprinkler Repair Services in Ottawa
---
If you're interested in getting work done on the rest of your lawn, head on over to our article on the top lawn care companies in Ottawa to find out more!