The 5 Best Spanish Restaurants in Ottawa
There is no doubt that Spanish cuisine has a vast array of unique and delicious dishes. Whether you're looking for a quick bite or a full meal, there is certainly a Spanish restaurant for you in Ottawa.
In this article, we will take a closer look and review some of the best Spanish restaurants in the city and uncover what makes them stand out from the rest
How much do Spanish restaurants charge?
The cost of food at Spanish restaurants will depend on what kind of restaurant it is. Typically, the fancier the restaurant, the more expensive it will be.
The table below shows the seven most common Spanish food that people order and their average cost.
| Service | Average Cost Per Meal |
| --- | --- |
| Paella | 8$ - 12$ |
| Tapas | 8$ - 12$ |
| Tortilla Española | 7$ - 10$ |
| Patatas Bravas | 10$ - 15$ |
| Pollo Al Ajjillo | 10$ - 17$ |
| Cochinillo Asado | 10$ - 12$ |
The Best Spanish Restaurants in Ottawa
We took into account the following elements when searching for Ottawa's top Spanish eateries:
1. Cadena Restaurant & Tapas Bar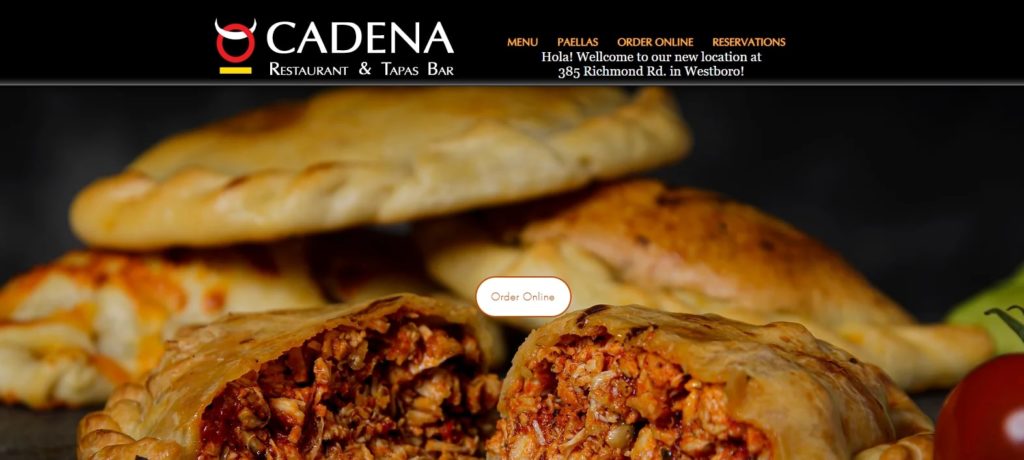 Test
Info
WEBSITE
https://www.cadenarestaurant.com/
ADDRESS
385 Richmond Rd, Ottawa, ON K2A 0E7, Canada
CONTACT DETAILS
613-695-7772
OPERATING HOURS
Monday 12–10:30PM

Tuesday 12–10:30PM

Wednesday 12–10:30PM

Thursday 12–10:30PM

Friday 12–10:30PM

Saturday 12–10:30PM

Sunday 12–10:30PM
| | |
| --- | --- |
| Criteria | Ratings |
| Rates | ★★★★★(5/5) |
| Menu | ★★★★(4/5) |
| Location | ★★★★★(5/5) |
| Serving | ★★★★★(5/5) |
For Spanish cuisine, the Cadena Restaurant & Tapas Bar is a great option. Located in the heart of Richmond Road, Cadena has a warm and inviting atmosphere that will make you feel right at home.
The location is stunning, as it features large windows and a spacious patio that is perfect for al fresco dining during the summer months.
The Spanish dishes include traditional favorites such as paella and tapas, along with an extensive wine list that includes both local and international labels.
We love that it's a good option for both groups and couples — it has something for everyone! The staff is extremely knowledgeable and helpful with menu selections and wine pairings.
The chefs are experienced and know authentic recipes that will delight even the most discerning diner. The attention to detail is stunning — from the beautiful décor to the perfectly prepared and presented dishes, everything is top-notch.
It's also great that it has both expensive and more affordable options for those on a smaller budget.
Unfortunately, the restaurant can be fully booked at times and it can be difficult to get a table without an early reservation.
Overall, it's definitely worth a visit for both newcomers to Spanish cuisine and seasoned diners looking for something new and delicious!
Exclusive
Great location
Good view for gatherings and dates
Big team of chefs
Has both affordable and expensive choices
Can be fully booked at times
Customer Reviews
Great place and atmosphere
"I went here for dinner with my wife and the quality of their paella and empanadas were fantastic. Their beef and bacon & mushroom empanadas were our favourite. Their personal Paella was flavourful and was cooked properly. Overall, it was a really great place and atmosphere. We would be coming here again!" – Christian Liu
Delicious
"Delicious, delicious, delicious! Went for lunch and ordered tapas. Waiter was friendly and helpful; restaurant was cozy and comfy; did I mention the food was good? 😃 . I like the beef empanadas the most of what we tried. Ceviche was brimming with shrimp and delightfully tangy. Patatas Bravas was crunchy on the outside and pillowy on the inside. Prices on the $$-$$$ range. I would love to try the dinner menu sometime, on a special occasion." – Indy Barnes
2. Aroma Meze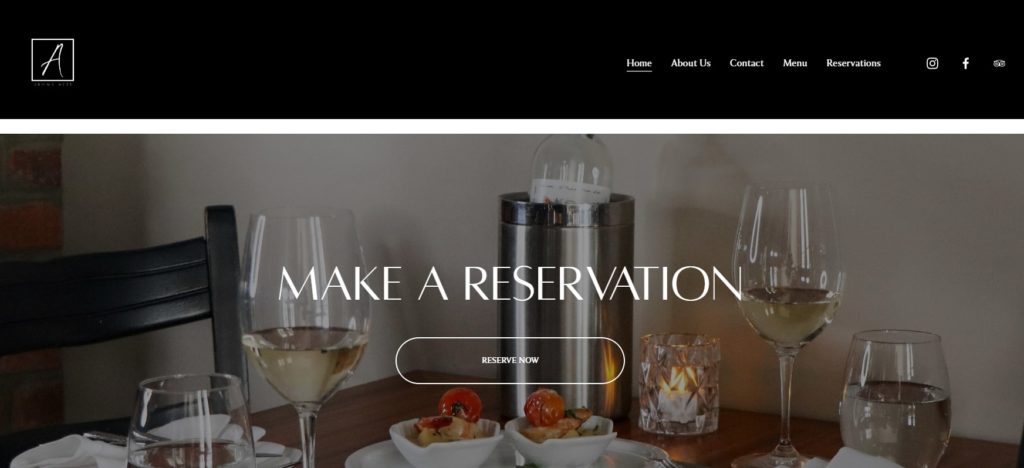 Test
Info
WEBSITE
https://www.aromameze.com/
ADDRESS
239 Nepean St, Ottawa, ON K2P 0B7, Canada
CONTACT DETAILS
613-421-0504
OPERATING HOURS
Monday 4:30–9PM

Tuesday 4:30–9PM

Wednesday 4:30–9PM

Thursday 4:30–9PM

Friday 4:30–10PM

Saturday 4:30–10PM

Sunday 4:30–9PM
| | |
| --- | --- |
| Criteria | Ratings |
| Rates | ★★★★★(5/5) |
| Menu | ★★★★ (4/5) |
| Location | ★★★★(4/5) |
| Serving | ★★★★(4/5) |
Another great option for Spanish cuisine in the city is Aroma Meze. As its name suggests, the restaurant's dishes are very aromatic and flavourful, with a variety of choices for vegetarians and meat-eaters alike.
The eatery's location is one of its selling points. It is located on Nepean Street, near Ottawa's busiest areas. Although it's close to different buildings, it's able to retain a quiet and peaceful atmosphere.
Showing Mediterranean culture in its designs on the walls and the decorations, the restaurant is full of photos from Europe. The dishes are also well decorated, with intricate details and plating.
The staff is very friendly and attentive, and that's probably why Aroma Meze has received multiple positive feedback from previous customers.
There are also sections of the restaurant that are perfect for dates and small gatherings due to its size and layout.
Speaking of gatherings, Aroma Meze is open to reservations for parties and celebrations.
The only real downside of this establishment is the pricing. It can be steep for some people.
There's also a dress code, requiring semi-formal attire, which may be a problem for some.
Overall, we still recommend Aroma Meze as one of the best restaurants that offer Spanish cuisine in the city.
Intimate setting
Great options for desserts and cocktails
Variety of European cuisine
Multiple payment options
Open to gatherings
Customer Reviews
Amazing
"My fiancé took me here for our 1 year anniversary, it will be our anniversary restaurant from now on! Amazing food and prices . Highly recommend lamb sliders and lamp tacos!! Service was great as well." – Sana Ayoub
Highly recommended
"Every dish is unique and flavorful. The atmosphere is very cosy and intimate. The waiters are lovely! And the food is impeccable. Highly, highly recommend." – Zoha G
3. Mercadito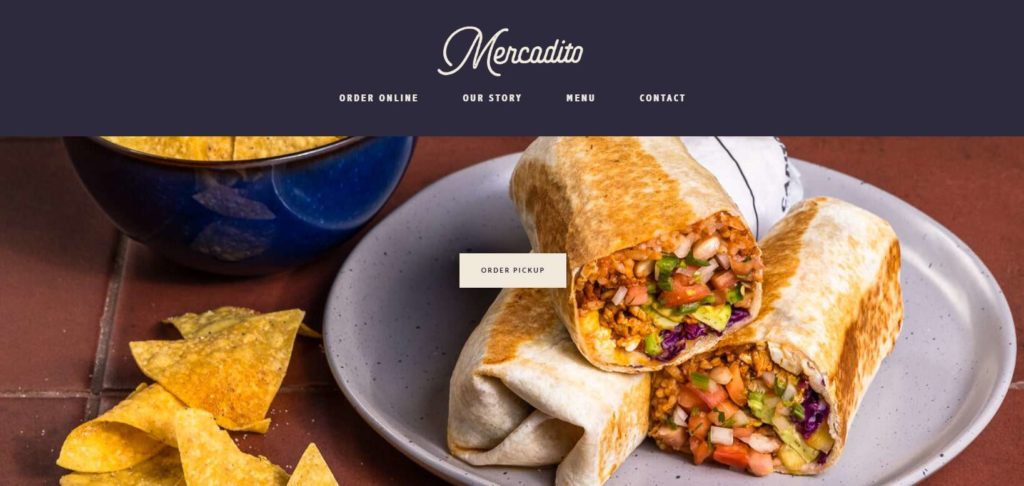 Test
Info
WEBSITE
https://www.mercadito.ca/
ADDRESS
170 Queen St, Ottawa, ON K1P 5E1, Canada
CONTACT DETAILS
613-789-9115
OPERATING HOURS
Monday 11AM–3PM

Tuesday 11AM–3PM

Wednesday 11AM–3PM

Thursday 11AM–3PM

Friday 11AM–3PM

Saturday Closed

Sunday Closed
| | |
| --- | --- |
| Criteria | Ratings |
| Rates | ★★★★★ (5/5) |
| Menu | ★★★★ (4/5) |
| Location | ★★★★(4/5) |
| Serving | ★★★★(4/5) |
Mercadito is a small eatery located on Queen Street. It specializes in both Spanish and Mexican dishes and is a popular spot for locals and tourists alike.
Mercadito means "small market" in Spanish, and that's definitely what it is going for with its aesthetics. Despite being small, it's quite spacious and provides a homey feeling that most restaurants don't offer.
Because it provides both Spanish and Mexican food, it's able to present different fusions from both cultures. There are also options for those on a diet, like fish meals and salads with unique salsa.
We love that Mercadito also has its own bar with cocktails and unique alcoholic drinks. This makes it ideal for families or friends who want to grab a quick bite but also have a drink or two while they're at it.
It's quite convenient that Mercadito accepts online orders. A lot of us prefer to eat at home but don't have time to cook, so this is an ideal option.
The only downside of this eatery is the fact that it's closed on weekends.
Overall, because of the great aesthetics and the fusion of cuisines offered at Mercadito, we believe this is a great place to grab a bite to eat with family and friends.
Accepts online orders
Combination of Spanish and Mexican food
Unique fusion of famous dishes
Experienced chefs
Customer Reviews
Fantastic
"The food is fantastic at Mercadito! Ingredients are always fresh, never greasy, great value and attentive friendly service! What is really important -the place is really clean! My favourites are chicken quesadilla, fish tacos and during the summer they make exquisite tuna ceviche, can't wait, so so good!" – Elina Olefirenko
Great portions
"Loved the food from here!! Very fresh ingredients and pretty nice portions. So delicious." – Lisa
4. La Cabaña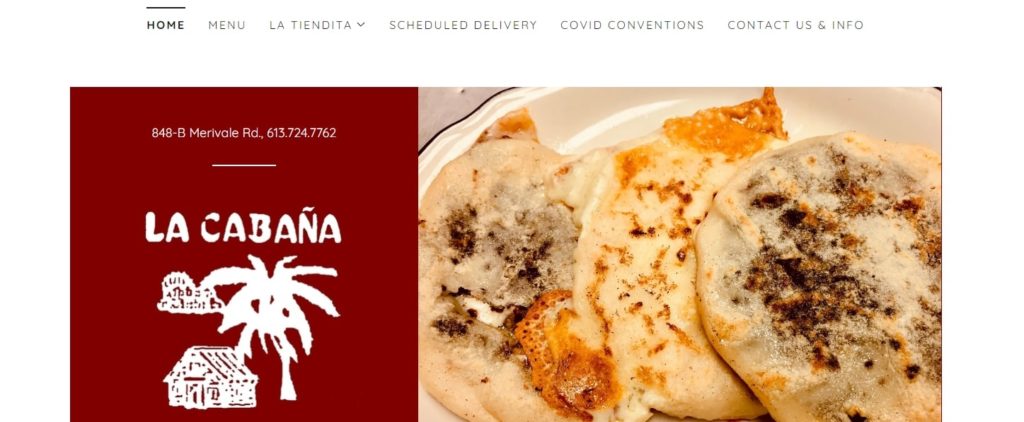 Test
Info
WEBSITE
https://lacabana.ca/
ADDRESS
848 Merivale Rd, Ottawa, ON K1Z 5Z4, Canada
CONTACT DETAILS
613-724-7762
OPERATING HOURS
Monday 12–7PM

Tuesday Closed

Wednesday 12–7PM

Thursday 12–7PM

Friday 11AM–7PM

Saturday 11AM–7PM

Sunday 11AM–7PM
| | |
| --- | --- |
| Criteria | Ratings |
| Rates | ★★★★ (4/5) |
| Menu | ★★★★ (4/5) |
| Location | ★★★★★(5/5) |
| Serving | ★★★★(4/5) |
La Cabaña is also great when it comes to Spanish cuisine. Despite being Cuban-themed, the restaurant offers a healthily diverse menu with dishes from all over Spain.
Among the dishes it offers are paella, chorizo, and goat cheese croquettes, beef tenderloin medallions served with red wine and mushrooms, and toasted churros for dessert.
The establishment's aesthetics are a nod to Cuba but are also influenced by other Spanish cultures. It is decorated in bright colors and has bright murals on the walls.
We love that La Cabaña has scheduled deliveries for food and actively responds on social media. It's very interactive with its customers, which is always nice.
La Cabaña also has a small store for pastries. It's a great choice if you want to buy a nice pastry to enjoy later or share with family.
For those in a hurry, La Cabaña has take-out and curbside pick-ups.
The only drawback is the fact that it's weirdly closed on Tuesdays. Being closed on a weekday is unusual, but we understand that the eatery's workers also need to rest.
Overall, La Cabaña is a great restaurant for Spanish cuisine. Its authentic decor makes it stand out from other restaurants in the area and the dishes on the menu are sure to satisfy both your taste buds and your stomach.
Offers scheduled delivery
Actively responds on social media
26 years of service
Has a small store for pastries
Also offers take-out and curbside pick-ups
Customer Reviews
Authentic
"Amazing authentic food. Very traditional and typical. Wonderful flavors. This is a must eat!" – JPL
Delicious
"Very friendly staff, wonderful food." – Richard Wieler
5. El Camino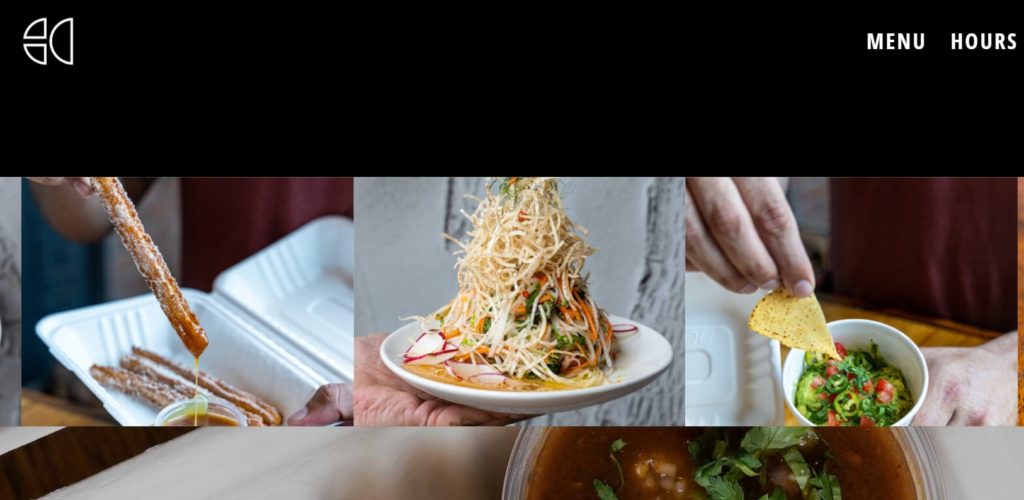 Test
Info
WEBSITE
https://eatelcamino.com/
ADDRESS
380 Elgin St, Ottawa, ON K2P 1M9, Canada
CONTACT DETAILS
613-422-2800
OPERATING HOURS
Monday Closed

Tuesday 5:30–11PM

Wednesday 5:30–11PM

Thursday 5:30–11PM

Friday 5:30PM–2AM

Saturday 5:30PM–2AM

Sunday 5:30–11PM
| | |
| --- | --- |
| Criteria | Ratings |
| Rates | ★★★★ (4/5) |
| Menu | ★★★★(4/5) |
| Location | ★★★★★(5/5) |
| Serving | ★★★★(4/5) |
El Camino is a Spanish-themed bar and restaurant located on Elgin Street. What makes it unique is the fact that it's open til late at night on some days.
As a bar, El Camino has a wide variety of alcoholic and non-alcoholic drinks. As a restaurant, the establishment offers various dishes inspired by traditional Spanish cuisine.
We love that even though El Camino is a place for late-night cravings, it still has healthy options like salads and low-carb entrees. It has yummy vegetarian options as well.
The ambiance of El Camino is very cozy and welcoming. Even as a bar, it doesn't scream "nightlife" and is more of a chill and calm eatery that offers Spanish cuisine and drinks.
The only drawback of this establishment is the fact that its prices can be steep. It's not the best choice if you're under a strict budget, but if you do have the money to spare, it's worth the experience.
It's also closed on Mondays, which can be due to the fact that not many people like to drink on a weekday. Still, we would've appreciated it if the restaurant aspect of the establishment remained open.
Overall, El Camino is a great spot to hang out and grab a bite to eat when you're in the downtown area and looking for Spanish cuisine. The service is usually prompt and the ambiance is comfy.
Also a good place for drinking
Closes late on some days
Traditional options
Healthy options
Customer Reviews
Love it
"Love love love this place. All the food we tried was really amazing. It was my first time being here. I personally had the pork belly pastor and the crispy fish Tacos." – Mary McEwan
Unique choices
"Everything is unique, tasty and made with fresh ingredients. Perfect place to share a meal with friends. We greatly enjoy both locations" – Marie G.
FAQs about Spanish Restaurants
---
This concludes our list of the top Spanish restaurants in Ottawa. We hope you satiate all your cravings here.
Check out the following articles if you want to learn more about related topics: