5 Best Serviced Apartments in Ottawa
Cheaper than hotel rooms, a serviced apartment is ideal for both short and long-term stays. So if you're looking for one, you're at the right place.
We are sure that our list of the best serviced apartments in Ottawa can be of great help. But before we move on to that, let's first talk about the costs.
How much do serviced apartments cost in Ottawa?
The cost of renting serviced apartments is affected by several factors like size, number of rooms, and location. But on average, rates typically run from $400 to $1,500 per month.
To help you anticipate costs better, below is a table showing the average monthly rates of renting one based on size.
| Apartment Sizes | Average Cost |
| --- | --- |
| Small apartment | $1,000 |
| Medium apartment | $1,240 |
| Large apartment | $1,460 |
Best Serviced Apartments in Ottawa
In our selection process, we used the following criteria to get the best serviced apartments:
1. SoHo Residences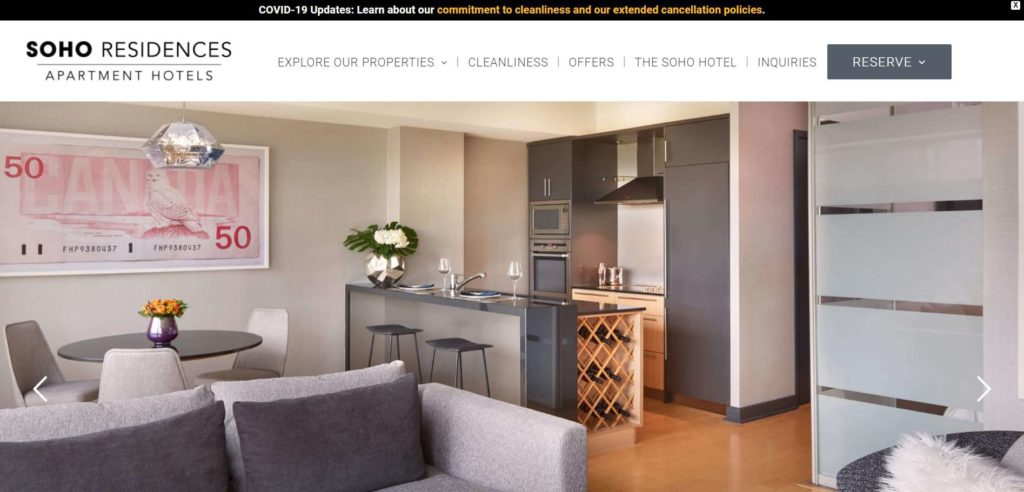 Test
Info
SERVICES
Serviced Apartment, Concierge, and Housekeeping Services
WEBSITE
https://www.sohoresidences.ca/
ADDRESS
Lisgar: 300 Lisgar Street, Ottawa, ON K2P 0E2

Champagne: 111 Champagne Avenue South, Ottawa, ON K1S 5V3

CONTACT DETAILS
Lisgar: +1 613-706-3413

Champagne: + 1 613-519-4793

OPERATING HOURS
Open 24 hours
| | |
| --- | --- |
| Criteria | Ratings |
| Rates | ★★★★✩ (4/5) |
| Accessibility | ★★★★★ (5/5) |
| Amenities | ★★★★★ (5/5) |
| Customer Feedback | ★★★★✩ (4/5) |
If you need some nice serviced apartments, SoHo Residences is one of the best options. This is because you can have a comfortable stay with all the amenities it has.
Apart from having a fully-equipped kitchen and in-suite washer/dryer, it also offers high-speed wi-fi, housekeeping services, and a fitness center for your exercise needs.
We like that its 2 buildings are located in central areas, which gives you easy access to important landmarks and attractions. There's even a hotel-inspired lobby with a nice coffee lounge where you can relax.
Another thing we appreciate is its commitment to hygiene and cleanliness. We just like the idea that it strives to maintain the highest standards when it comes to cleanliness and sanitation in all areas of the property.
It's great to see some photos too, which give potential customers an idea of what to expect when they arrive.
While the rates can be a bit pricey, we like that it offers competitive promotions. The only problem is that there are limited details provided on these, so dropping management a call to inquire becomes a necessity.
It's also sad that the front desk goes missing sometimes and that booking management can be an issue. Despite these, we still think SoHo Residences is one of the best options for serviced apartments in town.
Great amenities
Located in central areas
Commitment to cleanliness
Discount promotions
Has 2 locations in Ottawa
Rates can be pricey
Communication can be improved
Customer Reviews
Would recommend
"Excellent hotel, very clean and spacious. Good downtown location. Staff was friendly and it was relatively quiet given its in a residential building. Would recommend." — Eileen Choi, Google Reviews
A great place
"Great location in the heart of downtown Ottawa. The rooms were amazing and the view was great that we could even see the Canada fireworks. Was overall a great place." — Ervin So, Google Reviews
2. LIV Extended Stay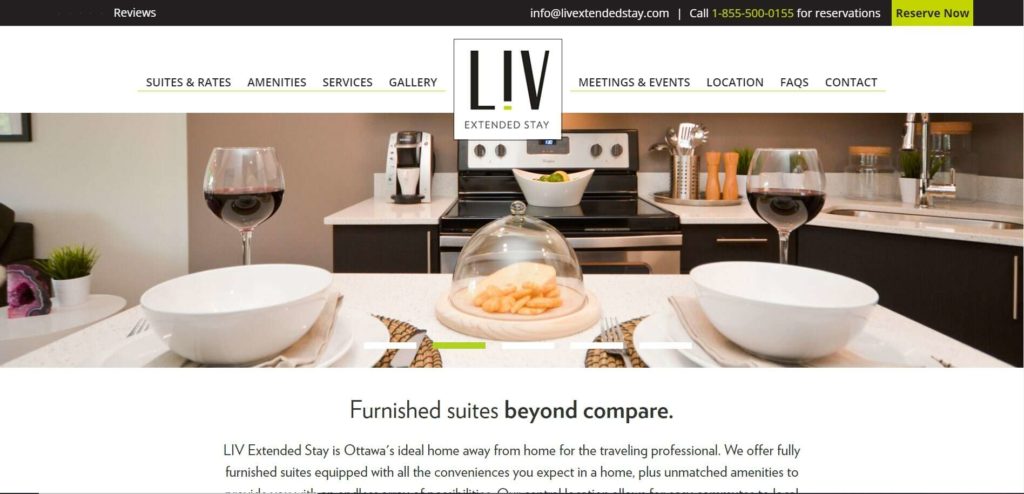 | Test | Info |
| --- | --- |
| SERVICES | Serviced Suites, Concierge Services, Dog Walking, Dry Cleaning, Pet Grooming and Sitting, Parcel Storage, Premium Parking |
| WEBSITE | https://www.livextendedstay.com/ |
| ADDRESS | 207 Bell St N Suite 100, Ottawa, ON K1R 0B9, Canada |
| CONTACT DETAILS | +1 855-500-0155 |
| OPERATING HOURS | Open 24 hours |
| | |
| --- | --- |
| Criteria | Ratings |
| Rates | ★★★★✩ (4/5) |
| Accessibility | ★★★★★ (5/5) |
| Amenities | ★★★★★ (5/5) |
| Customer Feedback | ★★★★✩ (4/5) |
Complete with nice amenities, LIV is one of the places to consider for extended stays. Its units that are equipped with all the things you'll need are matched with great concierge and housekeeping services.
There's also laundry, should you need one for your entire stay. But since not all units have them, you might want to highlight that during the reservation.
We like that the place is also a great one for pets as the apartment building comes with a pet spa and a wag zone where dogs can run.
You won't have to worry about parking either, as a premium parking service is made available. The only problem is that it easily gets full, so this might be one thing the management must look into.
Should you need a nice space for meetings or events, the apartment also has a rooftop terrace. Apart from having flexible options, you can avail of catering and DJ services too.
We appreciate that it has provided a lot of photos on its website to help customers make more informed decisions. We also commend its friendly staff as they make staying more fun and comfortable.
Also worth mentioning is the Good Eats Cafe, which serves great food and coffee throughout the day.
Great amenities and location
Pet spa and wag zone
Premium parking
Rooftop terrace
Relatively higher rates
Issues with parking space
Customer Reviews
Love the location and friendly staff
"My husband and I have stayed at LIV a couple of times when we needed to stay downtown and we love the location, the comfort and cleanliness of the suits, not to mention the friendly staff and amazing Good Eats Cafe on the main floor." — Karen Marcotte, Google Reviews
Really liked it
"Stayed here for a month and really liked it. The staff is great and the apartments very nice. The gym and the whole sky level really add a lot of value and you should be up there as often as you can. Make sure to try the Good Eats restaurant, you won't be disappointed." — Justin Tapp, Google Review
3. Mckellar Park Apartments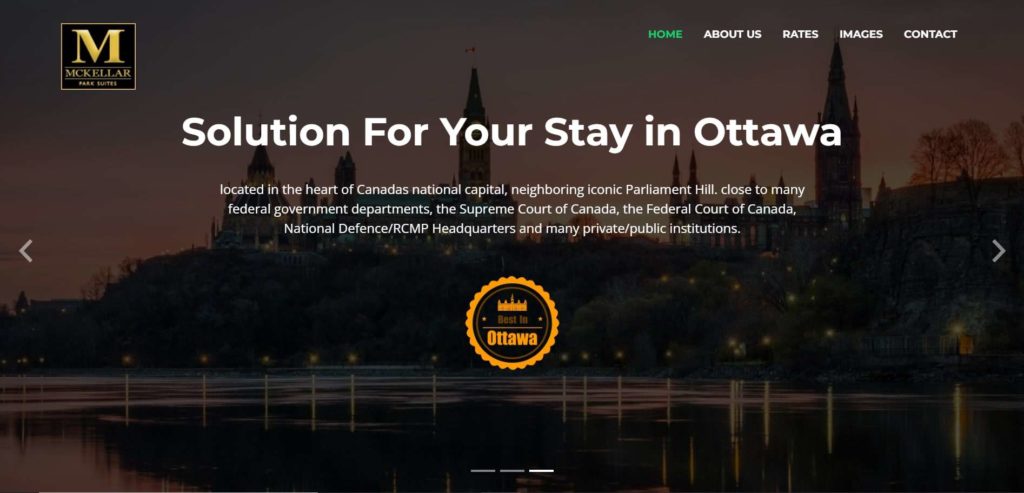 Test
Info
SERVICES
Serviced Apartment, Maid Service
WEBSITE
http://www.mckellarparksuites.com/
ADDRESS
1983 Carling Ave, Ottawa, ON K2A 1E9, Canada
CONTACT DETAILS
+1 613-722-4273
OPERATING HOURS
Monday to Friday 9:30 AM - 3 PM

After-hours hotline
| | |
| --- | --- |
| Criteria | Ratings |
| Rates | ★★★★★ (5/5) |
| Accessibility | ★★★★★ (5/5) |
| Amenities | ★★★★✩ (4/5) |
| Customer Feedback | ★★★★✩ (4/5) |
We like Mckellar Park Apartments because it offers units that are fully furnished with numerous features. Among these include wireless internet, HD televisions with free cable, and touch-tone phones with free local calls.
It's also great to know that its front desk is manned by on-site staff. Apart from providing security, these people can help you with concerns when unexpected problems arise.
There's a weekly maid service too, should you need some assistance in keeping your place clean. If you want to save on costs, there's also coin laundry available in the building.
We appreciate that the staff here is nice and welcoming and always ready to provide help to make your stay more comfortable.
The price guides on the apartment's website are also commendable as they help customers anticipate costs better. The nice sets of images that show the different suites and amenities are also great for a more informed decision.
Since booking policies are provided upfront, customers become more aware of what to expect during their stay.
Located in the heart of the capital, it provides easy access to federal government departments and other institutions. While operating hours are only until 3 pm, it has an after-hours hotline you can contact anytime.
Amenities and location
Front desk on-site staff
Weekly maid service
Price guides
Multiple payment methods
Limited opening hours
Some facilities need improvement
Customer Reviews
I'd recommend with no reservation
"I stayed in this serviced apartment for a while when I first arrived in Ottawa. The apartments are spacious and well-maintained. I would have stayed there for a few more months if were not my big family is coming to join me. The management team was extremely helpful, and they still send emails to me occasionally to remind me to pick up my mails. I'd recommend it to my friends and colleagues with no reservation." — Zhiguo Wang, Google Reviews
Welcoming and clean
"Very Clean and Safe! Our family really enjoyed our stay at McKellar Park Suites. Allen the manager, knows Ottawa very well and was able to answer most of our questions. We certainly felt welcomed. The apartment and buildings are very clean. Spacious living room and bedrooms, we loved the two HDTV's with the choice of exceptional TV stations. We found the eat in kitchen to be an added benefit for us, all amenities were included. When we return to Ottawa next year, we will reserve here again. Very safe and quiet environment for our family." — Roxanne Smith, Google Reviews
4. Les Suites Hotel Ottawa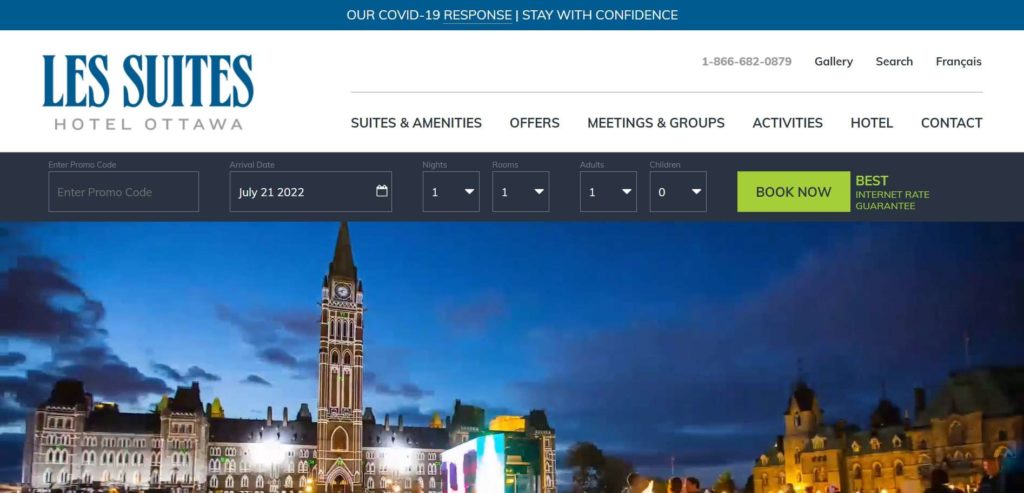 | Test | Info |
| --- | --- |
| SERVICES | Serviced Apartment, In-Room Spa Service, Meeting and Catering Services |
| WEBSITE | https://www.les-suites.com/ |
| ADDRESS | 130 Besserer St, Ottawa, ON K1N 9M9, Canada |
| CONTACT DETAILS | +1 866-682-0879 |
| OPERATING HOURS | Open 24 hours |
| | |
| --- | --- |
| Criteria | Ratings |
| Rates | ★★★★★ (5/5) |
| Accessibility | ★★★★★ (5/5) |
| Amenities | ★★★★✩ (4/5) |
| Customer Feedback | ★★★★✩ (4/5) |
Les Suites Hotel Ottawa lets you enjoy great amenities that range from a fully equipped kitchen and a washer with a dryer to an in-room safe and a private balcony. You may even request a baby playpen if you're traveling with little kids.
Its location gives you easy access to places. Situated in the heart of the capital, staying here allows you to get to local artisans, cafés, and shopping malls with less trouble.
Ideal for working people, its business center is equipped with computer workstations and laser printers. There's the Presse Café in the lobby too, but this closes at 6 PM.
To help you relax, there are in-room spa services as well. But because of the pandemic, this special service was temporarily stopped.
Should the need to hold meetings arise, Les Suites Hotel Ottawa has flexible meeting spaces that are specially designed for such occasions. These services are complemented by catering services that are perfect for breakfasts and luncheons.
While the building is packed with great amenities, some of them, like the hot tubs, sometimes become unavailable. The management might also want to look into its parking space to ensure everyone's convenience.
On a different note, we appreciate that its friendly staff is always ready to help. Also worth noting are the discount promotions that help customers enjoy their stay for less.
Great amenities
Ideal location
Business center
In-room spa service
Meeting spaces
Catering services
Pet-friendly
Some amenities are unavailable
Limited parking
Apartment cafe closes early
Customer Reviews
A great experience
"My family and I had a great experience. The staff were very courteous and helpful. The suite was spacious and exceptionally clean. Our cat had a great time too. We felt the sanitation protocols made our family confident and safe. The beds were very comfortable. Would stay there again and highly recommend any four person family with a pet." — R Terre (Renrunt), Google Reviews
Enjoyed our stay
"Really enjoyed our stay here. Excellent location, friendly staff, clean room with lots of space (kitchen, living room, 2 bedroom, 2 bathrooms). Very dog friendly. Mattresses were even great. Walking distance to most attractions. Will book again when we return." — Rene Hadi, Google Reviews
5. Corporate Stays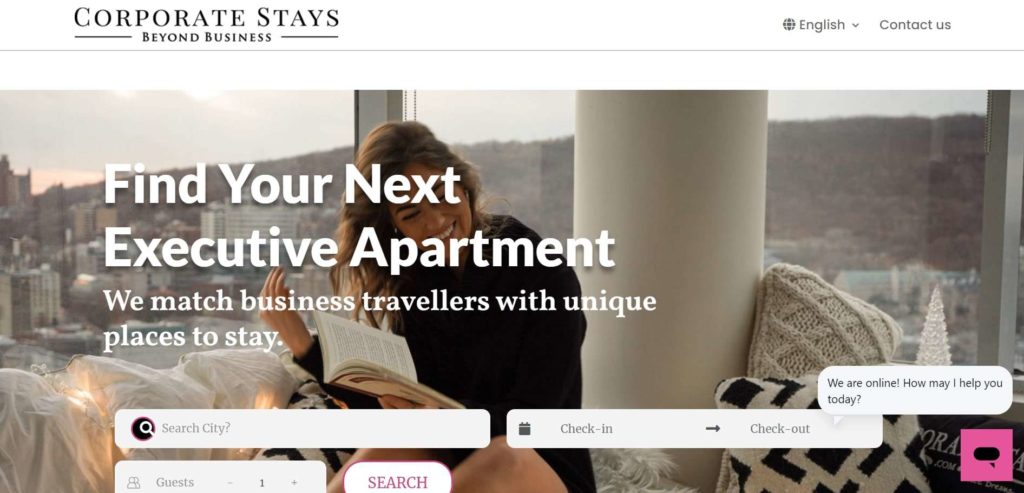 Test
Info
SERVICES
Executive Apartment
WEBSITE
https://corporatestays.com/en/
ADDRESS
50 Laurier, Suite # 501, Ottawa, ON K1N 1H7, Canada
CONTACT DETAILS
+1 514-277-6464
OPERATING HOURS
Monday to Sunday 8 AM - 6 PM

24-hour online service
| | |
| --- | --- |
| Criteria | Ratings |
| Rates | ★★★★✩ (4/5) |
| Accessibility | ★★★★★ (5/5) |
| Amenities | ★★★★★ (5/5) |
| Customer Feedback | ★★★★★ (5/5) |
When looking for a service apartment, we believe that Corporate Stays is one of the best options you could have. Aside from offering fully furnished units, it is also situated at a great location, which is just minutes away from downtown Ottawa.
Among the amenities it offers include a fully equipped kitchen, an in-suite laundry, and high-speed wifi. We also personally like its deep-soaking bathtub, which is great for a relaxing moment.
If you're traveling with your fur babies, this place is great as it is pet-friendly too.
We appreciate its commitment to cleanliness. We like that the people here sanitize all items and appliances in the units before, during, and after your stay to keep you protected.
It's also great that there's 24/7 support available and that guests have the option to avail of other services like housekeeping and parking. There are car rental services as well, which are great for international guests.
One of the things that caught our attention is its CS Passport. This monthly subscription plan allows guests to freely move between Corporate Stays in various cities for 3-6 months.

While rates may be on the pricier end, the great amenities and superb customer service it provides make it all worth it.
Great amenities and location
Pet-friendly
Commitment to cleanliness
24/7 support
CS Passport
Rates can be pricey
No TV in some bedrooms
Customer Reviews
Love my time here
"I love my time here, the apartment was great and I really like the area. Very close to services, etc. Melissa has been very kind in helping to select the property and ensuring everything was ok from day 0 to the end. I will definitely recommend them." — Federico Desimoni, Google Reviews
Friendly and accommodating
"Had the pleasure of staying with Corporate Stays over this summer and fall! The units were very clean, and while the stays are on the pricier side, it did feel 'executive' and generally on-par for other short-term stays in the heart of Ottawa. The check-in process went smoothly, and everyone we communicated with was responsive and professional. In particular, our reservation specialist Daniela Perdomo was extremely quick to reply to our requests, and she was flexible with accommodating our schedules when we had to unexpectedly extend our stay. Both Daniela, along with operations manager Ralph, were friendly and accommodating all throughout. Thanks very much to both!" — Sophie C, Google Reviews
FAQs about Serviced Apartments
---
We hope that this listicle has helped you find the best place to stay in the city!
Looking for a much smaller place? This article on the best room rentals in Ottawa might just work for you!