The Top 6 Roof Repair Companies in Ottawa
Has it been raining indoors recently or do you suddenly have a waterfall display at home? If these aren't deliberate features of your house, maybe it's time someone fixes your roof.
You can opt to do it yourself, but there are serious disadvantages to that. Bad weather, loose slates, slippery tiles, lack of tools, and other reasons could prevent you from fixing your roof properly.
Fortunately, professional roof repair services in Ottawa aren't hard to find. It's simply a matter of knowing what types of repairs are needed and computing how much it will cost you.
How Much Will Roof Repair in Ottawa Cost You?
You might not like this answer if you're looking for something really specific. The average price tag for roof repair in Ottawa is: it depends.
There's no one-size-fits-all payment scheme for roof repair. The estimates vary widely per house along with the different features and problems of each roof.
Some primary issues to consider would be your roof's size, state, and even how it pitches or slopes. You'll also have to factor in the amount of sun, snow, or rain exposure on certain parts of your roof.
If you aren't sure about these specifications, look at your house's blueprint to get an idea. It will come in handy when consulting a professional roof repair company for work estimation and price quotes, too.
The technicians will look at the square footage of your roof and determine the unique challenges your roof poses. For instance, a roof with a steep slope and lots of valleys could prove to be quite challenging, indeed.
To illustrate further, detached single-family homes with less square footage can cost an average of $3000 to $4000. A bigger, customized suburban home can cost anywhere between $5000 to $10000 (averaging around $250 per square footage).
You can expect a final quote from the roofing company of your choice following a thorough inspection. To steer clear of "guesstimates" and other shady company practices, here's a table of common roof repair services and their average prices.
| | |
| --- | --- |
| SERVICE | PRICE |
| Reshingling | Asphalt shingling $4.75 to $11 per square foot Metal shingling $11 to $26 per square foot |
| Flat roof repair | $1700 for a garage-sized roof |
| Gutter cleaning | $200 to $370 |
| Flashings repair | $170 to $425 |
| Venting cleaning | $200 base fee, $10 to $20 per vent |
| Snow and ice removal | $80 to $100 per 500 square feet |
| Preventive maintenance | $0.10 to $0.15 per square foot for regularly maintained roofs $0.25 and up for neglected roofs |
| Inspection and estimation | $200 to $300, depending on roof size and equipment used Or free, depending on the roofing company |
To reiterate, these are only estimated price breakdowns based on current average costs in the market. They are not set in stone and could fluctuate after a thorough inspection from a professional roof technician.
The Top Roof Repair Companies in Ottawa
Now that you know if your roof needs repair, replacement, maintenance, or an upgrade, it's time to take a look at the best people to do it for you. Today we are presenting the best roof repair providers in Ottawa so you can canvass the services and prices that fit your needs and budget.
1. Vanity Roofing
SERVICES
Roof repairs, commercial roofing, eavestrough cleaning and installation, snow and ice removal, siding, soffit and fascia repair and installation
WEBSITE
https://www.vanityroofing.ca/
ADDRESS
2838 Carp Road, Ottawa, Ontario K0A 1L0 (office) 110 O'Connor St Unit 4 Ottawa, Ontario K1P 1H1 (repairs)
CONTACT DETAILS
613 851 4448
613 854 1413 (24-hour emergency)


[email protected]

OPERATING HOURS
Monday to Saturday 8 AM – 9 PM
Closed on Sundays
Open for 24-hour emergency services
Vanity Roofing has repaired, completed, and maintained thousands of Ottawa residential and commercial roofs since it opened. The company's mission is to enhance and preserve clients' roofs with high-quality materials and professional workmanship.
It takes pride in being one of the few Ottawa roof repair businesses to be both preferred contractors for Owens Corning and master shingle applicators for Certainteed. This allows them to offer clients a full 50-year duration warranty for shingles, labour, and accessories.
Apart from commercial and residential roof repairs, Vanity Roofing also offers eavestrough, siding, soffit and fascia repair, maintenance, and replacement. Even simpler jobs like snow and ice removal are on its menu of services.
Vanity Roofing understands that roofing accidents can occur any time of the day or night. This is why there's a 24-hour emergency service line for its clients.
Open for 24-hour emergency services
A+ BBB rating
Offers product and labour warranties
Offers free estimates
The office is closed on Sundays
Doesn't do free quotes for minor shingle repairs
Customer Reviews
Want to have Vanity Roofing check on your roof? First, check out what past clients have to say about its services:
"Really happy with the job Vanity did for us. We contacted them very late in the season to address serious issues that we couldn't see from the ground. They worked around some challenging weather to get our new roof on before the winter. Great communication with friendly and professional sales and installation teams. We're amazed at how good a job they did cleaning up after the job given that we had some snow on the ground. Would highly recommend." – Glenn Murray
"Every team from Vanity was great. While other roofing companies sped away from a challenge, this company took it head on. They created a solution and completed our project. We live downtown Ottawa and Vanity was able to get past the bad access and give us new siding, soffit, fascia, Asphalt, and flat roof systems.We highly recommend them!" – Vanessa Lane
2. Magnum Roofing
SERVICES
Residential roofing, shingle roofing replacement and repair, flat roofing replacement and repair, roof products
WEBSITE
https://www.magnumroof.ca/
ADDRESS
5458 Old Richmond Rd. Nepean, ON K2R 1G7
CONTACT DETAILS
613-293-2133


[email protected]

OPERATING HOURS
Monday to Friday 9 AM – 6 PM
Closed on Saturdays and Sundays
At first glance, the range of services Magnum Roofing offers seems unimpressive. The menu only indicates shingle roofing and flat roofing services.
However, the promise of one-day roof repairs by its own team (not subcontracted) is nothing to sneer at. The company's goal is to complete roofing projects in a single day to minimize any inconvenience during a home renovation.
It takes care to explain each step of the roof replacement process on its website, too. From the crew arriving and setting up on-site to cleaning up and providing a 50-year warranty, Magnum aims to give clients peace of mind.
As further proof of its client-orientedness, Magnum Roofing has given various warranties over its 35 years in business. Aside from a 50-year GAF warranty for materials and labour, it also offers a 15-year warranty for its workmanship.
Free estimates honoured for the entire year
Workplace Safety & Insurance Board Ontario coverage for all employees
A+ BBB rating
In-house team (no subcontracted workers)
Closed during weekends
Limited specialized services on the menu
Customer Reviews
Curious about client feedback for Magnum Roofing? Check out these comments below:
"I highly recommend this company. They replaced my roof at a mutually agreed time frame. They did not leave behind any debris. Friendly and professional staff. I would recommend this company to my friends and family." – Doris Cruz
"I would recommend Magnum Restoration for anything related to your roof. They are prompt and very responsive. They handled all of the headaches with our insurance company and HOA. And they did a quality job." – Scott L Anderson
3. Roofmaster Ottawa, Inc.
SERVICES
Roof repairs, commercial roofing, sloped and flat roofing, metal roofing, snow and ice removal, gutter cleaning and repair, skylight repair, roof inspection, specialty work
WEBSITE
https://www.roofmaster.net/
ADDRESS
163 MacFarlane Rd. Ottawa, Ontario K2E 6V4
CONTACT DETAILS
(613) 521-0088 1.888.889.8865


[email protected]

OPERATING HOURS
Monday to Friday 7.30 AM – 5 PM
Closed on Saturdays and Sundays
Having been in business since 1981, Roofmaster boasts of servicing nearly 17,000 roofing clients so far. It has a consistent A+ BBB rating and numerous awards to show for it.
Roofmaster is the recipient of the Consumers Choice Awards for Business Excellence seven times over. It also snagged a quality renovation merit award from the city of Vanier for working on a heritage building.
But even more impressive is its wide range of roof-related services. Aside from commercial and residential roof repairs and maintenance, the company does specialty work courtesy of its skilled roof masters.
The senior staff takes on challenging carpentry or masonry projects like building canopies and roof extensions, customized sloped chimney caps, and other complicated work. They can even do interior projects during the off-season.
7-time winner of the Consumers Choice Award for Business Excellence
Does off-season specialty work
A+ BBB rating
Offers workmanship and manufacturers' warranties
Does not remove or install solar panels
Closed on weekends
Customer Reviews
"We are so pleased with the service from Roof Master. Our roof was installed in 2006. We noticed a little problem starting around the plumping vent. Lisa was super helpful on providing a quick response, quote and getting Luc out to our place within 2 weeks. Luc was super knowledgeable, did a thorough inspection of the roof and actually told us that we did not need a new plumbing stack saving us money. He was professional and efficient. I will be recommending Roof Master to my real estate clients." – Cindy Lahache
"Luc installed snow guards and provided other roof maintenance for us. He was great, professional and efficient. He was also available to provide insight into our roof and advice how to proceed in the future which was greatly appreciated." – Tony Mendes
4. Kovar Roofing
SERVICES
Roofing installation, roof repairs, ventilation, skylight repair and installation, eavestrough repair and installation, snow removal, leak repair
WEBSITE
https://www.kovarroofing.com/
ADDRESS
14 Knoll Terrace, Ottawa, ON K2J 2K6
CONTACT DETAILS
+1 (613) 799-1704


[email protected]

OPERATING HOURS
Monday to Friday 8 AM – 8 PM
Closed on Saturdays and Sundays
Kovar Roofing has won over ten awards annually in its 12 years in the roofing industry. The company's most recent feat is the 2020 HomeStars Best of the Best award, which is given to only four Canadian companies every year.
The reason for all these awards lies in the range of services Kovar offers. Roofing replacement and repairs include asphalt, metal, and cedar shakes materials, as well as membrane, insulation, and shingles replacement.
The company takes extra precautions for projects done during the pandemic. It uses satellite imaging for roof inspections and estimations and makes sure to only do exterior work for the time being.
Kovar Roofing has a $5,000,000 liability insurance and Work Safety and Insurance Board coverage. They also back all their projects with written guarantees.
HomeStars Best of the Best winner for 2020
COVID safety-compliant roof estimation (via satellite imaging) and repair (exterior only)
Wide range of roofing services
Fully licensed and insured (up to $5,000,000 liability) company
Closed on weekends
No emergency service numbers
Customer Reviews
If you're in need of award-winning roof services, consider what past clients of Kovar Roofing have to say:
"Jason and team were amazing, to work with. They are efficient, honest and fair in pricing quotes. When the work was done they were super professional and polite. The only e billing process is smooth and Jason follows up with you personally to verify your satisfaction. We will be calling them again for our next project." – Karly Parks
"This company is amazing! We have been using them for several years for both of our properties and have never been disappointed. Inspire of being quite busy, Jason was able to do an emergency fix within 24 hours of several shingles that had blown off in high winds. He managed to quickly source matching shingles and left us the remaining package in case this happens again. We consider ourselves very lucky to have discovered them years ago and consider them our "go to" professionals ever since." – Paul I.
5. Rainbow Roofing and Renovations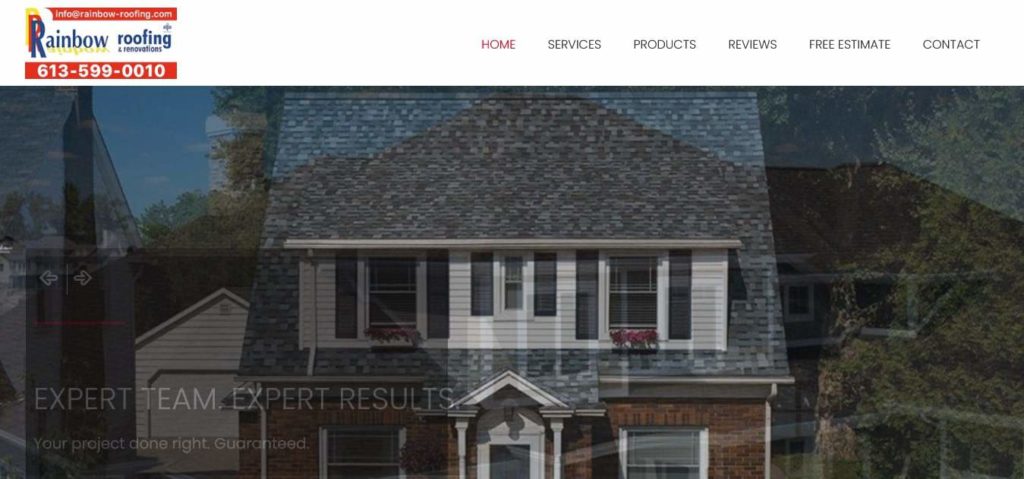 SERVICES
Roof repairs, asphalt shingle installation, skylight installation and replacement, guards and filters cleaning, custom flashing fabrication and installation, eavestrough cleaning and repair, chimney caps cleaning, ventilation installation and servicing, snow removal
WEBSITE
http://www.rainbow-roofing.com
ADDRESS
10 Ridingview Crescent, Ottawa, Ontario K25 1W3 (office) 151 Reis Road, Carp, Ontario K0A 1L0 (storage facility)
CONTACT DETAILS
613-599-0010


[email protected]

OPERATING HOURS
Monday to Friday 8.30 AM – 4.30 PM
Closed on Saturdays and Sundays
Rainbow Roofing has been in the roof repair industry for nearly three decades. This has allowed the company to accomplish over 10,000 roofing projects and contracts, thanks to its 25-member team.
Rainbow offers plenty of roofing services to clients. From roof repairs, shingle replacements, custom flashing, vent installation, to snow removal, eavestrough and filters cleaning, it's a veritable one-stop shop for all roofing concerns.
Apart from its expert workmanship, the company takes pride in partnering with only top-notch materials providers in the industry. There are manufacturers' links on the website to showcase the best of what roofing suppliers have to offer.
Rainbow Roofing offers a free estimation for potential clients. There is a form that needs to be filled up on the website before the team gets back to you.
A+ BBB rating
Reasonable pricing even for big roofs
Workplace Safety & Insurance Board Ontario coverage for all employees
Extensive roofing services
Closed on weekends
Shorter business hours
Customer Reviews
Discover which roof repair service Rainbow Roofing can do for you today by reading past client feedback:
"Rainbow was a delight to work with to replace our aging roof during cold, then snowy weather. Owner Reid Mcphail explained the Owens Corning product, reducing the price as five townhome neighbours Joined in. Crew was friendly, cleaning up every day and climbing a tree to untangle plastic wrapping in the high branches. I always though roofs are boring, but the teak shingle adds a great deal to appeal of our kanata home." – Sheila Brady
"Rainbow Roofing just finished my big roof and they did an outstanding job. We had a leak, and they prioritized us to get it done quickly. The guys were professional, polite and courteous. They were working from early in the morning, and worked hard!
My roof needed a minor repair under the old shingles, and they did it, no questions asked. I also had a dramatic colour change which they handled, no problem.
Price wise, a big roof isn't cheap… but Rainbow was the best priced for reputable companies. Some companies quoted as much as $10,000 more.
Nobody likes getting their roof done, but Reid and team did a great job. They cleaned the site every day and did their best to allow us to get on with our business while they worked." – Mike in Stittsville
6.   TipTop Contracting
SERVICES
Roofing, Roof Repairs, Floor Installation, Floor Lamination, Crown Molding & Trim Painting, Deck Staining, Painting & Finishing, Door Painting, Furniture Painting & Staining, Drywall Repairs & Finishing, Custom Shelving & Bookcases
WEBSITE
https://www.tiptopcontracting.com/
ADDRESS
2255 St. Laurent Blvd #126, Ottawa, ON K1G 4K3, Canada
CONTACT DETAILS
+1 613-415-7856


[email protected]

OPERATING HOURS
Monday – Friday: 7:00 AM – 6:00 PM
Saturday – Sunday: 10:00 AM – 2:00 PM
If you have a leaky roof or you are planning to renovate around Ottawa, then you might want to check TipTop Contracting!
Bringing together professional contractors since 2008, TipTop Contracting offers the best service that offers a wide range of solutions that suit the interests of their different clients.
For roofing services, they offer evaluation of the damage with their professional and licensed contractor from their team. For over 15 years of building, TipTop Contracting can ensure the highest quality craftsmanship of both commercial and residential roofing. Depending on your budget, their team can find the best solution for your roof repair problems.
Aside from roofing, they also offer flooring, painting, and drywall services which you can avail of with their roof repair services.
For your needs, you can contact their office for a free quote and have your roof repair started! They are open seven days a week with only shortened business hours on weekends.
Overall, if you are in need of roof repairs and want to find the best contracting service to fix your problem, then you might want to check TipTop Contracting to bid your leaky roofs away!
Wide array of services
Over 15 years of service
Licensed contractor and professional team
Open all days of the week
Does not remove or install solar panels
No emergency service numbers
Customer Reviews
Responsive and friendly
"Mike was responsive from day one, came checked the attic and explained fully what was happening. Came in and repaired the attic.venting issue with a smile. Thank you Mike for even assisting my neighbor last minute. Much appreciated." – Riri CA
Quick workers
"The Tip Top contracting crew were great during our roof replacement. They were there to help with a leaking roof prior to my replacement date. They worked quickly and kept a very clean working area. Our roof looks so great, I could not be happier. Highly recommend Tip Top for work on their homes!" – Amy Greiner
FAQs About Roof Repair in Ottawa