Top 4 Recording Studios in Ottawa
You may have excellent acoustics in your basement, but recording at a studio will probably make a huge difference. You need great sound and vocals in order to produce outstanding music, after all.
If you're a musician, singer or songwriter, the capital city of Canada is rich with creative spaces that'll help you reach your dreams. Let's go ahead and check out our picks for top recording studios in Ottawa:
How Much Does a Recording Studio Cost in Ottawa
Recording studio rates rely heavily on the equipment that you'll need and how many hours you plan to use. If you're not sure how to use the tools, recording studios have production services that you can choose from too.
You'll have a ton of studio types with different sets of equipment to choose from. Here are the average estimated prices of renting a recording studio in Ottawa:
| Service | Rates |
| --- | --- |
| Studio rental with engineer | $100 - $500 cost per hour |
| Editing | $100 - $350 cost per hour |
| Mixing | $100 - $350 cost per hour |
| Music Production | $500 - $1000 cost per hour |
| Multimedia Recording | $1000 - $5000 cost per hour |
| Voice Talent | $150 - $1000 |
Top 4 Recording Studios in Ottawa
Your natural musical talent only deserves more than just the top gear and equipment. The journey towards your dream may be long and we want to make sure you will be well-taken care of.
With your dream in mind, we scoured the whole city to find only the best of studios. We used the following criteria to do so:
1. Audio Valley Recording Studio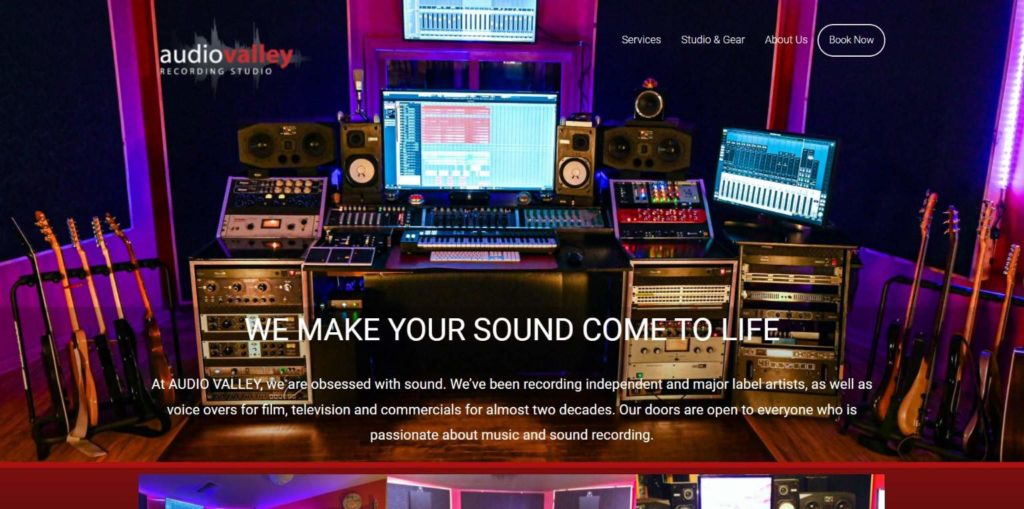 Test
Info
PRODUCTS / SERVICE
Recording, Production, Mixing and Mastering, Voice Over and Audio Post, Studio Rental
WEBSITE
https://www.audiovalley.ca/
ADDRESS
1570 Liverpool Court, Unit 1 Ottawa, ON, K1B 4L2
CONTACT DETAILS
Phone: (613) 963-0162

Email: [email protected]

OPERATING HOURS
Open 24 hours
| | |
| --- | --- |
| Criteria | Ratings |
| Equipment and Gears | ★★★★★ (5/5) |
| Music Production Service | ★★★★★ (5/5) |
| Customer Service and Availability | ★★★★★ (5/5) |
We love Audio Valley's years of experience and service in the industry. They opened in Perth Ontario in 2003 but relocated to Ottawa in 2009 where they flourished even more.
Unfortunately, Audio Valley only has two studios available. However, since they are of different sizes, they are able to accommodate small and big projects at the same time.
One thing that makes Audio Valley stand out is how they've steadily built their collection of high-end analog equipment and instruments over the years. To ensure they're on top of their game, they also stay current with the latest digital gear and software.
Musicians appreciate that Audio Valley is open 24 hours a day and 7 days a week. This means they can drop by at any time to work on their projects.
Audio Valley can help you make music with an old-school live band or using software and plugins to create an electronic album. We love their flexibility and versatility in creating both traditional and modern music.
Despite not having any multimedia production services, Audio Valley can also handle other audio-related projects. They can record voice-overs, ADRs, audiobooks, and even podcasts.
We're a little disappointed that Audio Valley can't cater to making music videos. However, we love how they can set up to connect multiple cameras remotely so their customers can have a virtual session with any talent anywhere in the world.
For us, the best thing about Audio Valley is its customer service and this is partly due to their experienced team. They let their studio quality speak for itself by sending you a sample of their work but you're welcome to book a studio tour too.
Available 24/7
Excellent collection of equipment and has latest music software
No video production
Only has 2 studios available
Customer Reviews
Quick and efficient
Excellent and productive couple of days recording at Audio Valley. The band liked how we could record simultaneously off the floor, with full independence, and how we had plenty of mics and equipment to draw from. Steve is very quick and efficient working behind the board. We'll be back. – Hemlock Hotel
Wide range of instruments
Steve, the owner, and Josh, the engineer, were both very helpful and responsive. Josh has really good ideas during recording sessions and can play a good guitar. Steve is accommodating like no one I have seen, there is a way to figure out anything when working with him which is really helpful for innovative artists. Overall, the studio is a beautiful build and has a wide range of instruments and things to extract sounds from. I definitely recommend Audio Valley to anyone that wants to take their craft to a higher level. – Joe Samaha
2. Raven Street Studios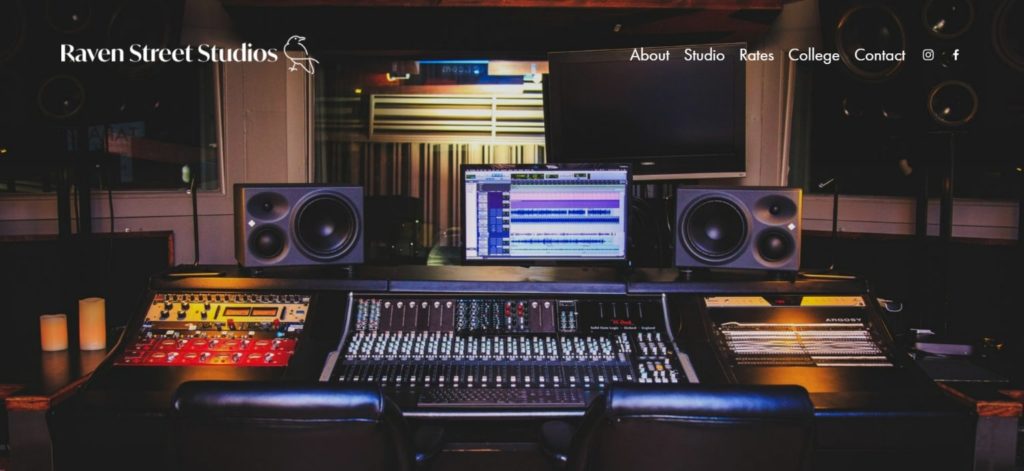 | | |
| --- | --- |
| Criteria | Ratings |
| Equipment and Gears | ★★★★★ (5/5) |
| Music Production Service | ★★★★★ (5/5) |
| Customer Service and Availability | ★★★★☆ (4/5) |
Raven Street Studios prides itself as Ottawa's largest and most established recording facility that opened in 1992. Their facility has a size of 3500 square feet and hosts three studios to accommodate all their clients' needs.
Customers really love the size of the studios and the facility as it allows a greater space for creativity. We also like how each room of Raven Street Studios offers a console, various outboard gear, a Mac with Protools and Logic DAWs, as well as some of the latest plugins.
We love how Raven Street Studios can accommodate music recording to video, film and television shoots, ADR, narration for audiobooks, commercials and podcasts. Clients enjoy the studio's ability for being able to welcome a wide variety of clients over the past 30 years.
Despite not having Raven Street's working hours shown, customers love how well-established they are already. We're impressed how they have worked with famous international artists like Snoop Dogg and Avril Lavigne.
We like that Raven Street offers a pricing guide for their studios. It gives customers a sense of transparency, convenience, and builds trust.
Raven Street's recording school, called The Audio Recording Academy, is a favourite of many too. Students enjoy how this studio focuses on hands-on learning that offers the practical experience needed to excel in the recording studio.
Years of experience
Student rates available
No working hours shown on website or Google profile
Expensive rates
Customer Reviews
Excellent selection of gear and plugins
Had an excellent visit a few months back with an engineer there, Jelan. Great atmosphere, excellent selection of gear and plugins. the vocal booth is completely dead; perfect for getting clean recordings. – Arden Knox
Amazing experience
We had an amazing experience at Raven Street! Friendly and knowledgeable staff. Our session was a blast as well as incredibly productive. Thanks! – Violet Blacksmith
3. Viva Recording Studio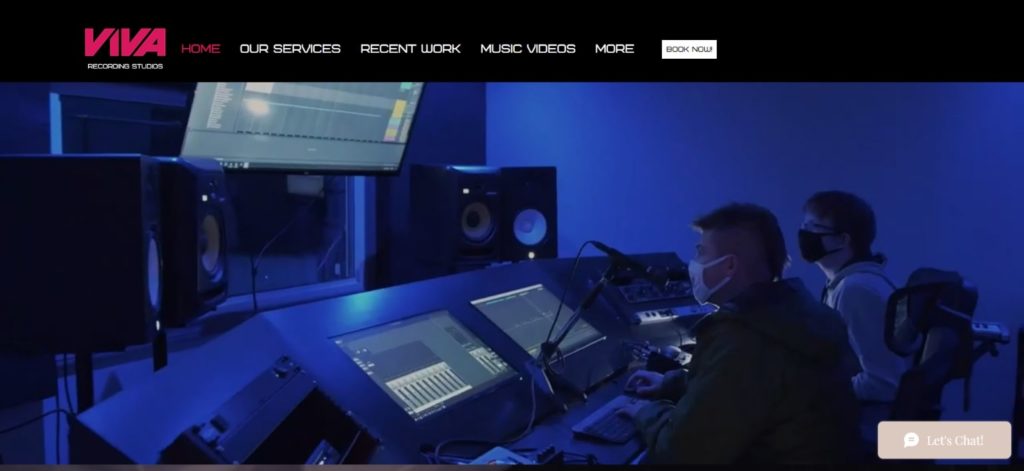 | Test | Info |
| --- | --- |
| PRODUCTS / SERVICE | Vocal Recording and Tracking, Mastering, Music Production, Mixing, Video Production |
| WEBSITE | https://www.vivarecordingstudios.com/ |
| ADDRESS | 2190 Thurston Dr. Unit B, Ottawa, ON K1G 6E1, Canada |
| CONTACT DETAILS | Phone: (613) 302-0211 |
| OPERATING HOURS | Open 24 hours |
| | |
| --- | --- |
| Criteria | Ratings |
| Equipment and Gears | ★★★★★ (5/5) |
| Music Production Service | ★★★★★ (5/5) |
| Customer Service and Availability | ★★★★★ (5/5) |
Viva Recording Studio's music production services really caught our attention. They have some of the best beatmakers and producers in their roster that have access to sound libraries of 1 million instruments.
Clients will enjoy working closely with their audio engineers to craft and record their songs. They can help with pitch correction, editing, restoration, and mix on an hourly basis.
With high-quality preamps and a spacious live instrument room capable of a group performance, Viva Recording Studio also has one of the best vocal isolation booths we've seen. It can produce some of the cleanest vocals we've heard and is comfortable as well.
What sets this studio apart is their ability to do video production as well. They can help you turn your music into a visual masterpiece, with all the tools needed to complete post production.
Viva Recording Studios' team will also help scout, plan locations, and create a special video theme plan all for you. Customers will love their state-of-the-art camera equipment too.
For us, the best thing about Viva Recording Studios is its full production package. Their whole team will be able to help you from A to Z for any creative project.
We love how Viva Recording Studios is rich with the experience and expertise of its whole staff. They can help you in writing, producing, vocal tracking, mixing, mastering, video production and marketing.
Despite not having a pricing guide, Viva Recording Studios is pretty much upfront and honest about what they can and can't do. The studio's staff prides themselves on being great in all of their work and courteous to all of their clients.
Wide range of services
Full music and video production package
No pricing guide
3-hours minimum of studio rental time
Customer Reviews
Most professional
"The very best and most professional studio in the city. I've been going since June 2020 and I've been treated like family ever since. They really help foster your creativity and help you develop your artistry. 20/10!!!" – Peter Russell
Flexible pricing
"I recorded, mixed and mastered my debut album "The Chase" here and my entire experience was great. From the friendly and professional engineers (Kam in particular) to the flexibility in pricing for bulk studio bookings, down to the quality mixing/mastering services making sure we went back and forth until the songs were just right. I highly recommend this studio!" – Lealem Abebe
4. Cave Recording Studios

| Test | Info |
| --- | --- |
| PRODUCTS / SERVICE | Recording, Mixing & Mastering of Vocals, Live Instruments, Sound Effects, Jingles, Ads, Recording Studio Rental, Mastering, Tracking Mixing, Video, Marketing, Playlisting, Branding, Social Media Management, Songwriting, Production |
| WEBSITE | http://www.caverecordingstudios.com/ |
| ADDRESS | 26 Caesar Avenue, Unit 4 |
| CONTACT DETAILS | Phone: (613) 618-0302 |
| OPERATING HOURS | Available 24 hours |
| | |
| --- | --- |
| Criteria | Ratings |
| Equipment and Gears | ★★★★★ (5/5) |
| Music Production Service | ★★★★★ (5/5) |
| Customer Service and Availability | ★★★★★ (5/5) |
Cave Recording Studios won our attention by winning the hearts of the public. They were voted as one of Ottawa's best recording studios for FACES Magazine.
The award given by the people cannot ever be ignored. Cave Recording Studios started in 2012 with dedicated and talented professional audio engineers.
We love the studio's staff for being bilingual. They are able to cater to both French and English customers from around the globe.
Cave Recording Studios boasts their reputation of being built on years of high-quality work, industry-standard sound with easy-going, experienced and highly professional engineers.
Musicians love Cave Recording Studio blogs. It's where the studio gives out useful tips for aspiring artists that show their humility and sincerity to support musicians in their line of work.
Despite having a limited pricing guide, Cave Recording Studio is upfront with its hourly rates. Feel free to message them and ask for a quote.
Cave Recording Studio's aesthetic shots for their studio tour amaze us as well. We love how it gives us a sense of exclusiveness and a peek at their high-end equipment and music gear.
Award-winning studio
Blogs that give useful tips
Have 3 engineers and 6 producers
Work with major labels such as Atlantic Records, Interscope, Bad Boy Records, etc.
FAQs about Recording Studio in Ottawa
---
We hope this blog can help you take a step further towards your dream as a musician or an artist. The capital city of Canada has more to offer for your artistic needs.
We want to help you achieve your dreams too! Take a step towards your dream by checking out top schools in Ottawa today: