The 5 Best Pressure Washing Services in Ottawa
Pressure or power washing is a great way to clean your home. The intense water pressure is very useful in removing dirt, mildew, and mold, especially in crevices that are hard to reach.
Regular cleaning does not always have the same power as pressure washing, so it is the best option for more stubborn dirt.
In this article, we will be reviewing the best pressure washing services in Ottawa.
How much does a pressure washing service cost in Ottawa?
Contractors usually charge around $0.50 to $1.10 per square foot for pressure washing. They also have fixed fees for items such as furniture, fences, and other similar things.
The table below gives a more detailed look at these prices:
| Type of Item To Wash | Average Cost |
| --- | --- |
| Fence | $125 to $235 |
| Boat | $200 to $385 |
| Gutter | $95 to $110 |
| Furniture | $80 to $200 |
The Best Pressure Washing Services in Ottawa
We wanted to connect you with the pressure washing services in the area. The companies on our list are based on the following criteria:
1. Gorilla Property Services

Test
Info
SERVICES
Pressure Washing, Gutter Cleaning, Graffiti Removal, Soft Washing, Roof Cleaning, Moss Removal, Snow Removal & Salting, Window Cleaning, Dryer Vent Cleaning
WEBSITE
https://gorillapropertyservices.com/
ADDRESS
40 Forest Creek Dr, Ottawa, ON K2S 1M2, Canada
CONTACT DETAILS
343-430-0131
OPERATING HOURS
Monday 7AM–7PM

Tuesday 7AM–7PM

Wednesday 7AM–7PM

Thursday 7AM–7PM

Friday 7AM–7PM

Saturday 7AM–7PM

Sunday 7AM–7PM
| | |
| --- | --- |
| Criteria | Ratings |
| Rates | ★★★★(4/5) |
| Location | ★★★★ (4/5) |
| Experience | ★★★★★(5/5) |
| Portfolio | ★★★★★(5/5) |
Gorilla Property Services specializes in pressure washing for both residential and commercial areas. The company also offers gutter cleaning services, graffiti removal, soft washing, and more.
This cleaning service is owned and managed by Jim and Mary Lynn. Both of them are technically trained in different cleaning tools.
We are glad to say that from looking at the company's portfolio, we can conclude that it is able to produce very satisfactory results. It has also received mostly positive feedback from its previous clients, which gives it a point in our book.
As a company, we like that Gorilla opens pretty early in the day and can be contacted for morning jobs. Potential customers like you can hire the cleaners and have them finish before your work day even starts.
For its pressure or power washing method, Gorilla's team of cleaners uses jet-powered pressure hoses to reach even the most narrow parts of your home. It's a good option for areas that have a lot of crevices and small corners.
Gorilla's only shortcomings are its lack of free quotes and the fact that it doesn't have an Ottawa landline. If you can get past these, it's a great company to work with.
Has multiple locations
Has a gallery of before and after photos
Also does vent cleaning, graffiti removal, and other cleaning services
Opens early in the day
No Ottawa landline
No free quotes
Customer Reviews
Great service
"The team from GPS provides excellent and reliable service. Same- or next-day response with quotes and any questions clearly answered by owner Jim. Work is scheduled promptly, and in my experience actioned within the week. Jason and Ian did a great job last Fall with washing the outside of the house (vinyl siding, fascia, gutter faces, garage door, exterior windows), and also the deck. Yesterday they were back to clean out the dryer-vent. On-time, professional, friendly, and take the time to do a good job— a great team! I have no hesitation in recommending Gorilla Property Services." – Jane Alexander
Amazing job
"Jim did an amazing job. The house is in a forest of trees in Alta Vista, Jim got all the branches and debris off the roof quickly and cleanup was great. This was the Friday of the May long weekend. Saturday our city had a devastating storm. We had all new debris and branches on the roof. We were having real estate photos done in a couple of days and so I reached out to Jim to see if he could come back. Jim called back right away and said he would be by in a couple of hours. – Susan Withey
2. Pressure Cleaning Canada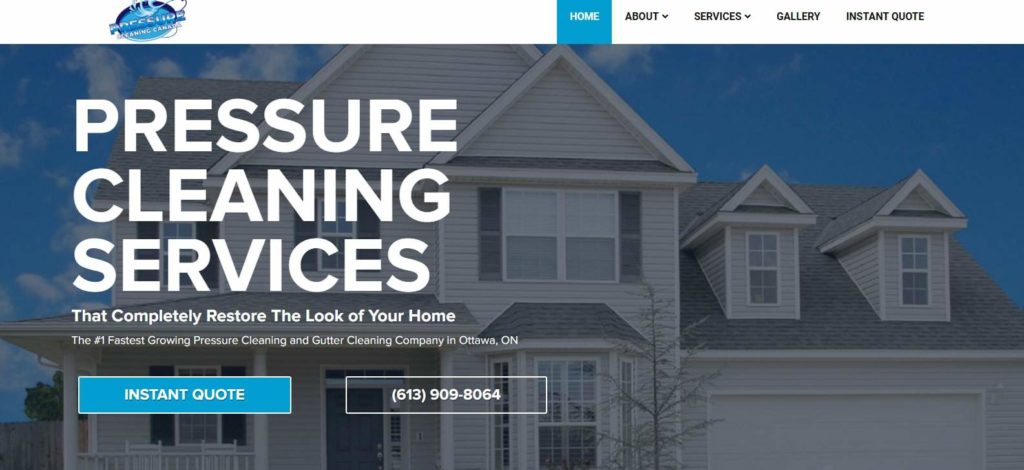 Test
Info
SERVICES
Pressure Washing, House Washing, Window Cleaning, Gutter Cleaning
WEBSITE
https://pressurecleaningcanada.com/
ADDRESS
323 Coventry Rd #253, Ottawa, ON K1K 3X6, Canada
CONTACT DETAILS
613-909-8064
OPERATING HOURS
Monday 8AM–10PM

Tuesday 8AM–10PM

Wednesday 8AM–10PM

Thursday 8AM–10PM

Friday 8AM–10PM

Saturday 8AM–10PM

Sunday 8AM–10PM
| | |
| --- | --- |
| Criteria | Ratings |
| Rates | ★★★★★(5/5) |
| Location | ★★★★ (4/5) |
| Experience | ★★★★★(5/5) |
| Portfolio | ★★★★(4/5) |
Pressure Cleaning Canada is one of Ottawa's leading providers of pressure washing services.
Its specialties are gutter cleaning, patio cleaning, and of course, pressure washing. We're also really happy to say that the company provides full house cleaning services.
If you or your family are out of town for a few days, you can leave your home to Pressure Cleaning Canada. Its employees will make sure you return to a spotless house.
PCC's office also closes pretty late in the evening, precisely at 10 pm. This is good news for clients who are only available at night.
The company is also able to provide instant quotes. Potential customers can contact its customer service and they should get a proper price guide immediately.
We also like PCC's focus on algae, which can be a big problem if left unnoticed. Algae spread quickly and can be a cause of slipping and other accidents.
It should be noted that the prices for its services can get pretty high, especially for full house cleaning. There's also the question of getting a good appointment schedule because it has a very demanding list of clients.
Overall, if you can afford it and can wait a bit for an appointment, this company is a great option indeed.
Offers special prices for fence and paver cleaning
Instant quotes
Offers full house cleaning
Algae control
Can be pricey
Has many clients, may be difficult to schedule an appointment
Customer Reviews
Highly recommend
"We had our siding and windows cleaned yesterday. To say we are impressed is an understatement. They took their time, did a very thorough job, and provided excellent customer service. Our house and windows look great. To not have to climb a ladder to wash windows this summer is invaluable to us. We will definitely use their services again. Highly recommended." – Joannee Dion
Wonderful experience
"I had a wonderful experience with pressure cleaning Canada. I seldom write reviews but not only did they do an exceptional job with my home, the customer service was superb. Pricing was very fair for a well done job. I previously had my home pressure washed last year by another company and they do not even compare with the work that was done by pressure cleaning Canada. If you are looking for a pressure washing job in the Ottawa area and are currently reading this review please save yourself the time and book with these guys!" – Kam Gee
3. Wajet Pressure Washing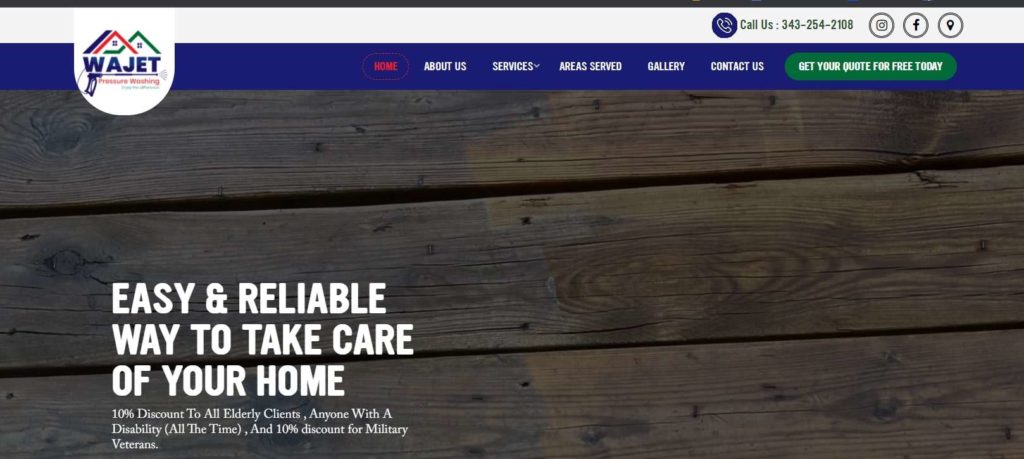 Test
Info
SERVICES
Pressure Washing, Commercial Pressure Washing, Houses Siding, Gutter Cleaning, Fence Cleaning, Driveways, Patiodeeck, Deodorizing Garbage Cans
WEBSITE
https://wajet.ca/
ADDRESS
Appointment only
CONTACT DETAILS
343-254-2108
OPERATING HOURS
Monday 8AM–4PM

Tuesday 8AM–4PM

Wednesday 8AM–4PM

Thursday 8AM–4PM

Friday 8AM–4PM

Saturday 9AM–5PM

Sunday Closed
| | |
| --- | --- |
| Criteria | Ratings |
| Rates | ★★★★ (4/5) |
| Location | ★★★★ (4/5) |
| Experience | ★★★★★(5/5) |
| Portfolio | ★★★★★(5/5) |
Wajet Pressure Washing is also a solid company to go for when it comes to pressure washing. Once you schedule an appointment, Wajet will be ready to bring its experienced cleaners to your home.
The company also offers special services for its business clients. The commercial services it offers are perfect for buildings that need exterior maintenance.
Wajet can also be hired to do these residential and commercial services once every few months or weeks. Depending on the client, it can schedule a regular cleaning so their building or home is always well-maintained.
The cleaning company also offers garbage can deodorizing, a service that is not always provided by other sanitation firms.
This, plus the free quote and the fact that the company serves multiple locations is really a good reason to hire Wajet.
The only problem we have with it is the fact that it doesn't have its own office that clients can visit. Appointments can only be made through the phone.
Its services can also be pricey, so we recommend it more for customers with a bigger budget.
Overall, if you don't mind staying on the phone for a while and cashing out a few extra bucks, this company is a solid choice for your pressure cleaning needs.
Commercial pressure washing for businesses
Serves multiple locations
Also offers garbage can deodorizing
Free quote
Appointment only
Pricey services
Customer Reviews
Great job
"I had a large difficult power cleaning job to get done at my house. Wajet Pressure Washing quickly came to our rescue with courtesy and professionalism. They assessed the situation, brought the right equipment and ensured the job was done properly and safely. Very competitive pricing timely responses and their punctuality made it a pleasure working with the Wajet team on my project ! For sure I will be contacting Wajet again in the near future ! Thanks Wajet for a great job." – Scott Green
Excellent job
"Richard and I were extremely pleased with pressure washing the Wajet team did this past Saturday. Very responsive to our time frame with excellent communication. Our home is a 1400 sq ft two story with siding on 3 sides and 1 side with mixed brick and siding. The team had the job done in a little over 2 hours. Thank you Sadir and Kdar!" – Anna Lusk
4. GlassWing Window Cleaning Ottawa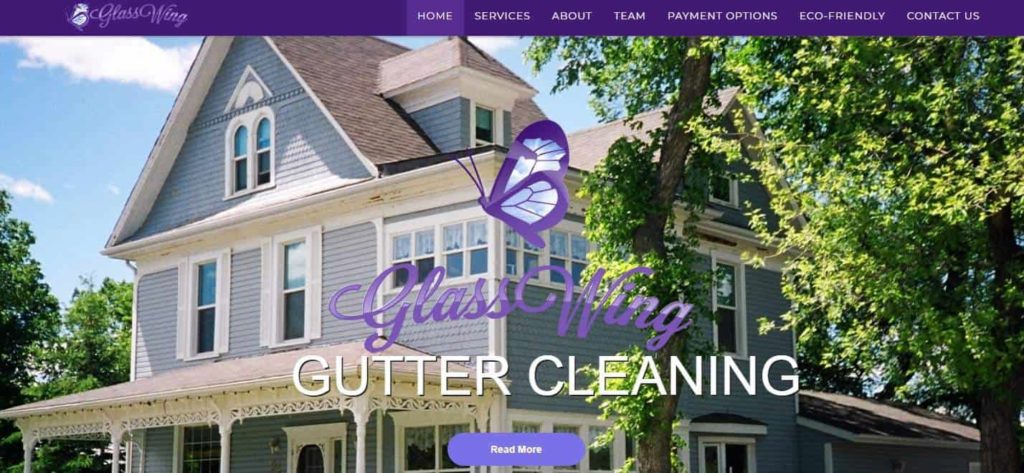 Test
Info
SERVICES
Pressure Washing, Window Cleaning, Gutter Cleaning, Commercial Services, Real Estate Staging, Soft Wash Siding Cleaning
WEBSITE
https://glasswing.ca/
ADDRESS
266 Lorry Greenberg Dr Unit 118, Ottawa, ON K1T 3K1, Canada
CONTACT DETAILS
613-656-1464
OPERATING HOURS
Monday 9AM–6PM

Tuesday 9AM–6PM

Wednesday 9AM–6PM

Thursday 9AM–6PM

Friday 9AM–6PM

Saturday Closed

Sunday Closed
| | |
| --- | --- |
| Criteria | Ratings |
| Rates | ★★★★ (4/5) |
| Location | ★★★★ (4/5) |
| Experience | ★★★★★(5/5) |
| Portfolio | ★★★★★(5/5) |
GlassWing Window Cleaning is a smaller company compared to the others on this list, but that doesn't mean it doesn't do its job well.
Operated by Zane Cody and Jennifer Haynes, the company is known for having a personal touch because of its smaller size.
According to feedback from customers, GlassWing is their preferred company because it doesn't have many workers that roam around their homes, unlike in larger operations. It has 2 – 3 max employees that do focused work so they can finish fast and move on.
The company is also very particular when it comes to windows because it used to only specialize in window cleaning.
Now with pressure cleaning services on the table, it is also able to clean other parts of your home, but the employees still do it carefully and accurately.
We also like that the cleaning company gives free estimates to its potential customers. We can see that the managers really want to gain the trust of their clients, and we appreciate that.
The company also offers business or commercial services, so it's a good option for business owners as well.
For its shortcomings, the company can charge high for some of its services. It's also a small business so it may not be available all the time.
No company is perfect. But Glasswing, just like the others on our list, comes close.
Business-centric services
Free estimates
Specializes on glass surfaces
Pricey services
Small business, may not be available all the time
Customer Reviews
We're satisfied
"The service is excellent. A great team, thorough and conscientious about their work. We have been dealing with GlassWing for several years and will continue to do so. Highly recommend it." – Charles Nadeau
Great crew
"I had an excellent experience with GlassWing from initial quote to final payment. They were clear, detailed, and provided helpful insights. I appreciated the different options for the a-la-carte window cleaning (inside/outside/screens/tracks). The crew was on time, professional, SO polite, and excellent at their job. My windows look great and my gutters appreciated the attention. They were flexible around other work happening in my house and thorough in clean up. Very reasonable price and easy to get ahold of. Happy to recommend this business!" – Christina Paradiso
5. Cody Building Services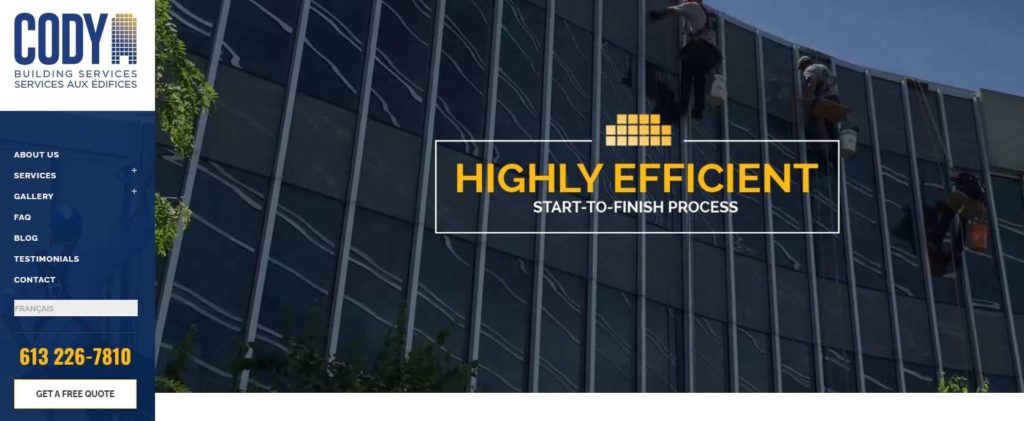 Test
Info
SERVICES
Pressure Washing, Parking/Garage Cleaning, Caulking, Commercial Window Cleaning, Residential Window Cleaning, Graffiti Removal, Roof Snow Removal
WEBSITE
https://codybuildingservices.com/
ADDRESS
1620 Scott St, Ottawa, ON K1Y 4S7, Canada
CONTACT DETAILS
613-226-7810
OPERATING HOURS
Monday 7:30AM–5PM

Tuesday 7:30AM–5PM

Wednesday 7:30AM–5PM

Thursday 7:30AM–5PM

Friday 7:30AM–5PM

Saturday Closed

Sunday Closed
| | |
| --- | --- |
| Criteria | Ratings |
| Rates | ★★★★ (4/5) |
| Location | ★★★★ (4/5) |
| Experience | ★★★★★(5/5) |
| Portfolio | ★★★★★(5/5) |
Cody Building Services is a pressure washing service located in Scott Street, Ottawa. It is one of the more high-end options that we have on this list.
The company offers residential cleaning but it is more well-known for working on large buildings and other business establishments.
As a company that specializes in buildings, Cody offers top-notch window cleaning with high-tech tools. Its pressure cleaning tools are also of high quality and can be used to clean even the hardest dirt that sticks to concrete walls.
Since it's a bigger company, it can also afford more expensive equipment. These are more pricey for the customer, but they're environmentally friendly.
Cody also works on parkways and garages, as well as offers regular cleaning services that depend on the client's schedule. So if you're looking for cleaners that will help you keep your building maintained, this is it.
We are also impressed that the company has services like sandblasting and concrete floor restoration. It's almost like it's a renovation company and a cleaning service rolled into one.
Unfortunately, Cody's rates are a bit expensive, especially for smaller residential clients. But if you run a business and need your establishment maintained, this is a perfect choice.
Specialty in buildings
Commercial services are topnotch
Huge team of cleaners
More high-tech equipment that is environmentally friendly
Offers renovation services
Pricey services
Buildings will take longer to finish
Customer Reviews
Fantastic even until now
"The Cody team always does a great job and leaves my windows sparkling clean. I have high second storey windows that I simply can't reach with any regular household ladder, not to mention the difficulty of maneuvering around on one. I've used Cody every spring for the last few years and am always impressed with their work and professionalism." – Andrea Dupuis
Fabulous
"I used Cody regularly on time every year for 20 years. The receptionist is outstanding and reliable and it was and is a pleasure working with the men who did a great job and never complained during their time here as well were very kind. Great supervisor and great work!! 20 years using this great company. Always came through. – Sonja Muller
FAQs about Pressure Washing
---
And that ends our list of the best pressure washing services in the metro.
If you need a general cleaning of your home, try our article on the top 5 cleaning services in Ottawa!