Top 5 Pet Shops in Ottawa
If you're a pet lover like us, you've come to the right place. We love spoiling our cute little ones and will do anything to get that little happy tail wag or a simple nudge from cats.
We've scoured the whole city of Ottawa looking for the best shop to provide us with top treats, pet food, and accessories just for you. So, without further delay, here are the top pet shops in the city!
How Much Do Pet Shop Services Cost in Ottawa
Pet shops vary just like other businesses. Your expenses will vary depending on the services you avail, the location of the shop, and the level of service quality.
Thus, to help you in your quest for Ottawa's top pet shop, we have included the costs in the table below.
| Services | Estimated Price |
| --- | --- |
| Grooming | Starts at $15 |
| Boarding | Starts at $50 |
| Supplements | Starts at $30 |
| Accesorries | Starts at $10 |
| Food | $50/month |
Top Pet Shops in Ottawa
We listed the factors to consider to make it easier to determine where to seek the best pet store for your pets or animals. We kept a careful eye on this and evaluated the following things:
1. Healthy Pets HQ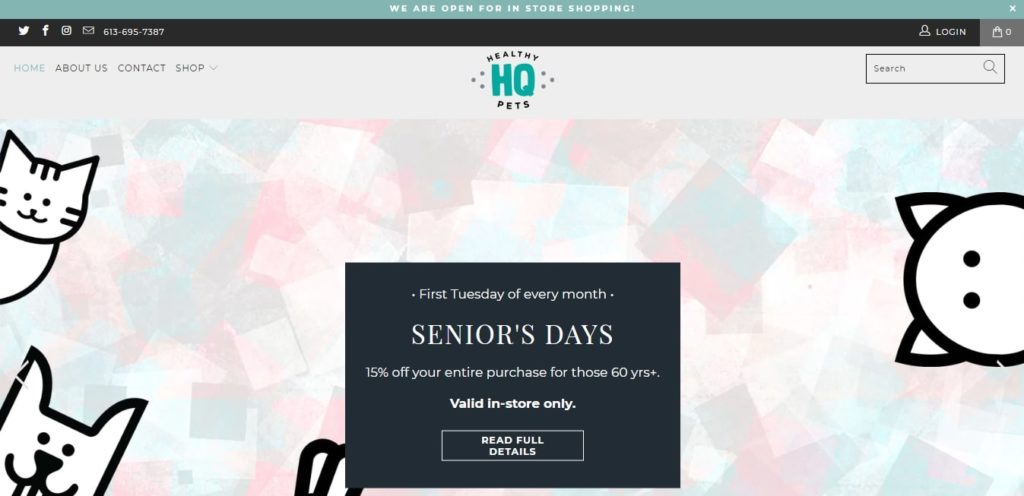 Test
Info
PRODUCTS / SERVICE
Beds, Food, Bowls and Feeding, Cleaning and Odour Control, Collars, Leashes, and Harnesses, Crates and Carriers, Dental, Grooming, Health and Wellness, Toys, Training & Behavior, Treats, Trees and Scratchers, Pet ID Tags, Travel Essentials, Cat & Dog, Small Animal, Bird & Fish
WEBSITE
https://healthypetshq.com/
ADDRESS
420 Bank St, Ottawa, ON K2P 1Y8, Canada
CONTACT DETAILS
Phone: 613-695-7387

Email: [email protected]

OPERATING HOURS
Mondays to Fridays: 9:30 AM - 8:00 PM

Saturdays: 9:30 AM - 6:00 PM

Sundays: 10:00 AM - 5:00 PM
| | |
| --- | --- |
| Criteria | Rating |
| Range of Services | ★★★★☆ (4/5) |
| Quality of Services | ★★★★★ (5/5) |
| Availability and Customer Service | ★★★★☆ (4/5) |
| Location | ★★★★★ (5/5) |
Serving the industry since 2012, Healthy Pets HQ is an independent, family-owned and operated business. They grabbed our attention with their genuine mission of providing the finest care possible for pets.

What we love about Healthy Pets HQ is that they don't sell pets in their shops. Instead, they encourage rescue, rehabilitation, and adoption.
They also have one of the widest range of products for pets in the city. Besides cats and dogs, we love how they also have pet products for small animals like hamsters, fish, and birds, which screams inclusivity for other pet owners.

Another thing that really caught our hearts is Healthy Pets HQ's Engravable Pet ID Tags. They have a wide variety of tags to choose from, plus you can also buy gifts for the best pet parents like a cat or dog mug or a pet house citrus scented candle.
The best part about Healthy Pets HQ is that it provides clients an option of either in-store purchases or online. Depending on your preferences, they offer a range of options for their deliveries, including curbside pickup and in-store pickup.
Healthy Pets HQ is on the top list because of its competent and amiable personnel who love animals and are knowledgeable about them. We also give them huge kudos for their strategic and convenient location and their big, wheelchair-accessible store.
We love how we don't need to worry about the payment method when shopping because they accept both credit and debit cards and even NFC mobile payments. Pretty convenient for shoppers who prefer cashless transactions.
12 years in business
Wide selection range
Prices are a bit more expensive
Does not sell pets, only pet products
Client Reviews:
Kind-hearted and Helpful Staff
"Healthy Pets HQ has been an absolute blessing for me. They're the only store I have found that carries the specific food my cat eats, they have an amazing selection of rabbit toys, and everything is amazingly affordable for me, which is amazing since I am low-income. Everything they sell is of great quality, and the staff is amazingly helpful and very, very kind-hearted! My rabbits have never been happier than when I brought them home a bunch of new toys from this store. My cat also has been happy to have a brand of food she isn't allergic to! Thank you so much Healthy Pets HQ! You have been a life saver for me, and my family!" – Jayden Hickson
High-Quality Products
"I have been a loyal customer for many years now. This store and staff deserve more stars than I can give. I always enjoy going into the store as it is always pristine and filled with friendly, knowledgeable staff. Their COVID procedures for curbside pick-up during lockdowns were exceptional and efficient. The products they stock are of high quality and they carry foods that make you feel good about feeding your best friends. Thank you, Healthy Pets HQ!" – Casey Schofield
2. Pet Circus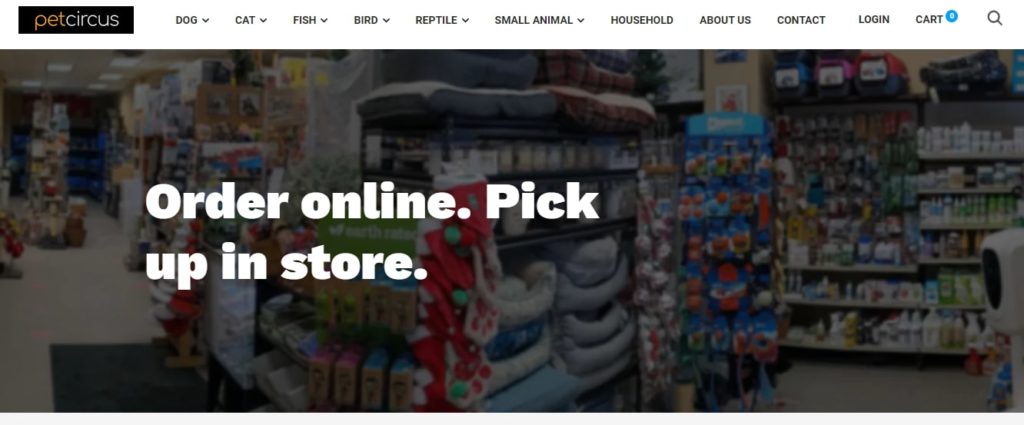 Test
Info
PRODUCTS / SERVICE
Dry Food, Live, and Frozen Food, Treats, Supply, Litter for Cats, Training, Supplements, Toys, Health and Wellness, Grooming, Dental Care, Cleaning Supplies, Clothing, Pond Supplies, Beds & Mats, Books, Chews, Collars, Harnesses & Leashes, Crates, Gates & Carriers, Stairs & Ramps, Dog, Cat, Fish, Bird, Reptile, Small Animal
WEBSITE
https://petcircus.ca/
ADDRESS
274 Bank St, Ottawa, ON K2P 1X6, Canada
CONTACT DETAILS
Phone: 613-234-8456

Email: [email protected]

OPERATING HOURS
Mondays to Fridays: 9:30 AM - 6:00 PM

Saturdays: 9:30 AM - 5:30 PM

Sundays: 11:00 AM - 5:00 PM
| | |
| --- | --- |
| Criteria | Rating |
| Range of Services | ★★★★★ (5/5) |
| Quality of Services | ★★★★★ (5/5) |
| Availability and Customer Service | ★★★★☆ (4/5) |
| Location | ★★★★★ (5/5) |
For more than 26 years, we love how Pet Circus is consistent in improving their service quality and products. Thus, we deem them as one of Ottawa's finest pet stores for their high-quality pets and accessories.
We like how they're situated between Cooper and Somerset Street in Downtown Ottawa. Pet Circus is at a prime location where parking is seldom a bother, but they do draw in a sizable number of customers.
Another thing we enjoy about visiting Pet Circus is how accommodating and polite their staff are. They're always quick on their feet in suggesting products or food supplies for your pets, which is super helpful for first-time pet owners.
One of our favorite things about Pet Circus is its large selection of pets. They have everything, from adopting dogs and cats to reptiles, fish, and birds, plus everything you'll ever need in taking care of them.
Another thing we also like about Pet Circus is their website, where you can order pet supplies and accessories and pick them up in their store. However, deliveries are unavailable, but they permit curbside pickup.
Pet Circus also takes debit cards and NFC Mobile Payments when purchasing. We also love how accessible the store is since wheelchairs are accessible from parking to the entrance.
Affordable rates
Lots of parking slots
No deliveries offered
Does not allow credit card payments
Client Reviews:
Knowledgeable Staff
"This place has amazing staff the staff is knowledgeable about a large scope of animals, reptiles, and amphibians alike. Prices are great and fair products are always quality. If u have questions they can most likely give you answers. They care for all their customers. The store has no stairs making it wheelchair accessible. In all honesty, it's a high-quality family-owned local business. Overall good experience." – Chris Morphy
The Best Pet Store
"The best pet store in Centretown! I have a snake addiction and they are the perfect pet shop to help me with anything my snakes need. I wish they had a bit more of a variety of snakes available, but at least they have snakes at all! Typically have regular ball pythons and corn snakes in stock. Hognose, boas, or other morphs of ball pythons would be cool to see! All in all, they are the only pet store I buy my snake supplies from and I don't think that will ever change as long as I'm in the area." – Matt
3. Critter Jungle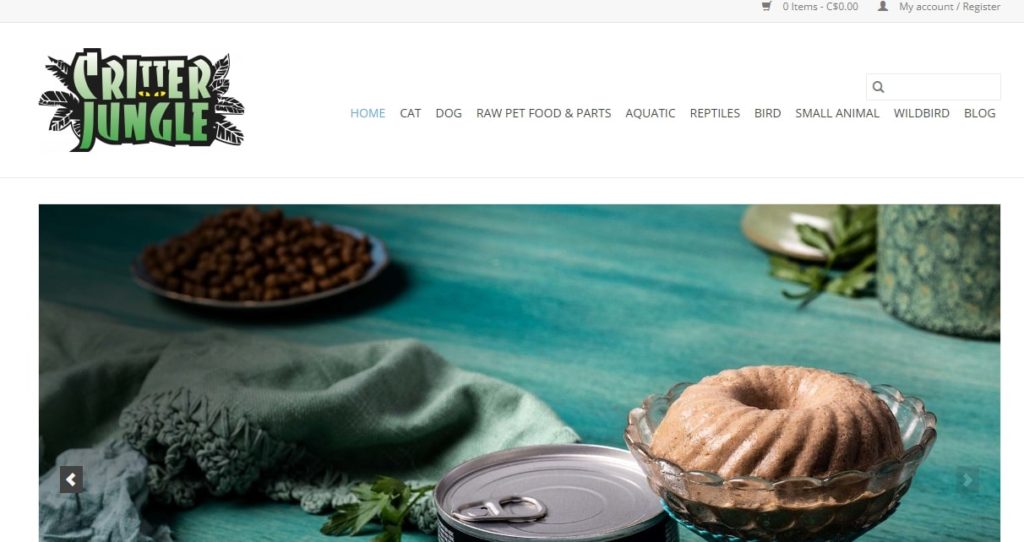 Test
Info
PRODUCTS / SERVICE
Food, Accessories, Toys, Treats, Supplements, Litter, Litter Boxes, Beds, Feeders/Bowls, Scratchers & Furniture, Crates/Carriers, Dental, Outer Gear, Chews, Budget-Minded Food, Raw Pet Food & Parts, Tanks & Aquariums, Filtration, Livestock, Decorations, Cat, Dog, Fish, Bird, Reptile, Small Animal, Wild Bird
WEBSITE
https://www.critterjungle.com/
ADDRESS
1405 Carling Ave, Ottawa, ON K1Z 7L6, Canada
CONTACT DETAILS
Phone: 613-729-7354

Email: [email protected]

OPERATING HOURS
Mondays to Fridays: 9:00 AM - 8:00 PM

Saturdays: 9:00 AM - 6:00 PM

Sundays: 10:00 AM - 5:00 PM
| | |
| --- | --- |
| Criteria | Rating |
| Range of Services | ★★★★☆ (4/5) |
| Quality of Services | ★★★★☆ (4/5) |
| Availability and Customer Service | ★★★★★ (5/5) |
| Location | ★★★★★ (5/5) |
We love how Critter Jungle is a family-run business that is also locally owned and operated in Ottawa. After over 33 years, we're impressed with all their efforts to be a preferred pet food and accessories supplier for sophisticated pet owners and their furry and not-so-furry friends.
Our favorite thing about Critter Jungle is how they live up to their name by selling the smallest of critters to the largest of pets. You can visit and purchase a variety of animals, including aquatic, reptile, avian, small animal, and even wild bird species for pets.
Moreover, we love how knowledgeable their staff is about the animals they have and how to take care of them. Even if certain goods are out of stock, they manage to provide clients with alternatives.
In Critter Jungle, we're impressed with how they promote pet rescue and adoption by allowing the Cat Rescue Network to shelter cats within the store until they are adopted. Additionally, they host yearly fundraisers to support pet rescue groups by raising awareness and money.
We appreciate how Critter Jungle tends to pets who are neglected, mistreated, abused, and left to fend for themselves. Critter Jungle does everything it can to better the lives of furry, feathered, and scaled friends by taking them in and caring for them until they get adopted.
Sells a wide range of pets
33 years of business
Slots easily filled up
No deliveries offered
Client Reviews:
Extremely Knowledgeable Staff
"This is my all-time favorite pet store to go to (I personally shop for cat and reptile products). So many quality food brands to choose from. A huge toy and treat selection as well. Their reptile section is amazing! They have a large selection of both artificial and bio-active habitat decor. The live plant selection is awesome! The staff is extremely knowledgeable on their products and very helpful with answering any questions." – Kristen G.
Very Awesome Place
"Very awesome place. The people were so knowledgeable was even able to hold some super cute hands and raise white rats in my hands and girls the first time I came. They have lots of little fish to see and have a huge selection of everything for any pet. Family-owned and the workers are so nice. Another location is in Orleans." – Cam
4. PetSmart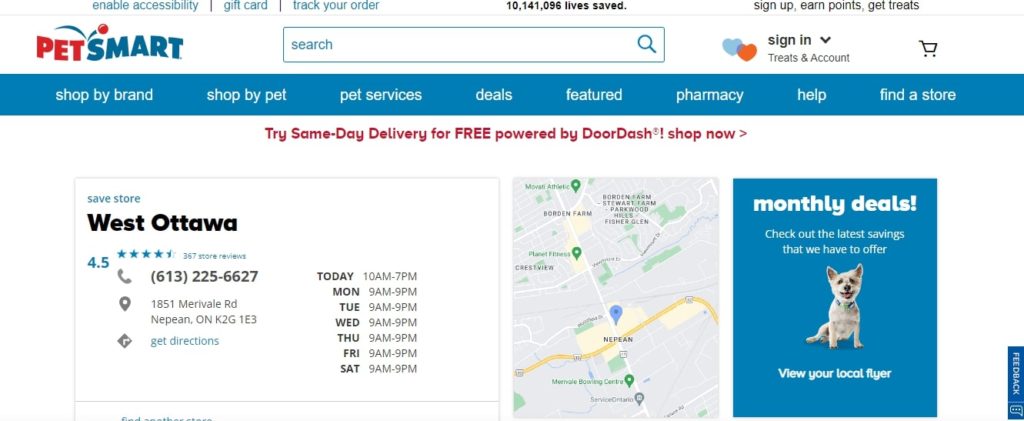 Test
Info
PRODUCTS / SERVICE
Food, Treats,  Supplies, Dog Deals, Grooming Salon, Dental Care, Training Classes, PetsHotel Boarding, Pet Hospital, Day Camp, Pharmacy, Cat, Fish, Reptile, Bird, Dog, Small Pet
WEBSITE
https://www.petsmart.com/
ADDRESS
1851 Merivale Rd, Ottawa, ON K2G 1E3, Canada
CONTACT DETAILS
Phone: 613-695-2525

Email: [email protected]

OPERATING HOURS
Mondays to Saturdays: 9:00 AM - 9:00 PM

Sundays: 10:00 AM - 7:00 PM
| | |
| --- | --- |
| Criteria | Rating |
| Range of Services | ★★★★☆ (4/5) |
| Quality of Services | ★★★★★ (5/5) |
| Availability and Customer Service | ★★★★☆ (4/5) |
| Location | ★★★★★ (5/5) |
Strolling around the city, we love seeing PetSmart's several outlets throughout Ottawa. We're also impressed with their website because we can easily shop for pets and book their services.
Not only do they provide pet products and services, but they also have a charity sector with approximately 4,000 animal welfare groups that bring adoptable pets into stores!

We love how PetSmart Charities give them the best opportunity of finding a permanent home and have enabled more adoptions than any organization.
Boarding, grooming, and other services are the key areas of concentration for PetSmart. We appreciate how all of their stores offer a wide selection of pet supplies at affordable prices, along with services like dog training, pet grooming, and PetSmart Doggie Day Camp, to name a few.
The PetSmart Doggie Day Camp is probably our top favorite thing in this shop. It's where your beloved pet can socialize, play, and just have fun – with the proper supervision of the staff, of course.
PetSmart blew our minds further with their pet hotel services too. They have accommodations for cats and dogs ranging from a simple cat cottage, a standard individual boarding, and even a private suite that has a calming diffuser and a white noise machine.
Aside from that, they offer hassle-free shopping through their app, website, and in-store cashless payments. We're even super impressed that they provide free shipping for orders $49 up.
Despite the few complaints in terms of unavailable items, PetSmart earns its spot on our list as one of the best pet shops in Ottawa.

They have one of the widest range of services offered for pets, plus they put their customer's convenience in mind through their free shipping, delivery partnership with Doordash, and more.
Lot of branches spread through the city
Has charitable organization for pets
Shortened business hours on weekends
Expensive rates
Client Reviews:
Great Team and Awesome Services
"Pet smart is awesome – getting all my pet needs to be met at a couple of convenient locations near my house while I run errands is awesome. The west Ottawa store is great with my dog, they've helped me socialize her in a safe setting at doggy day camp and I love the option of having her groomed during her day camp time! The location is also near lots of shopping which is convenient for a busy chore day! Great team and awesome services. I also love the multi-visit packages!" – Wish Yen
Huge Variety from Pets to Food
"Just wow, long time pet owner here and I'm dissappinted iv never shopped here before I always thought it was really expensive but it really depends on what your purchasing, huge variety of things here from pets to food to species specific dietery foods, training courses in the corners and very helpful staff, definately somewhere I reccomend if you want to spoil your pets." – Josh Jnoffin
5. The Pampered Pet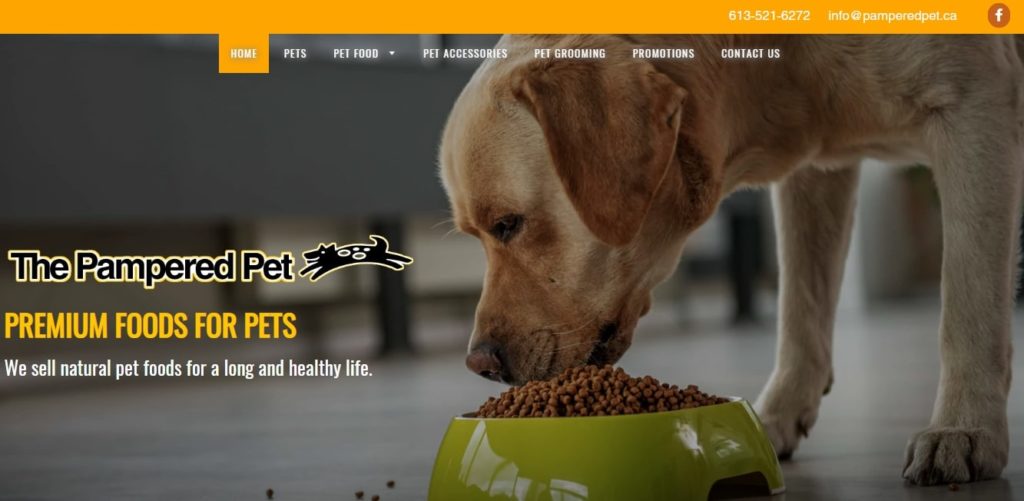 Test
Info
PRODUCTS / SERVICE
Pet Food, Accessories, Pet Grooming, Pets, Supplements, Aquarium Decorations, Birds, Reptiles, Pocket Pets
WEBSITE
http://www.pamperedpet.ca/
ADDRESS
2446 Bank St, Ottawa, ON K1V 1A4, Canada
CONTACT DETAILS
Phone: 613-521-6272

Email: [email protected]

OPERATING HOURS
Mondays to Fridays: 8:00 AM - 9:00 PM

Saturdays: 9:00 AM - 7:00 PM

Sundays: 10:00 AM - 6:00 PM
| | |
| --- | --- |
| Criteria | Rating |
| Range of Services | ★★★★☆ (4/5) |
| Quality of Services | ★★★★★ (5/5) |
| Availability and Customer Service | ★★★★★ (5/5) |
| Location | ★★★★☆ (5/5) |
The Pampered Pet stole our attention because they specialize in providing entirely natural pet food. We think this really gives them an edge over other pet shops in the city.
One of the best things about The Pampered Pet is their focus on holistic nutrition and treating pets. They also offer regular and loyal customers discounts and promotions on pet food and other items and frequent buyer programs to reward their clients.
We also like how we need to book an appointment before visiting the store since it means we will get the accommodation we need. It also means that they can give their 100% attention to us to be able to answer all our queries and pet concerns.
The staff of Pampered Pet impressed us with how knowledgeable they are about all types of pets, even about little critters or the mood changes of hamsters. We truly appreciate this since we are at ease that they know what they're doing and know the importance of pets in our lives.
However, Pampered Pet's requirement for appointments may stir away spontaneous customers or just customers that just ran out food for their pet for the day. We think that they really need to be able to accommodate walk-in customers in the future or have some flexible setup around it.
When you visit their store, you see cats roaming around like patrols. However, the staff there still adheres to health and safety regulations by regularly disinfecting the space to keep it sanitized.
Sells natural ingredients pet food
LGBTQ+ and transgender safe-space
No walk-in consultations
Shortened business hours on weekends
Client Reviews:
Grooming Service is Top-Notch
"This place is great. Amazing service. In particular, their grooming service is top-notch for an affordable price. The groomers that were there when I took my Goldendoodle were amazing. He is a big boy and they took the time to make him look great. Will be continuing to take my big boy there." – Karen F.
Friendly, Accommodating, and Helpful Staff
"I love this shop, and my dog does, too. The staff is friendly, accommodating, and very helpful, and the stock and selection of items are plentiful – and if you want something you can't find on the shelves, they will try to order it for you. The grooming services are exceptional – a very caring and experienced team. I trust my Rogan with Mimi as I know she will look after him!" – Red Stewart
FAQs about Pet Shops in Ottawa
---
That ends our listing for the top pet shops in Ottawa! For further recommendations and thoughts on articles and topics you'd like to read, please leave a comment.
Care to share your thoughts on our options? Did it help? Hopefully, it did. See more of our posts for a detailed list of Ottawa's best pet stores that will assist you with your upcoming pet appointment: