The 5 Best Personal Chef Services in Ottawa
Are you looking for a personal chef to take care of all your culinary needs?
Ottawa offers a wide variety of cuisines to choose from, so whether you're a fan of Italian, Indian, Japanese, or any other type of cuisine, there is a chef out there who can cater to your needs.
Hold on to your toque blanches because, in this article, we will be reviewing the best personal chef services in Ottawa.
How much do personal chefs charge?
The cost of hiring a personal chef will depend on the chef's specialty and the time it takes to cook your requested meals. These rates usually include the chef's time, grocery shopping, cooking, cleaning, and taxes.
The table below should give a more specific look at the probable costs that you may encounter.
| Service | Number of people served | Average cost |
| --- | --- | --- |
| Dinner Party | 3 - 7 people | $400 - $800 |
| Lunch Service | 3 - 7 people | $300 - $700 |
| Breakfast Service | 3 - 7 people | $200 - $600 |
| Catering | 10 - 20 people | $1400 - $2000 |
The Best Personal Chefs in Ottawa
When looking for the best personal chef services in Ottawa, we considered the following factors:
1. Marvelous Mouthfuls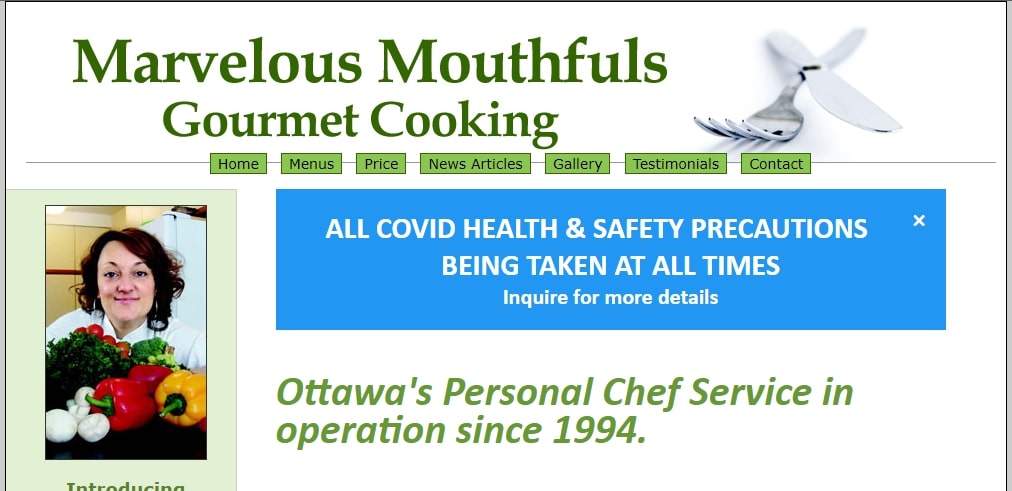 Test
Info
WEBSITE
http://www.marvelousmouthfuls.ca/
ADDRESS
106 Harmer Ave N unit 3, Ottawa, ON K1Y 0V1, Canada
CONTACT DETAILS
613-282-5655
OPERATING HOURS
Monday 9AM–7PM

Tuesday 9AM–7PM

Wednesday 9AM–7PM

Thursday 9AM–7PM

Friday 9AM–7PM

Saturday 9AM–7PM

Sunday Closed
| | |
| --- | --- |
| Criteria | Ratings |
| Rates | ★★★★★(5/5) |
| Availability | ★★★★(4/5) |
| Knowledge | ★★★★★(5/5) |
| Feedback | ★★★★★(5/5) |
Marvelous Mouthfuls is a great option if you're looking for personal chef service. Founder and main cook Melissa Nigi studied culinary arts in Bristol England and has over 28 years of experience working in kitchens.
What makes Marvelous Mouthfuls great is its easy-to-understand hiring process. Its website explains a 3-step process that can be done immediately to hire Chef Melissa.
We also love the fact that the meals can be customized by the customers themselves. If you have allergies or if you are on a diet, this is a great option because Chef Melissa will adjust to your preferred meals.
If you're on a strict budget, you'll be glad to know that Marvelous Mouthfuls is less expensive compared to most personal cooking services. The company also accepts gift certificates and that's greatly appreciated.
If you are a bit iffy about hiring a stranger to come to your home and cook for you, you'll be glad to know that Chef Melissa is open to police checks so that potential customers can verify her legitimacy.
The only real downside of Marvelous Mouthfuls is the fact that it only has one cook available. If Chef Melissa is booked for the day, you'll have to look elsewhere for someone to cook your meals for you.
Overall, Marvelous Mouthfuls is highly recommended for personal chef services.
28 years of experience
Includes groceries
Quick hiring process
Has a police check available
Offers gift certificates
Healthy options
Customer Reviews
Efficient and offers re-heating
"Melissa gets to know your food preferences and any limitations before creating ultra delicious meals that she brings to your home in neat packages. All the re-heating instructions are included too. I highly recommend Melissa due to the quality of the service and product." – Jennifer Forbes
Great quality
"Food quality and taste is always wonderful, freshly-made, and with real, natural, premium ingredients. I've been using Melissa's services for 3 months and I will continue to do so in the future. She's the closest thing to home-made food done by mom. I eat well, my heart is happy and I don't have to eat processed, industrial, frozen meals anymore; my overall health is therefore stronger and better. Thanks, Melissa!" – Jean Thomas Nicole
2. Michael Hauschild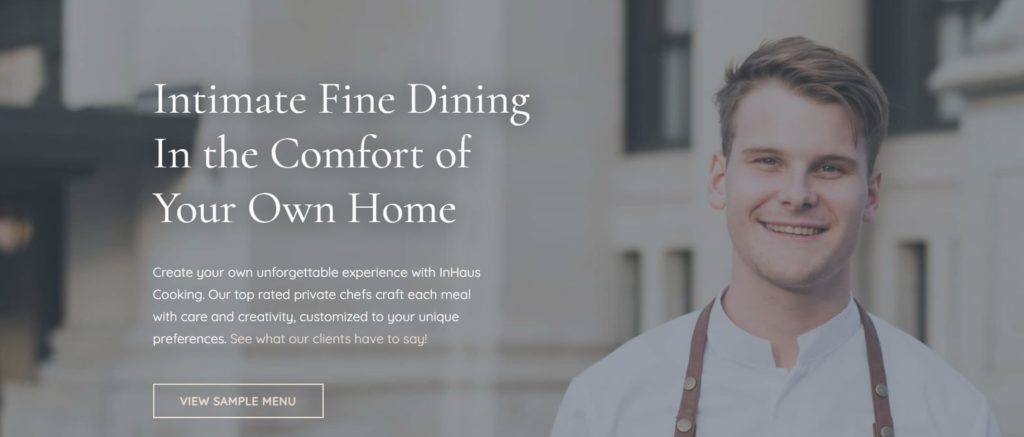 | Test | Info |
| --- | --- |
| WEBSITE | https://inhauscooking.com/ |
| ADDRESS | 430 Hazeldean Rd Unit 6, Kanata, ON K2L 1T9, Canada |
| CONTACT DETAILS | 613-668-7996 |
| OPERATING HOURS | Open 24 hours |
| | |
| --- | --- |
| Criteria | Ratings |
| Rates | ★★★★★(5/5) |
| Availability | ★★★★ (4/5) |
| Knowledge | ★★★★(4/5) |
| Feedback | ★★★★(4/5) |
Michael Hauschild is another great personal chef service in the Ottawa area. Chef Hauschild is a graduate of the Culinary Institute of Canada in Charlottetown.
His specialty ranges from classical French cuisine to contemporary Canadian favorites. He was also born and raised in Ottawa, so he knows how Ottawans like their meals.
Additionally, If you're looking for a more romantic setting for a special occasion, Chef Hauschild is also able to provide themed meals that can be tailored to you and your partner's preferences.
We also love that he is able to offer desserts and cocktails. These can make the meal truly memorable and the great thing about it is you don't have to lift a finger; Chef Hauschild will do all the work for you.
He is trained in catering as well. If you have lots of guests coming over, you can simply call him up to cater the event and take care of all the cooking, serving, and cleaning duties for you along with his team.
The only drawbacks of this service are its pricing and the fact that you only have one chef to choose from. Some customers prefer to have a team of culinary workers to cater to a larger group so this service may not be for them.
Overall, because of the fantastic selections and Chef Hauschild's experience, we highly recommend this personal cooking service.
Intimate themes
Offers desserts and cocktails
Open to work for parties
Flexible service
Customer Reviews
Greatly prepared
"We thoroughly enjoyed a summer of fabulous cooking. Michael prepared a variety of great menus with fantastic service. His dedication and talent shines." – Joe & Danny
True professional
"This was a first for us and am so happy we decided to do it. Michael is a true professional and one of the best dinner experiences I have had to date. I would recommend him to anyone who truly enjoys a good experience. ." – Tom Bastien
3. Chef Steph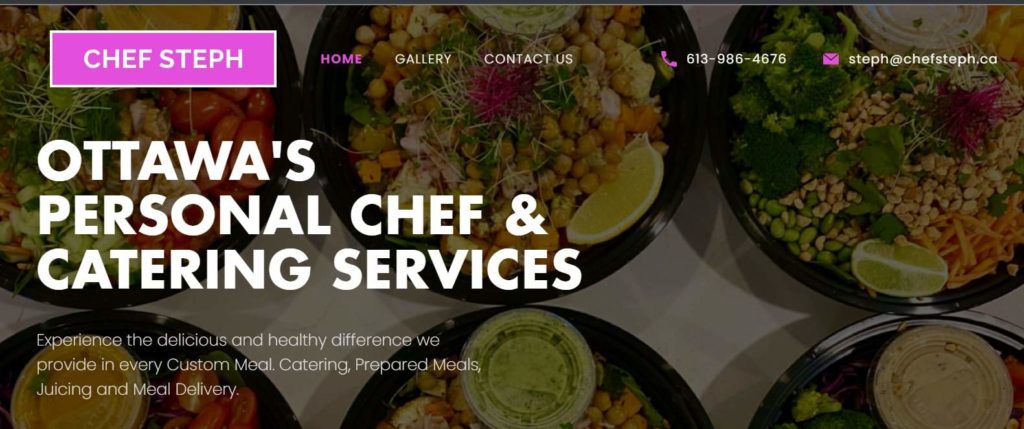 Test
Info
WEBSITE
https://chefsteph.ca/
ADDRESS
Appointment only
CONTACT DETAILS
613-986-4676
OPERATING HOURS
Monday 8AM–6PM

Tuesday 8AM–6PM

Wednesday 8AM–6PM

Thursday 8AM–6PM

Friday 8AM–6PM

Saturday 8AM–6PM

Sunday 8AM–6PM
| | |
| --- | --- |
| Criteria | Ratings |
| Rates | ★★★★★ (5/5) |
| Availability | ★★★★ (4/5) |
| Knowledge | ★★★★(4/5) |
| Feedback | ★★★★(4/5) |
Chef Steph is perfect if you're tired of waking up to an empty table. She and her team are available to cook for anyone for breakfast, lunch, and even dinner as long as the customer scheduled a proper appointment.
Chef Steph is a culinary graduate with over 25 years of experience. She's worked in multiple restaurants and has finally made a business of her own by creating personalized meals for customers.
Her menu is diverse and full of flavors that will tantalize your taste buds. A few examples are a Caesar salad with pancetta, garlic croutons, parmesan, lemon, and olive oil dressing, and salmon or fish filet on a bed of spinach.
She also offers the option to have the meals delivered to your home in case you prefer that kind of service.
We love that Chef Steph caters to different dietary needs, so if you have allergies or if you're trying to lose a specific amount of weight, she will adjust her menu to suit your needs.
The only problem we have with this personal chef service is the fact that it only has one chef available and pre-booking is required — that means no short-notice orders.
Other than that, this cooking service is a great option, especially if you're too tired to cook when you get home from a long day at work or too busy to cook in the morning before going to the office.
Healthy options
Juicing available
Also delivers
Also offers catering
20+ years of experience
Grill Master Awardee
Only one chef for hire
Pre-booking required
Customer Reviews
Essential service
"I've been using Chef Steph for almost a year. As a busy healthcare worker in a pandemic, this has become an essential service. Chef Steph is an excellent cook, she has tons of ideas and was very accommodating of my family's ever changing requests. I highly recommend the beer can chicken, her shawarma casserole her peanut meatballs and her curries. Follow her on Instagram to see her almost daily meals. I highly recommend!" – Isabelle Macnider
Great meals
"We hired Chef Steph to cater a rehearsal party at our home for 25 people. She was very helpful in putting together a great selection of appetizers and desserts. Everything she made was delicious and it allowed us to enjoy our evening with our guests. I would not hesitate to hire Steph again." – Joanne Dathan
4. Chef Ric's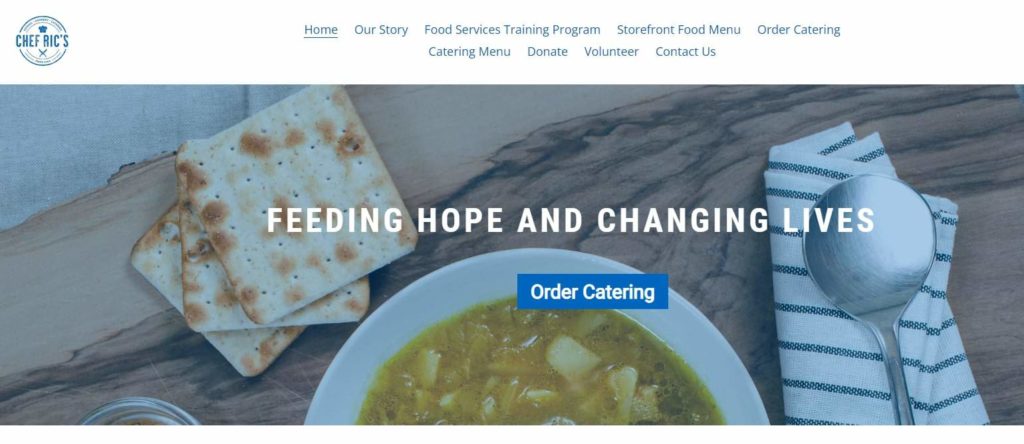 Test
Info
WEBSITE
https://chefrics.com/
ADDRESS
384 Rideau St, Ottawa, ON K1N 5Y8, Canada
CONTACT DETAILS
613-274-3984
OPERATING HOURS
Monday 7:30AM–2PM

Tuesday 7:30AM–2PM

Wednesday 7:30AM–2PM

Thursday 7:30AM–2PM

Friday 7:30AM–2PM

Saturday 8AM–2PM

Sunday 8AM–2PM
| | |
| --- | --- |
| Criteria | Ratings |
| Rates | ★★★★ (4/5) |
| Availability | ★★★★ (4/5) |
| Knowledge | ★★★★★(5/5) |
| Feedback | ★★★★(4/5) |
For a less expensive option, Chef Ric's is a great choice. Although the cooking service is named after one man, Chef Ric's is actually a team of knowledgeable cooks.
If you're looking for a personal meal service, you'll appreciate its custom menus. Chef Ric's chefs will work with you to devise a menu that suits your needs and tastes.
We also appreciate that this cooking service also has a training program in case some customers want to learn how to cook their favorite Chef Ric dishes. If you want to cook at home but need some help with the recipes, then this service is for you.
Chef Ric's also has a catering service that's perfect for big groups and gatherings. You can arrange for the team to come to your home and cook a meal for you and your guests and there's also a delivery option.
This company is very charitable. Every time you buy a meal from them, a percentage of the proceeds are given to charities for homeless people.
The only downside of this service is its minimal gourmet options. If you're looking for a fancy meal that you wouldn't make at home, this isn't the cooking service for
you.
Overall, because of Chef Ric's great services and awesome meal options, we highly recommend it.
Also offers catering services
Has its own training program
Less expensive than most
Delivery option
May not be the best option if you want gourmet
Customer Reviews
5 Stars
"5 stars and the price was very fair for a 4 course meal. Everything was perfect and their services were spectacular." – Kara Rose
So full
"Cheap eats! We ordered 2 Breakfasts, paid for a third for somebody else, and that was it. Food was good for the price and it was actually quite hearty and filling." – Emelina Montoya
5. Mmm Chef

| Test | Info |
| --- | --- |
| WEBSITE | https://www.bymmmchef.com/ |
| ADDRESS | 1310 Woodward Ave, Ottawa, ON K1Z 7V8, Canada |
| CONTACT DETAILS | 613-223-2293 |
| OPERATING HOURS | Appointment only |
| | |
| --- | --- |
| Criteria | Ratings |
| Rates | ★★★★ (4/5) |
| Availability | ★★★★★(5/5) |
| Knowledge | ★★★★(4/5) |
| Feedback | ★★★★★(5/5) |
Mmm Chef is also a solid choice for if you're looking for someone to prepare your meals for you. The personal chef service is also great for those who are too busy to cook.
This is a decent option if you want to celebrate something at home and you're looking for a good gourmet meal that isn't too pricey. The professional chefs at this company can create a wide variety of dishes that are sure to impress your guests.
We also love how Mmm Chef respects its customers' diet restrictions and preferences. This means you can rest assured that all of your meals will be created using ingredients that adhere to your specific dietary needs.
Even if you want to indulge in something that is normally unhealthy, Mmm Chef's got you covered with its unrefined sugars and fresh, nutritious ingredients. What's normally unhealthy will be made slightly healthier by this cooking service.
The only true downside here is its pricing. While it can be cheaper than going to fancy restaurants, it can still make a dent in someone's wallet.
However, if you can afford the service and are looking for a great meal to have at home with your loved ones, this is definitely one of the best choices.
Online menu and online booking
Has a famous TV show
Also caters for events
Offers healthy options
Also does juice
Customer Reviews
5 years of great service
"I've been using the services of Daniela of MMMChef for at least the past 5 years. Whether it is catering for a crowd, a special dish for persons with a food sensitivities, or day-to-day healthy meals for me and my family, I have never been disappointed. Daniela is an extraordinarily skilled holistic chef. I cannot recommend her services highly enough." – Linda L
Extremely talented chef
"So amazing and an extremely talented chef. Daniela puts the Mmm in Chef. She can take anything and make it into a nutritious meal while making sure to keep allergies and meal requirements in mind. She literally has something for everyone and has the most creative experiences and events! Can't wait for my next MmmChef meal!" – Tiffany
FAQs about Personal Chefs
---
And that's it for the best personal chef services in Ottawa! Hopefully, all your cravings are satisfied by the entries in this list!
If you're looking for more information about similar topics, check out these articles: