Top 5 Neon Sign Shops in Ottawa
Create a vibe through light where you can attract more customers for its nostalgic feel! Adding neon lights will spice up any space, especially for businesses.
If you're interested in checking out the best offers here around the city, we've rounded up the best places to find neon signs in Ottawa.
How Much DoNeon Signs Cost in Ottawa
Neon signs are notoriously expensive. With its high-quality materials, purchasing one and maintaining it will almost certainly cost an arm and a leg.
We have included the prices in the table below to assist you in your search for Ottawa's best neon signs. Please remember that prices may still vary from store to store.
| Shops | Estimated Price |
| --- | --- |
| Neon Signs | Starts at $200 to $1000 |
| Custom Sign Design | Starts at $400 |
| Sign Installation | Starts at $165 to $710 |
| Outdoor Sign | Starts at $4,000 to $200,000 |
| Digital Sign | Starts at $35 to $1,000 |
| LED Sign | Starts at $10,000 to $50,000 |
Top Neon Signs Shops in Ottawa
We maintained a close check on everything as we listed the following factors in our selection process to determine the top neon sign shops:
1. Sign Art Studio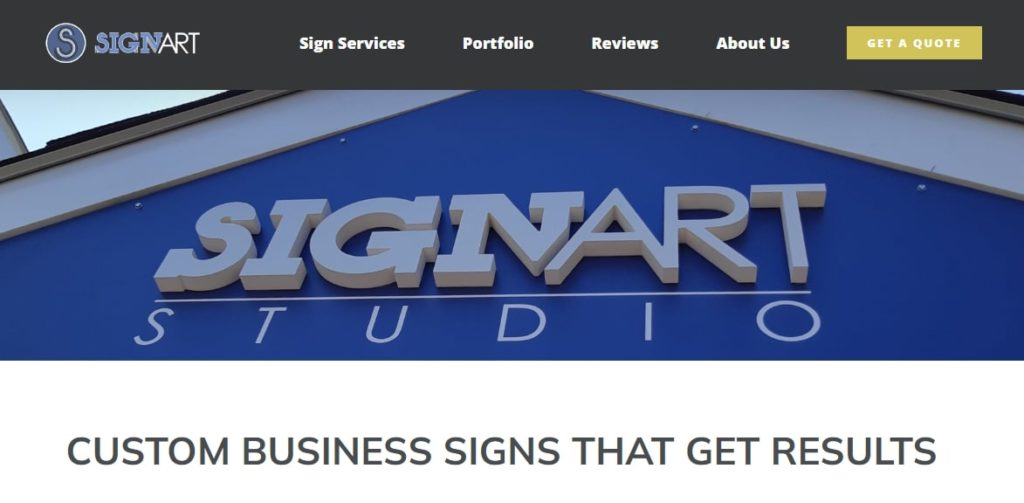 Test
Info
PRODUCTS / SERVICE
Sign Shop, Sign Installation, Branding, Professional, Custom Signs, Wall Graphics, Office & Lobby Signs, Directional Signs, Privacy Film, Frost Vinyl, Floor Graphics, Roll-Up Banners
WEBSITE
http://www.signartstudio.ca/
ADDRESS
174 Loretta Ave N, Ottawa, ON K1Y 2J8, Canada
CONTACT DETAILS
Phone: 613-878-6030

Email: [email protected]

OPERATING HOURS
Mondays to Fridays: 9:00 - 4:00 PM

Saturdays to Sundays: Closed
| | |
| --- | --- |
| Criteria | Rating |
| Services Scope | ★★★★☆ (4/5) |
| Professionalism | ★★★★★ (5/5) |
| Customer Service | ★★★★☆ (4/5) |
| Portfolio | ★★★★★ (5/5) |
Sign Art Studio is a family-run sign and printing shop located in the heart of Ottawa. Not more than four years after its launch, they've earned a reputation for providing outstanding craftsmanship and personalized customer service.
Specializing in interior and exterior designs, they offer functional products that can meet a client's needs.

We're impressed at how thorough their due process is, which includes three easy steps: (1) Site Visit & Quote, (2) Design & Deposit, and (3) Production & Installation.
Although there is no specific mention of offering neon signages, they do provide it as illuminated signs and they're undoubtedly one of the best in the city that can produce one. They make it up by providing for paying and deliveries.
Sign Art Studio is one of our top picks because they carved up their name in the industry from scratch. With their solid vision and determination to give high-quality services across Ottawa, they have served the city by designing, fabricating, and installing hundreds of business signs.
Though services are as limited as they seem, we look forward to expanding their deals. Nonetheless, Sign Art Studio can still guarantee to set you apart from the competition and boosts your brand.
Provides free quotes
Excellent business process
Closed on weekends
No BBB Accreditation
Customer Reviews:
Highly Recommended
"We could not be happier. Our sign was exactly as we requested and the suggested sizing for our space was perfect. Colours were spot on (the grey looks off in the attached photo due to lighting but it is perfect in person) and installation was much quicker than I expected. Highly recommended!" – Dion Bozec
Excellent Service
"Excellent service for branding, signage, banners etc Andres really understands how to make your images look fantastic. His photo reproduction and mounting is simply the best. I know sign art is the best in its category. Andres was very friendly, professional with us and he definitely knows what he is doing. He does magic with his ideas I would definitely recommend and spread the word around." – Senih Demirgil
2. Harvey Neon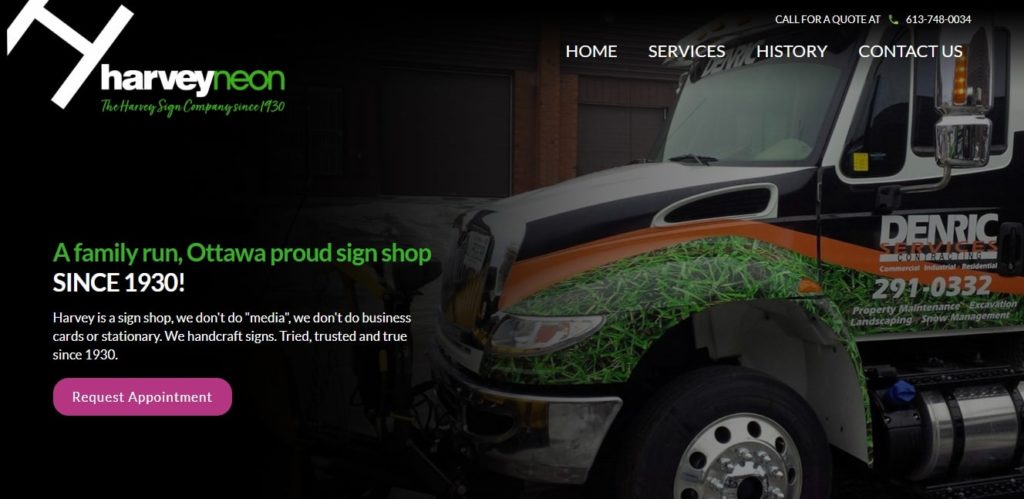 Test
Info
PRODUCTS / SERVICE
Fleet Markings, Digital Imaging, Handcrafted Interior, Exterior Signage, Sign Shop, Building Signs and Banners, Store Front Illuminated, Truck, and Vehicle Wraps, Window Graphics Design
WEBSITE
https://harveyneon.com/
ADDRESS
1605 Royal Orchard Dr, Cumberland, ON K4C 1A9, Canada
CONTACT DETAILS
Phone: 613-748-0034

Email: [email protected]

OPERATING HOURS
Mondays to Fridays: 8:00 AM - 5:00 PM

Saturdays to Sundays: Closed
| | |
| --- | --- |
| Criteria | Rating |
| Services Scope | ★★★★★ (5/5) |
| Professionalism | ★★★★★ (5/5) |
| Customer Service | ★★★★★ (5/5) |
| Portfolio | ★★★★☆ (4/5) |
With over 86 years of experience serving Ottawa, Harvey Neon still stands tall, providing their reputable handcrafted interior and exterior signages. They are also well-known for providing professional advice on improving your signs' visibility.
Living up to its name, Harvey Neon provides neon signs that are personalized and handcrafted to your preference. Along with their other services that include: building signs and banners, vehicle wraps, interior signage, and graphic designs.
They are a family-operated sign shop that is located at Royal Orchard Cumberland. We like that they provide customers with various accessibility options namely in-store shopping, pickup, delivery, and a wheelchair-accessible parking lot.
One of the best things about them is their excellent customer service. They take time to attend to your needs from the beginning to completion by providing sketches, doing site visits, and even applying for permits – they'll be with you every step.
Despite their seemingly limited services, Harvey Neon's expertise can still help ensure that your new neon sign effectively represents your business. Their skill and knowledge is the sole reason why they're still one of the best after all this time.
86 years in business
Impeccable handmade signs
No portfolio provided
Closed on weekends
Client Reviews:
Efficient, Extremely Patient, Quality Designs
"Amazing company! Mike was very quick at answering emails, very efficient in understanding exactly what the client wants and needs, is extremely patient and provided absolute quality signs that are impossible not to love! It was a pleasure to work with them from top to bottom. Definitely, a company worth being loyal to!" – Emma Looney
Friendly Staff, Fantastic Service
"They have a great friendly staff. The detail to a car wrap is incredible. The service was fantastic. I highly recommend it. Harvey Neon got the best of the best for anyone looking for the best signs. A great experience." – Chris MacEachern
3. Kelly Signs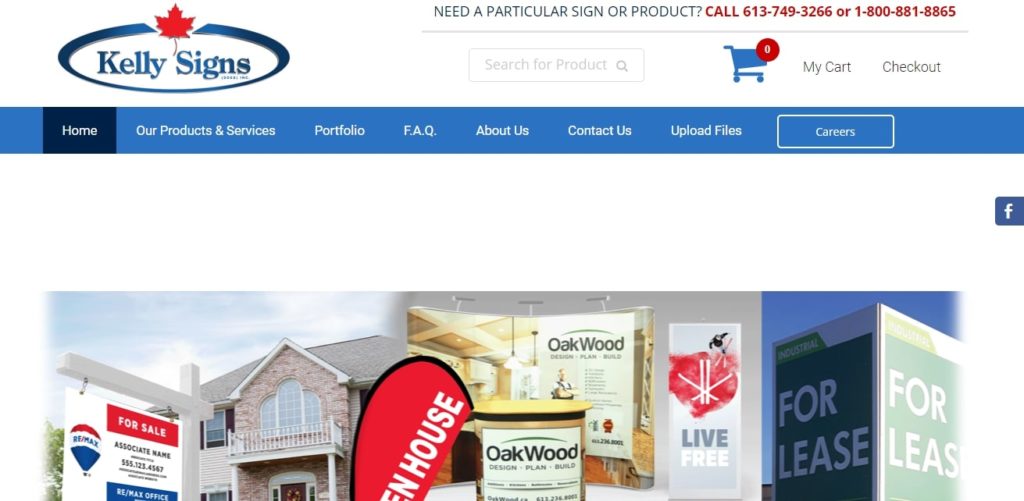 Test
Info
PRODUCTS / SERVICE
Sign Shop, Real Estate & Commercial Signs, Business/Marketing Stationery, Business/Marketing Stationery, Business/Exterior Signs, Golf & Elections Signs, Mega Flags, Printing, Decals, Frames & Accessories, Trade Show Displays, Vehicle Graphics
WEBSITE
https://kellysigns.ca/
ADDRESS
2700 Lancaster Rd Unit 100, Ottawa, ON K1B 4T7, Canada
CONTACT DETAILS
Phone: 613-749-3266

Email: [email protected]

OPERATING HOURS
Mondays to Fridays: 8:00 AM - 4:30 PM

Saturdays to Sundays: Closed
| | |
| --- | --- |
| Criteria | Rating |
| Services Scope | ★★★★★ (5/5) |
| Professionalism | ★★★★★ (5/5) |
| Customer Service | ★★★★☆ (4/5) |
| Portfolio | ★★★★★ (5/5) |
With over 20 years of creating high-impact, cost-effective custom signs, Kelly Signs is a one-stop shop for all of your sign-related needs. They use cutting-edge technology to provide quality goods at reasonable prices.
Kelly Signs is on our list because of their exceptional customer service and attention to detail. Their staff are well-trained and proficient in handling their wide range of services and customers.
What left us in awe was how far-fetched their scope of services is. Kelly Signs has been developing high-quality items for residential and commercial real estate, trade exhibitions, elections, and various enterprises ranging from construction to wholesale and retail.
Aside from that, we love how they also provide expert sign fabrication, installation, and repair. They also offer print and promotional materials ranging from brochures and flyers to business cards and postcards.
We also like that they provide speedy, countrywide delivery through their FedEx collaboration.
With minimal drags and miscommunications, Kelly Studios still thrives as one of the city's most sought-after sign shops. Their slots get filled up fast, but we appreciate how they always give their very best to every client, which makes them worth the wait.
Kelly Studios is also proud of servicing successful Fortune 500 companies. Aside from neon signs, they really bring up their game by providing business exterior signs of different sizes, even monument signs, that grab the attention of both big and small businesses.
Wide scope of services
Ships internationally
Closed on weekends
Slots get filled up fast
Client Reviews:
Highly Recommended Services, Expert Knowledge, Quality Signage
"We appreciate the quick turnaround, and the graphic designer's attention to detail on our most recent project. His conscious effort to ensure that we would avoid any unnecessary costs (re. the requested sizing of the signage specifically) are to be commended. As an award-winning home builder, it's paramount that we promote our company with the highest quality signage & marketing collateral. Kelly Signs has been a valued partner in displaying Campanale Homes and Campanale Management in the best possible way in the Ottawa region. I would highly commend their services & expert knowledge to anyone seeking quality signage." – Rick Petsche
Extremely Client-Centric, Knowledgeable, Quality Products
"Many many thanks to Kelly Signs and Bev Steinburg for delivering on a very short notice and such a high quality product. I was coordinating an event and there was a last minute corporate sponsor added. The Sponsor's only request was that there be signs. With only 3 days and no properly formatted logo, Bev and Kelly Signs worked their magic and created high quality signs that exceeded the expectations of both the Sponsor and myself not to mention the price was right! I highly recommend Kelly Signs to anyone looking to work with an organization that is extremely client-centric, knowledgeable and delivers quality products." – Suzanne Hess
4. UTG Digital Media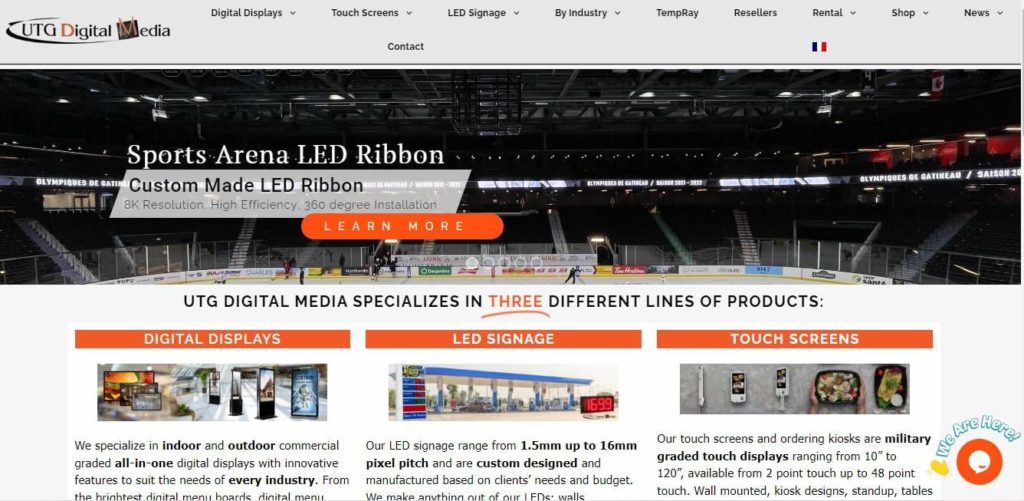 Test
Info
PRODUCTS / SERVICE
Sign Shops, Digital Displays, Touch Screens, LED Signage, Business Signage, TempRay, Mobile LED Trailer
WEBSITE
https://www.utgdm.com/
ADDRESS
5335 Canotek Rd #104, Gloucester, ON K1J 9L4, Canada
CONTACT DETAILS
Phone: 613-695-5550

Email: [email protected]

OPERATING HOURS
Mondays to Fridays: 8:00 AM - 5:00 PM

Saturdays to Sundays: Closed
| | |
| --- | --- |
| Criteria | Rating |
| Services Scope | ★★★★☆ (4/5) |
| Professionalism | ★★★★★ (5/5) |
| Customer Service | ★★★★☆ (4/5) |
| Portfolio | ★★★★☆ (4/5) |
With its award-winning CEO, UTG Digital Media is one of Ottawa's top neon sign shops. Their indoor and outdoor digital signage solutions are inventive, sophisticated, and cost-effective.
They are well-known for their three distinct product lines: digital displays, led signs, and touch screens. These all use high quality materials that can withstand any untoward incidents.
We're also impressed that they are renowned as a service supplier for sign companies worldwide!
UTG Digital Media can design, develop, and manufacture indoor and outdoor digital signage solutions. We love how they categorize their servicer per industry on their website so clients can easily navigate and see what they'll need.
What also grabbed our attention about UTG Digital Media is that they don't just operate in Ottawa, they also have several branches in the US, Middle East, and Europe.

Their amazing growth led to their CEO being one of the awardees for the 40Under40 award. He was also voted as Ottawa's Business Owner of the year in the 2022 Faces Magazine Awards.
They accept checks and debit cards as a part of their payment methods. Also, they offer in-store pickups and deliveries.
Award-winning CEO
Accepts checks for payment
No portfolio displayed
Expensive rates
Client Reviews:
Customer Service is Excellent
"From the first point of contact to post-event follow-up with the UTG team, the customer service is excellent! Delivery, setup and pick up of the 43″ touch-screen was incredible and the media itself was a great hit for launching a new website! I highly recommend checking out the showroom – you'll be inspired to get creative with your marketing." – Terradare Inc.
Knowledgeable Team
"Very knowledgeable team in Digital & LED Signage. We needed a new video wall rental and they were able to deliver on time and with professionalism. Their CMS is top of the shelf and extremely easy to use. We use it on a daily basis to change and test new graphics, ads and menus. We will be working with UTGDM for our future project and will totally recommend it." – Robert Boban
5. JBL Signs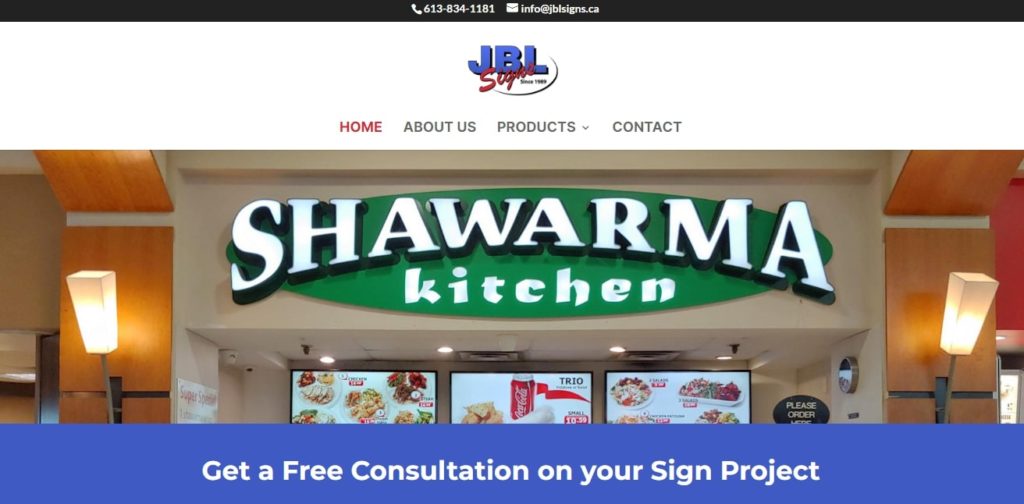 Test
Info
PRODUCTS / SERVICE
Sign Shop, Channel Letters, Corporate Identity, Large Format Printing and Graphic Installation, WayFinding & Directional, Pylon and Monument Signs, Wall Signs, Interior and Exterior Sign, Illuminated and Non-Illuminated, LED signs
WEBSITE
https://www.jblsigns.ca/
ADDRESS
1570 Liverpool Ct, Ottawa, ON K1B 4L2, Canada
CONTACT DETAILS
Phone: 613-834-1181

Email: [email protected]

OPERATING HOURS
Mondays to Fridays: 8:30 AM - 5:00 PM

Saturdays to Sundays: Closed
| | |
| --- | --- |
| Criteria | Rating |
| Services Scope | ★★★★☆ (4/5) |
| Professionalism | ★★★★★ (5/5) |
| Customer Service | ★★★★★ (5/5) |
| Portfolio | ★★★★☆ (4/5) |
A family owned and operated business, JBL Studios has been operating for more than 33 years. They specialize in manufacturing a wide variety of signs, and has been listed as one of the best neon sign shops in Ottawa.
They have excellent staff who will gladly assist you in the step-by-step procedures in creating and installing your custom sign. We love how they make sure that products are always delivered on time.
What we love about JNL Studios is how they provide both illuminated and non-illuminiated signs. We appreciate how they always ensure the longevity of their products so their clients won't need a lot of maintenance, or repair to help save costs.
They compensate with those though by offering free consultation on your signed projects which will save you a lot of money. With the grade of service on each product, they guarantee you a worthy signed purchase.
JBL has been in the industry long enough to compete with other sign shops in Ottawa and with their true service, they have been able to keep up with the rising market of competition. In simple terms, they are indeed top-notch in this industry.
Free consultation on sign project
33 years in business
No in-store pickup and shopping
Closed on weekends
Client Reviews:
Professional, Timely, and Thorough
"We love working with Jeff! Whether it's for a new pylon sign for one of our properties or company signage to promote a business, he is professional, timely and thorough. He works with you every step of the way." – Merkburn Holdings
Nice Service and Beautiful Work
"They make really nice signs! They will help you with any permits you may need for your signs, and also give you ideas and lots of options on the sign designs you may have to make your sign even better! They are knowledgeable with different kinds of lettering light options, and even exterior materials that make your signs last the longest. They make sure you're 100% satisfied as well! They did a really nice halo lit light sign with a cut out logo on top of outdoor wood. Nice service and beautiful work!" – Angel Le
FAQs about Neon Signs in Ottawa
---
That concludes our listing of the top neon signs in Ottawa. Please leave us a word for your thoughts and suggestions on articles and topics you'd love to read.
Let us know if you have any ideas about our options. We're hoping that we have been of great help. For more Ottawa's design services listings, check out our blogs: