Top 5 Home Security System Providers in Ottawa
If you're looking for the first line of defense, having a home security system in Ottawa can be a lifesaver in an emergency situation. No matter what kind of neighborhood you're living in, you can never be too sure.
Your paranoia for your home is always valid and very understandable. For your peace of mind, we present you with the top home security system providers in Ottawa:
How Much Does a Home Security System Cost in Ottawa
Contrary to common beliefs, there are affordable home security systems available in the market.
You can also opt for annual packages to save more money. The annual fees have a bigger cost up front but it saves you an average of 16% from monthly fees.
Check out the estimated home security system costs in Ottawa:
| Service | Estimated Costs |
| --- | --- |
| Monitoring | $5 to $65 per month |
| Installation and Activation | $0 to $200 (some home security system providers provide free installation) |
| Equipment | $350 for basic gear and $5-$400 for individual equipment |
| Maintenance | $2-$5 per month |
Top Home Security System Providers in Ottawa
When it comes to security, we only want the best. The providers included in the list are well scrutinized with the following criteria:
1. Protek Installations Ltd.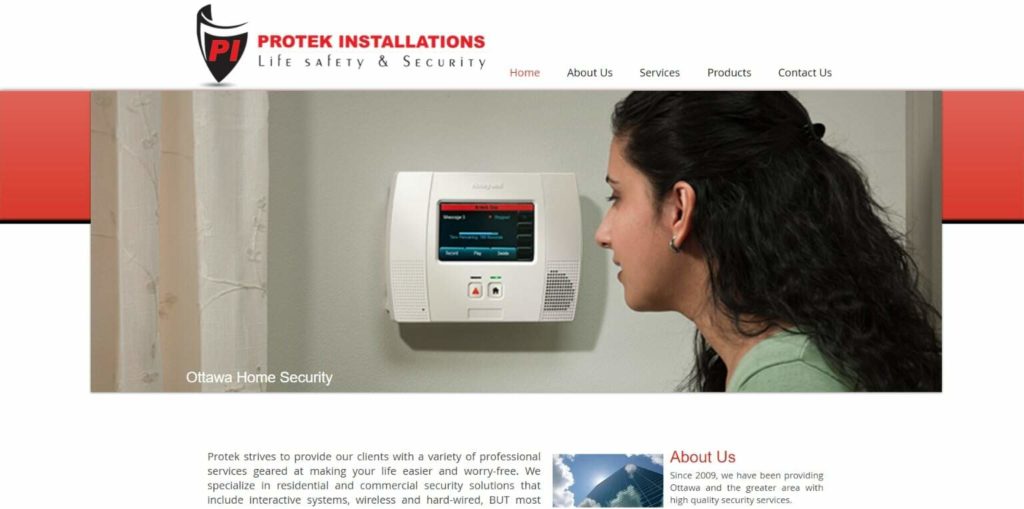 Test
Info
PRODUCTS / SERVICE
Internet and Cellular Connectivity, Alarm System, Doors, Smoke and Motion Detectors, Touchscreen Keypads, Keyfobs, Lights, Thermostats, Locks, Z-Wave Integration, Home Automation, Installation, Video Surveillance, Bullet, PTZ and Dome Cameras, Battery Replacements, Technical Support, Parts & Equipment Repairs
WEBSITE
https://www.protekinstallations.ca/
ADDRESS
6654 Stillwood Drive, Ottawa, ON K0A 2T0
CONTACT DETAILS
Phone: (613) 447-8607

Email: [email protected]

OPERATING HOURS
Open 24 Hours
| | |
| --- | --- |
| Criteria | Ratings |
| Range of Services | ★★★★★ (5/5) |
| Security and Accreditations | ★★★★★ (5/5) |
| Aftersales and Customer Service | ★★★★★ (4/5) |
Clients and customers continue to enjoy Protek Installations LTD.'s exemplary service and home security. The service provider has been around since 2009 and has caught our attention with their perfect 5-star rating in Google.
We appreciate how Protek Installations LTD. has built a reputation for using the latest security technology as well as high installation standards and excellent after-sales service. They understand how the relationship with their customers is essential to growth and success.
Despite not offering any pricing guide for their home security system package or equipment, Protek Installations LTD offers different systems for commercial and residential security needs. They also boast of providing any type of security system in Ottawa.
Customers will also enjoy Protek Installations LTD's professional installation and training for their security system. They're also proud of having exceptional security, IP video, and networking expertise.
We love Protek Installations LTD's 24/7 technical support services. It provides peace of mind to all of their clients that they will get the help they need when things go haywire.
Commercial and residential clients love how Protek Installations LTD can perfectly deliver fully integrated smart security solutions of all sizes with the best technology. The company was also awarded as one of the top 3 security systems and best businesses of 2021.
Lifetime warranty for equipment
24 hours a day technical support
No equipment pricing guide
No monitoring pricing guide
Customer Reviews
Honest and professional
"Very happy with the service from Protek. Installed a new Security System with the added challenge of using the older system's pre-run wires. The new system works great. Employees were both honest and professional. Do recommend." – Julien St-Aubin
Best priced in the Ottawa region
"We just had Protek install a new Honeywell wireless system in our new home near Manotick. The team at Protek won our business after we had 4 security firms quote for the project. We found the presales and post-sale service exceptional. The installation went smoothly (both mobile apps and in-home systems). We appreciate the integrated services and easy-to-use interface as well as the system's capabilities. We find Protek's Monitoring Services are best priced in the Ottawa region. We highly recommend this company for all your in-home security needs." – Arlen Bartsch
2. RedFlag Security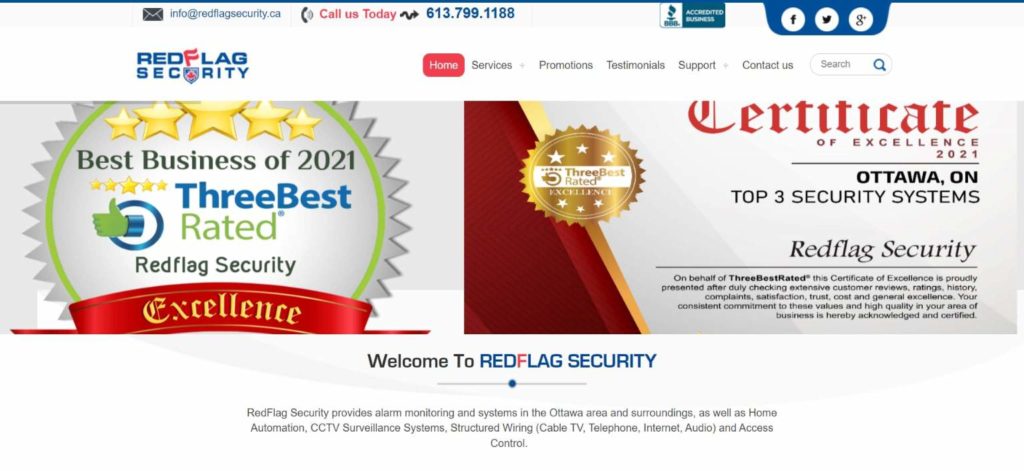 Test
Info
PRODUCTS / SERVICE
CCTV Surveillance, Access Control, Smoke and Carbon Monoxide Glass, Break and Pet-Friendly Motion Detection, Holdup, Panic, Fire and Medical alarms, Structured Wiring, Installation, Temperature, and Water Level Monitoring, Door Contacts, Home Automation, Battery Backup, Indoor Siren, Wired, Wireless & Hybrid Systems
WEBSITE
https://www.redflagsecurity.ca/
ADDRESS
207 Bayswater Avenue, Ottawa, ON K1Y 2G5
CONTACT DETAILS
Phone: (613) 799-1188

Email: [email protected]

OPERATING HOURS
Mondays to Fridays: 9:00 AM - 5:00 PM

Saturdays to Sundays: CLOSED
| | |
| --- | --- |
| Criteria | Ratings |
| Range of Services | ★★★★★ (5/5) |
| Security and Accreditations | ★★★★★ (5/5) |
| Aftersales and Customer Service | ★★★★☆ (4/5) |
We really love RedFlag Security's promotions. They're one of the cheapest deals in the market and can provide you with the best discounts.
RedFlag Security also caught our eyes for their awards and accreditations. All of their services center on honesty and integrity to gain trust and have a long-term relationship with their customers.
We appreciate RedFlag Security's FAQs page on their website for people who have zero knowledge about security systems. They cover all common questions pre-sales, about DSC 1616, and even the terms and definition of the alarm system.
Customers will enjoy RedFlag Security's wide range of security camera systems and home CCTV. You can expect it to last longer since they are one of the best installer and maintenance service providers of digital CCTV cameras and recording surveillance systems in Ottawa.
We love RedFlag Security's high-quality DVR recording systems because you can record days without worrying about space running out. They programmed the systems to tape over the oldest footage automatically when it runs out of space.
Despite being closed on weekends, RedFlag Security has excellent customer support and maintenance for installation and repair. They also don't have a complete pricing guide on their website but they have a sensibly priced digital CCTV surveillance system that you can trust.
Great promotional deals
High-quality DVR recording systems
Lack pricing guide
Closed on weekends
Customer Reviews
Most cost-effective
"I've received timely and relevant responses from the quote process onward. Our technician was polite and neat, he stayed longer than usual to make sure everything was set up correctly. I've compared the prices to mainstream and more local security companies and RedFlag was by far the most cost-effective. Highly recommend." – Lindsay Callaway
Very professional customer experience
"We had a great experience with the RedFlag security team. They installed the cameras at our house and the experience was fantastic from booking the time to accommodating our needs to installation. John is absolutely perfectionist doing the installation job and never compromises or settles for less during the process. Respect all COVID protocols which are great. Very professional customer experience by Andreea and George throughout the process. I highly recommend them for all your security needs. They love what they do and they are the professionals you need to take care of your safety around your house and business." – Sifa Youna
3. Private Eye Security Inc.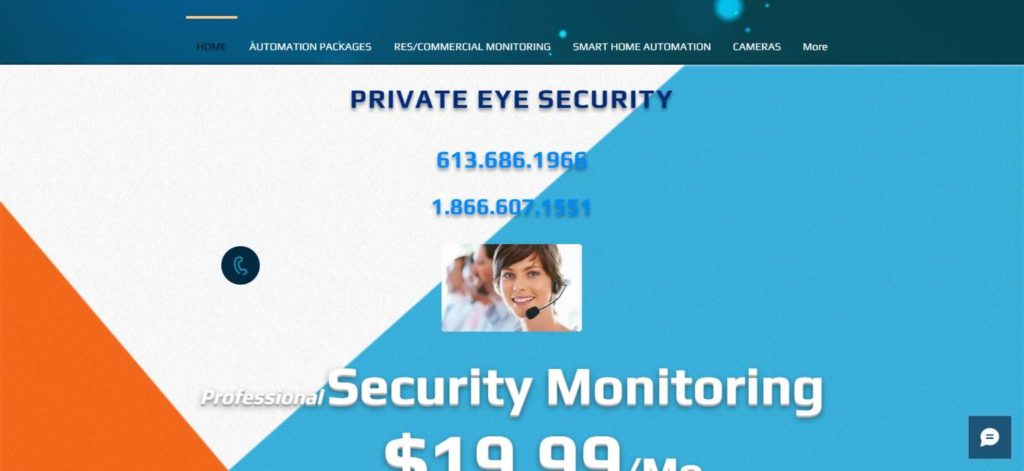 Test
Info
PRODUCTS / SERVICE
Remote Control, Home Automation, Door Lock, HD Camera System, Floor Sensor, Wired Keypad, Indoor, Outdoor Cam, Smoke Detector, Installation, Residential and Commercial Security Systems, Outdoor Siren, Maintenance, Panic Button, Door Bell, Video Surveillance, Security Risk Assessments, Networking, Home Audio & Theater Systems
WEBSITE
https://www.privateeyesecurity.ca/
ADDRESS
251 Laurier Avenue West, Suite 900, Ottawa, ON
CONTACT DETAILS
Phone: (613) 686-1966

Email: [email protected]

OPERATING HOURS
Main Office Mondays to Fridays: 9:00 AM - 5:00 PM

Saturdays to Sundays: CLOSED

Monitoring Station: Opens 24/7
| | |
| --- | --- |
| Range of Services | ★★★★★ (5/5) |
| Security and Accreditations | ★★★★★ (5/5) |
| Aftersales and Customer Service | ★★★★★ (5/5) |
Private Eye Security Inc.'s energy-efficient smart home security system automation is the top reason why they're included on this list. We like how their system protects you from intruders while not hurting your electricity bill.
Aside from that, Private Eye Security caught our attention for being able to maintain an A+ rating and member of the Better Business Bureau since 2007. They're famous for adhering to the top standards in the industry.
We love Private Eye Security's specialization in different types of security services for businesses and homeowners. They can also provide an on-site analysis of your home to identify all security risks and tailor a security plan all for you.
Homeowners enjoy the professionalism and years of technical experience of Private Eye Security's staff in securing their homes. Customers feel safe and assured that their security customization is genuinely for their own safety and security and not just sales.
Private Eye Security's team takes time in answering all of their customer's questions. We love how they break it down into a language that everyone can understand despite no knowledge of security systems and software technicalities.
Homeowners also enjoy Private Eye Security's cost-effectiveness. The company boasts of having the lowest monthly fees with the best home security services.
24/7 monitoring
Low monthly fees
No pricing guide
Closed on weekends
Customer Reviews
Great service
"Very professional and punctual. Always had a good experience. Private Eye Security is a great company to deal with. They have installed my full camera system and they monitor my camera and alarm system at work as well and I could not be more satisfied. Problems are always solved by Adolf and his team within a fast time frame. Great service overall. I always recommend private Eye to my friends, family, and clients." – Rico Saleh
Knowledgeable staff members
"To the group of security professionals at Private Eye, I wanted to offer my gratitude for the recent service installed in my new home in Findley Creek. You're genuine, courteous, informative and top-quality advice has surpassed my expectations when it comes to home monitoring and protection. My recent experience with another larger provider in the industry left a bad taste in my mouth; but when my neighbor told me about you, I thought a call wouldn't hurt. What impressed me the most was the time you invested to educate, engage and involve me throughout the process. Your knowledgeable staff members explained the nuances of key alarm features that will help keep both my family and property safe; features that cost me an arm and a leg with the other provider. I would certainly recommend PES to anyone looking for the right security provider who does not want to tie themselves up into convoluted contracts. Keep up the great work guys." – G.Nicolas Assali
4. Alliance Security Systems of Ottawa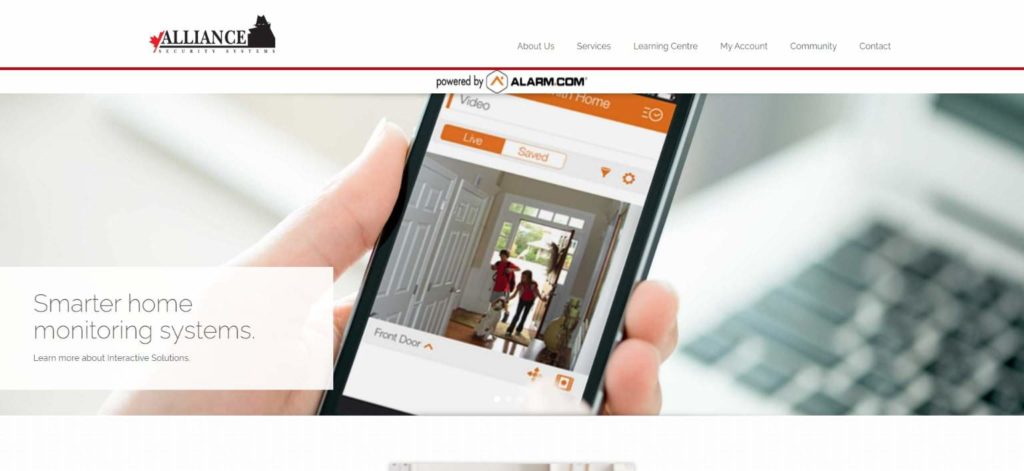 Test
Info
PRODUCTS / SERVICE
24 hour Security System Monitoring, Interactive Solutions, IQ PanelPerimeter and Basic Security System, Barrier Bars, Leased Alarm System
WEBSITE
https://www.allsecure.com/
ADDRESS
872 River Rd, Manotick, ON, Canada K4M 1B2
CONTACT DETAILS
Phone: (613) 860-0396

Email: [email protected]

OPERATING HOURS
Mondays to Fridays: 9:00 AM – 5:00 PM

Saturdays to Sundays: CLOSED
| | |
| --- | --- |
| Range of Services | ★★★★★ (5/5) |
| Security and Accreditations | ★★★★★ (5/5) |
| Aftersales and Customer Service | ★★★★☆ (4/5) |
Since 1992, Alliance Security has been servicing the Ottawa region's homeowners with the best home security installed by certified and experienced professionals. We like how it is owned and operated by a licensed electrician, unlike other companies who use uncertified sub-contractors.
We love how each client enjoys the protection and a "no false alarm" guaranteed peace of mind. Alliance Security does this by their 24-hour ULC monitoring and smart technology options.
Homeowners will also enjoy Alliance Security's efficient and invisible installations. It is always safe, meets the building code, and is professionally done.
We love how Alliance Security assures their customers when subscribing to their home monitoring. They promise that they won't just get full 24/7 security but personalized customer care as well.
Customers will also enjoy the overall Alliance Security equipment developed by General Electric/Interlogix. Alliance Security proudly claims that their customers rarely experience false alarms with it and if they do, they will shoulder the costs.
Despite having no office on weekends, Alliance Security offers both 24-hour telephone support and service calls. Their monitoring station is also in Ottawa.
Alliance Security also caught our attention for being a BBB accredited business. They are also part of the Ottawa Executive's Association which is an exclusive business leaders' network that represents the highest standards of products, services, and professional integrity of the industry.
No false alarm guarantee
24/7 monitoring
Closed on weekends
No pricing guide
Customer Reviews:
"I have been an Alliance customer for the last 3 years in my new home. I had never had an alarm before but wanted to have that sense of security Alliance has provided to us. Alliance worked with us and went through the house pointing out issues with the existing system, corrected them, went over everything, and was neat and tidy not leaving a mess. Their monitoring fees are exceptional compared to others out there and during my learning curve were always available to answer my questions and even point me to the mobile app I use daily! I would recommend Alliance if you were looking to replace your existing provider or have a new install done." – Wayne Tierney
"We had security cameras supplied and installed by Alliance. Service was prompt and professionally installed. Have not had any issues with any of the equipment. When we have questions, we are answered promptly and given directions. I recommend Alliance security for all your home or business needs." Budget Railing
5. Bee Alarmed Limited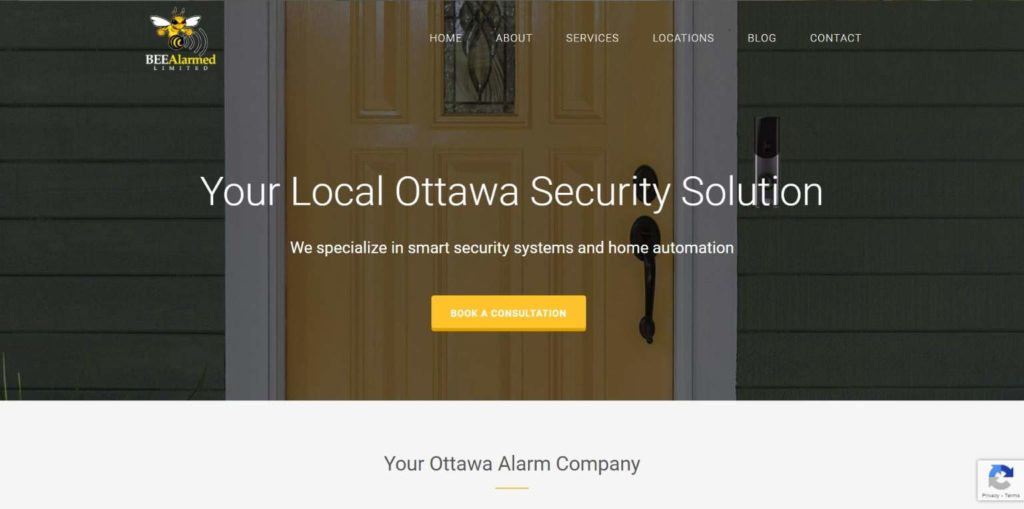 Test
Info
PRODUCTS / SERVICE
Smart Alarm Systems, Home Automation, Video Monitoring, Alarm Monitoring, Home And Business Prewiring, Commercial Security Systems & Small Business Security, Energy Management
WEBSITE
https://www.beealarmed.ca/
ADDRESS
Monitoring Station: Mountain, ON K0E 1S0, Canada, Ottawa, Ontario
CONTACT DETAILS
Phone: (613) 232-1233

Email: [email protected]

OPERATING HOURS
Opens 24/7
| | |
| --- | --- |
| Range of Services | ★★★★★ (5/5) |
| Security and Accreditations | ★★★★★ (5/5) |
| Aftersales and Customer Service | ★★★★★ (5/5) |
Bee Alarmed captured our attention with its specialization in smart home security systems and home automation. We love how they work closely with each and every client to ensure maximum protection at the most affordable price.
Customers enjoy Bee Alarmed's amazing customer service. They earned the trust of their new clients by retaining all existing clients through great aftersales service.
We love how Bee Alarmed does not follow a one-size-fits-all approach. They always take time to evaluate the needs and the goals of all their clients to deliver a fully customized home security system.
Residential customers will surely love Bee Alarmed's affordable starter packages that start at only $19. The company boasts of having the most affordable price for home security solutions.
What we love most about Bee Alarmed is its 24/7 and 365 days a year availability. The company understands its customers' need for immediate response and resolution when it comes to security.
Homeowners enjoy Bee Alarmed's whole suite of residential security system services. Their installation time can cater to your time of choice including evening and weekend appointments.
Despite not having a physical location for their main office, Bee Alarmed's primary alarm monitoring station is located in Ottawa. The company also boasts being Underwriters' Laboratories of Canada (ULC) certified, ensuring that your home is still protected during local emergencies, like a power outage.
Affordable packages
Specialization on smart home security system
No main office location
No pricing guide
Customer Reviews:
Quick to respond
"I switched the security services in my house from another company to Bee Alarmed. I am very pleased with their excellent services. They are quick to respond, resourceful to help, responsible, and reliable when solving problems. They are certainly one of the best security monitoring companies in Ottawa! I would definitely recommend them to all my family and friends for security/monitoring services." – Amy Guo
Exceptional service
We've been using Bee Alarmed for several years now and have always appreciated their professionalism and exceptional service. Dean is always able to provide sound advice and responds promptly to any questions we have. I would heartily Bee Alarmed for anyone in town looking for an alarm service. – Tom Conway
FAQs about Home Security Systems in Ottawa
---
We hope our list will help you in your choice for your home's protection. It's always better to be safe than sorry.

If you can recommend another provider that deserves to be on the list, leave a comment below!  You can also check out the best security companies in Ottawa for any special event or festival.