Top 5 Dishwasher Repair Services in Ottawa
It's a frustrating experience when an appliance that's supposed to make your life convenient goes on the blink. Broken dishwashers are a prime example.
So if you find yourself with a dishwasher that suddenly grinds to a halt, consider getting professional dishwasher repair services in Ottawa.
But how much will it cost you? We'll break down the different costs for it in the next section.
How Much Does Dishwasher Repair Cost in Ottawa?
A faulty dishwasher could stop functioning properly for several different reasons. This means the corresponding cost of repair will depend on the parts or function in question.
In recent years, the national average for dishwasher repairs has been between $100 and $300. But if it's a minor repair issue that requires either a small part replacement or a quick fix, it won't cost you that much.
Here's a table showing some common dishwasher issues and their estimated costs to guide you.
| | |
| --- | --- |
| DISHWASHER REPAIR ISSUE | ESTIMATED COST |
| Motor | $200 – $500 |
| Control panel | $150 – $350 |
| Pump | $100 – $250 |
| Leak | $50 – $300 |
| Door spring | $50 – $150 |
There could be other repair concerns not reflected above. For specifics, it's best to get an assessment (which usually comes free) from your appliance repair service of choice.
The Top Dishwasher Repair Services in Ottawa
Ready to get your dishwasher humming and cleaning your dinnerware again? Then let's take a closer look at these top-rated dishwasher repair services in Ottawa, shall we?
1.   Fair Appliance Repair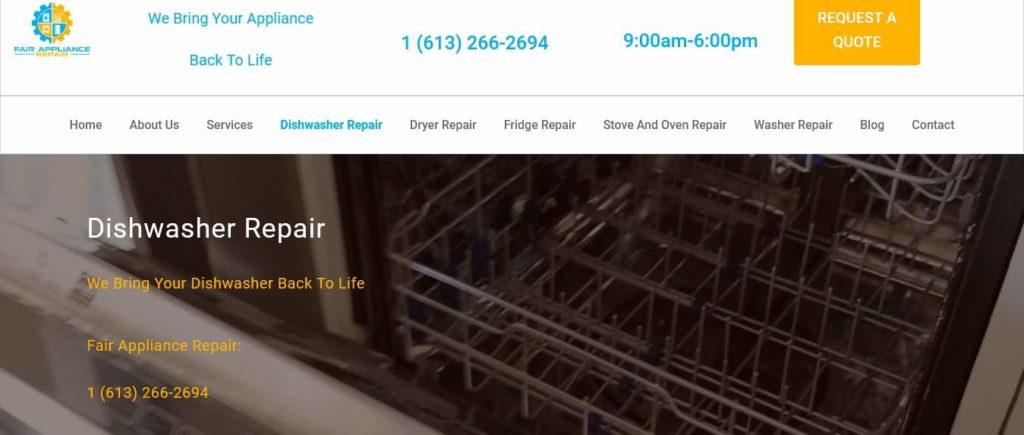 SERVICES
Appliance repair diagnostics, appliance repair, appliance installation, maintenance
ADDRESS
300-116 Albert Street Ottawa, ON K1P 5G3
CONTACT NUMBER
1 (613) 266-2694


[email protected]

WEBSITE
https://www.fairappliancerepair.ca
OPERATING HOURS
Monday to Friday 9 AM – 6 PM
Saturdays 9 AM – 3 PM
Closed on Sundays
Fair Appliance Repair simply wants to "bring your appliance back to life". It's a bit of reanimation hyperbole but we'll take it.
It's got an Aᐩ rating from the Better Business Bureau so there's some reassurance that whatever complaints there are, the company will seek to address them promptly. It's also received dozens of favourable client reviews with efficiency as one of the company's common descriptions.
Fair Appliance Repair lists practically all the dishwasher makes and models in existence under its services. The company aims to fix any dishwasher-related problem from a broken door to a leaking machine.
Personally, the free assessment, quotation, and explanation offered by its technicians are what would make us choose this company among the rest. Those, plus the promised one-year warranty on both parts and labour!
Free assessment and quotation
24/7 services are available
Up to one year warranty on labour and parts
BBB-accredited, Aᐩ rating
Doesn't provide a pricing breakdown
Closed on Sundays
Customer Reviews
Read the following client feedback for Fair Appliance Repair:
"Fixed a Bosch dishwasher pump on the same day of initial visit – super service in midst of the pandemic. Thanks so much." – Nobina Robinson
"I used this service for my rental unit's washer. Slava was professional and gave me honest information over the phone regarding my options for repair vs purchasing a new unit. Excellent service. Thank you." – Mokhtar Akbari
2.   Appliance Technician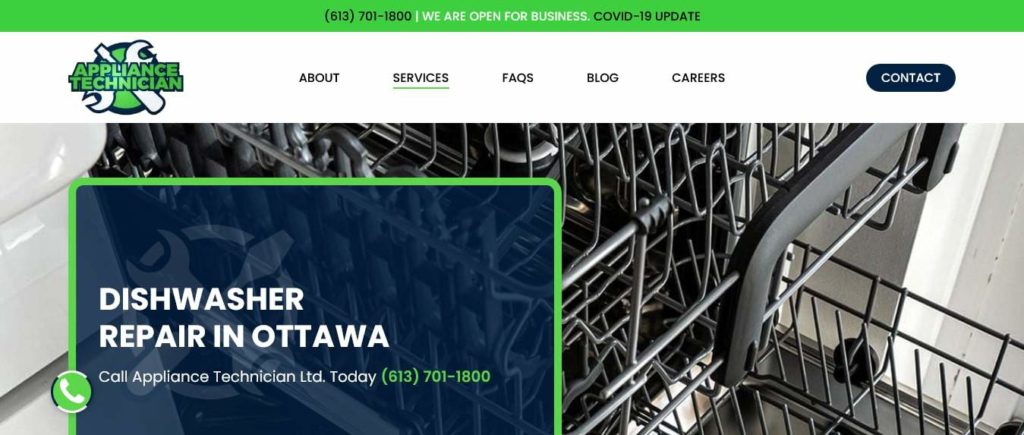 SERVICES
Property management, appliance repair for most brands and models
ADDRESS
251 Laurier Ave W Suite 900, Ottawa, ON K1P 5J6
CONTACT NUMBER
+1 613-701-1800


[email protected]

WEBSITE
https://www.appliancetechnician.ca
OPERATING HOURS
Monday to Friday 7 AM – 7 PM
Saturdays 9 AM – 6 PM
Sundays 9 AM – 4 PM
Appliance Technician has several awards under its belt including the 2020 Consumer Choice Award for Ottawa's Best Home Appliance Repair Service company. It's also a Google-guaranteed business so you can rest assured its technicians are licensed, pre-screened, and insured.
The company's technicians are certified to address a dishwasher's manufacturing, electrical, or mechanical issues using the proper kind of skills and tools. Its team uses only certified parts for its dishwasher repair service.
There are fixed operating hours for seven days a week, but the company still promises full flexibility to accommodate a client's schedule. Service calls are free, but it's best to clarify if this offer is honoured only once an appointment is confirmed.
Repeat customers get 10% off for any repair service. And if you're a first-time customer of Appliance Technician, you'll automatically get a $30 discount for your first repair appointment!
Charges by labour, not by the hour
Free assessment over phone, text, or email
2020 Ottawa Consumer Choice awardee
Diagnostic calls are a bit steep at $90-$110
Doesn't sell parts
Customer Reviews
The following clients have good things to say about Appliance Technician:
"Paul immediately diagnosed the problem, corrected it, and explained how to prevent it from recurring. He generously answered related questions and was extremely pleasant throughout. A super-positive experience." – Rob Colter
"Very professional, friendly, fast and caring! Quickly responded to our claim and fixed our washer in an hour! Made sure everything is installed and works properly. Highly recommend!" – Mariya Halushka
3.   Express Repair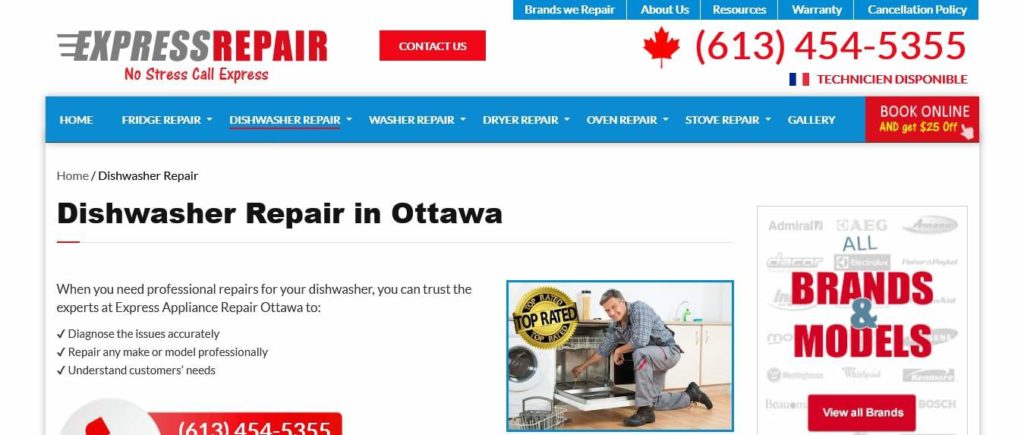 Express Repair can provide same-day dishwasher repair services in Ottawa. It's a relief to know that you can call them and not fret about dirty dishes piling up all week.
The company is also one of the few appliance repair services to be open every single day of the week. You can even have repairs scheduled even during holidays.
The website provides handy resources for dishwasher-related concerns. The articles are especially helpful so clients can get an idea of possible sources of problems to discuss with the technicians.
All of Express Repair's technicians are insured, trained, and licensed so clients can rest assured that their appliances are in capable hands. They promise to fix any dishwasher make or model and any issue it might have (here's a link on all the appliance brands they can repair).
A warranty form is also available on the website, so simply fill that up and email it to the office so you can get booked ASAP. There's a one-year warranty on all repairs but we recommend going through its guidelines with a fine-tooth comb.
And if you choose to book online, you'll automatically get $25 off your repair service!
Open 7 days a week
Up to one-year limited warranty
All technicians are certified and insured
Somewhat confusing cancellation policies
The warranty doesn't cover clogs of any kind
Customer Reviews
Read the following client feedback on Express Repair before booking the company:
"I have had the technician named Orel worked on multiple of my properties on multiple occasions. He was successfully able to fix my appliances. He is very good at explaining things to his clients. Out and out professional." – Hassibur Raman
"The technician was on time, gave a comprehensive analysis of the dryer problem and estimate the repair cost. The repair was very professionally completed and the work area was completely tidied up. Would definitely recommend this company." – Jelle Blom
4.   Capital Appliance Repair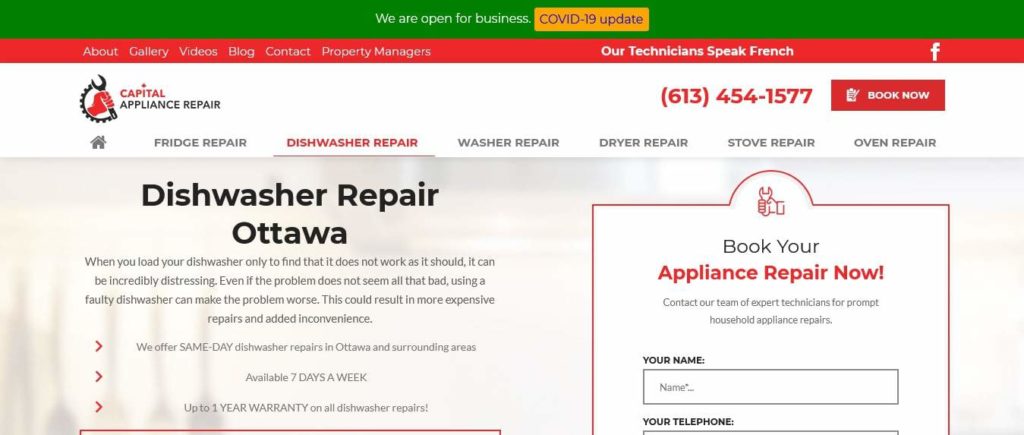 SERVICES
Appliance repair and installation, property management
ADDRESS
563 Gladstone Ave, Unit 24, Ottawa, ON K1R 5P2
CONTACT NUMBER
(613) 454-1577


[email protected]

WEBSITE
https://capitalappliancerepair.ca
OPERATING HOURS
Monday to Friday 8 AM – 8 PM
Saturdays and Sundays 8 AM – 5 PM
Capital Appliance Repair can do same-day dishwasher repair services in Ottawa and its surrounding areas. Its experienced team of technicians can work on almost all dishwasher models and makes (and can also speak French if the situation calls for it).
Though it's located in Ottawa, its technicians can also service clients in the Nepean, Kanata. Stittsville, Cumberland, Orleans, Rockland, and Gloucester areas. Service vans come fully stocked with repair tools and parts for same-day services on dishwashers, fridges, washing machines, dryers, stoves, and ovens.
There are no prices indicated for each service on the website although its description promises "unbeatable prices".
There's also a promo page filled with virtual coupons for clients. The discounts range from $25 for services booked online to a $30 senior citizen's discount for all types of repair services.
Though there are already fixed operating hours, Capital Appliance Repair still offers 24-hour repair appointments. The downside is that there are limited technicians available to accommodate these kinds of bookings.
Free service call coupons
24-hour repair appointments available
Up to a year's worth of warranty on all dishwasher repairs
Warranty doesn't cover clogs of any kind
Limited warranty on repairs
Limited technicians available for emergency repairs
Customer Reviews
The following clients have good things to say about Capital Appliance Repair:
"Sergei was very knowledgeable. The repair was managed correctly. Easy to schedule." – David, Ottawa
"I was able to book my inspection promptly and was called when the parts arrived to have them installed. I would recommend and will use them for any future appliance repairs." – Shane K.
5.   Doctor Appliance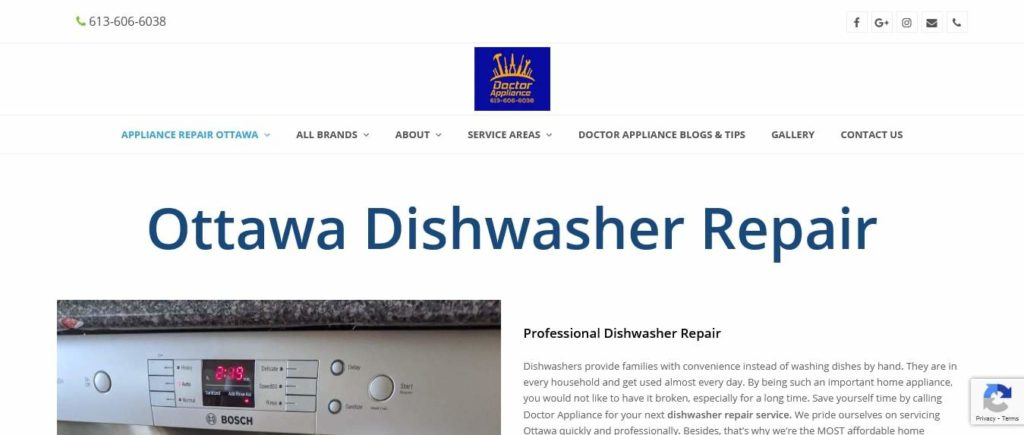 SERVICES
Home appliance repair for all major brands
ADDRESS
Ottawa, Ontario K1B-4Y8
CONTACT NUMBER
613-606-6038


[email protected]

WEBSITE
https://doctorappliance.ca
OPERATING HOURS
Monday to Friday 8 AM – 8 PM
Saturdays 8 AM – 3 PM
Closed on Sundays
If you notice in the table above, there's no real address for Doctor Appliance. Its business model centers on same-day appliance repair services in Ottawa and its surrounding areas via direct-to-technician appointments.
This could be seen as either a bug or a feature. But given its BBB accreditation and generally favourable customer reviews, Doctor Appliance's system seems to be working just fine.
Doctor Appliance's team of technicians claims that there's no appliance issue that they haven't seen yet. It's a lofty and reassuring statement at the same time but the list of appliance brands the technicians are trained to fix is definitely impressive.
Instead of billing by the hour like other repair services, the company charges a competitive flat-rate service call. This ensures proper diagnosis and knowledge of which tools, parts, and installation techniques to use for a truly tailor-made service for each client.
There's a 90-day service warranty for all appliance repairs, plus an additional 20% discount for returning customers.
90-day service warranty
Direct-to-technician bookings
Services a wide range of dishwasher brands
Same-day appliance repair in dozens of locations
No actual brick and mortar shop
No administrative staff
Customer Reviews
See how past clients liked Doctor Appliance's services:
"The Tech was prompt, extremely knowledgeable,helpful and professional. Followed covid protocols. Would always use this business for future repair needs." – Linda Smyth
"Absolute best service in the city. I have used their service on a few occasions and I am super impressed with how consistent they are with their customer service and reasonable pricing. I would highly recommend this company!" – Garrett Wong
FAQs About Dishwasher Repair in Ottawa
---
After reading about the top dishwasher repair services in Ottawa, we hope you can go back to having sparkling clean dishes in no time.
Did we leave out a reputable dishwasher repair company? If so, please give us a heads up about it!
And if it's your vacuum cleaner that's not working, we also have a resource for you. Read about the best vacuum repair companies in Ottawa for some handy information.