The Best Providers of Custom Closets in Ottawa
Organizing your wardrobe and accessories will be much easier if your closet is customized to accommodate your storage habits. Hopefully, the convenience it brings will help reduce your bedroom clutter.
While there are closets available for DIY, the traditional way of hiring skilled people to do the job is certainly not losing its appeal any time soon—especially if it means supporting your local artisans.
To guide you, here is a list of the best providers of custom closets in Ottawa you can work with. We also included a briefer on prices for this project and answered some questions that might pop up as you read along.
How much do custom closets cost in Ottawa?
A custom closet project in Ottawa entails consultations, planning, fabricating, and installation, which can translate to a cost of anywhere between $900 to $12,000.
The exact pricing will depend on the type of closet, size, materials, accessories, and additional features. Here are the average costs to give you an idea.
Products / Services
Estimated Average Cost
Reach-in closet (all-in)
$900 - $1,200
Walk-in closet (all-in)
$1,200 - $12,000
Professional organizer
$50 - $150 per hour
Interior designer
$125 and up per hour
Labor
$60 - $100 per hour
Materials
Plywood: $200 - $500

Glass: $800 - $1,500

Frosted glass: $1,000 - $2,500

Melamine: $1,500 - $2,500

Cedar: $3,500 - $6,500

Natural wood: $4,000 - $5,000

Closet parts
Jewelry storage: $75 - $150

Hanging rods: $50 - $75

Drawers: $75 - $200

Shelving: $800 - $2,000

Mirror: $100 - $300

Cabinets: $500 - $1,500

Shoe racks: $45 - $75

Island: $1,000 - $2,500
One way to ensure you'll be making the most out of your bucks is to compare price quotes from different companies. Pick those that offer estimates close to the national average without compromising on the design and quality of materials.
Best Custom Closets in Ottawa
Having your closets customized is a rewarding experience. After all, you will be able to use a storage solution best suited to your needs.
But before you experience the joys of personalization, you'll have to ensure that you're dealing with a reliable company to see the project through. We believe our picks are worth your time, as we have selected them based on the following criteria.
1. Tailored Living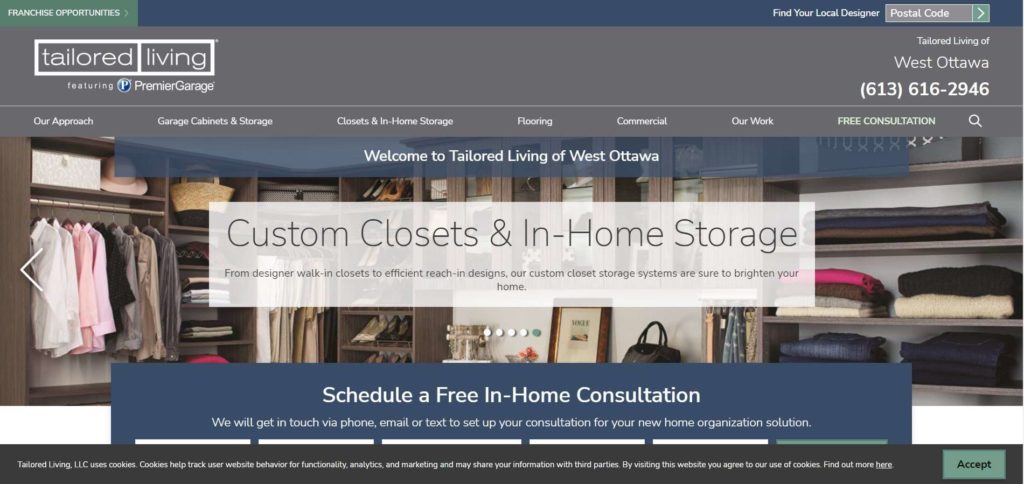 Test
Info
SERVICES
- Custom garage cabinets

- Custom closet and in-home storage

- Commercial flooring

WEBSITE
https://www.tailoredliving.com/en-ca/westottawa/
ADDRESS
594 Overland, Stittsville, ON K2S 0T1
CONTACT DETAILS
(613) 616-2946
OPERATING HOURS
By appointment
| | |
| --- | --- |
| Criteria | Rating |
| Range of services | ★★★★★ (5/5) |
| Expertise | ★★★★★ (5/5) |
| Knowledge | ★★★★★ (5/5) |
| Efficiency | ★★★★★ (5/5) |
| Customer service | ★★★★☆ (4.5/5) |
| Responsiveness | ★★★★☆ (4/5) |
| Helpfulness and friendliness | ★★★★★ (5/5) |
If you need to see how your custom closet will blend with your room ahead of the actual construction, you will want to consider Tailored Living.
The local company will provide design solutions for their client's cluttered space beginning with a free in-home consultation. Customers not fond of visiting showrooms and asking around will find this setup ideal, and we love it as well.
Moreover, we like that the team will show 3D renderings of their design solution. After all, we can agree that a client will be more at ease if they can see the projected results first.
And don't get us started with the designs. We adore modern, elegant, and streamlined solutions that take into account maximum use of space, and Tailored Living's designers are more than capable of providing them.
The company also offers a considerable selection of styles, finishes, and accessories to match various tastes.
However, you might need to wait a while for the company's response after booking an appointment. Tailored Living also does commercial projects, making the demand higher within a certain period.
Uses a wide selection of finishes and accessories
Does not charge for consultations
Polite and courteous team of designers and installers
Has design solutions for all ages
Possible delay in response due to high demand
May become costly
Customer Reviews
High-quality team and results
"We are over the moon about our custom closet. Jason was incredibly knowledgeable and professional. Communicating with us every step of the way. The installers were efficient and respectful to the home. Closet quality is top-notch and we love the practicality of the design. We will absolutely refer to other friends and family. So happy with my overall experience!!!" —Lo Ciccone, Google Reviews
Seamless service with a competitive price tag
"After dealing with many closet companies I noticed that tailored living really gives that white-glove treatment from start to finish and had the most aggressive price when I shopped around to similar custom closet companies. My closet looks amazing." —Jackey Jones, Google Reviews
2. We Do Closets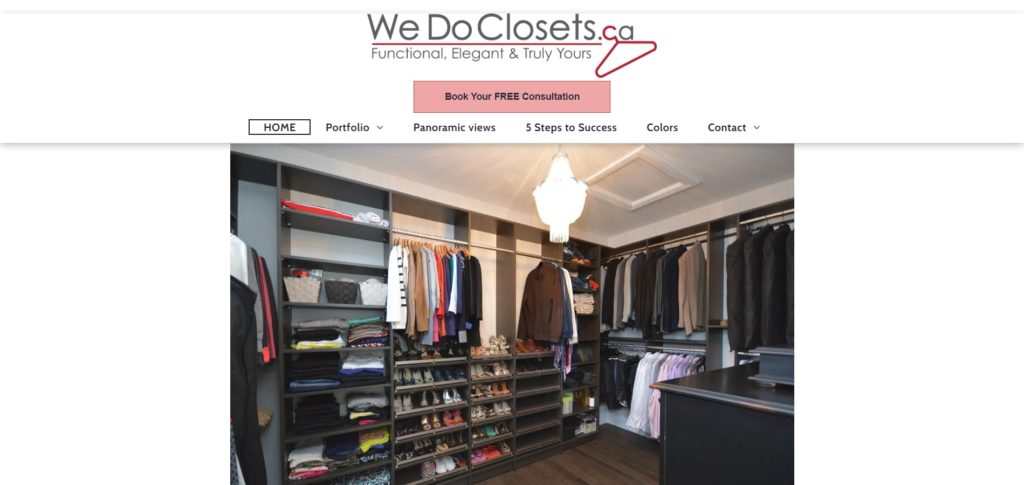 Test
Info
SERVICES
- Custom walk-in and reach-in closet

- Home office and garage

- Sliding doors

WEBSITE
https://www.wedoclosets.ca/
ADDRESS
219 Eadie Rd., Russell, ON K4R 1ES
CONTACT DETAILS
(613) 290-2237
OPERATING HOURS
Monday to Friday: 8:00 AM - 5:00 PM
| | |
| --- | --- |
| Criteria | Rating |
| Range of services | ★★★★★ (5/5) |
| Expertise | ★★★★☆ (4.5/5) |
| Knowledge | ★★★★★ (5/5) |
| Efficiency | ★★★★☆ (4/5) |
| Customer service | ★★★★☆ (4.5/5) |
| Responsiveness | ★★★★☆ (4/5) |
| Helpfulness and friendliness | ★★★★★ (5/5) |
If you're anywhere east of downtown Ottawa, you're lucky, as We Do Closets is nearby. Its location is 20 minutes away from the city, so its team coming from the office to your home will not take long to arrive.
The company focuses on designing walk-in and reach-in closets, essential to making your rooms more livable and pleasant looking. We also love that they offer solutions for your garage and home office.
We Do Closets is transparent about its design process and is willing to educate clients about solutions to their closet space. The team will present the 3D model through meetings, making it easier for the customer to check and suggest changes if necessary.
We love that the company has an in-house team responsible for closet fabrication and installation. We believe that ensuring top-quality work is easier if the crew hails from them rather than using sub-contractors.
Consequently, the company doing all the work may mean you have to wait a bit longer for the custom closets to finish—not really good news if you're not used to being on stand-by.
But if a bit of waiting won't bother you, we suggest giving the company a call to see if its offer matches up with your taste.
Offers free consultation
Easy-to-use online booking form
Manufactures their own closets
Clear-cut design process
Styles might be limited
Project may take longer
Customer Reviews
Stellar customer accommodation
"Excellent customer service over and above my expectations. Competitive pricing and very responsive to on-the-spot requests for last-minute minor changes to further improve functionality. Dave and his team were very tidy and efficient. I highly recommend them." —Renita, Google Reviews
Yields repeat customers
"Fantastic service, very friendly and knowledgeable staff that work with your schedule and your plan. One project with them can quickly become several." —Rob Rosenfield, Google Reviews
3. Denys Builds Designs Renovations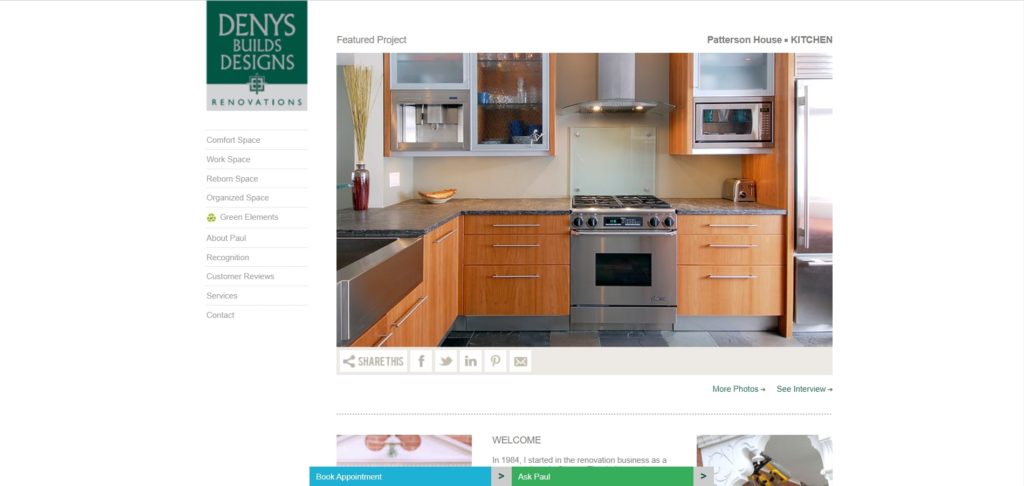 Test
Info
SERVICES
- Design and builds

- Kitchen and bath renovations

- Custom closets

- Home offices

WEBSITE
https://denys.ca/index.php
ADDRESS
54 Mason Terrace, Ottawa, ON K1S 0K9
CONTACT DETAILS
(613) 236-6516
OPERATING HOURS
Monday to Friday: 8:00 AM - 5:00 PM
| | |
| --- | --- |
| Criteria | Rating |
| Range of services | ★★★★★ (5/5) |
| Expertise | ★★★★★ (5/5) |
| Knowledge | ★★★★★ (5/5) |
| Efficiency | ★★★★★ (5/5) |
| Customer service | ★★★★☆ (4.5/5) |
| Responsiveness | ★★★★☆ (4/5) |
| Helpfulness and friendliness | ★★★★★ (5/5) |
Clients who only trust highly skilled workers will find Denys Builds Designs Renovations an ideal company for their closet project.
The company has been renovating Ottawa houses since 1988 and is currently headed by builder-designer Paul Denys. Possessing master-building and creative designing skills, the owner embodies the ideal marriage of aesthetic concepts and practical execution.
Denys offers renovations of your existing closet space by providing storage solution proposals and looping you into the planning and designing stage.
What we love most about the company is its commitment to green building. Denys will prefer materials and fixtures that will use less energy as long as they're feasible.
In the case of walk-in closets, the crew has shown that it chooses to install energy-saving lighting. Another impressive solution is the daylight-enhancing closet mirrors and doors.
If you are impressed already, the only thing that might give you second thoughts about hiring them is the cost of their service.
While they cater to low-budget projects, Denys' real expertise will shine through if you opt for the medium or high-budget options. We suggest contacting the company to weigh your choices better.
Also, we think hiring the company is more practical if you're looking to renovate beyond your closet space. We believe doing so will be cost-effective in the long run.
Masters of their craft for decades
Wide selection of services
Hands-on company owner
Incorporates green building solutions
Charges for consultation
Can be a bit costly
Customer Reviews
Take it from long-time clients
"Paul has done several projects for us over the years and the results have always been great. He is knowledgeable, he has an exceptional sense of design and he is always careful with our budget. We would not hesitate to recommend him." —Bruce Blair, Google Reviews
Non-invasive construction principles
"Excellent, professional work done in a timely manner. Especially appreciated the care to retain the traditional character of our home. We enjoyed the experience." —Patricia Healey Smith, Houzz
4. House of Fine Carpentry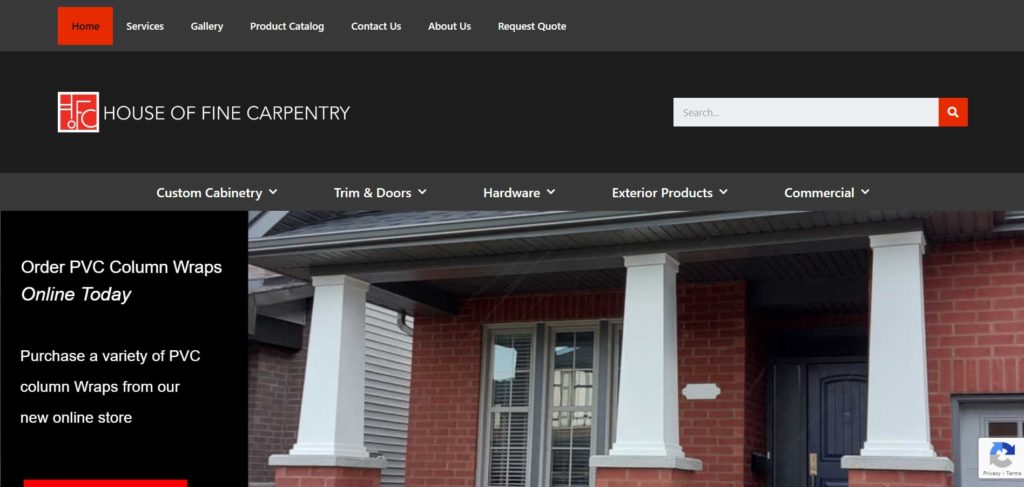 Test
Info
SERVICES
- Custom cabinetry, design, and installation

- Trim and door sales and installation

WEBSITE
https://houseoffinecarpentry.com/
ADDRESS
790 Industrial Ave. #5, Ottawa, ON K1G 4H3
CONTACT DETAILS
(613) 736-9930
OPERATING HOURS
Monday to Friday: 8:00 AM - 4:30 PM
| | |
| --- | --- |
| Criteria | Rating |
| Range of services | ★★★★☆ (4/5) |
| Expertise | ★★★★☆ (4.5/5) |
| Knowledge | ★★★★★ (5/5) |
| Efficiency | ★★★★☆ (4/5) |
| Customer service | ★★★★☆ (4.5/5) |
| Responsiveness | ★★★★☆ (4/5) |
| Helpfulness and friendliness | ★★★★★ (5/5) |
Known for manufacturing quality woodwork, the House of Fine Carpentry is another company you can consult for your custom closet needs.
The team has been in the cabinetry industry since 2004, but its portfolio has recently expanded to include custom-designed closets. And we are telling you the results are gorgeous!
We attribute the beautiful end products to the company's streamlined design process. The designers work in the same building as the workshop, so there's greater freedom in customizing and improving details on the spot.
We love that aside from producing high-quality craftsmanship, the company is also capable of installing them.
It's ideal to hire them if you also want your kitchen and bathroom cabinets or trimmings redone. These furnishings require great attention to detail and an eye for aesthetic yet streamlined design, thankfully two things the company aims to achieve in its projects.
Know that House of Fine Carpentry employs sub-contractors when necessary. If you prefer an in-house team to take care of the installation, we suggest you confirm the available crew with the company or look elsewhere.
But that aside, we think you should try House of Fine Carpentry if only for the artisan quality.
Also offers detailed work such as trims
Streamlined design and manufacturing process
Available for in-home or virtual consultation
Uses local materials for production
More known for their cabinetry works
Hires a few sub-contractors for installation
Customer Reviews
Expertise evident in the final product
"We had two projects done at our home by House of Fine Carpentry. The attention to detail and high level of craftsmanship is quite evident throughout all the finishes. We are very happy with the end result." —Jason Fernandes, Google Reviews
Customization in the truest sense of the word
"Fine House of Carpentry made our dream basement. They came in, listened to our thoughts and ideas, gave great advice, and worked closely with us on several of the custom aspects of the basement. Their process is second to none. The quality of the work and the quality of their products are extremely high. They were precisely on time and on budget. There is a level of attention to detail out in this company that is, unfortunately, lacking in some others operating within this industry. They are the new standard as far as we are concerned." —Tim McIntyre, Google Reviews
5. Remarkable Construction Ltd.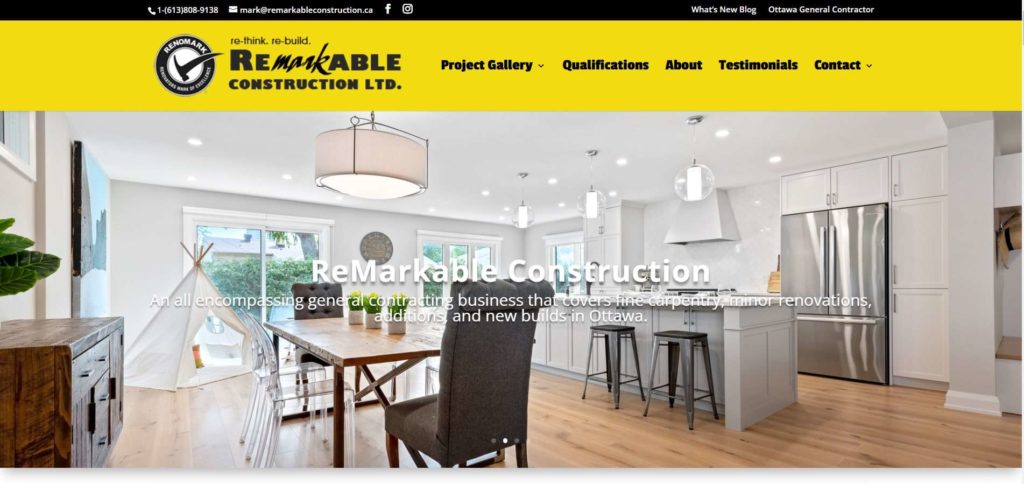 Test
Info
SERVICES
- Bathroom and kitchen renovation

- Total home renovation

- Custom closets

- Home additions and extensions

WEBSITE
https://www.remarkableconstruction.ca/
ADDRESS
5 Miriam Ave., Nepean, ON K2G 0L2
CONTACT DETAILS
(613) 808-9138
OPERATING HOURS
Monday to Friday: 7:00 AM - 5:00 PM

Saturday: 9:00 AM - 1:00 PM
| | |
| --- | --- |
| Criteria | Rating |
| Range of services | ★★★★★ (5/5) |
| Expertise | ★★★★★ (5/5) |
| Knowledge | ★★★★★ (5/5) |
| Efficiency | ★★★★★ (5/5) |
| Customer service | ★★★★☆ (4.5/5) |
| Responsiveness | ★★★★☆ (4/5) |
| Helpfulness and friendliness | ★★★★★ (5/5) |
Sometimes, planning to overhaul one's closet can result in wanting to renovate the whole room. For that, Remarkable Construction might be the right company call.
The local company has a long list of services from fine carpentry to basement renovations, making them an ideal one-stop shop for your home projects.
You can also rest assured that you'll be communicating directly with the higher-ups, thanks to the company's hands-on and talented owner Mark Ostapyk.
We love that he has caught the attention of the Greater Ottawa Home Builders' Design Awards as a finalist in 2021. Also, he has been featured in the city's monthly publication Faces Magazine.
We appreciate that the company offers free consultations and estimates. It's a welcome offer given that customizing closets can become pricey.
However, we would have loved it more had they published an online portfolio of their custom closet projects. We have expected it since the service is listed as one of the company's main offerings.
That said, we can see Remarkable Construction as a budding forerunner for renovations, especially for customers looking to transform their whole home.
Competitive prices
Wide range of services involving detailed work
Friendly and polite crew
Owner has a Red Seal certificate, proving expertise
Online project portfolio lacking
A bit far from downtown
Customer Reviews
Also offers reliable repair works
"Mark and his crew did a fantastic job on our house after an unfortunate accident. Excellent value, excellent workmanship, and really easy to work with. We would happily work with him again." —Suzanne D., Google Reviews
Respects your budget
"Excellent results and very professional and within my budget. Highly recommended." —Carl Johansen, Google Reviews
6. TH Custom Woodwork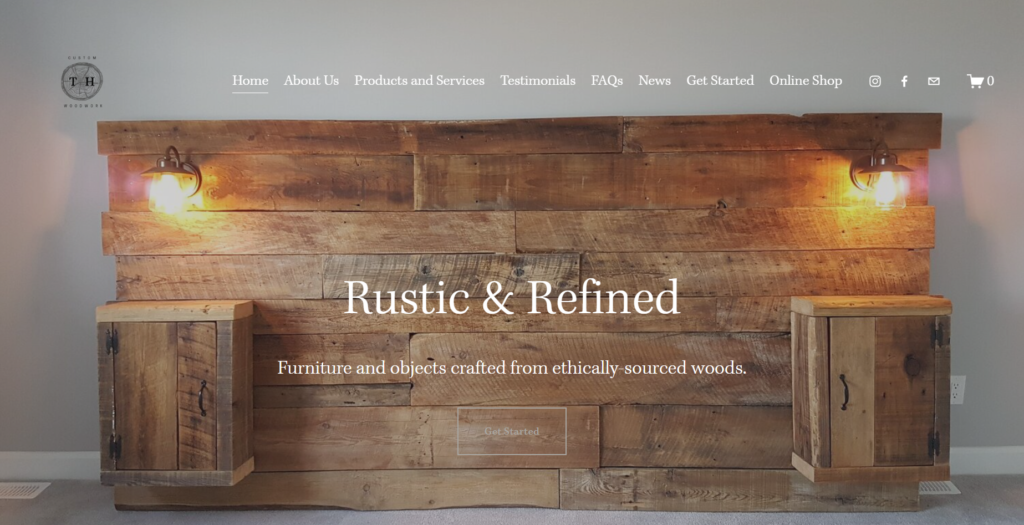 | Test | Info |
| --- | --- |
| SERVICES | Dining Tables, Bedroom, Bathroom and Laundry, Mantles And Shelving, Accent Walls, Outdoor, Reclaimed and Live-edge, Custom Work |
| WEBSITE | https://www.thcustomwoodwork.com |
| ADDRESS | 144 Harold Jones Way, Ashton, Ontario |
| CONTACT DETAILS | (613) 220-9342 |
| OPERATING HOURS | By appointment |
| | |
| --- | --- |
| Criteria | Rating |
| Range of services | ★★★★★ (5/5) |
| Expertise | ★★★★☆ (4/5) |
| Knowledge | ★★★★☆ (4/5) |
| Efficiency | ★★★★★ (5/5) |
| Customer service | ★★★★☆ (4.5/5) |
| Responsiveness | ★★★★☆ (4/5) |
| Helpfulness and friendliness | ★★★★★ (5/5) |
When it comes to custom wood furniture, there is no forgetting TH Custom Woodwork.
TH Custom Woodwork has been around for quite some time now. Much of the Ottawa community is familiar with TH Custom Woodwork's craftsmanship, and for good reason.
Any furniture that comes from this shop is of the finest quality, created with careful, expert hands. TH Custom Woodwork also accommodates request for just about any piece, the client only needs to specify what they want.
In terms of customer service, TH Custom Woodwork is okay at it. There may be times that the shop is slow to respond, but rest assured that TH Custom Woodwork will get back to you at the soonest.
High quality products for reasonable prices
Each piece designed to the last detail
Crafted from ethically-sourced woods
May be fully booked and unavailable
FAQs about Custom Closets in Ottawa
---
Customizing your space may take some time and cost you money, but the accomplished feeling you can get after the project will be worth it. We hope you can finally find the perfect organizing solution from our list of the best providers of custom closets in Ottawa.
Aside from closets in your bedroom, another rewarding investment is optimizing your kitchen. Try working with the best contractors for kitchen cabinets in Ottawa and add more value to your home.
Achieve a clutter-free and more attractive home by hiring the best providers of custom closets in Ottawa, selected for their gorgeous designs and proven expertise.