Top 5 Business Insurance Firms in Ottawa
When you put up a business, you're likely to be up against all sorts of liabilities. To be ready for those circumstances, you can get the services of a reputable business insurance firm in Ottawa.
Luckily, we're reviewing some of the best ones today to protect you from financial loss and give you peace of mind as a business owner.
In the next section, we'll also be tackling the average cost of business insurance in the area. At the end of this listicle are some handy FAQs to guide you further.
How Much Does Business Insurance Cost in Ottawa?
Business insurance costs in Ottawa can vary depending on different types and circumstances. Small businesses can start at just $500 a year for coverage of potential legal actions and business-related losses or setbacks.
If you don't own a property or vehicles for your business, you won't have to take on a policy for those. Of course, the bigger the risk or scope of a business or services, the higher the business insurance cost will be.
We made a table of some of the most common types of business insurance to guide you. The estimated costs beside them are based on Ontario averages.
| | |
| --- | --- |
| BUSINESS INSURANCE TYPE | ESTIMATED COST |
| General liability insurance | $400 up per year (depending on annual business revenue, type of business, number of employees, etc.) |
| Product liability insurance | $800 up per year (depending on the type and use of products, annual sales, where they're sold, etc.) |
| Professional liability insurance | $500 – $2,500 per year (depending on professional consultation/advice offered, number of clients/patients, etc.) |
| Property insurance | $1,500 per year (depending on ownership of property/building, size, location, age, use, etc.) |
| Commercial auto insurance | $500 up per year (depending on vehicle type, specific vehicle usage, location, driver's record, etc.) |
Please note that the kind of industry your business represents could implement specific policies. A good business insurance company can evaluate these policies on your behalf and offer you tailor-made coverage.
The Top Business Insurance Firms in Ottawa
With an idea of some of the costs behind them, it's time to see what the top business insurance firms in Ottawa can do to protect you.
For this listicle, we selected firms based on these factors:
1. Allan Mann Insurance, Ltd.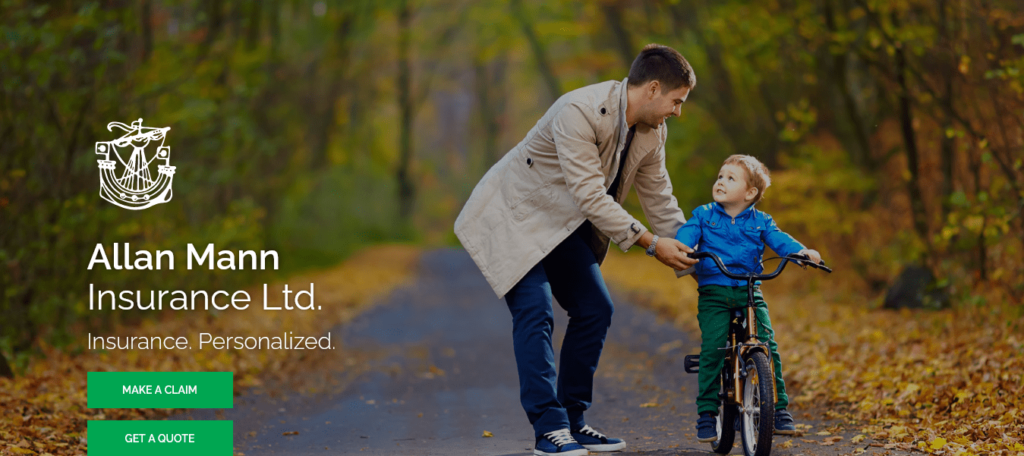 SERVICES
Home, auto, commercial, life and travel coverage to clients in Ottawa and across Ontario
ADDRESS
525 March Rd, Box 72093 Kanata, ON K2K 2P4
CONTACT NUMBER
613-592-6484


[email protected]

WEBSITE
https://www.manninsurance.ca/
OPERATING HOURS
Monday to Friday 9 AM – 5 PM
Closed on Saturdays and Sundays
After-hours available
Allan Mann Insurance, Ltd. was established in 1978 and has since been offering clients in Ottawa and across Ontario a full range of insurance services. These include commercial, life, travel, home, and auto coverage.
Regardless of the size of your business, Allan Mann Insurance can provide customized coverage for it. It offers a broad range of commercial products from some of Canada's most reputable insurance companies.
But since there's no base pricing information provided, it's best to fill up the Get a Quote form on the website to get an evaluation.
Because it's an independent brokerage firm, it emphasizes how it works for clients instead of on behalf of the insurance companies. This means clients can rest assured that they will be making informed decisions based solely on their business protection needs.
We think it's great that, despite current circumstances, Allan Mann Insurance has remained open to serving its client albeit by phone, email, or fax messages only. There are emergency contact numbers available for after-hours and urgent claims services, as well.
After-hours and urgent claims services are available
Good range of business and personal insurance services
Offers customizable commercial products
BBB-accredited, Aᐩ rating
Communications currently limited to phone, email, and fax
No base pricing info provided
Open only on weekdays
Customer Reviews
Best services and personal attention to matters
"I have been dealing with this company for over 18 years for both commercial and personal policies, best service and personal attention to matters, could not ask for more. Keep up the great work guys!" – Amjid Zareef
Pointed out the differences between policies
"Chris Lavigne was great. We moved our home and both cars. Yes, we saved money but Chris patiently pointed out the differences between the policies and gave us a quick rundown on the companies – claim service and so on. We also challenged him with a boat we purchased in the US. Chris provided us with a choice of markets even with the challenge of the boat being in the US for two months before we bring it to Canada. Again pointing out the differences in the policies and companies.
Can't forget the receptionist – she's awesome. So professional yet friendly. Love dealing with this office." – Claud Goulet
2. Canopy Insurance Services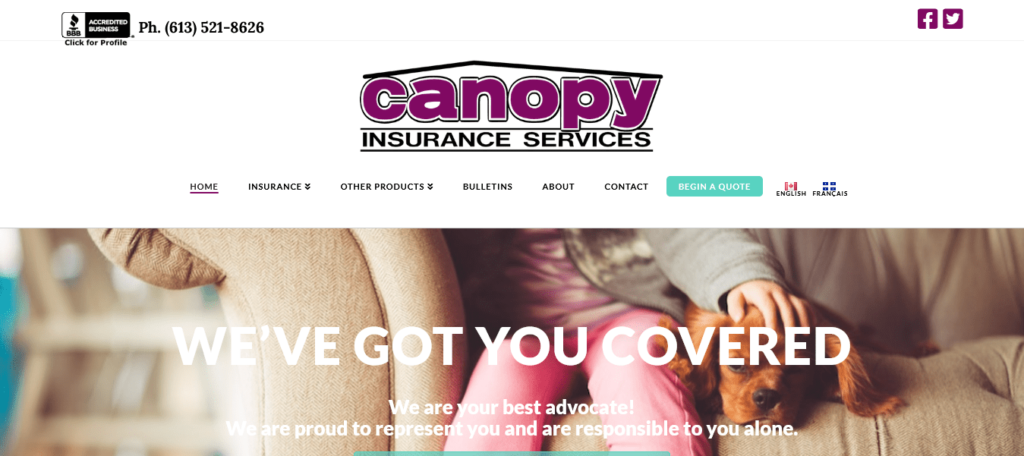 SERVICES
Home and auto insurance, commercial and business insurance, life insurance, segregated funds
ADDRESS
5B-2000 Thurston Drive, Ottawa, ON K1G 4K7
CONTACT NUMBER
(613) 521 8626


[email protected]

WEBSITE
https://www.canopyinsurance.com/
OPERATING HOURS
Monday to Friday 9 AM – 5 PM
Closed on Saturdays and Sundays
After-hours by appointment only
Canopy Insurance Services and its punny but apt "we've got you covered" slogan offers different insurance products for clients' different needs. This Better Business Bureau-accredited firm was established in 1979.
Since it's been around for decades, Canopy Insurance now has a network of insurance partners where it acts as an intermediary between them and its clients. This is great, but it would be nicer to have some base pricing information for its services.
Home and auto insurance fall under its personal services, while office, store, and contractors' packages make up its commercial and business insurance arm. The company also offers living benefits and financial services like mutual funds and segregated funds.
Small, medium or large businesses can get their business properties or buildings covered with the right kind of package under its commercial insurance service. For those who use vehicles for their business, Canopy also offers an attractive multi-vehicle or fleet rate discount and a preferred plus program for clients who are 45 years and older.
Since the office is open only on weekdays, clients are given an after-hours option. However, even those hours are strictly on a by-appointment basis only.
Fleet rate discounts available for business owners
Different insurance packages for various businesses
After-hours services offered
BBB-accredited, Aᐩ rating
Open only on weekdays
After-hours are by appointment only
No base pricing information given
Customer Reviews
Always received the best service from the entire staff
"I've been a client of Canopy for over 15 years, I always received the best service from the entire staff, highly recommended." – Steven Belanger
No wait times, always gets back quickly
"I am so happy I chose Canopy Insurance, as they've been amazing so far in helping me with all my needs! I've spoken to Peter, Loide & Selena on the phone, and they've all been super helpful and happy to answer questions! I definitely recommend Canopy and prefer them over any previous insurance companies I was with. No wait times, and they always get back to me via email or phone quickly and are all very kind & professional!" – Melody
3. Mantha Insurance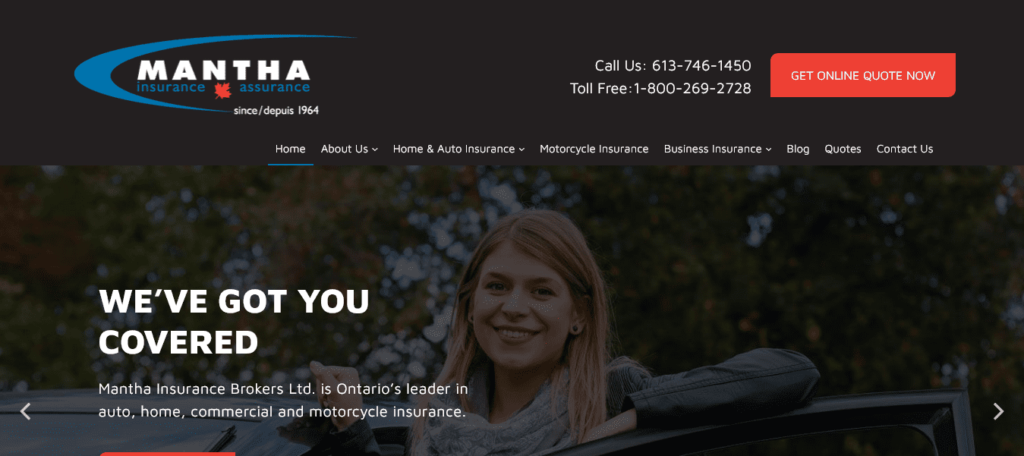 SERVICES
Business insurance, recreational insurance, financial services and life insurance, snowmobile insurance, motorcycle insurance, home insurance
ADDRESS
295 Montreal RoadOttawa, Ontario K1L 6B8
CONTACT NUMBER
613-746-1450


[email protected]

WEBSITE
https://www.manthainsurance.com/
OPERATING HOURS
Monday to Friday 8.30 AM – 4.30 PM
Closed on Saturdays and Sundays
Emergency services available
Even with the current global situation, Mantha Insurance continues to accommodate clients via electronic means or through phone calls. Small wonder, as it's been around since 1964 and has continuously worked closely with the country's most prominent insurance companies.
Its business insurance services include commercial auto insurance as well as property, liability, and crime insurance. It offers a comprehensive list of commercial packages for business owners that include business interruption and income protection, electrical, machinery, or equipment breakdown, and general liability.
We think it's great that crime coverage is being offered in particular. This ensures that incidents like loss of money or employee dishonesty are covered and will be taken care of professionally and appropriately.
Potential clients can get their business insurance needs assessed via a free quote. Mantha Insurance doesn't provide any kind of pricing information on its website so filling out a quotes form is the next best thing.
The office is open on weekdays only, but 24-hour emergency services can still be accommodated.
Comprehensive list of commercial insurance coverage
Free quotes
Emergency services offered
Serves Ontario and Quebec clients
In-office consultation currently suspended
No pricing info provided
Open only on weekdays
No BBB accreditation
Customer Reviews
Great sense of professionalism and sense of humour
"Mantha Brokers is a great company to deal with. I've never met the owner just Mantha employees. They are amazing to deal with. It's the employees that keep me coming back. I've owned dozens of cars over the past 30 yrs and highly recommend this team. They're down to earth hard workers with a great sense of professionalism and sense of humour. Thank you to Mantha employees for being so great to deal with." – Arnold Laford
Rates only had a minimal increase
"It's been a year since I switched brokers because I purchased a new vehicle and my last broker had a very high quote that seemed too high. I was referred to Mantha by a colleague and I couldn't be happier. The home and auto policies came it less expensive (Aviva) and provided better coverage. I waited a year to see how the renewal went and to my surprise, the rates only had a minimal increase, as expected. Very happy with the service and products." – Steve S.
4. Cowan Insurance Group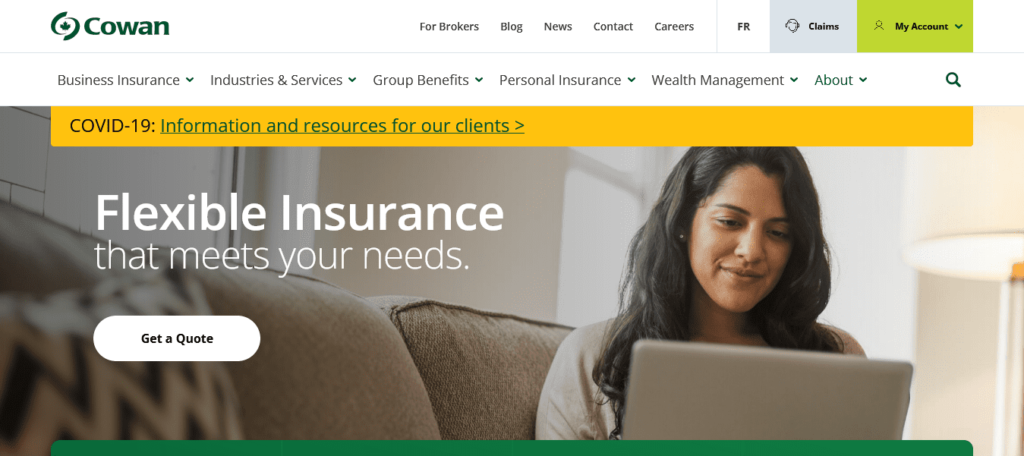 SERVICES
Employee benefit plan, health insurance, personal insurance, business insurance, wealth management
ADDRESS
705 Fountain Street North PO Box 1510 Cambridge, ON N1R 5T2
CONTACT NUMBER
1-866-912-6926


[email protected]

WEBSITE
https://www.cowangroup.ca/
OPERATING HOURS
Monday to Thursday 8.30 AM – 5 PM
Fridays 8.30 AM – 1 PM
Closed on Saturdays and Sundays
The Cowan Insurance Group has become a formidable independent insurance brokerage with ten locations across Canada. It's one of the oldest insurance firms in the country, having been around since 1927.
Cowan has won numerous awards and gained impressive recognition in the industry. It's achieved Platinum status thrice over from Canada's Best Managed Companies and is a two-time awardee of Canada's 10 Most Admired Corporate Cultures.
It's partnered with both national and international insurance companies to help clients manage financial risks in their businesses. The company takes pride in its custom coverage services, promising to learn about its client's business inside and out for tailor-made insurance.
When it comes to assessing a client's commercial property, Cowan makes sure to document every unique risk, individually evaluate assets, and do regular inspections so it can recommend the right liability coverage.
The downside is that its operating hours are only on weekdays with no after-hours or emergency service options. There is a claims centre that's open for emails between 8.30 AM – 5.30 PM though it's currently experiencing higher than normal call volumes.
2018 Canada's 10 Most Admired Corporate Cultures awardee
Thorough risk assessment and liability evaluation
Ten locations across Canada
Offers customized business coverage
No emergency services offered
The claims centre might be difficult to reach by phone
No BBB accreditation
Open on weekdays only
Customer Reviews
Immense help in a complicated situation
"I had an amazing Customer Service Experience with Candice Wilson. She was an immense help in a complicated situation and I really feel she went above and beyond in helping me with my carrier. I highly recommend her and Cowan Insurance." – James Kaufman
Great rates, excellent coverage
"Cowan has a great, very friendly team of staff ready and willing to help whenever needed! I have gotten great rates, excellent coverage, and always feel well taken care of. I have been with Cowan for 5 years now I believe and don't see myself changing brokers. They actually a few times have found me better rates saving me lots of time, and they reach out whenever a discount could be applied even during COVID. Thanks, team!" – James Yearwood
5. Rhodes & Williams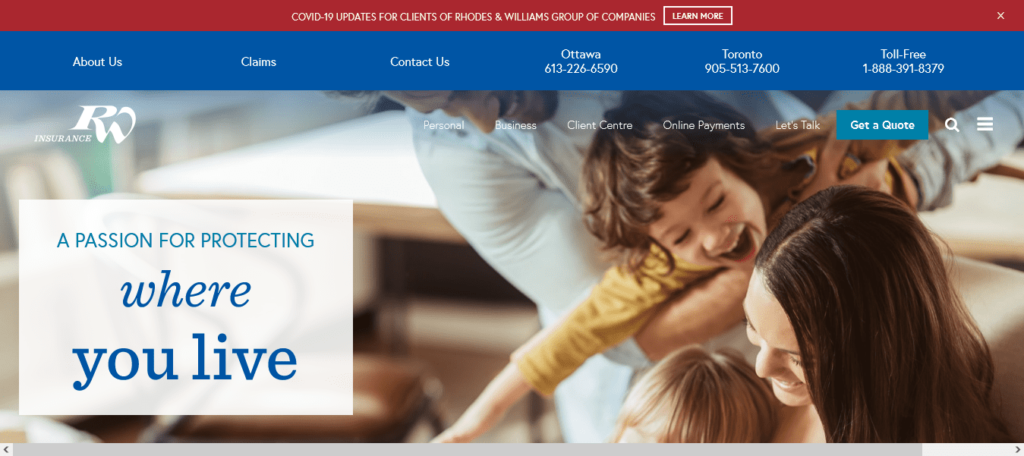 SERVICES
Personal insurance including home insurance, car insurance, boat insurance, business insurance
ADDRESS
1050 Morrison Drive Ottawa, ON, Canada K2H 8K7
CONTACT NUMBER
+1 613-226-6590


[email protected]

WEBSITE
https://www.rhodeswilliams.com/
OPERATING HOURS
Monday to Friday 8.30 AM – 4.30 PM
Closed on Saturdays and Sundays
As a Better Business Bureau-accredited firm, Rhodes & Williams boasts of having clients that have been with the company for half a century. It was established in 1935 and continues to offer personal and business insurance advice as an independent broker.
It accommodates all clients, from those who have startup businesses to ones who are established corporations. Rhodes & Williams aims to design insurance packages specific to the client's needs and valuable asset protection, with specialized solutions targeted to meet any industry's unique challenges.
Another thing that makes this brokerage unique is its specific service for home-based businesses. It recognizes that home insurance won't cover business-related risks and liabilities so it can customize coverage for the client, as well.
Unfortunately, the office is currently closed to the public although its client centre is open to access accounts, start claims, and get information. Its business hours remain open via phone and email on weekdays, but with no emergency service options.
Has a specialized service for home-based businesses
Customized coverage for any industry challenge
Accommodates any type or size of business
BBB-accredited, Aᐩ rating
Open on weekdays only
No emergency service option
In-office accommodation currently suspended
Customer Reviews
Total professionals, great follow up
"The best customer service in the business. Total professionals handled my claim last year. Great follow up to make sure the new car was fixed properly after the car repair was completed." – Joe Pyche
Patient, informative, personable
"Caring, prompt, efficient and courteous brokers that put your needs and lifestyle first. I highly recommend Brian, he was very patient, informative and personable. Never expected getting insurance / changing companies could be enjoyable! I know I am in fantastic hands should I need to deal with insurance in the future. Beyond recommend to everyone!" – Emma Day
FAQs About Business Insurance in Ottawa
---
The top business insurance firms in Ottawa can give business owners peace of mind from potential financial liabilities and losses.
Got a business insurance company to recommend? We'd love to review it next, so send us a message!
And we're proud to say we've got plenty more resources on different kinds of insurance. Check out our published reviews below: