Top 5 Business Directories in Ottawa
Local business directories in Ottawa are beneficial to all business owners, locals, and tourists alike. It provides great exposure to locals and a convenient search platform for out-of-towners.
If you're a tourist new to the city or a business owner, then you have come to the right place. Here are the top online business directories in Ottawa.
How Much Do Business Directories Cost in Ottawa
In Ottawa, there are a lot of free business directories. Some listings may even have your name on them and you just need to claim and update your information.
However, there are also listings that come in with marketing packages. Here are some business directories' average estimated costs and commonly included services.
| Average Estimated Cost | Common Inclusions |
| --- | --- |
| $9 - $15 per month (lowest estimated range) | Business Listing Inclusion, Automated SEO, Website audit, Custom gallery, Google map with street view, Short company description, Followed webpage link, Citation source, Unique web address, Testimonial area |
| $199 - $733 | Social Media Management, Company Website Listing Management, Google My Business Listing Management, Reputation Management, Social Responding Services, Advertising and Marketing Services |
Top Business Directories in Ottawa
We love to contribute to the blossoming city. To achieve success for both business and touring ventures, we used the following criteria to filter out the top business directories in Ottawa.
1. CityNews Ottawa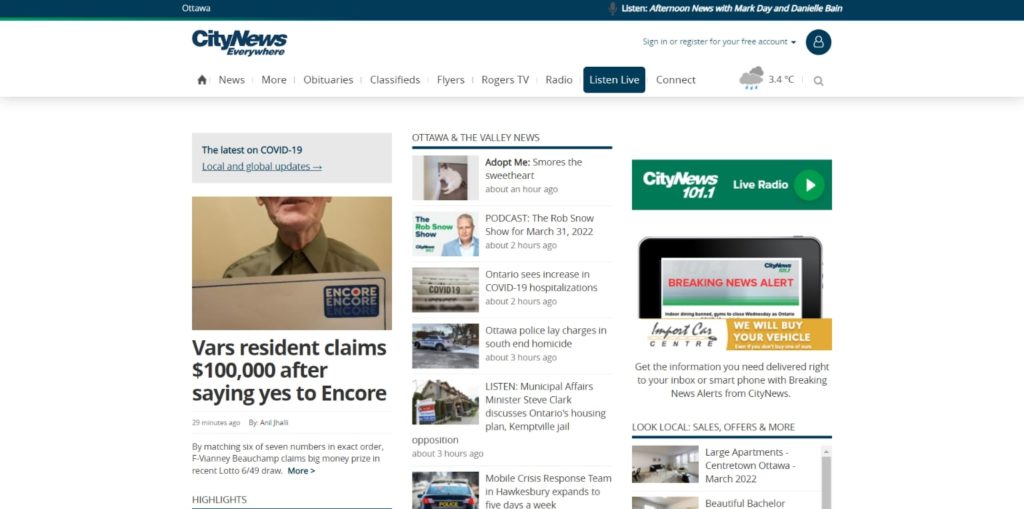 Test
Info
SERVICES
Community Leaders Program, Community Organizations, Food and Restaurants, Home Improvement, Professional Services Real Estate, Recreation, Shopping, and Specialty Stores
WEBSITE
https://ottawa.citynews.ca/directory
CONTACT DETAILS
General Inquiries: (613) 736-2001

News Desk: (613) 736-2020

Advertising / Sales: (613) 670-7110;

Email: [email protected]
| | |
| --- | --- |
| Criteria | Ratings |
| Range of Categories | ★★★★★ (5/5) |
| Website Accessibility | ★★★★★ (5/5) |
| Quality Information and Comprehensiveness | ★★★★☆ (4/5) |
Contrary to common belief, CityNews Ottawa, a commercial AM radio station, offers more than news, sports, traffic, and weather. They also have a diverse local business directory which we absolutely love.
We're in awe of CityNews Ottawa in how they strive to be "fiercely local" with their updated spreads and feed. We like how their business listings give more than basic information by featuring amazing stories about local businesses.
The company continues to impress us by offering and showcasing all about Ottawa from hard news to rising locals. We love how they work closely with businesses to grow local coverage and enhance areas of content that were underserved in the past too.
CityNews Ottawa never seems to fail in highlighting special events of local businesses even. We like how they shine a spotlight per business and how they're aware of their impact on their local business community.
Despite lacking information on some listings, we appreciate how CityNews Ottawa seems to include all businesses in the area. This means that locals don't have to personally contact their name and address to be included in the directory.
CityNews Ottawa gives a chance to business owners to claim, upgrade their listings and add information. They also feature a "wrong or missing info" button for visitors to request a detailed change or map update.
Partners closely with local businesses
Provides map for listings
Lack of information on some listings
No pricing guide for advertising or listing upgrade
2. FS Local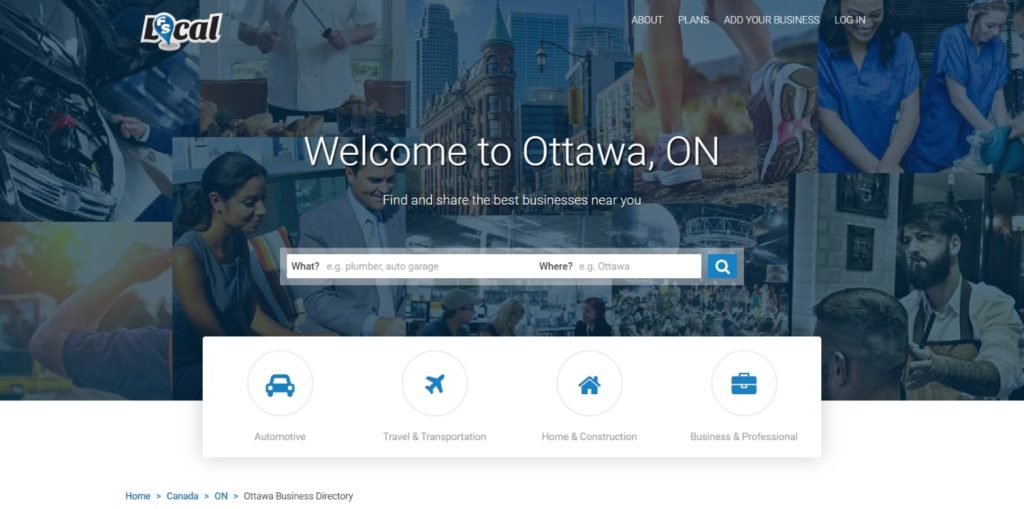 | Test | Info |
| --- | --- |
| CATEGORIES | Automotive, Business & Professional, Computers & Electronics, Events & Entertainment, Family & Community, Food & Dining, Health & Medical, Home & Construction, Legal & Financial, Local Shopping, Sports & Recreation, Travel & Transportation |
| WEBSITE | https://www.fslocal.com/cities/ca/on/ottawa/ |
| ADDRESS | 123 Limestone Crescent, North York, Ontario M3J 2R1, Canada |
| CONTACT DETAILS | Phone: (416) 733-2080 |
| | |
| --- | --- |
| Criteria | Ratings |
| Range of Categories | ★★★★★ (5/5) |
| Website Accessibility | ★★★★★ (5/5) |
| Quality Information and Comprehensiveness | ★★★★☆ (4/5) |
For nearly a decade, FS Local has been helping many businesses in Canada, including the capital, Ottawa. We love how they focus more on helping small businesses than large and famous ones.
FS Local caught our attention with the smooth and user-friendly search engine of their website. We love how they included simple icons for their "search by category" feature.
Despite having a limited listing and expensive monthly fee, FS Local has a lot to offer for businesses that join their directory. Their packages that offer SEO-friendly blog features and site audits sound promising to us in bringing more visitors to the business.
We love how FS Local empowers local businesses with a site audit. They give out recommendations on how the owners can improve their online reputation to attract more customers and be more searchable on Google aside from being in a business directory.
One of the best things about FS local is its cost transparency. You don't need to ask for a quote since they include it on their website with the features or services it includes.
FS Local boasts that they empower small business owners in their efforts to grow their companies and expand their reach. We like how they encourage and teach the owners that anyone can succeed online with the right help.
SEO-friendly blogs
Website audits and recommendations
Limited listings
Expensive monthly fee
Customer Reviews
Innovative and friendly
"FS Local is single-handedly changing the face of how communities should look to supporting their businesses. They are innovative and friendly and constantly on the search for how to improve the experiences of the businesses they work with. Rather than following the crowd of every other marketing firm, they are challenging the status quo and raising the bar for their competitors to strive to keep up." – Kevin T Cahill
Phenomenal
"I can't even begin to say HOW GREAT THIS TEAM IS. It has started to TURN MY BUSINESS AROUND in this slow economy. The team is incredible!!! I don't think they could be any more helpful even if they moved into my house, lol. These guys are phenomenal." – Christian Egsgard, President of All Traffic Tickets
3. Inside Ottawa Valley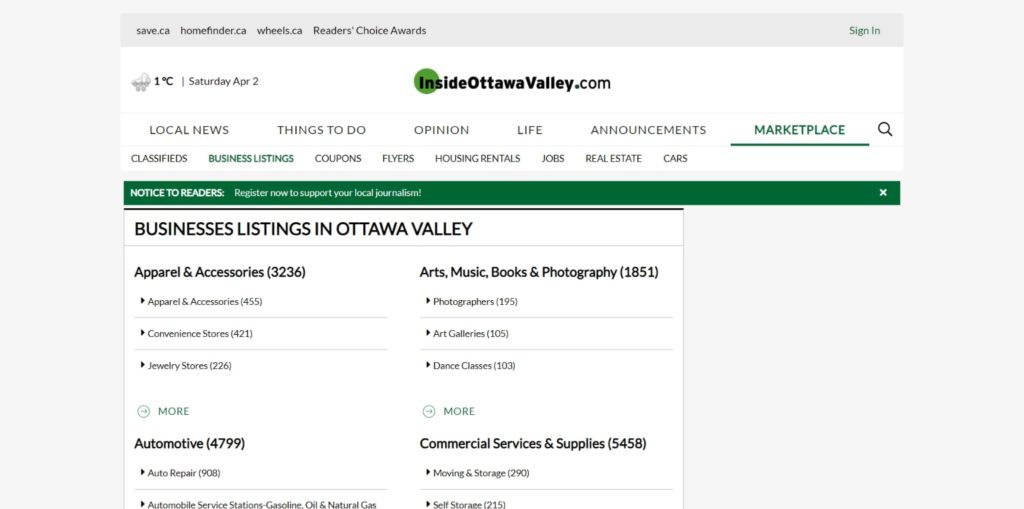 | Test | Info |
| --- | --- |
| CATEGORIES | Apparel & Accessories, Arts, Musics, Books, Photography, Automotive, Commercial Services & Supplies, Community & Employment, Computers & Electronics, Contractors, Construction Industry, Finance & Investing, Flowers, Parties & Gifts, Food & Drink, Health & Wellness, Home Decor, Media & Advertising, Insurance, Professional Service & Supplies, Pets, Real Estate, Restaurants & Dining, Sports & Recreation, Travel & Tourism |
| WEBSITE | https://www.insideottawavalley.com/ottawavalley-directory/ |
| ADDRESS | 35 Opeongo Rd. Renfrew, ON, K7V 2T2 |
| CONTACT DETAILS | Phone: (613) 432-3655 |
| | |
| --- | --- |
| Criteria | Ratings |
| Range of Categories | ★★★★★ (5/5) |
| Website Accessibility | ★★★★★ (5/5) |
| Quality Information and Comprehensiveness | ★★★★☆ (4/5) |
Inside Ottawa Valley took our attention with its rich background in the media. They're the community website of Metroland East Media that plays a big role in delivering news and information for the whole of Ontario.
The business directory became one of our top favorites due to its large selection of listings per category and even included a total number for it. We also appreciate the way they categorize the businesses and provide a sub-category too which we think brings convenience.
One of the best things about Inside Ottawa Valley is how we can filter the listings by the number of reviews and ratings. We enjoy the convenience of browsing the establishments with the best reviews and avoid the ones with low ratings.
Aside from their filter feature, we love how Inside Ottawa Valley features big and small businesses in their news or blog articles in the best way possible. Unfortunately, they don't provide a pricing guide for advertising but they're always open for inquiries.
We do really enjoy browsing through Ottawa Valley's business directory but we really suggest they include the logo for the businesses. The logo helps people to identify the establishment easily and it can leave a strong impression on the directory's visitors too.
We also like the idea of how being included in Inside Ottawa Valley can easily help any start-up business. Being affiliated with Metroland East Media already means that they have a strong following and a feature story from them can help you gain a lot of prospects.
Strong following
Filter feature
Lack of logos for listings
No pricing guide
4. Ottawa Board of Trade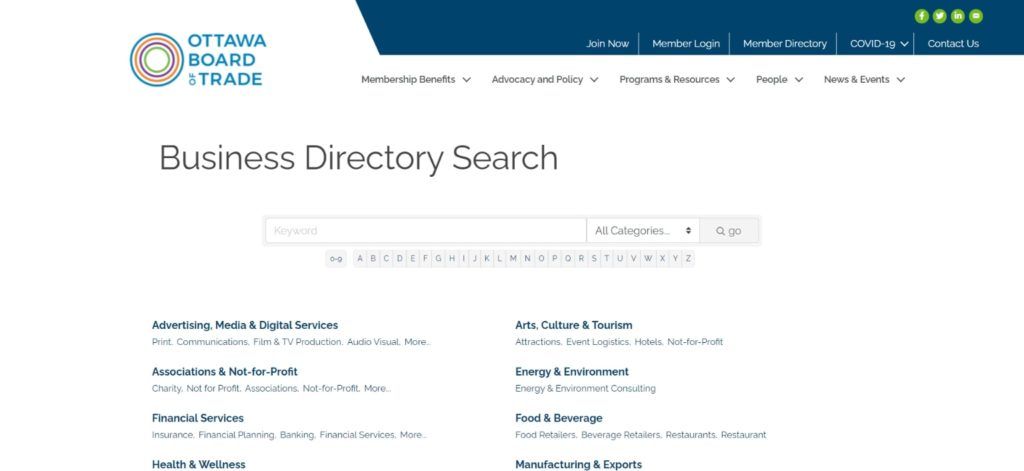 Test
Info
CATEGORIES
Advertising, Media & Digital Services, Associations & Not-for-Profit, Arts, Culture & Tourism, Energy & Environment Consulting, Financial Services, Food & Beverage, Health & Wellness, Manufacturing & Exports, Professional Services, Public Sector & MUSH, Real Estate, Construction & Development, Retail, Technology, Telecom, Technology Consulting, Software, Automobile Transportation, Transportation Logistics, Air Services, Travel Agency
WEBSITE
https://business.ottawabot.ca/list
ADDRESS
150 Elgin Street, 10th Floor, Ottawa Ontario K2P 1L4
CONTACT DETAILS
Phone: (613) 236-3631

Email: [email protected]
| | |
| --- | --- |
| Criteria | Ratings |
| Range of Categories | ★★★★★ (5/5) |
| Website Accessibility | ★★★★★ (5/5) |
| Quality Information and Comprehensiveness | ★★★★★ (5/5) |

Ottawa Board of Trade grabbed our attention for their business directory with the longest and richest history of the city. We love how it is affiliated with the municipal government as it was launched in 1857 by an Act of Parliament.
We're really impressed with the Ottawa Board of Trade's mandate to protect and advance economic prosperity, industrial opportunity, and quality of life. They're even more impressive for paving the way for the Eastern Ontario Development Association (EODA).
Ottawa Board of Trade's business directory has been a magnet for local and foreign inquiries even before digital technology. We like how it opened doors for all local businesses for potential clients and partnerships.
One of the things we enjoy with the Ottawa Board of Trade is its global and international relations. What makes it impressive is that it helps tourism in the city.
We really appreciate the Ottawa Board of Trade's user-friendly platform. It makes it easy and convenient to browse for tourists who want to know what to see, what to do, and where to stay in the city.
Despite the lack of a map in some of their listings, we like how they consistently feature the logos of businesses. They also feature a short description of the companies and service highlights.
Global and international reach and relations
Wide selection of categories and business listings
Lack of map in some listings
No pricing guide for advertising
Customer Reviews
Opened doors
"When I look around the room at networking events hosted by the Ottawa Chamber of Commerce, I see a diversity of age, cultures, and experience. The Ambassadors are very helpful with introductions and referrals, as are the Chamber's dedicated staff and committee members. I continue to be impressed by the Chamber's commitment to our business community's prosperity and success. Being a member has opened doors for me and been a worthwhile investment in every respect." – AJ Paige
Create new connections
"Without the Ottawa Chamber of Commerce, my businesses would not be where they are today. They are one of the most effective organizations in Ottawa for small business owners to network, create new connections, and gain valuable contacts in the private and public sectors. Joining the Ottawa Chamber of Commerce is an absolute must for any small business that wants to raise their brand profile and grow their business." – Brent Mondoux
5. 411 Local Search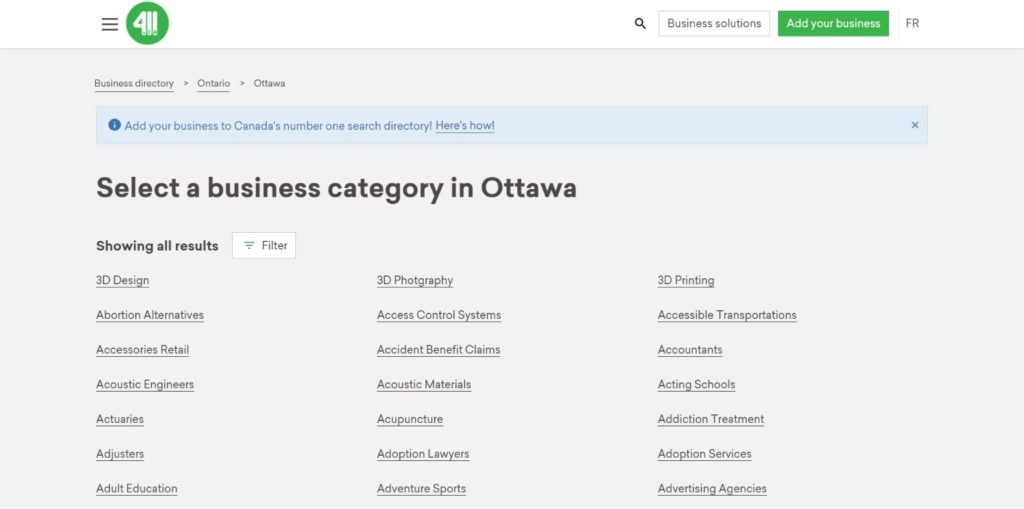 Test
Info
CATEGORIES
Accounting & Tax Services, Arts, Culture & Entertainment, Auto Sales & Service, Banking & Finance, Business Services, Community Organizations, Dentists & Orthodontists, Education, Health & Wellness, Health Care, Home Improvement, Insurance, Internet & Web Services, Legal Services, Lodging & Travel, Marketing & Advertising, News & Media, Pet Services, Real Estate, Restaurants & Nightlife, Shopping & Retail, Sports & Recreation, Transportation Utilities, Wedding, Events & Meetings
WEBSITE
https://411.ca/business-directory/on/ottawa
ADDRESS
1500 Don Mills Rd - Suite 600, Toronto, ON M3B 3K4
CONTACT DETAILS
Phone: (416) 646-0570

Email: [email protected]

OPERATING HOURS
Mondays to Fridays: 8 AM - PM

Saturdays to Sundays: CLOSED
| | |
| --- | --- |
| Criteria | Ratings |
| Range of Categories | ★★★★★ (5/5) |
| Website Accessibility | ★★★★★ (5/5) |
| Quality Information and Comprehensiveness | ★★★★☆ (4/5) |
The thing that grabbed our attention with 411 Local Search is their total of 1808 categories. As much as we wanted to put everything, we just summarized the major ones in the table shown above.
Some of their categories may have no business listings yet, but they do compensate for it with their map. We're a personal fan of how 411 Local Search included a map per category showing pinpoints of available businesses in the area.
We love how 411 Local Search doesn't just provide a business directory in Ottawa but all businesses, big or small, across Canada. The site's business directory is impressive in how user-friendly it is and how comprehensive all information is laid out.
The information shown in the business directory of 411 Local Search is complete with a map, website, directions, gallery, links to socials, and more. We love how almost everything you need to know about a service provider or establishment is entirely there.
Another reason they made it to our list is their marketing services. They offer to remove the hassle and confusion of online marketing channels' criticality in building a businesses' online presence.
Despite a high monthly price range for their services, we believe that you'll always get your money's worth. Investing in 411 Local Search can provide you with a great marketing boost that solidifies your online presence.
Pricing guide
Marketing services
Customer Reviews
Easy way to find business information
"Good and easy way to find business information and person. The employees are really friendly and willing to help you in any situation. Furthermore, they have a great coop program. The supervisors(Amit, Jessica) are very kind and helpful. Definitely an experience of a lifetime. Would recommend this business a lot!!!" – Alp Tezol
Really useful
"Good place to find business information, and person. Really useful for finding restaurants and shops. A great business place to advertise my own business!!" – Min-Gyu Kang
FAQs about Business Directories in Ottawa
---
If you have a favorite business directory that wasn't included here, feel free to leave a comment below and why we should include them. We value our audience's recommendations for their opinions and reviews.
The capital city of Canada is rich with businesses, service providers, and professionals so it's our responsibility to filter out only the best for you, our dear readers. Take time to check out our blogs featuring the best of the best in Ottawa:
---