6 Best Blinds Installation Services in Ottawa
Apart from providing privacy, blinds also let you control the right amount of light you allow into your space. So if you're thinking of getting some installed, this list of the best blinds installation services might just be what you need.
But how much do these types of services cost these days? Let's first talk more about it in the next section.
How much do blinds installation services cost in Ottawa?
The cost of blinds installations is often determined by the type of material, the brand, the number of windows, and the labor rates. But on average, having blinds installed in your entire house would cost you around $700.
To provide you with a better picture of these costs, below is a table showing the price ranges of blinds based on types. Please take note that these figures do not include the labor costs, which can run between $140 and $400.
| Types of Blinds | Price Ranges (per panel) |
| --- | --- |
| Vertical blinds | $30 - $80 |
| Venetian blinds | $25 - $140 |
| Mini blinds | $6 - $90 |
| Roller blinds | $8 - $190 |
| Roman blinds | $150 - $200 |
| Wooden blinds | $40 - $200 |
| Faux wood | $20 - $170 |
| Motorized or electric blinds | $400 - $1,000 |
Best Blinds Installation Services in Ottawa
In our selection process, we used the following criteria to get the best in the business:
1. TA Blinds and Interiors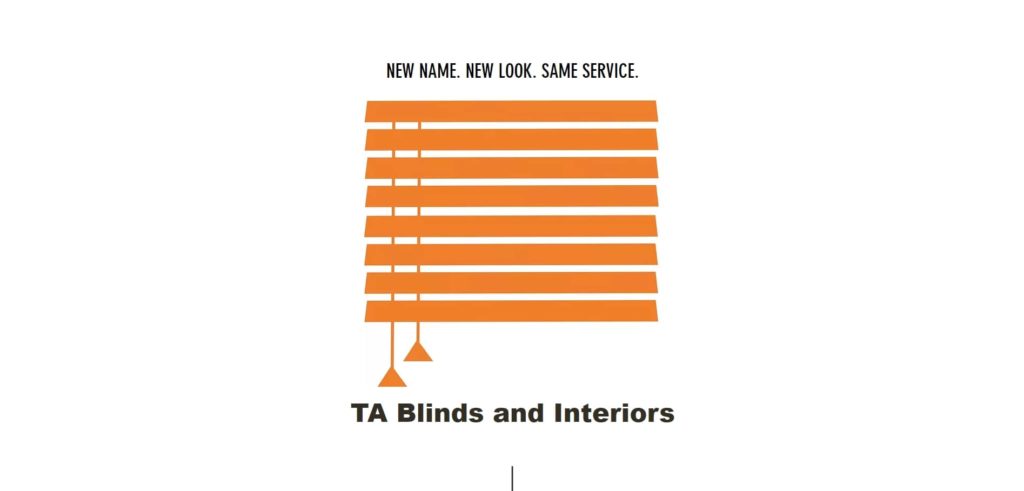 Test
Info
PRODUCTS & SERVICES
Alternating Shades, Cellular Shades, Roller Shades, Sheer Horizontal, Shutters, Vertical Blinds, Motorized/Smart Shades, Panel Tracks, Drapes, Installation Services
WEBSITE
https://www.tablindsandinteriors.com/
ADDRESS
22 Antares Drive Unit F-A, Ottawa, ON K2E 7Z6, Canada
CONTACT DETAILS
+1 613-261-4492
OPERATING HOURS
Tuesday to Thursday 9 AM - 6 PM

Friday 9 AM - 5 PM

Saturday 9 AM - 2 PM
| | |
| --- | --- |
| Criteria | Ratings |
| Competitive Rates | ★★★★★ (5/5) |
| Variety of Options | ★★★★★ (5/5) |
| Warranties | ★★★★✩ (4/5) |
| Customer Feedback | ★★★★★ (5/5) |
BBB-accredited, TA Blinds and Interiors is one of the best companies to call when in need of blinds installations. We trust the quality of both its products and services.
It offers products that range from vertical blinds and shutters to motorized shades and drapes. It takes pride in its products' quality as most of them come from high-end manufacturers like Hunter Douglas and Maxwell.
We like that it provides consultations to help you explore options that would work best for you and your home. The best part is that its team is composed of fully trained professionals with backgrounds in interior design.
You might want to take advantage of its free, in-home estimates, too, which are useful in helping you anticipate costs better.
Apart from giving discounts on some of its products and services, we appreciate that it strives to provide the best service rates through price matching. There's a free installation service, too, but this comes with a minimum purchase requirement.
The comprehensive portfolio of the provider's previous work is commendable as well as this gives potential customers an idea of what it does. But since it's closed on Sundays and Mondays, you might need to consider this when planning a visit.
Overall, with a friendly and professional team that gets things done on time, we think that TA Blinds and Interiors deserves a call one of these days.
Variety of options
BBB accreditation
A team with an interior design background
Free estimates
Discount promotions
Comprehensive portfolio
Promos with minimum order requirement
Closed on Sundays and Mondays
Customer Reviews
Love my new blinds
"I LOVE LOVE LOVE my new blinds! Thank you Trishna & Denis! I recently purchased dual (alternating) blinds for all of my window coverings including motorization on one (which is amazing and in hindsight, I wish I had added it to all of the blinds) from TA Blinds. Trishna travelled out of town to my place to take all of the measurements for my windows. She sat with me and discussed all of the types of window coverings, material, and colors. Her timeline for receipt of the blinds was bang on!! Both Trishna and Denis arrived to install them. They were both incredibly friendly and professional. They installed the blinds very quickly and efficiently. I would not hesitate to refer TA Blinds and Interiors to anyone. Their company, knowledge, products, installation, professionalism and support are all five star!" — Diane Kuhn, Google Reviews
Very pleased from start to finish
"Over the past year we have used the services of TA Blinds and Interiors and were very pleased from start to finish. Trishna was very friendly, professional and knowledgeable about all products. With a background in interior design, she offered us useful suggestions. Denis, who installed our blinds was also very friendly, and did a great job with the installation. We would definitely recommend this company to anyone looking for window coverings in the Ottawa area." — Brenda DSilva, Google Reviews
2. Iconic Blinds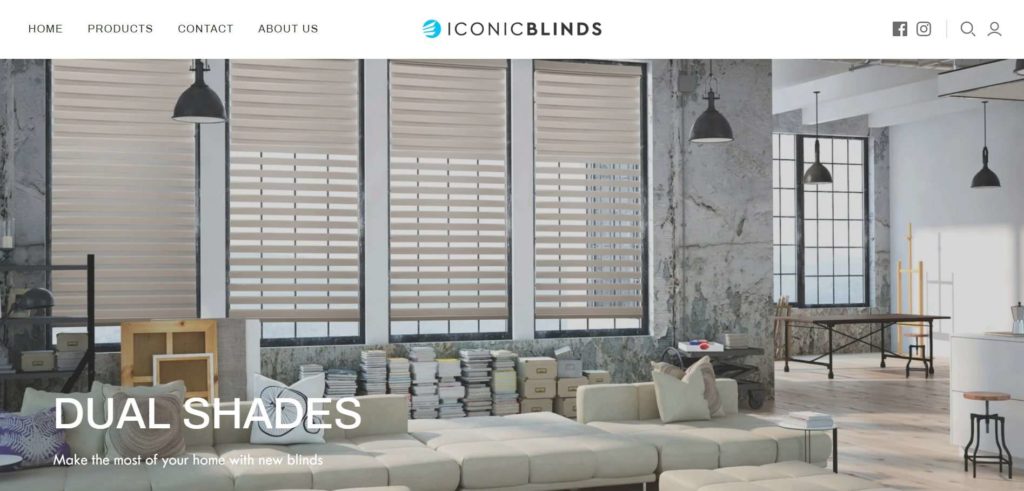 | Test | Info |
| --- | --- |
| PRODUCTS & SERVICES | Cellular Shades, Dual Shades, Motorized Shades, Roller Blinds, Roman Shades, Shutters, Installation Services |
| WEBSITE | https://iconicblindsco.com/ |
| ADDRESS | 5689 Power Rd, Ottawa, ON K1G 3N4, Canada |
| CONTACT DETAILS | +1 343-988-1180 |
| OPERATING HOURS | Monday to Friday 9 AM - 5 PM |
| | |
| --- | --- |
| Criteria | Ratings |
| Competitive Rates | ★★★★★ (5/5) |
| Variety of Options | ★★★★✩ (4/5) |
| Warranties | ★★★★★ (5/5) |
| Customer Feedback | ★★★★★ (5/5) |
If you're thinking of getting some blinds installed in your home, Iconic Blinds is one of the best options you have. Currently, its product lines include cellular shades, roller blinds, and shutters.
Despite having relatively fewer options, we still like it as it offers a lifetime warranty on all parts, alongside a 5-year manufacturer warranty on products with motors. These are great as they add confidence and save on costs.
These warranties, however, only apply if the blinds were installed by the company's licensed staff.
We like that the provider caters to free consultations with its certified and fully trained design experts. This way, you are able to achieve optimal results by marrying your preference and the suggestions provided.
We also appreciate the staff's flexibility and patience when dealing with customers. Their immediate responses to emails and calls are commendable as this makes patrons feel valued and respected.
Taking pride in its customer service, it is not difficult to see why Iconic Blinds has received an A+ BBB rating. The multiple payment methods, on the other hand, add convenience to paying for rendered services.
If you're thinking of visiting, you might want to set it on a weekday as the company is unavailable on weekends.
A decent array of products
Product and service warranties
Free consultation
A+ BBB accreditation
Relatively fewer options
Closed on weekends
Customer Reviews
Fantastic and timely service
"Fantastic and timely service from Iconic Blinds. Received blinds for my whole home and was able to customize alternate styles and colours as needed. Jesse and team are flexible and patient through selection process and deliver a great product for a fair price. Will definitely call them for future window covering needs!" —Samantha Morello, Google Reviews
Great customer service
"They have great customer service, replied to our email and calls almost immediately, support friendly service. The installer were very clean and respective of the property. Plus the blinds are of great quality and the best price we found." — Joseph Labaki, Google Review
3. Gotcha Covered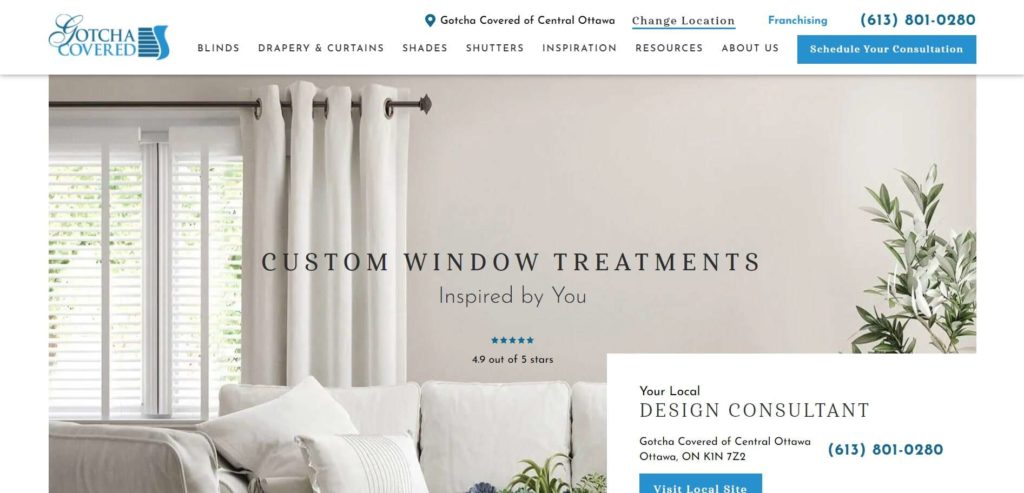 | Test | Info |
| --- | --- |
| PRODUCTS & SERVICES | Blinds, Drapery and Curtains, Shades, Shutters, Installation Services |
| WEBSITE | https://www.gotchacovered.com/ |
| ADDRESS | 323 Chapel St Suite 202, Ottawa, ON K1N 7Z2, Canada |
| CONTACT DETAILS | +1 613-801-0280 |
| OPERATING HOURS | Monday to Friday 8 AM - 5 PM |
| | |
| --- | --- |
| Criteria | Ratings |
| Competitive Rates | ★★★★★ (5/5) |
| Variety of Options | ★★★★★ (5/5) |
| Warranties | ★★★★✩ (4/5) |
| Customer Feedback | ★★★★★ (5/5) |
With its promise to provide high-quality products and services, we trust Gotcha Covered for blinds installation needs. Given its wide array of products to choose from, you might just find what you want here.
Among its products include blinds, shades, shutters, drapery, and curtains. To help you have better visuals of these products, a portfolio of previous work is provided on the website.
The only downside here is that the photos are rather limited.
We like that it offers warranties on both its products and services. There are, however, no standard warranties and everything depends on the type of product and service to be rendered.
To set expectations straight, we suggest that these matters get discussed during the complimentary consultation.
During the free consultation appointment, you'll get to speak with an experienced design consultant in the comfort of your home or office.
On top of this, we also like that the company strives to offer its services at the most affordable rates possible. It does this by basing its pricing scheme on national buying power.
To add extra convenience, it accepts multiple payment methods for its products and installation services.

Despite having some issues with communications, its professional, fast, and friendly staff make the company's services worthwhile.
A wide array of products
Warranties on products and services
Complimentary consultation
Multiple payment methods
Communication can be improved
Closed on weekends
Customer Reviews
No hassles
"Gotcha Covered provided us with new window coverings. We are so happy with all aspects of this service. Cathleen is knowledgeable, she has a very friendly, honest and warm disposition. What was promised was delivered in a prompt and timely manner. The installation staff were extremely personable and friendly and when we had an issue with one of the window blinds, it was promptly replaced. No hassles. I highly recommend Gotcha Covered :)" — Mary Alison Cohen, Google Reviews
Extremely pleased
"We were extremely pleased with our experience with Gotcha Covered. Cathleen was delightful and really understood our aesthetic and quickly picked up where our taste lies. She was extremely knowledgeable about the products and was skilled at making recommendations. The blinds and drapery that we ordered are exquisite and the installation by Dan was meticulous. We would (and already have) recommended Gotcha Covered to anyone looking for window coverings." — Roxanne Smith, Google Reviews
4. Blindsnisa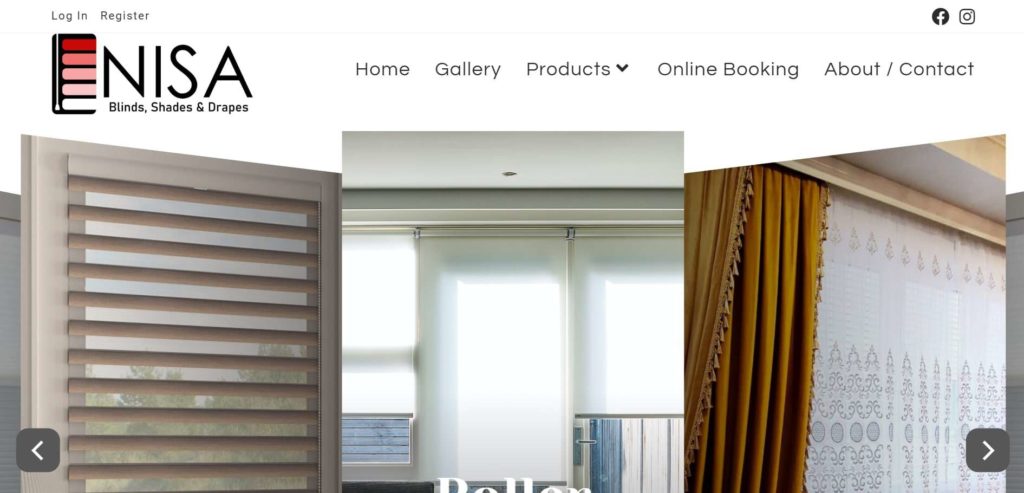 Test
Info
PRODUCTS & SERVICES
Zebra Blinds, Roller Blinds, Plicell and Honeycomb, Drapery and Curtain, Wood, Shutter, Installation Services
WEBSITE
https://blindsnisa.com/
ADDRESS
174 Colonnade Rd #22A, Nepean, ON K2E 7J5, Canada
CONTACT DETAILS
+1 613-699-1837
OPERATING HOURS
Monday to Saturday 9 AM - 6 PM

Sunday 10 AM - 5 PM
| | |
| --- | --- |
| Criteria | Ratings |
| Competitive Rates | ★★★★★ (5/5) |
| Variety of Options | ★★★★✩ (4/5) |
| Warranties | ★★★★★ (5/5) |
| Customer Feedback | ★★★★★ (5/5) |
Being in the business for more than 20 years makes Blindsnisa one of the best choices for blind installations. Although its years of experience do not guarantee quality products and services, they provide some insight into what it can do.
Relatively fewer compared to others, its products include zebra blinds, cellular shades, blackouts, and shutters. As a manufacturing company producing its own items, it is able to offer the best prices for blinds and other merchandise.
There are galleries, too, where you can find some of its sample work. These can give you a better idea of what it is capable of.
We also like that its products come with warranties — 5 years for fabrics and 7 years for plastic and metal parts. It's great to know that you're protected against additional costs for many years to come.
Apart from providing free installation services, the company offers complimentary consultations to help understand your vision and provide you with the best results. Also worth noting are the free measurements that go with the consultations.
Above all, we like that its professional and licensed staff is fast and friendly. Its team is also commendable as they promptly respond to concerns and get things done on time.
A decent selection of products
Competitive pricing
Product and service warranties
Complimentary services
Open daily
Relatively fewer options
Selective discount promos
Customer Reviews
Product and service are top-notch
"My wife an I spent quite some time looking for blinds for our new home. After visiting many local stores in Ottawa, we read a great review of Blindsnisa and decided to visit. We were welcomed by owner who was very pleasant and helped us find the right blinds for us. The selection of fabrics is probably one of the best, if not the best in Ottawa. So much to choose from and the quality was fantastic. The price was very reasonable and included taking measurement, and installation. Measurements were taken in a short period of time, and blinds were built, delivered, and installed within two weeks as promised by the owner. We are extremely happy with the whole experience, the quality of product and services was top notch. Highly recommended! A+++ Thank you Blindsnisa!" — DNZ T, Google Reviews
Pleasant and friendly
"The owner is very pleasant and friendly. Explained us everything in detail about the blinds depending on our requirements and gave a very good price and the quality of the product is also amazing. Would appreciate that they replaced one our blinds that was damaged during shipping and were prompt enough to let us know of the change process. No delays in communication and response. Would recommend them!" — Abhinav Kumar, Google Reviews
5. Bestway Blinds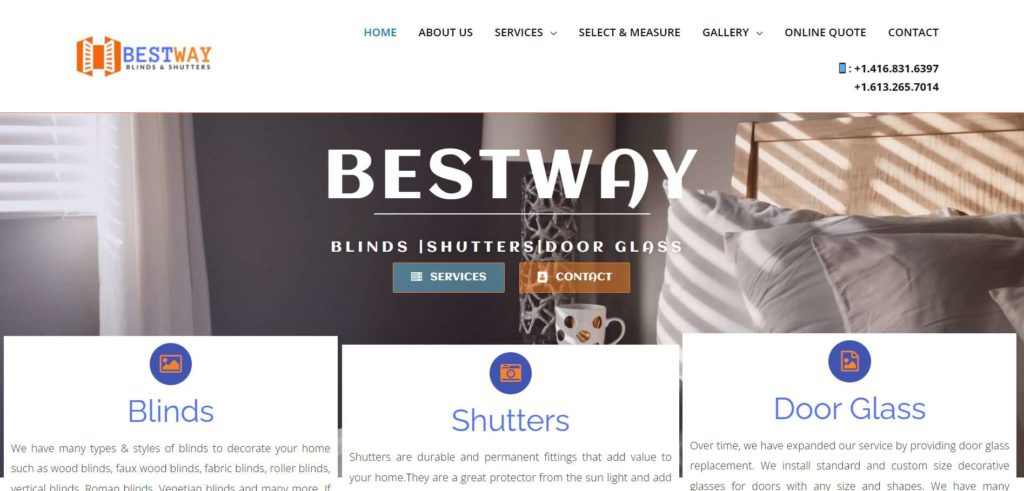 Test
Info
PRODUCTS & SERVICES
Blinds, Shutters, Door Glass, Installation Services
WEBSITE
https://bestwayblinds.com/
ADDRESS
33 Estate Dr, Scarborough, ON M1H 2Z2, Canada
CONTACT DETAILS
+1 613-265-7014
OPERATING HOURS
Monday to Saturday 8 AM - 8 PM

Sunday 8 AM - 5 AM
| | |
| --- | --- |
| Criteria | Ratings |
| Competitive Rates | ★★★★★ (5/5) |
| Variety of Options | ★★★★✩ (4/5) |
| Warranties | ★★★★✩ (4/5) |
| Customer Feedback | ★★★★★ (5/5) |
We like Bestway Blinds because its years of experience in the business are a testament to the type of service it provides. Although relatively fewer, its array of custom-built products includes blinds, shutters, and door glasses.
Under its blinds inventory, you may opt to go for wood, fabric, roller, vertical, Roman, or Venetian options. Should you have difficulties choosing what's best, the company's free, in-home consultation with one of its design professionals could help.
Through the consultation, you'll be able to discuss things and receive suggestions from a design expert. Alongside this complimentary consultation are the free measurement services that help ensure smooth installations and optimal results later on.
We appreciate that the company provides warranties on its products. The only downside here is that such warranties are only applicable to certain merchandise, particularly, shutter frames and panels.
It was great to find a comprehensive gallery on its website that shows some of the recent installation jobs. Through it, customers are given some insight into the quality of work its team provides.
Also commendable is its pool of skilled workers and technicians that are always ready to take on any job. Above all, we like Bestway Blinds because of its excellent customer service, affordable rates, and commitment to timelines.
A decent collection of products
In-home consultation
Free measurements
Product warranties
Comprehensive gallery
Open daily
Relatively fewer options
Limited warranties
Customer Reviews
Great value for the money
"Great experience working with you. Lambo and his team mates came on time, did the measurements, helped with selection and delivered on time. I appreciate the professionalism shown by the young enthusiastic professionals and kudos on the job well done. Competitive pricing and service. Great value for the money. Thanks." — Ruby Cumarasamy, Google Reviews
Will surpass your expectations
"Bestway Blinds was highly recommended to me by my Realtor. I am beyond impressed and pleased I called for a referral. Their prices were much more affordable than other quotes. Not only am I beyond ecstatic with how my shutters look Lambo was incredibly flexible and efficient in accommodating my needs and schedule. I highly recommend Bestway Blinds. They will surpass your expectations." — Cheryl Gandier, Google Reviews

6. Vona Blinds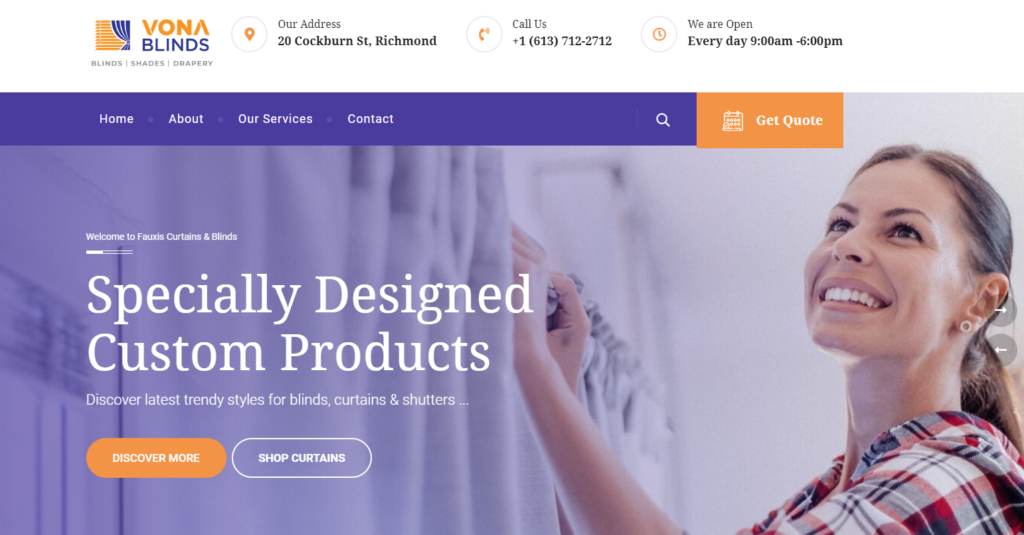 Test
Info
PRODUCTS & SERVICES
Roller Blinds

Roman Blinds

Venetian Blinds

Vertical Blinds

Duplex Blinds

WEBSITE
https://vonablinds.com
ADDRESS
20 Cockburn St, Richmond
CONTACT DETAILS
+1 (613) 712-2712
OPERATING HOURS
Every day 9:00am -6:00pm
| | |
| --- | --- |
| Criteria | Ratings |
| Competitive Rates | ★★★★★ (5/5) |
| Variety of Options | ★★★★★ (5/5) |
| Warranties | ★★★★★ (5/5) |
| Customer Feedback | ★★★★★ (5/5) |
Vona Blinds is one of the companies on this list that dedicates its services solely for blinds. Over the years, Vona Blinds has worked with commercial and residential clients in beautifying their homes through the installation of blinds.
You can find different types of blinds in the Vona Blinds catalog, such as roller blinds, Venetian blinds, and even duplex blinds.
Do note that these blinds, regardless of style, are custom-made to fit the clients' needs. Vona Blinds carefull assess the installation locations to ensure that their products fit perfectly.
Once they have manufactured your blinds, you won't need to worry about installation since Vona Blinds also offers free installation. Their comprehensive blinds-based services are the main reason why we recommend them.
Various blinds style available
Offers free quotes
Custom-made products
Offers free measuring and installations
May be booked and busy, contact ahead of time
FAQs about Blinds Installation
---
We hope that our list has helped you find the best blinds for your home!
Considering getting your windows replaced before installing blinds? Then this article on the best window replacement services in Ottawa might just work for you!