The 5 Best Bagel Shops in Ottawa
Whether you're in a hurry to class or the office and need something filling, or just looking for a snack to tide you over, bagels are always a solid choice.
You can have them with jam and butter for something sweet or even with your meat and cheeses of choice.
Regardless of how you like your bagels, there's no denying that their simplicity is what makes them so customizable and fun to eat.
In this article, we'll take you on a tour of the best bagel shops in Ottawa.
Specialties of Bagel Shops in Ottawa
Each entry we included in this list has its own specialty, so to give you an idea of what you can look forward to, we listed each one. You can refer to the table below:
| | |
| --- | --- |
| Kettlemans Bagel | Bozo Bagels |
| Ottawa Bagelshop and Deli | Montreal-style Everything Bagel |
| Cadmans Montreal Bagels | Mini Bagels |
| The Bagel Run | Keto Bagels |
| Voila Gluten Free Bakeree Kanata | Gluten-free Bagels |
Top Bagel Shops in Ottawa
When making our choice for the top bagel shops in Ottawa, we used the following criteria to narrow down our list:
1. Kettlemans Bagel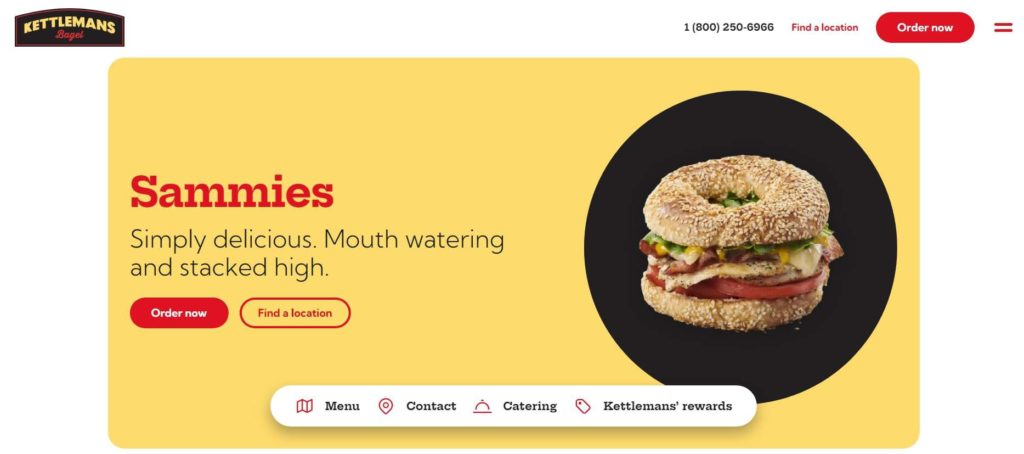 Test
Info
SERVICES

Plain bagel

sesame seed

poppy seed

onion bagel

garlic bagel

cinnamon raisin

pumpernickel

whole wheat

chocolate

herb & cheddar

blueberry

all-dressed

WEBSITE
https://www.kettlemansbagels.ca/
ADDRESS
912 Bank St, Ottawa, ON K1S 3W4, Canada
CONTACT DETAILS

613 567 7100

OPERATING HOURS

OPEN 24 HOURS
| | |
| --- | --- |
| Prices | ★★★★☆ (4/5) |
| Variety | ★★★★★ (5/5) |
| Dining options | ★★★★★ (5/5) |
| Customer satisfaction | ★★★★☆ (4/5) |
Our first entry on this list is Kettlemans Bagel, which started as one man's dream and a humble bagel shop in the heart of Ottawa over 25 years ago.
Its specialty is the Montreal bagel which it tries to keep as authentic and close to tradition as possible.
Taking one quick look at its menu tells you everything you need to know about what its specialty is. It doesn't have just plain bagels but rather serves a variety, all for you to choose from.
Whether you want something sweet and buttery or something filling and just as much of a meal as any run-of-the-mill sandwich, Kettlemans Bagel probably has it!
Of course, you can't talk about this bagel shop without saying something about its Montreal bagels.
We talked to some of its patrons, and they honestly couldn't get enough of all the delicious bagels offered here. Although the prices are a bit high, customers are still willing to pay to get their hot and fresh bagels.
Even if you're not from Montreal, both natives and Ottawans agree that the Montreal sandwich at Kettlemans Bagel is as close to the real deal as can be.
A word of caution, there's been some complaints about the cleanliness of this particular branch, especially during or after the lunch rush.
Good variety of bagels
Authentic Montreal burgers
25+ years in business
Customer Reviews
Every bite is heavenly
"Closest word to describe it would be LOVE. Every bite is heavenly. It is as close to Montreal bagles as can be. They are even better in service, sitting. Only problem are the high prices. I am sadly willing to pay for LOVE. So glad they opened locations near TO. Will go there next for sure." – David Ribovski
Great customer service
"I have been a regular at Kettlemans for years. I am from Montreal and it's so great to get those same delicious bagels 365/24/7. The owner Craig and I are from the same hometown of LaSalle, in Montréal and had a few occasions chatting with him when I had some issues. What a gracious man. Great customer service focus. My favourite is the Kettlemans special (salmon lox on a toasted sesame bagel) and their pickles are so good. I always have some in the freezer for a quick lunch." – Jennifer Ng Gemmell
2. Ottawa Bagelshop and Deli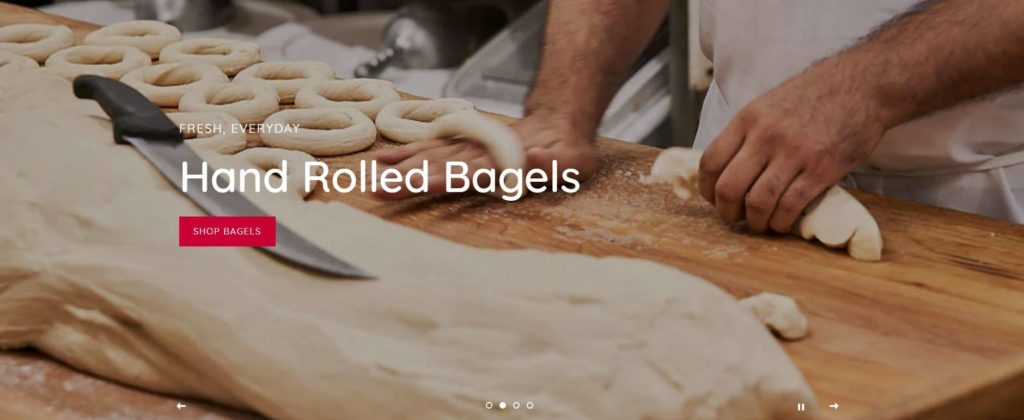 Test
Info
Menu

Montreal-style bagel (sesame)

Montreal-style bagel (everything)

Montreal-style bagel (poppy)

Montreal-style bagel (plain)

Montreal-style bagel (cinnamon raisin)

Montreal-style bagel (lemon cranberry)

Montreal-style bagel (whole wheat)

WEBSITE
https://ottawabagelshop.com/
ADDRESS
1321 Wellington St. W, Ottawa, ON K1Y 3B2, Canada
CONTACT DETAILS

613 722 8753

OPERATING HOURS

Monday - Saturday: 7:00 AM - 7:00 PM

Sunday: 7:00 AM - 6:00 PM
| | |
| --- | --- |
| Prices | ★★★★☆ (4/5) |
| Variety | ★★★★★ (5/5) |
| Dining options | ★★★★★ (5/5) |
| Customer satisfaction | ★★★★☆ (4/5) |
Ottawa Bagelshop and Deli boasts its Montreal-style bagels and for good reason. More than 30 years ago, its owner introduced the Montreal bagel to Ottawa for the very first time and has since then continued to serve them.
It was the first bagel shop with its own wood-burning bagel oven, inspiring and attracting other food shops to the area all the while expanding and even adding a restaurant.
Starting from 900 square feet, it's now over 7000 square feet, plus the restaurant.
This bagel shop sources its ingredients from over 100 suppliers around the world, but it also helps supports local artisans and suppliers. Because of this, it offers a wide selection of other products like cookies, jams, cheeses, chocolates, candy, etc.
If you have a morning meeting or event and would like some warm and fresh bagels, Ottawa Bagelshop and Deli also offers catering services. You can simply order through its website to secure yourself a delicious breakfast made from quality ingredients.
Even if your meeting is at lunchtime, that's alright too because its lunch selection is nothing to scoff at. And for those who have dietary restrictions, you don't need to worry because there are also gluten-free bagels available.
There are a lot of good reasons why Ottawa Bagelshop and Deli has flourished for so long, but there have been complaints about the food quality lately. A few customers have received cold bagels or ones that didn't feel or taste fresh anymore.
30+ years in business
Local family-owned
Great selection of products
Catering service
Customer Reviews
Incredible selection
"The freshest bagels and incredible selection of bagel sandwiches. Both breakfast and lunch options. I love the variety of options for cheese, deli meats and ingredients you can find at this shop. Dine in opened back up today and it was so lovely to see!" – Olivia Lam
Great food
"Lovely shop, friendly owner and great food. For all my celiac friends, they have gluten free bagels! For all the juice lovers, they make fresh orange juice which is delicious." – Zeena Kaddoura
3. Cadmans Montreal Bagels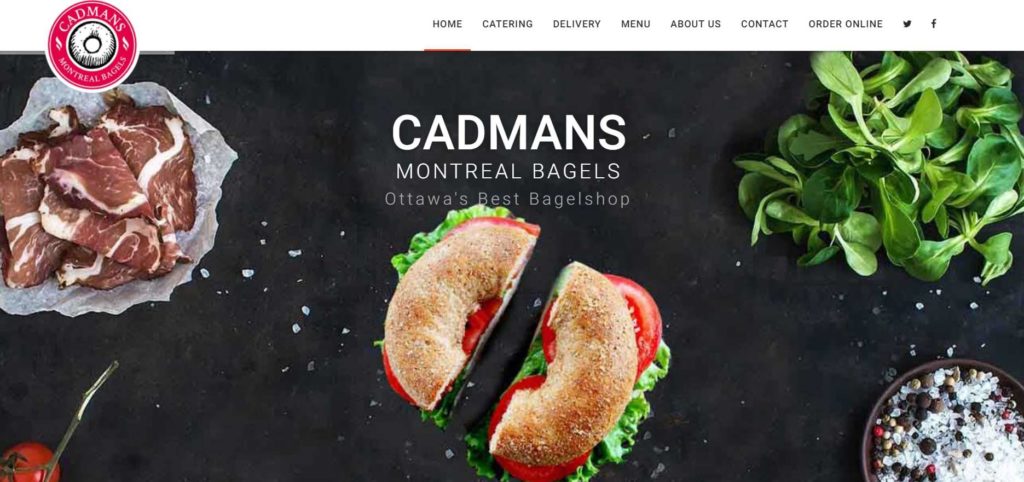 Test
Info
Menu

Plain bagels

poppy seed

sesame seed

onion

garlic

pumpernickel

whole wheat

chocolate

lemon & cranberry

blueberry

all-dressed

WEBSITE
http://cadmansbagel.com/
ADDRESS
150 Montréal Rd #109, Ottawa, ON K1L 8H2, Canada
CONTACT DETAILS

613 722 8753

OPERATING HOURS

Monday - Tuesday: 8:00 AM - 6:00 PM

Wednesday - Sunday: 8:00 AM - 11:00 PM
| | |
| --- | --- |
| Prices | ★★★★★ (5/5) |
| Variety | ★★★★★ (5/5) |
| Dining options | ★★★★☆ (4/5) |
| Customer satisfaction | ★★★★☆ (4/5) |
Fun fact about Cadmans Montreal Bagels, it actually started as a franchisee of Kettlemans Bagel Company for almost 13 years.
Since its beginnings, this bagel shop committed to freshly-made bagels with no chemicals or preservatives added.
Its bagels are hand-rolled and freshly made every single day with a few simple yet high-quality ingredients. It has a good selection of bagels on its menu, whether you prefer the classic plain bagel or something more flavorful and exciting.
One thing you can definitely appreciate about this bagel shop is that it has 2 branches open here in Ottawa. So you can drop by whichever one is closest to where you currently are if you have a craving for this savory treat.
Additionally, if you're in need of some quick and easy catering for sports meets, business lunches, or any social gatherings, it offers catering services. Even if you can't pick it up yourself, Cadmans Montreal Bagels also does delivery.
According to the customers we interviewed, they liked that it's more affordable than some bagel shops and that its other food items are also as good as the bagels.
The main concern here is that customer service is quite lacking and in turn, the dining area isn't as tidy as it's supposed to be for a place you're going to eat at.
Freshly made bagels everyday
More affordable
Does catering
Poor customer services
Messy dining area
Customer Reviews
Perfect place
"Delicious fresh bagels and hot fresh tea with a tart. I am beyond delightful to try this restaurant. It's quiet and clean. Perfect place to find some peace with a good book. Thank you!" – Dazey Marie
More affordable
"Love this place! So happy to have something a little more affordable than Kettlemans and with faster service. They also had an awesome buy one get one free on hours-old bagels – which turned out to be just as good and a great price… best sandwich/bagel deal around. Plus they have the best pickles and you get one with every sandwich. Forever fan!" – Caitlin Schryburt-Clarkin
4. The Bagel Run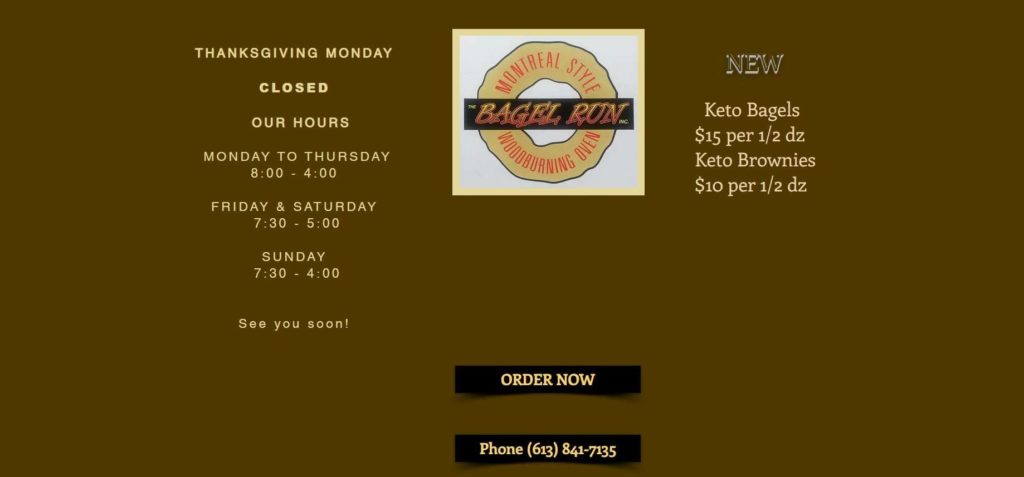 Test
Info
Menu

Regular bagels

specialty bagels

Bagel of the Month

homemade cream cheese

Challah

Jewish cuisine

sandwiches

soups

pastries

fruit & veggie platters

dessert platters

WEBSITE
https://www.thebagelrun.com/
ADDRESS
2026 Tenth Line Rd, Orléans, ON K4A 4X4, Canada
CONTACT DETAILS

613 841 7135,[email protected]

OPERATING HOURS

Monday - Thursday: 8:00 AM - 4:00 PM

Friday: 8:00 AM - 5:00 PM

Saturday: 7:30 AM - 5:00 PM

Sunday: 7:30 AM - 4:00 PM
| | |
| --- | --- |
| Prices | ★★★★☆ (4/5) |
| Variety | ★★★★★ (5/5) |
| Dining options | ★★★★☆ (4/5) |
| Customer satisfaction | ★★★★☆ (4/5) |
Before the Bagel Run was formally opened, its founder started out at the Fairmount Bakery all the way in East Montreal more than 30 years ago.
That's why there's no better place to get your authentic Montreal-style bagels than here.
The greatest advantage of having a native from Montreal make bagels is that they know the recipe well enough to easily tweak and adjust it to enhance the great taste further. Its owner didn't just bring Montreal-style bagels, but also improved its health benefits!
That's right, Weight Watchers, a weight-loss-centered app and service, even recommends the bagels from the Bagel Run. If you're currently on a diet and craving bagels, you don't need to look any further than Ottawa's suburbs.
Regardless of when you need a bag of bagels yourself or need a bigger order for your event, this bagel shop is thankfully open from Monday to Sunday for your bagel needs. It also has keto brownies if you want something sweet to go with your keto bagels.
What's more, it offers a ton of other menu items like fruit and veggie platters, soups, sandwiches, and other pastries. Truthfully, it's one of the most diverse bagel shops on this list just from the number of food items it has for sale.
With that said, not everyone is satisfied with the food and customer service at the Bagel Run. Take it from us, it's still better to visit and form your own opinion about it.
Offers keto bagels
Lots of other food items available
Open daily
Complaints about food quality
Bad customer service
Customer Reviews
100% recommend
"I ordered the everything bagel with the garlic&herb cream cheese, and the poppy bagel with smoked salmon, they were both amazing I would definitely redo! 100% recommend! It's delicious and client experience was excellent!" – Caroline Chehade
Simply delicious
"Huge fan of their store-made cream cheese, especially the herb & garlic! Simply delicious! And it's a nice touch that they included a branded cream cheese with every half dozen bagels. Mornings tend to be busy so I prefer going in the afternoon when I can!" – Amanda I.
5. Voila Gluten Free Bakeree Kanata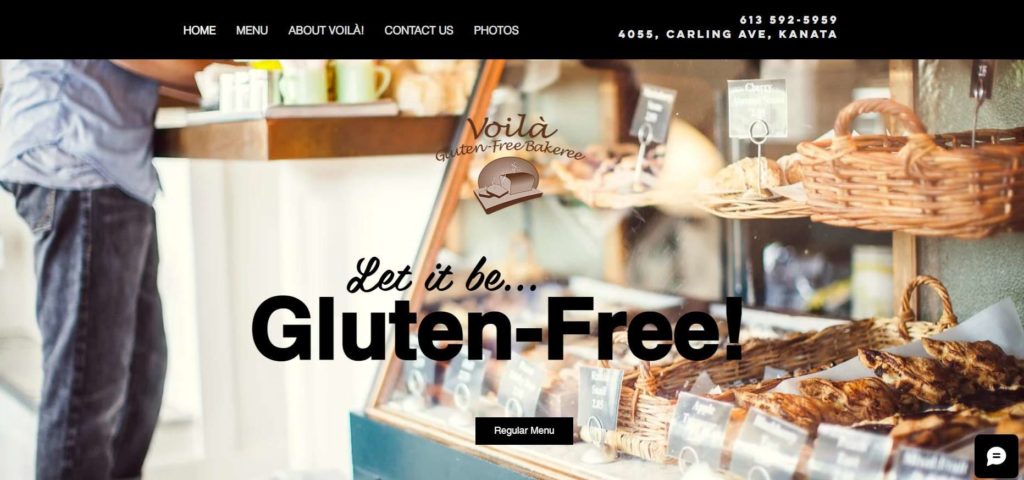 | | |
| --- | --- |
| Prices | ★★★★☆ (4/5) |
| Variety | ★★★★★ (5/5) |
| Dining options | ★★★★☆ (4/5) |
| Customer satisfaction | ★★★★☆ (4/5) |
Test
Info
Menu

Bagels

bread

cakes

cupcakes

tarts

cookies

muffins

donuts

pies

pizzas

pasta

WEBSITE
https://www.voilaglutenfreebakeree.com/
ADDRESS
4055 Carling Ave #2, Kanata, ON K2K 2A4, Canada
CONTACT DETAILS

613 592 5959

OPERATING HOURS

Sunday - Monday: CLOSED

Tuesday - Friday: 9:30 AM - 4:00 PM

Saturday: 9:30 AM - 3:00 PM
There's no way we can finish this list without including something for everyone out there! While it's not primarily a bagel shop, Voila Gluten Free Bakeree Kanata deserves its place here because of its gluten-free bagels and other baked goods.
That's right, this shop offers gluten-free baked goods and also has vegan, dairy-free, corn-free, egg-free, and other options available.
This means, for those with more special diets, there's a bigger chance you'll find something that fits your needs here.
There's nothing wrong with wanting to save the animals and help the environment by not consuming animal products, that's why Voila Gluten Free Bakeree is a great choice. You won't have to feel guilty about getting your bagels here when the craving hits you.
Its bagels are baked on Tuesdays and Thursdays and you're highly encouraged to buy yours in batches of 6 pieces.
Unfortunately, this means it's not some place where you can quickly drop by and just grab one bagel to go before heading to class or the office.
Rather, it's more of a place where you can grab your freshly baked batches of bagels to take home and make your own bagel sandwiches instead. So just remember that if you ever decide to get a bag of gluten-free vegan bagels here.
Gluten-free
Offers vegan options
Has other baked goods and food items available
Bagels baked only on Tuesdays & Thursdays
Can only buy bagels in batches of 6
Customer Reviews
Gem of a bakery
"Recently discovered this gem of a bakery and my life is now complete! I have been celiac for over 10 years and have tried a very large variety of gluten-free items from specialty shops and grocery stores alike, and nothing even comes remotely close to the taste, texture, and quality that Voila offers! It has been a pleasure finally being able to once again enjoy old time favourites. And they offer a wide variety of items ranging from tarts, muffins, danishes, scones, cinnamon buns, cookies, pies, bagels, cakes, cupcakes, pizzas, pastas, breads, buns, pitas, etc! Thank you for the friendly service and amazingly delicious products – I will definitely be spreading the word about your wonderful bakery!" – Alissa M.
The food is also amazing
"The owner is so lovely. Always super nice and willing to help me find options that both me and my husband's allergies allow us to enjoy. The food is also AMAZING!" – Michelle Dubue
FAQs about Bagel Shops in Ottawa
---
Unsure about where you'll have lunch today? Check out our list of the top lunch restaurants in Ottawa for helpful ideas!