Top 11 Advertising Agency Services in Ottawa
If you've been having some trouble getting people to notice your products or services, today might just be your lucky day. We're going to review what the top advertising agency in Ottawa can do for your brand.
To help you understand the industry better, we also put together some handy FAQs at the end of this listicle.
How Much Does An Advertising Agency Charge in Ottawa?
There could be different ways to pay for services. An advertising agency in Ottawa can offer its services via monthly subscriptions so clients can have a full range of digital marketing solutions under one fee.
However, some clients might already have a website and would just need the kind of social media presence that can propel their brand forward. A la carte services can then be offered, as illustrated in the table below.
| | |
| --- | --- |
| ADVERTISING AGENCY SERVICE | ESTIMATED COST |
| Social media management | $500 – $1,000 per month |
| Consultation/creative development | $85 – $200 per hour |
| Digital marketing subscription | $950 – $10,000 per month |
| Website design, hosting, and SEO package | $5,500 – $10,000 per package |
Please note that these estimated costs are taken from national averages and from some of the sites on review today.
Some agencies do offer free initial assessments, so that's the best way to get the closest possible cost for your advertising needs.
The Top Advertising Agencies in Ottawa
With some idea of costs and rates, it's time to take a closer look at what the top advertising agencies in Ottawa can do for your business.
We used the following criteria for the agencies we're reviewing today:
Has competitive rates with affordable pricing plans for certain services.
Offers both packaged and a la carte services.
Provides ongoing client support with a reliable communication system in place.
Has a good client portfolio for clients to gauge if they're a good fit for their needs.
1. My Marketing
SERVICES
SEO, digital marketing strategy, website design, content marketing, pay per click marketing, social media marketing, graphic design, email marketing, e-commerce marketing, marketing automation
ADDRESS
Serves Ottawa and surrounding areas
CONTACT NUMBER
+1 (855) 282-0764


[email protected]

WEBSITE
https://mymarketing.io
OPERATING HOURS
Open 24 hours
myMarketing caters mostly to startups and small businesses with its full-service digital marketing subscriptions. Its emphasis is on affordability while delivering monthly support for its clients' online performance.
This means clients don't have to get into lengthy and complicated contracts with myMarketing. They simply have to subscribe to its flexible digital marketing services for their unique needs.
Each package contains all the digital marketing services from the company from website design to social media marketing, with ongoing support throughout. It's just a matter of choosing how many hours and the combination of services they need for their business.
The company is pretty upfront about its pricing, too. Clients can choose from monthly, quarterly, and yearly options with starter packages beginning at just $985 for 15 hours.
This is a unique, fuss-free way to help a business boost its digital presence. However, those needing specialized website design or content creation might be in need of something more intensive than a subscription method.
Affordable pricing plans
No-commitment monthly subscription
Quarterly and annual discounts for loyal clients
Provides ongoing support throughout the subscription
Better suited for startups and small businesses
Doesn't offer specialized services
No BBB accreditation
Customer Reviews
Greatly improved the customer experience and traffic to the site
"Mathew at myMarketing is extremely knowledgable about a range of marketing topics and strategies. I have worked with him in the past to build a flawless website for my employer giving it an enhanced look and greatly improving the customer experience and traffic to the site. He and his team are very organized and dependable – can't say enough great things about them! I would strongly recommend the myMarketing team for anyone looking to implement new marketing strategies (based on your specific industry as well), branding, social media strategies, lead generation, and more." – Amy Millen
Creative, prepared, logical, organized, communicative
"myMarketing has been of a great help to RentABike since 2016 when we designed and built a new website. Their IT knowledge is extensive and of good value. They are creative, prepared, logical, organized, communicative and energetic. The site has done us extremely well for 4 years and we are now enhancing it together for the coming year. I would highly recommend the myMarketing team." – Harry Musson
2. Mediaforce Digital Marketing
SERVICES
Website design and optimization, digital marketing, analytics, artificial intelligence, website maintenance and secure hosting
ADDRESS
251 Laurier Ave W, Suite 900, Ottawa, ON, CA, K1P 5J6
CONTACT NUMBER
+1 613-729-0500


[email protected]

WEBSITE
https://www.mediaforce.ca/
OPERATING HOURS
Always open
Established in 1996, Mediaforce Digital Marketing has helped clients increase their business performance through the agency's marketing strategies and technologies. It's got an impressive portfolio of clients and is proud of its recent Clutch Top PPC Firms of Canada award (2021).
The agency offers website maintenance packages for small to medium businesses. The rates are pretty attractive and start at just $150 – $340 per month for updates, support, monitoring, backups; and $680 per month for a full service and security package.
Its other services include website design and digital marketing covering pay-per-click paid search, SEO, and social media marketing. Mediaforce also does big data and advanced analytics, as well as artificial intelligence services.
The a la carte services don't have any pricing information, but some services like website design have unique web rate testing tools to gauge how effective they are. There are also free downloadable whitepapers for data analytics and other helpful infographics for other services.
Clients can request a free initial consultation so they can get an idea of the best strategic planning for them.
2021 Clutch Top PPC Firms of Canada awardee
Impressive client portfolio
Free website maintenance assessment
Affordable monthly maintenance rates
Packages are for small and medium-sized businesses only
No pricing info on a la carte services
No BBB accreditation
Customer Reviews
Small hiccups or concerns were fixed very quickly
"The response time of the team was fantastic! If there were any small hiccups or concerns (there weren't many), it was fixed very quickly. I felt like I had a say in everything despite giving them the reigns on the project." – Shay Baptiste Escander
Depth of knowledge and communication skills
"I most admired Mediaforce Digital Marketing Agency's depth of knowledge and communication skills." – Brain Desrochers
3. Marketing Breakthroughs
SERVICES
SEO, website and logo design, PPC services, social media marketing, website content marketing, custom marketing strategies, full-service marketing
ADDRESS
5 Beechwood Ave. PO Box 74204 Ottawa, ON K1M 2H9
CONTACT NUMBER
(613) 721-3335


[email protected]

WEBSITE
https://marketingbreakthroughs.com/
OPERATING HOURS
Monday to Friday 9 AM – 5 PM
Closed on Saturdays and Sundays
Marketing Breakthrough has been around since 1995 to offer SEO and digital marketing services. It's got an impressive clientele that includes media companies, non-profit organizations, government agencies, hotels, retailers, and other industries.
Its full range of services includes SEO, website and logo design, PPC, social media marketing, website content marketing, and both custom and full-service marketing. The proof of the pudding is in its portfolio which shows what the agency has done for hundreds of clients so far.
Marketing Breakthrough currently serves clients from Ottawa, Eastern Ontario, and the Greater Toronto Area.
The agency has been a Google Partner since 2013 which helps its Search Engine Optimization strategies and processes reach the right kind of people for its customers.
Potential clients can take advantage of its initial consultation free of charge, too. This is perhaps the best time to ask about rates since aren't indicated with the services menu.
Google Partner (since 2013)
Free, no-obligation initial consultation
Impressive range of clients
Full range of services
Open on weekdays only
Serves clients in Ottawa and nearby areas only
Doesn't give pricing info
No BBB accreditation
Customer Reviews
Knows how to engage, collaborate, and deliver on all levels
"We engaged Marketing Breakthroughs to provide us with an updated website. Little did we know that the results would be this outstanding. Fully SEO Optimized, fully responsive on all platforms, clean, fast and keeping in line with our current branding. They have exceeded our expectations and we look forward to collaborating with this outstanding group of talented team members far beyond the launch of our new site. This is an exceptional group of people that know how to engage, collaborate and deliver on all levels. So glad we met Steve and his team!" – Moe Vacheresse
Revamped website from top to bottom
"Great company and amazing staff! Revamped our website from top to bottom and couldn't be happier. They customized aspects of our website that we didn't even know were possible! Will definitely be using them in the future for more marketing materials." – Taylore McQuade
4. Xactly Design
SERVICES
Strategy, design, copywriting, photography, video, SEO, social media management, web development, illustration, motion graphics, animation
ADDRESS
311 Richmond Rd, Suite 204 Ottawa, ON K1Z 6X3
CONTACT NUMBER
613.745.2225


[email protected]

WEBSITE
https://www.xactlydesign.com/
OPERATING HOURS
Monday to Friday 8.30 AM – 5.30 PM
Closed on Saturdays and Sundays
They say the best way to advertise what you're good at is to have people experience it from the get-go. Xactly Design and Advertising has the kind of website that will definitely leave potential clients with a good first impression, thanks to its hip design and features.
While it may seem as if it's design-centric, the agency's process is to merge creativity with the perfect marketing strategies for its clients. And as far as clientele goes, Xactly caters to all kinds of brands from anywhere in the world.
The agency aims to be an extension of its clients' brand by way of full-service digital marketing and creative work that brings desired results. It takes pride in having Account Strategists who keep communication lines open for clients and regularly give detailed reports and analytics.
There's no pricing information on any of the services or retainer models, but potential clients are encouraged to contact Xactly for a no-charge initial consultation.
Gives regular detailed reports and analytics
No geographical restrictions with clients
No-charge initial consultation
Merges creatives with strategic marketing plans
No pricing information provided
Open on weekdays only
No BBB accreditation
Customer Reviews
Energetic, creative, really fun to work with
"The team is energetic and creative and really fun to work with. They challenge my ideas on design and content reach, providing positive feedback and helping my business to grow. I'd recommend them to anyone looking for personalized, helpful, professional service!" – Toon Dreessen
Understood the concept and designed the website accordingly
"Xactly Design and Advertising are a great team to work with. They understood our concept and designed our website accordingly. Always available when you need them. I strongly recommend them to anyone." – Suzie Bougie
5. WebMarketers
SERVICES
Web design, SEO, paid advertising, content marketing, social media marketing, review management, email marketing
ADDRESS
180 Preston Street Ottawa, Ontario K1R 7P9
CONTACT NUMBER
1-844-932-6688


[email protected]

WEBSITE
https://webmarketers.ca/
OPERATING HOURS
Monday to Friday 8 AM – 6 PM
By appointment
WebMarketers wants its clients to build "an unfair advantage" using its core digital marketing services. It's both a Google and Facebook partner which can help clients increase targeted traffic and get more leads.
Potential clients can take a look at its client portfolio and all the recent websites that the agency has designed. Webmarketers throws in some case studies to explain how it customized the process and strategies for customers from different industries.
And if you already have a website but aren't getting the results you want, you can try the agency's free website analysis tool. It can evaluate how it's performing on SEO, usability, performance, social, and security aspects!
There are other handy tools and resources available on WebMarketers' site including a homepage critic, review analysis, marketing ROI calculator, and Google Ads analysis.
Its rates are quite competitive with SEO starting at $500 a month, content and social media marketing at $179 a month, and custom WordPress or Shopify website design under $3,000.
Perhaps the only thing lacking is it doesn't offer bundled services for a single fee.
Free site audit/website analysis
Google and Facebook Marketing Partner
Competitive rates
Other handy marketing tools offered
Open on weekdays only
No bundled services offered
No BBB accreditation
Customer Reviews
Always available and responsive to requests and questions
"Working with Cam, James and their teams at Webmarketers has been a good experience. They have all been very helpful and have gone above and beyond to assist us with the development and launching of our website. Always available and very responsive to our requests and questions, we are very pleased with our decision to have moved forward with them in having the website designed. We look forward to continuing to working with them." – Steve Bryant
Great after-launch service
"I dealt with Cam and James for building my plumbing business a website, they were both very helpful and communicative throughout the whole process. Also, they have a great after-launch service. I changed my mind on a few things after the website was officially published and they made the changes very quickly after with no trouble." – Lucais DL Plumbing
6. Porter Media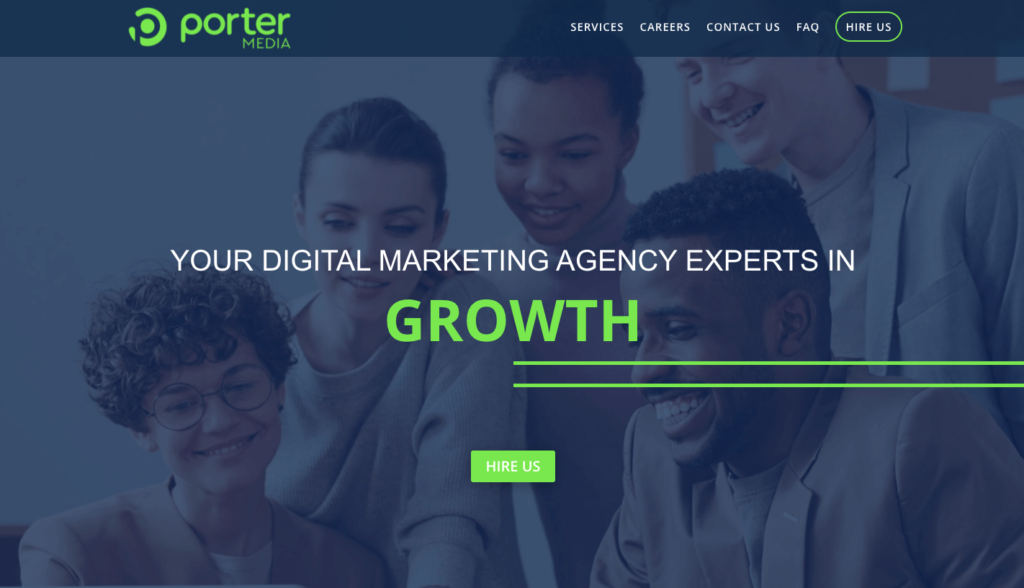 SERVICES
Paid Social Media Management, Paid Google Search and Google Shopping Advertising, SMS Marketing, Email Marketing, UI/UX/CRO, Web Advertising
CONTACT NUMBER
Phone: 613-707-4661
Email: [email protected]
WEBSITE
https://www.portermedia.co/
If you're looking for a powerful team who's ready to help ensure the success of your business through effective marketing campaigns, then Porter Media is an option to consider in Ottawa. They have a team of media professionals available everyday of the year to provide you with the most effective advertising options to scale your business.
This growth marketing team specializes in paid advertising through social media which includes Facebook, Instagram, Pinterest, Snapchat, Etsy, Google Shopping, and TikTok. They work with partner agencies to provide additional services such as Email Marketing, SMS Marketing, SEO, and video production for content creation.
No matter what niche your business is in, Porter Media has collaborated with a number of companies across different industries. These include Real Estate, Skin Care, Home Decor, Apparel, Toys, and more.

Their end goal is to help get you more customers so that you can grow your business. Their affordable rates help you maximize profits as well, so that you can continue to provide your services for many years to come.
Free site audit/website analysis
Google and Facebook Marketing Partner
Competitive rates
Other handy marketing tools offered
Content creation is provided outsourced to their partner team
Customer Reviews
Would highly recommend
"I don't say this lightly, but Allan and his team have really taken our clients business from a dream to 8 figures on now two occasions. It's not often you find a team that has their clients best interests at heart. I can't thank them enough and would highly recommend those interested in working with them to connect with Allan. He somehow finds a way to add value on every call." – Ross Greenberg
They are a proud team and it shows
"One thing that we like about Porter Media is their ability to look at a business holistically. They are a proud team and it shows. It's been great to have them as an extension of our business." – Jimmy Huh
7. Websiter
Websiter is an award winning digital marketing agency that recently received a recognition for Marketing in Ontario from the Canadian Business Awards.
Websiter offers full-stack SEO and can provide you with reports that are easy to understand so that you can use the results to your advantage. They have quite an impressive lineup in their portfolio, featuring recognizable names such as Comfort Inn and the University of Toronto.
They can also conduct routine maintenance on your website, ensuring that it's always up to date and functioning properly. Doing so ensures that your site is easily accessible for users, which can lead to higher chances of leads and sales.
We like that they also offer chatbot creation for your site, which we don't see offered very often with marketing or advertising agencies. This makes it convenient for you to add 24/7 support right on your website, while still getting the full benefit of digital marketing services from Websiter.
Award winning agency

Google Marketing Partner

Offers chatbot creation
Not much company information is provided
Nor ates posted online
8. Center Stage Social
In this digital age, online advertising is vital. It's a good thing there's Center Stage Social that can help you with just that.
They have digital marketing solutions for specific businesses, such as salons, restaurants, hotels and resorts, and real estate, and we really like this about them.
What's more is that they've got some of the essential digital marketing services you need.
They offer marketing automation, web design, graphic design, and search engine optimization. We think it's great that they have all these so you don't need to look for different companies for each service.
However, they seem to specialize in marketing the businesses mentioned above, so if yours isn't any of them it may be safer to contact them and discuss solutions for your specific business.
We also like how they offer a free brand audit and also allows you to request a demo for their services.
Overall, we think Center Stage Social is a great option for you for your marketing and advertising needs.
Different digital marketing services provided
Free brand audit
Can request demo for some services
Has digital marketing solutions outlines for salons, restaurants, hotels and resorts, and real estate
Rates for all services are not available on website
9. POP INC.
SERVICES
Video production, Webserie, Inbound marketing, Marketing automation, PPC services, Social media marketing, Social media management, Social media advertising, Content marketing, Influencer marketing, Digital advertising, Website design, SEO, Local SEO, Content management and creation, workshops and conferences
CONTACT NUMBER
+1 (819) 866-3186


[email protected]

WEBSITE
https://agencepopinc.com/
POP's motto is the human being, our impact is real.
They cultivate lasting relationships that grow in joy, authenticity, and innovation. Their team displays audacity daily and is in constant digital evolution.
Video production, Web series, and Inbound marketing are just a few of the many services offered by this company. What's great about them is that they also specialize in social media management with an emphasis on branding through content strategy as well as digital advertising for websites or PPC campaigns targeting customers who are searching online before they even get into your store location.
We prefer them over others because POP INC also provides SEO services which mean more organic traffic on Google thanks to specific strategies designed around local keywords so people who live locally will find their way back once they search for information related specifically near them.
What makes POP's team stand out from others is that they help businesses create comprehensive digital campaigns that work well across all platforms with influencers who are passionate about your brand as much as they help promote it online through video content creation & blogging services among other things.
Similar to other companies, they offer a full range of services to clients with their detailed reports and analytics. But what makes POP's unique is how they merge creative ideas into strategic marketing plans for increased effectiveness, ensuring you get the best return on your investment possible.
Full range of services
Impressive range of clients
Gives regular detailed reports and analytics
Merges creatives with strategic marketing plans
Open on weekdays only
No pricing information provided
Customer Reviews
Creative, competent, professional and very dynamic
''Are you looking for a creative, competent, professional and not to mention, very dynamic agency? Look no further. Agency Pop will advise you, guide you and conceptualize a website and a brand image that will stand out from the competition while being original and up to date.Moreover, in terms of SEO and traffic generation, it's quite incredible what they are able to do. In short, for your marketing tools, for your marketing training and digital creation, the entire team of O Design recommends without hesitation, the agency Pop Inc."—Nadya Bernard
Respond to all our needs
"Pop Inc. have been supporting all our website and SEO needs at Century 21 Macintyre. They created an amazing website and have been responsive to all changes and updates that we have requested. I highly recommend POP Inc. and look forward to a long working relationship with them."—Jane Macintyre
10. Meerkat Marketing
SERVICES
Branding, Social Media, Marketing Strategy, Website & Graphic Design, Content Marketing, Digital Marketing, Virtual Chief Marketing Officer
CONTACT NUMBER
+1 613-617-4208


[email protected]

WEBSITE
https://meerkatmarketing.ca/
Looking for an innovative and highly personalized approach to branding and digital marketing for your business? This is where Meerkat Marketing comes in.
In today's digital age, it is imperative for businesses to have a strong online presence; that's exactly what Meerkat Marketing specializes in. They are a full-service branding and digital marketing agency that can help you identify your company's core values and target audience and create unique branding and marketing campaigns that align with those values.
What we absolutely love about them is how they have a perfect grasp of the digital marketing landscape. This ensures that their clients always get measurable results that drive revenues and profitability.
Meerkat Marketing helps its clients incorporate creativity with strategic marketing planning, ensuring better strategies and results that may otherwise be difficult. More importantly, they do this with collaboration between their clients in mind.
By using the specific services they have on offer, clients are able to reach a wide range of demographics in a much more efficient way than before. They manage projects from beginning to end with great accuracy and attention to detail, delivering successful results every time.
Wide-range of marketing services
Caters to a wide range of businesses
No weekend operations
No base pricing listed on their website
Customer Reviews
True branding experts
"Meerkat Marketing has been essential to the success of my business. Everything from creating my brand identity to their professional public relations work, I have been able to generate brand awareness and buzz in the city and have seen my business takeoff as a result. They have been instrumental in growing my brand through a content marketing strategy and using social media to expand my audience and recognition as a leading interior decorator in the city. They are truly experts in both branding and driving revenues. It is very evident through the results they've been able to achieve for my business." – Courtney Turk
Responsive to queries
"We have seen great results in expanding our clientele since hiring Meerkat. Not only were they able to help expand our reach on social media, but they really took the time to get to know 123 Petits Pas Ottawa. They are a team of professionals and are always there to help answer questions at a moment's notice." – Amy Maan
11. Websiter Ottawa SEO & Web Design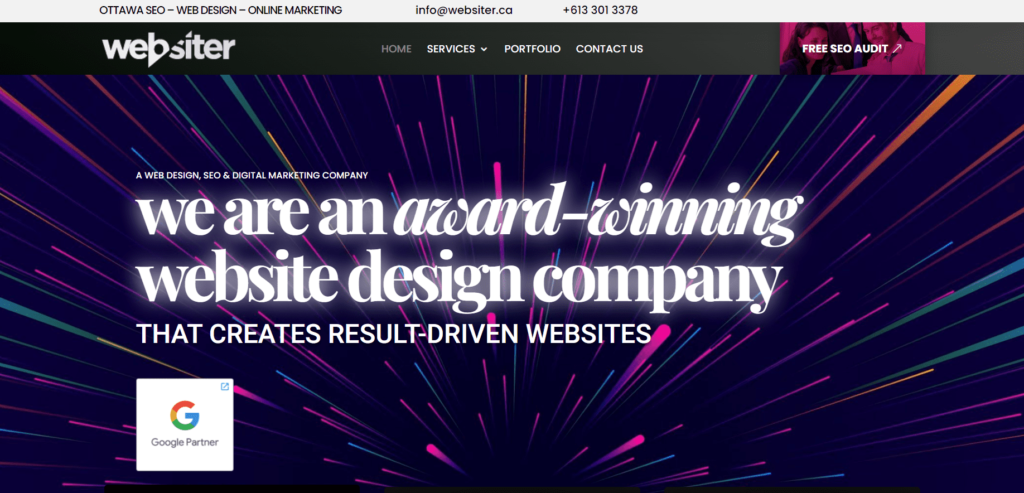 Although SEO is the backbone of any website, it is ineffective without the help of a dependable and skilled web development firm. Is not it preferable to have a beautiful website that your clients will enjoy and is also on the first page of Google?
Websiter Ottawa SEO & Web Design has helped numerous businesses in Ottawa, Toronto, and throughout Canada construct attractive and successful websites that are great for lead generation. Your business could be the next one they pour their passion into.
Websiter Ottawa SEO & Web Design has all the bases covered with their services offered, ranging from website building to Ottawa SEO. They do their job super efficiently that their clientele has continued to testify how effective they are in increasing traffic and ranking.
The general vibe that we get from them comes from how all of their projects are ones that their team put a lot of time and effort into, which guarantees satisfaction from their clients. Clients may reach a wide range of new audiences by utilizing the unique services they provide in ways that would otherwise take considerably longer.
Overall, we believe that Websiter Ottawa SEO & Web Design is a good choice for anyone looking for a direct-to-the-point service that also offers really beautiful and unique web designs.
Outputs are known to be easy to navigate
Understanding what their clients need
One of the newer firms in the business
No listed flat rates
Customer Reviews
Professional staff
"We have been very happy with Websiter's professional SEO service! He provides quality content for our website and Facebook pages. Our rankings have come up and our website traffic has increased, bringing more business. They are happy to answer any questions and he has made the whole process very easy for us technologically-challenged people! Keep up the great work. Like it." – Kapil Kumar
Determined to provide quality service
"We just wanted to take this opportunity to thank Websiter for their hard work and determination in getting outstanding results with our website and helping us to achieve high ranks on the first page of all major search engines. SEO Company Sydney have shown great knowledge in regards to SEO best practices as well as overall." – Stacey Fowler
FAQs About Advertising Agencies in Ottawa
---
The top advertising agency in Ottawa can bring your brand the kind of online awareness it needs to generate sales.
Send us a message if you have an advertising agency in mind that's worth reviewing.
You can also check out our resources on how to get your business the online presence it deserves: