15 of Ottawa's Most Memorable Winter Hikes
Going on a winter hike is a completely different experience when compared to the usual spring or summer trips. Instead of feeling the warm sunlight on your skin, you feel a cool breeze hitting your face as you look at a vast field of white.
The usual evergreens that surround you are covered with snowfall, and lakes and other bodies of water are frozen to reflect the sunlight in a mesmerizing manner. These reasons make winter hiking a must for me.
It's not only an activity for me to enjoy with my friends and family, but it also helps me capture some of the most wonderful moments that nature has to offer in its icy glory.
The frozen landscape is simply gorgeous, and I just know that I need to capture these moments with my camera.

Now if you're interested in seeing the winter scenery, allow me to show you some locations that you can go to in order to experience winter hiking near Ottawa.
Britannia Winter Trail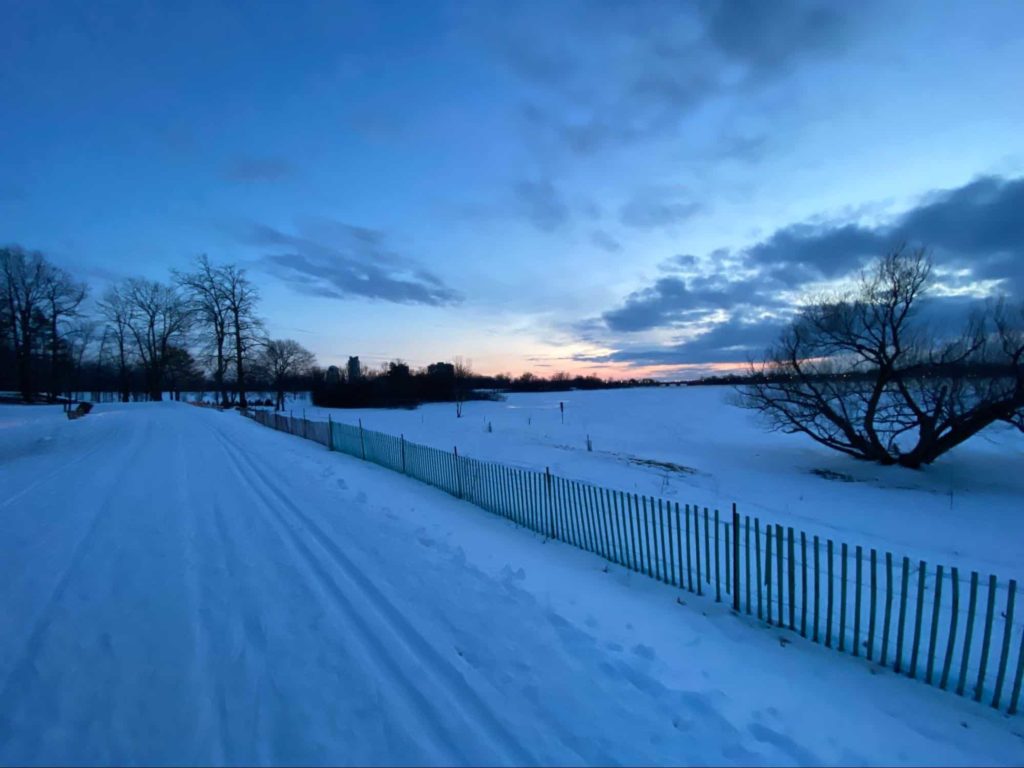 Location: Britannia Winter Trail, Ottawa, Ontario, Canada
Length: 3.5 km
Difficulty: Average
The Britannia Winter Trail is a popular winter hiking trail located in Ottawa, Ontario. It is situated in Britannia Park, which is along the Ottawa River at the city's west end.
It winds through the park and provides beautiful views of the Ottawa River and surrounding nature.
The trail is typically groomed for cross-country skiing, snowshoeing, and winter walking, depending on the weather conditions and NCC maintenance schedule.
Along the trail, you can expect to see snow-covered trees, open fields, and glimpses of the frozen river. The trail is suitable for all skill levels and offers a range of distances, allowing hikers to customize their experience.
It is a great place to enjoy the tranquility of nature and engage in winter activities.
Ski Heritage East Trail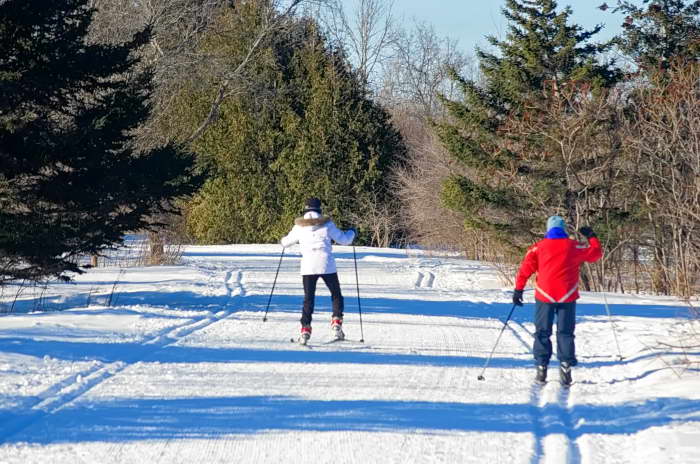 Location: Ottawa, ON, Canada
Length: 30 km
Difficulty: Moderate
The Ski Heritage East Trail follows an old railway bed, providing a relatively flat and accessible route for cross-country skiing enthusiasts.
It stretches for approximately 30 kilometers (18.6 miles) through scenic countryside and forested areas, offering a peaceful and serene skiing experience.
The trail is designed to showcase the natural beauty and historical significance of the region. Skiers can enjoy stunning winter landscapes, including picturesque snow-covered fields, dense forests, and occasional glimpses of rivers or lakes.
Along the way, there are information panels that provide insights into the area's cultural heritage and the history of the railway.
The Ski Heritage East Trail is suitable for skiers of various skill levels, from beginners to experienced athletes. It offers groomed tracks that make skiing easier and more enjoyable.
To ensure good snow conditions and a smooth skiing surface, the trail is well-maintained during the winter season with staff diligently watching the path.
In addition to cross-country skiing, the area is also open for snowshoeing, making it a versatile winter destination for outdoor enthusiasts. Visitors can rent or bring their own equipment to explore the trail at their own pace.
Rideau Winter Trail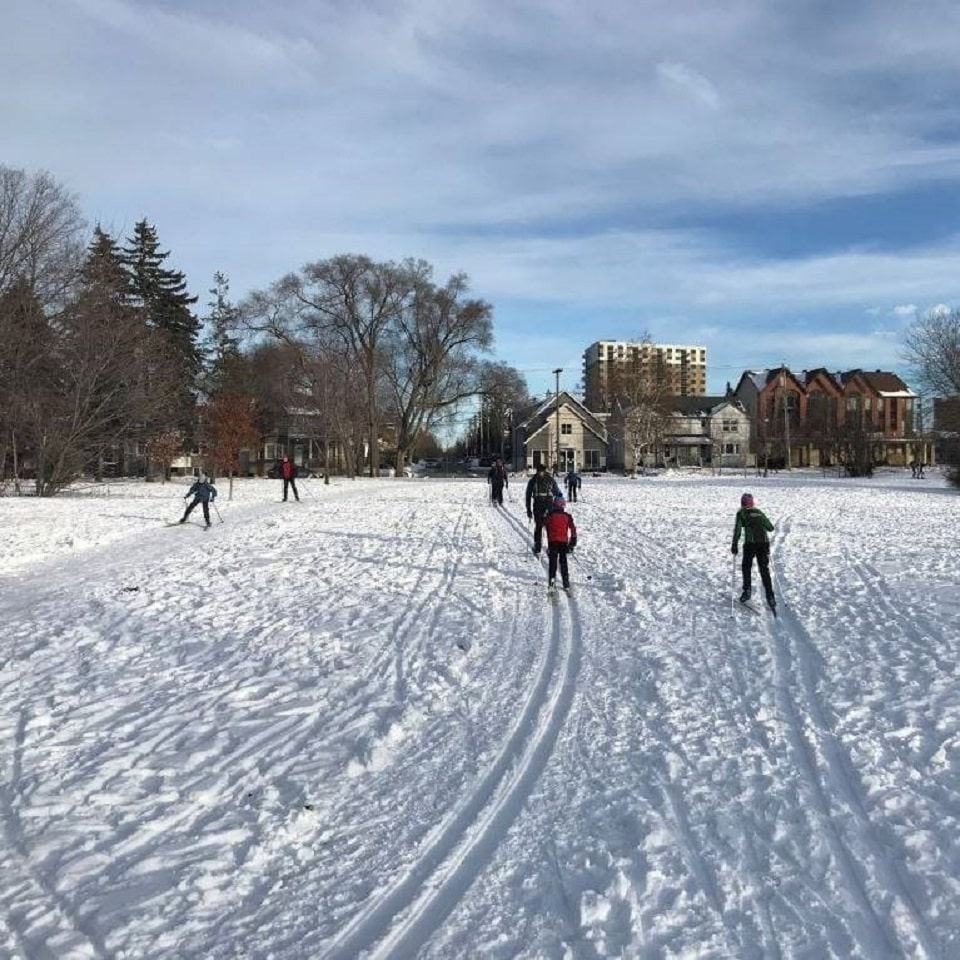 Location: 1 Donald St, Ottawa, ON K1K 4E6, Canada
Length: 16 km
Difficulty: Average
The Rideau Canal's main attraction is ice skating, as it's completely frozen solid during the winter months.
This ends up creating the world's largest naturally frozen skating rink. Skaters can glide along the smooth ice surface, taking in breathtaking views of the surrounding area.
In addition to ice skating, the Rideau Winter Trail also caters to other winter enthusiasts. It provides groomed paths for cross-country skiing and snowshoeing, allowing visitors to traverse through picturesque snow-covered landscapes.
People of all skill levels can enjoy a safe and enjoyable experience on the trail thanks to the local staff's continuous maintenance.
Centre de plein air du Lac-Leamy Trail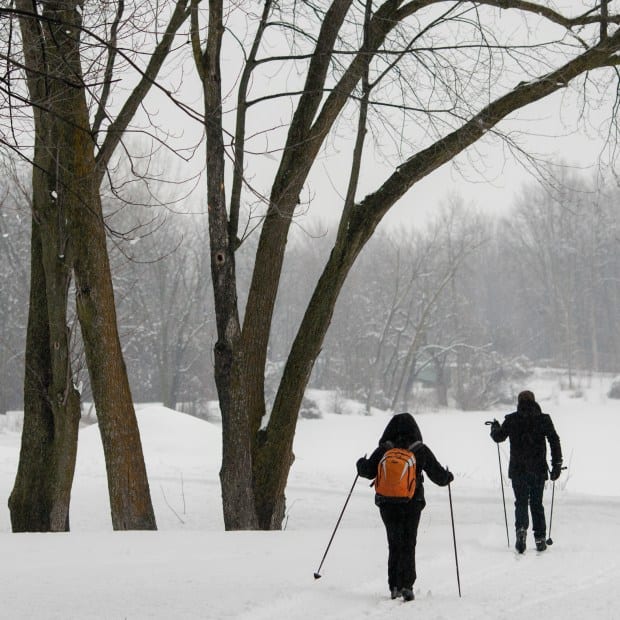 Location: 100 Rue Atawe, Gatineau, QC J8Y 6V8, Canada
Length: 2.4 km
Difficulty: Average
The Centre de plein air du Lac-Leamy trail is one of the wider areas on this list. During the winter, it is groomed nicely for cross-country skiing and wide enough that people can snowshoe freely on one side without disrupting other tourists.
There is a nearby welcome center where you can rent skiing equipment or snowshoes if you'd like to participate in the activities.
If you're a dog parent, you'll be pleased to know that your fur baby is allowed on the trail as long as they are put on a leash and behave well. So feel free to bring them along and watch them play in the snow!
For the anglers out there, this place also becomes a very popular spot for ice fishing. Take your rods out and take advantage of this awesome location to catch some fish!
Old Quarry Trail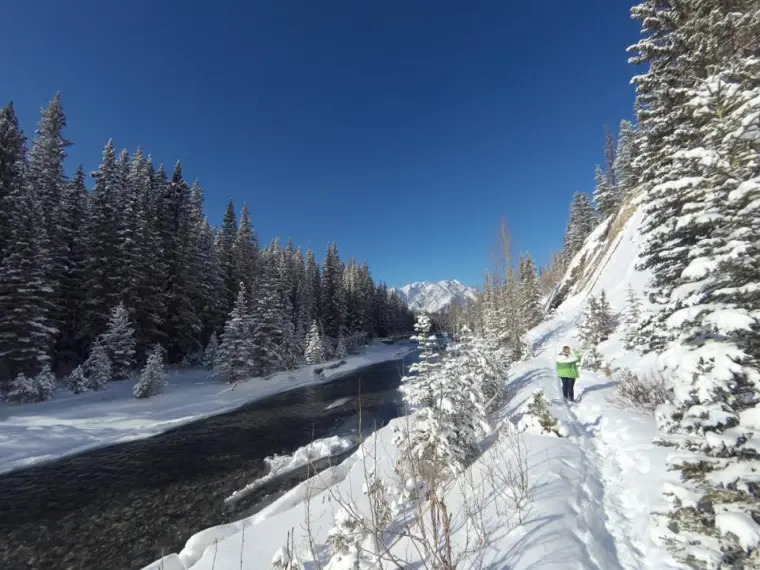 Location: Eagleson Rd, Kanata, ON K2M 1P1, Canada
Length: 1.9 km (medium), 2.7 km (long)
Difficulty: Average (medium), Moderate (long)
The Old Quarry Trail is one of the most popular winter hikes in Ottawa. It is part of the National Capital Commission's Greenbelt pathway and offers a scenic and enjoyable outdoor experience for visitors.
An important thing to note is that this trail has two variations to choose from based on your preference. There's the medium loop, which is 1.9 km long, and then there's the long loop, which is 2.7 km long.
As you venture along this path, you'll find a boardwalk, woodlands, chickadees, and more. You can also enjoy snowshoeing and some cross-country skiing along the snowy trails.
Sarsaparilla Trail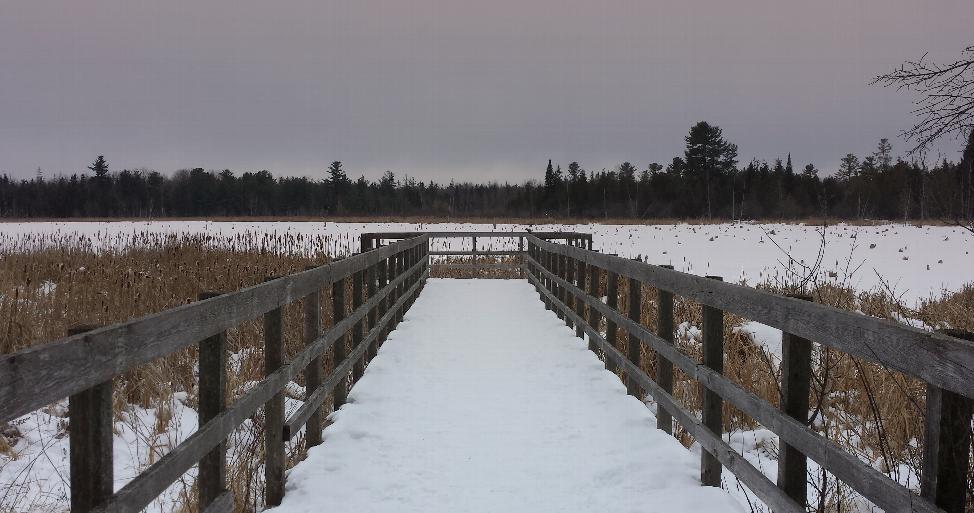 Location: Old Richmond Rd, Nepean, ON K2H 8Y3, Canada
Length: 0.9 km
Difficulty: Average
If you're looking for winter hikes where you can spot plenty of birds, you'll want to try out this trail. The Sarsaparilla Trail is considered to be an easy walk and is quite possibly the shortest of the Greenbelt pathway trails.
Some of the highlights that you will find at this location include the boardwalk and friendly chickadees. If you're lucky enough, you may even spot an owl!
If you'd like to do other activities on this trail, it also offers some snowshoeing
So if you like bird-watching in the snow along with some snowshoeing, this is definitely a great option for your ideal winter hike.
Beaver Trail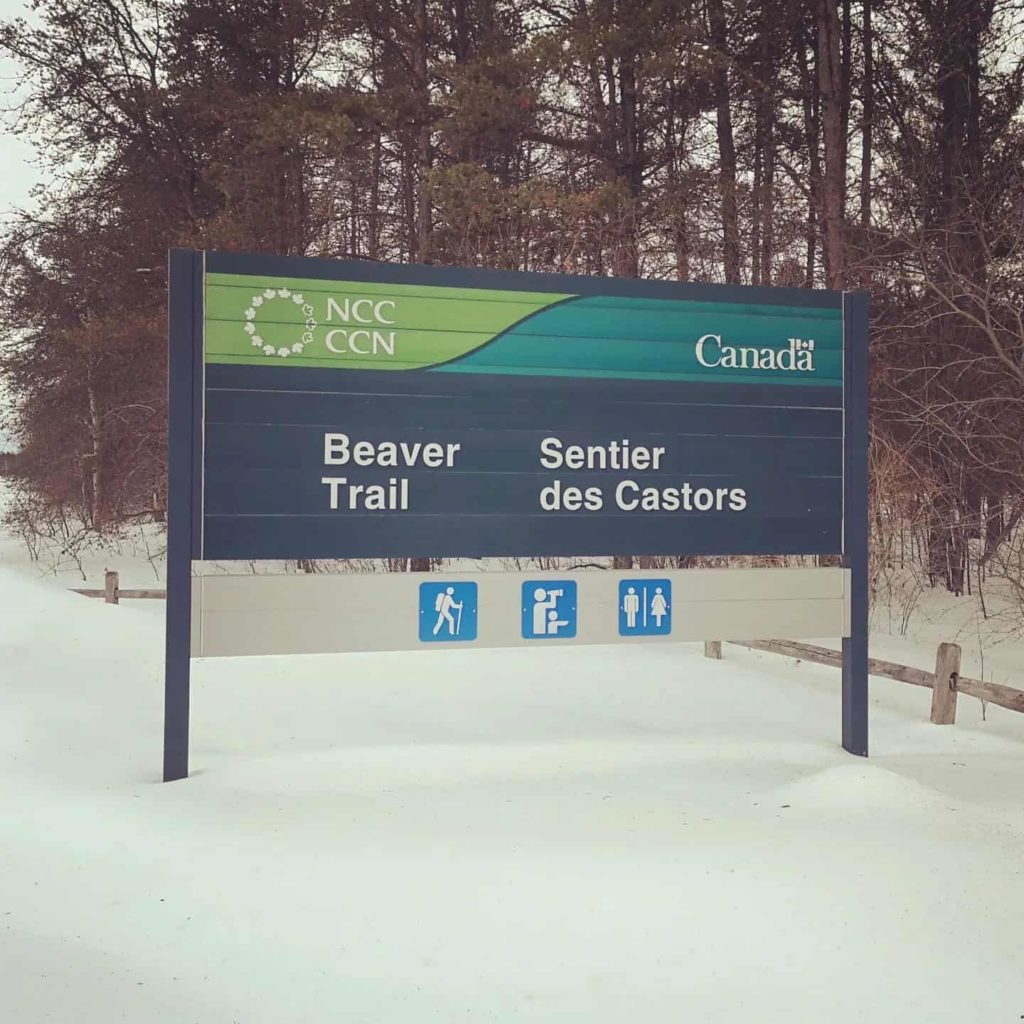 Location: Moodie Dr, Nepean, ON K2R 1H8, Canada
Length: 1.8 km
Difficulty: Average
The Beaver Trail is part of the Stony Swamp section of the National Capital Commission's Greenbelt network of trails.
It offers an incredible scenic outdoor experience regardless of the season and the opportunity to explore the natural beauty of the area.
You can expect a looped trail that is approximately 1.8 kilometers long. It winds through a mix of forested areas, wetlands, and beaver ponds.
The trail is well-marked and relatively flat, making it suitable for hikers of various fitness levels. This makes it an excellent spot to bring your family for some scenic viewing!
For the natural surroundings, you can expect to see tall trees, wetland areas, and some wildlife that is active during the winter season.
As the name of the trail suggests, beavers are often seen doing their own thing. Since they are animals that don't need to hibernate during the winter, you can catch them building their dams and lodges.
Besides the beavers, birdwatching is also popular along the trail, giving you ample opportunity to see various bird species.
Lauriaut Trail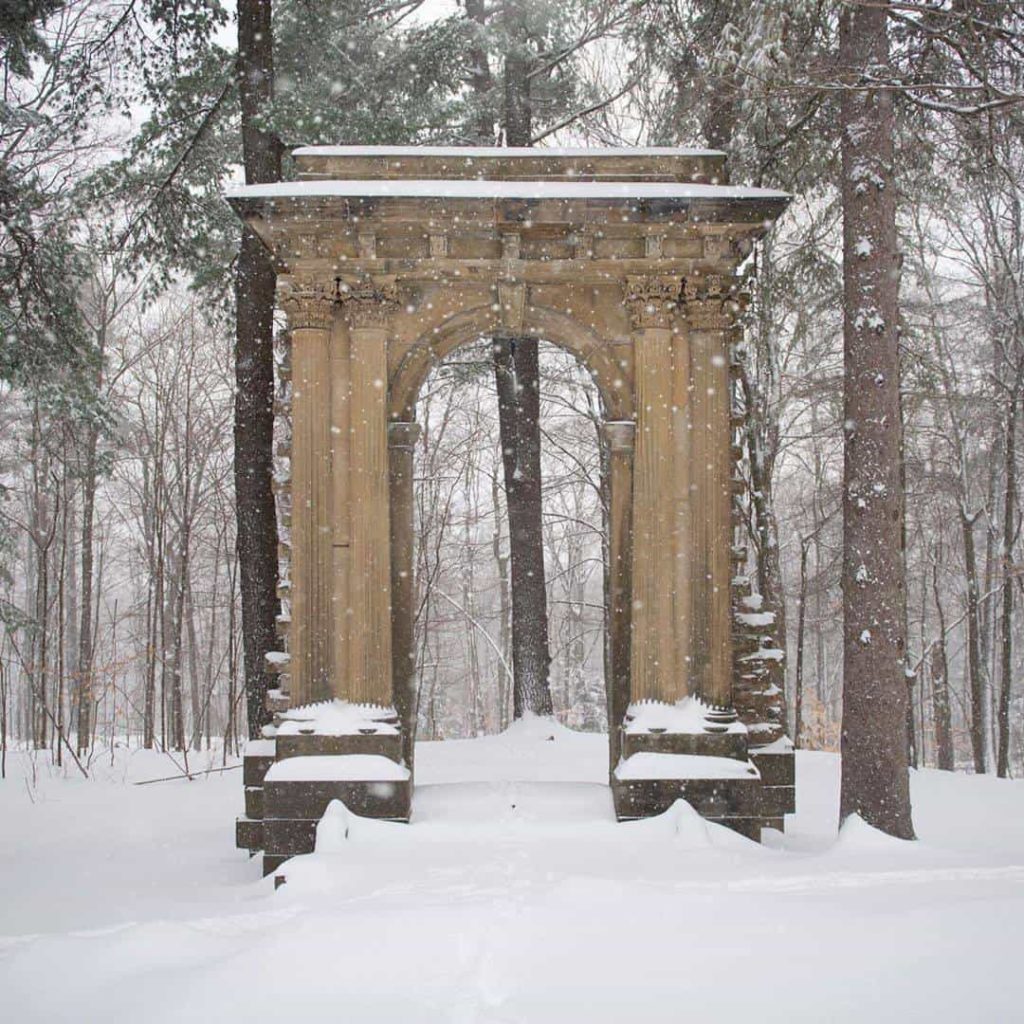 Location: Champlain Pkwy, Chelsea, Quebec, Canada
Length: 3.7 km
Difficulty: Moderate
The Lauriaut Trail is one of the trails that are near the Mackenzie King Estate (What to expect when visiting Mackenzie King Estate in ottawa). This particular trail is perfect for winter photography because of the picturesque view of nature that it gives.
Some of the sights that you can see here include the Bridal Veil Falls at the end of the Waterfall Trail and a lookout at the end of Lauriaut's path.
This is also one of the few opportunities that you can get to view Pink Lake blanketed in ice and snow since it's closed during the winter. Lauriaut Trail is close enough to the lake that you can get a nice, picturesque view for some great photos.
Overall, it's an easy enough trail that you can enjoy with your friends and family. This is also a trail that allows you to bring your dog on a leash, so don't forget to take them with you!
Luskville Falls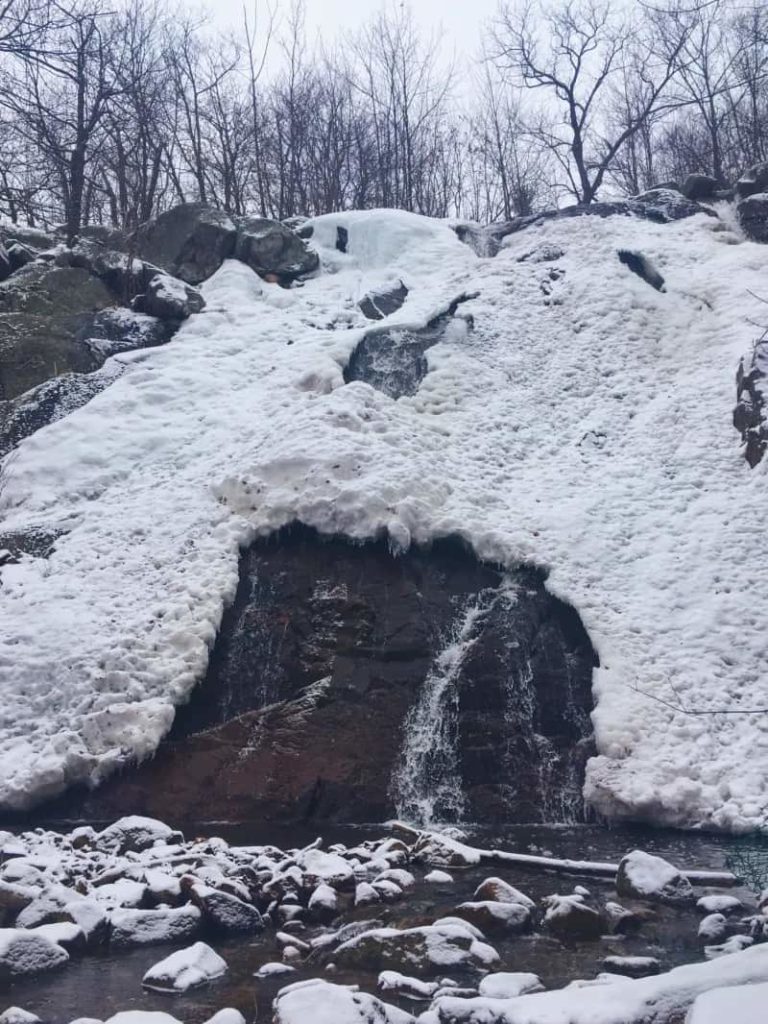 Location: Les Collines-de-l'Outaouais Regional County Municipality, QC J0X 2G0, Canada
Length: 4.2 km
Difficulty: Moderate
The Eardley Escarpment, a geological formation with high cliffs and rocky outcrops, is responsible for creating Luskville Falls.
During the winter season, it transforms into a snowy landscape, attracting visitors with its serene beauty and recreational opportunities. You can partake in snowshoeing, cross-country skiing, ice climbing, winter photography, and animal spotting on this trail.
Tall trees and the glistening ice formations of the falls will surround you as you explore the serene winter landscape. You can also observe some of the animals as they go on with their routines during the winter.
Make sure that you take pictures of the frozen falls, snow-covered landscapes, and frost-laden trees to create a stunning backdrop for capturing memorable images. The sights at the falls are definitely to die for during the winter!
Stony Swamp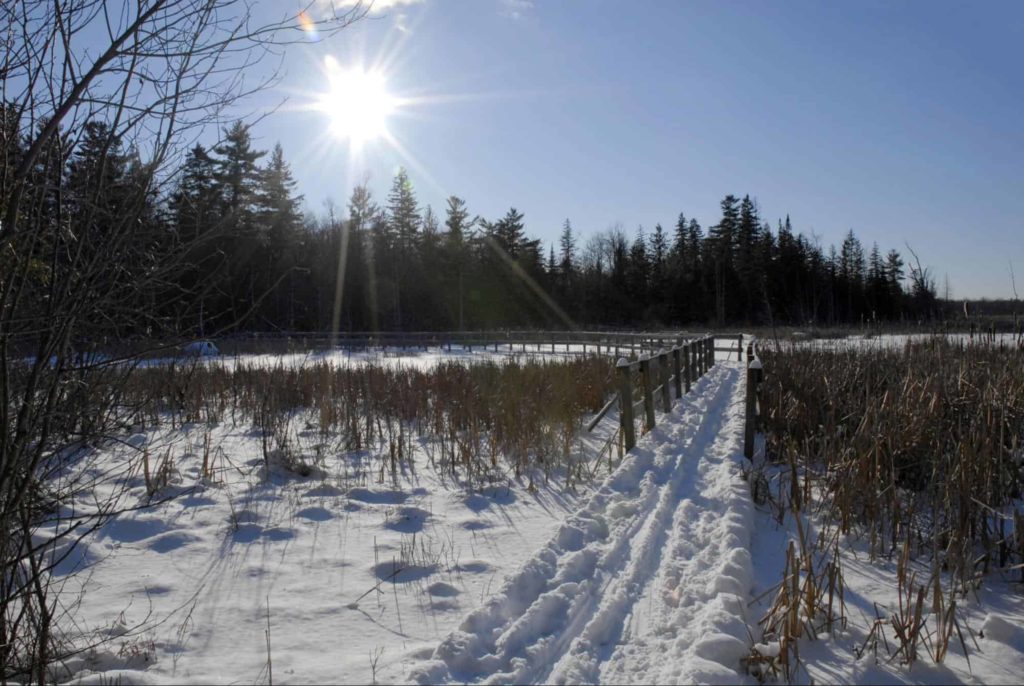 Location: Ottawa, ON K2H 6H1, Canada
Length: 7.9 km
Difficulty: Moderate
A conservation area in Ottawa's west end, Stony Swamp offers several trails suitable for winter hiking, such as the Jack Pine Trail and Beaver Trail.
During the winter season, Stony Swamp offers visitors a unique and beautiful experience with its serene landscapes and recreational activities.
Stony Swamp has a network of well-maintained trails that provide visitors with the opportunity to explore the landscape. These trails wind through forests, wetlands, and open fields, offering breathtaking views of snow-covered landscapes.
The winter trails at Stony Swamp make it perfect for several activities such as cross-country skiing, snowshoeing, and animal observation.
If the weather conditions permit, the NCC will also occasionally set up outdoor ice rinks for skating.
You will also have plenty of opportunities to take pictures on the trail since it also features some gorgeous sights.
Mer Bleue Conservation Area Loop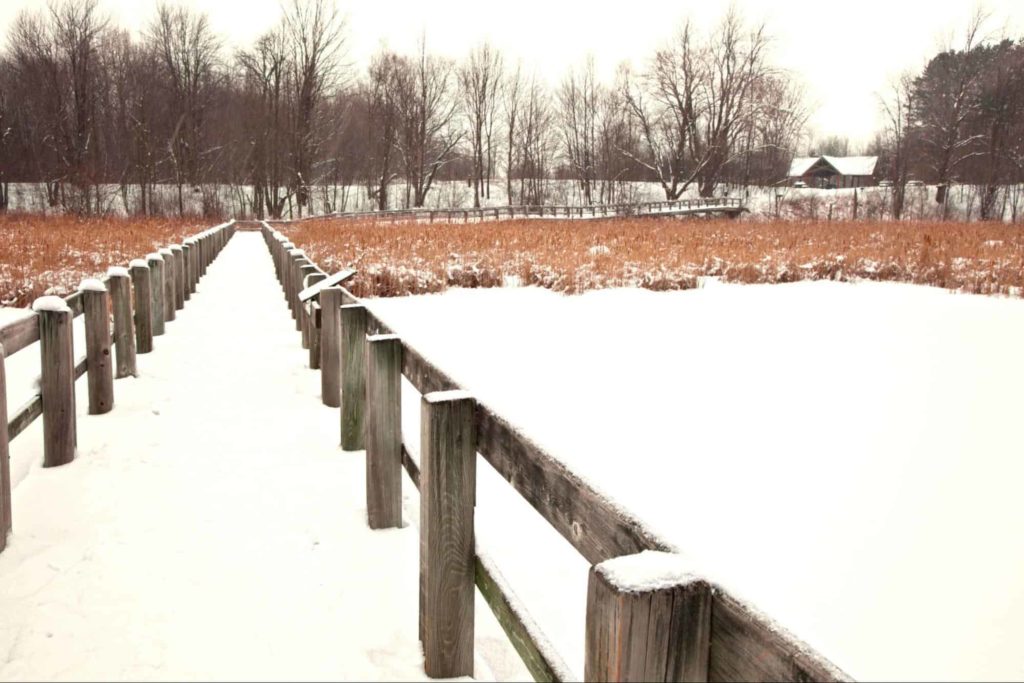 Location: Ridge Rd, Ottawa, ON K0A 2Y0, Canada
Length: 7.2 km
Difficulty: Moderate
The Mer Bleue Conservation Area is a renowned natural area for Ottawans who love to go on nature trails. It is a vast wetland covering over 33 square kilometers, making it one of the largest in southern Ontario.
Due to its distinctive qualities and biodiversity, the conservation area is one of the National Capital Commission's (NCC) most significant ecological sites.
During winter, the Mer Bleue Conservation Area offers the usual winter activities that you can expect when trails are covered in ice and snow.
Snowshoeing and cross-country skiing allow you to explore the trail that winds through the wetland and experience the tranquility of the winter environment. Both beginners and advanced snowshoers and skiers are bound to enjoy themselves here.
If you want something more leisurely, you can also take a simple walk around the trail to bask in the wintery surroundings.
Another notable thing about the area is the birds. Mer Bleue Conservation Area is home to numerous bird species, including owls, woodpeckers, hawks, and waterfowl.
Winter is a particularly excellent time for bird watching, as some species are more visible during this season. Bring your binoculars and observe the diverse birdlife in their natural habitat.
If you want to create memories, bring a camera with you to capture the beauty of frozen marshes, snow-covered trees, and wildlife in their winter coats. It's a great way to explore your creative side while appreciating nature.
Carp Hills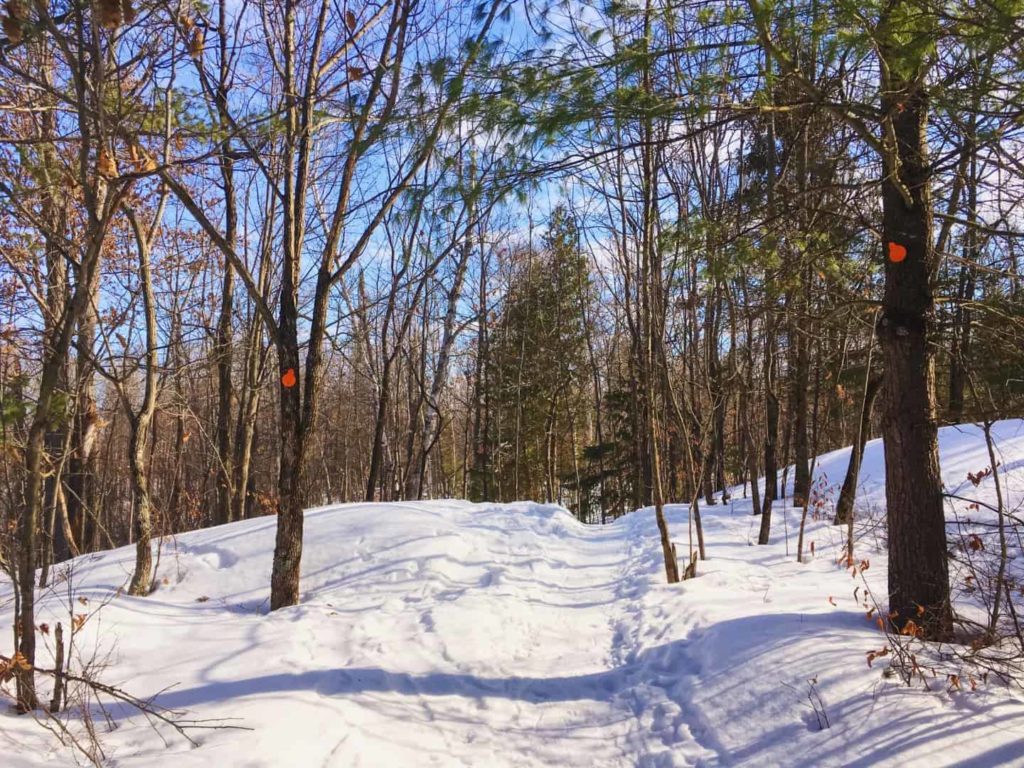 Location: Ottawa, ON K0A 1L0 Canada
Length: 13 km
Difficulty: Moderate
Located west of Ottawa, the Carp Hills provide a scenic backdrop for winter hiking, with trails like the Huntmar Trail and Crazy Horse Trail.
During the snowfall, Carp Hills offers a beautiful natural landscape that transforms into a stunning icy landscape. The location is typically covered in a pristine blanket of snow, creating a serene and picturesque scene.
These hills, forests, and open fields offer a peaceful and tranquil environment, making it a popular destination for outdoor enthusiasts and nature lovers.
As you explore the Carp Hills, you'll find a variety of activities to enjoy.
The rolling hills and expansive open spaces make it an excellent location for snowshoeing and cross-country skiing. Feeling the crisp, clean air and the untouched snow just makes these activities even more enjoyable.
This place is also home to a diverse range of wildlife, and in the cold season, you may spot various animals adapted to the cold weather. Keep an eye out for tracks left by animals such as deer, foxes, rabbits, and various bird species.
If you're a photography enthusiast, the Carp Hills offer breathtaking vistas. The combination of snow-capped hills, frozen ponds, and frost-covered trees creates a magical atmosphere, perfect for capturing stunning winter shots.
This large conservation area in Kanata features several trails that wind through forests and wetlands, offering a peaceful winter hiking experience.
Shirley's Bay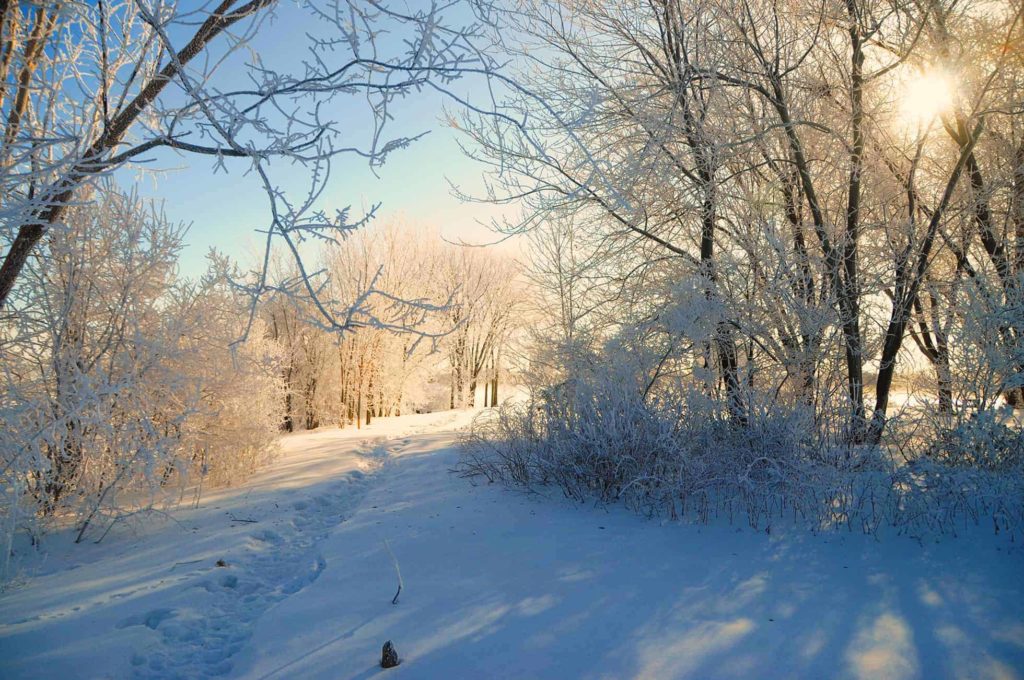 Location: Ottawa, ON, Canada
Length: 4.0 km
Difficulty: Average
Shirley's Bay is another popular outdoor recreational trail you should check out. During the winter season, the bay is a picturesque location that offers a variety of activities for you to enjoy.
This area is primarily used for cross-country skiing and snowshoeing. It provides a serene and scenic route through the winter landscape, allowing outdoor enthusiasts to immerse themselves in nature while engaging in physical activity.
The trail is well-maintained and offers varying levels of difficulty, accommodating both beginners and experienced skiers. You can also do some birdwatching here, so make sure to bring binoculars and a camera with you.
One of the main highlights of Shirley's Bay Winter Trail is its proximity to the Ottawa River. As you navigate through the trail, you'll often catch glimpses of the frozen river and its surrounding beauty.
The interplay between the snowy landscape and the frozen water creates a stunning backdrop for your outdoor adventure. This makes it a perfect location for you and your family and friends to enjoy.
MacSkimming Outdoor Education Centre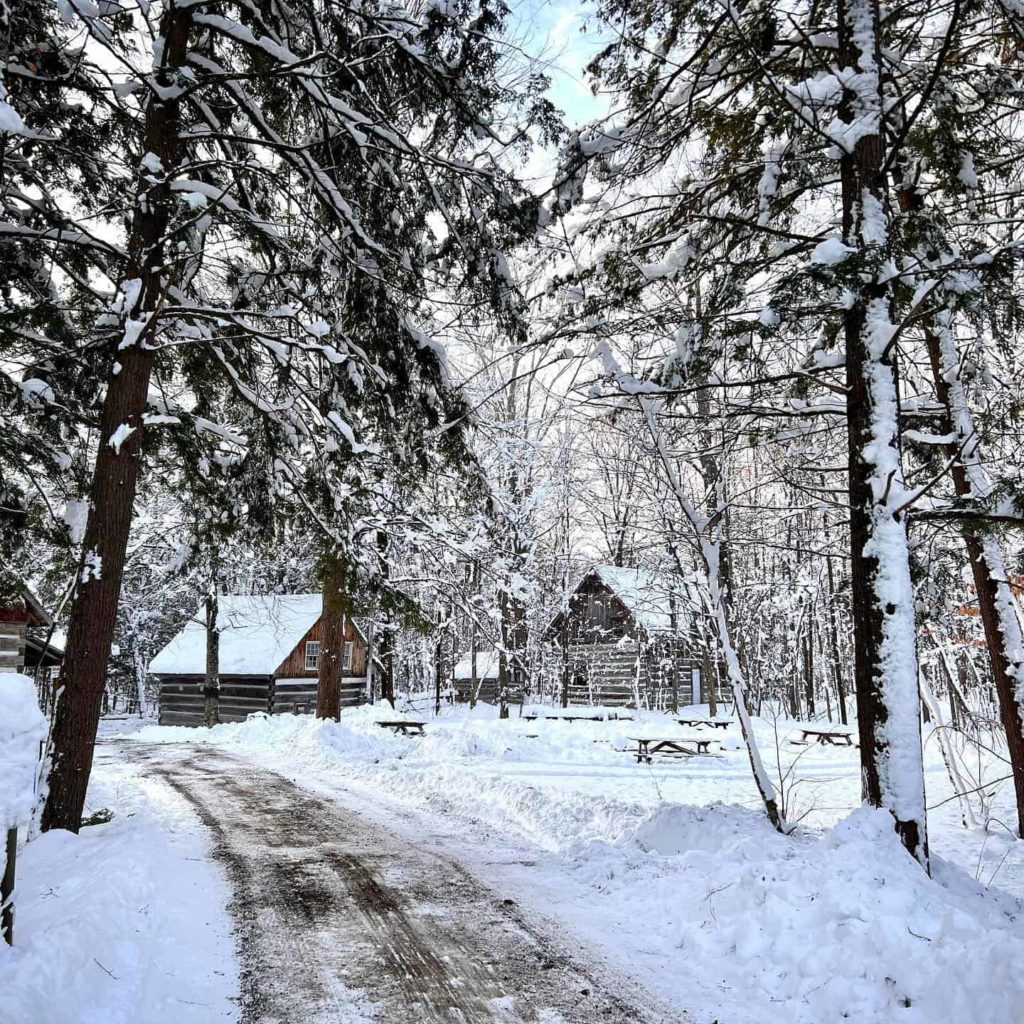 Location: 3635 Ottawa Regional Rd 174, Cumberland, ON K4C 1G9, Canada
Length: 425 acres
Difficulty: Average
During the winter season, the MacSkimming Outdoor Education Centre offers a unique and exciting experience for visitors.
The center transforms into a frozen wonderland that provides a range of activities that take advantage of the snowy landscape. These include cross-country skiing, snowshoeing, winter hiking, and tobogganing.
They allow visitors to enjoy the outdoors, explore nature trails, and experience the beauty of winter scenery.
Besides these activities, the MacSkimming Outdoor Education Centre may occasionally offer specific winter-themed educational programs and workshops during this season.
They focus on winter ecology, tracking animals in the snow, winter survival skills, and other topics related to the natural environment during the winter. The lessons provide valuable learning experiences for students and visitors of all ages.
Fitzroy Provincial Park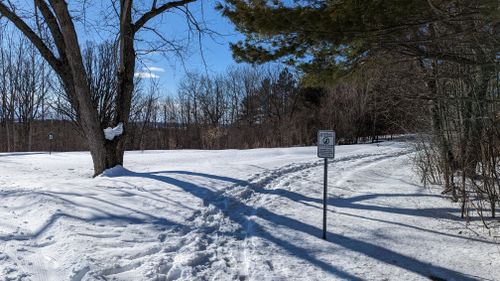 Location: 5201 Canon Smith Dr, Fitzroy Harbour, ON K0A 1X0, Canada
Length: 460 acres
Difficulty: Average
Fitzroy Provincial Park encompasses a diverse landscape of forests, wetlands, and the sparkling Carp River. As winter sets in, the trees become adorned with snow-laden branches, creating a stunning sight.
The peacefulness of the park is enhanced during this time, with fewer visitors compared to the busier summer months, allowing visitors to fully immerse themselves in the serene ambiance.
Trails meander through the park, offering opportunities for winter activities such as snowshoeing and cross-country skiing. As you explore the winding paths, you'll experience the crispness of the air and the satisfying crunch of snow beneath your feet.
The tranquil setting and untouched snow-covered landscapes provide a perfect backdrop for outdoor enthusiasts seeking adventure. It's also great for those simply looking to enjoy a leisurely stroll.
For wildlife enthusiasts, winter in Fitzroy Provincial Park offers a chance to witness various animal tracks left in the snow, providing a glimpse into the park's thriving ecosystem.
Deer, rabbits, and various bird species are commonly seen during this time as they adapt to the colder conditions and search for food.
The park's Carp River is a prominent feature that adds to the park's charm during winter. The flowing water, partially frozen in places, contrasts beautifully with the surrounding snow-covered banks.
The river's gentle gurgling and the occasional crackling of ice create a soothing soundtrack, further enhancing the park's tranquility.
In addition to its natural beauty, Fitzroy Provincial Park offers facilities to make winter visits comfortable. There are heated washrooms and warming shelters available, providing a reprieve from the cold temperatures.
You can bring along hot beverages and snacks to enjoy in these cozy spaces while taking in the scenic views.
Essential Items for a Winter Hike
When preparing for winter hikes, it's crucial to have the right gear and equipment to ensure your safety and comfort in cold and potentially harsh conditions. Here are some essential items.
Layered Clothing
Dressing in layers allows you to adjust your insulation based on the temperature and your activity level. Include a moisture-wicking base layer, an insulating mid-layer, and a waterproof and windproof outer layer.
Insulated Jacket
A warm, insulated jacket is essential for maintaining body heat. Look for options with synthetic or down insulation, depending on your preferences and the conditions you'll encounter.
Waterproof Pants
Invest in waterproof and breathable pants to protect yourself from snow, rain, and wind. These will keep you dry and help maintain your body temperature.
Insulated Hat and Gloves
Heat escapes from your extremities, so a good quality hat and gloves are necessary to keep your head and hands warm. Look for insulated and waterproof options.
Warm Socks and Boots
Opt for thick, moisture-wicking socks made of wool or synthetic materials to keep your feet dry and warm. Pair them with insulated, waterproof boots with good traction.
Gaiters
Gaiters are protective coverings worn over your boots and lower legs to keep snow, moisture, and debris out. They are especially useful in deep snow or wet conditions.
Backpack
Choose a backpack with enough room to carry essentials like extra clothing layers, food, water, navigation tools, a first aid kit, and emergency supplies. Ensure it has a waterproof cover or is made of waterproof material.
Carry a map, compass, and/or GPS device to navigate and stay on track. Familiarize yourself with the route and have a backup plan in case of unexpected weather changes.
Lighting
Winter days are shorter, so pack a headlamp or flashlight with extra batteries. These are essential if you find yourself hiking in low light or in case of emergencies.
Food and Water
Carry high-energy, non-perishable snacks like energy bars, nuts, and dried fruits. Stay hydrated by bringing an insulated water bottle or thermos with warm liquids.
Emergency Kit
Prepare a basic first aid kit with essentials such as bandages, antiseptic ointment, pain relievers, and blister treatments. Include emergency supplies like a whistle, fire-starting tools, an emergency blanket, and a multi-tool.
Sun Protection
Even in winter, the sun's reflection off the snow can be intense. Pack and wear sunscreen, lip balm with SPF, and sunglasses to protect your skin and eyes.