Uncovering the Beautiful World of Scuba Diving in Ottawa
Have you ever entered the spectacular world of scuba diving? It's such an amazing activity that allows you to see the world beneath the ocean waves.
Fascinating marine life and eye-catching wreckages are just a few things that you can see as you swim through the water. I personally think it's an experience that you will never forget and will stick with you forever.
I've gone scuba diving plenty of times with Ottawa's local diving communities, and I've created so many fond memories and relationships through this activity.
Really, if you want to meet new friends while exploring so many gorgeous parts of the world, this is the activity that you should be doing.
Allow me to give you a complete look into the scuba diving scene here in Ottawa.
An Introduction to Scuba Diving in Ottawa
Ottawa itself is a landlocked city, meaning that it's quite far from the ocean. But that doesn't stop the locals from pursuing scuba diving.
There are still plenty of surrounding areas that feature some gorgeous and breathtaking diving spots within traveling distance for the locals. As a result, the city has a pretty lively and dedicated diving community that has quite a lot of gatherings and events.
How much does it cost to experience scuba diving in Ottawa?
A single scuba diving session for beginners usually costs between $100 and $200 in Ottawa. This usually includes renting the equipment, paying the instructor, and getting the materials you need to learn.
Top Scuba Diving Spots in Ottawa
Brockville, Tobermory, Bell Island, Barkley Sound, and Kingston are some of the most easily accessible and popular diving spots in Ottawa. They feature a lot of gorgeous underwater attractions and rather clear waters. 
Location
Attractions
Brockville
• Robert Gaskin site

• Henry C. Daryaw

• St. Lawrence River

Tobermory
• Niagra II wreckage

• Arabia wreckage

Bell Island
• SS Lord Strathcona wreckage

• PLM-27 wreckage

• SS Rose Castle wreckage

Barkley Sound
• Marine life

• Coral reefs

Kingston
• Katie Eccles wreckage

• Wolfe Islander II wreckage
1. Brockville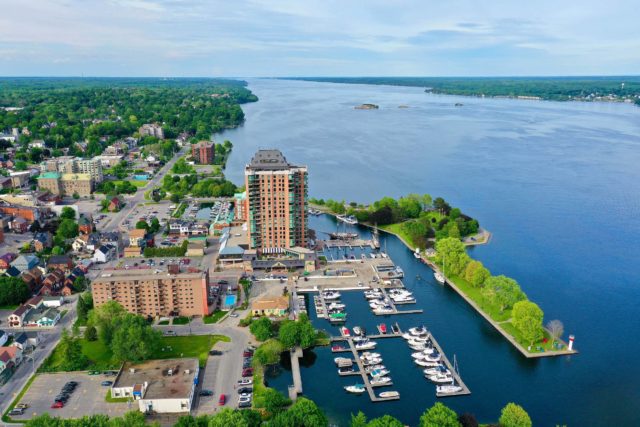 Must-see diving attractions:
Robert Gaskin site
Henry C. Daryaw
St. Lawrence River
In Ontario, Brockville is a place where you can see and explore more than ten shipwrecks under the river between Brockville and Rockport.
Even if you aren't a trained scuba diver, you can go to the Robert Gaskin site because the water isn't very deep and only goes up to 70 feet. The current is also not too strong which makes it relatively easy to swim in.
If you know how to dive, you can go to the site of Henry C. Daryaw. A freighter that was 220 feet long sank there about 80 years ago.
The ship is 90 feet from the river's surface, and the current is also pretty strong. This site will give you the chills if you really want to do something exciting.
The St. Lawrence River in Brockville has a pretty nice temperature, which is one of the main reasons why it's a popular diving spot. Most of the time, it's between 20 and 23 degrees Celsius.
2. Tobermory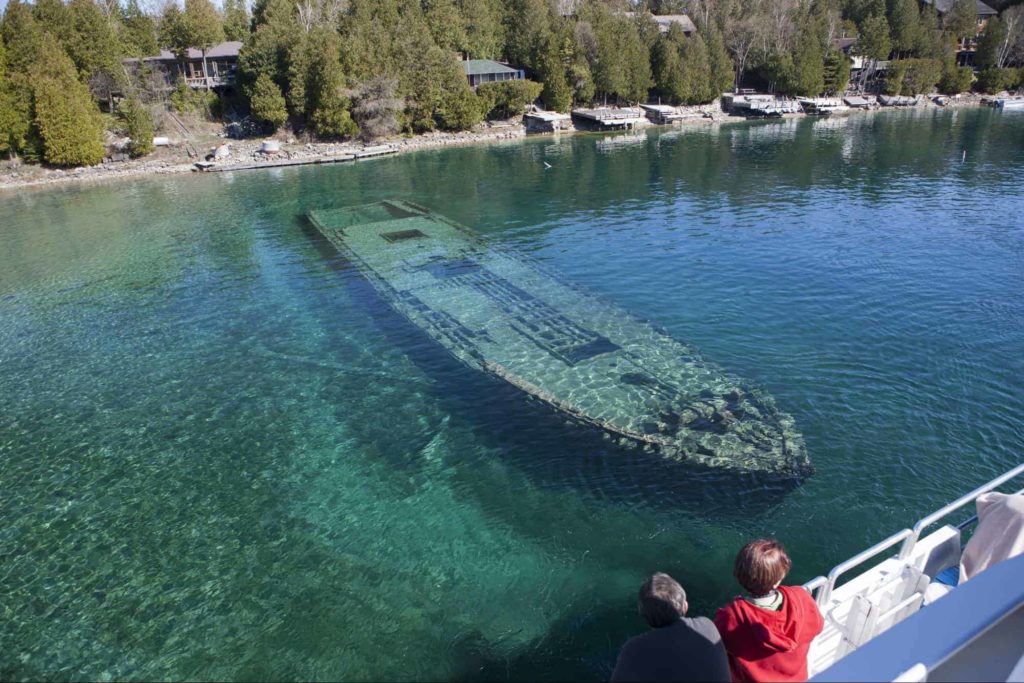 Must-see diving attractions:
Niagra II wreckage
Arabia wreckage
Tobermory is another place in Ontario that is near Georgian Bay. It is also not too far from Toronto.
There are several places to dive near the town, and for people who know where to look, it's a diver's paradise.
The most prominent attractions in the town are the Niagra II and Arabia, which are two of the most well-known shipwrecks in the area. The former sank in 1999, while the latter went down much earlier, in 1884.
Since the depth is more than 100 feet, you will need some scuba diving experience before going on this trip. You will not only be able to see the ships, but you can also venture inside them and see the control rooms and other parts of the wreckage.
Another great thing about Tobermory is that it's a marine park. The water is pretty clear, and you'll be able to see everything around the area.
The shipwrecks combined with the clear waters are what make Tobermory a popular diving spot, not just for Ottawans but for Canadians as a whole.
3. Bell Island
Must-see diving attractions:
SS Lord Strathcona wreckage
PLM-27 wreckage
SS Rose Castle wreckage
Do you love to admire the ocean's marine life? Then you should go scuba diving at Bell Island in Newfoundland.
In the water around this area, you will see jellyfish, ray-finned fish, lumpfish, eels, and many other beautiful sea creatures.
Besides the marine life, you'll also see boats that were sunk during World War II, such as the SS Lord Strathcona, the PLM-27, the SS Rose Castle, the SS Saganaga, and many others.
In terms of depth, these wrecks reach about 80 feet below the surface.
If you want to see something different, you should also go to the whale graveyard in South Dildo. You will be shocked when you see the whales' bodies and bones there.
Due to the strong currents and high height, you will only be able to go scuba diving on Bell Island if you have been trained to do so.
4. Barkley Sound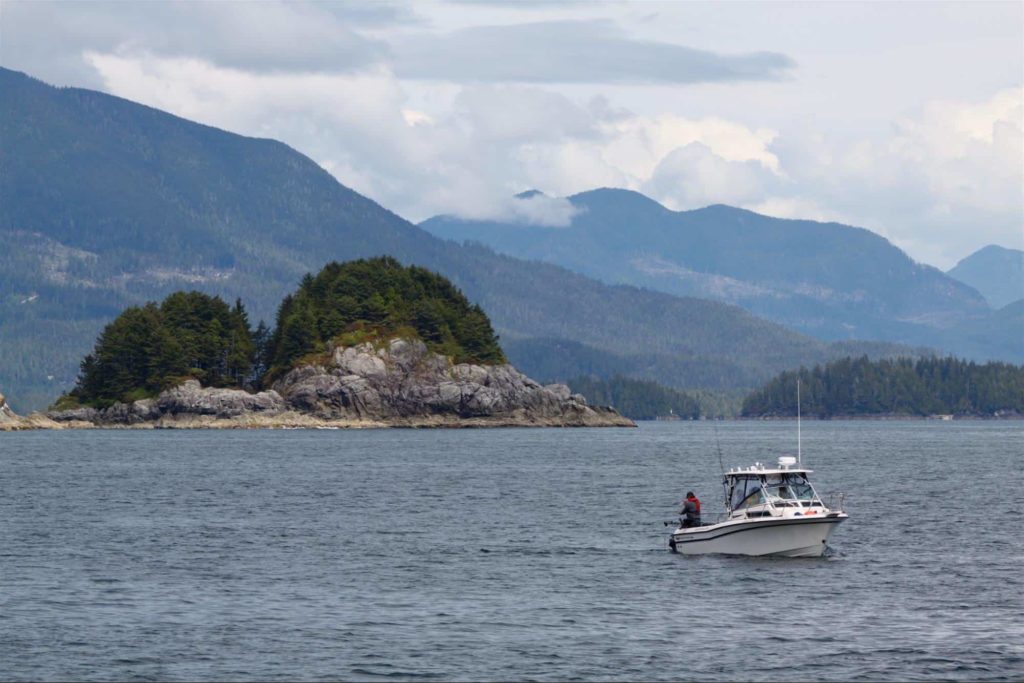 Must-See Attractions:
British Columbia's Barkley Sound is a great place to go diving because it is full of big, beautiful sea creatures like the Pacific octopus, starfish, six-gill sharks, and others.
You will be amazed by how big the animals are. Divers and photographers like to go to this place because the marine life and scenery under the water of the Pacific Ocean are so beautiful.
You can also see wolf eels, sea lions, harbor seals, and other animals in Renate's reef. Every living thing is stunningly beautiful.
If you know how to dive, you have to go to Barkley Sound in British Columbia. This is where most humpback whales live.
5. Kingston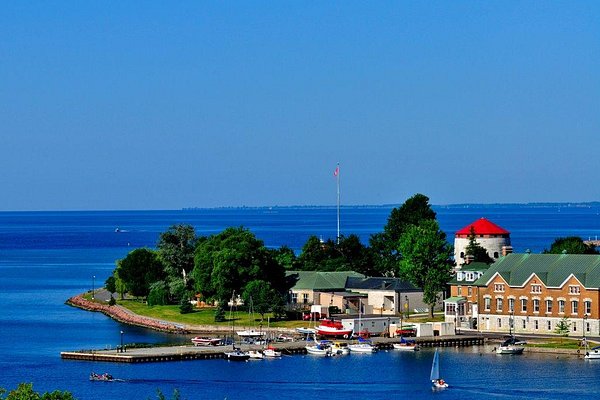 Must-see Attractions:
Katie Eccles wreckage
Wolfe Islander II wreckage
Kingston, on the northern shore of Lake Ontario, is one of the most popular places to go scuba diving.
This site is more popular than the others because the wrecks are not only deeper in the water, but they are also in pretty good shape.
One of these ships that has managed to stay in relatively good condition is the Katie Eccles. It sank in 1922, but because of how well it maintained its structure, you will be able to get a pretty good look at what the ship looked like before sinking.
If you are an experienced diver, you can explore the area rather quickly, even though the water temperature is dropping. During the year, it ranges from 3 to 10 degrees Celsius.
There is also the wreck of the Wolfe Islander II, which sank in 1985. Since the reef was put there on purpose, you will have to go down 80 feet to get there.
The ship is huge, so it will be easy for you to explore the whole reef.
Where to Get Certified for Scuba Diving in Ottawa
Scuba Finatics and Sharky's Scuba are the two primary locations that have Professional Association of Diving Instructors (PADI) certification in Ottawa. Prices for the certification vary depending on the diving center that you choose. 
| Diving Center | Website | Address | Price |
| --- | --- | --- | --- |
| Scuba Finatics | https://scubafinatics.ca/ | 6716 Bank St, Ottawa, ON K0A 2P0, Canada | $579.9 - Open Water Diver (including private course) |
| Sharky's Scuba Supply | https://sharkyscuba.com/ | 1226 Wellington St. W, Ottawa, ON K1Y 3A1, Canada | $449 - SSI Open Water Full Certification course (including tax) |
Scuba Finatics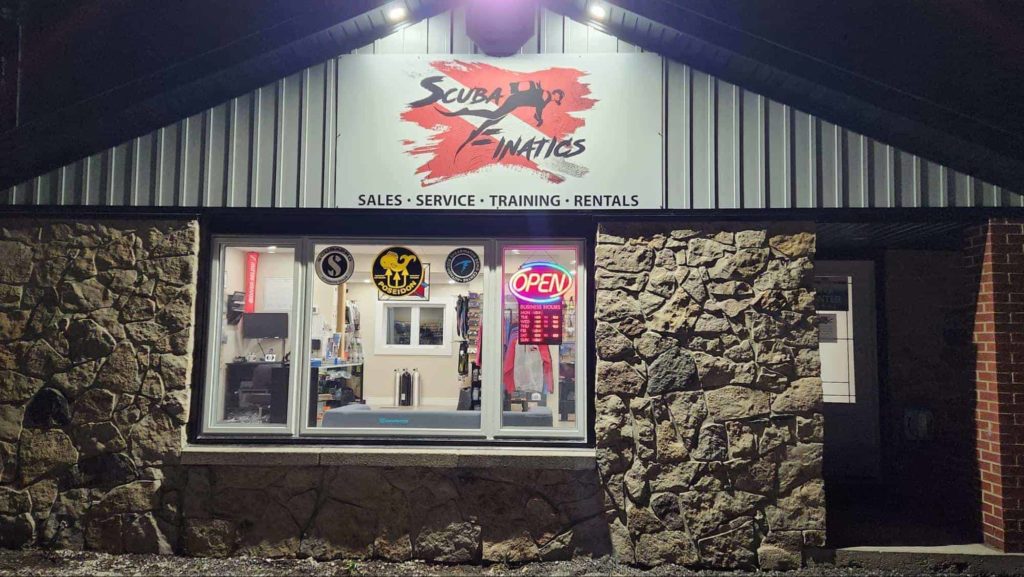 Address: 6716 Bank St, Ottawa, ON K0A 2P0, Canada
Website: https://scubafinatics.ca/
Certification Fee: $579.9
It is a 5-star full-service dive center that sells, repairs, and rents out diving equipment. The shop also offers comprehensive diving courses that will teach you everything you need to know about scuba diving and, of course, help you get certified.
Besides certification, Scuba Finatics also offers a wider variety of courses, such as Advanced Open Water Diving, Deep Diver, Drysuit Diver, and more.
The staff members are very friendly and happy to give you advice and information about anything that has to do with the activity. They are all diving professionals who can help you learn and get better at all forms of scuba diving.
If you decide to take a course with the shop, you will be welcomed with open arms and become part of a large scuba community that is ready to help you.
Sharky's Scuba Supply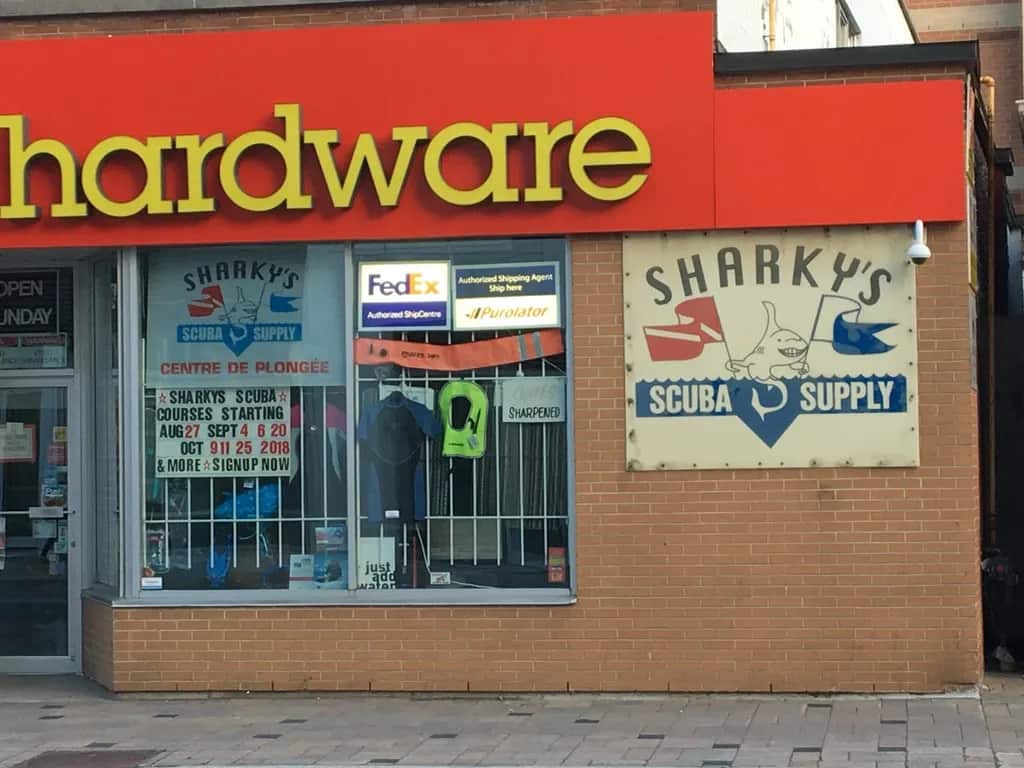 Address: 1226 Wellington St. W, Ottawa, ON K1Y 3A1, Canada
Website: https://sharkyscuba.com/
Certification Fee: $449
Just like Scuba Finatics, Sharky's Scuba Supply offers pretty much every service you will need for scuba diving. It offers dive gear, equipment rental, equipment maintenance, and more.
This is also one of the best places in Ottawa to get your diving certification, as it is PADI-approved. Sharky's Scuba Supply offers more advanced diving courses and continued education.
If you choose to become a member of this diving center, you will be welcomed into its community. Here, you can meet different divers to socialize with and explore many of the incredible diving spots near Ottawa.
What to Expect During a Scuba Diving Session
There are quite a lot of things to expect during a scuba diving session, whether it's a training session or a guided dive.
Quick Briefing and Gear Setup
Before the dive, your instructor or dive leader will give you a briefing. They will talk about the dive plan, safety rules, hand signals, and anything else you need to know about the dive site.
You will also learn how to set up and use your mask, regulator, buoyancy control device, and tanks used for scuba diving.
Properly Diving into the Water
Depending on where you're diving, you can get into the water from a boat, the shore, or a dive platform. You'll use the right way to get in, which could be a backward roll or a controlled descent with a descent line.
Descent and Adjusting the Pressure
As you go down underwater, you'll need to adjust the pressure in your ears and sinuses so you don't feel uncomfortable or hurt yourself. Most of the time, this is done by swallowing or gently blowing through pinched nostrils.
Buoyancy and Control
Once you're underwater, you'll use your buoyancy control device (BCD) to practice controlling how you float. You'll learn how to stay in the water without sinking or floating to the surface.
Exploration and Marine Life
During the dive, you'll be able to learn about the underwater world. You will see colorful coral reefs, a wide variety of sea life, and interesting rock formations.
Remember, it's important to stay afloat so that you don't unintentionally touch and damage the surrounding environment. Also, listen to your dive leader and treat the marine ecosystem with respect.
Constant Communication
It's important for safety and coordination to be able to talk underwater. You will learn and use hand signals to talk to your diving partner or group.
These signals tell you key things like "okay," "problem," "ascend," and "take a look at this."
Maximum Depth and Bottom Time
Each dive has a maximum depth and a suggested amount of time spent at the bottom. These limits are set for safety reasons and take into account things like the diver's level of experience, the amount of air available, and how much nitrogen the body absorbs.
To avoid decompression sickness, it's important to stick to these limits.
Safety Stops and Ascent
When you finish your dive, you may need to make safety stops during your ascent so that your body can safely get rid of the nitrogen it has accumulated. Your dive leader will tell you how deep and how long to stay at each stop.
Then, you'll slowly climb back to the surface, stopping as needed for safety.
Post-Dive Debriefing
After a dive, there is usually some discussion about what happened. Here, you can ask questions and get feedback from your instructor or dive leader.
It's your chance to think about what went well and what could be better for future dives.
Don't forget that you should never go scuba diving without the right training, certification, and safety rules. Each dive can be different depending on location, the reason for the dive, and the divers' level of experience.
Scuba Diving Communities in Ottawa
In Ottawa, there are a number of scuba groups where divers can meet each other, talk about their experiences, and do group activities. Here are some communities in Ottawa that are known for scuba diving:
ScubaBoard
Website: scubaboard.com
The ScubaBoard is one of the largest scuba diving forums on the internet. It encompasses almost every country and major city in the world, including Ottawa.
The members talk about meetups and activities quite frequently and discuss pretty much every topic related to scuba diving. If you want to connect with other scuba divers here, just create an account on the website, and you're good to go.
Dive Shops in Ottawa
There are a number of dive shops in Ottawa, and they often host diving events and activities. Throughout the year, they might have equipment demonstrations, dive trips, workshops, and other diving-related events.
Some of these shops include Scuba Finatics and Sharky's Scuba Supply, which I've mentioned in the diving certification portion of the article. If you want to go to the shops and/or get in touch with their communities, check out the table below.