Couples On A Budget: 8 Cheap But Fun Date Ideas in Ottawa
Want to impress that person who caught your eye but your dating fund is a bit low? You're in luck because this listicle is all about cheap but fun date ideas in Ottawa!
Ottawa is a great place for any dating couple. It offers a variety of cultural, gastronomical, and artful activities for practically everyone.
With that in mind, we put together a listicle of cheap yet fun date ideas in Ottawa for couples who are on a budget. It's just a matter of figuring out which non-cliché and affordable pastime fit your and your date's personalities best.
We made sure to cobble together a good range of activities covering different interests and which are easily available in the city.
Budget Dates: 8 Affordable But Romantic Ideas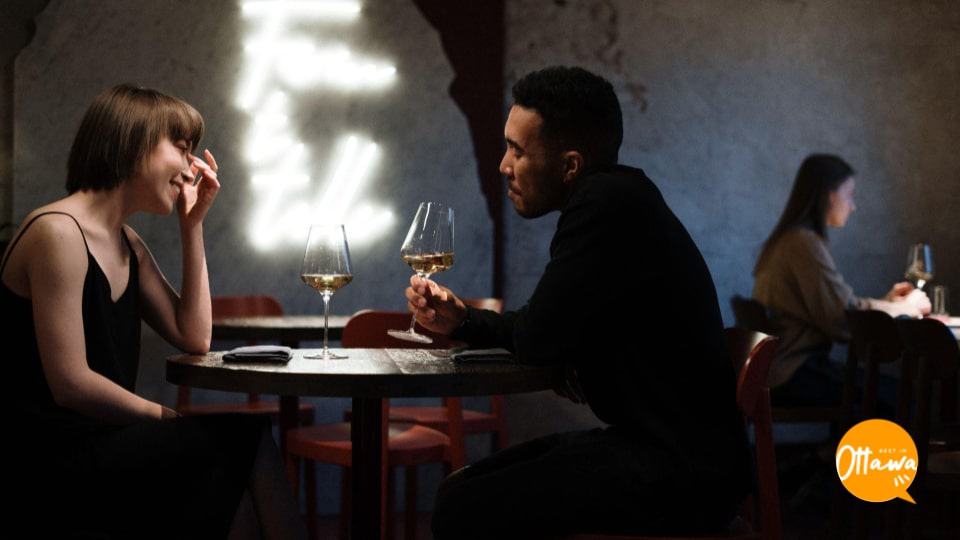 In this day and age, even going out for a few drinks can really hurt your pocket if you aren't careful of the wheres, hows, whens, and whats involved. And if you end up really liking the person you're dating, stretching your budget for more dates shouldn't cause anxiety.
We're here to tell you that you can have really awesome date ideas in Ottawa without breaking the bank. Some of them won't even cost a thing (think bike rides, having a picnic at the park, or visiting a museum if you have a membership)!
Of course, the first important step to ensuring your date is both fun and cheap is to have a getting-to-know-you chat first. We're going to assume that you've gotten this out of the way and now have an idea of what each others' idea of a fun date is.
The next step is to figure out how to incorporate your interests into your budget. At this point, don't be afraid to ask your date if they're willing to go dutch because there's really no shame in asking.
And when you and your date are on the same page about interests, budget, and schedules, it's time to see which of these eight cheap but fun date ideas appeal to you both!
We hope this listicle gives you some great ideas whether you're looking for ways to stretch your date fund or simply want to spice up your dating life.
1. Enroll in a Dance Class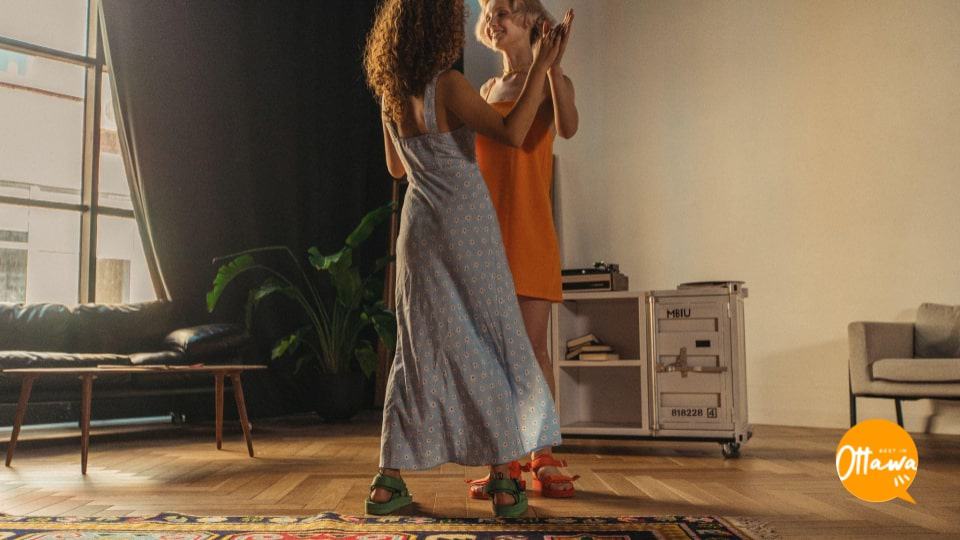 Are you both fond of dancing or at least have an interest in it? Then, by all means, go dancing on your date!
Dancing is a great bonding experience because it allows you and your partner to be in sync while learning to move together. You can even choose the songs you love so you can dance to them to make the experience extra memorable.
It doesn't matter if you don't have Fred Astaire-level dance skills, either. That's why dance studios in Ottawa exist — to teach everything from choreographed couple's dances to one-off lessons on different dance styles (for as cheap as $35 per lesson!).
And if you don't want to step out and spend money on lessons, just go online and look for YouTube dance tutorials. You can view and learn anything from hip-hop to ballroom dancing at home.
2. Do Weird Local Tourist Things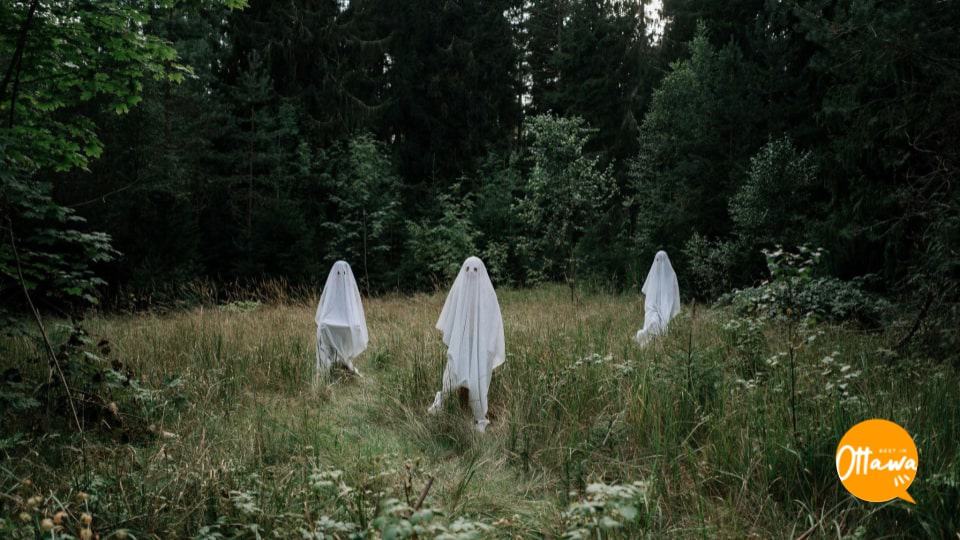 You can still do touristy things without going out of your zip code. There's plenty to do if you both like travelling and adventure but are stuck at home due to current travel restrictions or budgetary reasons.
Ottawa is home to a lot of tourist-friendly and downright unique things to do. So if you haven't gone on a ghost tour, thrown battleaxes, or deliberately landed yourself in jail yet, then you haven't truly explored what your own city has to offer tourists.
Most of these activities are quite affordable, though some might be seasonal. The good news is that Ottawa has a lot of local tourist options all year-round.
You can go biking, explore trails, have picnics, or watch sunsets at the manicured gardens of Major's Hill Park which is strategically located near Byward market, museums, and galleries. Or you can visit the Arboretum if you want to be closer to nature and see around 10,000 plants in one place.
3. Cook Something Together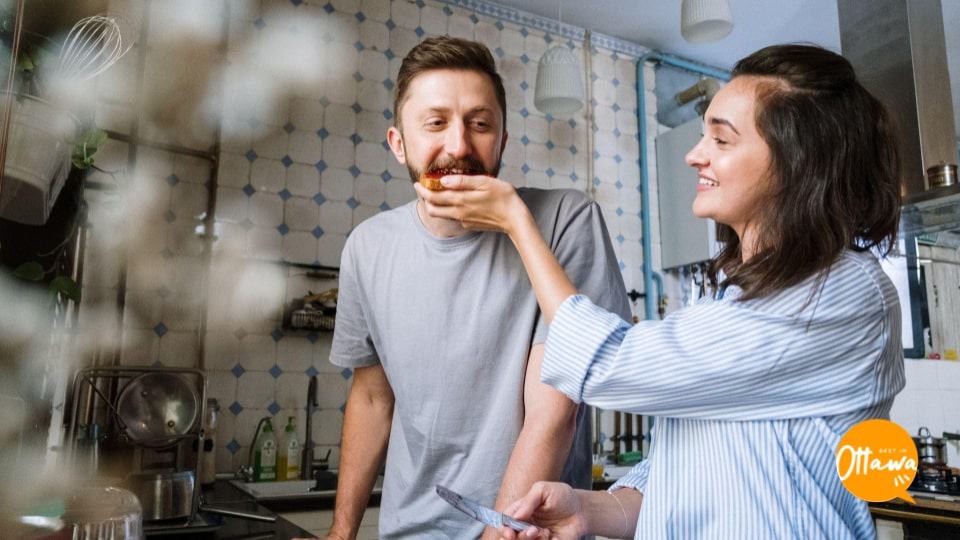 There's no need to book a table at an expensive restaurant just to impress your date. If you have sufficient culinary skills, it's time to prove that the way to your date's heart is through their stomach.
You can research your date's favourite food, dietary restrictions, and beverage preferences to come up with a sumptuous meal made from scratch and from the heart. Believe us when we say that will help you score major brownie points (bonus points for pretty plating and presentation).
You can also opt to make the meal preparation itself your primary date activity. Consider enrolling in a cooking class in Ottawa so you can make a custom date meal from appetizers to desserts and have fun in the process.
For a freebie option, unearth your grandma's cookbooks or check one out at the library to try recreating old-fashioned recipes together. The more vintage the recipe and ingredients, the better!
4. Go On Off-Beat Tours or Hikes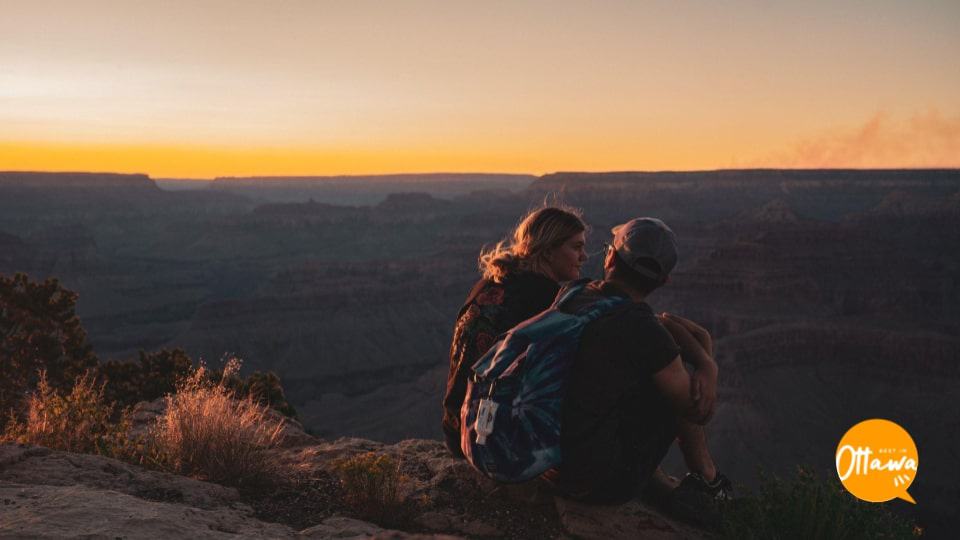 Ottawa's got plenty of free or low-cost date destinations for couples on a budget. And if you're the adventurous, outdoorsy type, you've got dozens of options.
You can look up some of the best nature trails and parks with the help of a handy guidebook or travel advisory site. But if it's site-specific activities and event schedules you need, you can ask for assistance from your favourite travel agency.
Consider horseback riding and explore hidden trails that aren't accessible by cars or other means of transport. Or you can indulge in your favourite sports or fitness routines at the Rideau Sports Centre which has facilities for hockey, tennis, basketball, yoga, swimming, volleyball, and more.
But when it comes to communing with nature for free, all you and your date really have to do is pack up a few essentials, and wear comfortable clothes and sturdy shoes. You can then head out to the nearest trail or nature park and wait for the sun to set or rise.
5. Volunteer For Your Favourite Cause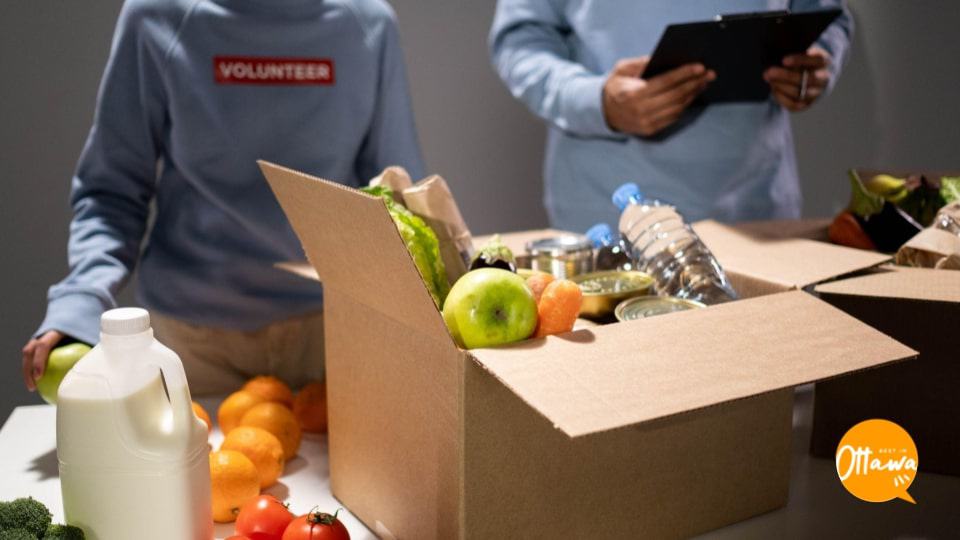 Being around someone you like can put you in a state of bliss and serenity and help you reflect on how life has been good to you. So instead of spending money on a date, why don't you use your time together to give something back, instead?
Ottawa is a great place to get involved and has a dedicated page on its official website for volunteering. It provides information on community engagement and the different activities and events you can sign up for.
You can also choose to volunteer for a cause that's close to your and your date's heart. There are many volunteer opportunities in Ottawa ranging from animal rescue to working at the food bank.
Getting involved together in a worthy charity or cause can be a good foundation for any relationship. It's time well-spent for both of you (and for the beneficiaries of your volunteering efforts).
6. View Some Art For Free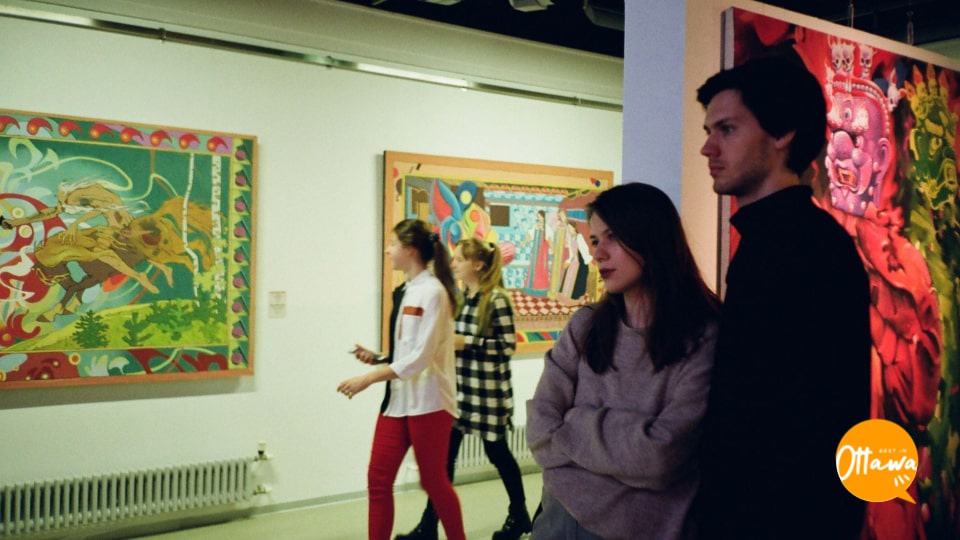 Art can be an elevating experience especially if you're with someone who can make the experience even more worthwhile. After viewing artworks, you can discuss your thoughts and opinions with each other.
You can go on an affordable art-viewing date any day of the year at the best art galleries in Ottawa. Here's great news for your pocket: most art galleries don't charge for entrance and typically have new exhibitions up on a regular basis.
And if you truly love the experience, you can even bring home a souvenir of it by purchasing something at the museum or gallery gift shop! The downside is that some private art galleries and museums have a couple of days when they're closed so you'll need to plan around them.
An alternative art experience can involve some art schools in Ottawa. Most of these programs hold an end-of-term art show featuring the works of their students, so you can visit these exhibits to see which budding artists' works catch your fancy.
7. Grab Some Local Brew (Or Brewsky!)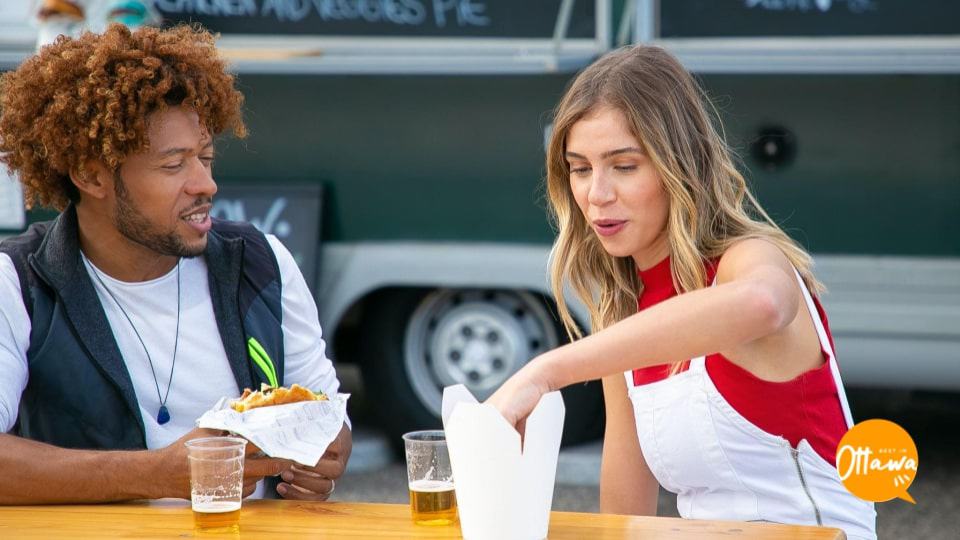 If you've got some funds saved up for dinner and drinks, nix the usual dinner-and-drinks experience that could cost an arm and a leg. Opt for food parks and street food, instead.
You won't have to dress up because of the casual atmosphere. Plus, it gives you a chance to give local cuisine and beverages a try.
There are great breweries in Ottawa where you can try unique handcrafted beer not found elsewhere. They're pretty affordable at around $3 for a 473 ml can and there's typically a good selection ranging from pale to big and bold flavours.
Or if alcoholic beverages aren't your cup of tea (pun unintended), go somewhere quiet for local brews, instead. The city has some great coffee shops that have fair trade certification and reasonably priced coffee and pastries or meal menus to give you a great gastronomic experience.
8. Plant Something on a Patch of Soil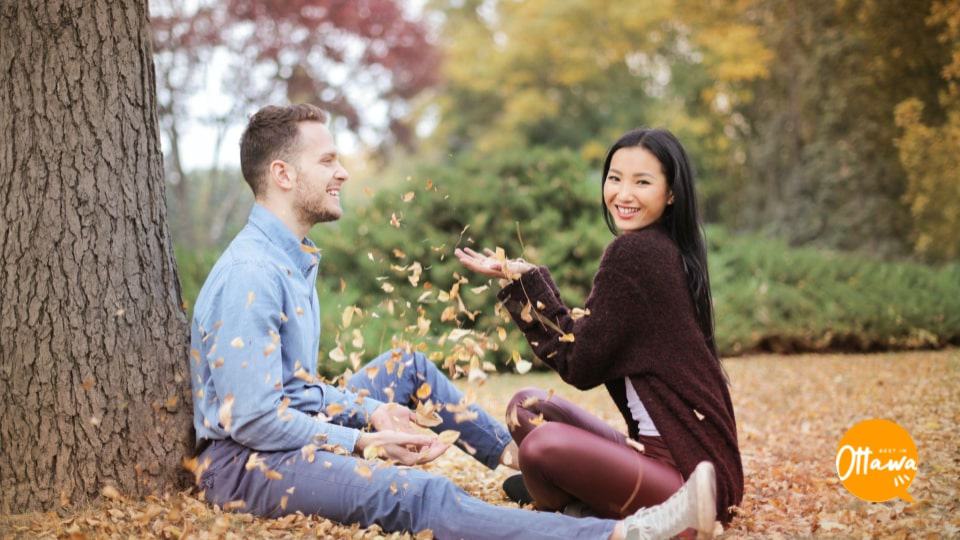 If you've been enjoying the foliage that the city has been giving you on a daily basis, perhaps it's time to give a little of it back with your date. Why not plant something together on your date and watch it (and your relationship — hopefully) grow over time?
You can choose your favourite plants or flowers and get seeds or seedlings from the best nursery centres in Ottawa. Spend a good part of the day planting them and plan where you want to replant at home when they've reached sufficient growth.
As a note of caution, please don't seed bomb or throw seeds haphazardly on either private or public lots, whether they're vacant or not. This is an irresponsible gesture that can wreak havoc with the local flora and fauna and is considered illegal in a lot of places.