Where to Get a Trailer Hitch in Ottawa
Planning to move? One way to move your belongings is to use a trailer and tow it from behind. It's a great way to save on moving costs.
To be able to do that, you'll need to have a trailer hitch attached. It's basically a device that connects one vehicle to a trailer, another car, or SUV so it could be pulled from behind.
Don't know where to get one installed? We've got you covered. On this list, we'll be discussing where you can find the best places to get a trailer hitch in Ottawa.
How much do trailer installations cost?
There are many types of trailer hitches, and prices for each may vary accordingly. The difference between these various types of trailer hitches lies in each one's capacity.
The heavier it can pull, the more expensive it can get.
There are basically 5 classes of trailer hitches. Class I can tow lighter trailers up to around 2,000 lbs. in weight.
Meanwhile, class V hitches can actually tow almost 10 tons.
Depending on what type you'd be having installed, the usual range of installation costs around $127 to $191. The more complicated ones can go for as high as $573, excluding labor in some cases.
| Receiver Hitch | Weight Capacity | Average Cost | Recommended for hitching the ff: |
| --- | --- | --- | --- |
| Class I Rear Receiver Hitch | 2,000 lbs. | $286-$496 | Small light-duty trailers, bike mounts |
| Class II Rear Receiver Hitch | 3,500 lbs. | $304-$450 | Boats, campers, landscape trailers |
| Class III Rear Receiver Hitch | 3,500 to 8,000 lbs. | $305-$496 | Boats, campers, landscape trailers |
| Class IV Rear Receiver Hitch | 10,000 lbs. | $420-$496 | Large boats and recreational vehicles |
| Class V Rear Receiver Hitch | 18,000 to 20,000 lbs. | $401-$547 | Horse trailers, large recreational vehicles, and commercial heavy equipment trailers |
Take note that prices may also differ depending on what vehicle the trailer hitch will be installed to.
For example, a class III receiver hitch installation may only cost $306 for a Honda Odyssey but can cost $337 or higher for a Hyundai Santa Fe.
With this in mind, it's best to discuss with a good installation service. They know what's best to do and can even help install additional perks like trailer hitch locks.
Getting a Trailer Hitch Installed
Some trailer hitches are usually permanent, while others can be detached depending on what kind you are having installed on your car.
With this in mind, it's important to have a professional do it for you as much as possible to avoid faulty installations that can compromise your safety and your vehicles.
In this list, we'll be discussing where to best have a trailer hitch installed here in Ottawa.
To find the best services for you, we evaluated them according to the following criteria:
With these in mind, we hope we can help you find the best services so you can have a trailer hitch installed with peace of mind.
1. Hitchman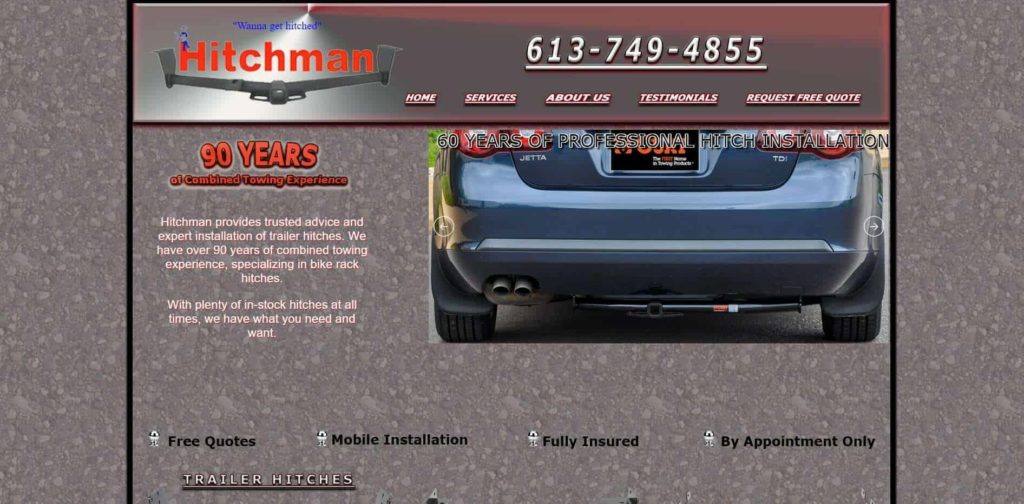 Test
Info
SERVICES
Towing, trailer hitch installations, mobile installations
WEBSITE
http://www.hitchman.ca/
ADDRESS
7786 Snake Island Rd, Ottawa
CONTACT DETAILS
613-749-4855
OPERATING HOURS
Monday to Saturday: 9 am to 6 pm

Sundays: 11 am to 4 pm
| | |
| --- | --- |
| Experience and reputation | ★★★★★ (5/5) |
| Efficiency of service | ★★★★★ (5/5) |
| Quality of installation | ★★★★★ (5/5) |
| Customer service | ★★★★★ (5/5) |
When it comes to trailer hitches, Hitchman has been one of the most trusted establishments since they have been around for 90 years already.
Meanwhile, they have been providing trailer hitch installations for 60 years. Needless to say, they know their deal when it comes to trailer hitches and are the ultimate run-to shop for most locals in Ottawa.
They hold a good inventory of reputable hitch brands that come along with insurance. This comes with the guarantee that the hitches they'll install in your vehicles have reliable quality.
When it comes to the quality of their services, any customer would leave their shop satisfied. In fact, they have full five-star reviews on Google from hundreds of clients who have also tried their services.
They work efficiently too. And they would go above and beyond to make sure you are comfortable while waiting for your hitch trailer to get installed as well.
Their service has a kind of thoughtfulness that makes customers feel like their time is valued, thus the speedy but still quality service.
They are quick to reply to inquiries and will even give you a follow-up check once the work is completed to make sure your hitch is working properly.
If in case your installation may take more than a day to be completed, they will initiate to give you a call for regular updates. This, on top of excellent service, makes customers really recommend their services to other people as well.
When you visit their shop, you'll see impressive and well-maintained facilities too that make you confident in leaving your car in their hands. However, you can only come by appointment.
Plus, they do give you competitive prices. But for the quality of service they provide, every penny can arguably be worth it.
Good inventory of trailer hitch brands
Efficient and good quality service
Prompt response to inquiries
Does follow-up services
Competitive rates
Insured services
Services are strictly by appointment
No price matrix on website
Customer Reviews
No waiting around
The Hitchman installed a hitch on our 2017 Subaru Outback. From the outset he was quick to reply to my email requesting a quote. A quick phone call to confirm the order for the required hitch. Install was scheduled for 2 days later and was competed within the time promised.
No waiting around. Very polite and friendly and his four legged receptionist is there to happily greet you with a wagging tail. – Kevin Woodward
Efficient and reliable service
After reading many of the positive reviews trusting Hitchman with the job of installing a hitch and 4 way wiring on my dodge grand caravan was a no brainer. He dropped me off at the nearby diner and i enjoyed some reading and a cup of coffee (actually 2 they have free refills) and in 2 hours he was back to pick me up and in fact paid for my coffee!
What business does that?!?! Same day drove 6 hours away and picked up a tent trailer that towed back home wonderfully. Big thanks to Hitchman for great efficient and reliable service! – Sojourner
2. Automotive Outfitters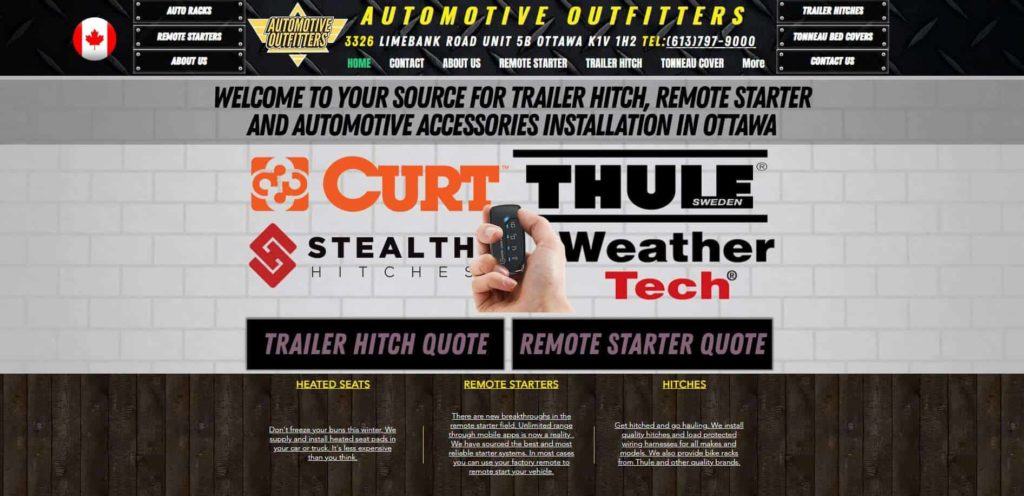 | Test | Info |
| --- | --- |
| SERVICES | Installation and retail of trailer hitches, remote starter, auto racks, tonneau bed covers, and other car accessories |
| WEBSITE | https://www.automotiveoutfitters.ca/ |
| ADDRESS | 3326 Limebank Road Unit 5b Ottawa |
| CONTACT DETAILS | (613) 797-9000 |
| OPERATING HOURS | Monday to Friday: 9 am to 5 pm |
| | |
| --- | --- |
| Experience and reputation | ★★★★★ (5/5) |
| Efficiency of service | ★★★★★ (5/5) |
| Quality of installation | ★★★★★ (5/5) |
| Customer service | ★★★★★ (5/5) |
One thing about Automotive Outfitters is that they are articulate in explaining their services as much as they are meticulous in installing a trailer hitch in your car.
With 15 years in business, they are also one of the most trusted when it comes to installations of car accessories.
They offer and use a huge range of quality brands in their inventory. Plus, all these come with lifetime warranties.
Aside from installation services, they also sell auto-related products for any other kind of accessories that you may need for your car.
When it comes to their services, they really deliver good results, but the best part is how they would thoroughly explain to you first what they will be doing to your car.
They are very transparent with their methods, and they only use non-marring tools and follow the manufacturer's specifications. This is very important, especially when installing an external accessory to your car like trailer hitches.
They have superb customer service, beginning from your first call and until you leave satisfied with their work.
Plus, you might also like that they offer gift cards. We think it's perfect if you want to recommend their services to a friend—and honestly, a genius way to market the quality of service they provide.
Automotive Outfitters also boasts 100% five-star reviews on Google, and we can see why.
From their friendly, well-informed technicians to their range of good car accessory brands and good and clean facilities—you'll most likely be impressed when you visit their shop. Booking an appointment beforehand though is highly advised.
You can even grab some free snacks while you're waiting for your hitch to be installed!
Knowledgable and well-versed technicians
Huge range of trailer hitch brands and other car accessories
Offers gift cards
Impressive facilities
Friendly customer service
No price matrix on the website
Closed on weekends
Appointment is required
Customer Reviews
Great to deal with
Just got a hitch and wiring harness installed on my 2019 Audi SQ5. The team at automotive Outfitters have been great to deal with all along the way, taking the time to explain how things work and being friendly and sociable once I visited their shob. They did a great job installing the hitch on my Audi. Not a lot of shops would work on an Audi due to the complications associated with the installation but they've installed so many of it that quote on quote they don't even have to look at the instructions. Highly recommend them and I will be back for any additional needs. – Mizo
Reliable, inexpensive, and trustworthy
I was looking for a Stage 3 hitch for my Nissan Xterra and Renaud was more than helpful. He was able to source one; where others I went to were not able; and installed it a couple of days later. An additional relay for the truck lights was needed and Renaud ordered that came to my house a few days later to install it.
What great customer service and what a nice guy. I will recommend Automotive Outfitters and Renaud to friends and family as a reliable, inexpensive and trustworthy business. Thank you again. – Graham Deans
3. Rack Attack Ottawa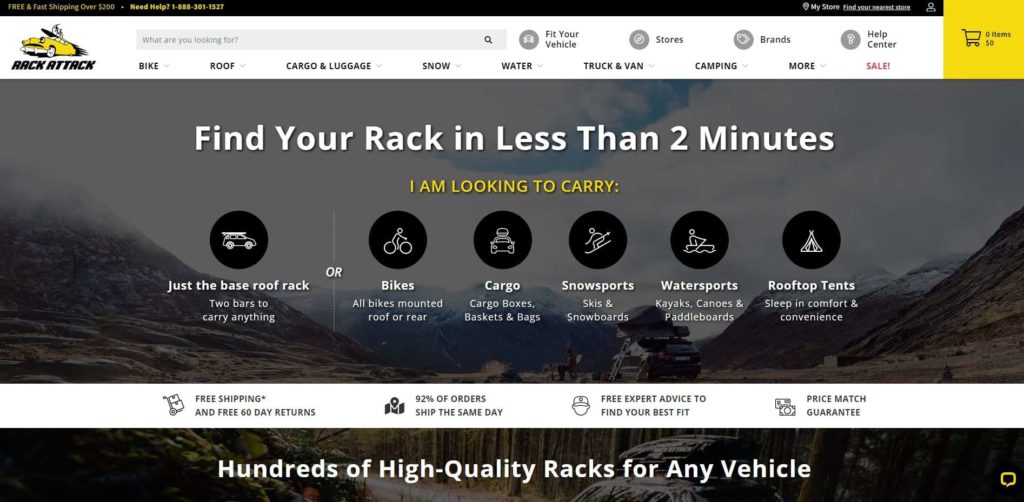 Test
Info
SERVICES
Retail and installation services for roof racks, trailer hitches, and other car rack solutions
WEBSITE
https://www.rackattack.com/
ADDRESS
2249 Gladwin Crescent Ottawa
CONTACT DETAILS
(343) 809-4390
OPERATING HOURS
Monday & Saturday: 10 am to 5 pm

Tuesday & Wednesday: 10 am to 6 pm

Thursday & Friday: 10 am to 7 pm

Sunday: 11 am to 4 pm
| | |
| --- | --- |
| Experience and reputation | ★★★★☆ (4/5) |
| Efficiency of service | ★★★★★ (5/5) |
| Quality of installation | ★★★★☆ (4/5) |
| Customer service | ★★★★★ (5/5) |
With 24 locations in North America, Rack Attack is probably one of the most well-known names when it comes to vehicle racks and accessories.
Despite being new in Ottawa with their branch opening just in 2019, they have gathered a very pleased number of customers when it comes to their goods and services.
They mostly retail car accessories and are more popular for roof racks. But they do also offer and install trailer hitches and other additions to your car.
The best part is that all the installations they do also come with a lifetime warranty. So, you can get them to fix anything for you as long as you own the vehicle.
They install trailer hitches for any type of car out there. However, they only have ones that are made by Curt Hitch, stealth EcoHitch, and Draw-Tite. That being said, these are well-established hitch brands that guarantee quality.
What we like a lot about their staff is that they don't hard-sell their products but actually explain to you the pros and cons of your options so you can make the best decisions for your car.
Their installation services are pretty fast and efficient too, so long as the hitches you want are available in stock.
You can drop in anytime, but installations may need an appointment. Nevertheless, booking and inquiries are pretty easy since they respond to calls and even emails immediately.
They also have live chat available from 9 am to 4 pm for quick inquiries.
Despite the limited trailer hitch brand choices, overall, they really do provide good quality services. We highly recommend if you need not just a trailer hitch but also a roof rack installed so they can do it all in one go.
Fast and efficient installations
Knowledgeable and helpful staff
Offers lifetime warranties for any product and installation services
Price for products offered can be seen on their website
Offers high-quality trailer hitch brands
Limited trailer hitch brands offered
Installations may need to be done by appointment
Installation service rates are not available on website
Customer Reviews
Seamless installation
Great service, and quality workmanship! The staff are very friendly, professional, and knowledgeable, and were really helpful throughout the entire process of having a hitch and bike rack installed, from ordering to pick-up. The hitch install was seamless, blending in with the rear bumper and panelling of the car, and looked like it has always been there. Very clean. The hitch and hitch-mount rack look great and are a nice addition to the car, increasing its utility. Overall, very happy with a job well done and I'll be going back to RackAttack for future roof rack/storage needs. – Ryan Schwartz
They did a really good job
Initial visit to purchase a hitch and bike rack. Staff were very friendly, well informed, and handled my request quickly. Plan to update this review after the hitch is installed and the bike rack is delivered. However, I don't anticipate any problems!
Do here we are, several months later. Hitch looks great, they did a great job. Really pleased. The bike rack works really well, handles our two electric bikes no problem. – Michael Murray
4. Action Car and Truck Accessories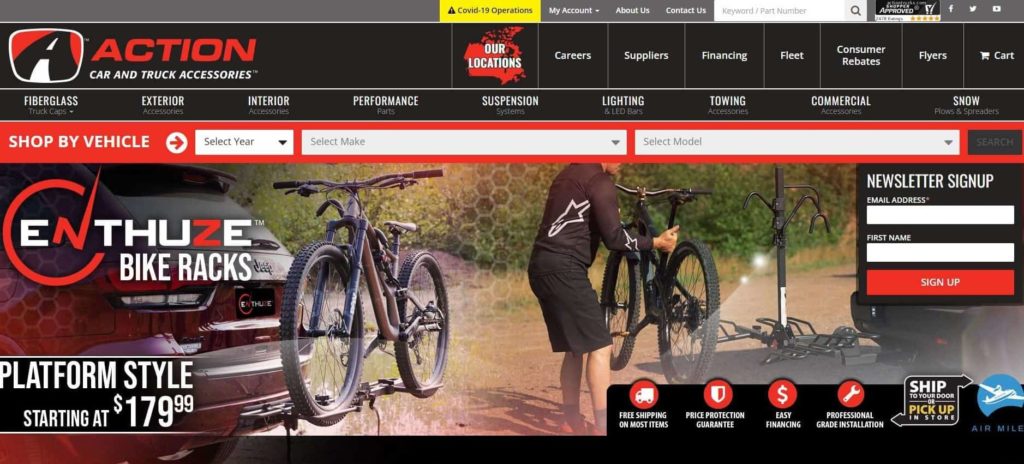 Test
Info
SERVICES
Retail for car and truck accessories, car accessories installations
WEBSITE
https://www.actiontrucks.com/ottawa-ontario-location
ADDRESS
1380 Cyrville Road Ottawa
CONTACT DETAILS
(613) 738-7777
OPERATING HOURS
Monday to Friday: 8 am to 6 pm

Saturday: 9 am to 3 pm

Closed on Sundays
| | |
| --- | --- |
| Experience and reputation | ★★★★☆ (4/5) |
| Efficiency of service | ★★★★☆ (4/5) |
| Quality of installation | ★★★★☆ (4/5) |
| Customer service | ★★★★★ (5/5) |
More of a retailer, Action Car and Truck Accessories also provide professional-grade installation services for all the car accessories that they offer.
They carry a great range of auto-related accessories, including trailer hitches. They actually carry hundreds of types of hitches that vary according to class, brand, and of course, price.
Their online shopping platform is actually a great way for you to learn about the details of each trailer hitch so you can review your options well according to your needs. They also have a function here where you can input details about your car model to see if the hitch you're eyeing is compatible with your vehicle.
With the wide range of trailer hitches that they carry in their inventory, you can actually select one that's suitable for your budget, unlike other stores that offer limited options.
While the other stores we mentioned earlier do have a good range, there's just no match to the huge variety that they offer here.
If you finally find a hitch that matches your preference, you can opt to have it delivered at home and install it by yourself. Or you may also request an installation appointment on their website.
They do have a great team of technicians in their Ottawa location who can get a good job done in installing your purchased trailer hitch.
You can also opt to utilize their financing options should you be on a tight budget but really need to get the installation done immediately.
While they are known for retailing car accessories, they are still very much a good installation service to consider especially for those who need to make very careful budget decisions.
Offers a huge range of trailer hitch options
Website is informative for reviewing your options
Offers financing options
Ideal for those on a tight budget
Good customer service
Installation services are only done by appointment
Installation costs are not available on their website
Customer Reviews
Good to boot
Stopped in to get a second quote to get a trailer plug installed because the previous owner of my vehicle decided to take his with him. Their price was much better so I did the install with them. The installation ended up taking longer than anticipated but in the end they charged me even less than quoted. Customer service was good to boot. That all adds up to a 5 star experience to me. – Darcy Dunne
Great price and great work
Brought my vehicle in to get a hitch installed. They had some trouble something but the staff (mainly Shawn) dealt with it very professionally and did a great job reassuring me that it would get done right. They did a good job getting it done at a time that was convenient for me. The end result looks great and I'd go there again for sure. Great price and great work. – Ben Seguin
5. Stittsville Trailer & Auto Sales Inc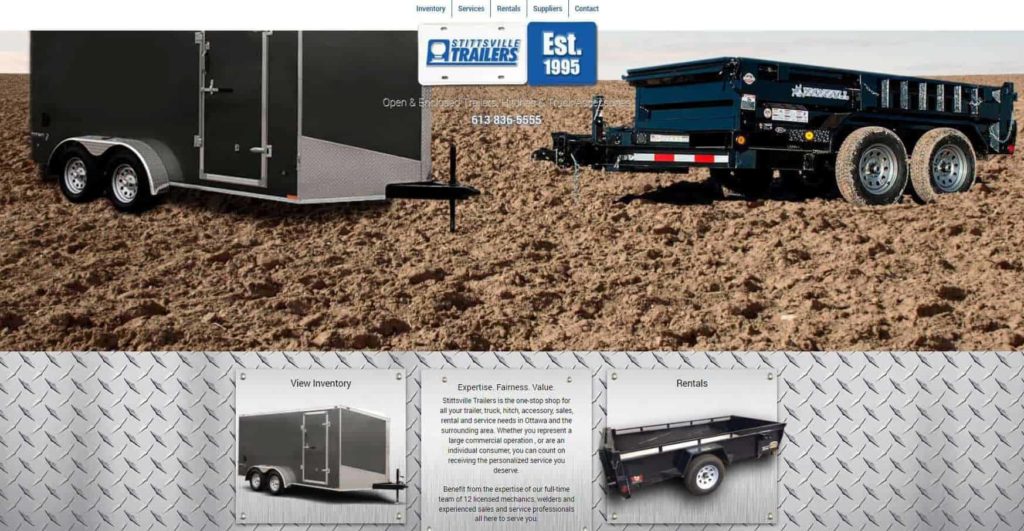 | Test | Info |
| --- | --- |
| SERVICES | Installations for trailer hitches, base plates, and wiring, truck and trailer repairs |
| WEBSITE | https://www.stittsvilletrailer.com/ |
| ADDRESS | 1634 Stittsville Main St., Stittsville |
| CONTACT DETAILS | (613) 836-5555 |
| OPERATING HOURS | Monday to Friday: 8 am to 5 pm |
| | |
| --- | --- |
| Experience and reputation | ★★★★★ (5/5) |
| Efficiency of service | ★★★★★ (5/5) |
| Quality of installation | ★★★★★ (5/5) |
| Customer service | ★★★★★ (5/5) |
Technically a 20-minute drive from the heart Ottawa, if you'll ever be in Stittsville and need a trailer hitch installed, Stittsville Trailers is the place to go.
There might other be trailer hitch retailers and installers in Ottawa, but there's a reason we're including this family-owned business from Stittsville in this list.
Their quality of service and knowledge when it comes to anything related to trailers are excellent. It's the type of service you won't mind making a little driving effort since the trip will be worth it anyway.
They have been providing their services since 1995 as a one-stop-shop for all trailer and hitch accessories and are licensed by the Ministry of Transportation (MTO) to provide safety certifications for trucks and trailers.
That being said, trailer hitch installations are a no-brainer for their fully licensed team of mechanics and welders.
They use only high-quality trailer hitch brands like Curt, Reese Prod, and Draw-Tite to guarantee that you're getting only the best ones installed on your car.
Plus, they also offer truck and trailer repairs too unlike other services that only do installations. They're a good choice if you need to have both services done.
What's good about their installation and repair services too is that you'll see the craftsmanship in their work. They don't just simply install but also make sure that your hitches will look good on your ride.
And these are all done quickly and efficiently, which makes customers happily return to them for their services. The staff are also helpful and will help you in selecting the best choices for your vehicle.
Setting an appointment for installation is also pretty convenient. And once there, you can expect that the work can be completed on the dot as they would advise.
Their competitive pricing is worth noting as well. Overall, it's a pleasant experience if you're willing to give them a visit or if you're anywhere near Stittsville.
Quality expert services
Offers installations and repair services
Excellent team of licensed mechanics and welders
Efficient and on-time services
Competitive pricing
Offers high-quality trailer hitch brands
Installations require appointments
Limited trailer hitch brands options
Located in Stittsville
No price matrix available on their website
Closed on weekends
Customer Reviews
Great service, great value
My auto mechanic recommended Stittsville Trailer & Auto Sales when I asked about having a hitch installed on our 2016 Honda Pilot. I had heard installation on these SUV models can be a challenge. Apparently not for the team here! I called and was booked within a week. The staff was lovely. It took just about an hour, even with extra precautions due to the pandemic. Great service. Great value. Highly recommended! – Renata Scorsone
Excellent installation
I am very pleased with the service I received at Stittsville trailer. The staff were very courteous and professional. The installation of my hitch was excellent and professionally done. It is located such that the hitch frame is totally out of site. Thanks to the team for their work on my vehicle. – Norm Allen
FAQs about Trailer Hitch Installations in Ottawa
---
So that wraps up this list of where you can get trailer hitches installed for your vehicles. We hope we got to help you in making the best decision in locating the best options for you.
You might also need other services for your car, like tire replacements, perhaps? How about checking out our list of the best tire shops in Ottawa too?