The 5 Best Toy Stores in Ottawa
Michael Keaton, the veteran actor known for his role as the iconic Batman once said, "To this day, I have the most fond memories of some of my old toys."
Toys are what makes our childhood special. Our memories are not only implanted in our homes or in the people we know but also in the toys we used to play with as kids.
That's why it's important to buy our kids not only the coolest toys, but also the safest. In this article, we will list down the best toy stores you can find in Ottawa.
The Best Toy Stores in Ottawa
Our kids deserve the best so we'll do what we can to give them that. That includes finding the best place to shop for toys.
We followed a specific criteria to determine which of the many toy stores around Ottawa are the best. The following criteria can serve as a guide for you so here's what you should look for as well:
1. Mastermind Toys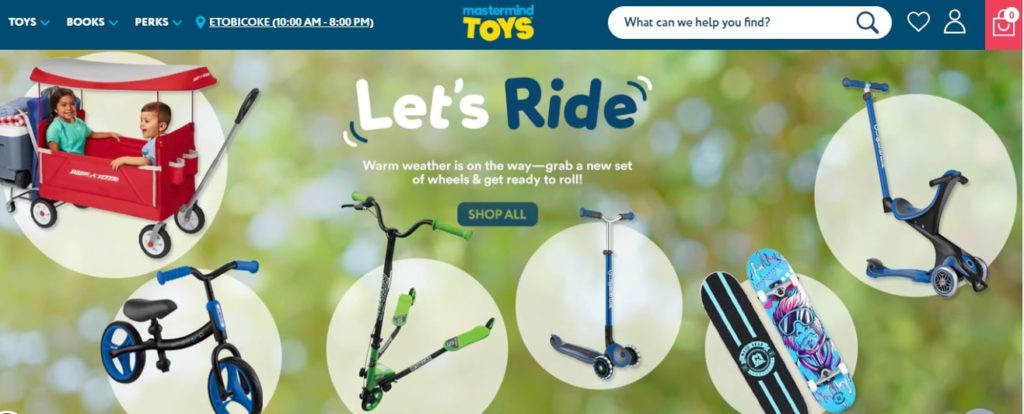 Test
Info
PRODUCTS
Baby Toys, Toys for Teens, Books
WEBSITE
https://www.mastermindtoys.com/
ADDRESS
1091 St. Laurent Blvd, Ottawa, ON K1K 3B1, Canada
CONTACT DETAILS
613-825-7997
OPERATING HOURS
Monday - Thursday: 10AM–7PM

Friday: 10AM–8PM

Saturday: 9AM–6PM

Sunday: 10AM–5PM
| | |
| --- | --- |
| Criteria | Ratings |
| Rates | ★★★★★ (5/5) |
| Facilities | ★★★★★ (5/5) |
| Selection | ★★★★☆ (4/5) |
Mastermind Toys prides themselves in their enormous selection of toys, offering a selection for both younger children and teens. They are one of the biggest toy stores in Canada with multiple branches around the country.
That wasn't always the case though. The store had humble beginnings as a small business established by brothers Andy and Jonathan Levy.
Their location in Ottawa is pretty accessible for everyone. It's not too far from the main city and it's easy to commute to.
Their facilities are also well-organized. Their toys are separated by specific sections so you won't have a hard time looking for a specific item that your child may want.
Another thing we liked about Mastermind Toys is their selection of toys from well-known brands all over the world. If you want a toy based on a kid's show or movie like Disney Pixar's Turning Red, you can find it here.
It's also refreshing to see that Mastermind Toys sells books. They offer a wide selection that covers topics such as recipes, parenting, self-help, and more.

We're also impressed that Mastermind Toys offer competitive prices to its customers, most of which are at standard retail price. They even have a membership system that has its own perks such as discounted products and surprise birthday gifts for kids.

Really, the only negative we see in Mastermind Toys is the fact that they have multiple stores which means their supply is stretched out. Sometimes, their selection for specific toys runs out and they may be short-staffed at times, at least in this branch.
All in all, Mastermind Toys is definitely a good choice for a toy store in Ottawa. As long as they don't run out of stocks, they have a wide selection of toys to choose from.
Perks for members
Organized selection
Online store
Some stocks run out
Seems short-staffed
Customer Reviews
10 years
"We have been coming here for 10 years and we have never had a bad experience. On the contrary the staff are extremely polite and helpful. The one girl is a Christmas wrapping specialist! Nobody here would ever say anything bad about anyone. I don't understand the other review I read here. Some people are crazy it seems, just ignore it and I hope she gets the help she needs. Thank you again!! – Jim Purchase"
Toys and books
"One of the best toy stores in Ottawa. Great selection of kids toys and games at competitive prices. The store is warm and inviting. Lots of staff on the floor who went above and beyond to make the visit easy and flow nicely. I purchased several books and some toys for Christmas present giveaways." – Carl Cencig
2. Tag Along Toys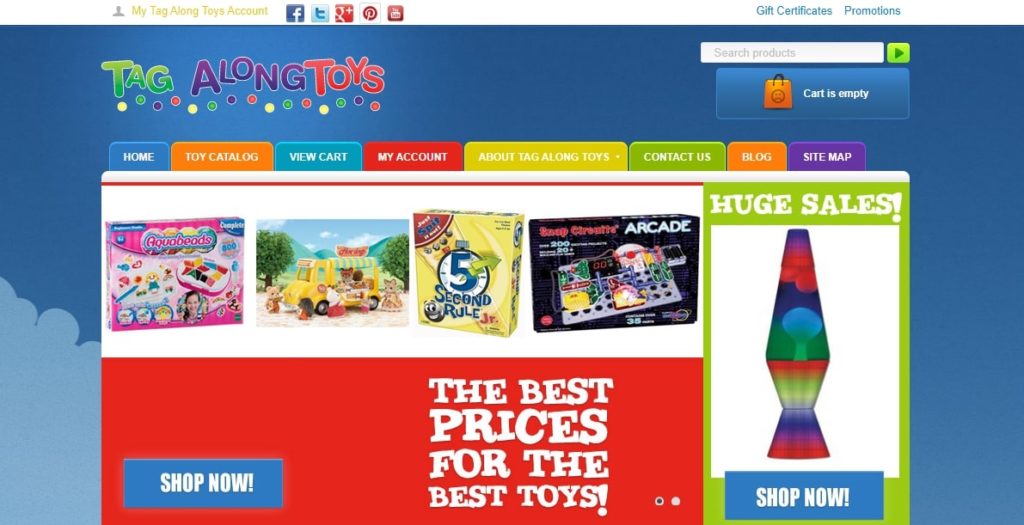 Test
Info
PRODUCTS
Baby Toys, Toys for Teens, Puzzles, Musical Toys, Arts & Crafts, Educational Toys
WEBSITE
https://www.tagalongtoys.ca/
ADDRESS
1500 Bank Street Ottawa Ontario
CONTACT DETAILS
613-738-8697
OPERATING HOURS
Monday: 12PM - 4PM

Tuesday - Saturday: 12PM - 5PM

Sunday: 12PM - 4PM
| | |
| --- | --- |
| Criteria | Ratings |
| Rates | ★★★★★ (5/5) |
| Facilities | ★★★★★ (5/5) |
| Selection | ★★★★☆ (4/5) |
Tag Along Toys is another notable toy store in Ottawa. It's known by a lot of people because it's been in Ottawa for nearly two decades.
Their selection is quite unique, specializing in more educational toys so if you have a child who learns better when he or she is playing, this might be the place for you.
The owner, Patti Taggartis, is an early childhood educator with 20 years of experience. Her studies focused on both the cognitive and social development of children at an early age.
So if your kids are struggling socially or physically, you might find the perfect toy for them here.
Unlike other toy stores, Tag Along Toys doesn't have many famous or well-known brands for their toys. However, they do have toys that kids from 2 years old until their teenage years can play with.
What's cool about Tag Along Toys is their goal of inclusion. "Tag along" is what we'd say to someone that we want to come with us and it's a good name for a company that wants to include every kind of child into their playtime.
Tag Along is also a good choice for kids who are into arts. They sell arts and crafts and other similar products.
Unlike other toy stores, Tag Along's selection of educational toys may be more suited to kids who need help focusing on their education. If you're looking for more mainstream or popular toys and products, you might not find it here.
Another cool thing about Tag Along is their annual 20% off sale every October which is a good way to attract customers during the holidays. They also have other discount deals like 10% off for teachers and 20% off for grandparents.
Tag Along also has an online shop which makes shopping very convenient especially if you prefer to stay home. It's also easier to choose from their products because you see everything on one screen.
Overall, Tag Along is a great choice for a Toy Store. It's inclusive and the rates are fair as well, making them one of our top picks for toy stores in Ottawa.
Toys for children with special needs
Multiple discount deals
Online store
No mainstream toys
Smaller than most stores
Customer Reviews
Helpful and attentive
"Love going into the store. Patti and her team are always so helpful and attentive! When I've gone with little kids, the team is so patient makes the experience great for everyone! – Diana Deek
Perfect for my dog
"My daughter and I love this store. Tonight we were served by Lily, who was fabulous and so kind. The staff are knowledgeable and friendly, and the selection is great. They have good deals on select products, too, and I appreciate that they offer free gift wrapping. We highly recommend Mastermind!" – Jennifer Vincent
3. Kazka Toys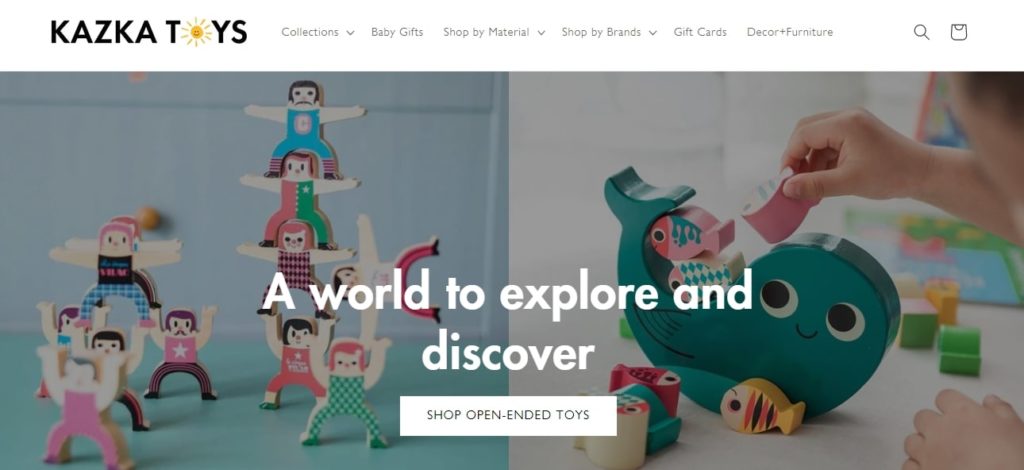 | Test | Info |
| --- | --- |
| PRODUCTS | Baby Toys, Toys for Teens, Puzzles, Musical Toys, Arts & Crafts, Decor & Furniture |
| WEBSITE | https://kazkatoys.com/ |
| ADDRESS | 802 Bank St, Ottawa, ON K1S 3V8, Canada |
| CONTACT DETAILS | 613-407-3777 |
| OPERATING HOURS | Tuesday - Saturday: 10AM–5PM |
| | |
| --- | --- |
| Criteria | Ratings |
| Rates | ★★★★☆ (4/5) |
| Facilities | ★★★★★ (5/5) |
| Selection | ★★★★☆ (4/5) |
Kazka Toys is another well-known toy store in Ottawa. They specialize in artsy toys and baby toys but they have a selection for other types of toys as well.
What makes Kazka Toys unique is their artisan toys. These toys are very intricately designed and almost look like art themselves.
These unique toys are usually made of wood and don't have too many moving parts unlike modern toys. Some of these toys look like the toys our grandparents had back then, handcrafted to look and feel distinct from other toys in the market.
Kazka Toys is in this list because we know that they still have a really good selection. Their arts & crafts toys, their musical toys, and their puzzles are all good choices to give to growing kids.
They also have a lot of products for babies which is good for new parents. From wooden figures that have math problems on them to dolls that describe each body part to the child, their toys are very different from the usual toys we see in the market.
They also offer furniture and decor. Their aesthetic is very minimalist, even in their products, which is a very welcome change in the toy industry.
The main toys in the Active Play line they offer, are the ones we'd call artisan, they have a significant original feel to them. While they may not be famous characters, they have a personal feel that kids would appreciate especially when they grow up.
We think Kazka Toys is a good choice if you want to give your kids something they can treasure forever. Of course these toys are a bit more expensive than common toys but that's the price you pay for something they'll remember until they grow up.
Educational toys
Unique, timeless aesthetic in toys
More expensive
Can be boring for some kids
Customer Reviews
So unique
"Good selection of educational toys, books, handcrafted dolls and beautiful puzzles. Recommended place to find an interesting gift for children and youth. Eco options available" – Masha N
So happy
"Interesting selection of books and toys for kids. Handmade and unique." – Konstantin Alexeev
4. Toys on Fire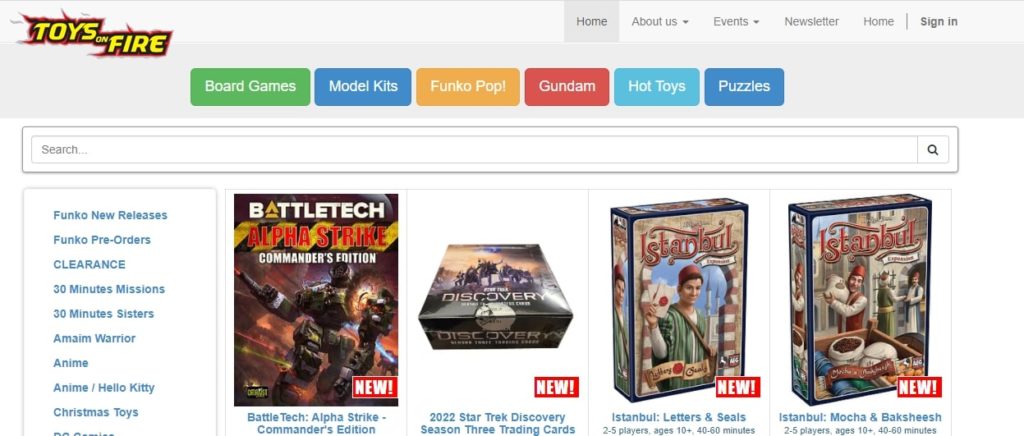 Test
Info
PRODUCTS
Collectibles, Licensed Toys, Comic Books
WEBSITE
https://www.toysonfire.ca/
ADDRESS
3-130 Riocan Avenue Ottawa Ontario K2J 5G4 Canada
CONTACT DETAILS
613-825-0688
OPERATING HOURS
Monday - Saturday: 10AM - 6PM

Sunday: 10AM - 5PM
| | |
| --- | --- |
| Criteria | Ratings |
| Rates | ★★★★☆ (4/5) |
| Facilities | ★★★★★ (5/5) |
| Selection | ★★★★☆ (4/5) |
| Staff | ★★★★★ (5/5) |
Despite their name, the toys in Toys on Fire are not on fire. At least not literally.
From a collector's perspective, however, these toys are definitely on fire. They're awesome and most of them are expensive.
Toys on Fire primarily sells collectibles and licensed toys like gundams, Funko Pops, and Hot Toys which are great for growing teens. They also sell comic books, board games, puzzles, and more.
Since they first opened in 2005, Toys on Fire continues to be one of the most well-known hobby stores in Ottawa. Their target market is mainly collectors ranging from teens to adults.
This may be a dealbreaker for parents with younger kids but for parents who love movies, anime, video games, and want their kids to be the same, they'll love shopping here.
It's a good place to start if you want to bond with your kids through classic toys that you also had when you were little. Toys like Dyecast, Hot Wheels, and Gundam, are all toys that even the older generation had and you can use that to your advantage and bond with your kids through them.
Nerds and geeks alike will rejoice at the products that Toys on Fire offer but parents with kids on the young side will probably have to look at a different store.
If you've got the cash and you're a collector, this store is the one for you.
Lots of collectibles
Incredible selection of licensed toys
Online store
Expensive
Not the best choice for toddlers and younger kids
Customer Reviews
Perfect for collectors
"Couldn't find the NECA 1990 Ninja turtles anywhere in the US so tried my hand at importing them. Toys On Fire came through with official products, extremely fast shipping, and responsive customer service. One of the best online shopping experiences I've had." – Zach Diaz
So organized
"Excellent!! The employees are super nice they always have been! They have quite an organized stock and you will find almost everything RPG cards board games and card accessories everything! They may not have what you are looking for in stock but you will most likely find the genre your looking for, 5 stars!" – James Ungoed
5. All About Kids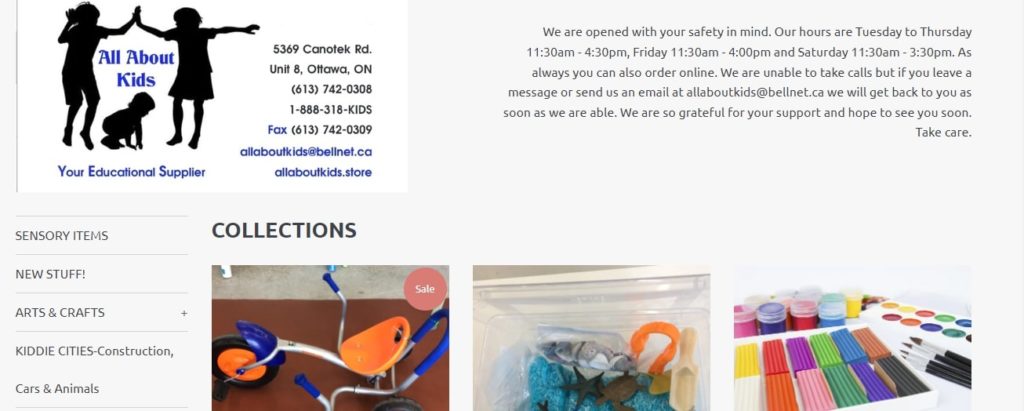 Test
Info
PRODUCTS
Sensory Items, Arts & Crafts, Kiddie Cities, Imaginary Play, Furniture & Equipment, Music Toys, Puzzles
WEBSITE
https://all-about-kids-ottawa.myshopify.com/
ADDRESS
5369 Canotek Rd. Unit 8, Ottawa, ON K1J 9J3
CONTACT DETAILS
613-742-0308
OPERATING HOURS
Monday- CLOSED

Tuesday to Thursday-11:30am to 4:30pm

Friday- 11:30am to 4:00pm

Saturday- 11:30am to 3:30pm
| | |
| --- | --- |
| Criteria | Ratings |
| Rates | ★★★★★ (5/5) |
| Selection | ★★★★☆ (4/5) |
| Area | ★★★★★ (4/5) |
All About Kids' selection is to our surprise, all about kids! Who would've thought? They focus solely on toys for younger kids who are aged 0 – 5 years old.
Their selection is perfect for new parents or parents with a newborn child. All their toys are educational and are designed for teaching.
These toys are perfect if you want to bond with your kids more. Toys like this are great for creating memories with your kids that they will forever treasure.
The toys range from dolls to small musical instruments to faux scientific tools that you can use to help them learn. We particularly like their Imaginary Play toys because they are interactive, making the parents part of the fun.
It should be noted that this may not be the store to shop for teenagers. But parents who are expecting or already have a newborn will appreciate the products they sell.
Their toys are organized by subjects such as science toys, math toys, language toys and even history toys. We especially liked the math toys because they had many options available. Math is a complicated subject and making it fun for kids can be a challenge.
Educators would also love this store because of their great selection of arts & crafts materials. Teachers can buy supplies in this store that they can use to make art with the kids they're teaching.
We like All About Kids because their prices are competitive and quite affordable. If you're getting one of the bigger toys, however, then you can expect to shell out a little bit more cash, but that's to be expected.
Overall, All About Kids is another good toy store you can visit mostly because of their selection of educational and art-related toys. Just remember that most of their products are for younger kids.
Educational toys
Subject-focused toys
No toys for teens
Some toys are expensive
Customer Reviews
Educational toys are great
"Recently I was looking for a cot for my granddaughter and someone referred me to AllAboutKids situated on Canotek Road in Ottawa. The educational toys and accessories is great. My interaction with the store personnel was fantastic. She was very knowledgeable and helpful. I will for sure be returning and referring other parents and caregivers to their store!" – HH
Great selection
"Quite a bit of options. I love that I can buy singles of certain things instead of having to buy a whole pack (example, felt). I love their sensory bins and there are quite a bit of Melissa and Doug things there that you don't normally see at other stores. Will definitely be going back." – Angela Caldwell
FAQs about Toy Stores

---
We want the best for our kids. The toys we give them today can be a memory they treasure tomorrow, so let's make sure we buy the right ones.
These top toy stores in Ottawa are great options if you want to buy the right toy for your child. Do you think we selected the best options in the city? If you have any suggestions, let us know!
Now that you've got the toys do you want to play and bond more with your kids? Check out this guide for the best kids' activities in Ottawa!