7 Places with the Best Swimming Lessons in Ottawa
Featured Image Source: Jim De Ramos via Pexels
If you're looking to enroll your kids to a summer activity, it might be a great idea to look into swimming classes. Learning to swim is certainly a must-have skill for anyone and you can't go wrong with having your kids learn it early.
We've compiled the top places offering the best swim lessons in Ottawa. But before that, how much should you expect swimming lessons to cost?
How Much Do Swimming Lessons in Ottawa Cost?
The cost of swimming lessons typically depends on different factors including its format and the age of your child.
We summarized in the table below the range of costs for different types of private swimming lessons in Ottawa.
| | | |
| --- | --- | --- |
| Type of Lesson | Number of Student/s | Price Range |
| Private Lessons | 1 kid/baby | $200-$300/month or $50-70/lesson |
| Semi-Private Lessons | 2 kids/babies | $300-$400/month per group |
| Semi-Private Lessons | 3-4 kids/babies | $30-$50/lesson per person |
| Group Lessons | 6-10 kids/babies | $20-$30/lesson per person |
| Baby Lessons | 1 parent and 1 baby | $300-$400/month |
| At Home Pool Lessons (Instructor will come to teach at their student's pool) | 1-2 students | $75-$100/lesson |
The Best Swimming Lessons in Ottawa
Now that you're informed about the average costs of private swimming lessons, let's move on to the best swim training facilities with superb swimming instructors in Ottawa.
1. The Aqua Life Swim Academy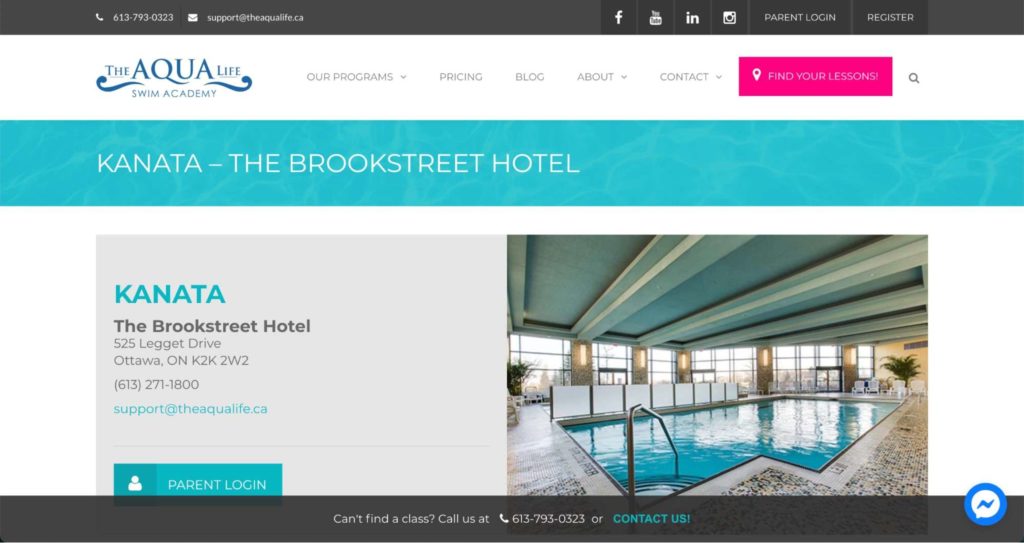 SERVICES
Kid Lessons, Adult Weekly Lessons, Backyard Swim Lessons, Winter Intensive Swim Lessons, Summer Intensive Swim Lessons
WEBSITE
https://www.theaqualife.ca/
ADDRESS
525 Legget Dr, Kanata, ON K2K 2W2, Canada
CONTACT DETAILS
Phone: +1 613 793-0323
Email:

[email protected]

OPERATING HOURS
Mondays, Wednesdays, Thursdays: 3:30 PM – 9:00 PM
Tuesdays: 10:00 AM – 9:00 PM
Saturdays: 8:30 AM – 1:00 PM
Sundays: 8:30 AM – 7:00 PM
Parents, children, and adults would love Aqua Life's comprehensive swimming programs. Aside from their swimming classes, they can create personalized training programs suited for their students.
Their instructors' competitive swimming backgrounds make it easy for them to evaluate the stroke, skills and endurance of their students. That's one of the reasons they're so effective at teaching others.
Their programs are some of the best in Ottawa for the extra important drills and exercises they implement to solidify swimming fundamentals such as side breathing, self-submersion, and breath control. Their classes lay the groundwork for children to swim on their own.
Aqua Life also has smaller class sizes than most, with each student getting plenty of one-on-one time with their instructor.
Easy registration and booking process
Warm pools
Quiet, semi-private pools
Provides private swim instruction for the Red Cross and Lifesaving Society swim programs
Limited number of swim instructors
Programs tend to fill up quickly
Customer Reviews
A five-star review from Brittany Turcotte-Hameed via Google says:
"Our daughter's growth over the last couple of years at Aqua Life Swim Academy has been outstanding. They really encourage the kids to love the warm and to push themselves. We tell everyone we know to check out their programs! They won't be disappointed."
Another review from Courtnie Gilfillen reads:
"We do weekly lessons with Bridgett and my little guy loves her and she is amazing with him even when he is being a typical toddler : )"
2. Hippo in the Bathtub Inc.
SERVICES
Indoor Pools Swimming Lessons, Backyard Pool Swimming Lessons, Red Cross Swimming Lessons, Mobile Lifeguarding
WEBSITE
https://hippointhebathtub.ca/
ADDRESS
41 Grenfell Crescent Unit #2A, Nepean, ON K2G 0G3, Canada
CONTACT DETAILS
Phone: +1 613 695-6011
Email:

[email protected]

OPERATING HOURS
Mondays to Fridays: 3:00 PM – 8:00 PM
Saturdays: 8:30 AM – 5:30 PM
Sundays: 10:00 AM – 5:00 PM
Kids are in good hands with Hippo in the Bathtub's custom indoor pool facilities.
The swimming company has many great features, including their salt water pools that are kept at a warm temperature. Salt water pools are best for learning how to float, so they're great for teaching beginners.
They also have different swimming programs like their mermaid lessons and Red Cross swimming lesson for children, Bronze Medal Award courses for teens, and personalized swim instruction for adults.
Hippo in the Bathtub also has certified instructors who will run a swim level assessment for their student's first lesson so they can place them in the appropriate level.
They have unlimited 4-hour rescheduling for lessons and have private change-rooms, comfortable seating areas for parents, free WiFi, and snack canteen.
Saltwater indoor pool
At-home lessons available
Offers mermaid lessons
Offers Red Cross swimming lessons
Works well with kids who have special needs
Pools may be shared by up to two students
Customer Reviews
A five-star review from Kathleen Muldoon via Google says:
"We absolutely loved our swimming lessons and will be signing up next year for sure. The instructor was prompt and flexible and awesome and my son, he in particular, thrived. He improved so much in 4 weeks it was amazing."
Another five-star review from Elaine Jette reads:
"This place is great! From the outside it looks like an industrial building but inside it is so well done. It's cozy and inviting, a beautiful space with fish tanks! My anxious daughter was instantly at ease and loves going here."
3. Kids Can Swim Canada: Purpose-Built Swim Schools for Children
SERVICES
Swimming Lessons for Babies (3 months to 3 years old), Swimming Lessons for Kids (3 to 13 years old)
WEBSITE
https://www.kidscanswimcanada.ca/
ADDRESS
280 Didsbury Rd Suite 101, Kanata, ON K2T 0G5, Canada
CONTACT DETAILS
Phone: +1 613 714-5892
OPERATING HOURS
Mondays: 3:00 PM – 7:30 PM
Tuesdays, Wednesdays, Thursdays: 7:45 AM – 7:30 PM
Saturdays – Sundays: 7:45 AM – 4:30 PM
Kids Can Swim is one of the best swimming facilities in Ottawa due to their programs that are tailored to the needs of their students. Their programs even include individual monthly assessments so students can progress at their own pace.
Their small team of professional aquatic educators also takes the time to get to know each student and their individual learning style.
Kids Can Swim even offers a learning guarantee to their students, which means that if a student has been at the same level for more than 20 lessons, swimming lessons will be free until the student graduates to the next level.
Other features that make Kids Can Swim one of the best are their purpose-built facilities, their easy registration system, and their science-based curriculum.
Parents can also rest assured that their pools are sanitary, UV-filtered, and warm. Overall, it's a very nicely run facility for those who need a way to teach kids how to swim.
UV-filtered pool water
Low ratio of kids to instructors
Parent-viewing area with free Wi-Fi
Family-sized changerooms
Relatively shallow pools means younger learners are preferred
Customer Reviews
A five-star review from Jason Chapman via Google reads:
"Highly recommend checking out this place for swim lessons. The one-on-one learning is exceptional and the staff is great. Facilities are clean and well thought out. A great way to accelerate learning how to swim."
Another review from Stephanie Talsma says:
"This was an amazing experience for our 4 year old (and us parents as well). The teachers were very engaged and engaging, not our experience to date elsewhere. The fun first approach hooked our child and the teachers quickly had her trying new things without hesitation – a huge accomplishment and testament to the program. And the facility is beautiful, built to support and make little ones feel like they belong."
4. Aqua-Tots Swim Schools Kanata
SERVICES
Parents & Tots Swimming Lessons, Basic and Advanced Swimming Lessons, Adult Swimming Lessons
WEBSITE
https://www.aqua-tots.com/kanata/
ADDRESS
145 Roland Michener Dr, Kanata, ON K2T 1G7, Canada
CONTACT DETAILS
Phone: +1 613 801-9100
Email:

[email protected]

OPERATING HOURS
Mondays – Thursdays: 9:00 AM – 8:00 PM
Fridays: 9:00 AM – 12:00 PM, 4:00 AM – 7:00 PM
Saturdays – Sundays: 8:00 AM – 12:00 PM
Aqua-Tots Swim School has been in swimming instruction since 1991 and has served over 100 communities in 14 countries. Their programs have been tried and tested – through them, their instructors have found ideal techniques over the years to teach swimmers of all levels.
There are many unique features that make Aqua-Tots one of the best.
First, as a pro-submersion school, their instructors encourage their students to be confident swimmers by going underwater.
Second, the school offers flexible class times and days to suit their students' schedule. Their lessons typically last 30 minutes as they found this to be the ideal length of time that children can focus while having fun.
On the whole, we like their courses and the approach to teaching students to be more at home in the water.
Offers a fast-track swimming program
Tailor-fit programs are available for students with special needs
Not the best booking and cancellation experience
Customer Reviews
A positive review from Sumir Chawla via Facebook says:
Both of our kids love visiting Aqua Tots. The elder one [has been] learning since [the] last four years. The coaches and front desk staff are very friendly and easily approachable. They are very polite and answer all of your queries promptly.
A review from Shawna Mueller also via Facebook reads:
We have been doing all swim lessons at Aqua Tots for 5 years now, and couldn't be happier! Our kids both love to swim, and are very skilled at young ages. The coaches are fantastic and really care about the kids.
5. AquaMobile Swim School
SERVICES
Infant and Preschool Swimming Lessons, Kids Swimming Lessons, Adult Swimming Lessons, Lifeguard and Instructor Training
WEBSITE
https://aquamobileswim.com/
ADDRESS
30 Wellington St W 5th Floor, Toronto, ON M5L 1E2, Canada
CONTACT DETAILS
Phone: +1 888 950-7946
OPERATING HOURS
Mondays to Fridays: 9:00 AM – 8:00 PM
Saturdays to Sundays: 9:00 AM – 6:00 PM
Kids of any swimming background and skill will fit right into AquaMobile's comprehensive swimming level program. First-timers will feel welcome with an assessment conducted by swimming instructors to determine the best program for the student.
AquaMobile has one of the friendliest swimming environments we've found here as well. Their certified swim instructors are equipped to teach every kind of swimmer, from beginners to triathletes.
They also have one of the best programs for infants, toddlers, and kids. They have adorable names for their swim levels for kids too, like Seal & Pup, Seahorse, and Dolphin.
Each level is geared towards getting the child accustomed to the water in a safe and comfortable environment.
AquaMobile also has an easy booking process online that makes it really convenient for anyone to browse different kinds of swimming lessons suited for them.
Easy registration and booking process
Award-winning company
Offers private and semi-private classes
Home pool lessons can be arranged
Provides private swim instruction for the Red Cross and Lifesaving Society swim programs
Limited number of swim instructors
Programs tend to fill up quickly
Customer Reviews
A review from Theresa Simpatico via Google says:
I highly recommend AquaMobile and especially Cassia Cidro. She is amazing at teaching the right technique and our kids absolutely love her. Cassia has by far been the best swim instructor our kids have ever had. Thanks so much Cassia for your professionalism and patience. We look forward to having you back next year.
Holly Greenberg also left a review via Google saying:
"I've had a great experience with Kimberly L. She's helped both my boys perfect their strokes. She's able to communicate in a way that clicks for my 5 year old and helps my 2.5 year old feel more comfortable in the water. I recommend this service, and I recommend Kimberly L."
6. Swim to Safety
| | |
| --- | --- |
| SERVICES | Children's Swim Lessons, Swimming Training and Workshop, Lifeguard for Occasions |
| WEBSITE | https://www.swimtosafety.com/ |
| ADDRESS | Ottawa, QC J9J 2E4 |
| CONTACT DETAILS | (819-213-9270) |
| OPERATING HOURS | Monday – Friday: 8:00 AM – 7:00 PM |
Now, if you're determined that you only want one-on-one classes, then Swim to Safety may be what you're looking for. This swim school teaches basic swim, self-rescue, water safety skills, and other skills that the students want to learn.
That said, parents and children alike can request lessons that focus on a specific sport or event. Additionally, Swim to Safety's instructors can also handle children who have disabilities or who have had traumatic near-drowning experiences before taking classes.
Parents who want a more hands-on approach to their children's learning can also teach their own children with the aid of virtual coaching.
Aside from that, Swim to Safety even offers classes right in the comfort of your home. It even offers free swimming lessons for families who are willing to offer their pool as host for Swim to Safety's classes.
Besides its one-on-one classes, Swim to Safety also offers numerous services related to swimming and water safety. These extra services include lifeguard hiring and swimming training and workshop.
However, given that it offers numerous benefits, Swim to Safety is also well-known. Thus, its classes are also easily booked, so you'd need to compete with other potential clients to secure a slot with this swim school.
Open for all ages and abilities
Accommodates those with special needs
Water safety and self-rescue lessons available
In-house private classes available
Free lessons for the host family
Customer Reviews
Here are some reviews from parents and students to tell you more about how Swim to Safety has benefitted them:
"Selena is an amazing teacher and is so calm with the kids and can get them swimming and doing amazing. So worth the money and time…every kid should get to do this program."
—Lindsey Boyd
"Absolutely wonderful experience, start to finish. My 4 year old daughter went from refusing to get her face wet to swimming across a pool with her eyes open under water. Selena truly has a gift and her supportive but firm presence gives children the confidence they need to become little swimmers. We would highly recommend Swim to Safety to anyone who wants their kids to get a MASSIVE head start at an important lifeskill. Thank you, Selena!"
—Jennifer Walker
7. AquaMermaid
SERVICES
Mermaid swimming lessons
WEBSITE
https://aquamermaid.com
ADDRESS
Taggart YMCA (Indoor Pool)
Address: 180 argyle ave, Ottawa, ON K2P0N2
CONTACT DETAILS
Telephone : 1-866-279-2767
Email : [email protected]
OPERATING HOURS
By appointment
Some of us, at some point in our lives, have dreamt of becoming mermaids. Swimming through the sea, singing to beautiful people, and interacting with the many forms of life underwater… These are only some of the many things we could have done as mermaids.
What if we told you it's possible to swim as a mermaid, with no need to sacrifice our voices? With the help of AquaMermaid, those who have had mermaid dreams as children can live some of their wildest dreams.
AquaMermaid is the world's largest mermaid swimming school. The school's mission is to make mermaid dreams come true and educate people about the sports discipline of mermaiding.
Now, the question is, "How can they accomplish such a feat?"
The answer is with the help of their talented mermaid swimming coaches. These coaches have years of experience swimming normally and like a mermaid, making them highly qualified to teach those who have a passion for the art of mermaid swimming.
To end things off, it's also worth noting that AquaMermaid constantly delivers, and has even grown enough to accommodate clients in Montreal, Toronto, Ottawa, Quebec, Edmonton, South Florida, Austin, Phoenix, Las Vegas, Nashville, and Chicago.
AquaMermaid can travel to clients' destinations
Party and group packages available
Accepts major credit cards for payment
Carries mermaid tails for sale
No plain swimming lessons available
FAQs on Swim Lessons
---
And that concludes our deep dive of where you can get the best swim lessons for your kids in Ottawa.
Know any other amazing facilities offering the best swimming lessons in Ottawa? Let us know so we can include them on this list.
By the way, check out our other educational facility lists. For example, if you're an adult and want to take your learning skills to the next level, our list of the best colleges in Ottawa may be a good read.