The 5 Best Steel Fabrication Services in Ottawa
Fabricating steel is a complicated process and professional hands are needed to do it properly.
So in this list, we'll be listing and reviewing the best steel fabrication services available in Ottawa.
How much does steel fabrication cost in Ottawa?
On average, one ton of steel costs around $400 – $500 to fabricate. Fabrication also needs primer applied to the metal and that costs around $1200 – $1500.
A more specific price guide can be found in the table below:
| Service | Average Estimated Costs |
| --- | --- |
| Welding | $100 - $150 per hour |
| Structural Steel | $1450 to $2900 per ton depending on size, shape, and other factors |
| Fabrication Labour | $1000 to $3000 per ton |
| Steel Painting | $200 to $1300 per ton depending on type of paint, number of coats, surface preparation, and other factors |
| Custom Fabrication | $4,600 - $5,000 for materials and labor |
The Best Steel Fabrication Services in Ottawa
Finding you the best options for steel fabrication services is what we aim to do. To help us, we based our list on the following criteria:
1. Vadnais Steel LTD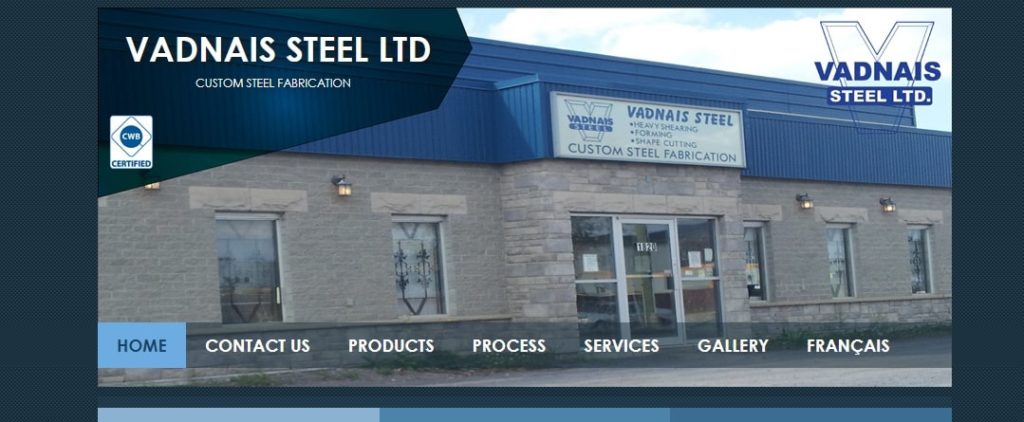 Test
Info
SERVICES
Steel Fabrication, Custom Fabrication, CNC HD Plasma Cutting, CNC Laser Tube
WEBSITE
ADDRESS
1820 Bantree St, Ottawa, ON K1B 3W4, Canada
CONTACT DETAILS
613-748-3707
STORE HOURS
Mondays to Fridays: 7AM – 4PM

Closed on weekends
| | |
| --- | --- |
| Criteria | Ratings |
| Range of Services | ★★★★ (4/5) |
| Rates | ★★★★ (4/5) |
| Availability | ★★★★★(5/5) |
| Location | ★★★★★(5/5) |
Vadnais Steel is a steel fabricator and contractor located in Bantree Street, Ottawa. It's one of the most well-known fabrication services in the area with over 20 years of experience in the metal industry.
This company also serves Gatineau and other areas close to the city. Its main fabrication services include shearing, CNC cutting, bending, rolling, and welding.
What impressed us the most is its extensive inventory of materials. The company is equipped with many types of metals perfect for fabrication, including aluminum, steel, stainless steel, and more.
If you are planning a project that involves metals, Vadnais is one of the best companies that you can hire and order from. This is because of its bulk order bonuses and discounts.
Aside from the solid inventory, Vadnais also has impressive equipment. One of its latest cutting machines is able to cut stainless and aluminum thanks to its 5'x10' shuttle table, which allows it to cut metals in bulk in a speedy manner.
With that said, it should be worth noting that Vadnais' customer service needs work as it can be slow to respond. Prior customers we spoke to also noted that the company's price quotation is a bit inconsistent.
Other than that, this provider is perfect for projects involving bulk materials.
Has a machine with a 5'x10′ shuttle table allowing maximum production
Offers custom fabrication
Inconsistent price quotation
Slow response time from customer service line
Customer Reviews:
Helpful

"I had a fire pit built for me to my specs. It was great and they helped me to pick it up" – Ken Parry
2. Encore Steel

Test
Info
SERVICES
Metal fabrication, metal installation, custom design, steel stairs, steel ramps, steel railings
WEBSITE
ADDRESS
2715 Sheffield Rd, Ottawa, ON K1B 3V8, Canada
CONTACT DETAILS
613-741-4610
STORE HOURS
Monday – Friday: 6AM - 3PM

Closed on weekends
| | |
| --- | --- |
| Criteria | Ratings |
| Range of Services | ★★★★ (4/5) |
| Rates | ★★★★ (4/5) |
| Availability | ★★★★★(5/5) |
| Location | ★★★★★(5/5) |
Encore Steel isn't just a steel fabricating service that cuts and welds. The company also works on stairs, railings, and other architectural projects, making it a good choice for homeowners or businesses who need multiple services in a short amount of time.
Encore's shop is also huge, with around 12,000 sq/ft of land. This was done to make large metal projects easier to manage.
This also allows the huge machinery it has to fit on site grounds without risking any damage.
The company's emphasis on architecture projects is actually because of its CEO, John Degrasse, who's an architectural technologist.
He, along with his business partner Mike Glaser, established Encore Steel in 1987, which makes the company very experienced in the industry.
Besides the two owners are project coordinators, design detailers, estimators, project managers, and more. Encore's team is akin to something like the Avengers with how complete it is — it's one of the reasons why we are impressed with this company.
With that said, it can still work on its pricing. Some projects tend to be more expensive than usual but with the services it provides, it can be argued that it's justifiable.
Overall, we are very impressed with Encore Steel and we believe this company is one of the best in Ottawa.
CEO is an architectural technologist
35 years of experience
Impressive team of experts
Uses MIG TIG Plasma CNC Pipe Roller
Can be pricey for some projects
Customer Reviews
Excellent

"Experience, reliability, and a great team to work with!" – William Coleman
Knows what they're doing

"We use Encore Steel for all our metal related projects. They really know their business." – R. Richards
3. C&M Metalworks and Custom Fabrication Welding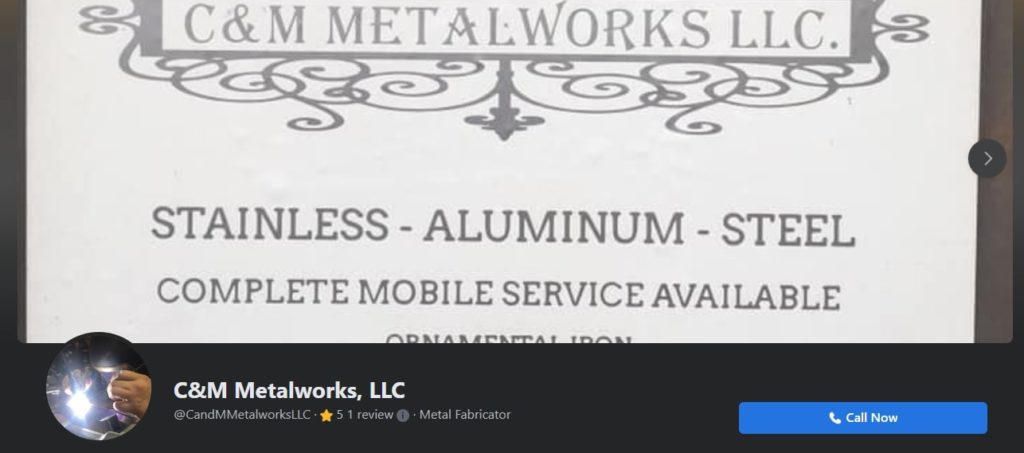 | Test | Info |
| --- | --- |
| SERVICES | Steel Fabrication, Rushed Metal Fabrication, Welding Services, Ornamental Iron Services |
| WEBSITE | |
| ADDRESS | 3091 Albion Rd N, Ottawa, ON K1V 9V9, Canada |
| CONTACT DETAILS | 613-852-1096 |
| | |
| --- | --- |
| Criteria | Ratings |
| Range of Services | ★★★★ (4/5) |
| Rates | ★★★★ (4/5) |
| Availability | ★★★★★(5/5) |
| Location | ★★★★★(5/5) |
C&M Metalworks and Custom Fabrication Welding is a very good choice for rushed projects. It is able to do same-day deliveries for most small to medium metal fabrication works, which is something we found impressive.
Metalwork is not an easy task and can take a while to finish, but C&M is able to finish most small to medium projects in a short span of time.
We believe this is due to its manpower. The company has numerous employees, all trained to fabricate metal.
The company also provides wholesale construction materials such as plumbing and heating equipment. It's also available for home service construction projects, but it is still recommended to do most metal fabrication in its warehouse.
It's possible to have C&M do bulk orders, especially for small items. This is a good option for companies who want to make metal memorabilia for events such as company outings or team building.
C&M is also accredited by the Better Business Bureau, so its legitimacy cannot be questioned.
From what we've seen, the only downside to it is the more expensive prices for bulk orders and the fact that it doesn't have a proper website.
With that said, the company is definitely a good choice, especially for rushed projects and bulk orders. So if that matches your needs, give C&M a call.
Willing to do singular and smaller projects
Bulk orders are less expensive
BBB accredited
No proper website
Higher charge for rushed and singular orders
Customer Reviews
Fast and easy

"Dropped my bike frame off on Monday (Victoria Day and they still took it) and was completed by Friday. Price was agreed upon at drop-off and half was paid at drop-off and pick-up. Also gave me tricks on how to grind." – David May
Affordable bulk order

"C&M welding did all the work for a large project at the Nepean Sailing Club to convert over 60 boat cradles to folding cradles. They did this all at an affordable cost to members and we were totally satisfied with the results. Since then C&M has done several other projects at NSC and become the go-to company for metalwork around the harbour." – Darren DeRiddler
4. Maks Fabrication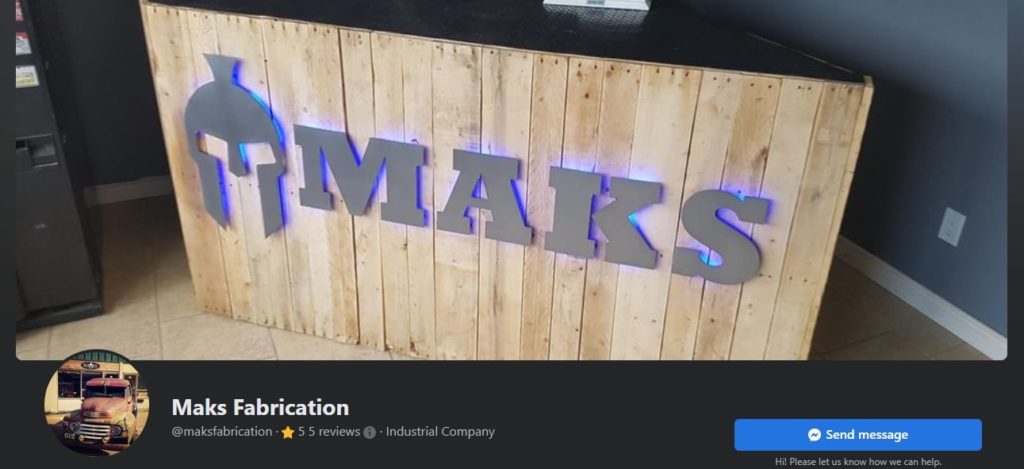 Test
Info
SERVICES
Steel Fabrication, Custom Fabrication, Rushed Metal Fabrication, Welding Services, Ornamental Iron Services
WEBSITE
ADDRESS
2535 Blackwell St Unit 103, Ottawa, ON K1B 4E4, Canada
CONTACT DETAILS
613-796-7241
OPERATING HOURS
Monday - Friday: 7:30AM – 4PM

Closed on weekends
| | |
| --- | --- |
| Criteria | Ratings |
| Range of Services | ★★★★ (4/5) |
| Rates | ★★★★ (4/5) |
| Availability | ★★★★★(5/5) |
| Location | ★★★★★(5/5) |
Maks Fabrication is a steel fabrication company based in Blackwell St. Compared to other similar providers, Maks is actually smaller, but that also means its services are more personalized.
It is a great company, especially if you want custom work metal projects. Some of its specialties are metal engraved bracelets and customized metal signs, which is one of the reasons it's doing so well.
Among its many customers are cosplayers who like to have metal helmets, bracers, and other similar items built.
Of course, if you're part of a company that needs bulk orders, Maks may not be able to supply you as fast as its bigger counterparts. We recommend Maks more for individuals who are working on personal small-scale metal projects.
It's impressive that Maks also offers repair services for old and beaten-down metal, so if you have something in need of repair, you might want to take it to the provider's office for checking.
Overall, despite it being a small company, it's still able to provide top-notch service to many of its clients. It's also more affordable, especially for customers who are on a budget.
If your project does not require many metals and you don't need to order in bulk, Maks might be the perfect company for you.
Offers custom work
Offers metalwork on smaller projects
Might be too small for bulk orders
Pricing is unclear
Customer Reviews:
Excellent work!

"Had excellent service. Travis was attentive and delivered on time an excellent product. I'll definitively come again for any custom fabrication or for any welding/repair on existing metal parts. His work saved me hundreds in new parts. Thanks again." – Matthieu Bouliianne
Great custom job

"Enjoy my custom made sign I get a lot of compliments from it." – Donald Danis
5. Ridalco Industries Inc.

Test
Info
SERVICES
Custom Metal Fabrication, Home and Kitchen Renovation, Commercial Building Renovation, Hospital Renovation, Commercial Exhaust Hoods, Sinks, Protective Shields
WEBSITE
ADDRESS
1084 Kenaston St Unit 4, Ottawa, ON K1B 3P5, Canada
CONTACT DETAILS
613-745-9161
OPERATING HOURS
Open Monday to Friday: 8AM – 9PM

Closed on weekends
| | |
| --- | --- |
| Criteria | Ratings |
| Range of Services | ★★★★ (4/5) |
| Rates | ★★★★ (4/5) |
| Availability | ★★★★★(5/5) |
| Location | ★★★★★(5/5) |
Ridalco offers a very dynamic set of services. Aside from custom metal fabrication, the company also offers renovation for commercial buildings and residential homes — it also does sink installations.
Ridalco is the typical choice of contractors, architects, and homeowners who want to do renovations in their homes because of the construction services the company offers.
For its metalworks, it is known to accept custom projects, which is a good choice for artists, costume designers, and other people with a similar profession.
Ridalco is also a company that's been around since the 40s, so the experience is definitely there.
For steel fabrication, the company mainly specializes in custom work but it's able to do these custom projects at a large rate. Because it is experienced and has more than enough resources, it can do bulk custom projects, making it one of the best choices for big businesses.
Ridalco also offers repair services for your old metal items but the type of repair it has mostly revolves around welding. Still, it's great that customers can hire a big company for small repairs.
With that said, Ridalco can charge expensively and may not be the best choice for small business owners and customers on a budget. However, if you can afford its services, you're definitely in for a solid result.
Open multiple services outside of metal fabrication
Extensive portfolio
Customer Reviews:
Beyond expectation

"Ridalco saved my kitchen reno when my contractor tried to pass off an inferior kitchen counter. Pierre was professional and upfront about the cost and timing of the project. My counter looks beautiful. The large sink I love has been incorporated cleanly into the counter. A special thanks to Robert who's installation went above and beyond what I expected." – Patty Fraser
One of the best

"Great customer service experience. Very fast in replying to all my questions regarding a small custom order for a bar I'm building. Price was reasonable and my order arrived within a few days. Finished product looks great!" – Jason Cocurullo
FAQs about Steel Fabrication in Ottawa
---
We made this list of the best steel fabrication services in Ottawa so it would be easier for you to find the right company for your needs.
Are you looking for other ways to improve your home? Check out the best contractors in Ottawa!