The 5 Best Solar Panels Providers in Ottawa
Solar panels are easily becoming one of the best solutions for reducing carbon footprint and energy costs in the long run. However, investing in solar panels can be expensive.
With this, finding the right provider is very important. In this list, we have compiled some of the best solar panel providers in Ottawa.
Find out which ones offer the best cost-to-quality ratio and after-sales services.
How much do solar panels cost in Ottawa?
Many factors can affect the cost of solar panels. The cost will be affected gravely by the size of your system.
As an estimate, here is how much it would cost you to purchase and install solar panels:
| System Size | Cost per Watt | Total Estimated Cost |
| --- | --- | --- |
| 4kW | $2.67 | $7,903 |
| 5kW | $2.56 | $9,478 |
| 6kW | $2.44 | $10,855 |
| 7kW | $2.42 | $12,534 |
| 8kW | $2.45 | $14,533 |
| 9kW | $2.37 | $15,782 |
| 10kW | $2.34 | $17,351 |
Best Solar Panels in Ottawa
To help you find the best solar panels for your space, here are some of the things we will consider:
1. Ottawa Solar Power Inc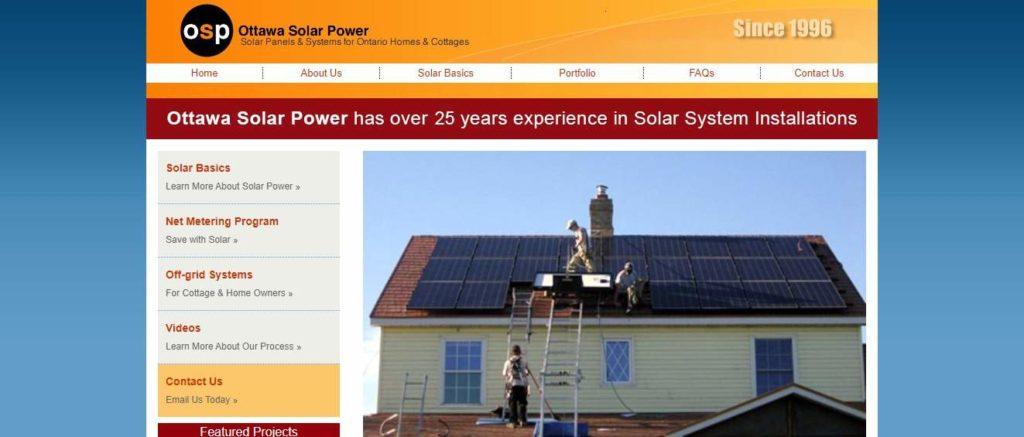 | Test | Info |
| --- | --- |
| SERVICES | Solar panels and systems for homes and cottages |
| WEBSITE | http://www.ottawasolarpower.com |
| ADDRESS | Spencer St, Ottawa, ON K1Z 5A2, Canada |
| CONTACT DETAILS | 613-728-2412 |
| OPERATING HOURS | Monday to Thursday: 9:00 am to 4:00 pm |
| | |
| --- | --- |
| Criteria | Ratings |
| Years of Experience | ★★★★★ (5/5) |
| Cost | ★★★★☆ (4/5) |
| After-Sales Services | ★★★★☆ (4/5) |
| Accessibility | ★★★★☆ (4/5) |
Ottawa Solar Power Inc has over 25 years of experience in the field. Since solar panels are a long-term investment, this is a great choice for those who are looking for providers that have already proven themselves.
They specialize in three areas of work: solar electrical for residential spaces, solar thermal for commercial spaces, and off-grid living for homes and cottages.
The first thing that they would do is assess your needs and create a specialized plan for you to achieve this. Once settled, they will start the installation process.
But the best thing about going for this provider is their proven after-sales maintenance. Some of their systems are still doing well after a decade.
Through the years, their customers have been able to reach out to them. Whatever the concern may be, someone from their team comes in swiftly to resolve it.
However, such premium service also means higher rates. There are unfortunately no available estimates on their website, and you will only get a quote after the assessment.
For those who are on a tight budget, it would be best to look at other providers.
Over 25 years of experience
Expert in various areas of solar panel
Great after-sales services
Customer Reviews
Happy to Have Found Him
"Mike and his team are AMAZING if you're reading this and deciding if you should work with Ottawa Solar Power the answer is YES. Mike came to the rescue last minute and was extremely insightful. He is knowledgeable, patient and cares about his clients. We are happy to have found him and recommend him to anyone looking for a trust worthy solar company." – Laura Bonfà
System Is Still Going Strong
"2021 update: the system had been in nearly a decade, and is still going strong. (Knock on wood!) Only 2 *very minor* service calls over that entire period, both fixed expeditiously. I understand the economics of both solar panels and microFIT have changed substantially, but these are still good guys if you are thinking off-grid or grid offset.
2016 [?]: In October 2011 I went with Ottawa Solar Power to install 20-panel rooftop solar under the Ontario microFit program. They were quick, efficient and thorough, and the system has operated virtually uninterrupted since then.
Last month, possibly as a result of a severe thunderstorm, the system stopped supplying power to the grid. Once I noticed I called Ottawa Solar Power. We did some preliminary diagnosis that day on the phone, but determined a service call was necessary.
The tech (Mike) was out today – the next day – and after diagnosis a maintenance-mode factory reset put us back on the air. Prompt & effective!
Thanks!" – David Kidd
2. Quadra Solar Corporation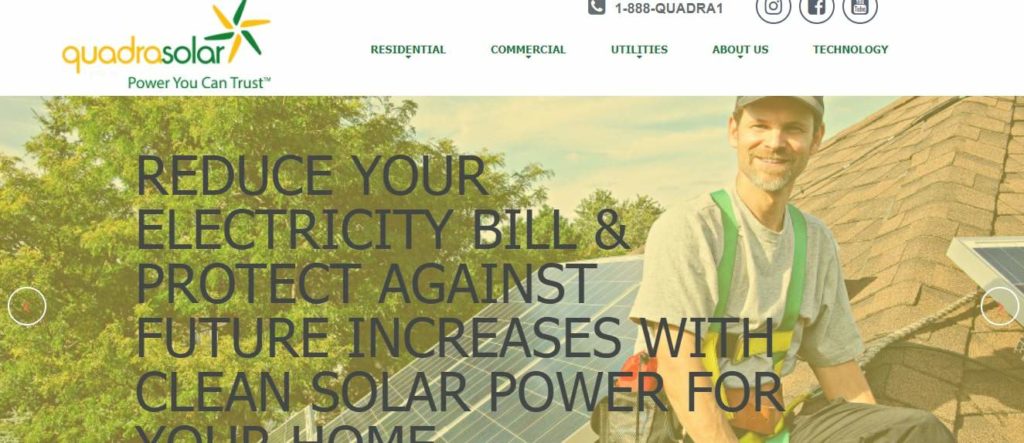 Test
Info
SERVICES
Rooftop Solar

Solar Canopy Solutions

Ground-Mounted Solar

Community Solar

Wholesale Purchasing

Energy Storage

WEBSITE
http://www.quadrasolar.com/
ADDRESS
1730 St. Laurent Blvd Suite 800, Ottawa, ON K1G 3Y7, Canada
CONTACT DETAILS
613-454-8020
OPERATING HOURS
Monday to Friday: 9:00 am to 5:00 pm
| | |
| --- | --- |
| Criteria | Ratings |
| Years of Experience | ★★★★☆ (4/5) |
| Cost | ★★★★☆ (4/5) |
| After-Sales Services | ★★★★☆ (4/5) |
| Accessibility | ★★★★☆ (4/5) |
Quadra Solar Corporation offers various types of packages to cater to all types of budgets. They offer Economy, Standard, Premium, and Solar + Storage packages.
These packages include different variations of equipment, inverters, and racking. Their representative will explain the differences thoroughly so that you can find the best one for you.
There are also different warranty conditions for each package. If you go for this provider, you will easily be able to find a great cost-to-quality ratio.
Another good thing about this is that they offer free consultations and site visits so that you can know upfront if your space is a good candidate for solar power services. Once all is settled, they will also take care of the installation and maintenance for you.
However, this provider has only been around since 2007. Relatively, this is one of the younger companies that offer this type of service.
As mentioned earlier, solar panels are long-term investments and the longer the company has been around, the safer it would be to purchase from them.
Various types of packages
Budget-friendly options
Installation and maintenance services
One of the younger providers
Customer Reviews
Offered Good Solutions
"Spoke to Abdul today looking for some advice on a solar system setup I'm planning. Not only did he take the time to understand my setup and the questions I had but offered good solutions without any pressure to buy or move forward. Thank you! Your time and help are appreciated!" – Josh Larocque
Quickly and Perfectly
"Great service. They have done the Installation perfectly and fixed small issues quickly. Highly recommended." – Ahmad Arab
3. Kajk Constructors Inc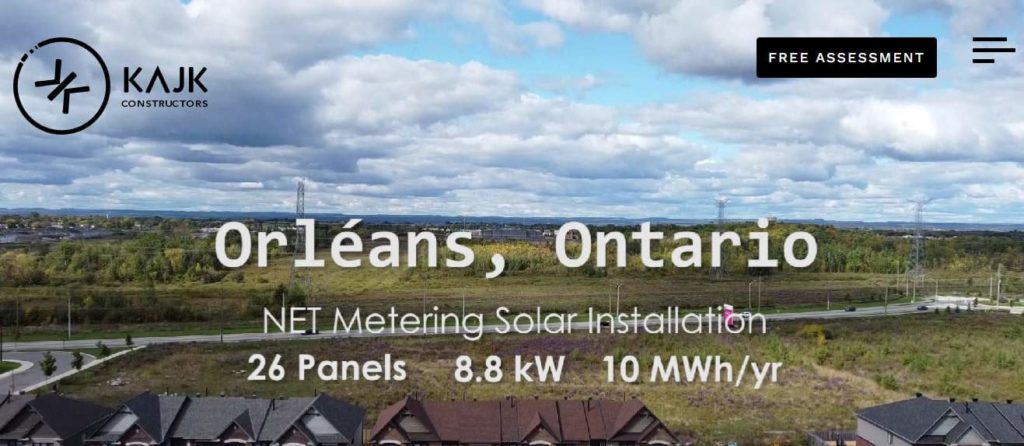 Test
Info
SERVICES
Ground Mounts

Carport Installation

EV Charging Stations

WEBSITE
http://www.kajkconstructors.com
ADDRESS
46 Grenfell Crescent B, Ottawa, ON K2G 0G4, Canada
CONTACT DETAILS
613-869-8254
OPERATING HOURS
Monday to Friday: 9:00 am to 5:00 pm
| | |
| --- | --- |
| Criteria | Ratings |
| Years of Experience | ★★★★☆ (4/5) |
| Cost | ★★★★☆ (4/5) |
| After-Sales Services | ★★★★★ (5/5) |
| Accessibility | ★★★★☆ (4/5) |
Kajk Constructors Inc offers the widest services when it comes to solar power systems.
For residential, commercial, and industrial locations, they offer ground mounts. They design, construct, and install these to provide solar power energy to these areas.
Another service is carport and EV charging station installation. This provides a charging station for electric vehicles.
Of course, purchasing solar panels needs a lot of planning. This company is a great partner because they are patient in identifying the kind of system that you need and explaining how they will execute it.
Their staff members are quick to respond and are able to discuss complex ideas regarding solar energy clearly.
They provide free assessments. However, note that you will only get a full quote once after this.
So, if you want to get an idea as to how much their services cost right away, this is not exactly the best provider for you.
Wide range of services
Free assessment
No price estimate available upfront
Customer Reviews
Great Experience
"Our Team had a great experience dealing with Kajk Team, responsive and quickly answering our questions and delivering on time." – ITUP Group
All Were Happy
"Referred this company to a lot of friends. All were happy from the services and consultancy It provides the costumers." – Ahmed Abuebaid
4. EnerGlad Renewables

Test
Info
SERVICES
Daily remote monitoring

Preventive and reactive maintenance

Energy production analysis and reporting

WEBSITE
http://www.energlad.com
ADDRESS
234 Rideau St, Ottawa, ON K1N 0A9, Canada
CONTACT DETAILS
819-921-8265
OPERATING HOURS
Sunday to Saturday: 8:30 pm to 5:00 pm
| | |
| --- | --- |
| Criteria | Ratings |
| Years of Experience | ★★★★☆ (4/5) |
| Cost | ★★★★★ (5/5) |
| After-Sales Services | ★★★★★ (5/5) |
| Accessibility | ★★★★☆ (4/5) |
EnerGlad Renewables offers low-cost solar panels. Aside from this, they also have other services such as daily remote monitoring, preventive and reactive maintenance, and energy production analysis and reporting.
This means that they will check the status of your solar panel system every day. They will analyze the data that they will gather and report it to you.
Once that is done, they will provide maintenance actions to keep your system in its best condition.
This is great for those who want to make the most out of their solar panel systems. Maintenance is key to making it last for the years to come.
However, please note that this company has only been around since 2020. This means it has not yet proven the longevity of its products.
Low-cost
Great maintenance services
Has only been operating since 2020
Customer Reviews
Fantastic Service
"EnerGlad provides fantastic service during annual site inspections and maintenance calls. I worked with EnerGlad on a portfolio of PV projects (both rooftop and groundmount) ranging in size, age, and complexity. They provided timely support, and worked professionally with project partners and host facilities." – Aaron Thornell
On-time, Professional, and Efficient
"Eric diagnosed the issues with my panels remotely, sourced replacement parts from the OEM, and installed them for us. He was on time, professional and efficient. I highly recommend EnerGlad's services for PV system servicing." – Scott Demark
5. Lowe's Home Improvement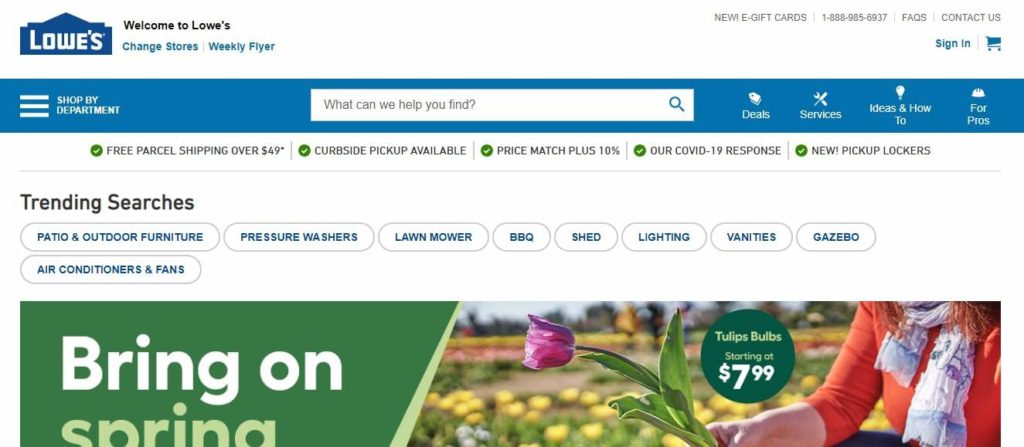 Test
Info
SERVICES
Appliances

Lighting & Ceiling Fans

Bathroom

Tools

Flooring

WEBSITE
http://www.lowes.ca
ADDRESS
340 W Hunt Club Rd, Ottawa, ON K2E 0B7, Canada
CONTACT DETAILS
613-274-3984
OPERATING HOURS
Monday to Friday: 6:00 am to 9:00 pm

Saturday to Sunday: 7:00 am to 9:00 pm
| | |
| --- | --- |
| Criteria | Ratings |
| Years of Experience | ★★★★★ (5/5) |
| Cost | ★★★★★ (5/5) |
| After-Sales Services | ★★★★★ (5/5) |
| Accessibility | ★★★★★ (5/5) |
As for those who are only interested in portable solar panels, then this is available at Lowe's Home Improvement. The price for this starts as low as $692.31.
There are various sizes and wattages available. Do not worry, as their staff is very knowledgeable, and they should be able to differentiate these options for you.
Another good thing about this place is that they are open every day. There is no need to set an appointment as well.
Their store has many other available home items. So, this can be a one-stop-shop in case you have other things you want to buy.
However, please note that they sometimes do not have manned checkouts. This will leave you no other choice but to use their self-checkout counters.
Cheapest solar panels
Knowledgeable and helpful staff
Accessible
Wide range of home items
Customer Reviews
Great Location and Selection
"Great location. Well stocked with a great selection. Biggest complaint was that there wasn't any manned checkouts. You were forced to use self checkout. If this happens again I will shop elsewhere!" – Dean B. Terriah
Great Team
"Well organized, clean and easy to get to. The staff are very friendly and accommodating, and always take their time to help me and answer all my questions. You have a great team here and I enjoy shopping at this store." – John B
FAQs about Solar Panels in Ottawa
---
There you go! Those were some of the best panel providers in Ottawa. Got any suggestions? Let us know.
Got other electric needs? Click this link for Ottawa's best electricians.