The 5 Best Singing Lessons in Ottawa
Not all of us are gifted with a beautiful voice so if you notice that you can sing, it's important to develop it. Studies have proven that music is a good way to relieve yourself of stress.
In this article, we will discuss the best singing lessons available in the Ottawa area.
How much do singing lessons cost in Ottawa?
Many of the local vocal coaches in Ottawa prefer to be paid by the hour. But there are some who are offering long-term plans that are more expensive but come with their own perks as well.
We also included music stores that provide music lessons such as singing so you have more options to choose from. We created a table that you can check to compare the prices and services of each entry we listed.
Name
Services Offered
Estimated Price For Singing Lessons
Ferline Regis
Vocal Lessons, Virtual Singing Lessons
$50 per hour
Ottawa Conservatory
Pop Voice Lessons

Classical Lessons

Performance Voice Lessons

$30/30 min lessons

$42/45 min lessons $58/hour lessons

Allegro Music School
Singing Lessons, Songwriting, Piano Lessons, Guitar Lessons, Violin Lessons, Cello Lessons, Drums Lessons, Ukulele Lessons, Flute/Recorder Lessons, Trumpet Lessons, Theory & History, Music Therapy, Online Lessons
30 minute trial: $36

Weekly 30 minute classes: $128/month

Weekly 60 minute classes: $256/month

Sing House Studios
Vocal Lessons, WeeSing, Guitar Lessons, Piano Lessons, Showcase Package, Recording Studio, Songwriting Classes, SHS Spotlight Troop, Artist Development MusicPreneur
30 minute Trial Class: $25.00

60 minute Trial Class: $50.00

Weekly 60 minute classes: $260/month

Bi-Weekly 60 minutes classes: $130/month

Pay as you go 60 minute class: $85

Sarah Mcclurg
Vocal Classes, Guitar Classes, Bass Classes, Songwriting Classes
$50 - $60per hour
The Best Singing Lessons in Ottawa
Like we mentioned before, singing is a skill and it is almost impossible to master without someone to teach you. The key is finding a great teacher that will not only educate you but also inspire you to be a good singer.
How can you tell if the teaching services offered to you are good? We based our list on the following criteria:
1. Ferline Regis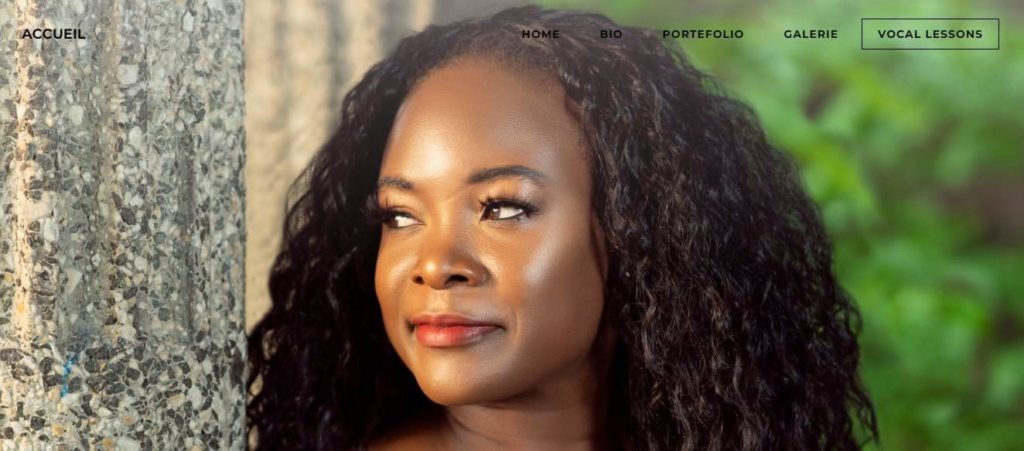 | Test | Info |
| --- | --- |
| SERVICES | Vocal Lessons |
| WEBSITE | http://www.ferlineregis.com/ |
| ADDRESS | 78 George St, Ottawa, ON K1N 5W1, Canada |
| CONTACT DETAILS | 613-808-6885 |
| OPERATING HOURS | Weekdays: 9:00 AM – 5:00 PM |
| | |
| --- | --- |
| Criteria | Ratings |
| Communication | ★★★★★ (5/5) |
| Rates | ★★★★☆ (4/5) |
| Curriculum | ★★★★★ (5/5) |
| Portfolio | ★★★★★ (5/5) |
Ferline Regis is a graduate of the University of Ottawa with a Major in Music and Arts Administration. She is an experienced singer with a strong and eloquent voice.
She has released two full length albums and when she's not making music, she teaches it. Ferline Regis seeks to raise the confidence of people who want to learn how to sing.
She is open to teaching both kids and adults which is something we appreciated. There are adults who just discovered their love of singing and may need guidance and she's the right woman for the job.
Ferline specializes in soul and R&B but she is also able to adapt to other genres like jazz and pop. Her knowledge and talent has been presented multiple times in live performances all over the country.
She's performed in the National Arts Centre and even in the Canadian French version of the famous television show, The Voice.
These performances and the other details in her portfolio is an impressive showcase of what she can do. If you're looking for a teacher who has equal experience in performing, she's the right woman for you.
We find it admirable that she has made a career doing what she loves and is even willing to share the skills she's learned. There are some performers who have trouble communicating what they've learned but she is not one of them.
She has a very elaborate curriculum based on what the students need to learn. She's flexible and is able to appreciate all kinds of voices, even the ones who are not typically appreciated by people.
If you're thinking of hiring her as a teacher, do note that she is only one person and may be booked a lot of times. Another thing to note is due to her experience, she has a pretty expensive fee.
If you're willing to shell out the cash, you've got a great teacher who's ready to guide you in your singing journey.
Knows multiple genres
Classically trained
Customer Reviews
Amazing!

"Simply an AMAZING tutor! I've overcome innumerable limitations in my vocal training with her. She's super patient and has so many techniques that fit anyone's unique challenges. Would recommend to anyone who really wants to learn and grow."– Shivani Pandya
Locally owned

"I had a singing lesson with Ferline to prepare me for my theatre school audition. I'm not a confident singer, but Ferline made me feel at ease, and I had a lot of fun. Even with one lesson I felt so much better during the audition than I would have without her instruction." – Aisha E.S 
2. The Ottawa Conservatory

Test
Info
SERVICES
Singing Lessons, Piano Lessons, Guitar Lessons, Dance Lessons, Studio Rental
WEBSITE
http://www.ottawaconservatory.com/
ADDRESS
830 Campbell Avenue, Ottawa, Ontario K2A 2C2, Canada
CONTACT DETAILS
613-722-1010
OPERATING HOURS
Mondays: 3:00 – 9:00 PM

Tuesdays: 2:00 AM – 9:00 PM

Wednesdays: 2:00 PM – 8:00 PM

Thursdays: 2:00 PM – 8:00 PM

Saturdays: 10:00 AM – 4:00 PM

Sundays: Closed
| | |
| --- | --- |
| Criteria | Ratings |
| Communication | ★★★☆☆ (3/5) |
| Rates | ★★★★☆ (4/5) |
| Curriculum | ★★★★★ (5/5) |
| Portfolio | ★★★★☆ (4/5) |
The Ottawa Conservatory offers numerous services. They can hold events and parties in their entertainment rooms and they also teach music to many aspiring musicians in Ottawa.
One of the main services they offer is singing lessons. They have 3 different types of vocal lessons that students can choose from.
The pop voice lessons they teach cover mainstream styles of singing. Artists like Taylor Swift, Ariana Grande are what they try to evoke when learning this type of singing.
This type of lesson is perfect for Millennials and Gen Z kids who want to sound like their favorite artists.
Another type of vocal lesson they provide is classical. These lessons cover more traditional ways of mastering one's voice.
Typically, those that enroll in classical lessons are adults but there are times that kids also want to learn the more classical side of singing. It's also a good idea for them to learn the more basic fundamentals as well.
Lastly, the Ottawa Conservatory teaches performance voice lessons. This is basically teaching students how to use their voice properly when performing.
All of these lessons are actually part of the Ottawa Conservatory's curriculum but students may opt to learn only one if they want. To do that, they first have to pass an assessment process from one of the school's many teachers.
Overall, the Ottawa Conservatory is another good choice when it comes to music lessons. They have the right credentials and their curriculum is very extensive.
The only gripe we had with the Ottawa Conservatory is their price and their confusing website. Other than that, the Ottawa Conservatory is one of the best singing lessons providers in the area.
Multiples styles of teaching
Multiple teachers
Teaches instruments as well
Website is hard to navigate through
Pricey
Customer Reviews
Good pacing

"I was very pleased with the pace and Rob's instruction for the 8-week introductory course. Rob is a very good teacher and I was able to advance my basic skills on a weekly basis. I enjoyed the classes and the weekly homework and will continue to seek further instruction/lessons in the near future." – Diane L.
Great place

"Great teachers, friendly reception, fun atmosphere, and excellent results. A place for all ages to learn. Would 1000% recommend to anyone interested in music." – Tricia F.
3. Allegro Music Schools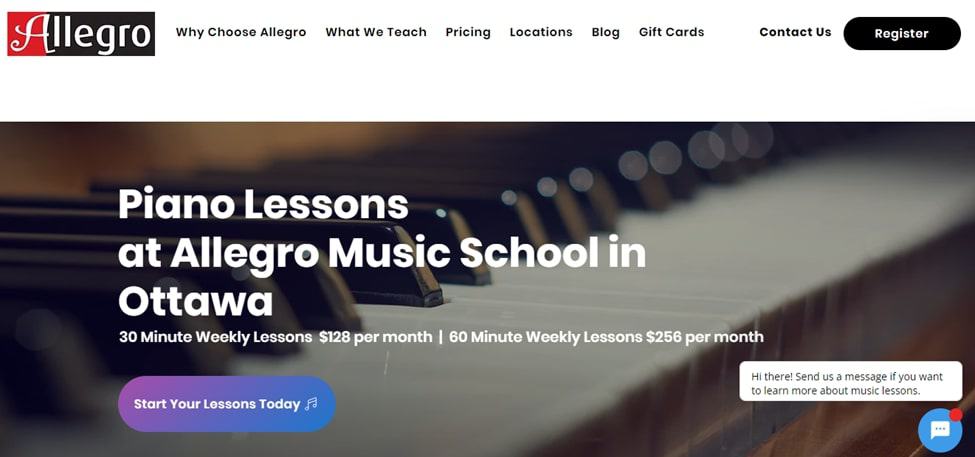 | Test | Info |
| --- | --- |
| SERVICES | Singing Lessons, Songwriting, Piano Lessons, Guitar Lessons, Violin Lessons, Cello Lessons, Drums Lessons, Ukulele Lessons, Flute/Recorder Lessons, Trumpet Lessons, Theory & History, Music Therapy, Online Lessons |
| WEBSITE | https://www.allegromusicschools.com/ |
| ADDRESS | 255 Montréal Rd, Ottawa, ON K1N 6G3, Canada |
| CONTACT DETAILS | 613-837-6040 |
| | |
| --- | --- |
| Criteria | Ratings |
| Communication | ★★★★☆ (4/5) |
| Rates | ★★★★☆ (4/5) |
| Curriculum | ★★★★★ (5/5) |
| Portfolio | ★★★★★ (5/5) |
Allegro is very proud of their curriculum and they should be! Their lesson plans are very specific, and although they employ a slow but effective process, they range from music theory to vocal studies.
They also have many teachers with extensive resumes and passion for music. Their portfolios are available to view on their website and you can see that Allegro hired very experienced people.
We also really appreciate that Allegro has virtual lessons available. One-on-one private lessons can be awkward for some so it's nice to have the option to have them through online methods.
Allegro also has multiple locations all over the country, not just in Ottawa. This means they have a lot of teachers in their faculty.
Students can choose which teacher to work with for a more comfortable experience. If students are relaxed, they're more focused, which is a huge help in their learning process.
Another thing we liked about Allegro is their trial lessons. Aspiring students can give their lesson a try for a much less expensive price.
This is also a good option for parents who aren't sure if their children are passionate about music or just into playing with the instruments.
It's also a genuinely smart idea to have crossover lessons where students can learn singing and an instrument to accompany their singing with. Of course this is reserved for more experienced students but we like that the option is there.
Allegro leans more on the fancy side of music schools so it's no surprise that they're slightly expensive compared to other singing schools in Ottawa. They also have a monthly payment system which can be a dealbreaker for some.
Allegro is overall a great choice for singing lessons, as long as you have the budget.
Has multiple teachers
Professional website
Offers online learning
Detailed Curriculums
More expensive
Monthly payment
Customer Reviews
The kindest teachers

"This studio is absolutely fantastic. In all of my time here, I have only observed the best, kindest teachers working at Allegro. I have learned so much being here, and I could not recommend a better studio to harbour your love for music." — Lindsay Gow-Kateb
Learned a lot

"I've been taking voice lessons at Allegro's Sandy Hill location for years. My teacher, Juliette, has helped me develop and shape my voice more than I believed would ever be possible. I'm much more comfortable hitting high notes. I also love the opportunity to work on the interpretation and feeling behind a song. Allegro offers friendly, supportive and very knowledgeable teachers in a comfortable downtown space steps from uOttawa. Couldn't ask for more. Signed up for the Fall and looking forward to it." – Karine Leblanc
4. Sing House Studios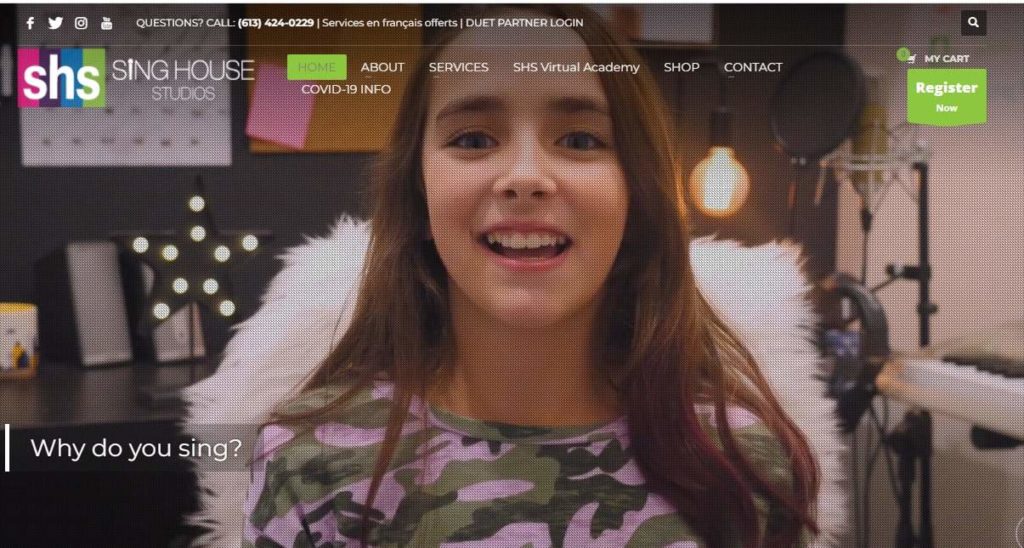 Test
Info
SERVICES
Vocal Lessons, WeeSing, Guitar Lessons, Piano Lessons, Showcase Package, Recording Studio, Songwriting Classes, SHS Spotlight Troop, Artist Development MusicPreneur
WEBSITE
https://singhousestudios.ca/
ADDRESS
3-200 Vanguard Dr, Orléans, ON K4A 1A1, Canada
CONTACT DETAILS
613-424-0229
OPERATING HOURS
Monday – Friday: 1:00 PM - 9:00 PM

Saturday: 9:00 AM - 5:00 PM
| | |
| --- | --- |
| Criteria | Ratings |
| Communication | ★★★★☆ (4/5) |
| Rates | ★★★★★ (5/5) |
| Curriculum | ★★★☆☆ (3/5) |
| Portfolio | ★★★★☆ (4/5) |
Aptly named, Sing House has the vibe of a house with family members who love and help each other. These family members can range from young kids to adults in their 40s.
Sing House was established by Chantal Hackett, a lady who just loved to sing and was looking for people just like her. Sing House eventually became a camp or small school where students of different ages can work with each other while learning how to create music.
Sing House offers multiple services but of course their main specialty is singing. Sing House offers a unique way of learning music with how everything is interactive.
Their curriculum emphasizes teamwork and unity unlike most singing schools that prefer one-on-one training. They also have one-on-one lessons but learning with the other students is encouraged.
Because of the teamwork-centric nature of their teaching style, Sing House feels more like a community than a school.
Their workshop-based style of teaching is clearly working with so many students they've already taught and worked with. They also have volunteer programs for their students where they can perform songs for a cause.
They have camps as well where kids can have fun and learn together.
Another thing we liked about Sing House is their online classes. They acknowledge that some students may not be able to come to class always so they have the alternative of learning online.
From what we saw, Sing House really is about the fun in singing. They don't offer too much classical training but they have a curriculum that's sure to leave their students wanting more.
Excellent community
Teamwork emphasis
Camps
Performing for a cause
Not much formal/classical lessons
May be difficult for students who prefer learning alone
Customer Reviews
My second home

"I've been at Sing House for as long as I can remember it's been my second home! It's a loving and supportive environment and a perfect place for anyone who wants to chase their dream! I love Sing House Studios with all my heart and could never imagine myself anywhere else. It has not only taught me singing but has also taught me what true family is!!!!" – Whitney Lynn
Amazing

"Producing a video of the song Here Comes The Sun by local artists for Shepherds of Good Hope, we asked Sing House Studios if they could help out by providing a choir. Chantal and the team gathered an amazing group of kids with huge talent and worked with them so that they were well-rehearsed before the video shoot. Super pro, and an absolute joy to work with. 5 STARS! Thank you again, SHS for everything!!!" – JW Jones
5. Sarah Macclurg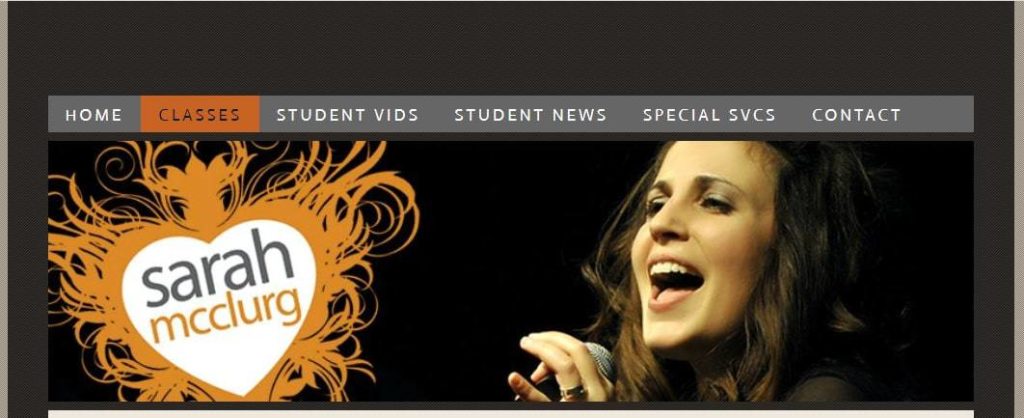 Test
Info
SERVICES
Vocal Classes, Guitar Classes, Bass Classes, Private Songwriting Classes
WEBSITE
www.sarahmcclurgmusic.ca
ADDRESS
2481 Kaladar Ave - Suite 212, Ottawa, Ontario K1V 8B9
CONTACT DETAILS
613-697-7302
OPERATING HOURS
Monday – Thursday: 3:00 PM - 10:00 PM

Saturday: 9:00 AM - 5:00 PM
| | |
| --- | --- |
| Criteria | Ratings |
| Communication | ★★★★☆ (4/5) |
| Rates | ★★★★★ (5/5) |
| Curriculum | ★★★☆☆ (3/5) |
| Portfolio | ★★★★☆ (4/5) |
Award-winning indie musician and singer Sarah McClurg is very fond of teaching. So fond that she actually established a school for it.
In the Sarah McClurg Music and Development School, students can learn how to play the guitar, the bass, and of course, how to sing. Voted as Ottawa's favorite music school of 2020, the reputation of Sarah's school precedes it.
In the 15 years of the school's existence, many of the school's students have gone on and made their own music. Their songs have thousands of views on streaming platforms such as Youtube.
We like that students can see a possible future career when learning how to sing. Many parents encourage their kids' talent in singing as a hobby but Sarah's school proves that it can be more than just that.
What makes the Sarah McClurg Music and Development School unique is their emphasis on singing with instruments. It's not a requirement but it's encouraged, and many students are loving it.
Working with multiple bands when she was a full-time musician, Sarah has learned a lot in the instruments department as well. She combines this knowledge and her talent for singing to teach students how to sing accompanied by instruments.
Overall, we think that Sarah McClurg and her team of musicians have what it takes to be one of the best music schools in Ottawa. Her powerful and inspiring presence as a singer is also a huge factor why so many of their students have gone on to make their own music.
The only issue we had with this school was the price. Because Sarah is an award-winning musician, there's a higher demand for her and therefore is a bit more expensive than some.
But if it's for the development of your kids' or your own talent, then spending a few bucks can be worth it. We think that if you have the means to learn from Sarah and her school then go for it!
Award-winning teacher
Emphasis on singing with instruments
Band-focused, may not be for everybody
More expensive
 Customer Reviews
Perfect ingredients

"What do you get when you throw in the following ingredients; passion, talent, dedication, commitment, soul, sensational voice, versatility, humbleness, musical virtuoso, motivator, and much more. The answer; "Sarah McClurg". Sarah, not only one of the greatest vocalists and performers, but also a sensational educator and one of the most humble human beings you'll ever meet. Sarah forever is an industry standard and well respected." – Emilio Lopez
Dedicated

"Sarah is amazing at what she does. She is fantastic with all the children. Couldn't ask for a better singing teacher. Her dedication gives her 5 stars for sure! Thank you Sarah for all your hard work, you're the best!" – Melissa Lavesque
FAQs about Singing Lessons in Ottawa
---
Learning to sing can be a difficult task so having someone to teach you the fundamentals is important. Ottawa's singing schools and teachers are your best bet in learning how to fully master your voice.
Do you think we selected the best options in the city? Do you have any suggestions? We'd be glad to hear your thoughts!
Singing is a beautiful talent but learning an instrument is also a good way to show the world your musicality. Drop by and check our list of best guitar lessons in Ottawa to learn more.