The Best Agencies for Security Jobs in Ottawa
Security services is one of the most established industries. Though the job is not for everyone, those who do really serve a very important role for the people they work with.
Whether it's for a company, a property, or certain individuals, security officers are responsible for safeguarding and ensuring safety and peace of mind for those they work for. It's not an easy job but can definitely be a rewarding one.
If you are interested in finding a job in the security industry or are looking for a reliable company that provides quality security personnel, we hope we could help you out with this list of the best agencies for security jobs in Ottawa.
Either way, it's important to find a good agency that's trustworthy and reliable. After all, a good reputable company most likely will also produce good quality personnel.
How much can you earn from security jobs?
Working in security is probably one of the most challenging jobs out there and can also be one of the most rewarding.
Being in charge of safeguarding others' well-being requires a lot of accountability and discipline and thus, also needs the right amount of compensation.
The average base salary for a security guard in Canada is $17.27 per hour. This can go lower or higher depending on the nature of security services being provided and if there are additional benefits offered.
But aside from the usual security guard we know of, there are actually different kinds of security jobs with roles and responsibilities that differ from each other. Some may be more physically demanding, while others may require high proficiency in fields like cyber security.
If you are considering getting a career in the security industry, here's a table of the average annual salary of various security jobs according to responsibilities and skills.
| Type of Security Personnel | Average Annual Salary | Basic Responsibility |
| --- | --- | --- |
| Security Guard | $35,785 | Monitors safety and security usually of private property |
| Security Officer | $38,982 | Armed personnel in charge of security at a private or public property |
| Surveillance Officer | $42,997 | Monitoring of security systems such as CCTV control areas |
| Store Detective | $31,893 | Monitors retail stores to prevent theft |
| Security Supervisor | $40,258 | Manages security personnel and facilities |
| Information Security Analyst | $83,826 | Establishes and monitors security IT systems of an organization |
| Cyber Security Specialist | $112,266 | Secures IT information of a company from outsiders |
| Protection Specialist/Bodyguard | $41,384 | Provides private security usually for high-profile clients |
Depending on your skill sets, experience, and interests, there are different security services that can land you a fulfilling career in the security industry.
But security services require specific licenses and certifications, that's why getting a job in this field often requires you to apply through a security service provider. Your next step now is to find a good agency or company that can give you the best opportunities.
Finding a Good Security Agency
Being responsible for the safety and protection of others can be a noble profession. It involves not only strength and combat skills but also mental aptitude and tons of courage too.
That's why as much as the job is rewarding, it's also good if security professionals are given not just the right wages but also training and benefits that merit their service and efforts.
With this in mind, we reviewed various security service providers that also provide great opportunities for those seeking out careers in the security field. Below are the criteria we used to rate them.
With these points in mind, we hope you can find a reputable company that can give you great opportunities and benefits for a rewarding career in security services.
1. Commissionaires Ottawa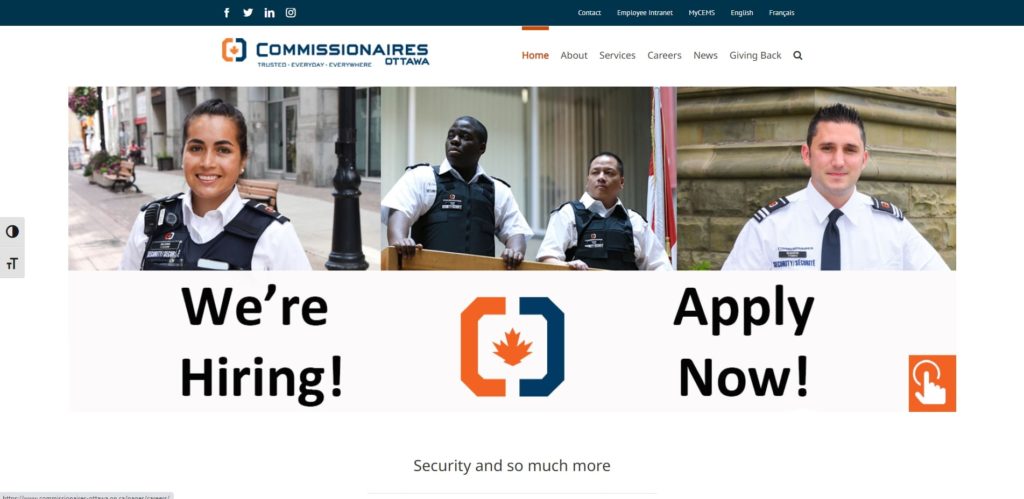 Test
Info
SERVICES
Security solutions, fingerprinting & background services, security network solutions
WEBSITE
https://www.commissionaires-ottawa.on.ca/pages/
ADDRESS
24 Colonnade Road Ottawa
CONTACT DETAILS
(613) 231-6462
OFFICE HOURS
Monday to Friday: 7 am to 5 pm

Closed on weekends
| | |
| --- | --- |
| Credibility | ★★★★★ (5/5) |
| Competency | ★★★★★ (5/5) |
| Employee investment | ★★★★☆ (4/5) |
| • Pay and benefits | ★★★★☆ (4/5) |
| • Insurances | ★★★★★ (5/5) |
| • Training | ★★★★☆ (4/5) |
| Accountability | ★★★★☆ (4/5) |
| • Employee retention | ★★★★★ (5/5) |
| • Resolution of disputes | ★★★★☆ (4/5) |
Named by Forbes as one of the best employers in Canada for several years, Commissionaires Ottawa is known to have the lowest turnover rate amongst the security services in the country at less than 15%.
They offer a range of security services, from deploying security guards to providing digital security solutions, so there are also a lot of career opportunities available. Plus, there are also options for part-time and full-time work, which makes it a good job option for students and those who need additional part-time jobs.
They offer industry-competitive salaries and several benefits that are advantageous for people working as a security provider.
A small detail but often overlooked is how they actually provide security uniforms for free, whereas other companies will require you to pay for them or deduct them from your pay.
They have extended health coverages, life insurance, and even retirement savings plans should you stick with the company until you decide to retire.
They do provide training if you qualify during the recruitment process and will also provide subsidies for the licenses you need for the job. It's also notable that they do provide a second-language training subsidy if it's necessary for those who will need to work in highly bilingual areas.
The range of their clientele is also probably one of the biggest in Canada, not just in Ottawa. They serve not just commercial establishments but also embassies, airports, universities, and more.
They do have strict recruitment processes and require background checks, which is definitely necessary for a company providing security services. The management can also be quite rigid depending on the supervisor you'll be assigned to.
Being a well-established and renowned security service provider, Commissionaires Ottawa's career page is actually a good place to start browsing for opportunities.
High employee retention rates
Fair compensation and benefits
Offers subsidy for security-related licenses
Also offers subsidy for second-language training
Wide range of clientele
Ideal for students or those who need part-time work
Employment process can take up to a month
Some mandatory employment training can be unpaid
Some people from management may be rigid
Office is closed on weekends
Customer Reviews
Easy job to work in requires constructive thinking
Very good place to work, very professional staff. I highly recommend working here on my experiences so far has been awesome.
The pay scale is decent could be better. The benefits are very good and fair. – Security Guard (Full Time) (Current Employee)
Great co-workers and good pay
Pretty great place to work if you have previous military experience. A lot of your fellow co-workers are ex military, a d even those that aren't have an understanding. Colleagues were super helpful with training and actually cared to ensure you were doing the job right.
Definitely a place I'd work again if I could but can't due to medical issues. – Security Guard (Former Employee) – Brandon
2. Synergy Protection Group Inc.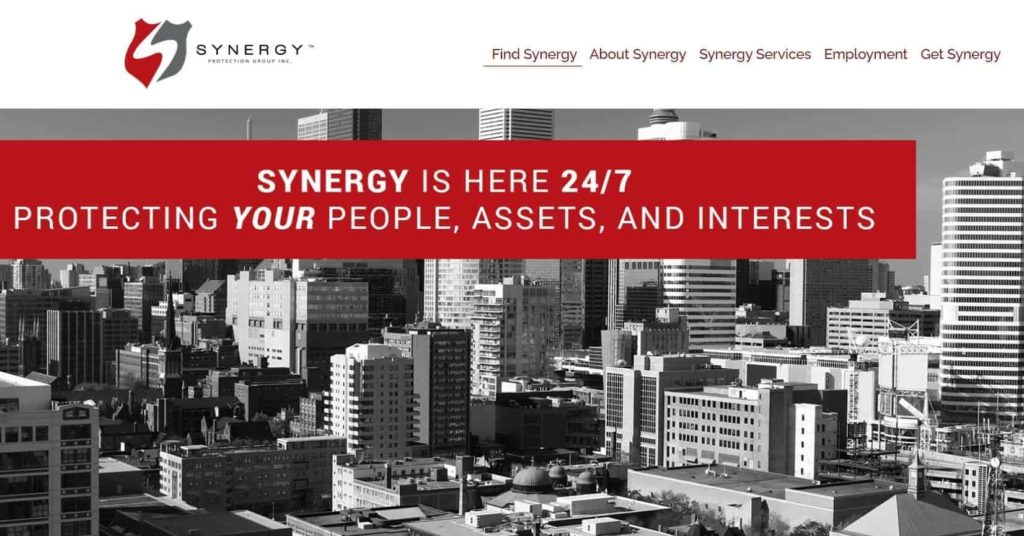 | Test | Info |
| --- | --- |
| SERVICES | Physical security, mobile security patrols, parking management, technology security, training |
| WEBSITE | https://www.synergyprotection.ca/ |
| ADDRESS | 1827 Woodward Drive, Suite 388, Ottawa |
| CONTACT DETAILS | (888) 705-0097 |
| OFFICE HOURS | Open 24 hours |
| | |
| --- | --- |
| Credibility | ★★★★☆ (4/5) |
| Competency | ★★★★★ (5/5) |
| Employee investment | ★★★★☆ (4/5) |
| • Pay and benefits | ★★★★☆ (4/5) |
| • Insurances | ★★★★★ (5/5) |
| • Training | ★★★★★ (5/5) |
| Accountability | ★★★★☆ (4/5) |
| • Employee retention | ★★★★☆ (4/5) |
| • Resolution of disputes | ★★★★☆ (4/5) |
Proud members of the American Society for Industrial Security International (ASIS) and the Canadian Security Association (CANASA), Synergy Protection Group Inc. is a fairly new company that only started operations in 2014.
Aside from offering competitive pay according to industry standards, they also offer other incentive programs from time to time for those who show remarkable performances during their duties.
All security personnel is qualified for full benefits and retirement contributions as part of their compensation package.
Employed staff is also provided ongoing paid training and certifications. But for those who are not yet part of the team, they also offer various training courses.
These include a 40-hour security guard training course, a 50-hour private investigator course, a combination of both, and emergency first aid and CPR training. It's something to consider if you want to learn first before applying for any company that provides related services.
One thing to take note of is that all their deployments are GPS monitored. This is beneficial not only for their clients but can also be helpful for deployed personnel who might face dangerous encounters.
However, since the company is still quite new compared to its other competitors, there's a tendency to have little manpower to accommodate the shifting needs of some of its clients.
This can take a toll on some of the deployed personnel, and some supervisors can be inflexible. On the other hand, that also means more job opportunities for those who want to pursue a career as a security guard or officer.
Also, if you are interested to apply for a position, walk-in applications are not possible because their office is open only for appointments.
Competitive rates with possible incentives
Full benefits and retirement plans
Provides ongoing training for employed staff
Paid training
Free uniforms
Also offers security-related training courses for non-employees
Open 24 hours
Still a growing company that needs more personnel
Some supervisors tend to be inflexible
No walk-in applications
Customer Reviews
Fun workplace good management
The most useful review selected by Indeed
Good Management Teams, company need more highly trained professionals guards company is growing. Synergy management are very friendly to employees. They need some time to grow in commercial sites malls. – Tactical Guard (Current Employee)
Will see
I just started with Synergy. Everythings seems good. Paid training and unfiroms. All scheduling is online and easy to follow. I don't like the amount of patrol and scans I have to do but I may ask to switch sites – Security Guard (Current Employee)
3. Iron Horse Security and Investigations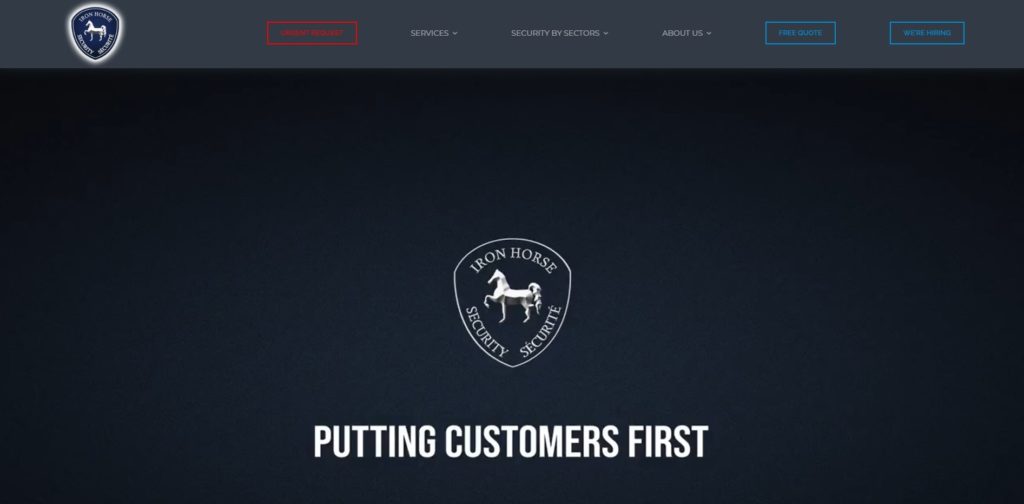 | Test | Info |
| --- | --- |
| SERVICES | Security guards, mobile patrol, concierge services |
| WEBSITE | https://ironhorsesecurity.com/ |
| ADDRESS | 884 Churchill Avenue South, Ottawa |
| CONTACT DETAILS | (613) 228-2813 |
| OFFICE HOURS | Open 24 hours |
| | |
| --- | --- |
| Credibility | ★★★★★ (5/5) |
| Competency | ★★★★★ (5/5) |
| Employee investment | ★★★★☆ (4/5) |
| • Pay and benefits | ★★★★☆ (4/5) |
| • Insurances | ★★★★★ (5/5) |
| • Training | ★★★★★ (5/5) |
| Accountability | ★★★★☆ (4/5) |
| • Employee retention | ★★★★★ (5/5) |
| • Resolution of disputes | ★★★★☆ (5/5) |
"Putting customers first" is Iron Horse Security's motto, and it has been a trusted security firm since 1994.
That being said, what sets them apart from other security companies is how they value excellent training for their personnel. You can see this in how satisfied their clientele is with their performance.
Their trainers are experts in their field, and this not only goes for their employees. They also offer security courses for anyone else interested through their Iron Horse Academy
This training course lasts for a week that also includes CPR and first aid to gear you up for Canadian Federal Government C.G.S.B. certification.
If you excel in their detailed training courses, they can actually absorb you and provide you with career opportunities in their team.
Nevertheless, they do accept applications for security positions, but of course, this entails a detailed screening process. If you are selected, you will undergo an in-depth training process that adheres to their strict security standards.
If you are hired, you'll also be under constant monitoring through their GPS guard movement tracking, Guard Tour Systems, and random site inspections.
But despite all this strict monitoring, their employees actually affirm the kind of treatment they provide to their people. While other companies are rigid when it comes to their staff, Iron Horse is loved because of the good treatment they provide to their hires.
Their rates do meet industry standards but may not be as high compared to their competitors. However, employees prefer it here because they really care about their personnel.
They also have good benefits and incentives compared to other companies, which is something that's really important to security-related employees.
And honestly, a really nice and tender working environment can be rare in the security industry, so that's really a huge positive point to consider.
Good benefits and incentives
Very amiable management and work environment
Excellent expert security training
Good staff monitoring
Open 24 hours
Industry-standard rates but can be better
No job postings on the website
Customer Reviews
Managers are flexible and quick to offer help
I have been working with Iron Horse for several years as a security guard. The experience has been great and my Managers are flexible, professional and quick to offer help when needed. I was stuck few times due to transportation and could not get home and their Mobile team gave me a ride. I have met most of my direct supervisor and managers and I believe hard work, dedication, honesty and good customer service will pay off no matter what company you work for. Keep up the good work Iron Horse!!! – JB0AA 2015
Very Helpful Company
I have worked at Iron Horse for 8 years. They have always treated me well. The wages are normal guard wages, but the management treats us better than any other company. They really care about how we look and how we treat the customers. – Security in Long Harbour, BC
4. Falcon Security Services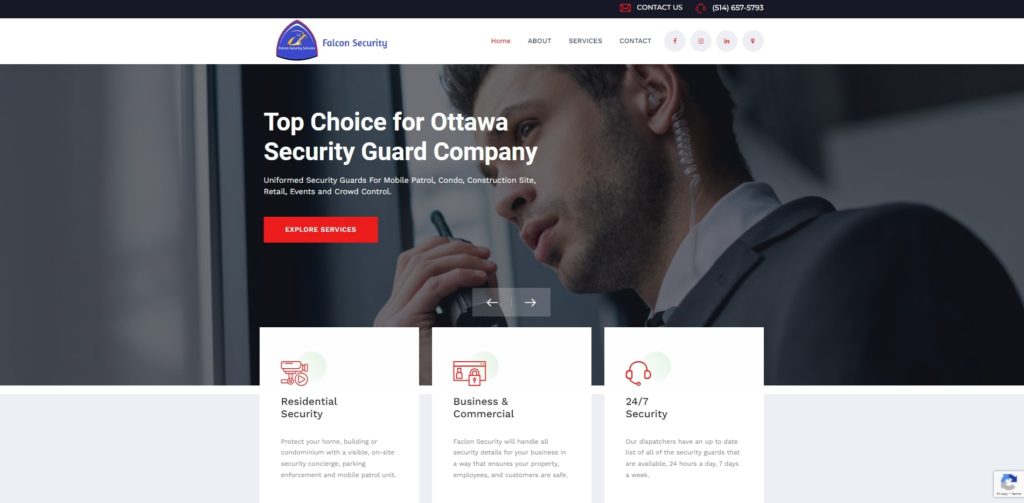 | Test | Info |
| --- | --- |
| SERVICES | Security guards, mobile patrol, concierge security, security cameras, security guard course |
| WEBSITE | https://www.thefalconsecurity.com/ |
| ADDRESS | 2255 St. Laurent Blvd, Unit 125, Ottawa |
| CONTACT DETAILS | (514) 657-5793 |
| OFFICE HOURS | Open 24 hours |
| | |
| --- | --- |
| Credibility | ★★★★☆ (4/5) |
| Competency | ★★★★★ (5/5) |
| Employee investment | ★★★★★ (5/5) |
| • Pay and benefits | ★★★★★ (5/5) |
| • Insurances | ★★★★★ (5/5) |
| • Training | ★★★★★ (5/5) |
| Accountability | ★★★★☆ (4/5) |
| • Employee retention | ★★★★☆ (4/5) |
| • Resolution of disputes | ★★★★☆ (4/5) |
Falcon Security Services in Ottawa is actually one of the security companies that do provide higher than standard hourly rates for their security guards.
They are fully insured with liability, workplace, and safety insurances as well. One thing to note too is that all of their personnel is required to be bonded, so you really have to stick with them for the long haul.
Nevertheless, they have good pay and insurance that may be worth the stay. The recruitment process is also quite thorough but as expected for any good security company.
As a candidate, you will be required to undergo a minimum of 120 hours off and on-site training, and it may even take longer depending on the type of security service you will be working on.
You will have to undergo multiple kinds of training and will be required to have an Emergency First Aid and CPR Certificate and then get a license before you can be fully hired.
They also offer a security guard course where you can enroll to learn more about the job. However, taking the course does not guarantee employment.
One notable thing about their career opportunities is that they have a good reputation when it comes to concierge security. Being a concierge security guard means opportunities to work in high-end establishments, not just keeping the area secure but also assisting guests with just about anything.
This means you'll be having a higher level of training to be able to serve guests aside from being just an ordinary security guard.
If this kind of opportunity interests you and if you are in for the challenge might as well send in your application because they are deemed to be the best in this type of security service in Ottawa.
High-quality on-site and offsite training
Fully licensed by the Ministry of Community Safety & Correctional Services
Rates are above industry requirement
Open 24 hours
Website has no careers page or job postings
Customer Reviews
They value everybody
Excellent company. Best Employer and professional staff. Management always respond quickly and efficiently to any questions or concerns you may have. The Owner of the company and the staff all are respectful. They value everybody and are extremely responsive.
10/10 on professionalism and services they provide. You can count on them. There is no chance of regression or disappointment. – Ajay Mirdha
Potential good company
This company has the potential to be a well advanced company. The owner at the time when I worked there was well on his way to having a successful company. This company has good training in personal protection. – Security Officer (Former Employee)
5. TOERSA Security Inc.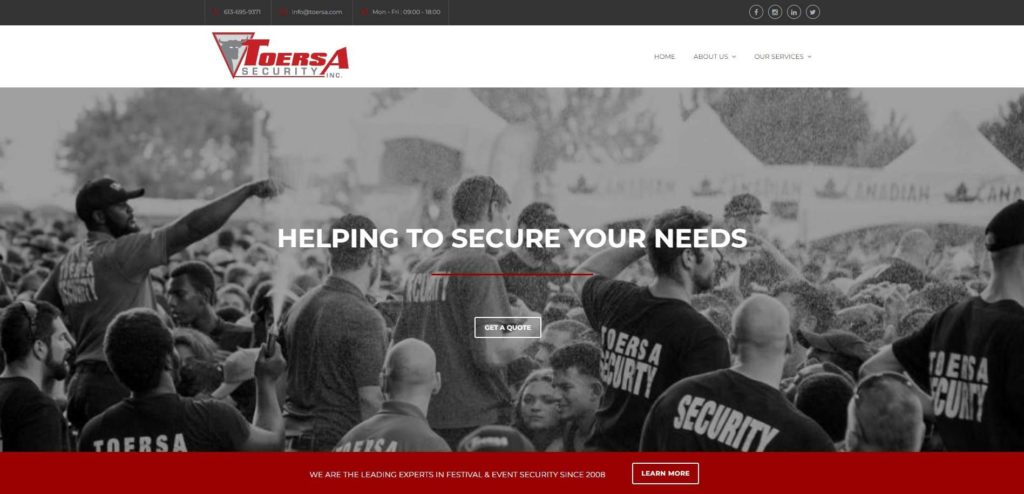 Test
Info
SERVICES
Guard services, festival services, close protection, private investigation, loss prevention, training
WEBSITE
https://toersa.com/
ADDRESS
2212 Gladwin Cres Unit B3, Ottawa
CONTACT DETAILS
(613) 695-9371
OFFICE HOURS
Monday to Friday: 9 am to 6 pm

Closed on weekends
| | |
| --- | --- |
| Credibility | ★★★★★ (5/5) |
| Competency | ★★★★★ (5/5) |
| Employee investment | ★★★★☆ (4/5) |
| • Pay and benefits | ★★★★☆ (4/5) |
| • Insurances | ★★★★★ (5/5) |
| • Training | ★★★★★ (5/5) |
| Accountability | ★★★★★ (5/5) |
| • Employee retention | ★★★★★ (5/5) |
| • Resolution of disputes | ★★★★★ (5/5) |
TOERSA Security Inc. is best known for handling large crowds of people. By this, we mean providing security for huge festivals and such kinds of big events.
They are also a favorite security service by bar owners too for their robust security personnel.
This is because their security team is trained to handle all alcohol-related incidents in such environments. Their company name actually stands for Training and On-site Enforcement of the Responsible Service of Alcohol.
If you are up for the challenge and if this is the kind of working environment you'd like to try or be in, then this is an agency worth considering.
Another interesting career opportunity with TOERSA is their close protection services or in simpler words, bodyguard services. They have been providing security for celebrities, athletes, diplomats, and other such high-profile personalities.
Currently, they employ over 600 security people deployed in Eastern Ontario, Greater Toronto Area, and Western Quebec.
Aside from providing security services, they also include loss prevention and private investigations as well. So, these can also be other opportunities to explore if you are interested.
They do provide security personnel candidates with all the training as mandated by law and also help in acquiring their licenses.
Their security training courses are also available for those who are not under their employment, as they are a registered training provider of the Ontario Security Guard Curriculum.
Compared to the services we mentioned earlier, TOERSA actually has a very interesting range of security service opportunities. We'd recommend it to anyone who'd like exciting and challenging careers in the security services industry.
Interesting range of security services opportunities
Provides quality training
Registered training provider of the Ontario Security Guard Curriculum
Assists in getting licenses for their personnel
Competitive compensation
Family-like working environment
High competition for applicants
Office is closed on weekends
Customer Reviews
A close-knit family
The training that TOERSA provides is exceptional, it teaches you everything you need to know about security and more. The staff are all friendly and professional. I have really enjoyed working with them, they are like a close knit family. – Austin Jovel
They really care about the guards
It is an amazing company to work for they really care about the guards as well as they work well with my availability. Great management staff you know in any of the service reviews they kinda wanna know what they can do better but there isn't anything they need to do better they just gotta keep up the great work – Mike Foster
FAQs about Security Jobs in Ottawa
---
That sums up our list of where to find security jobs in Ottawa. We hope this list can help you find the best career for you in the security services industry. Best of luck!
However, if you are actually looking for a career in private investigation or you need people who can provide you with this kind of service, you might want to check out our list of the top private investigation firms in Ottawa.