Top 5 Best Roadside Assistance in Ottawa
In case of a breakdown or an accident, roadside assistance services are available throughout Ottawa. It's usually an add-on to car insurance that provides professional services to the policyholder.
It involves towing, replacing a flat tire, jump-starting a dead battery, and several other services.
Having roadside assistance services available anytime can make driving less nerve-racking and it puts us at ease that in any accident or mishap, someone will be there to come to save us. Here are the top roadside assistance providers in Ottawa that will never let us down:
How Much Does Roadside Assistance Cost in Ottawa?
Most people can acquire roadside assistance through a service charge or on-the-call request that can cost between $60 and $70. However, other companies offer it on a membership basis.
For this reason, it would be best to ask for an estimate of the price in the situation you find yourselves in. Below is a rough average for memberships.
| Fees | Annual Average Cost |
| --- | --- |
| Motorcycle Membership | $15.99 - $39.95 |
| Basic Membership | $25.99 - $59.95 |
| Premium Membership | $189.99 - $229.95 |
| Elite Membership | $369.99$ - $475 |
Top Roadside Assistance in Ottawa
The following variables may help you make the most informed decision when applying for any membership or on-the-spot service.
1. Alliance Towing Ottawa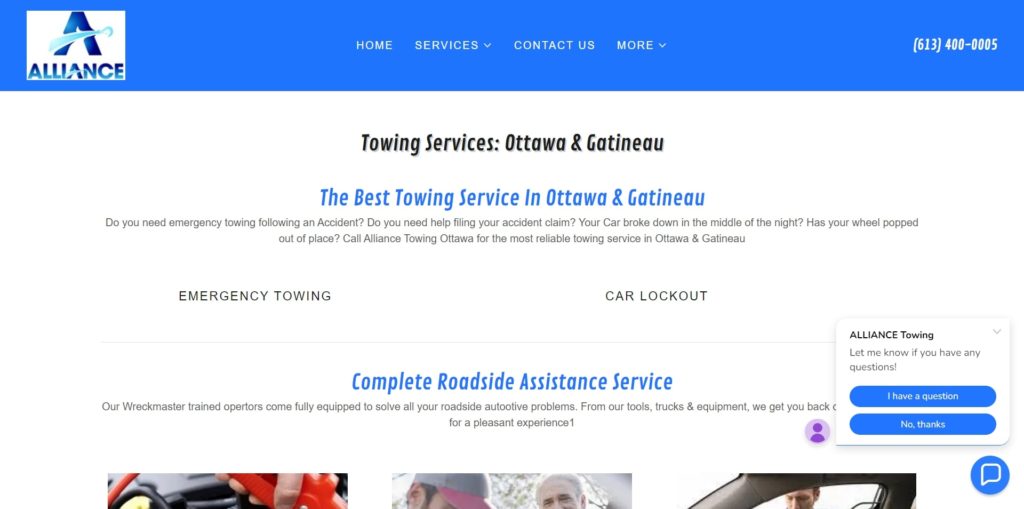 Test
Info
PRODUCTS / SERVICE

Emergency Towing

Car Lockout

Car Battery Boost

Full Delivery Service

Car Unlock

Commercial Towing - Private Accounts

Private Parking Car Removal & Parking Lot Management

Flatbed Towing Premium

Winching Service

Motorcycle & Electric Vehicle Towing

Junk Car Removal

Cash for Junk Cars

WEBSITE
https://alliancetowingottawa.com/all-services
ADDRESS
78 George St #204, Ottawa, ON K1N 5W1, Canada
CONTACT DETAILS

Phone: +1 613-400-0005
| | |
| --- | --- |
| Criteria | Ratings |
| Customer Service | ★★★★☆ (4/5) |
| Range of Services | ★★★★★ (5/5) |
| Service Speed | ★★★★☆ (4/5) |
| Reputation | ★★★★★ (5/5) |
Alliance Towing Ottawa cemented its position on our list with its complete roadside assistance services. We loved them, even more, when we discovered that they service all vehicles available, like motorcycles, electric ones, private, and commercial.
Another thing that we like about Alliance Towing Ottawa is that they are available 24 hours a day, seven days a week. Emergencies happen in the most unexpected moments and knowing they're always there whenever you need them puts our hearts at ease.
We appreciate how Alliance Towing Ottawa works with most major insurance companies for claims. With it, they can provide 24 Hour high-priority availability plus Holiday Accident Recovery to all clients of their partnered insurance provider.
The best thing about Alliance Towing Ottawa is they provide more service than their name entails. Fuel delivery and car unlocking are just a few of our favorite services of theirs.
If you're planning to pay via credit card, we suggest you need to prepare some cash. The dispatch team sometimes does not bring any credit card readers on the road.
Alliance Towing Ottawa is one of our best go-tos when getting rid of a car. We appreciate how they'll pick up the junk car and pay us the negotiated price.
One of the things we appreciate is how they included a downloadable price list on their website. However, they do note that there will be changes depending on the needed work but did not specify the range.
They also charge a professional service fee on top of their availed service, which can throw off some people.
Offers cash for junk cars
Price sheets ready for download on their website
Occasional shortage of credit card readers on the road
Charges a professional service fee
Customer Reviews
Prompt and Professional!
"Quick, professional service. Ibrahim was a delight to work with over the phone. Dustin arrived, so polite, and was quick to help us out. Total time, less than 5-minutes. Do you know how you get a sketchy vibe from most tow companies? Not with Alliance! This experience was nothing short of amazing! I hope to never need this type of service again, but if and when I do, I will be reaching out to Alliance Towing." – Darlene Ransom
Very Satisfied
"I was very pleased with your towing service, starting with the first person I spoke on the phone with. He sounded professional and helpful; after that came, the towing truck and I met BRAD; he is very respectful and helpful and makes you trust the work he is doing by his actions. He truly eased a difficult evening I was faced with. And I recommend this service and thank BRAD very much for his kindness. Bless you, Brad! You are the best." – Therea Mpiana
2. Towing Ottawa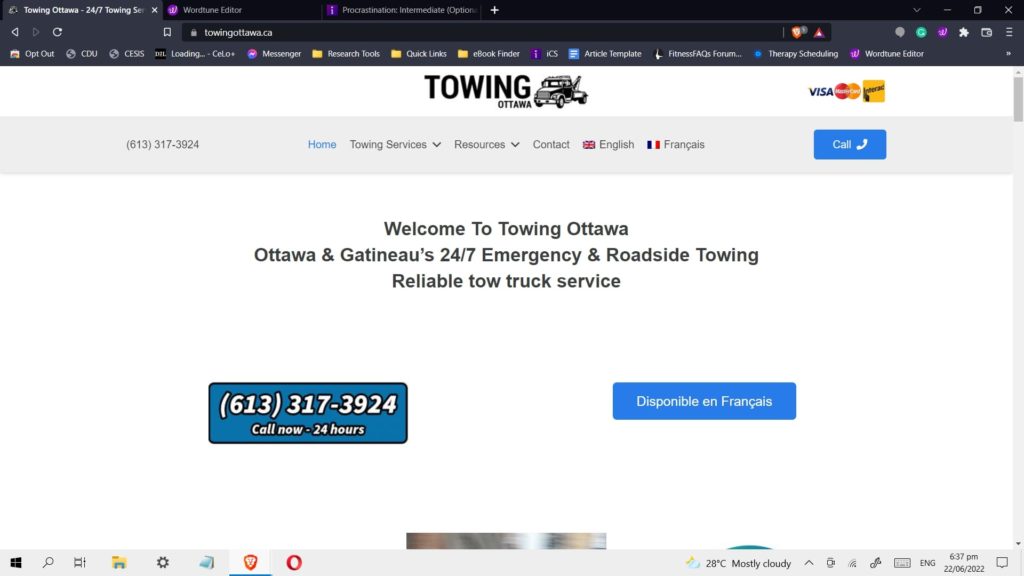 Test
Info
PRODUCTS / SERVICE

Commercial Towing Service

Fuel Delivery

Accident Towing

Flat Tire Service

Battery Boosts

Locksmith Service

Flatbed Towing

Insurance Billing

Long Distance Towing

Scrap Metal

Winching Service

WEBSITE
https://towingottawa.ca/
ADDRESS
69 William St, Ottawa, ON K1N 6Z9, Canada
CONTACT DETAILS

Phone: +1 613-317-3924
| | |
| --- | --- |
| Criteria | Ratings |
| Customer Service | ★★★★☆ (4/5) |
| Range of Services | ★★★★★ (5/5) |
| Service Speed | ★★★★☆ (4/5) |
| Reputation | ★★★★☆ (4/5) |
For over a decade, Towing Ottawa's 24-hour roadside assistance services lives up to its word of 'bringing people back on the road and smiling again – in no time." Their slogan stole our curiosity about how they do it, and they did not disappoint.
As we got to work with Towing Ottawa, we were in awe of how vast their network of contacts is. With it, they can easily provide quick and affordable roadside assistance not just in Ottawa but also in Orleans, Nepean, Kanata, and Barrhaven.
What we like about Towing Ottawa is their efficiency. We enjoy their quick answer to our call and inquiry about their prices. Plus, we love how they don't leave us hanging as they also give a great estimated response time.
Towing Ottawa's mechanics are quick and easy to work with. We like how empathetic they are in our roadside mishaps and accidents, no matter the weather.
The best thing about Towing Ottawa is their respect for our time. We love how they understand how every minute counts as we're stuck on the road and aim to provide the quickest roadside assistance service as much as possible.
We would appreciate Towing Ottawa more if they gave a rough price estimate and response time on their website. It can help us set our expectations on when they arrive and how much it'll cost to avail their service.
Vast network of mechanics
24/7 availability
No pricing on their website
No response time estimate
Customer Reviews
Snowstorm no Problem
"I was in town visiting a friend when my car got stuck on the side of the road during the recent snow storm. Another towing company I called never came. These guys got to me in less than 30 minutes, were very friendly, and got me back on the road. Thanks a lot!" – Joanna Chouinard
Speedy Roadside Assistance
"I have used Towing Ottawa x2, and each time has been fantastic. I had to have my car towed in the fall, and the gentlemen were very prompt and polite. This morning I had an issue where my keys were locked in the car while running, and the young man was able to get to me within 10 min and had my car unlocked in a matter of about 3 min. Excellent service all around!" – Favor Austin
3. Capital Towing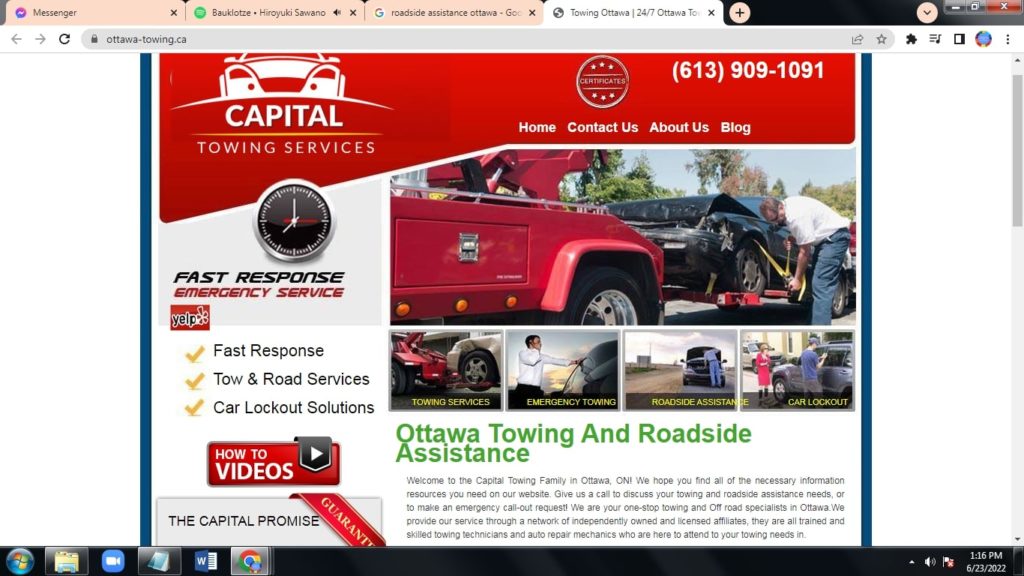 Test
Info
PRODUCTS / SERVICE

24/7 Off Road Services

Flat Tire

Wheel Change

Out of Gas/Gas filling

Battery Jump Start

Car Key

Lost Car Key

Ignition Key

Transponder Key

WEBSITE
https://ottawa-towing.ca/
ADDRESS
130 Albert St suite #3, Ottawa, ON K1B 1B1, Canada
CONTACT DETAILS

Phone: +1 613 909-1091
| | |
| --- | --- |
| Criteria | Ratings |
| Customer Service | ★★★★★ (5/5) |
| Range of Services | ★★★★☆ (4/5) |
| Service Speed | ★★★★☆ (4/5) |
| Reputation | ★★★★★ (5/5) |
When looking for assistance when stuck on the road, we're happy that we can count on Capital Towing. They are commendable in their quickness, almost even faster than their given estimated arrival time.
Aside from arriving before the expected time, we really appreciate their affordable and reasonable rates. We like how they take the time to explain to us what work needs to be done with the care and the cost.
Together with the locals, we're familiar with Capital Towing's competence and friendly mechanics and technicians. We love their fast response and their ability to assure and comfort us whenever we need roadside assistance.

Capital Towing Ottawa has a 30-minute arrival promise, and they even try to be earlier as much as possible. However, actual arrival time depends on the area traffic and there's a high chance they will arrive later than the arrival promise.
The good thing about Capital Towing Ottawa is they will provide you with updates in case of traffic as the mechanics make their way to where you are. We like how they always aim to provide an accurate and honest cost and estimated arrival time for good customer service.
Like all roadside assistance services, Capital Towing works 24/7 all year round. However, Capital Towing continues to amaze us for being in service for over two decades in Ottawa!
Lastly, with Capital Towing's vast network established, we appreciate how quickly they send in a technician to assist us. However, they do miss a couple of calls every now and then so we advise you to give them a callback in case they do not pick up after your first try.
24/7 roadside assistance services
Honest pricing policy – Fixed Price Policy.
Occasional missed calls
Actual arrival time heavily depends on the area traffic
Customer Reviews
Professional and Punctual
""Driver was very professional. He arrived earlier than expected. Very knowledgeable about the issue. my car doesn't start for an unknown reason. When he arrived, he checked everything and found that the battery needed a replacement. Very commendable. I will give this company 10 stars out of 5" – Theresa Ramos
Genuinely phenomenal service!
"I seldom write reviews, but the service I received from them merited my wanting to support them. I've used Capital Towing on two different occasions, and I was blown away by their kindness, helpfulness, and experience each time. The dispatchers and technicians were friendly and – most importantly – competent. On both occasions, the technician arrived at my car less than 20 minutes after requesting the service. The service cost was precisely how much I had been told it would be by the dispatchers, and it ended up being less than what I had quoted by several other companies. If you find yourselves in the unfortunate circumstances of needing your car towed, you can't do better than calling Capital Towing." – Noah Meyer
4. 613 Towing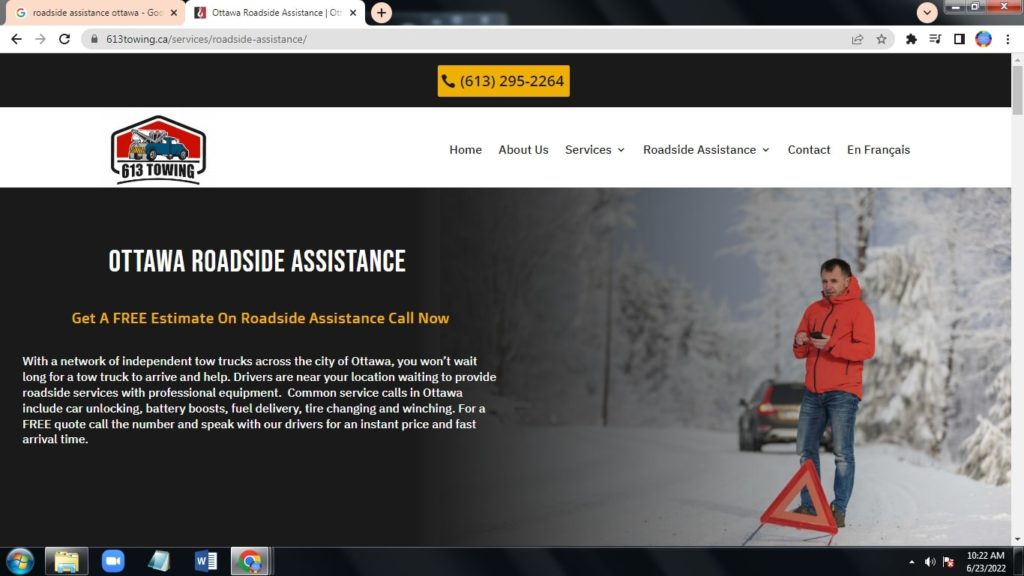 Test
Info
PRODUCTS / SERVICE

Roadside Tire Changes

Battery Boosts

Auto Locksmith

Winching, Towing

WEBSITE
https://613towing.ca/
ADDRESS
251 Laurier Ave W Unit 900, Ottawa, ON K1P 5J6, Canada
CONTACT DETAILS

Phone: +1 613 295-2264
| | |
| --- | --- |
| Criteria | Ratings |
| Customer Service | ★★★★★ (5/5) |
| Range of Services | ★★★★☆ (4/5) |
| Service Speed | ★★★★★ (5/5) |
| Reputation | ★★★★★ (5/5) |
613 Towing grabbed our attention for having one of the fastest roadside assistance services in Ottawa. We love how their phone assistance and dispatch team sound so compassionate when we called them.
The best thing about them is they make an accurate rough estimated time of arrival of their mechanics or tow trucks with traffic and weather in consideration. We appreciate how they set our expectations right after our first inquiry or call for immediate roadside assistance.
Upon our call, 613 Towing was really generous in giving us a free estimate on the costs. The prices they gave us matches their pricing guide found on their website.
613 Towing has a really strict cancellation policy – which we understand, you can't just cancel a dispatch on the way to you. We appreciate how they can provide service to any type of car and truck.
A great thing about 613 Towing's roadside assistance services is they're available 24/7. They can come and save you in any weather too.
613 Towing's roadside assistance services don't have any fuel delivery. However, we're happy that they compensate for this by towing our truck or car to the nearest gasoline station.
And if 613 Towing cannot solve your problem by the road, we're forever at ease since they will also tow it to the nearest car shop. They also have a large network of mechanics and technicians that can help fix our cars in no time.
Free estimation
Pricing guideline in FAQ
Strict cancellation policy
No fuel delivery
Customer Reviews
Speedy Repair
"I recently was in an accident and called 613 towing for service. The gentleman was fast and compassionate. He reassured me of everything and even drove me home. I highly recommend 613 towing." – William Kelly
Happy Holidays with 613 Towing
"You deserve 5 stars! On our way to the inlaws for Christmas, we had a problem with the battery on the I-5 in Seattle. About 8 pm I called, told the operator about the problem, 40 minutes later we continued with our trip. Thank you for installing a new battery in my SUV." – Archie Preble
5. Canada Freeway Towing Inc.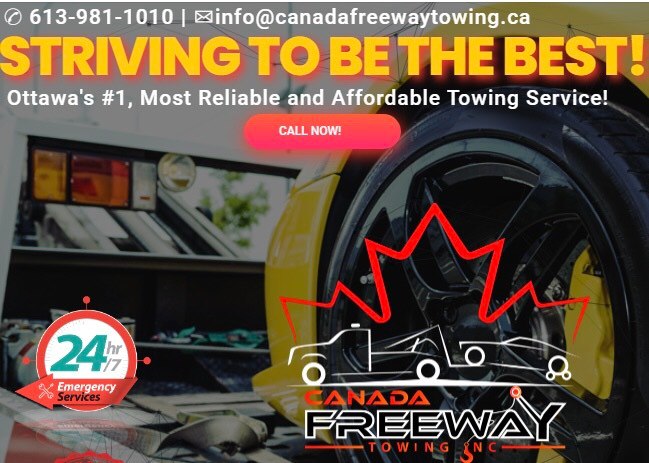 Test
Info
PRODUCTS / SERVICE

Emergency Towing

Winch Out

Battery Boost

Flat Tire Repair

Door Unlock

Fuel Delivery

WEBSITE
https://canadafreewaytowing.ca/
ADDRESS
2536 Leitrim Road, Ottawa
CONTACT DETAILS

Phone: +1 613-981-1010
| | |
| --- | --- |
| Criteria | Ratings |
| Customer Service | ★★★★☆ (4/5) |
| Range of Services | ★★★★★ (5/5) |
| Availability and Timeliness | ★★★★☆ (4/5) |
| Reputation | ★★★★☆ (4/5) |
Without a shadow of a doubt, the towing service Canada Freeway Towing is one of the most reliable and trustworthy in Ottawa. No matter our situation, we love how they are always ready to offer their services.
Whenever we need Ottawa towing and roadside assistance, we're impressed with how Canada Freeway Towing Services provides a fast, affordable, and reliable service. They do it by being available 24 hours a day, seven days a week – ready to assist us with our emergencies.
The philosophy at Canada Freeway Towing caught our attention: to keep things as simple as possible. We love how we can count on them to promptly pick up and drop off our vehicle without hassles and complications.
For us, the straightforwardness of Canada Freeway Towing's customer service is a double-edged sword. It's not everyone's cup of tea, and it can offend or turn off other customers, especially when they're panicking in the middle of the road, which is understandable.
After calling them a few times, their client communication needs improvement. The bluntness of their phone dispatchers and mechanics can sometimes be poorly taken, resulting in occasional complaints about miscommunication and unprofessional calls.
They compensate with their more than 20 years of service. That gives us assurance in terms of their expertise and dedication to offering the best roadside assistance possible and improving their customer service.
There's a big room for improvement in answering calls from Canada Freeway Towing but we like how we can always count on them when there are problems in the road.
Available 24/7
Quick response time
Occasional complaints of being unprofessional on calls
Problems in miscommunication
Customer Reviews
Friendly and Competent
"10/10 experience. Everyone knew what they were doing & were very friendly while doing it. Took care of everything, no problem with a fair price as well. If I ever need assistance again, 10000% of these are the guys I'm calling! Thank you all again." – Nathaniel Walker.
Impressive!
"Amazing service and very professional. They arrived extremely quickly and got the job done. They made me feel comfortable and took care of everything I needed to make my experience seamless. Would recommend it to anyone that needs a tow, and I would most definitely use it again!" – Rianna Mansour
FAQs about Roadside Assistance
---
Who would ever think that prepping for a breakdown was this easy? We hope this has helped you make a more informed decision when getting services for roadside assistance or applying for membership.
Which among the five do you think is best? Let us know because we actually read and respond. For more blog posts on this matter, check out our listings here:
Until then, safe passage on your travels.