5 Best Resume Writing Services in Ottawa
Since resumes have the power to open doors for you, you must present one that grabs the attention of employers. To help you prepare, we have gathered the best resume writing services in Ottawa in one list.
But before we move on to the list, let's first discuss how much such service would cost you.
How much do resume writing services cost in Ottawa?
The price of professional services depends on several factors. Among these include certifications, years of experience, and other related services that go with resume writing.
While resume writing can range from $5 to more than $1,000, the cost averages at $200. To give you a better idea, below is a table showing the average prices of the most common types of resume writing services with inclusions.
| Type of Service | Inclusions | Average Price |
| --- | --- | --- |
| Basic | Resume | $199 |
| Deluxe | Resume, cover letter | $219 |
| Premier | Resume, cover letter, LinkedIn, Faster Delivery | $399 |
Best Resume Writing Services in Ottawa
To narrow down our choices, we used the following criteria in our selection process to get the best in the business:
1. DocDoctor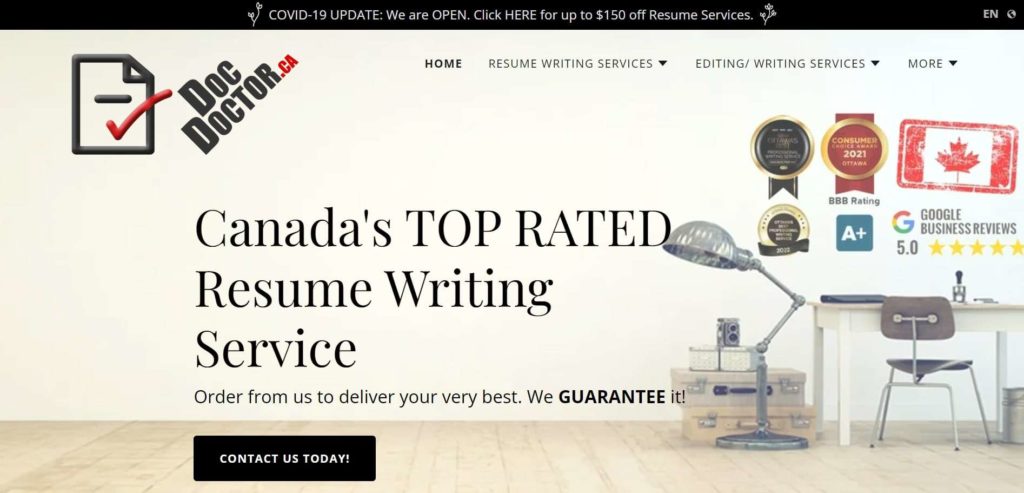 Test
Info
SERVICES
Resume Writing Services, Editing/Writing Services
WEBSITE
https://docdoctor.ca/
ADDRESS
32 McArthur Ave., Vanier, ON K1L 6R2, Canada
CONTACT DETAILS
+1 613-801-2525
OPERATING HOURS
Monday to Friday 9:30 AM - 5:30 PM

Saturday 10 AM - 4 PM
| | |
| --- | --- |
| Criteria | Ratings |
| Rate | ★★★★★ (5/5) |
| Experience | ★★★★★ (5/5) |
| Credentials | ★★★★★ (5/5) |
| General Feedback | ★★★★★ (5/5) |
We commend DocDoctor because it has won relevant awards like the Best Ottawa Resume Service and Consumer Choice Award in 2021. Although these do not guarantee perfection, they provide an idea of what the company can do.
It is good to know that the company also has a lot of experience and has worked with organizations like the Canadian Federal Public Service. Today, it offers resume writing services which are great for job and academic applications.
One thing that caught our attention is that the provider creates documents that are optimized by an Applicant Tracking Software (ATS). ATS, by the way, is a scanning system that is used by countless large companies today.
There are also editing/writing services, which extend from professional rewriting to special projects. So if you need some web content writing and well-written project proposals, this is one of the companies to engage.
The best part is that it provides revisions until customer satisfaction is achieved. We appreciate that the website has price guides and that customers can choose from packages and add-ons.
Although it has expert writers from various industries, DocDoctor doesn't specialize in resume writing alone. With multiple writing services offered, it could mean fewer expenses for people who are into resume writing services.
Has worked with numerous organizations
Won relevant awards
Has writers from various industries
ATS-optimized documents
Offers revisions until satisfied
Real-time communication with writers
Customized documents and projects
A+ BBB rating
Rates could be pricey
Closed on Sundays
Customer Reviews
Extremely satisfied
"My experience with DocDoctor has been really positive! Extremely satisfied with their services and professionalism throughout the writing process. Editing was always completed within the set timelines and they were very flexible and incorporated my feedback to produce the final documents to my utmost satisfaction! I feel more confident applying for new job opportunities now with a revamped resume better showcasing my skills and attributes. I highly recommend their services! Thank you DocDoctor!" — Ronny M. Contavadoo, Google Reviews
A fantastic option
"DocDoctor is a fantastic option for resume and cover letter services, with its expertise and professionalism on display in the new documents that I had made thanks to their services. There is very clearly a company commitment to reflecting the client's wishes on documents, as is evidenced by their policy of unlimited revisions, while also injecting efficiency and quality into them. They also have expertise in LinkedIn optimization and how to prepare/ complete government screening questions, two things that are extremely valuable in a city like Ottawa." — Steve, Google Reviews
2. Resume Ottawa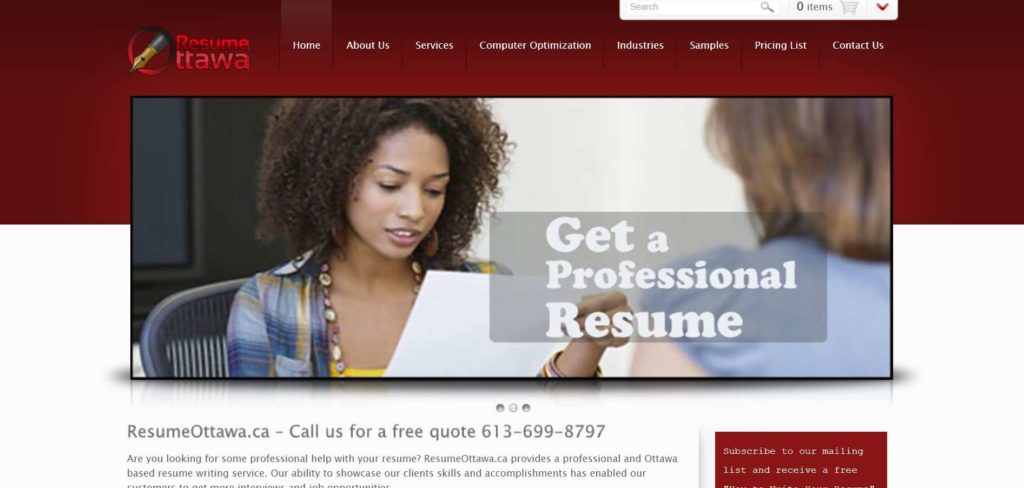 | Test | Info |
| --- | --- |
| SERVICES | Resume Writing Services, Computer Optimization |
| WEBSITE | http://www.resumeottawa.ca/ |
| ADDRESS | 1 Rideau St, Ottawa, ON K1N 8S7, Canada |
| CONTACT DETAILS | +1 613-699-8797 |
| OPERATING HOURS | Monday to Friday 9 AM - 5 PM |
| | |
| --- | --- |
| Criteria | Ratings |
| Rate | ★★★★★ (5/5) |
| Experience | ★★★★★ (5/5) |
| Credentials | ★★★★✩ (4/5) |
| General Feedback | ★★★★★ (5/5) |
For professional resume writing needs, Resume Ottawa is one of the places to consider. This is because it specializes in resume writing to help you get more job offers.
One of the things we like is that it creates resumes based on your career level. It also optimizes your resume to help it get to the top of ATS rankings, which ultimately increases your chances of getting employed.
Because of its experience with over 23 industries, we think that the company is qualified to get things done. You just have to make sure, though, that your career field is covered before you avail of its services.
With price guides provided, customers can anticipate costs. Further, with samples of its past work, people can get a glimpse of how the company prepares resumes and make a more informed decision.
Another thing we like about Resume Ottawa is that it provides free revisions for 60 days. On top of this, its money-back guarantee gives you back some of the money you spent should you feel unsatisfied with the final output.
It is also great that the company offers free ongoing advice to boost your chances of getting employed. The flexible meeting options are also worth mentioning as they make the process more convenient.
Specializes in resume writing
Computer optimization
Experience with over 23 industries
Provides samples
With price guides
Partial money-back guarantee
Free ongoing career advice
Flexible meeting options
Limited details about writers
Closed on weekends
Customer Reviews
Very impressed with the final result
"I found Resume Ottawa online and after reviewing competition, I made the decision to use their services. Resume development process was easy and I was very impressed with the final result once delivered. Almost immediately, my Linkedin profile views increased dramatically and have generated lots of interest. On my 3rd interview so far for interesting work. Feedback on my resume has been great as well. Highly recommend to anyone who is looking to highlight their strengths and marketability. Thanks Ozzie for everything!" — Robert Currie, Google Reviews
Prompt and professional service
"Outstanding, prompt and professional service!!! So easy and pleasant to deal with for which I would recommend Resume Ottawa to everyone. Thank you very much for all your help. Sincerely, Elliot. A+" — Elliot Tremblay, Google Review
3. Resume Target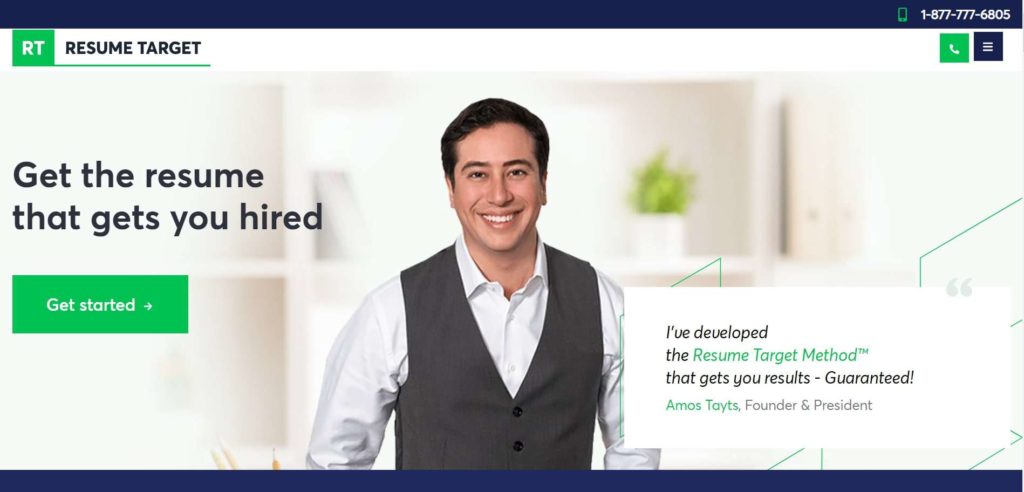 Test
Info
SERVICES
Resume Writing Services, Resume Refresh, Resume Distribution, LinkedIn Optimization, Interview Coaching, Rush Resume Service
WEBSITE
https://www.resumetarget.ca/
ADDRESS
100 Gloucester St #443, Ottawa, ON K2P 0A4, Canada
CONTACT DETAILS
+1 613-706-6351
OPERATING HOURS
Monday to Friday 9 AM - 9 PM

Saturday and Sunday 9 AM - 6 PM
| | |
| --- | --- |
| Criteria | Ratings |
| Rate | ★★★★★ (5/5) |
| Experience | ★★★★★ (5/5) |
| Credentials | ★★★★✩ (4/5) |
| General Feedback | ★★★★★ (5/5) |
Resume Target has been in the business for more than 15 years now. Because of this, we believe that this company is one nice place for professional resume writing assistance.
Specializing in resume writing, it provides tailored resumes that best suit different career levels. To help you assess your career level, its website is equipped with a career level test, which we appreciate.
We commend the company because of its prompt turnaround time and satisfaction guarantees. We also find its Resume Target Method, with a 98% interview success rate, interesting.
Included in its services are packages that help save time while addressing all related needs. These, however, do not provide versatility for those with a low budget or who have specific writing needs.
We like that it has a lot of experience creating resumes for countless industries. The only issue we found is that there is limited information about its writers and their credentials.
Despite this, we still like the company because of its sample resume portfolio, which customers can use as references when making a purchasing decision.
Also worth noting are its resume refresh and resume distribution services, which complement the company's overall effort to help you get employed with better success.
Specializes in resume writing
Caters to different career levels
Triple promise guarantee
Resume refresh and distribution
Interview coaching
Experience with numerous industries
Free resume review
Sample resumes available for customers to peruse
Limited information about writers
All services are offered in packages
Customer Reviews
Beyond my expectations
"The finished product that I received went beyond my expectations. Janini captured my experience and accomplishments in way that I never could." — Christine Conway, Google Reviews
Efficient and concise
"Vijay from resume target was very helpful in writing my resume tailored to my needs and preferences. He was efficient and concise. I highly recommend him, and by extension resume target." — Haben Micael Habte, Google Reviews
4. CareerJoy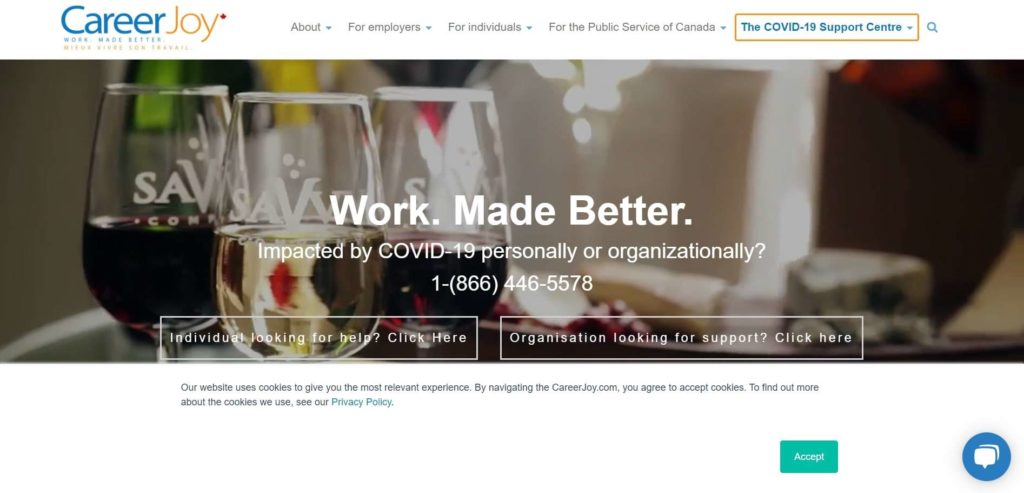 | Test | Info |
| --- | --- |
| SERVICES | Career and Leadership Advancement Programs, Team Development Programs, Retirement Programs and Workshops, Resume Writing Services, Career Management Programs, Executive Development Programs, Training and Coaching |
| WEBSITE | https://www.careerjoy.com/ |
| ADDRESS | 251 Laurier Ave W #900, Ottawa, ON K1P 5J6, Canada |
| CONTACT DETAILS | +1 613-707-7630 |
| OPERATING HOURS | Monday to Friday 8 AM - 6 PM |
| | |
| --- | --- |
| Criteria | Ratings |
| Rate | ★★★★✩ (4/5) |
| Experience | ★★★★★ (5/5) |
| Credentials | ★★★★★ (5/5) |
| General Feedback | ★★★★✩ (4/5) |
CareerJoy is more than just a resume writing company as it offers other services that extend from career and leadership programs to training and coaching.
We trust that the provider, with 17 years in business, has ample experience to take on the job. We like that its team consists of professionals that come from diverse backgrounds.
Its resume writing services come in packages that include resume writing with a cover letter and other related services. We appreciate that each option comes with a 30-minute 1-on-1 phone call with a certified coach.
While these packages cover important services to create the best resumes, these might not sit well with others who prefer a la carte options.
The prices might also be relatively more expensive since the choices include extra services. You don't really have the option to just avail of one service.
If you're on a tight schedule, the company's rush services are for you. Also worth noting are the available price guides, which give potential customers an idea of how much to shell out.
We like that CareerJoy offers a complimentary 15-minute career chat, which is a nice way to start discussing your unique needs. The multiple payment methods, on the other hand, provide additional convenience.
Offers a wide array of services
100% service guarantee
A team of certified professionals
Multiple payment methods
Complimentary career chat
Offers rush options
Rates can be pricey
All services are offered in packages
Closed on weekends
Customer Reviews
Great professional people
"Great professional people. I had a wonderful experience. After I got laid-off. I acquired job interview coaching and resume writing service from this company. The coach Kevin Schaffer provided excellent interview preparation and coaching service that helped me land two IT managerial job offers simultaneously. The resume written by their professional resume writer landed several job interviews. They are very honest, customer focused and value customer satisfaction. I will recommend this company without any reservation." — MrShahmasood, Google Reviews
Very satisfied with the services rendered
"As a recent client of CareerJoy I am very satisfied by the services rendered. I had my Resume and Cover Letter customized and LinkedIn profile optimized as well had 6 coaching sessions. These provided valuable insights relating to effective networking and job search activities." — Sanjoy Mullick , Google Reviews
5. Elite Candidate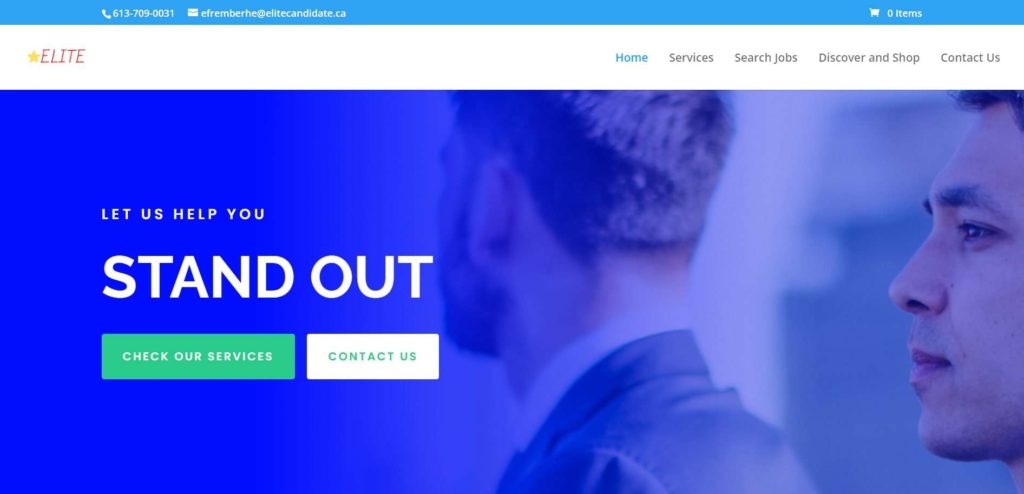 Test
Info
SERVICES
Resume and Cover Letter Writing, Career Planning, General Writing Services, LinkedIn Profile Review
WEBSITE
https://elitecandidate.ca/
ADDRESS
101 Champagne Ave S #303, Ottawa, ON K1S 4P3, Canada
CONTACT DETAILS
+1 613-709-0031
OPERATING HOURS
Monday to Friday 10 AM - 7 PM

Saturday to Sunday 11 AM - 7 PM
If you're looking for a resume writing service, Elite Candidate is one of the options you could have. This is because it takes pride in its resume writers who are all professionals.
It is great that these writers specialize in more than 85 kinds of career fields, which is useful in creating resumes with unique needs. The 1-on-1 phone consultation is commendable as well as it helps achieve optimal results.
We appreciate that all resumes are ATS-optimized, which greatly increases your chances of getting noticed by recruiters. The Microsoft Word and PDF versions, which provide versatility, are also nice additions to its services.
Another thing we like about the company is its fast turnaround time of 1-2 business days. So if you're in a bit of a rush, this provider might just work for you.
All of its services come in packages, so this might not be ideal for individuals who have specific and limited professional writing needs. There are also no price guides, which could help customers make a more informed decision.
Nonetheless, we still think that Elite Candidate is a great start when looking for a professional resume writer in the area, considering its fast turnaround time and ATS-optimization process.
Specializes in resume writing
A pool of professional resume writers
Experience with 85+ career fields
Phone consultations
ATS-optimized outputs
Turnaround time of 1-2 business days
No price guides provided
No a la carte options
Customer Reviews
Worth every penny
"Got my dream job after one of the best resume writers (Efrem ) helped me with my resume 🙏🏾And it was worth every penny 😊" — Aleksander Habtemaryam, Google Reviews
Appreciate the time and energy
"I appreciate the time and energy you put into your work. Thank you!" — Merhawi Ande, Google Reviews
FAQs about Resume Writing Services in Ottawa
---
Now that you know where to find the best resume writing services in the area, we hope that you succeed in all your future career endeavors.
Looking for a job but don't know where to start? You might find this article on the best recruitment agency centers in Ottawa useful.