The 5 Best Piano Tuning Services in Ottawa
Playing the piano can benefit a person's brain by improving concentration and helping develop multitasking skills. Also, the soothing melody made by the piano keys can alleviate depression—whether you're the one playing or merely listening.
That's why a piano needs to always be in tune. This makes playing the instrument very enjoyable.
Our list today contains the best piano tuning services in Ottawa. We will also cover the estimated costs of this service and some FAQs to give you more information about piano tuning.
How much does piano tuning cost in Ottawa?
Most piano tuners charge by the hour. The hours are determined by how much work needs to be done with the piano.
When a piano is serviced regularly, tuning it would be quicker. However, if you neglect regular tuning, other repairs (e.g. replacing worn strings) and additional services (e.g. raising the pitch) could add to the total costs.
Some piano tuners charge a flat rate and tag their services as either basic piano tuning or premier piano tuning. Of course, the latter has more inclusions in it and is also more expensive than the former.
The table below shows the cost of piano tuning services from the entries in our list.
PIANO TUNING SERVICES
ESTIMATED COST
Andy Adams
First Visit Piano Tuning
Seasonal Maintenance
Signature Piano Service

$185

$275

$400

Piano Works
Basic Piano Tuning
Extended Piano Tuning

$140 plus HST

$157.50 plus HST

Ottawa Pianos
$175 (tax included)
Bill Gerow
$140 (tax not included)
Quincy Pianos
$135 (plus $1.50 per kilometer)
Take note that these estimated costs are based on their online quotations and what we have gathered as of writing. It's still best to get in touch with them for a more accurate quote.
The Best Piano Tuning Services in Ottawa
Getting the best piano tuning services in Ottawa can help extend the lifespan of your beloved instrument. With a skilled technician, you can be assured that your piano will always sound as good as new.
What criteria should you use to spot the top piano tuning services in Ottawa? Here's what we used to complete our list:
1. Andy Adams

| Test | Info |
| --- | --- |
| SERVICES | Piano tuning, seasonal maintenance, cleaning, regulation, voicing, hammer filing |
| WEBSITE | |
| ADDRESS | 3260 Tolmies Corners Road, Avonmore, On, K0c 1C0, Canada |
| CONTACT DETAILS | (613)-324-3173 |
| STORE HOURS | Monday to Saturday: 10 AM to 4 PM |
| | |
| --- | --- |
| Criteria | Ratings |
| Workmanship | ★★★★★ (5/5) |
| Quality | ★★★★★ (5/5) |
| Knowledge | ★★★★★ (5//5) |
| Reasonable Price Point | ★★★★✩ (4/5) |
| Portfolio | ★★★★★ (5/5) |
| Customer Service | ★★★★★ (5/5) |
| Attention to Detail | ★★★★★ (5/5) |
| Helpfulness | ★★★★★ (5/5) |
Andy Adams has been in the industry of piano services for two decades. In his experience, he was able to provide his services to casual players, piano teachers, churches, musicians, and music schools, only to name a few.
What we love about this piano technician is that he is among the few registered piano technicians in the world. However, being a registered technician doesn't stop him from learning more about his craft.
We also appreciate that Andy Adams kept up with the changes in technology, as he offers online booking. The clients that we have talked to loved how seamless and efficient this booking system is.
You can choose among his various piano packages, which include first visit piano tuning, seasonal maintenance, and signature piano services. These services come at different rates as well as different inclusions.
If you're busy during weekdays, it would be good news for you to know that Andy Adams offers his services even on Saturdays.
You would also not be too hard-pressed to secure an appointment because the shop has two technicians at work. Andy Adams employs Mayuko Takagi as his apprentice who also accepts jobs for the shop.
For these reasons, it's not hard to see why Andy Adams has numerous repeat businesses. Clients have come to trust the reliability and quality of his work.
One downside that we have noted is that their prices are a bit on the higher end of the industry's standards. However, the clients we have talked with seem not to be bothered by it because of the quality of service they received.
We also noticed that the seasonal maintenance service can be time-limited. Voicing and let-off adjustments will only be made if they have available time to do so.
In our opinion, clients would appreciate it more if all the needed services are done to their instruments in one appointment. Another improvement we would suggest is to clearly state which services are included in the package and exclude options that can only be done if time permits.
Registered piano technician
Provides tuning services for all kinds of piano players
Has an apprentice piano technician
Offers various piano service packages
Has online booking
Has numerous repeat businesses
Open on Saturdays
Prices are a bit on the steep side
Seasonal maintenance service is a bit time-limited
Customer Reviews
Very detail-oriented
"First time I use the service of Andy to tune my piano. I am very satisfied with his service. My piano sounds like new. He takes care of details and also take time to answer any questions. I recommend a lot." — Amaury L.
Seamless booking and excellent service
"Andy did a fantastic job repairing and tuning my 74-year-old piano, it sounds and feels great to hear and play. Booking is easy and quick. Good value for excellent service." — Stuart van Oostveen
2. Piano Works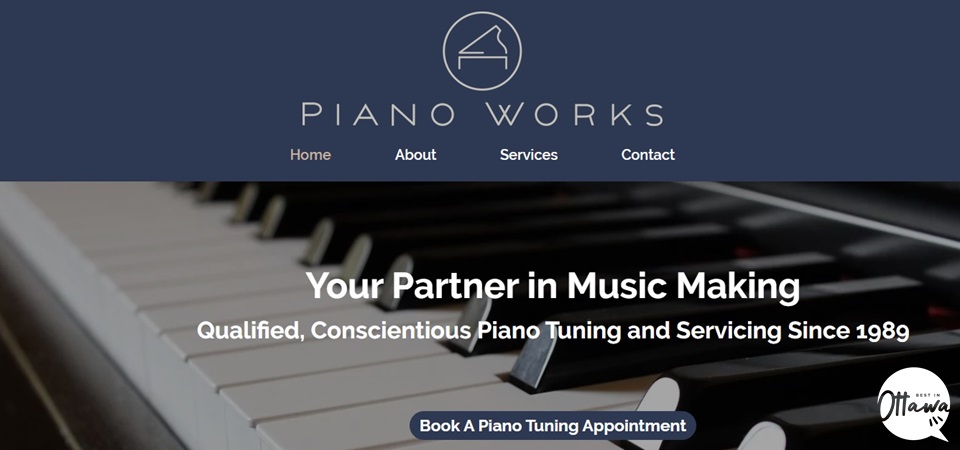 | Test | Info |
| --- | --- |
| SERVICES | Basic piano tuning service, extended piano tuning service, piano service package |
| WEBSITE | |
| ADDRESS | 40 Landry St, Vanier, ON K1L 8K4, Canada |
| CONTACT DETAILS | (613)-824-7653 |
| STORE HOURS | Monday to Friday: 9 AM to 3 PM |
| | |
| --- | --- |
| Criteria | Ratings |
| Workmanship | ★★★★★ (5/5) |
| Quality | ★★★★★ (5/5) |
| Knowledge | ★★★★★ (5/5) |
| Reasonable Price Point | ★★★★✩ (4/5) |
| Portfolio | ★★★★★ (5/5) |
| Customer Service | ★★★★★ (5/5) |
| Attention to Detail | ★★★★★ (5/5) |
| Helpfulness | ★★★★★ (5/5) |
Piano Works is run by a father and son tandem, Don and Sam. They have an extensive list of satisfied clients under their belt, including the National Arts Centre and University of Ottawa School of Music.
You can start transacting with Piano Works through their online booking system. Choose among their four service packages according to what your piano needs.
However, their packages dedicated to piano tuning alone are only 15 minutes shorter than their extended ones. This small time difference unfortunately translates to an additional $19 plus HST for the extended services.
On a brighter note, we appreciate the fact that Don and Sam are committed to improving their craft through continuous study of the latest trends in the industry. Unfortunately, there was no mention that they are registered piano technicians or any affiliations they have with the Piano Technician's Guild.
Another downside is that Piano Works doesn't operate on weekends. These days could be an opportune time for busy music enthusiasts to give attention to their pianos' needs.
However, most clients we've talked to don't seem to mind these minor shortcomings and look at the better points of Piano Works. This company has several repeat businesses under their belt, which shows that they have built their reliability among their clientele.
This could be due to the fact that both Don and Sam are very personable on top of their piano knowledge and skills. People who used their services could not help but commend them for their willingness to listen and attentiveness to details.
Has two piano technicians
Has online booking
Has numerous repeat businesses
Extended piano tuning only has a difference of 15 minutes compared to the basic one
No mention if technicians are registered ones
Closed on weekends
Customer Reviews
Above and beyond service
"Don has been tuning my Yamaha grand for 15 years. As a professional pianist, I would not trust anyone else with my piano. He is the best in the business, thorough, kind, and honest. He cares about his work, and goes above and beyond to make sure my piano is in the best condition. I cannot recommend him enough!" — Ruth Kwan
A master tuner who truly enjoys his work
"Don has been tuning our Yamaha Baby Grand for nine years and I wouldn't trust any other person to work on it. Besides listening attentively to my ideas, he is polite and sincere; he is a master tuner. Due to Covid we haven't had anyone in the house for two years so the piano was getting more and more out of tune. During that time I noticed it was in a bad position as I couldn't get at the lid to raise it very easily. Today, Don was strong enough to rotate it a couple of feet! It is even better now, as the rich, newly tuned sound spreads throughout the room more than ever before. Don has told me he enjoys his work because it brings music into people's lives. Don's the best!!" — Joanne Doucet
3. Ottawa Pianos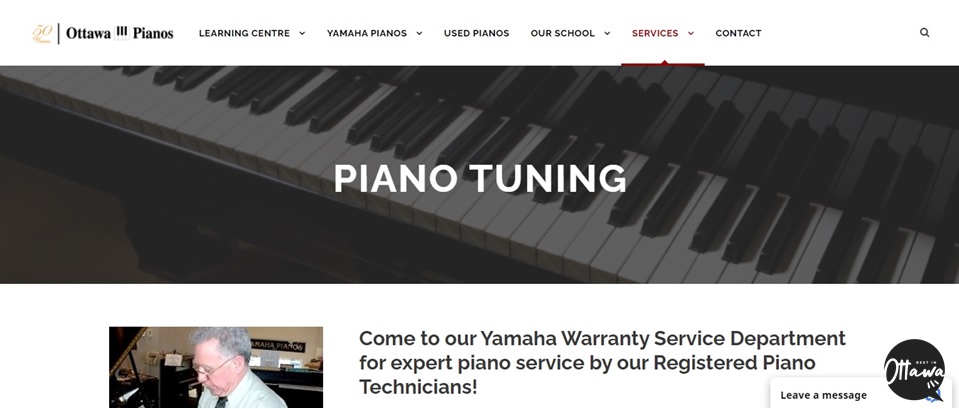 | Test | Info |
| --- | --- |
| SERVICES | Piano tuning, concert rentals, piano lessons, piano sale |
| WEBSITE | |
| ADDRESS | 1412 Bank Street Ottawa, ON K1H 7Y9 |
| CONTACT DETAILS | (613)-731-5678 |
| STORE HOURS | Monday to Saturday: 9 AM to 5 PM |
| | |
| --- | --- |
| Criteria | Ratings |
| Workmanship | ★★★★★ (5/5) |
| Quality | ★★★★★ (5/5) |
| Knowledge | ★★★★★ (5/5) |
| Reasonable Price Point | ★★★★✩ (4/5) |
| Portfolio | ★★★✩✩ (3/5) |
| Customer Service | ★★★★★ (5/5) |
| Attention to Detail | ★★★★★ (5/5) |
| Helpfulness | ★★★★★ (5/5) |
Ottawa Pianos is a one-stop shop for purchasing pianos and getting piano-related services such as tuning and upgrades. They also have a school arm that offers piano lessons to music enthusiasts of all ages.
For people who want to be immersed in anything about pianos, Ottawa Pianos could be an ideal place. We love the fact that Ottawa Pianos generously offers their concert room and a grand piano to local musicians and students for free use.
This generous act shows their community involvement and passion for music. By offering their place and their equipment for free, Ottawa Pianos help budding pianists to realize their dream.
They even sell used pianos which could mean good news for those who can't afford the new ones. However, the selections are not that wide, as most of what they have are of the Yamaha brand only.
Their website mentioned piano repairs but failed to go into details about which specific ones they are offering. It could be extra helpful for people who are browsing on the web to have such details on hand so they can decide faster if what they need is being offered at Ottawa Pianos.
You would be confident to have your piano tuned in Ottawa Pianos because registered piano technicians will take care of your beloved instrument. It's an added assurance that your piano is in skilled hands.
They offer their tuning services for $175, which in our opinion is on the higher side of the industry's standards. Unfortunately, they also failed to provide details about this service, such as the number of hours they would work on your piano and if it's in-store or a home visit.
Registered piano technicians
Active involvement in community events
Open on Saturdays
No specific details about piano repairs that they offer
Most of the pianos they sell (brand-new and used) are of the Yamaha brand
Piano tuning fee is a bit pricey
Customer Reviews
Everything I need in one place
"The staff were very knowledgeable and friendly, they helped me to select the right instrument for my playing needs and budget. I really appreciated the price including moving costs and tuning, that's a great package and makes the process streamlined and hassle-free. And I have signed up for some refresher lessons as well – thank you for helping to renew my love of music and making it part of my life again !" — Helen Stokes
We are delighted with the product and service we received
"We recently bought our first upright piano from Ottawa Pianos, and were given excellent guidance and support throughout the process. In particular, the manager, Mitchell, took time to explore the different options with us, including new and second hand pianos. The seasonal sale prices were good and again Mitchell went out of his way to explore all the different options with us. The piano was delivered on time, and included a free tuning. We appreciate all the assistance we received and we are delighted with our beautiful Yamaha instrument. I would definitely recommend Ottawa Pianos and we will be buying any future upgrades from them." — Johanna Jochumsdottir
4. Bill Gerow Piano Service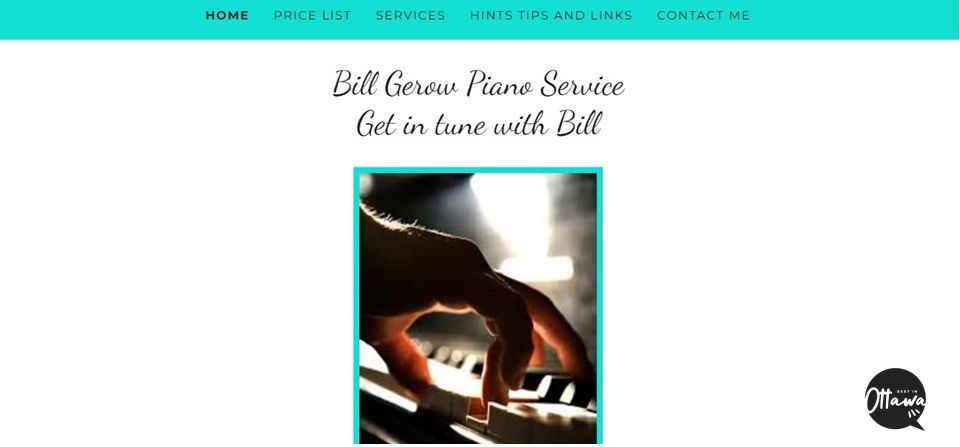 Test
Info
SERVICES
Piano tuning, repairs, appraisals, restoration, regulation, voicing, humidity system
WEBSITE
ADDRESS
58 Priam Way, Nepean, ON K2H 8S8, Canada
CONTACT DETAILS
(613)-829-4666
STORE HOURS
Monday to Friday: 8 AM to 5 PM

Saturday: By appointment

Sunday: By appointment with increased charge
| | |
| --- | --- |
| Criteria | Ratings |
| Workmanship | ★★★★★ (5/5) |
| Quality | ★★★★★ (5/5) |
| Knowledge | ★★★★★ (5/5) |
| Reasonable Price Point | ★★★★✩ (4/5) |
| Portfolio | ★★★✩✩ (3/5) |
| Customer Service | ★★★★✩ (5/5) |
| Attention to Detail | ★★★★✩ (4/5) |
| Helpfulness | ★★★★✩ (4/5) |
With more than 25 years in the industry, Bill Gerow has continuously offered piano services to Ottawa and its surrounding places. These services include tuning, repairs, and regulations, only to name a few.
We appreciate the fact that Bill is an associate member of the Piano Technician's Guild and Canadian Association of Piano Technicians. Furthermore, he continually invests in seminars that upgrade his skills related to his craft.
You won't second-guess the costs of the services that he offers. His website offers a comprehensive price list that can help you decide if his price range is within your budget.
Bill Gerow has a wide range of services that his competitors don't offer. Some of which are parts replacement (e.g. keytop and strings).
However, for a full change of strings or pins, the instrument needs to be brought into his shop. The owner shoulders the moving fee on both trips, back and forth.
We love that he goes out of his way to accept weekend appointments on top of his regular business hours on weekdays. But, if you're looking for a Sunday appointment, be ready to pay more, as he charges double his rates on this day.
One point for improvement: we'd like to see him expand his business by taking in an apprentice. It must be tiring to be the sole technician for a store that has been running for more than two decades, which may limit the number of appointments he can accept at a time.
Website contains a detailed price list
Accepts weekend appointments
Registered piano technician
Has a wide range of piano services
Prices double on a Sunday
Only has one piano technician
Some services need to be done at the shop
Customer Review
My piano never sounded so good
"The piano has never sounded so good! Bill was on time, provided excellent service, and was also very pleasant to be around. I would recommend his service to anyone looking for a piano/service in the future." — Zack
A gifted piano specialist
"Perfect, a gifted person who is my piano specialist." — Goldsmith G.
5. Quincy Pianos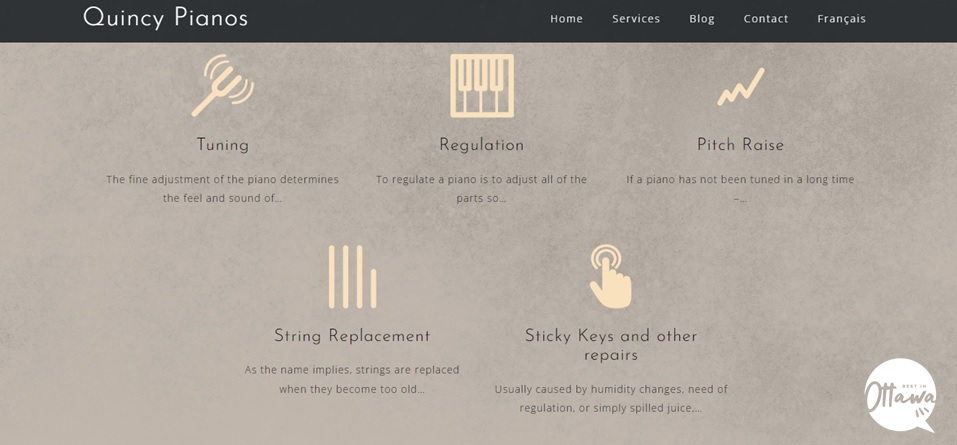 | Test | Info |
| --- | --- |
| SERVICES | Piano tuning, regulation, pitch raise, string replacement, sticky keys, other repairs |
| WEBSITE | |
| ADDRESS | 1662 Westport Crescent, Orléans, ON K1C 6C3, Canada |
| CONTACT DETAILS | (613)-830-5484 |
| STORE HOURS | Monday to Friday: 10 AM to 5 PM |
| | |
| --- | --- |
| Criteria | Ratings |
| Workmanship | ★★★★★ (5/5) |
| Quality | ★★★★★ (5/5) |
| Knowledge | ★★★★★ (5/5) |
| Reasonable Price Point | ★★★★✩ (4/5) |
| Portfolio | ★★★✩✩ (3/5) |
| Customer Service | ★★★★✩ (4/5) |
| Attention to Detail | ★★★★✩ (4/5) |
| Helpfulness | ★★★★✩ (4/5) |
Quincy Pianos at present is a business that was passed on by a mentor to his apprentice. The original owner, Claude Damphousse, has retired and entrusted the business to its present owner, Jean Poulin.
Aside from piano tuning, Quincy Pianos offers other services such as regulation, pitch raise, and spring replacement, only to name a few. In comparison to other entries, their basic rate for piano tuning is competitive.
We like the fact that Quincy's website provides specific details of his piano services. An example is the regulation service which also shows other subcategories like blow distance, key level and dip, lost motion, and let-off, among many others.
This way, potential clients would easily know if what they need is being offered by this piano shop or they need to look elsewhere.
We also appreciate that he has a bilingual website. Thus, there would be no issue if the client is more comfortable with either French or English.
We love that Jean is fully invested in upgrading his skills to match the current trends of his trade. Unfortunately, he failed to mention if he is a registered piano technician.
One big letdown of this piano shop is that Jean's rates depend on a per kilometer basis. This could mean bad news for potential clients who are living outside the Ottawa region.
A strategy that could compensate for this rate by distance is Jean could offer piano package services like his competitors. In our opinion, people would be willing to pay for transportation fees if they can get more services in one visit at a bundled price.
Also, it would be a welcome idea if he could pass on his learnings to an apprentice, much like how Claude did with him. This way, Quincy Pianos would have one other piano technician that can share his workload.
Has specific details of piano services he offers
Basic rate is competitive
Bilingual website
No packages offered
Rates depend on a per kilometer basis
Only has one technician
No mention if the technician is a registered one
Customer Review
Best value
"There is a large selection of new and used pianos at very competitive prices. The Young Chang offered us the best value and we are now enjoying this great piano. The service and tuning was very good. I would highly recommend this piano store to anyone looking for a new or refurbished piano." — Dave Huber
Great after-service
"First we had bought an upright piano, was very satisfied not only of the cost but after service, they also had a layaway plan then. The owner (forgive me that I do not remember) was very friendly and helpful. A few years later, when we moved to our new home, we bought a baby grand piano (2013). One of our best investment. Kids are using it daily. Check his place out for yourself. Good Luck." — SalsaFanatics Ottawa
FAQs about Piano Tuning in Ottawa
---
The best piano tuning services in Ottawa can ensure that your piano will maximize its lifespan, making beautiful music for a long time. It's a great investment that helps you protect your precious instrument.
Have you used another reliable piano tuning service in Ottawa? We would be delighted to hear about your experience.
Playing the piano at a wedding (for free or a very low fee) could be a practical yet sentimental way to help a friend cut costs on their special day. You can also peruse our ultimate DIY wedding planning checklist for more ideas.