The 3 Best Pet Insurance Services in Ottawa
Our furry friends can get into wild adventures when we're not with them and they can get hurt. Sometimes, they can also fall ill for no apparent reason.
This is why it's important that we have pet insurance. We love our pets like they're part of the family so we should treat them as such.
In this article we have for you today, we'll discuss the best pet insurance available around Ottawa.
How Much Does Pet Insurance Cost in Ottawa
Pet insurance varies from package to package. We researched the best available plans that you can get and how different they are from each other in terms of price.
The price of pet insurance in Ottawa varies depending on the company, area, and services given. The average monthly price is around $29 for a cat and $39 for a dog.
When choosing an insurance plan, you'll be asked to choose a deductible as well. This is basically the amount you'll have to pay for your pet's covered health care services before your insurance plan starts to pay.
If you have a $500 deductible for a certain treatment, that means you'll need to pay the $500 first before your plan starts paying for the rest of the treatment's cost.
This may appear to be an excessive and unneeded monthly fee, it is actually rather reasonable when compared to the hefty cost of emergency vet costs.
In the table below we discuss each of the insurance companies we listed, their estimated monthly cost, and the coverage they offer.
Insurance Provider
Estimated Monthly Price
Coverage
Fetch by The Dodo
$20 - $60

Depending on your pet's age, weight, breed, and what coverage you choose

Includes exams and surgeries, breed-specific conditions, dental maintenance, holistic care like acupuncture and therapies, cancer treatment
Allstate Insurance
$20 - $60

Depending on your pet's age, weight, breed, and what coverage you choose for said pet

Basic Coverage covers medical care for certain illnesses and accidents




Comprehensive Coverage covers routine vet visits, spaying/neutering, x-rays, lab fees




Pet Wellness Care covers cost of preventive care (such as routine wellness exam fees, heartworm protection and vaccines)

Ottawa Humane Society
$25 - $60+

Depending on your pet's breed, age at enrollment, and gender, as well as the deductible you choose and the cost of veterinarian treatment in your location

Ottawa Humane Society covers up to 80% of the remaining invoice when the deductible is met.
Pets + Us
$19 - $150

Depending on what plan you've chosen

The lowest priced plan only covers accidents and alternative therapy while the most expensive plan also covers illnesses, behavior therapy, and hereditary conditions
Desjardins
$20 and $60+

Depending on your pet's breed, age at enrollment, and gender, as well as the deductible you choose and the cost of veterinarian treatment in your area.

The Bronze Paw and Silver Paw plan cover up to $2000, and $4000 in accident and illness fees respectively.




The Gold Paw plan offers limitless coverage and is the most expensive.
The Best Pet Insurance Services in Ottawa
Pet insurance may be an unnecessary cost at first but you'll be surprised how much you'll be able to save with it. when your furry friend is in need

Of course, when choosing insurance services, we have to make sure that we're getting our money's worth.
That's why we looking for the best pet insurance available using the following criteria:
1. Allstate Pet Insurance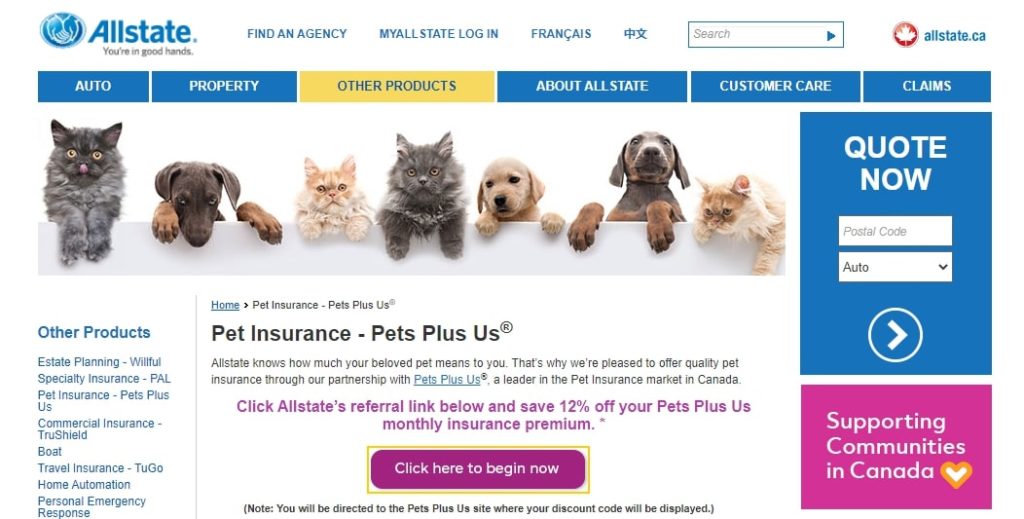 | | |
| --- | --- |
| Criteria | Ratings |
| Rates | ★★★★★ (5/5) |
| Transparency | ★★★★☆ (4/5) |
| Coverage | ★★★★★ (5/5) |
You may be familiar with Allstate since they also cover insurance for land and even people. They are popular in both the US and Canada so you should feel safe knowing your pets are in the hands of a very revered company.
However, if you want to make sure and know what you're getting into, we've got you covered.
What we like about Allstate is their 'nose to tail' policy which implies they're willing to cover everything your pet needs in case of an emergency.
Their insurance covers a lot of the basic stuff including vet bills for emergencies, treatments for illnesses, hospitalization, and even surgery. Diagnostic tests, X-rays, MRIs, and meds are also part of the coverage they offer.
The basic coverage they have is pretty similar to other pet insurance services. However, you should know that there are limitations.
Some surgeries for example can only be performed overseas and may not be covered. Their basic plan also doesn't cover dental care and vaccines unfortunately.
Another thing that may be a dealbreaker is their policies on senior pets and pregnancy care. They don't cover either of the two which is a bit unusual.
As for their rates, we can say that it's pretty fair for what they cover, which is around $39 monthly for dogs and $23 for cats. Of course, these prices may change depending on the specific coverage you prefer.
Overall, Allstate is a pretty good choice – it's a little expensive but they cover a lot when it comes to pets. Their 'nose to tail' policy isn't exactly 100% true but they do cover a lot so we'll give them a pass.
Well-known company
Fast response from phone and online
More expensive
Doesn't cover dental and pregnancy costs
2. Ottawa Humane Society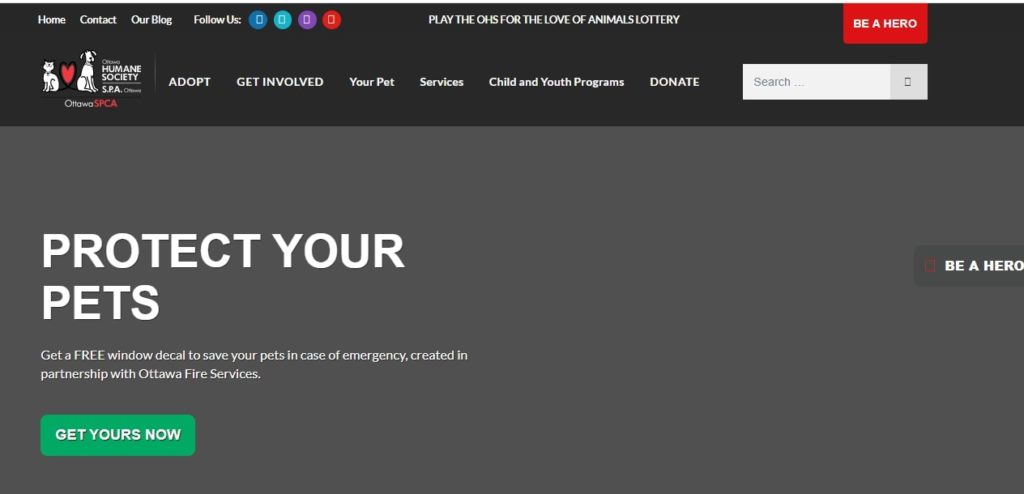 Test
Info
SERVICES
Dog Insurance, Cat Insurance
WEBSITE
https://ottawahumane.ca/
ADDRESS
245 W Hunt Club Rd, Nepean, ON K2E 1A6, Canada
CONTACT DETAILS
613-725-3166
OPERATING HOURS
Monday- Friday: 1PM - 7PM

Saturday - Sunday:11AM - 5PM
| | |
| --- | --- |
| Criteria | Ratings |
| Rates | ★★★★★ (5/5) |
| Transparency | ★★★★★ (5/5) |
| Coverage | ★★★★☆ (4/5) |
Ottawa Humane Society is another good choice for your pet insurance needs. Their office in Hunt Club Road is easy to find and they're very much reachable through their contact number.
Their insurance services cover the usual – diseases, injuries, and more. CT scans and similar procedures are also covered which should breathe a sigh of relief for many pet parents.
Operations, surgeries, and other similar procedures can get up to 90% coverage. This is quite impressive considering how expensive those procedures are.
We like that the Ottawa Humane Society also has other pet-centric services like adoption, workshops, and microchip clinics where pet owners can have their pets implanted by a licensed vet. They only operate by appointment so remember to call first.
They have youth programs for children who want to learn more about animals including dogs. It's also worth noting that their services are all animal-centric, even the workshops they offer.
They even rescue animals and put them up for adoption.Ottawa Humane Society is known for their kindness towards animals and it can really be seen that it's true when visiting their building.
Ottawa Humane Society's ambiance doesn't feel like a corporate insurance office with no heart. The animals in their building all look happy and healthy and their office feels more like an animal shelter or a veterinary office.
However, their facilities are smaller compared to other insurance services. This can still be a good thing because they actually have an office in Ottawa and pet parents can just walk in and ask about their services including their insurance.
We recommend the Ottawa Humane Society for their obvious love of animals and the services they offer. They don't offer it cheap but you know that your money's going to the right place.
Excellent facilities
The staff is caring and they're all animal-lovers
More expensive
Coverage can be a bit lacking
Customer Reviews
Perfect
"We're fortunate to have services like the Ottawa Humane Society. Unwanted pets and rescue animals etc need out help sometimes. It's understandable why people can't afford to keep their pets anymore. There could be many reasons why. Bringing them to the humane society is the best step if there aren't any other options. We needed to sadly let go of a couple of rescue cats because it wasn't feasible. The society was helpful and courteous and took them in. I'm sure they will find a good home. Thank you. " – Yodaman Solo
So happy
"The facility is excellent. The staff are likewise just top notch. This is certainly one of my favorite places… compassionate and just plain good. Highly recommend you get your next pet here, they take great care of the animals, you really couldn't ask for better… I'm truly impressed and delighted to have met these people and have adopted a pet from them. Stellar!." – Adam Saint
3. Desjardins Insurance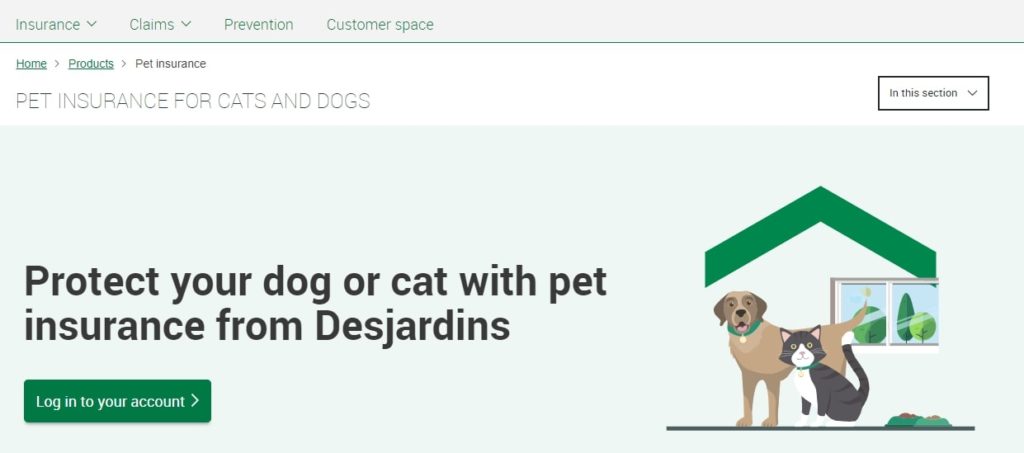 | | |
| --- | --- |
| Criteria | Ratings |
| Rates | ★★★★☆ (4/5) |
| Facilities | ★★★★★ (5/5) |
| Area | ★★★★★ (4/5) |
| Staff | ★★★★★ (5/5) |
Other than home and car insurance, Ottawa's Desjardins also provides insurance for pets.
Their plans are a bit different, with 3 options to choose from – The Bronze Paw, the Silver Paw, and the Gold Paw.
The Bronze Paw plan covers up to $2000 worth of expenses in accidents and also another $2000 coverage for illnesses per condition. For dental work, it covers up to $500.
The Silver Paw, on the other hand, covers up to $4000 for both accidents and illnesses (per condition) and covers up to $700 in dental.
Their most expensive plan is the Gold Paw which covers unlimited worth of expenses for both categories. The gold plan also covers up to $1000 in dental.
Both Gold and Silver cover alternative and behavioral therapy and medical devices up to $350. We appreciate the specificity of their plans because it makes it easier to understand for first-time customers.
Their pricing depends on your pet's age. They charge $100 for newborns up to 5 year old cats and dogs, $250 for 5 – 10 year old dogs, $150 for the same category in cats, and $350 for dogs aged 10 years above, $200 for cats in the same category.
As you can see, Desjardins has a more expensive price range but they're a well-known company with a reputable status so you won't have to worry about where your money is going.
Because they're also an insurance company for homes and vehicles, they're a bit more stern compared to pet insurance companies.
But going back to their plans, their coverage is pretty decent, including therapy and dental. The plans categorized by bronze, silver, and gold levels also make them easy to understand.
All in all, Desjardins is still a good choice despite its expensive price. If you have the money to spend, you might as well spend it on a good insurance policy for your beloved pets. .
Basic plan already covers a lot
Easy-to-understand plans
Much more expensive
Staff is too corporate
BONUS: Fetch Pet Insurance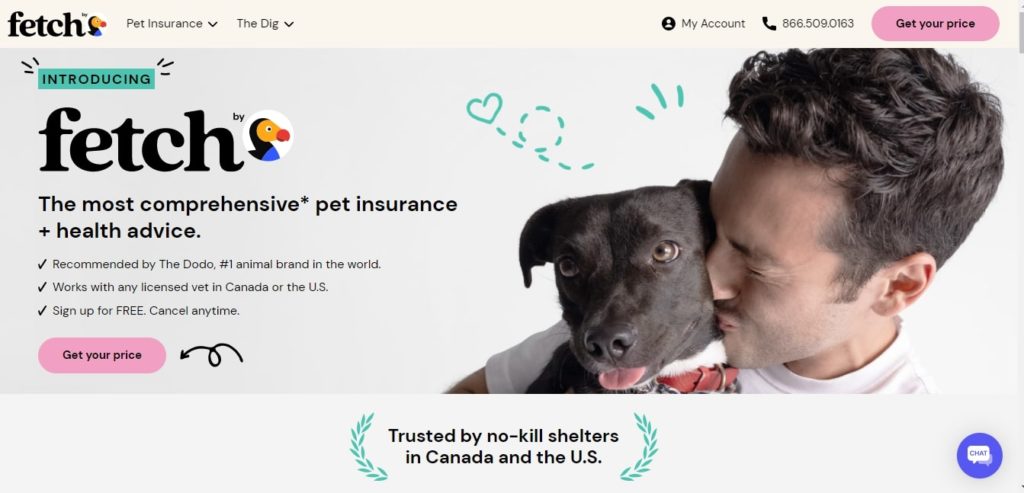 | Test | Info |
| --- | --- |
| SERVICES | Dog Insurance, Cat Insurance |
| WEBSITE | https://www.fetchpet.com/canada |
| ADDRESS | 16586 Woodbine Ave, Whitchurch-Stouffville, ON L4A 2W3, Canada |
| CONTACT DETAILS | 866-509-0163 |
| OPERATING HOURS | Opens everyday 8AM - 8PM |
| | |
| --- | --- |
| Criteria | Ratings |
| Rates | ★★★★★ (5/5) |
| Transparency | ★★★★★ (5/5) |
| Coverage | ★★★★★ (5/5) |
If you've been on the animal or pets side of Youtube, you've probably encountered Fetch by the Dodo more than once. They have multiple animal videos with millions of views on Youtube.
They're on this list because they also sell pet insurance. The people behind The Dodo are animal lovers and it's why they post animal videos and also offer services for those who share their passion.
They have insurance services all over the US and Canada. They don't have a main office but they can be contacted through their website and through their contact numbers.
Even though they don't have their own location in Ottawa, they do have an office in Ontario. However, it is not required to visit their office for their services.
As long as you've signed up with their insurance service, you will be covered anytime you visit a licensed vet in Ottawa or somewhere else in the country. They offer insurance for both dogs and cats, with the most basic package costing about $35 and $25 monthly, respectively.
Availing for their insurance is a pretty easy process despite doing it online or through the phone. They give a price for their most popular plan and from there, they will adjust the annual payout.
These packages usually cover everything from MRI to Dental but there are exceptions and they will let you know once you avail the service. They cover up to $15,000 depending on the package you choose.
Another thing we liked about Fetch is that they're pretty transparent about the services they offer. While their lack of locations around Ottawa may be a problem for some pet parents, as long as there are licensed vets around you, you should be good.
Popular choice
Transparent with their coverage
No multiple locations in Ottawa
Their reputation precedes them so there are times they're fully booked
Customer Reviews
Good coverage
"Very prompt and covered the dental surgery my pup desperately needed! We needed to have several abscess teeth removed and bone graft materials placed in. They were quick to review and reimburse the portion I was eligible for." – Len
Best pet insurance around
"I have had this pet insurance now for about 2 years on my fur baby and I love it. I can choose which plan as far as how much the deductible is every year and total amount reimbursed etc. I love this and it was the most inexpensive insurance that I had ever chosen where we get really good benefits without paying out your first born. Love Fetch Pet insurance." – Valinda
BONUS: Pets + Us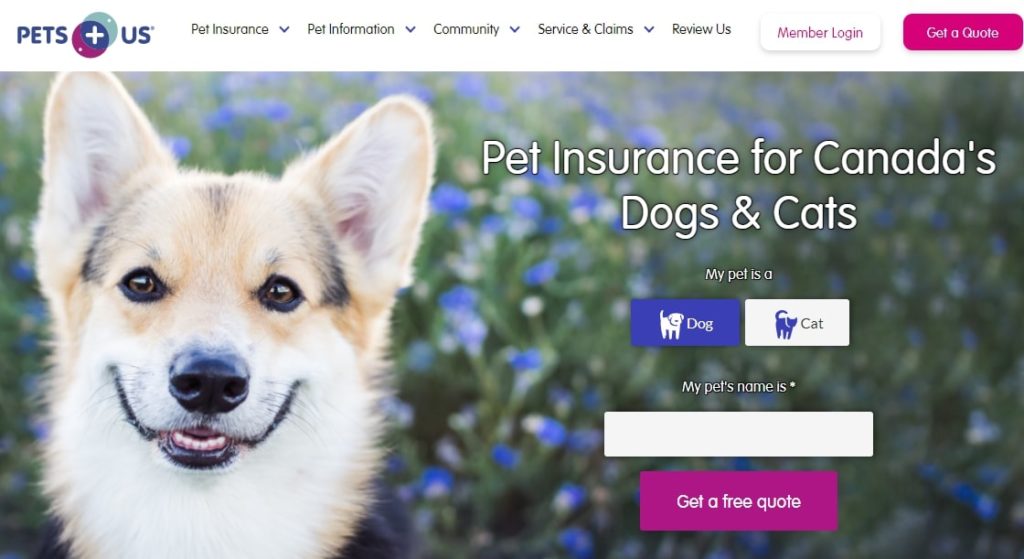 | Test | Info |
| --- | --- |
| SERVICES | Dog Insurance, Cat Insurance |
| WEBSITE | https://www.petsplusus.com/ |
| ADDRESS | 710 Dorval Dr Suite 400, Oakville, ON L6K 3V7, Canada |
| CONTACT DETAILS | 800-364-8422 |
| OPERATING HOURS | Monday- Friday: 9AM - 5PM |
| | |
| --- | --- |
| Criteria | Ratings |
| Rates | ★★★★☆ (4/5) |
| Transparency | ★★★★★ (5/5) |
| Coverage | ★★★★☆ (4/5) |
| Staff | ★★★★★ (5/5) |
There's a reason why Pets + Us is one of the most highly rated pet insurance services in the market. They offer a variety of insurance policies for pets.
Their office is in Ontario but their insurance covers all of Canada's licensed vets, including Ottawa.
Their most basic package is for accidents only, going around $35 monthly while their accident and + illnesses package can reach up to $150 monthly depending on the breed, size, and age of your pet.
That's for the dogs. Their price for cats is a bit lower, going around $25 monthly up to below $100.
We like that their accident and illnesses package covers therapies and hereditary conditions. For those that don't know, some dogs have pre-existing hereditary medical conditions because of breeding such as pugs are born with difficulty breathing.
Moreover, for anyone looking to save, Pets + Us also offers promos and discounts especially for their members. This makes them a good choice for all kinds of pet owners since their pricing is fair and their coverage is decent as well.
Do note that there are some illnesses that they don't cover such as pre-existing illnesses like the breathing difficulty of pugs I mentioned above. There's also a 48 hour waiting time after getting one of their plans as part of their policy.
If your pet has medical needs within the 48 hours allotted, they won't cover it. That may be a dealbreaker for some pet parents so just remember that before choosing them as your insurance provider.
Packages are easy to understand
Hereditary conditions coverage
48-hour waiting time
Expensive
Customer Reviews
Quick and prompt
"I have both my pups insured through Pets+Us. Originally they were through President's Choice, but it was moved to Pets+Us. They are very prompt with refunding. As my one pup seems to have several health issues, I'm very thankful that I have this backup plan. Getting a pup? Buy pet Health insurance, you won't regret it!" – Felicity Lowinger
Incredible
"I have nothing but good things to say. My big boy has allergies, he has had knee surgery, he has been to the dermatologist, constant ear infections, etc. They pay NO PROBLEM. They have paid over $10,000 back to us on top of my monthly fees and deductions. They have incredible customer service as well. Insurance can be expensive but if you have a high maintenance pet it is worth every penny. Love this company, I would never consider leaving for another provider. Amazing." – Sandra Nicholls
FAQs about Pet Insurance in Ottawa
---
Are your pets going wild around the house? Or maybe you just want to be sure they're always safe?
Either way it's best to get them their own insurance. Check out our list for the best pet insurance available in Ottawa!
Do you think we selected the best options? If you have any suggestions, let us know!
Want to learn more about taking care of your furbabies? Check out this guide for taking care of your dogs!