Top Motorcycle Insurance Providers in Ottawa
You can get your motorcycle insurance through direct transactions with insurance companies or with the help of an insurance broker. Of the two options, the latter is more convenient.
That said, we've scoured the market to give you a list of the best motorcycle insurance providers in Ottawa. We have selected brokers and one cooperative where you can shop for the best policies, and at affordable rates, too!
We also put together information on the average costs of motorcycle insurance rates along with answers to some FAQs. We hope our data can help you better weigh your choices.
How much does motorcycle insurance cost in Ottawa?
The annual cost of motorcycle insurance province-wide can go between $1,500 to $3,500 a year. If we break it down to monthly premiums, you'll likely pay $125 to $292.
The exact cost varies widely depending on the insurance company. Fortunately, working with brokers can help ensure that you're getting policies with reasonable prices, as good brokers are committed to shopping for policies that best match your needs and budget.
Other factors will affect your premium rate, including your age, riding history, and bike make and model. The noticeable pattern is that as you age, the prices will go lower partly because you're not as active a rider as when you're younger.
Here is a glimpse of how annual rates change as you grow older.
| Age Range | Average Annual Rate |
| --- | --- |
| 20 - 24 | $2,262 |
| 25 - 29 | $1,853 |
| 30 - 34 | $1,316 |
| 35 - 39 | $1,316 |
| 40+ | $1,172 |
Top Motorcycle Insurance Providers in Ottawa
Insurance providers can be a big help when you're involved in a motorcycle accident, but only if they are committed to providing you the care you deserve.
To ensure you'll be transacting with companies that put you first, we have used the following criteria to assess them.
1. Scrivens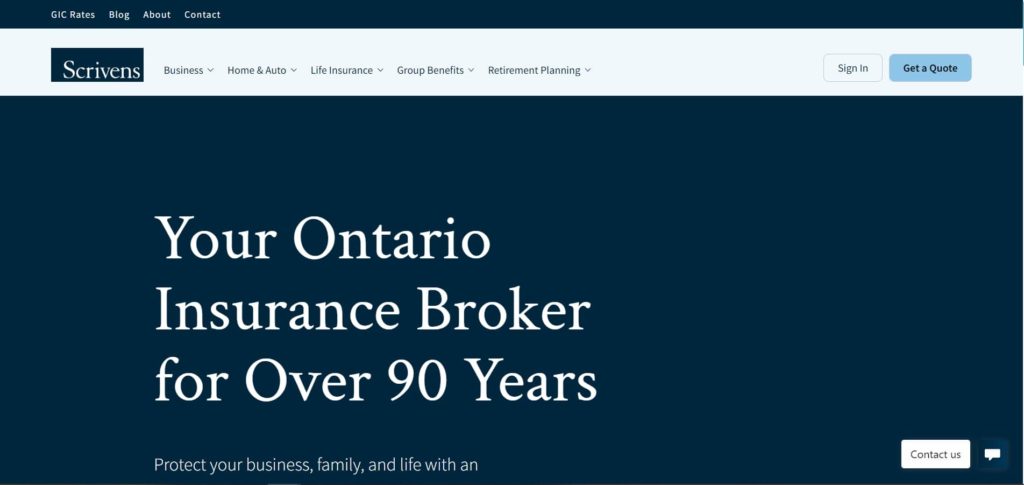 Test
Info
SERVICES
- Home insurance

- Auto and motorcycle insurance

- Boat insurance

- Life insurance

- Critical illness insurance

- Commercial property insurance

WEBSITE
https://www.scrivens.ca/
ADDRESS
270 MacLaren St., Ottawa, ON K2P 0M3
CONTACT DETAILS
(613) 236-9101
OPERATING HOURS
Monday to Friday: 8:00 AM - 5:00 PM
| | |
| --- | --- |
| Criteria | Rating |
| Range of products | ★★★★★ (5/5) |
| Customer service | ★★★★☆ (4.5/5) |
| Responsiveness | ★★★★☆ (4/5) |
| Friendliness | ★★★★★ (5/5) |
| Reputation | ★★★★★ (5/5) |
| Financial Stability | ★★★★★ (5/5) |
We can agree that reputation should be one of the things to look for in a company, making Scrivens an ideal choice.
The company has been around since the 1930s and is now in its third generation, yet it's still going strong. We love that it appears to be a one-stop-shop for all your financial protection needs, covering your home, vehicle, illness, and business.
We find it convenient that Scrivens has outlined its motorcycle insurance options on its website. This way, we can easily see what the company offers beyond the minimum coverage mandatory in Ontario.
They can provide you with comprehensive insurance, which you can use if you think your motorcycle needs protection from theft or vandalism.
Meanwhile, their optional equipment coverage may help you save money for repairing parts added to your bike, provided that they're of factory-standard quality.
Given its longevity in the industry, it's natural for Scrivens to work with only top auto insurance providers. If you go with them, expect to get your policies from financial giants Gore Mutual, Aviva, and Intact.
Scrivens' roster of partners with their steady financial standing gives us peace of mind. However, we are aware of possible difficulties along the way, which usually crop up during the riding season when collisions and damages have higher chances of happening.
While your broker can certainly help contact your insurer, they might find it difficult to get through if you're competing against thousands of motorcycle owners across Ottawa. This is especially if most of them are dealing with the same broker and the same insurance company.
Clear-cut policy benefit details
Wide range of insurance products
Mostly responsive and helpful service desk
Easy-to-use quote request form
No at-a-glance online information on values and premiums
Possible delays in responses due to the high volume of clients
Customer Reviews
Streamlined process that makes clients happy
"After many frustrations with other insurance providers, I was so pleased to be referred to Paige McKenna by Jake Scrivens for my new home and auto policies. Not only was I able to save money and time, but she was so proactive, organized, and responsive throughout the entire process. Thank you so much, Paige, Jake & the Scrivens Insurance team!" —Megan Judges, Google Reviews
Capable of maintaining long relationships with clients
"I've been dealing with Scrivens for over 30 years and I've never had any issues with them. When I have had to call, they are always pleasant and eager to assist me. I would certainly recommend Scrivens to anyone who is looking for a good car and/or home insurance." —Helen Jackson, Google Reviews
2. Halpenny Insurance Brokers Ltd.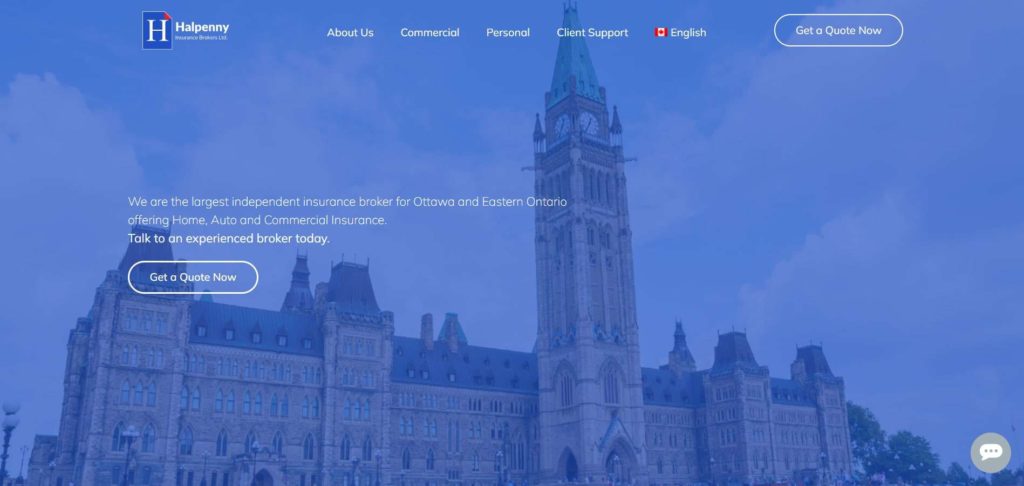 Test
Info
SERVICES
- Auto insurance

- Boat and watercraft insurance

- Home insurance

WEBSITE
https://www.halpenny.com/
ADDRESS
1550A Laperriere Ave., Suite 104, Ottawa, ON K1Z 7T2
CONTACT DETAILS
(613) 722-7626
OPERATING HOURS
Monday to Friday: 8:00 AM - 5:00 PM
| | |
| --- | --- |
| Criteria | Rating |
| Range of products | ★★★★☆ (4/5) |
| Customer service | ★★★★★ (5/5) |
| Responsiveness | ★★★★★ (5/5) |
| Friendliness | ★★★★★ (5/5) |
| Reputation | ★★★★★ (5/5) |
| Financial stability | ★★★★★ (5/5) |
Halpenny is another insurance broker company that we recommend for its long experience in the industry. Spanning about 100 years of operation, it's the most senior player in our selection.
Apart from its longevity, this company is known for its quick response and top-quality service. They also strive to tailor your policy to your needs and financial capabilities, which is convenient.
Halpenny's auto insurance covers both cars and motorcycles. That means you save application time if you own both vehicles.
We like that they also provide an online resource about factors affecting your insurance rates. It shows that the company is transparent with how they come up with coverage quotes.
Though, we would have loved it more had they included more details about the policies they offer. At the very least, a bullet list of coverages will have been helpful, especially for first-time clients.
Halpenny has distinguishable partners including Intact and Echelon. And we love that these companies provide attractive coverages and perks for motorcycle owners.
For instance, Intact provides riders in Ontario with a coverage value of up to $70,000 and $2 million in third-party liability. On the other hand, Echelon offers premium discounts for riders with advanced training credentials.
Requesting for claims via phone call can be a hassle if the lines are busy. So for your convenience, Halpenny included on its website a direct link to the insurers' claims pages, where you can file your request online.
However, know that this convenient option may backfire if the insurer fails to respond within an acceptable period. Unfortunately, this tends to happen when you're directly transacting with most insurance providers.
Thankfully, Halpenny's brokers can help you get through. Just make sure you're in constant communication with your broker and ask them for all the help you need.
Responsive service desk
Simple, no-fuss quote request form
Finds quotes that best match your budget and needs
Solid reputation in Ottawa
Online information on packages lacking
Customer Reviews
Same coverage, more affordable rates
"I was referred to Mora and I am very happy that the contact was shared. Very nice, understanding, and knowledgeable in this industry. Excited to have new insurance at a [lower] price for the same coverage. I would definitely recommend her to family and friends." —Debora Panda, Google Reviews
Continues to impress long-time clients
"When I had a question about buying a new vehicle, my broker was very helpful and responsive and quick to ultimately get it insured. As a long-time customer, I have always been happy with Halpenny's service." —Rob F, Google Reviews
3. Rhodes & Williams Insurance Brokers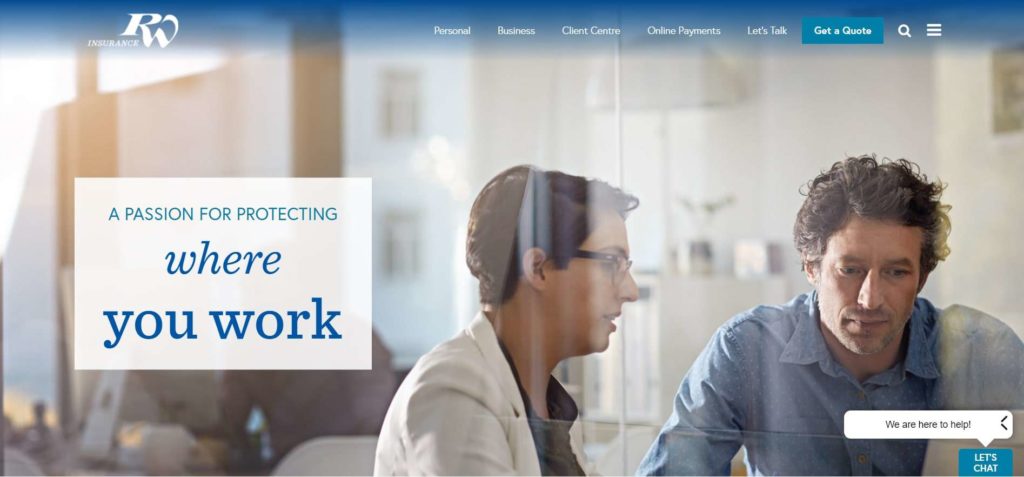 Test
Info
SERVICES
- Auto insurance

- Home insurance

- Watercraft insurance

- Professional liability

WEBSITE
https://www.rhodeswilliams.com/
ADDRESS
1050 Morrison Dr., Ottawa, ON K2H 8K7
CONTACT DETAILS
(613) 226-6590
OPERATING HOURS
Monday to Friday: 8:00 AM - 4:30 PM
| | |
| --- | --- |
| Criteria | Rating |
| Range of products | ★★★★☆ (4/5) |
| Customer service | ★★★★★ (5/5) |
| Responsiveness | ★★★★★ (5/5) |
| Friendliness | ★★★★★ (5/5) |
| Reputation | ★★★★★ (5/5) |
| Financial stability | ★★★★★ (5/5) |
We love companies that understand that every individual's insurance needs are different. That said, we picked Rhodes & Williams Insurance Brokers because they fit that standard well.
The company is one of the oldest and most respected brokers in Ottawa. The Better Business Bureau has acknowledged it way back in 1985, equating to 30 years of good reputation.
What we like most with Rhodes & Williams is that majority of its brokers are competent and knowledgeable, but they don't come off as arrogant or condescending. Thanks to this disposition, many clients feel that they can trust the company for their future protection.
Moreover, the company's brokers will make sure to tailor your policy to your needs, financial capabilities, and preferences. This way, you will get your protection on your own terms and with little pressure.
We love that Aviva is one of the company's partner insurers, as it is one of the top auto insurers in the region because of its reputation and client-friendly benefits.
It's unfortunate that the broker's website doesn't have direct links to their partner companies, though. That might have been more convenient for clients who wanted to check and verify coverages.
You also can't expect much if you want to look for coverage details on the Rhodes & Williams website. Thankfully, they are easily reachable and respond well to online requests and calls, allowing you to get your information from the company's service desk.
Personable and helpful brokers
Helps you find competitive package rates
Quick to respond
BBB-accredited with A+ rating
Information on services lacking on website
No at-a-glance list of partner insurance companies
Customer Reviews
Client-approved package rates
"Brian was very responsive and helpful and got us a better rate for home and auto than we had found anywhere else. I'd recommend this service to anyone looking to shop for insurance." —Ben Porter, Google Reviews
Efficient customer care
"I worked with Rhodes and Williams to switch my home and auto plans. The service was excellent (fast communication and straightforward explanations) and my new rates are lower. Would recommend working with them." —Simon Anderson, Google Reviews
4. Co-operators Group Ltd.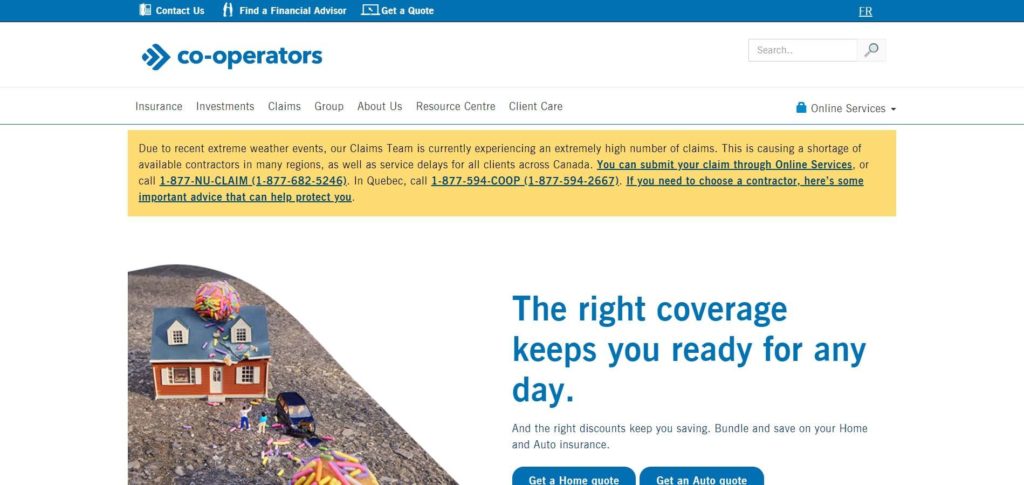 Test
Info
SERVICES
- Home insurance

- Auto insurance

- Life insurance

- Business insurance

- Travel insurance

WEBSITE
https://www.cooperators.ca/
ADDRESS
Ottawa office: 1565 Carling Ave. Unit 614, Ottawa, ON K1Z 8R1
CONTACT DETAILS
(613) 722-4993
OPERATING HOURS
Monday to Friday: 9:00 AM - 5:00 PM
| | |
| --- | --- |
| Criteria | Rating |
| Range of products | ★★★★★ (5/5) |
| Customer service | ★★★★☆ (4.5/5) |
| Responsiveness | ★★★★☆ (4/5) |
| Friendliness | ★★★★★ (5/5) |
| Reputation | ★★★★★ (5/5) |
| Financial stability | ★★★★☆ (4.5/5) |
For those who are looking for non-traditional insurers, the Co-operators Group is a promising alternative.
A group of farmers formed the company in 1945 with the objective of veering away from dependence on conventional businesses. Since then, it has grown to insure over a million clients of their properties, health, and farms.
What we love about Co-operators is the wide selection of vehicles they cover. You'll get collision protection not only for your car and motorcycle but also for your farm and antique vehicle, even your trailer.
One point for improvement is we'd like the company to adapt to technology better. Specifically, we'd love for them to launch a mobile app that you can use to monitor your insurance status.
Co-operators currently require clients to log in on the website to check and update their policies and submit claims. It's an easy process, but some may find going to a browser a bit of a hassle.
Usually speedy response and processing
Covers a wide selection of vehicle types
Solid national reputation
Also offers life and farm insurance
Occasional unresponsiveness
No mobile app
Customer Reviews
Quick and personable service desk
"Very helpful and efficient at getting auto insurance. Other agents/insurance providers were giving me the runaround but the transaction here went smoothly. Will recommend to family and friends." —Jonas Araya, Google Reviews
Establishes long relationships with clients
"I have been a client with these guys for decades now, and have insured through them even after moving to Toronto. Without exception, all interactions have been efficient, professional and friendly. My most recent request for changes was dispatched by Robert within a day. Outstanding group." —Mary Pal, Google Reviews
5. Billyard Insurance Group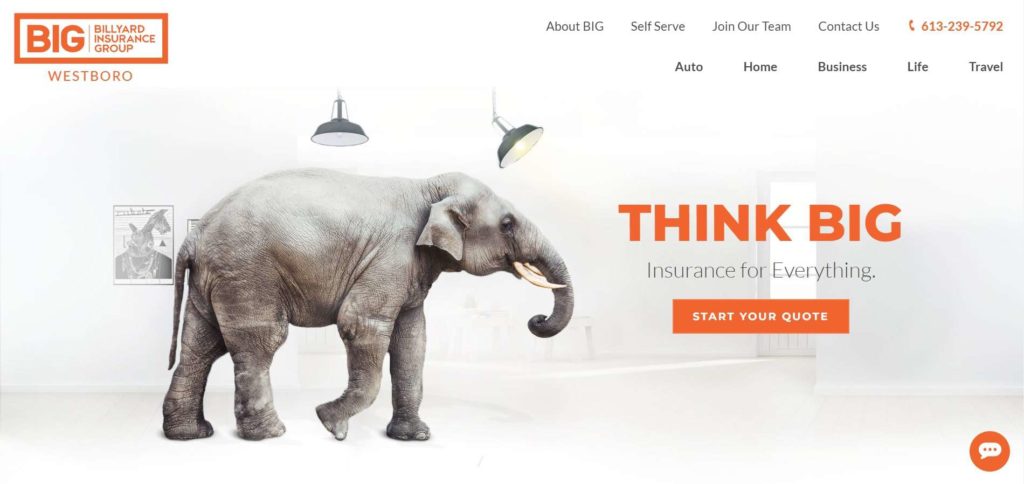 Test
Info
SERVICES
- Auto insurance

- Home insurance

- Life insurance

WEBSITE
https://www.thebig.ca/westboro
ADDRESS
311 Richmond Rd., Suite 300, Ottawa, ON K1Z 5H8
CONTACT DETAILS
(613) 239-5972
OPERATING HOURS
Monday to Friday: 9:00 AM - 5:00 PM
| | |
| --- | --- |
| Criteria | Rating |
| Range of products | ★★★★★ (5/5) |
| Customer service | ★★★★☆ (4.5/5) |
| Responsiveness | ★★★★☆ (4/5) |
| Friendliness | ★★★★★ (5/5) |
| Reputation | ★★★★☆ (4/5) |
| Financial stability | ★★★★★ (5/5) |
Insurance rates change frequently, which can stress out clients who have their money budgeted to the last cent. Fortunately, one can rely on Billyard Insurance Group (BIG) to help.
The company is partnered with multiple insurance providers to make sure you will get the ideal policy at the most competitive prices. And if the rate increases, its team will help you search for a more affordable alternative during your annual renewal.
BIG's partner roster includes big names who have been long-time players in the industry, including CAA, Echelon, Aviva, and Intact. With that impressive number of companies as options, you can almost always expect your brokers to find the perfect policies for you.
Moreover, the company added legitimacy to its name by being a bonafide member of the Registered Insurance Brokers of Ontario and the Insurance Brokers Association of Ontario. These credentials contribute to clients gaining peace of mind.
The only probable downside of this company is that its Ottawa office is relatively young, which can be a little off-putting for extra cautious clients. Its team also has a combined experience of only 15 years, which is much shorter than other established companies.
Fortunately, BIG is providing satisfactory services so far, which makes the company worth the try.
Claims unit is reachable 24/7
Helps clients shop for additional motorcycle protection
Streamlined online process from quote to coverage
Highly capable and friendly advisers
Company might appear too young for some clients
Occasional difficulties in transactions during busy hours
Customer Reviews
Shops for the best quotes
"I was referred to Q. Smith, by a friend. I was met with terrific client service that was informative and thorough in finding me the best rate. Within a couple of email exchanges between us, Mr. Smith was able to save me close to $400.00 off my combined car and home insurance. He is highly recommended." —Kenneth Latulippe, Google Reviews
Helps you save money
"Contacted them for a quick auto quote as my renewal came up and the price didn't change, Brian got me a quote within minutes of speaking, much better than the renewal price. Received confirmation this morning with the payment schedule and noticed the price went down more! Thank you Brian!" —George Mrad, Google Reviews
FAQs about Motorcycle Insurance in Ottawa
---
Motorcycle insurance is essential protection that riders will be grateful for down the road. We hope our selection has helped you decide on who to work with for your future shopping or renewal.
We can also help you if you own a car and you're looking to update your coverages. Check out our list of the top car insurance providers in Ottawa to know more.