5 Best Medical Laboratories in Ottawa
Canada has one of the best healthcare systems due to the quality and coverage of their public health insurance. It has some of the best medical laboratories that provide diagnostic tests and radiology services too.
If you're looking for a medical laboratory in Ottawa, you've come to the right place. Here are the top laboratories in the city.
How Much Do Medical Laboratory Tests Cost in Ottawa
Ontario Health Insurance Plan (OHIP) and provincial health insurance plans cover the majority of laboratory tests in Ottawa. But some tests are not covered, so they must be paid for by the patient.
In the table below, we included the average estimated cost of the most common laboratory tests. Take note that some variables may change that will affect the average price below.
| Test Name | Average Cost |
| --- | --- |
| Albumin | $5.00 |
| Alkaline Phosphatase | $5.00 |
| ALT | $5.00 |
| AST | $5.00 |
| Bilirubin Total | $5.00 |
| Calcium | $5.00 |
| Creatinine | $5.00 |
| GGT | $5.00 |
| Glucose Fasting | $5.00 |
| Glucose Random | $5.00 |
| Iron and TIBC | $5.00 |
| Lactate Dehydrogenase | $5.00 |
| Lipase | $5.00 |
| Magnesium | $5.00 |
| Phosphate | $5.00 |
| Thyroid Stimulating Hormone | $5.00 |
| Urate | $5.00 |
| Urea | $5.00 |
| ESR | $6.00 |
| Free T4 | $6.00 |
| Complete Blood Count | $7.00 |
| Hemoglobin A1c | $7.00 |
| Vitamin B12 | $7.00 |
| Ferritin | $8.00 |
| Prothrombin Time (INR) | $8.00 |
| C-Reactive Protein | $9.00 |
| Fecal Immunochemical Test | $9.00 |
| Bilirubin Total and Direct | $10.00 |
| Blood scan with Morphology | $10.00 |
| Hepatitis C Antibody | $10.00 |
| Troponin-T | $10.00 |
| Urinalysis with Microscopic | $10.00 |
| Prostate Specific Antigen | $14.00 |
| Blood Culture | $15.00 |
| Creatine Kinase | $15.00 |
| LDL Cholesterol | $15.00 |
| Microscopy for BV/Yeast | $15.00 |
| Prothrombin Time (INR) and Partial Throm | $15.00 |
| Throat Beta Strep Test | $15.00 |
| Urine Culture | $15.00 |
| Chlamydia/GC Test | $20.00 |
| Hepatitis B Surface Antigen | $20.00 |
| Albumin Random-Urine | $22.00 |
| ABO & Rh (Instrument) | $23.00 |
| Type & Screen | $23.00 |
| Electrocardiogram Lab | $30.00 |
| Gynecology Cytology Report | $30.00 |
| Syphilis Antibody (EIA) | $30.00 |
| HIV Serology (Mixed Ag/Ab Detection) | $50.00 |
| Surgical Pathology Report | $300.00 |
Data reference: https://www.albertahealthservices.ca/assets/wf/lab/wf-lab-bulletin-revised-laboratory-tests-and-associated-costs.pdf
Best Medical Laboratories in Ottawa
According to the Centers for Disease Control and Prevention, 70% of health decisions and outcomes rely on medical lab results. Thus, knowing that your medical laboratory is efficient is important, especially when your life's on the line.
1. LifeLabs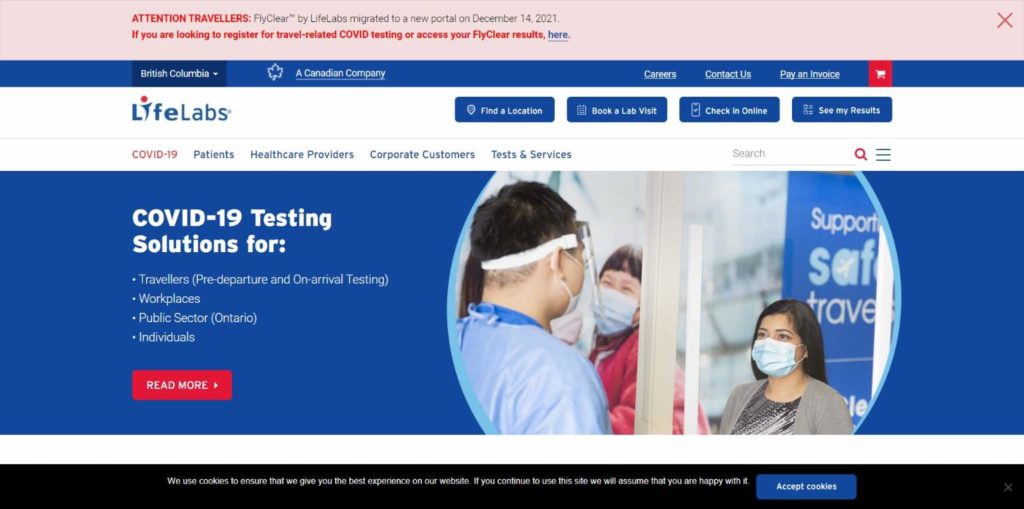 Test
Info
SERVICES
COVID-19 Testing, Anti-Aging and Wellness Tests, Cardiovascular Health Tests, Gastrointestinal Health Tests, Immunological Disorders Infection Tests, Oncology Tests, Reproductive Health and Pregnancy Tests, Colorectal Cancer Screening
WEBSITE
https://www.lifelabs.com/
ADDRESS
1919 Riverside Dr. Suite 105, Ottawa, ON K1H 1A2, Canada; 267 R. O'Connor St Suite 222, Ottawa, ON K2P 1V3, Canada
CONTACT DETAILS
+1 877-849-3637
OPERATING HOURS
Mondays to Fridays: 7:00 AM to 4:00 PM

Saturdays to Sundays: 8:00 AM - 12:00 NN
| | |
| --- | --- |
| Criteria | Ratings |
| Customer Service | ★★★★★ (5/5) |
| Range of Services | ★★★★★ (5/5) |
| Availability and Timeliness | ★★★★★ (5/5) |
LifeLab made it to our list with their over 50 years of providing diagnostic healthcare needs. They started as a small lab on the west coast and now they're one of Canada's largest.

We're very impressed with LifeLabs' number of awards and recognitions from industry and community organizations across Canada. They've won awards for consecutive years from Forbes Canada's Best Employer and Greenhealth Environmental Excellence Award.
They are more than complete in acquiring license and accreditation from Ontario's Ministry of Health and Long-Term Care, Institute for Quality Management in Healthcare Certificate, and College of American Pathologist Accreditation.
Furthermore, we're fans of how they also acquired licensing and accreditation from British Columbia. They have accreditation and certification from Physicians and Surgeons of British Columbia Diagnostic and the Institute for Quality Management in Healthcare.
One of the best things about LifeLab is its investment in healthcare technology like high volume chemistry (HVC). Their fully-automated HVC line runs millions of tests each year and significantly reduces manual handling of specimens, resulting in a lower risk for repetitive strains.
Unfortunately, not all LifeLabs clinics are open on weekends. They do, however, have an amazing location finder on their website that lets you filter out the location in terms that you need.
LifeLabs' location allows you to filter their 282 Patient Service Centres which are open on Saturdays and Sundays. It also filters those that offer special tests like 24-Hour Holter Monitoring and Ambulatory Blood Pressure Monitoring
HVC Technology
282 Service Centres
Some locations are close on weekends
Special tests are only offered in specific locations
Patient Reviews
Quick and incredibly professional
"Best LifeLabs. Staff is amazing. Wait time depends on the day, but they are quick and incredibly professional. Worth the parking fee at the hospital." Marie-Eve Turcot
Wait times are not that long
"I've been coming here since they were in the basement of the same location. The bee location is clean and sunny. They are pretty fast, so wait times are not that long. I've had the softest "sticks" from them ever. You barely feel it. Most staff are quiet and have a gentle demeanour. I like the fact that I can get my results online to compare previous labs. It's very convenient and puts my health information in my hands." – Shauna Malcolm
2. Bio-Test Laboratory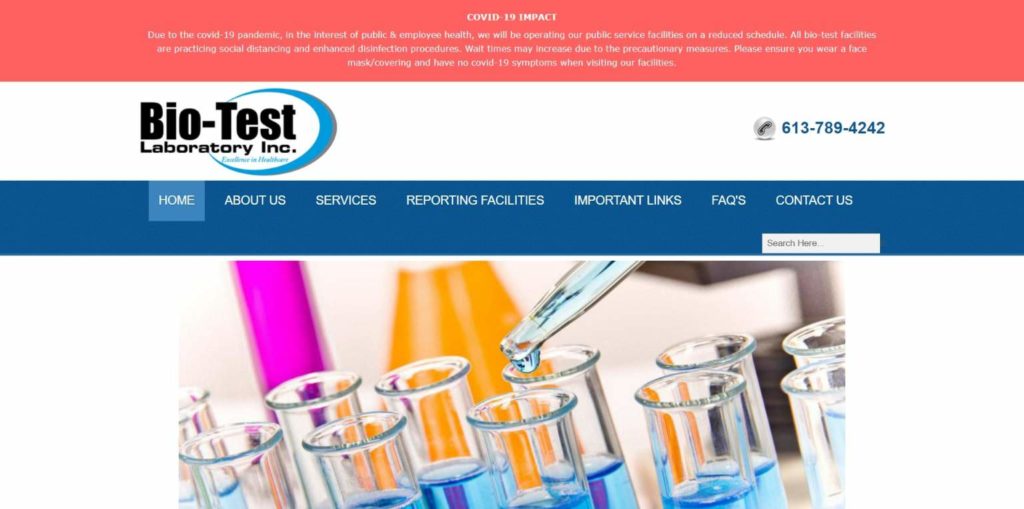 Test
Info
SERVICES
Haematology Test, Chemistry Test, Microbiology Test, Special Chemistry Test, Serology and Cytology Test, Radiology and Ultrasound Services, Laboratory Testing, Specimen Collection
WEBSITE
https://bio-test.ca/
ADDRESS
2006 Robertson Rd. Unit 16, Ottawa, ON, K2H 1A5
CONTACT DETAILS
613-789-4242

613-789-7033

OPERATING HOURS
Mondays to Fridays: 7:30 AM - 4:00 PM

Saturdays to Sundays: CLOSED
| | |
| --- | --- |
| Criteria | Ratings |
| Customer Service | ★★★★★ (5/5) |
| Range of Services | ★★★★★ (5/5) |
| Availability and Timeliness | ★★★★☆ (4/5) |
Established in 1971, Bio-Test Laboratory has been close to the hearts of Ottawans. It is the only locally owned and operated medical laboratory in Eastern Ontario that performs testing onsite at its main lab, enabling them to provide clinical results quickly.
Bio-Test Laboratory has been proud to serve patients and physicians in Ottawa with the highest quality diagnostic laboratory and radiology services for over 43 years. We're impressed by how they always ensure that they are equipped with up-to-date equipment and computer technology.
The laboratory boasts of providing quick, reliable, and professional services. What's more, they can provide their services within their patient center or in a physician's office.
We're equally impressed with Bio-Test Laboratory's specimen collection services. They can provide this in other medical clinics, doctor's offices, community health centers, retirement/nursing homes, long-term care facilities, and private homes.
Another thing that caught our attention is how Bio-Test Laboratory will go above and beyond for their patients through house calls and occupational health testing. It's convenient that they provide laboratory services for an organization's employees with great flexibility.
Unfortunately, Bio-Test Laboratory does not provide a patient center location finder and pricing guide for services on their website. They compensate for this by providing excellent and friendly phone and onsite customer service, plus a fast turnaround for diagnostic test results.
Fast turnaround for diagnostic test results
43-years of service
No patient center location finder on the website
No pricing guide for services
Patient Reviews
Staff are friendly
"I have been using this lab for blood work for years now and never had any complaints. Staff is friendly although could use a dedicated reception staff instead of the phlebotomist multi-tasking. Even during Covid, they are still running as efficiently and results are usually with my doctor within 24-48 hrs." – Eleayé Proctor
Very clean and efficient
"This facility is very clean and efficient. There is decent street parking nearby. The staff is sweet and put me at ease. Many thanks to Danielle for her gentle manner." – Leigh-Anne Gillespie
3. Dynacare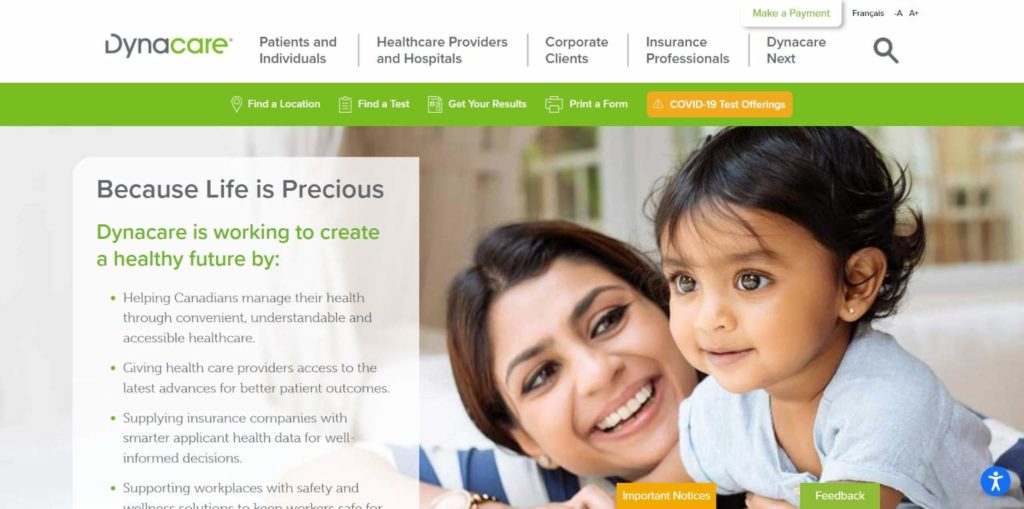 Test
Info
SERVICES
Health Solutions, Prenatal Tests, Digestive Conditions Test, Paternity / Kinship Test, QuantiFERON®-TB Testing Home Care Testing, Allergy Testing, Cervical Cancer/HPV Testing, Hereditary Cancer Screening. Heart Health Testing, Pap Test, Mental Health Solutions
WEBSITE
https://www.dynacare.ca/
ADDRESS
750 Peter Morand Cres., Ottawa, ON K1G 6S4, T 800.565.5721
CONTACT DETAILS
613 729 1127
OPERATING HOURS
Mondays to Fridays: 8:00 AM - 4:00 PM

Saturdays to Sundays: CLOSED
| | |
| --- | --- |
| Criteria | Ratings |
| Customer Service | ★★★★★ (5/5) |
| Range of Services | ★★★★★ (5/5) |
| Availability and Timeliness | ★★★★☆ (4/5) |
With experience stretching more than 50 years, Dynacare is proud to have saved millions of lives. They have a detailed history that celebrates every milestone on their path to become one of Canada's most established health solutions companies.
Dynacare impressed us with how successfully they expanded their services to advanced genetic testing, digital health, and corporate wellness programs. They also do several specialized services for the insurance industry, like special prioritization for their applicants.
One of the things we adore about the company is how Dynacare Laboratories is the core pillar that makes up the five brands of the Dynacare family. They continue to invest in furthering healthcare technologies to help millions and thousands more lives in Ottawa.
Unfortunately, only a selected number of Dynacare locations have extended hours of service. They do compensate with their over 27 centers in Ottawa alone and a handy location finder that you can customize to what location will suit your intended tests and convenience.
Dynacare, however, does not provide a pricing guide for their tests either. Nevertheless, we appreciate how they give a complete catalog of tests as one of Canada's leading providers of diagnostic testing, information, and clinical services.
Over 27 centers in Ottawa
50 years of experience
No pricing guide for services
Extended hours only in selected locations
Patient Reviews:
Always clean
"This lab is always clean and the staff is friendly. Been going here for a few years and never had any problems." – Caelan Notley
Super friendly
"The staff is super friendly, I didn't have an appointment and it was super fast! They have parking, a little bit hard to find it, but it's good!" – Yaz Gonzalez Palacios
4. Ottawa Hospital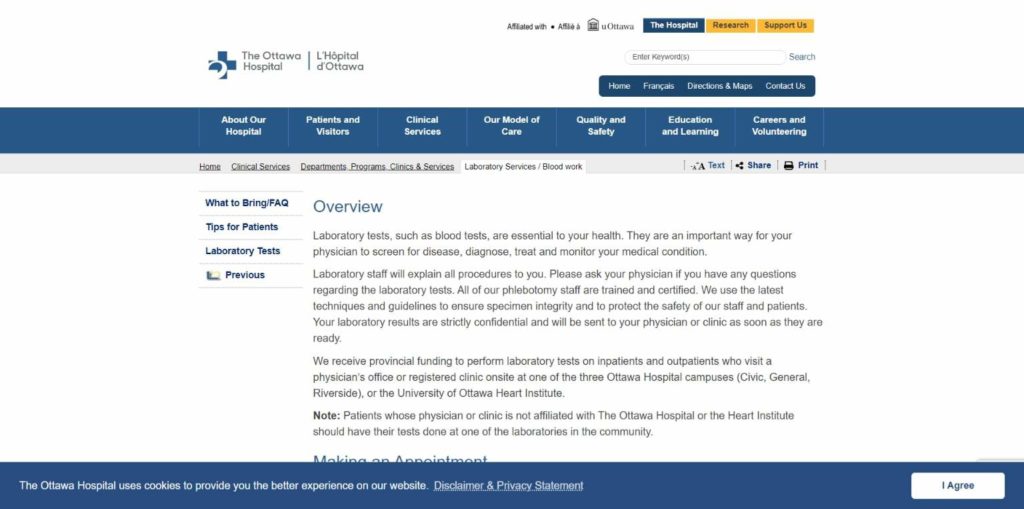 Test
Info
SERVICES
Cultures, Medical Laboratory Tests, Imaging Services, Blood Work
WEBSITE
https://www.ottawahospital.on.ca/
ADDRESS
Civic Campus:

Civic Parkdale Clinic

737 Parkdale Ave.- Main Floor

General Campus:

501 Smyth Rd.

Main Building – Module J10 – 2nd Floor

Riverside Campus:

1967 Riverside Dr. Main Floor

CONTACT DETAILS
613-798-5555
OPERATING HOURS
Open 24/7
| | |
| --- | --- |
| Criteria | Ratings |
| Customer Service | ★★★★★ (5/5) |
| Range of Services | ★★★★★ (5/5) |
| Availability and Timeliness | ★★★★★ (5/5) |
With a history that stretches way back to the 1800s, The Ottawa Hospital has found itself onto our list. We can't help but be in awe of the hospital's rich history as they started when Ottawans needed them the most during the 1800s' Typhus epidemic until the 2020's COVID-19 pandemic.
Despite being a hospital, we appreciate how Ottawa Hospital has a dedicated location for outpatient laboratory services. Hospitals usually will take tests only for their inpatients.
We love how Ottawa Hospital brings convenience to their inpatients by receiving quick, accurate, and timely results for their needed laboratory tests. Both in and outpatients enjoy the efficiency of having everything they need in one place, including their physician's clinic and pharmacy.
One of the best things about Ottawa Hospital is that they receive financing from the province to conduct lab tests on patients that visit their doctor's office. They can also cater to patients from registered clinics on-site at one of the three Ottawa Hospital locations or the University of Ottawa Heart Institute.
Ottawa Hospital's provincial funding means that the municipal government will cover all medical laboratory costs via OHIP. However, the lab requests should be from an affiliated provider.
The best part about Ottawa Hospital is that it actively supports clinical trials and clinical research of its scientists and doctors, which helps further medical science to improve healthcare. We love how it helps them provide more routine and esoteric tests in a timely and efficient manner.
Millennium old
Support for clinical trials
No pricing guide
Lab requests must be from affiliated physicians
Patient Reviews
Amazing care
"Excellent emergency department facilities. Got my x-rays in a couple of hours and went home. Came back two days later for my MRI and had an appointment with the orthopedic surgeon the same week. And multiple follow-ups. Honestly, amazing care" – F A
Best staff
"I don't know I got lucky and had all the best staff or if all their staff is that positive but just wow. Needed some stitches and an x-ray, and the people there were lovely. Especially the nurse, she was an absolute gem of a human being. Unlike other hospitals, the waiting at TOH wasn't unbearable, and the hours flew by." – Malcolm Montroy
5. CDL Laboratories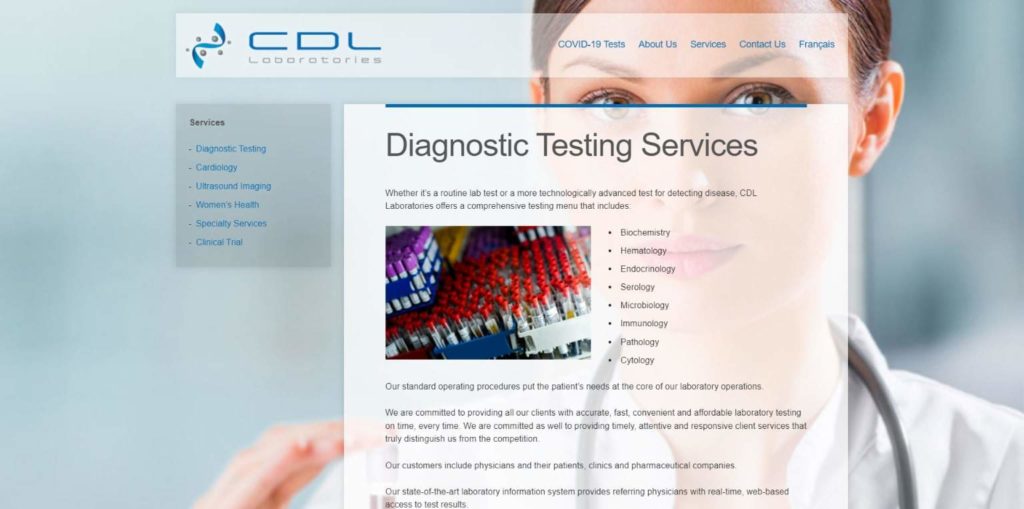 Test
Info
SERVICES
Diagnostic Testing Services, Cardiology Services, Ultrasound Imaging Services, Women's Health Services, Specialty Services Clinical Trials
WEBSITE
https://www.cdllaboratories.com/
ADDRESS
5990 Chemin de la Côte des Neiges, Montreal, QC, H3S 1Z5
CONTACT DETAILS
Tel: 514 344-8022

Fax: 514 344-8024

Email:[email protected]

OPERATING HOURS
Mondays to Fridays: 7:00 AM to 8:00 AM

Saturdays to Sundays: 9:00 AM to 3:00 PM
| | |
| --- | --- |
| Criteria | Ratings |
| Customer Service | ★★★★★ (5/5) |
| Range of Services | ★★★★★ (5/5) |
| Availability and Timeliness | ★★★★★ (5/5) |
As one of the leaders in the private laboratory industry in Quebec, CDL Laboratories impressed us with their fast growth from its founding in 1993. Despite having few locations, they're partners with Edna Medical which started in 2016 and now has over 61 centers all over Canada.
We love how CDL Laboratories offer the highest quality and cost-effecting medical laboratory testing. They boast of having the shortest turn-around time with the help of over a hundred 100 dedicated and skilled employees and a highly qualified medical team.
One of the things we love about CDL Laboratories is its dedication to helping more lives with the use of the most recent and advanced technologies. They do this with clinical trials and provide more innovative services to be able to offer more and more tests.
We also enjoy how CDL Laboratories ensures a fast turnaround through robust collection and transportation of specimens. They are able to accomplish this by leveraging their partnerships with multinational Roche Diagnostics and Edna Medical, enabling them to utilize cutting-edge medical instruments. state-of-the-art instrumentation.
Unfortunately, CDL Laboratories does not provide a pricing guide for its services. We do appreciate how they compensate it with a strong promise and emphasis on a rapid turn-around time and how they're open 24-hours a day, 7-days a week.
Rapid turn-around time
Open 24/7
No pricing guide
Few locations
Customer Reviews
Extremely friendly and careful
"I've visited 2 CDL labs in Montreal, and the nurses are always extremely friendly and careful. I always get a copy of my lab results which is great! Fair prices too, highly recommend especially for babies or children." – Karla Rab
Excellent service
"Excellent service and the nurse was really good with me. I have the tendency to faint when doing blood tests. The test was over before I even had the chance to think about it. I have no complaints." – Steve Kokkinidis
FAQs about Medical Laboratory in Ottawa
---
Truly, we're really blessed to have one of the best healthcare systems in the world. We hope the list helped you choose the medical laboratory to entrust your health.
Our city will never have a shortage of great minds and competent medical professionals. If you're looking for more healthcare-related listings, check out our blogs below!