The 5 Best Medical Equipment Suppliers in Ottawa
Medical equipment is important not just for hospitals and clinics, but also to homeowners with family members who have certain medical conditions.
In this article, we've listed the best medical equipment suppliers in Ottawa for you and your family's convenience.
How much do medical equipment suppliers charge in Ottawa?
This will completely depend on what kind of equipment you're after. In the table below, we've specified the most common medical equipment available for rental and purchase.
| Medical Equipment Rentals | Average Costs |
| --- | --- |
| Scooter Rental | $299 |
| Transport Chair | $59.99 |
| Powerchair | $299 |
| Manual Wheelchair | $59.99 |
| CPAP | $350 for a month |
| Portable Concentrator | $349.99 |
| Stationary 10L Oxygen | $249.99 for a month |
| Medical Equipment Purchases | Average Estimated Costs |
| --- | --- |
| Scooter | $800 - $3000 |
| Transport Chair | $229 |
| Powerchair | $1500 - $4000 |
| Manual Wheelchair | $500 |
| CPAP | $1600 to $2800 |
| Portable Concentrator | $800 to $2,000 |
| Stationary 10L Oxygen | $1,500 |
The Best Medical Equipment Suppliers in Ottawa
There are numerous options for medical equipment needs in Ottawa. We've narrowed down the best with these criteria:
1. Canada Care Medical Inc

Test
Info
SERVICES
Medical Equipment Delivery & Rental, Hospital Bed Installation, Medical Bathroom Equipment Installation, Stair Lift Installation, Wheelchair Ramps Installation
WEBSITE
https://canadacaremedical.com/
ADDRESS
1644 Bank St, Ottawa, ON K1V 7Y6, Canada
CONTACT DETAILS
613-234-1222
OPERATING HOURS
Mondays to Fridays: 8:00 AM - 5:00 PM

Closed on Weekends
| | |
| --- | --- |
| Criteria | Ratings |
| Services | ★★★★★(5/5) |
| Rates | ★★★★ (4/5) |
| Speed | ★★★★★(5/5) |
| Location | ★★★★★(5/5) |
Canada Care Medical started in 1969 under a different name. Back then, the company was only selling ostomy products and giving ostomy services to patients and client hospitals.
It was founded by Brian Meloche, a Certified Enterostomal Therapist, so you already know that the person behind it is not just a businessman but actually a medical practitioner.
Customers can trust that the company is about more than just medical equipment. It has access to other products such as mobility chairs, mobility lifts, medical bathroom equipment, and more.
We are impressed with the range of services it has available. Aside from rental and delivery, its technicians do installations for bathroom medical equipment, ramps, and stair lifts which are all very important, especially to more elderly patients.
Its installation services are also done pretty quickly, which is always appreciated. Some patients require this equipment in a state of emergency so it is always good when a company can do rushed work.
Speaking of emergencies, we are just a bit disappointed that its Ottawa store is not open during weekends. It would have been better if the store is open every day so that anytime there's a need for medical equipment, it can be called.
Does repairs and installations as well
Good choice of products
Customer Reviews
Great services
"I just had a Bruno chair lift installed and I would like to thank Canada Care from start to finish for their friendliness and professionalism. I am a customer for other things,re scooter and supplies and they always take time to look after my needs. I have been to another business that was the opposite. I would recommend Canada Care to anyone . Thanks again everyone for a good job!" – Gerry Ohara
Tanya was a huge help

"I would like to give the biggest thank you to Tanya in the order desk department for all the help she gave me this week. She pulled together everything I needed quickly in order to get my husband home. She arranged delivery of the wheelchair to be go directly to him at the hospital, and made the experience much easier for me. Thank you to the entire team at Canada Care for everything !!! – Vickie Noel
2. Capital Home Medical Equipment

Test
Info
SERVICES
Medical Equipment Delivery & Rental, Hospital Bed Installation, Medical Bathroom Equipment Installation, Stair Lift Installation, Wheelchair Ramps Installation, Oxygen Therapy Equipment, Sleep Solutions, Respiratory Care
WEBSITE
https://www.capitalhme.ca/
ADDRESS
2194 Robertson Rd, Nepean, ON K2H 9J5, Canada
CONTACT DETAILS
613-721-2733
OPERATING HOURS
Mondays to Fridays: 9:00 AM – 5:00 PM

Closed on Weekends
| | |
| --- | --- |
| Criteria | Ratings |
| Services | ★★★★★(5/5) |
| Rates | ★★★★★(5/5) |
| Speed | ★★★★ (4/5) |
| Location | ★★★★★(5/5) |
Capital Home Medical Equipment takes pride in being locally owned.
On paper, it has all the requirements to be called a good company. It is even an authorized vendor of assisted devices by the Ontario Ministry of Health and Long-Term Care and an authorized disability support program vendor.
From what we found out, we definitely recommend that customers check out Capital Home. The range of services it offers is great and it has lots of choices when it comes to medical equipment.
We especially appreciate the respiratory equipment that it has for rent and for sale. During these times, a lot of people may need help breathing properly so this equipment is definitely in high demand.
We love that it has stocked up its inventory to meet the growing demand and ensure that this product is available to anyone who needs them.
We must say, however, that its prices are a bit higher in some aspects, so they lose points for that. If you're on a budget, we recommend other suppliers on this list.
But overall, Capital Home Medical equipment is still a solid choice for your medical equipment needs. It has a home service for installations and delivers its products with care.
Has oxygen rental
Good range of services
Customer Reviews
So many options

"Excellent service, referred my wife here for her sleep test because we didn't want to wait months for the sleep lab. Rafael and Kerry really went above and beyond to explain what the results meant and why methods of treatment are available. Never knew there were so many options! Either way, we ended up getting a CPAP since it was working really well for my wife! Thank you capital home medical equipment! – Hafa H.
Amazing
"Rafael took great care in explaining the different masks types and assessing which ones would fit me the best based on the way I sleep, face structure, preferences and everything in between. I learned more from him in the 35 mins I was there than in the 2 years I was with my previous provider." – Christopher Trudeau
3. Econo-Medical Ltd

| | |
| --- | --- |
| Criteria | Ratings |
| Services | ★★★★★(5/5) |
| Rates | ★★★★ (4/5) |
| Speed | ★★★★ (4/5) |
| Location | ★★★★★(5/5) |
If you're really under a tight budget but still want decent equipment, you can check out Econo-Medical Ltd. The range of services this company offers is pretty good despite having a problematic website.
We think its website is incomplete, so it may be hard to find details about its services online. Luckily, the phone number it provided is working properly, so you can call to ask for details about the products and services it offers.
It's also a good thing that its location is easy to access and find. It's located near the main city, on Hawthorne Road, where there are plenty of signs and people that can point to the company's location.
Econo Medical has been around since the 90s, so you know that the employees have a pretty good range of experience. We would describe its products as affordable, some with even very low prices.
It offers mobility aids, wheelchairs and accessories, bathroom aids, and scooters as well. All of these are at a lower price compared to more mainstream stores.
For hospitals and clinics, working with this company is overall a good deal, but unfortunately, it doesn't cater to installation. It only accommodates deliveries, which can be a dealbreaker for some clients.
The company's billing system is also a bit confusing, which can be a problem for those who are using insurance to get their medical equipment.
Overall, Econo-Medical Ltd is still a good choice for those under a budget. Its products are cheap and it has quite a good range of medical equipment.
Affordable
Good experience
Closed on weekends
No proper website
Customer Reviews
Great prices

"Econo Medical…like it's name, has great prices!! fantastic service and they've been around since the 90's servicing our home healthcare industry as well as Medical Offices. Highly recommend, check them out." – Marcel Lapensee
Top equipment at reasonable prices

"We were looking for a Walker and then a wheelchair for Mom. Frank was extremely professional, helpful and understanding. There was no hard sell. He offered several options for us to consider. We rented with an option to buy. We eventually did. They offer top quality equipment at very reasonable prices. But the thing that needs special mention is the unexpected after service call a week or so later checking in to ensure that everything was OK with our purchase and the offer to revisit it if need be. That's the mark of a professional. Thank you Frank! We will definetely recommend Econo-Medical to anyone who asks." – Marc-Phillipe Laurin
4. Conval-Aid Inc.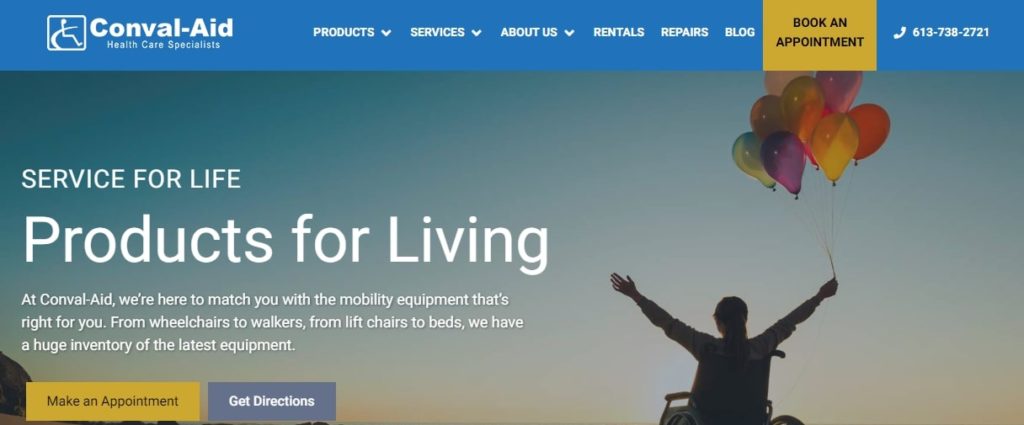 Test
Info
SERVICES
Home Care Equipment Rental & Delivery, Mobility Aid Rental & Delivery, Installation Services, Ostomy Clinic, Mobility Aid Repair, Funding & Programs
WEBSITE
https://www.conval-aid.com/
ADDRESS
2600 Lancaster Rd, Ottawa, ON K1B 4Z4, Canada
CONTACT DETAILS
613-738-2721
OPERATING HOURS
Mondays to Fridays: 9:00 AM - 4:00 PM

Closed on Weekends
| | |
| --- | --- |
| Criteria | Ratings |
| Services | ★★★★★(5/5) |
| Rates | ★★★★ (4/5) |
| Speed | ★★★★★(5/5) |
| Location | ★★★★ (4/5) |
Conval-Aid is another solid choice for your medical equipment needs. The company started out as a family business and until now, it's still relatively small with only 22 employees.
However, we think its reach has been pretty incredible.
Its location in Ottawa has its own showroom that shows off an impressive array of health aids and other medical equipment. It also has its own clinic for enterostomal therapists, so anyone with a related condition can visit for checkups as well.
We're big fans of the equipment it has for rent and for sale, such as mobility aids, wheelchairs, scooters for the elderly, and more. It delivers all of these pretty quickly as well.
The people behind Conval-Aid also cover the installation of mobility aids such as lifts and ramps. This is a solid option for those who have trouble moving, like the elderly or stroke survivors.
It's also great that it has an online store. Especially with the advent of the Internet, we think this is also a good way to access the company's products more easily.
We also love how it offers disability programs and funding. The company has discounted products and sometimes even offers these products for free because they believe everyone should have access to mobility aids.
Overall, we're really happy with what we've seen with Conval-Aid. The only downside is the fact that its store is closed on weekends, which is a hassle in case of emergencies.
Other than that, Conval-Aid is a solid choice for your medical equipment needs.
Online appointment
Has its own clinic
Customer Reviews
Highly recommended

"My dad is 82 years old he is wheelchair bound. We purchased a lift chair from Conval-Aid last year. Yesterday the chair stopped working (of course in the up position) . My dad's mobility is very poor and he relies on this chair pretty much 24/7. When I called to request a service call I thought I would be lucky to get a tech out this week. Nop, a tech was there in the old age home with covid protocol time requirements in under two hours – are you kidding me. I have waited for pizza longer than that. And he had the replacement part with him and installed it the same day. Fantastic customer service. The tech (Jacques) was exceptional. If you are looking for a company that will stand behind their product and have your back – you just found it." – Ross Noice
Life is better because of them

"We had a wheelchair elevator installed in our garage last week. The installers were polite and efficient. The elevator works great. It was the same installer who installed my pool chair lift. It also works wonderfully. I am able to enjoy outside family time again. Once our basement is done we will without a doubt get a stair chairlift from Conval-Aid. They have our complete confidence. My life is becoming more accessible because of them. – Share Taylor
5. Wellwise

Test
Info
SERVICES
Professional Fittings, Home Services, Equipment Delivery, Equipment Rental, Hospital Beds, Mobility Aids, CPAP & Sleep Aids, Pain Management, Fitness & Nutrition
WEBSITE
https://shop.wellwise.ca/
ADDRESS
1309 Carling Ave, Ottawa, ON K1Z 7L3, Canada
CONTACT DETAILS
613-725-0608
OPERATING HOURS
Mondays to Fridays: 9:00 AM - 5:00 PM

Saturday: 9:00 AM – 5:00 PM

Sunday: 11:00 AM – 4:00 PM
| | |
| --- | --- |
| Criteria | Ratings |
| Services | ★★★★★(5/5) |
| Rates | ★★★★ (4/5) |
| Speed | ★★★★★(5/5) |
| Location | ★★★★ (4/5) |
Wellwise is another well-known medical equipment supplier in Ottawa. The company partners with numerous installers and suppliers so product limitation rarely happens.
Some of its partners are Assistep, Bruno, and Stannah, which are brands with impressive records when it comes to mobility assistance products.
The company also offers an online store, making it more accessible for those who have a hard time going to a physical store to buy items.
Wellwise also has a good set of mobility aids for specific rooms. For bathrooms, it has holders and handles that can be installed on walls to make balancing easier.
For bedrooms, it sells automatic beds that can be controlled using a remote. This is perfect for elderly customers and stroke survivors who have a hard time with mobility.
For accessibility, Wellwise installs wheelchair ramps, perfect for any kind of wheelchair, automated or not.
The company also installs elevators and lifts for stairs. This is a good choice for customers with bigger houses who need help moving around their own homes.
For customers with a lower budget, it also offers rental services. All of its equipment can be rented and it makes sure everything is sanitized before being delivered to your home.
The usual rental services it offers are on a monthly basis, but this can be reduced depending on what deal is made. We also like that Wellwise serves multiple locations, even ones outside of the main city.
Overall, we're really impressed with this supplier. Its prices can be expensive, but we believe the services it offers outweigh the slight increase in price.
Open everyday
Multiple locations
Customer Reviews
Kind and helpful employees

"I called here the other day to inquire about TENS machines and the customer sales and service I received was top notch. The person I spoke with was kind, helpful and professional. The device was sent to me Fed Ex which I received this morning. Wellwise was an absolute pleasure to deal with and moving forward I will be a patron of this store when I can. – Wendy Waserman
Such empathy

"I'm closing in on my 70th birthday, I have multiple disabilities but 2 most problematic are raging PSORIASIS and severe MOBILITY problems. Not to forget a life lived with, SEVERE PTSD since I was raised. Stress and anxiety are it's major manifestations. I was blown away to find a store that actually CARED and had tremendous EMPATHY. I've haven't found store and services staff anywhere else who even acknowledge me. But wellwise went way beyond any expectations and were also tremendous problem solvers. I have to single out one person in particular, and that was CORINNA. Honorable mention also goes to Kim who for the brief time I was with, radiated the same overall mindset, atmosphere I've found nowhere else. Corinna offered me many resources to take on the load of stress I was under. They literally did for me, what Doctors and health support staff couldn't do for me. Even Ottawa City health support were a major failure. At my age I've seen a lot, but so much was lost in this COVID era with it's dehumanizing effect on the whole world. Our humanity! THAT IS WHY I WAS BLOWN AWAY WHEN I FOUND wellwise. It is a gem to me. – Pierre L
FAQs about Medical Equipment Suppliers in Ottawa
---
There are plenty of medical equipment suppliers in the city, and finding the best ones can be a difficult feat. For your convenience, we listed the best in the city, so go ahead and start finding the right medical supplier in Ottawa for your needs.
Want to know more about medical centers in the city? Check out our article on the best medical centres in Ottawa.