Top 5 Makeup Artists in Ottawa
Makeup can be magical sometimes, but the best thing about it is the confidence boost it gives us to take on the day.

However, the products are expensive and the art of applying them may take time to learn. So sometimes, it's best to entrust it to the experts.
If you're looking for a makeup artist in Ottawa, you've come to the right place. These are the top makeup artists you can count on for any glamorous event in the city.
How Much Does Makeup Artist's Services in Ottawa Cost
The cost of makeup artists' services may depend on their reputation, exclusivity, and equipment that they use. Thus, expect higher rates for the most sought-after makeup artists for models, actors, and actresses.
The table below shows the average estimated rates that makeup artists charge for their common makeup services
| Common Services | Average Estimated Rates |
| --- | --- |
| False lashes | CAD10 - CAD15 |
| Wedding Attendee Makeup | CAD100 - CAD200 per person |
| Touch-ups | CAD100 - CAD350 |
| Photoshoot Makeup | CAD100 - CAD400 |
| Bridal Makeup | CAD150 - CAD650 |
| Makeup Lessons | CAD2,100 - CAD3000 |
| Tattoo Cover-up | CAD40 - CAD100 |
Top Makeup Artist in Ottawa
We have high regard for artists' impeccable eye and attention to detail but we put higher regard to ensuring quality service for all companies that we recommend. Thus, we use the following standards in choosing the best artists for you:
1. One Fine Beauty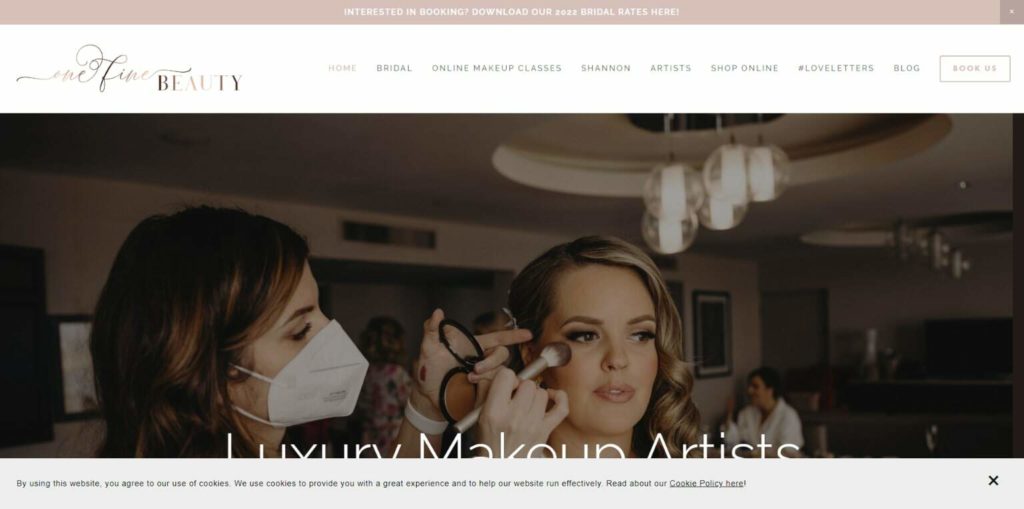 Test
Info
SERVICES
Wedding Makeup, Bridal Makeup, Basic Skincare, Beauty Makeup, Eyebrow Pencil, Acne Treatment, Advanced Skincare, Event/Gala Makeup, Online Makeup Classes, Group Seminars, Headshots
WEBSITE
https://www.onefinebeauty.com/
ADDRESS
Stittsville Main Street K2S 0R3 Ottawa (Ontario)
CONTACT DETAILS
Phone: (613) 277-3303

Email: [email protected]
| | |
| --- | --- |
| Criteria | Ratings |
| Customer Service | ★★★★★ (5/5) |
| Range of Services | ★★★★★ (5/5) |
| Availability and Timeliness | ★★★★★ (5/5) |
| Reputation | ★★★★★ (5/5) |
One Life Beauty made it to our list with their 20 years of service in the industry.

The company was founded by their lead artist, Shannon Ranger, who was a former resident trainer in MAC cosmetics and has worked with local celebrities, fashion shows, and pageants.
We can't deny that Shannon Ranger built a stellar reputation for One Life Beauty with well-known clients like Prime Minister Justin Trudeau and former Canadian Olympic flag bearers. She also worked for the Fashion Cares in Toronto, and Miss Universe Canada in Montreal.
With their impressive line of former clients though, One Life Beauty has expensive rates. However, the peace of mind and their amazing work makes it worth the price.
What grabbed our attention about One Life Beauty is their specialization in bridal makeup. They even boast of being the most adept bridal makeup team in Ottawa for their 140 years of cumulative experience.
We really enjoyed One Life Beauty's makeup services since aside from being a talented and prepared team, they also focus on cleanliness too. They provide a bridal makeup consultation with and without a contract but you need to shoulder the team's or artist's travel expenses.
The bridal makeup consultation of One Life Beauty involves doing a trial look before the wedding day. It helps the bride to critique her look and allow for last-minute requests like shifting to the use of airbrush foundation and falsies eyelashes.
For aspiring makeup artists, we're sure that you'll learn a lot from One Life Beauty. We appreciate how generous they are in sharing their knowledge and expertise in makeup for any events and for all ages.
Bridal makeup specialization
Over 130 years of collective experience
Expensive rates
Client will shoulder the travel expenses of the makeup artist
Client Reviews
Lovely to work with
"Shannon was incredible! She came to our rescue last minute for my sister's wedding day and both of us were thrilled with how our makeup turned out! She did such a great job and was so lovely to work with, you couldn't ask for a better makeup artist." – Allie Lane
Gave me the wedding makeup of my dream
"Shannon was my wedding makeup artist and I was so thankful to get her. She listened to what I wanted, made some awesome suggestions, and gave me the wedding makeup of my dream. I never looked better in my life. Still, it looked like me and felt natural. I felt my very best and I had complete trust in her. She was a joy to work with and I recommend her every chance I get. I remember Shannon making sure my fake eyelashes were perfectly glued on. It paid off. I cried so many times and laughed even more during the day, my makeup and eye-lash didn't move one bit. I remember getting in the shower after my wedding and still having difficulty removing everything. This is a great testament to her experience with bridal makeup. It needs to be emotional and life-proof. She was my fairy god makeup artist." -Jessica Turner
2. Klava Z Beauty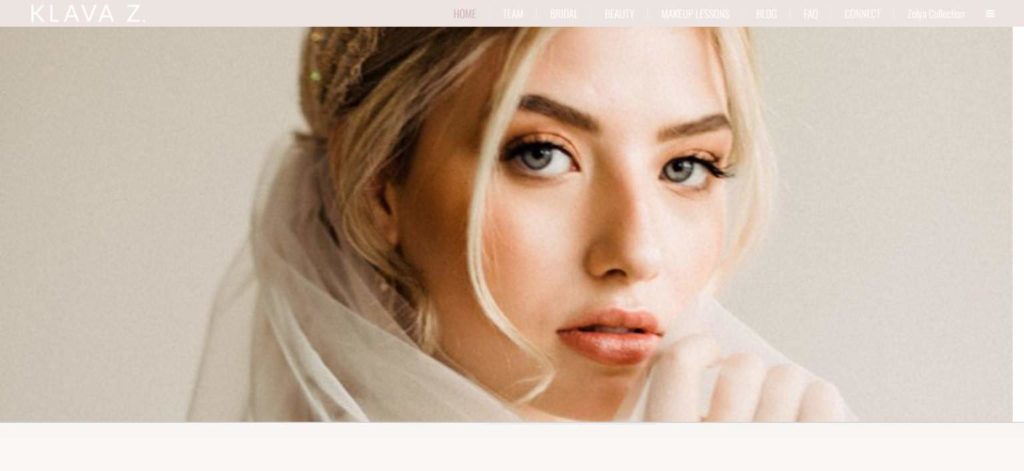 Test
Info
SERVICES
Bridal Makeup, Event Beauty Makeup, Makeup Lessons, Photography,
WEBSITE
https://klavazykova.ca
ADDRESS
165 Central Park Dr, Ottawa ON K2C 4B9, Canada
CONTACT DETAILS
Phone: (613) 804-0742

Email: [email protected]
| | |
| --- | --- |
| Criteria | Ratings |
| Customer Service | ★★★★★ (5/5) |
| Range of Services | ★★★★★ (5/5) |
| Availability and Timeliness | ★★★★ (4/5) |
| Reputation | ★★★★★ (5/5) |
Klava Z Beauty cemented their name in our list with their unique holistic approach to makeup and beauty. For over 15 years in the industry, Klava Zykova founded and grew the company with special use of organic beauty options and eco skincare products.
Klava Z Beauty has been featured in numerous magazines for winning awards such as the Ottawa Wedding Awards in 2017 and 2018 for bridal makeup and artistry. They also won couple's awards in 2016 in Weddingwire making them a force to be reckoned with in weddings.
We appreciate how Klava Z Beauty focuses on creating perfect skin which means a lot on any special occasion. Their makeup artists ensure to prep the skin for a perfect base in order to give that glamorous healthy glow.
Working with Klava Z Beauty is like a breath of fresh air on a hectic day. We appreciate how they take time pampering and massaging the skin first which creates a relaxing feeling when they're working on the makeup.
Aside from the skin pampering, Klava Z Beauty's organic makeup product is emotion-proof. We love how it can last for several hours through the sweat, laughter, and tears of any occasion.
However, like Klava Z Beauty's makeup might fade from eating, drinking, or if you have naturally oily skin. That's why we're a huge fan of their Day to Night Allure package that follows you around and provides touch-ups to ensure a perfect lasting glam.
Organic skincare and makeup products
Top quality products used
Non-refundable retainer of 50% of the total balance
First deposit, first service basis
Only accept bookings for a group of minimum 4 people
Client Reviews
"Klava and her team are the absolute best! She provided makeup services for myself, my bridesmaids, mom, and mother-in-law on our wedding day. Klava and her team are professional, organized, lovely to work with, and prioritize cleanliness. Everyone looked beyond stunning, with their look being customized to their features. Klava and her team created a calm space where we were all pampered like celebrities. On the morning of the wedding, Klava also provided amazing skin prep with a mini massage which had my skin glowing all day long. We received numerous compliments throughout the evening on our makeup, with mine lasting well past 3 AM. I would highly recommend Klava and her team for all of your makeup needs! – Andrea Howland
Fantastic job on my bridal makeup
"Klava did a fantastic job on my bridal makeup and all my wedding party. Everyone looked amazing and flawless and the makeup lasted all day and night. Would highly recommend you get your makeup done by Klava and her team for your big day! – Emily Williams
3. Rebeca Rose Beauty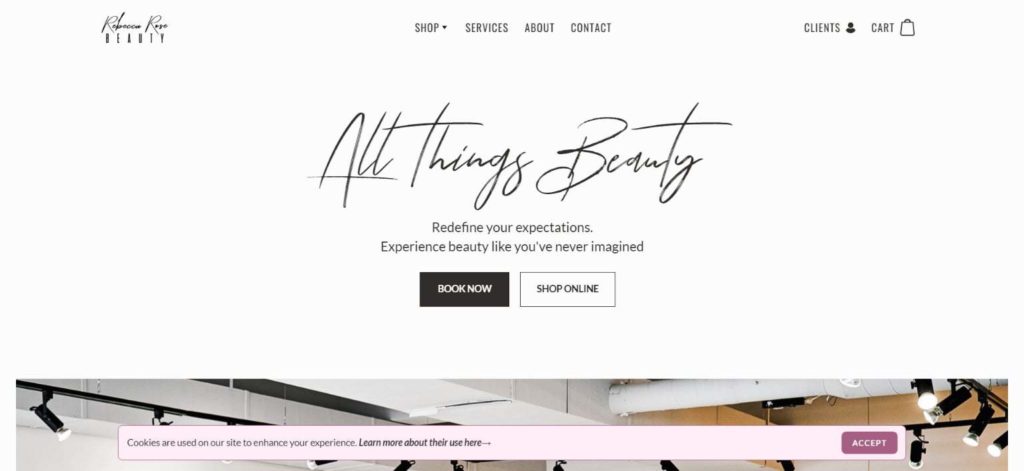 Test
Info
SERVICES
Bridal Makeup, Bridal Consultation, Brow Tinting, Eyelash Tinting, False Lashes, Personalized Makeup, Event Makeup, Makeup Lessons, Facials, and Skincare, Hairstyling, Lash Extensions, Spray Tanning, Waxing Services, Lash Lifts and Tints
WEBSITE
https://www.rebeccarosebeauty.com
ADDRESS
913 Wellington Street, Suite 300, Ottawa, ON K1Y 2Y1, Canada
CONTACT DETAILS
Phone: (613) 421-2828

Email: [email protected]

OPERATING HOURS
Mondays and Fridays: 10:00 AM – 6:00 PM

Tuesdays to Thursdays: 10:00 AM – 7:00 PM

Saturdays: 9:00 AM – 5:00 PM

Sundays: Closed
| | |
| --- | --- |
| Criteria | Ratings |
| Customer Service | ★★★★★ (5/5) |
| Range of Services | ★★★★★ (5/5) |
| Availability and Timeliness | ★★★★ (4/5) |
| Reputation | ★★★★★ (5/5) |
Rebeca Rose Beauty made it on our list with their eye-catching beauty lounge. We love how they're a one-stop shop for all beauty needs.

This company was founded by Rebecca Rose who is an award-winning Ottawa-based professional makeup artist. She is also a certified lash and wax technician.
What sets Rebeca Rose Beauty apart from competitors is the amazing composition of their team. They have experienced makeup artists, facial care specialists, hairstylists, and even nail technicians on standby to provide you with the best luxurious glam.
We love the convenience Rebeca Rose Beauty gives us to glam up from head to toe. Their in-studio beauty lounge is quite complete for self-care and they also have mobile services for bridal or event makeup.
Rebeca Rose Beauty's mobile services do have a downside – they have a CAD75 fixed travel fee within Ottawa and a minimum booking of four people. You'll also need to pay a minimum service charge of CAD450 if you don't have a bridal party.
If you're planning to drop by Rebeca Rose Beauty's lounge, you will need to set up an appointment since they don't accept walk-ins. They're also closed on Sundays but their mobile services are still available if you set up an appointment ahead of time.
Aside from makeup, Rebeca Rose Beauty is also known for their online shop. We found high-quality makeup and skincare products plus bridal needs such as proposal boxes, ring dishes, and engagement gifts.
Minimum of 4 people required to secure a date
High-quality and luxurious service
Free parking
Minimum of 4 people for bridal makeup package
Minimum of CAD450 for off-site service charge and fixed travel fee
Client Reviews
A wonderful experience all around
"Rebecca did an amazing job for my wedding! The result defined my expectations, and my makeup looked gorgeous. I was so pleased with my look, and I cannot express my gratitude enough. Rebecca was also a true pleasure to work with every step of the way, kind, patient, and very professional. A wonderful experience all around. RRB is now my go-to place for everything beauty-related, e.g., brows, lashes, makeup, spray tan, etc. Thanks a lot, Rebecca, I will see you again very soon! – Ann-Renee Blais
"I had the pleasure of having Rebecca do my makeup not only for my wedding but for all the events leading up to it. She was patient, well organized, and professional throughout the whole process. She was able to create the exact look that I wanted on my wedding day. My makeup was flawless throughout the ceremony, photos, and reception. She makes the process enjoyable and is an absolute pleasure to be around. Couldn't recommend a better person/company for all your beauty needs!" – Maya Haiby
4. Yelena Perunov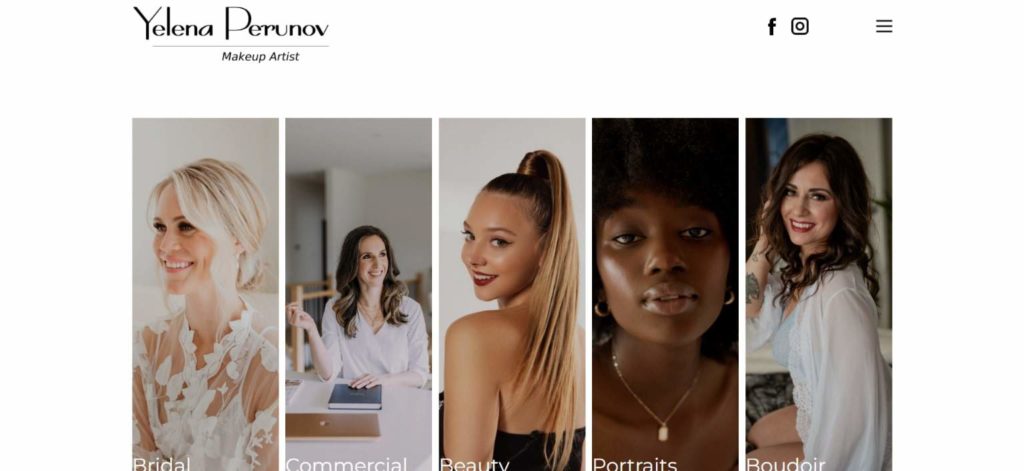 | Test | Info |
| --- | --- |
| SERVICES | Boudoir Makeup, Commercial/TV Makeup, Editorial/Magazine Makeup, Prom Makeup, Wedding Makeup, High Fashion Makeup, Runway Makeup |
| WEBSITE | http://yelenaperunov.com |
| ADDRESS | 145 Macara Crescent, Kanata, ON K2K 0E1, Canada |
| CONTACT DETAILS | Email: [email protected] |
| OPERATING HOURS | Mondays to Sundays: 9:00 AM – 7:00 PM |
| | |
| --- | --- |
| Criteria | Ratings |
| Customer Service | ★★★★★ (5/5) |
| Range of Services | ★★★★★ (5/5) |
| Availability and Timeliness | ★★★★★ (5/5) |
| Reputation | ★★★★★ (5/5) |
Despite being a self-taught makeup artist, Yelena Perunov is proud to be an award-winning, internationally published artist. Her works are often found in beauty and fashion magazines such as Toksick magazine, Marika magazine, Image magazine, Mob journal, and Onlychild magazine.
Yelena Perunov definitely caught our attention for her timely and amazing makeup artistry on models for almost 20 years in the industry. Her boudoir makeup services really set her apart from her competitors too.
We're huge fans of the boudoir makeup services of Yelena Perunov since it really captures the smoky and sexy feel of the concept. Because of that, she's often invited to do the makeup of high fashion models for both print and the runway.
Yelena Perunov's published works reveal the artistic passion, dedication, and creativity that make her stand out from the rest. What she puts on to her models isn't just pure, plain makeup – she embodies the definition of art in makeup artistry.
For bridal and event makeup, we highly recommend booking your appointment months ahead. Yelena Perunov is one of the most sought-after makeup artists in Ottawa and get fully booked.

However, we love how she provides virtual meetings for clients who can't avail of the trial makeup consultation. During these online sessions, she provides tips and asks for your vision on how you want your makeup to be.
20 years of experience
Mobile makeup services
Must schedule appointment months before
Works alone, doesn't have a glam team
Client Reviews
Her attention to detail is like no other
"Yelena has been my go-to makeup artist for close to a year now. As a boudoir photographer, I team up with artists that will not only make my clients look absolutely beautiful, but that will hype clients up and empower them throughout the whole makeover process. Well, Yelena is definitely the artist for that! I honestly cannot say enough about this talented soul. From a professional standpoint, she is always on time, professional, respectful, and very personable and friendly. My clients and I are ALWAYS blown away by her work, and her attention to detail is like no other. I call Yelena my little partner in crime because I literally need her for all of my shoots! She truly understands skin tones, colour palettes, and how to make someone look and feel their absolute best.
If you are looking for a makeup artist that is the real deal, you have have come to the right person! Yelena is pure talent and skill." – Wild Prim Studios
Open and accommodating
"Yelena did an incredible job with my makeup for my business photoshoot. Somehow she made my skin look the best its ever looked, hands down, it was amazing! She put me at ease right off the bat, knowing that I was a little nervous, and was incredibly kind, open and accommodating to any small tweaks I had along the way. Would absolutely recommend Yelena for your makeup needs!" – chelsea nelson
5. Shannon Doyle Beauty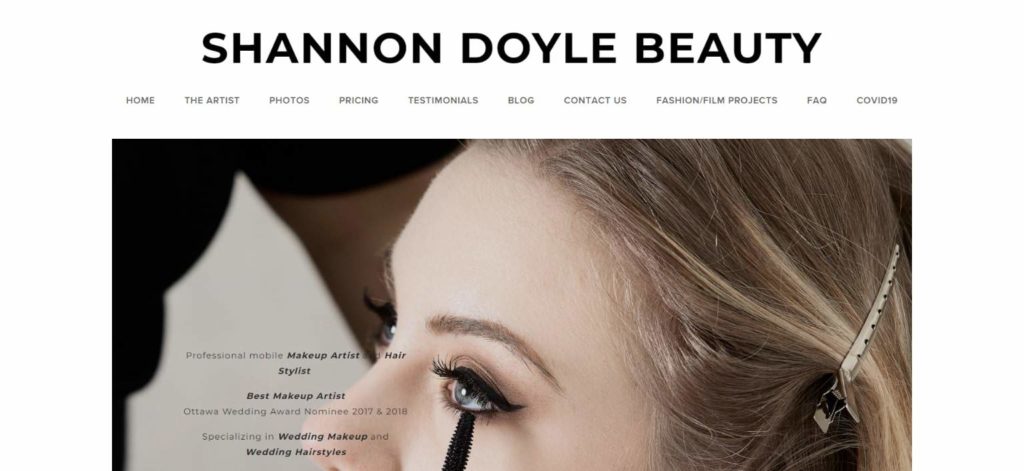 Test
Info
SERVICES
Wedding makeup, Bridal makeup, Facial treatments, Hairstyling, Wedding Hairstyling
WEBSITE
https://sdbeauty.ca/
ADDRESS
70 McEwen Ave, Ottawa, ON K2B 5M3, Canada
CONTACT DETAILS
Phone: +1 613-282-3004
OPERATING HOURS
Mondays to Fridays: 10:00 AM – 5:00 PM (Note: For health and safety reasons, setting an appointment is required)

Saturdays and Sundays: Closed
| | |
| --- | --- |
| Criteria | Ratings |
| Customer Service | ★★★★★ (5/5) |
| Range of Services | ★★★★★ (5/5) |
| Availability and Timeliness | ★★★★★ (5/5) |
| Reputation | ★★★★★ (5/5) |
With almost a decade in the industry, Shannon Doyle is steadily building her empire. She's based in Ottawa but we truly enjoy how she's a full-time mobile makeup artist ready to fly out wherever you are in the world to provide her services.
Shannon Doyle caught our attention for working with celebrity artists like Carly Ray Jespen, Jully Black, and Trevor Donovan. Her hairstyle and makeup artistry can be seen in fashion shows and various movies like Love on a Limb and Gusto TV's – Flour Power Season 2.
Not a stranger to high-profile events, Shannon Doyle worked as a makeup artist since the 2012 Juno Awards and even the McCauffrey Couture's Fare & Flair. Her work was also featured on the Ottawa Wedding Magazine cover too.
For being a sought-after makeup artist for runways, designer look books, and commercial photo shoots, we can't help but include Shannon Doyle on this list. We highly recommend her due to her amazing portfolio that highlights her undeniable talent in makeup.
Aside from high fashion and celebrities, Shannon Doyle also specialized in bridal makeup. We love how versatile her makeup skills are from shifting from high-fashion looks to natural and bewitching bridal makeup.
We also appreciate how Shannon Doyle does not have any minimum requirements when booking. However, she will require a small booking fee for peak days like Fridays to Sundays plus on holidays.
No minimum requirement
Ala carte pricing
Small booking fee for less than 6 services on Fridays – Sundays plus holidays
Travel fee for 50 km beyond Ottawa
Client Reviews
Great to work with
"Shannon and her colleague Melissa did an outstanding job getting my friend and me ready for my wedding. The whole process was seamless from start to finish and the final results were gorgeous. All the ladies looked incredible and my hair and makeup were exactly how I wanted it. Shannon was great to work with leading up to the big day and gave us useful guidance on how to prepare. She diligently followed all required covid protocols so everyone felt safe and comfortable. Overall, working with Shanno was a great experience!" – Lauren Robertson
Gave me the perfect look for my day
"Shannon was so wonderful to work with, she kept me relaxed throughout the whole process of figuring out my wedding look! She gave me some very good pointers about basic wedding issues I was having, gave me the perfect look for my day, and was just the best to work with. She is funny, kind, and just so great." – Kaitlyn
FAQs
---
Entrusting your makeup to a stranger for a once-in-a-lifetime event can be nerve-wracking. You just want everything to be perfect and become the best version of yourself so we hope our list helped you in your search for the perfect makeup artist for you.
 If you need more assistance for your big day, we also gathered the best facial services and waxing salons in Ottawa. You can also check out our list of the top beauty schools in the city if you're interested in learning hair and makeup yourself.