The Best Magicians in Ottawa
Everybody needs a little bit of mystery and magic. A good magic show always makes any event extra memorable for all ages.
Getting magicians is definitely a unique and great way to entertain guests no matter what event or celebration you are having.
For a special day worth remembering, we're listing down the best magicians in Ottawa that can bring life and wonder into your events. Find out who's who among the magicians around town, what you need to know about getting their services, and an estimate of how much you'll be needing to book a date!
How much does getting a magician for your events cost in Ottawa?
Magician rates vary just as much as the style of magic they perform. Some magicians do tricks that are much more suitable for a younger audience, while others cater to a more mature audience.
Needless to say, rates may also vary from the type of magic performances they do and the logistics they need to perform a trick. More popular magicians may tend to ask for higher fees too.
The average range so far is around $255 to $637.
To give you some idea, here's a table of ideal rates depending on the type of magician and their specialty of tricks.
| Type of Magician | Lowest average price | Highest average price |
| --- | --- | --- |
| Sleight of hand | $306 | $491 |
| Illusionist | $383 | $830 |
| Comedy magician | $434 | $785 |
| Escapist | $702 | $1,021 |
| Mentalist | $574 | $855 |
| Children's magician | $217 | $338 |
Their rates may also vary depending on other factors such as the duration of their performances, your location, and the time of year. Some magicians can be more in-demand during Christmas or other such holidays.
The type of event in which they'll be performing in can also factor in their rates. There's a huge difference between, let's say, the logistics needed for a children's magic show compared to an illusionist trick for a corporate function.
Needless to say, it's best to get a really good magician to give your guests an exciting experience that will be worth your bucks in the end.
Getting the Best Magicians in Ottawa
If you want to have a great magician to add some flair to your celebrations, we listed down the best ones in town worth checking out.
To come up with this list of the best magic acts in Ottawa, we wrote our reviews following the criteria below:
We hope these criteria we set for this list will also help you find an awesome magic act that can bring joy and wonder to you and your guests on your very special occasions.
1. Chris Pilsworth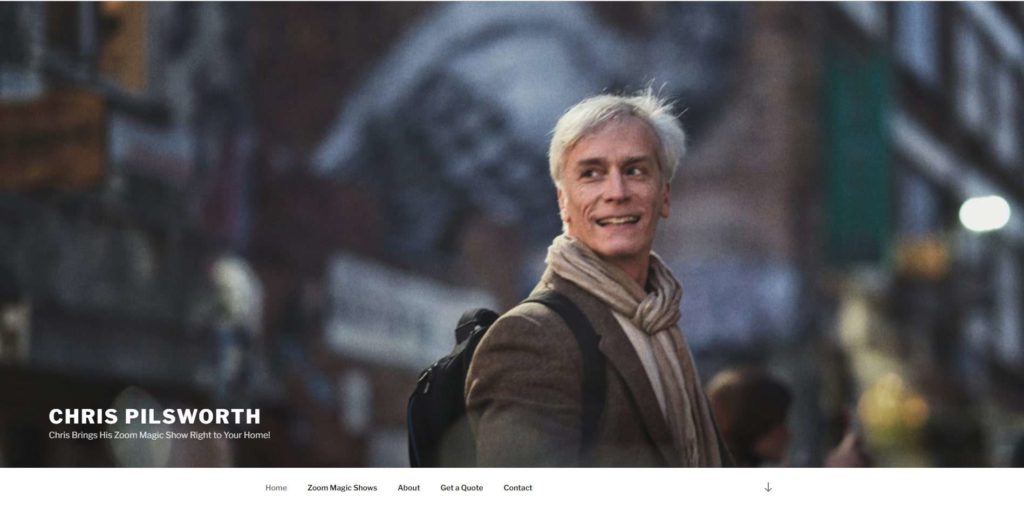 | Test | Info |
| --- | --- |
| WEBSITE | https://chrispilsworth.com/ |
| ADDRESS | 13 Best Way, Kanata, Ottawa |
| CONTACT DETAILS | (613) 413-6290 |
| AREAS SERVED | Ottawa and other parts of the world |
| | |
| --- | --- |
| Performance quality | ★★★★★ (4/5) |
| • Creativity and uniqueness | ★★★★★ (5/5) |
| • Showmanship | ★★★★☆ (4/5) |
| • Audience appeal | ★★★★★ (5/5) |
| Range of magic tricks | ★★★★☆ (4/5) |
| Customer satisfaction | ★★★★★ (4/5) |
| • Responsiveness | ★★★★★ (5/5) |
| • Professionalism and accountability | ★★★★★ (5/5) |
| • Convenience and perks | ★★★★☆ (4/5) |
| Overall value for money | ★★★★☆ (4/5) |
Known as "Ottawa's Favorite Magician," Chris Pilsworth has performed various magic tricks and brought the joy of magic to thousands of people not just in Canada but in other parts of the world too.
People who watch his show are bound to have a great time with his immersive and mind-blowing tricks that a lot of times involve a good amount of audience interactions.
What's great about him is that you're bound to get family-friendly shows that kids and the young-at-heart can enjoy. Just give him an idea of what the crowd in your event is, and he will tailor-fit his performances to match the audience.
He's perfect for children's parties because of his wholesome entertainment quality—funny jokes that are never explicit and amazing tricks that can wow any age.
Likewise, he's loved for performing at weddings and even corporate events too. Despite his popularity, don't get intimidated to book him even if you only have a few guests.
He is funny and entertaining at the same time—and not all magicians are good at being both. This makes him a favorite among magicians in the area and guests do end up having a good time no matter what the event is.
He can perform at intimate get-togethers or even a huge festival with a huge crowd. Although, he'd often require booking at least one to six months in advance for large events.
For simple parties, a three-week reservation ahead of the event would do. But it seems he is quite in demand, so we suggest booking him as early as you can.
We also appreciate how he found ways to bring some magical joy during the pandemic and offered virtual Zoom shows that families were able to enjoy during lockdowns.
That being said, Chris Pilsworth is also a globetrotting act and can perform anywhere in the world. Just make sure to discuss his rates since most likely, farther locations can cost more.
It's also amazing that he offers magic consultancy wherein he shares his magic knowledge with other aspiring magicians who want to learn and improve on their acts. In fact, he has already mentored and helped several top magic acts like Mac King from Las Vegas and the illusionist Rick Wilcox from Wisconsin.
An internationally acclaimed act, you won't go wrong with Chris Pilsworth if you want a mind-blowing act that can be the highlight of your special events.
Family-friendly magic act
Good range of original tricks and illusions
Tailor-fits performances according to his audience
Also performs virtual Zoom performances
Can perform anywhere in the world
Offers magic consultancy to aspiring and professional magicians alike
Rates are not available on the website
Can be pricey
Customer Reviews
For the old and the young
Chris came to our home to perform at my daughter's birthday party and it was great! Being another pandemic birthday, we were a very small group. But his show was performed with enthusiasm and mind-blowing tricks as if we were an audience at a theatre! He also wore a mask and kept socially-distanced as a precaution which I appreciated. I should also mention that my daughter is special needs and her eyes just lit up when he included her name in some of the tricks! My other daughter said that the tricks "broke her brain!" 🙂 I highly recommend Chris Pilsworth for a party or gathering for old or young! – Jessica Wallace
Outstanding
Amazing magician! Chris graciously donated his time to help our team raise money for the Government of Canada Workplace Charitable Campaign. His shows are outstanding and lots fun for the entire team! Bonus is that some of our staff have kids at home that are also joining in on the shows and they absolutely love it. The entire show was flawless and extremely funny as well. His tricks left me mind-blown!
If you want some magic in your life or are planning a virtual party during this time, make sure to contact Chris! I would highly recommend him! – Mia Beisheim
2. The Great Arjunia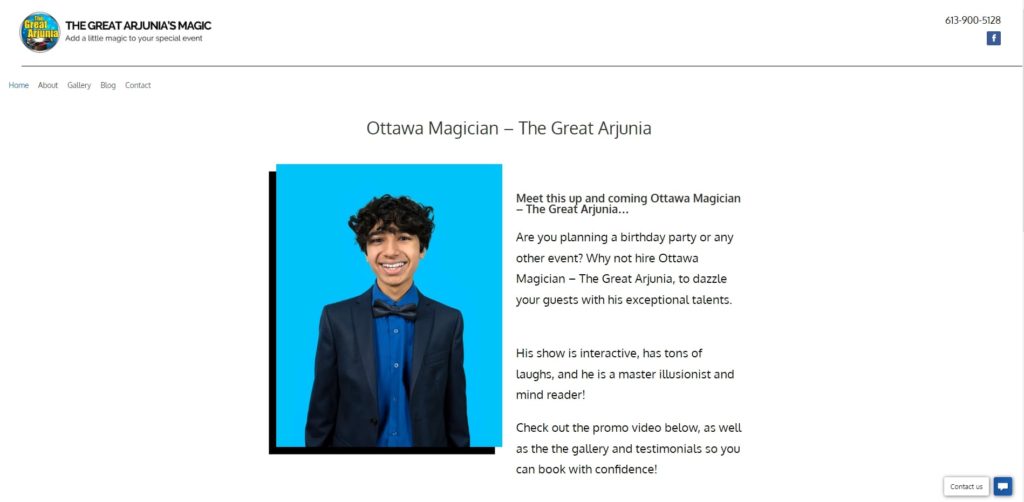 | Test | Info |
| --- | --- |
| WEBSITE | https://thegreatarjunia.ca/ |
| ADDRESS | 8 Conlan Way, Nepean, Ottawa |
| CONTACT DETAILS | (613) 900-5128 |
| AREAS SERVED | Leeds and Grenville United Counties and nearby areas in Ottawa |
| | |
| --- | --- |
| Performance quality | ★★★★★ (4/5) |
| • Creativity and uniqueness | ★★★★☆ (4/5) |
| • Showmanship | ★★★★☆ (4/5) |
| • Audience appeal | ★★★★☆ (4/5) |
| Range of magic tricks | ★★★★☆ (4/5) |
| Customer satisfaction | ★★★★☆ (4/5) |
| • Responsiveness | ★★★★★ (5/5) |
| • Professionalism and accountability | ★★★★★ (5/5) |
| • Convenience and perks | ★★★★☆ (4/5) |
| Overall value for money | ★★★★☆ (4/5) |
The Great Arjunia is a young magician who's making a name in the magic community at 15 years of age. But his youth should not be a measure of his talent because he is currently building a good following of clients.
His performances are very interactive and well-loved by his audiences not just for his amazing tricks but also for his witty and engaging entertainment quality. He is known for being a fantastic illusionist and mind-reader.
At his young age, he is really loved by the younger audiences, but that also makes it even more mind-blowing for the adults watching too.
Maybe that's why he is also well-loved by corporations for their events and functions—aside from the reason that his shows are customized to match his audience. That said, he is also amazing for family gatherings and birthday parties.
His talent and passion for magic really show in his performances. If you haven't seen him yet, you can check a couple of videos that show his witty tricks, and he even blogs about his performances.
You can really see how much he loves his craft, and to think he is one of the youngest professional magicians out there! This makes us believe there's more to look forward to in the future as he continues to expand his repertoire.
Plus, he is very responsive to inquiries and feedback too, and the service itself was very convenient. Just as his audiences can't forget about his tricks, he also does not forget his clients even after the event.
He and his team will come prepared with all the equipment needed for their act, so there's no need to worry about anything once you book him.
Virtual performances are also another option for your events, which is convenient and actually more practical nowadays. Plus, he is fairly easy to reach via his website.
All you really have to do is sit back, laugh, and enjoy a wholesome time with your guests!
Ideal for general audiences
Great illusionist and mind-reading techniques
Available for virtual performances
Growing repertoire of tricks
Customizes performances according to the event and audience
Rates are not available on website
Small scope of areas served
Customer Reviews
Already the greatest at his age
The greatest mistake you could make is to underestimate this young magician. You might think, "He is fifteen, he will probably be great someday", but you would be wrong: day he is already the greatest, you just have to see for yourself. The Great Arjunia performed at our wedding in August and we are still trying to figure out one of his tricks to this day. Not a week goes by that we don't say to each other, "but how did he DO that?!". Hire the great Arjunia and you will not be disappointed. – Rebeka Ryvola
So talented and funny
I and my family, and friends are so amazed of having a very young, yet so talented and very funny magician. The Great Arjunia is the highlight of my son's birthday celebration this weekend. Kids and grown ups enjoyed his awesome performance, he surely brought us all a big cheer. Highly recommended⭐️⭐️⭐️! – Jonalyn Ildefonso
3. Robaire's "State of Mind"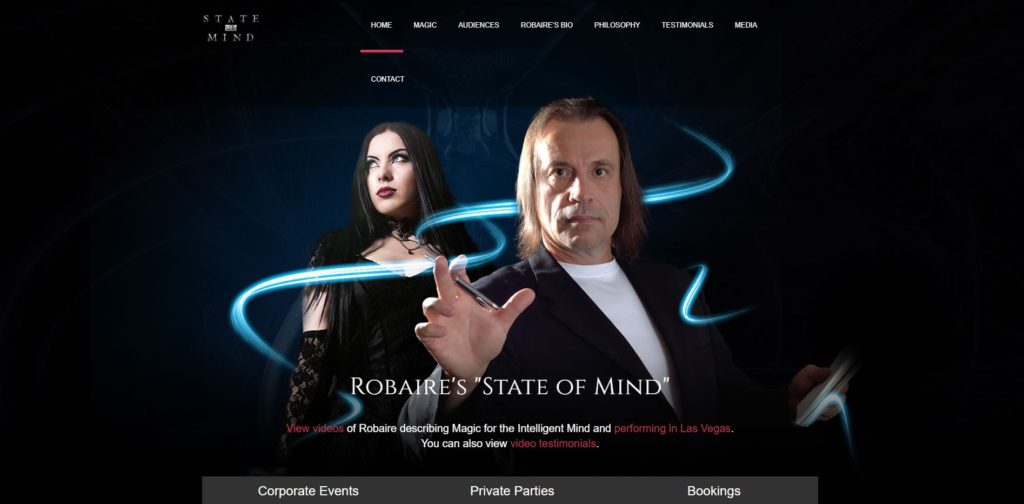 | Test | Info |
| --- | --- |
| WEBSITE | https://stateofmind.ca/ |
| ADDRESS | 190 R. O'Connor St, Ottawa |
| CONTACT DETAILS | (613) 875-2500 |
| AREAS SERVED | Ottawa, Montreal, and nearby areas |
| | |
| --- | --- |
| Performance quality | ★★★★★ (5/5) |
| • Creativity and uniqueness | ★★★★★ (5/5) |
| • Showmanship | ★★★★★ (5/5) |
| • Audience appeal | ★★★★★ (5/5) |
| Range of magic tricks | ★★★★☆ (4/5) |
| Customer satisfaction | ★★★★☆ (4/5) |
| • Responsiveness | ★★★★☆ (4/5) |
| • Professionalism and accountability | ★★★★★ (5/5) |
| • Convenience and perks | ★★★★☆ (4/5) |
| Overall value for money | ★★★★☆ (4/5) |
Compared to the acts we mentioned above, Robaire's "State of Mind" is much more suitable for a more mature audience.
His expertise lies in mentalism, a type of performance that exhibits the cognitive and extra intuitive abilities of the mentalist. Robaire refers to his performances as "the magic of the intelligent mind."
Backed by his lovely assistant, Katrina, Robaire's magic acts are unique in the sense that they are focused on mind tricks, unlike other magicians who utilize props and illusions. Robaire actually amazes his audience with his surprising psychological demonstrations.
Some of his most famous acts include the Long-Distance Telepathy, the Group Think, and the Book Test, all of which engage and bewilder his audiences with his "mind-reading" abilities.
His acts are sophisticated in nature, and he shows really great showmanship, making his audiences engaged and invested in his tricks and executions.
This is why he is the ideal magic guy for corporate events and private parties due to the more mature nature and psychological tone of his performances. But he is still open to performing in private family gatherings with an audience of all ages.
With his mind-boggling acts, he will leave any audience in awe, whether young or old alike.
Since his debut as a mentalist back in 2010, he has performed hit shows in Ottawa, Vancouver, Toronto, Montreal, and even in Manhattan and Las Vegas in the US.
Since the pandemic struck, he has also started doing virtual shows at a far lower cost.
If you are looking for a mind-blowing act in almost the literal sense of it, Robaire's "State of Mind" might just be what you need. You and your guests will surely be talking about him for days and days afterward.
Acts showcase mentalism
Not your usual magic act
Classy and sophisticated performances
Best-suited for an older audience
Rates are not available on the website
Acts are limited only to mentalism
Customer Reviews
Chills in my spine
My easily impressed, dear friend turned me onto Robaire; raving of his genius. So I went to his show, but as a pessimist; expecting some explicable effects that required advanced memory and slight of hand.
I left that show a humbled believer in the art of mentalism. Although Robaire doesn't claim to be psychic, I felt a higher power at work and a welcome chill in my spine. – Caitlin Cooper
Sophisticated and intellectually stimulating
I had the pleasure of seeing Robaire last Friday evening and I felt both enlightened and completely baffled! If you are looking for something a bit different, both sophisticated and intellectually stimulating, then don't hesitate to book Robaire or attend one of his shows. His presentation is excellent and whilst he claims he doesn't perform any 'real magic', the things he does seem to defy explanation?! It's one thing to see this type of thing on the TV, but when you witness it right in front of your eyes, it is something you won't forget in a hurry! – Paul Warren
4. Birthday Party Magic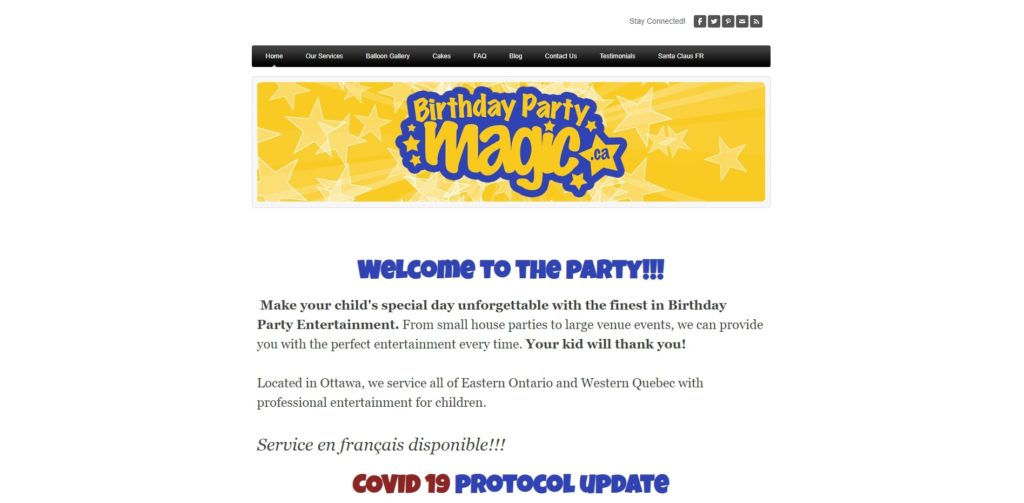 | | |
| --- | --- |
| Performance quality | ★★★★☆ (4/5) |
| • Creativity and uniqueness | ★★★★☆ (4/5) |
| • Showmanship | ★★★★☆ (4/5) |
| • Audience appeal | ★★★★☆ (4/5) |
| Range of magic tricks | ★★★★☆ (4/5) |
| Customer satisfaction | ★★★★★ (5/5) |
| • Responsiveness | ★★★★★ (5/5) |
| • Professionalism and accountability | ★★★★★ (5/5) |
| • Convenience and perks | ★★★★★ (5/5) |
| Overall value for money | ★★★★★ (5/5) |
So unlike the previous magic acts we mentioned, Birthday Party Magic is actually a company that provides various types of entertainment that's suitable for birthday parties and other similar gatherings.
They offer several entertainment services from magic shows, puppet shows, to face painting, and even a visit from Santa!
They also provide whimsical balloon creations and birthday cakes to add a themed flair to your event.
Birthday Party Magic is ideal for the younger type of crowd but is still a quirky and fun option for any age and celebration.
As for their magic acts, their shows are ideal for children with their mix of silly and fun interactions and quirky tricks that leave kids amazed and engaged.
Some of their most-loved acts include a classic magic show packed with different card tricks, magic boxes, even an escape routine, plus more.
What's special here is that they also offer a Harry Potter-themed show complete with a recruiting officer that will show up at your door to invite your kids for some Hogwarts magic. It's a total experience that will immerse your kids in the joys and fascination that magic can bring.
They also offer other themes depending on what you can agree upon like Star Wars, Pokemon, Marvel, DC, and other character themes.
It's also good to note that their services and rates are more customer-friendly. In fact, you can experience and watch a pro-level magic show with them but at a lesser cost.
Plus, you can also acquire other party services they offer to make planning less of a hassle for you.
If you're looking for some performances that are not too complicated but still entertaining and will leave the young ones in awe—and more importantly with good value for your money—this might be the act that you are looking for.
Friendly rates
Best suited for kiddie parties
Offers Harry Potter-themed services
Offers other party-related services
Less sophisticated magic routines
No price matrix for their services
Customer Reviews
Great job with the kids
I just wanted to thank you once again for squeezing in my son Elliott's party on such short notice. They are still talking about it three days later. Everyone was really impressed, parents included, with how you interacted with the kids and managed to keep all 27 of them focused. Elliott is still practicing his moves with the light saber you gave him. You do a great job with the kids and I wish you many years of continued success with your business. – Jennifer L.
Fun and memorable time for everyone
Ian did an amazing job as a Jedi knight at my son's birthday party. All the kids loved the games and Ian had them playing and laughing for the whole time. Hiring Ian really took the pressure off when it came to planning activities for the party and made it a fun, memorable time for everyone, including the parents! Thanks Ian! – Eddy Thai
5. Ottawa Magician, Michael Bourada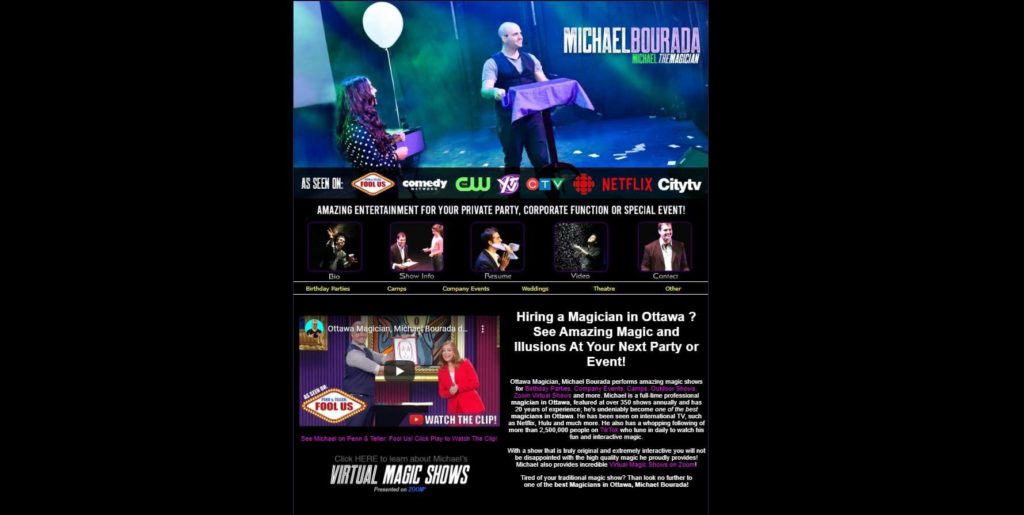 | | |
| --- | --- |
| Performance quality | ★★★★☆ (4/5) |
| • Creativity and uniqueness | ★★★★☆ (4/5) |
| • Showmanship | ★★★★★ (5/5) |
| • Audience appeal | ★★★★★ (5/5) |
| Range of magic tricks | ★★★★★ (5/5) |
| Customer satisfaction | ★★★★★ (5/5) |
| • Responsiveness | ★★★★★ (5/5) |
| • Professionalism and accountability | ★★★★★ (5/5) |
| • Convenience and perks | ★★★★★ (5/5) |
| Overall value for money | ★★★★★ (5/5) |
One of the best, if not the best magician in the capital, Michael Bourada is probably the most popular act on this list.
He has been featured in so many television shows in Canada and the US and has millions of followers on Tiktok for his amazing magic tricks. He was also featured in the television show Penn & Teller: Fool Us back in 2020.
He's an awesome illusionist with incredible energy and really witty spiels that magnetizes his audience. He was even nominated for the Canadian Entertainer of the Year by the Faces Magazine for his fun and amazing performances.
A very much in-demand magician in his hometown, he actually does an average of 200 shows a year. Given this information, you really need to book him with an ample amount of time if you want him for your events.
Despite being a big name in the industry, he still offers his services at quite an affordable rate compared to other popular acts. Nevertheless, you can still get the same mind-blowing performances no matter how simple your event is.
You can get him for weddings, corporate events, private parties, etc. As such, he also tailors his acts to match the crowd he'll perform in.
He also does special interactive shows for schools and camps that are more inclined to very young audiences.
Likewise, he can also manage to make a show that would appeal more to a more mature audience for weddings or corporate events.
His lines are open for bookings of any kind of event or gathering, but you'd get a faster response via email. You can also book him for a virtual magic show via Zoom as well.
Pretty much a complete package when it comes to magic shows and with amiable rates, Michael Bourada is arguably one of the best options out there for a memorable magic show.
Magic performances that are suited for both young and old audiences
Customizes performances according to the event and audience
Also does virtual performances
Fairly affordable rates
Tends to be booked for most parts of the year
No matrix of rates on the website
Customer Reviews
Impressive magic and personality
I would 100% hire Michael again!!! He was very easy to communicate with and had a quick response time. And then there was the show! WOW is all I can say. He was able to make 9 busy and tired social workers laugh and have a great time after a hard days work on a Friday night – that is a miracle in itself! We were ALL impressed by his magic and his personality and humor. He connected well with the staff and made it a fun night to remember. Thank you Michael! I'm already trying to think of the next time we can work together!!! Highly recommend!!! – Sandra Pedersen
Great to work with
I booked Michael in early 2021 for an online family event through our elementary school. He was very responsive, great to work with, and entertaining for kids and parents alike. The show went smoothly and there were many positive reviews from those who attended. Almost a year later I am still getting requests from community members who attended and want his contact info for upcoming corporate and social events. Glad we did it! – Cheryl Devine
FAQs about Magicians in Ottawa
---
We hope our list of these amazing magicians can help you find the entertainment you need for whatever event you are planning.
In fact, we might just be able to help you a little more. In case you are still on the lookout for the perfect food to serve at your party or event, you might want to check out our list of the best catering services in Ottawa!