The 7 Best Locksmith Services in Ottawa
Locked outside with no way in? Don't worry, we've got you.
Today we're bringing you the best locksmith services in Ottawa that can get any door, safe, and secret diary open in no time at all! We'll also throw in the average service costs and answers to some FAQ by the end of the article.
How Much Does Locksmith Servicing Cost in Ottawa?
While we do our best to bring you the closest average for the services, bear in mind that the actual costs depend on the service providers!
| | |
| --- | --- |
| Hours | Average cost per hour |
| Business hours | $45 |
| After hours | $125 |
Top Locksmith Services in Ottawa
And now for the list of the best locksmith services we could find in the area!
1.   Rapid Locksmith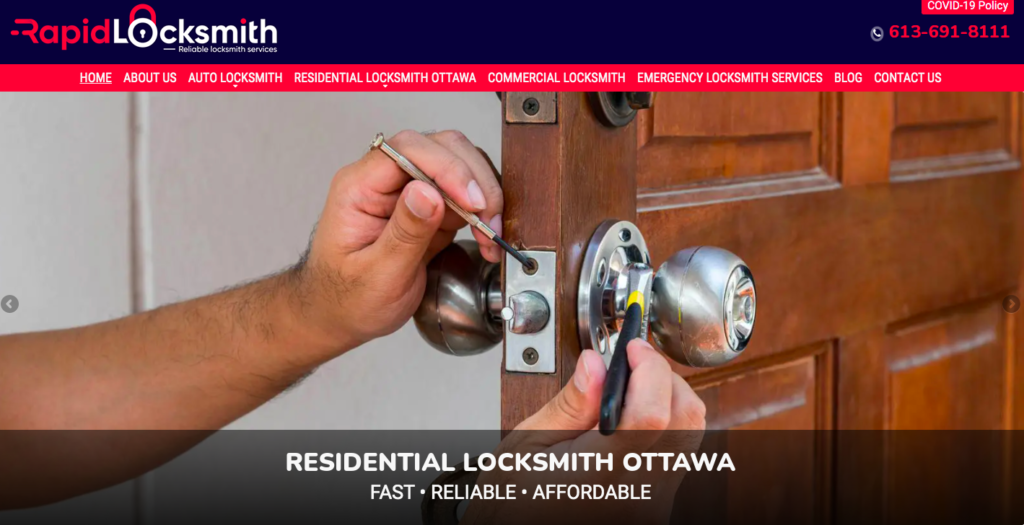 BEST FOR
Fast emergency services
SERVICES
Residential Locksmith, Commercial Locksmith, Automotive Locksmith, Emergency Locksmith, Lock Replacement & Repair, Key Duplication Services, Car Key Replacement, Transponder Key Programming, Car Lockout Service
WEBSITE
https://rapidlocksmith.ca/
CONTACT DETAILS
Phone: (613) 691-8111
Email: [email protected]
OPERATING HOURS
Monday to Sunday: 9:00am – 10:00pm
If you're looking for a reliable locksmith in Ottawa, Rapid Locksmith is an option worth considering. They're known for providing their services to residential and commercial customers, responding quickly to any service calls.
Although you'll most likely call a locksmith for emergencies, Rapid Locksmith can also provide security solutions for your property. They can also respond to any service or maintenance requests to ensure that your locks are in good working order.
Unlike other locksmiths, this company will prioritize repairs over a complete replacement for any fault locks. If your product only needs a little adjustment or tweaking, they won't pile the pressure for you to purchase an entirely new lock.
Rapid Locksmith places importance on long-term clients, which is why they have a preferred partnership program, wherein you can enjoy additional savings and other benefits. Some examples would be discounts on products and quick response emergency call outs.
If you're interested in their services, you can get a free quotation online and they service within a 60km radius of Ottawa.
Free quotes
Offers partnership program
Services within a 60 km radius of Ottawa
No information on rates online
No business address listed online
2.   A Everest Locksmith
BEST FOR
Automotive keys and remotes
SERVICES
Panic Bars
Hinges
Masterkey
Handlesets
Leversets
Key Cabinets
Camlocks
Mailbox
Lockout
Damaged Cars Lock
Lost Car Key
Transponder
Deadbolts
High-Security Locks
Locksets
Padlocks
Home Safes
Fire Resistant Safe
Rekeying
Change
Installation
WEBSITE
www.everestlock.com
ADDRESS
1581 Bank Street, Ottawa, ON K1H 7Z3
CONTACT DETAILS
(613) 248-3535


[email protected]

OPERATING HOURS
Mon – Fri 9:00 am – 5:30 pm
Sat 9:00 am – 5:00 pm
Sun Closed
A Everest Locksmith has been in business for 20 years, and in that time has built up a reputation of being a reliable key, lock, and door service.
Their team of experienced and qualified locksmiths has been consistently delivering high quality services all over Ottawa, from key cuttings to emergency services. In fact, clients say they can get most services done within a day.
Furthermore, clients have reviewed them to be fast, responsive, and very reliable during their emergency services. They offer free quotes within 24 hours for their other services and have a wide variety of keys, locks, and more to choose from.
Free quotes
Offers 24/7 emergency services
Wide range of locksmith services
Customer Reviews
Though their prices are high as mentioned by many, they've delivered top-quality service to these more-than-satisfied clients:
"Could not have asked for better service. Was able to get an appointment within a day. Most companies give you a all day or a morning or afternoon window. They told us between 9 and 10 and called at 9:30 to confirm on the way. Repair to lock was done quickly and on budget and looks and works great. Would use this company again without hesitation." -Brian
"I arrived without notice to have new car keys programmed. The staff were friendly , professional and very quick. ( under 5 min ). And it cost less than was quoted by the dealership. Thanks." -Conrad
3.   City Locksmith Lock And Key Service Inc.
BEST FOR
High-tech security and tracking systems
SERVICES
Coding
Doorknob
Levers
Door Grips
Keyless Entry
Patio Locks
Security Bars
Deadbolt Installation
Gps Tracking
Intercom Systems
High-Security Lock
Closers
Weiser
Abloy
Mul-T-Lock
Mailbox Units
Re-Coded
Full-Length Hinges
WEBSITE
www.citylock.com
ADDRESS
1495 Star Top Road, Ottawa, ON K1B 3W5
CONTACT DETAILS
(613) 746-5397


[email protected]

OPERATING HOURS
Mon – Fri 8:30 am – 5:30 pm
Sat – Sun Closed
Considered as one of the industry's best, City Locksmith is a family business that has been in the locksmith industry since 1967. Despite being in the business for so long, they make sure to consistently search for and implement the latest in security technology in their services.
Aside from providing top-quality services, they also make sure to provide satisfactory customer service. In fact, they even received the Consumer Choice Award back in 2017.
They work with some of the industry's top brands for security paraphernalia and have serviced every kind of client from residential to large companies and commercial buildings.
Not only do they offer basic locksmith services, they also go as far as selling GPS tracking devices, matrix safe systems, home video security, and kevo touch.
Their highly skilled team of technicians take on any job with a can-do attitude and are reviewed to be extremely pleasant, giving their absolute best in terms of customer service.
Award-winning services
Wide array of security services
Customer Reviews
From a family business to a state of the art facility, City Lock has come a long way and only provides the best services. Check out these satisfied clients:
"A great company with real professionals and excellent customer service. If you need a locksmith don't look anywhere, call City Lock. I have dealt with them for many years and I am impressed by their quality of work." -Tamrat
"Could not have asked for better service. Was able to get an appointment within a day. Most companies give you a all day or a morning or afternoon window. They told us between 9 and 10 and called at 9:30 to confirm on the way. Repair to lock was done quickly and on budget and looks and works great. Would use this company again without hesitation." -Brian
4.   Pop-A-Lock
BEST FOR
Car lock emergencies
SERVICES
Unlocking
Install
Re-Keying
Repairs
Restricted Controls
Mailbox Keys
Drilled out Hole Dead
Bolt
Master Keying
Residential Lock Installation
Keyless Service
Commercial Hardware Installing
Free Keys Return Program
Electronic Access
Key Control
Vehicle & Locks
WEBSITE
www.ottawa.popalock.ca
ADDRESS
Ottawa, ON
CONTACT DETAILS
(613) 241-2323


[email protected]

OPERATING HOURS
Monday to Friday 8:30 am to 5:30 pm
Pop-A-Lock has been in business since 2013, servicing the entire Ottawa area in all aspects of locksmithing services. They were the recipients of the 2020 Consumer Choice Award and pride themselves on their experienced technicians.
The company is independently owned and operated–run by a father and son who highly value all their clients, offering a free key return program in all of their branches across the country.
Clients have reviewed them to be transparent with costs, friendly, and professional. In addition to this, they have saved over 350,000 children in North America that have been locked in cars over the course of 20 years.
Award-winning services

Multiple locations across Canada
Longer waiting time outside of emergency services
Customer Reviews
Thanks to their experience in the industry and life-saving services, Pop-A-Lock has become one the leaders in locksmithing services all across North America. Here are a few positive reviews:
"Tim was early, professional, awesome and just a great person. Customer service was amazing. Product knowledge is superb. If I could give a higher star rating, I would. Thank you so much!!!" -Michael
"The first time I needed a locksmith I googled and called any random company which ended being Tim and Pop-a-lock. The second time I needed a locksmith I specifically dug into my files to find Tim's number. He is kind, extremely punctual and very trustworthy. Will only use Tim moving forward!" -Matthew
5.   NKLock & Security
BEST FOR
Commercial locksmith services
SERVICES
Residential lock services
Commercial lock services
WEBSITE
www.nklock.com
ADDRESS
100-20 Bexley Pl, Nepean, ON K2H 8W2, Canada
CONTACT DETAILS
(613) 726-1128


[email protected]




[email protected]

OPERATING HOURS
Mon – Thur 7:30am – 4:30pm
Fri 7:30am – 2pm Sat – Sun closed
Nepean Kanata Lock has been operating since 1984, making them one of the oldest locksmiths in the area. They are full service security experts with an A+ rating on BBB specializing in commercial security systems.
They can work with all brands of locks and keys, selling and installing hardware from a variety of product lines.
All of their employees are insured and bonded to protect them, yourself, and your property from any untoward accidents. They guarantee competitive prices, quick work, and top-notch services which are backed up by the many reviews we've seen online from both first-time and loyal clients.
Affordable services
Top rated emergency response
Customer Reviews
Locks and security systems for buildings and homes are their forte, and although KNLock and Security doesn't service cars, they still deliver results when it comes to everything else.
Check out these happy clients:
"I had my original brass door handles replaced with updated brushed nickel handles and lock sets. Also an extra 4 keys cut. What a difference , now a coat of paint to finish the job. very happy with the upgrade. The technician was great friendly efficient knowledgable. A great experience. Highly recommended."
"This is actually a legitimate locksmith company. I called them, they gave me a verbal quote and when they came, they charged me the exact amount that they quoted me." -James
6.   Capital Locksmith
BEST FOR
Comprehensive locksmith services
SERVICES
Emergency services
Lockouts
Auto locksmith
Rekeying
Lock change
Lock replacement
Door Hardware
Property Eviction
High Security Lock
Master Key systems
WEBSITE
www.capitallocksmith.ca
CONTACT DETAILS
(613) 457-5135
OPERATING HOURS
24/7
Capital Locksmith is one of the top rated locksmith services in Ottawa, having been in the business for over 15 years. Their technicians are all highly-trained in different aspects of locksmithing as well as customer service.
They have a 15-20 minute response time for emergency calls, with their fully-trained technicians offering a 100% satisfaction guarantee. Their multiple branches throughout Ottawa ensure that the response time is as advertised, and based on reviews, we can tell they've held up that promise.
Clients have reviewed them to be fast, responsive, and highly professional. With a proven track record in satisfying clients, you won't be disappointed!
Quick emergency response
24/7 locksmith services
Customer Reviews
Offering all basic locksmithing services and more, Capital Locksmith has made an impact on the lives of many individuals across Ottawa. Check out these happy clients:
"I locked my bedroom door by mistake and forgot the keys inside it and i was not able to get it so i called a the first locksmith that i sew and i found this company, the guy came and unlocked the door without any problem. Thank you very much!" -Daniel
"A reliable after hours solution to getting our store open in time for our business day. Great communication, polite and helpful service technician, clean and professional work, helpful folliw up.
Thank you guys for your quick help!!" -Eira
7. Speedy Locksmith
Have you ever found yourself locked out? Or perhaps have lost a copy of your car keys? These things happen all the time, no matter how careful you are, so it's best to have an expert locksmith on-call.
Here is where Speedy Locksmith comes. Speedy Locksmith has built up quite a reputation in the country thanks to having one of the longest list of locksmith services that caters to residential and commercial properties, as well as private vehicles. These services are delivered by technicians who are licensed and have undergone extensive training, ensuring customer satisfaction once the job has been completed.
Another thing worth noting about Speedy Locksmith is that they try to be prompt and professional at all times. Clients who choose to contact them at the soonest can expect Speedy Locksmith to get back to them immediately.
Licensed and trained technicians
Extensive services include work for residential and commercial properties
Large service area
No operating hours available
8. Key It Locks
BEST FOR
Emergency Locksmith Services for Residential, Commercial, and Automotive Concerns
SERVICES
Residential
Install & Repair Locks
Install & Repair Door Hardware
Re-key Locks
Smart Lock Installation
Broken Key Extraction
Home Lockout
Safes
Mailbox
Garage door locks and openers

Commercial
Install & Repair Locks
Install & Repair Door Hardware
Master Key Systems
Keys Cut by Code
Door Operators and Closers
Handicap Operators
Safes
Safety deposit keys
High Security Locks
Toolbox Keys
Details Contact Us

Automotive
Car lockout
Car key/Remote duplication
Car key/Remote Replacement
Transponder/chip key programming
Key Cut by VIN number
Remote Starter
Backup Cameras
Key Extraction
RVs, Motorcycles, Roof Racks
WEBSITE
https://keyitlocks.com
ADDRESS
1618 Merivale Rd
Ottawa, ON K2G 3K3
CONTACT DETAILS
[email protected]
(613) 695-5625
OPERATING HOURS
24/7 emergency services
When emergency lockouts happen, it's best to have a number that you can depend on regardless of the day of the week or the time of day. This is where Key It Locks enters the scene.
Key It Locks is one of the most trusted locksmiths in all of Ottawa, most known for their emergency locksmith services and 24/7 operating hours. We also found that people particularly like their range of services, which is one of the largest on this list, encompassing both commercial and residential properties, as well as Automotives.
Now, it's worth noting that Key It Locks doesn't only open doors without keys. They also offer installations and repairs for locks, door hardware, smart locks, and many more.
Finally, we also like the fact that Key It Locks endeavours to attend to the entirety of Ottawa. With such a wide service area, it doesn't matter where you are, they'll come to you and offer their exceptional locksmith services.
A+ rating on BBB
Wide range of locksmith services for commercial and residential properties, and Automotives
Caters to the entirety of Ottawa
No information regarding rates online
FAQs About the Best Locksmith Services in Ottawa
---
That concludes our list of the best locksmith services in Ottawa! We hope you found the perfect locksmith for your needs from our list.
Did we miss a locksmith service that you recommend? Tell us all about it in a message and we'll check out your recommendations ASAP!
If you've got a busted pipe that needs taking care of, check out this article for information on the best plumbers in Ottawa!