The 5 Best Laser Cutting Services in Ottawa
Not a lot of people know that laser cutting is actually a very important process in a lot of things we use everyday. It's especially essential to automotive, jewelry, and even medical supplies.
If you're looking for a good laser cutting service in Ottawa, worry not! In this list we will discuss the best laser cutting options you can find in the capital.
How Much Does Laser Cutting Cost in Ottawa

Laser cutting typically ranges from $13 – $20. The basic computation factor for laser cutting is the machine's running time. The more time the laser is used, the more it costs. In the table below, we give you a gist of the usual price you pay for laser cutting services.
| Service | Average Estimated Costs |
| --- | --- |
| Laser Wood Cutting | $13-$20 per hour |
| Laser Wood Engraving | Starts at $30 - $50, increases depending on size |
| Laser Metal Cutting | $15-$25 per hour |
| Laser Metal Engraving | Starts at $50 - $80, increases depending on size |
| Laser Glass Cutting | $100 - 200 per square foot |
| Laser Glass Engraving | Starts at $500 |
The Best Laser Cutting Services in Ottawa
Laser cutting not only requires skill but also top notch technology. If a laser cutting service has outdated tech, they may not be able to finish their work on time.
We've listed the 5 best laser cutting services in Ottawa for you according to the following criteria:
1. Zenith CNC Laser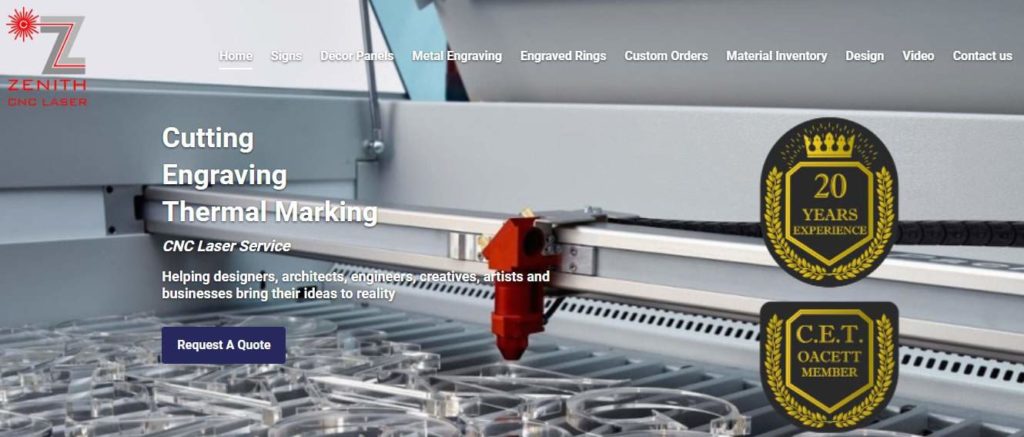 Test
Info
SERVICES
Laser Cutting, Metal Engraving, Ring Engraving, Decor Panels
WEBSITE
https://zenithcnclaser.com/
ADDRESS
1229 Foxbar Ave Unit A, Ottawa, ON K1V 6V4 Ottawa, ON CA
CONTACT DETAILS
613-804-9309
OPERATING HOURS
Mondays to Fridays: 9:00 AM - 6:00 PM

Saturdays: 9:00 AM - 3:00 PM

Closed on Sundays
| | |
| --- | --- |
| Criteria | Ratings |
| Range of Services | ★★★★ (4/5) |
| Rates | ★★★★ (4/5) |
| Availability | ★★★★★(5/5) |
| Location | ★★★★★(5/5) |

Zenith CNC Laser is located in Foxbar Avenue. They are able to provide multiple laser-related services such as cutting, engraving, and thermal marking.
Zenith CNC Laser specializes in working with artists, architects, and designers so they are willing to do custom jobs. They are an especially good choice for anyone who wants to do personalized laser cutting because they're willing to do more unorthodox designs.
Their location is in a quiet residential area that is easy enough to find but it is a bit unusual for a business like this. Anyone unfamiliar with the area might have to ask around a bit for the store's location.
Zenith CNC Laser also provides custom designed rings. For couples out there looking for a unique design. This company also sells decor panels that they've made from their own laser cutter.
We also like that Zenith CNC Laser's employees are experts on metal engravings and actually specialize in it. They even offer traceable codes for what they engrave which is important especially if you plan on engraving something valuable.

Overall, Zenith CNC Laser definitely gets the job done when it comes to laser works. The only downside we noticed is they don't offer glass cutting but their other services are top notch and are definitely worth a look.
Good designs
Good technology
Certified Engineering Technologist
Expensive
No glass cutting
Customer Reviews
"Alex is a class act. Creative, quick and kind. Their turn around time was literally lightning fast and results were unbelievably professional. Having a custom made item can sometimes turn out so so but what they did was make the cutting look like it was supposed to be there as if it was originally made that way. I no doubt will be a returning customer and am now on the lookout for things that can be altered or customized because they can do it, no problem! Thanks!" – Nick J.
"Incredibly professional and fast services. They engrave on pretty much any surface from small rings to big sheets of wood and plexiglass." – Amin E.
2. Laserworkz

| Test | Info |
| --- | --- |
| SERVICES | Laser Cutting, Granite Cutting, Slate Cutting, Aluminum Cutting, Wood Cutting |
| WEBSITE | http://laserworkz.ca/howitworks.html |
| ADDRESS | 213 York St, Ottawa, ON K1N 5T7, Canada |
| CONTACT DETAILS | 613-789-0417 |
| | |
| --- | --- |
| Criteria | Ratings |
| Range of Services | ★★★★★ (5/5) |
| Rates | ★★★★★ (5/5) |
| Availability | ★★★★(4/5) |
| Location | ★★★★★(5/5) |
Laserworkz is another good option for your laser cutting and engraving needs. Located in York Street, they are able to handle numerous clients a day with different requests in terms of design.
Laserworkz prides themselves in giving you the exact design you want for a project. Think of them like a tattoo artist where you give them your preferred look and they'll make it into a reality.
Laserworkz also understands the importance of what customers want and so they allow custom designs and engravings for anyone who requests that service. We like that they also provide tips on how to keep the engravings clean and sturdy once the process is done.
This is truly appreciated especially with how fragile some materials used in laser cutting and engraving are. We appreciate that Laserworkz teaches their clients how to keep what they paid for protected, even though the company would benefit from items that need repairs.
They work on a variety of materials including metal, wood, aluminum, and even granite. Their flexibility on laser cutting and engraving is quite impressive especially if you think about how many clients they serve a day.
Laserworkz employees are professionals and they understand that lasers can be dangerous in untested hands. They are required to first undergo training before being able to use the machines.
Overall, Laserworkz is definitely one of the optimal choices for laser cutting in Ottawa. Just remember to call them because they don't have specific operating hours.
Decent design options
State-of-the-art laser tech
No specific hours
Outdated website
3. Laser Cut Ottawa

Test
Info
SERVICES
Laser Cutting, Laser Etching, Professional Finishing, Assembly, CNC Machining
WEBSITE
https://www.lasercutottawa.com/
ADDRESS
60 Colonnade Rd N, Nepean, ON K2E 7J6, Canada
CONTACT DETAILS
343-307-4986
OPERATING HOURS
Mondays to Thursdays: 9:00 AM - 4:00 PM

Closed on Weekends
| | |
| --- | --- |
| Criteria | Ratings |
| Range of Services | ★★★★★ (5/5) |
| Rates | ★★★★★ (5/5) |
| Availability | ★★★★(4/5) |
| Location | ★★★★★(5/5) |
Laser Cut Ottawa is another laser cutting service to keep your eye on. They specialize in multiple materials including baltic birch plywood, melamine, acrylic, and even hardwood plywood.
Laser Cut Ottawa's multiple options for materials are what attracted us the most. Their selections are great and they also have a solid gallery and portfolio of the previous works they've done.
Their laser machines are also special because they use industrial laser machines. These machines are extremely accurate and they also cut really fast so any customer in a rush should not worry when dealing with Laser Cut Ottawa.
The machines they operate are also dangerous so employees are required to train first before operating them. We appreciate this emphasis on safety not just for the clients but also for the employees.
Laser Cut Ottawa is also a good option if you're in a rush and want to send them a design right away. You can contact their social media pages or their email to send them a design you want and they can get started on it right away.
For customers who are really in a hurry, Laser Cut Ottawa also offers rushed services. This is much more expensive than your usual service but it's worth it if you really need your design done fast.
Laser Cut Ottawa proves that they can handle multiple designs and different materials and that's what we appreciate most about this company. They may not have glass cutting but they have other essential materials that can be used for numerous projects too so give them a call if you need their service.
Extensive and specific portfolio
Also offers rentals
Closes early
No glass cutting
Customer Reviews
"These guys are awesome! They do some amazing quality laser cuts and engravings. I got some engravings done for my grandma, she loved them." – Roberto Evans
"I got some custom engraved and cut wood pieces for an art project from LaserCut Ottawa and am really happy with the quality of the pieces. The laser wood engraving was really nice and clean" – Evan B.
4. My Urban Workshop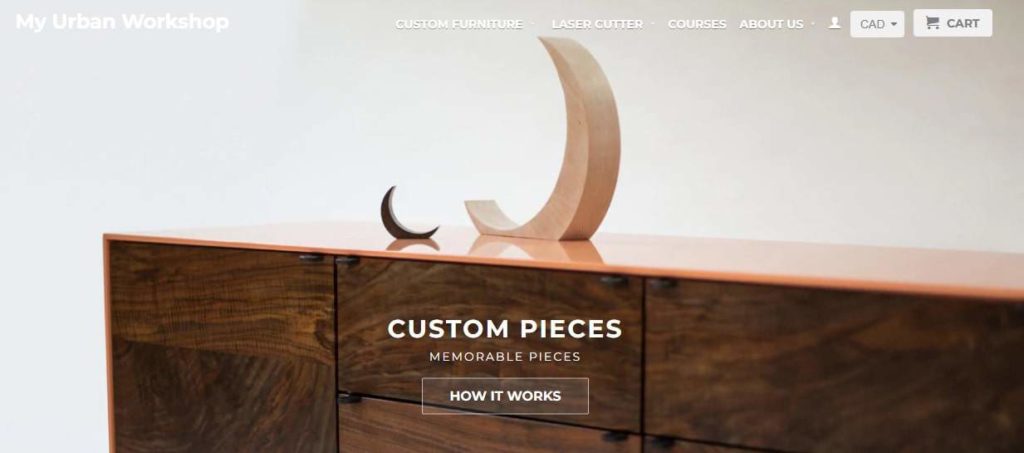 Test
Info
SERVICES
Laser Cutting, Wood Carving, Laser Engraving, Furniture
WEBSITE
https://myurbanworkshop.com/
ADDRESS
60 Colonnade Rd N, Nepean, ON K2E 7J6, Canada
CONTACT DETAILS
613-225-7777
OPERATING HOURS
Open 10:00 AM - 5:00 PM

Closed on Weekends
| | |
| --- | --- |
| Criteria | Ratings |
| Range of Services | ★★★★★ (5/5) |
| Rates | ★★★★★ (5/5) |
| Availability | ★★★★(4/5) |
| Location | ★★★★★(5/5) |
My Urban Workshop is also a good choice for your laser cutting needs. Established by woodworker Greg Anderson, My Urban Workshop specializes more on wood cutting and engraving.
My Urban Workshop is also not just a laser cutting service and wood workshop, it's also a school for anyone interested in woodworking. Greg Anderson teaches anyone who is interested in learning about woodworking.
Some of his students became his own staff in My Urban Workshop and are now part of his crew of professional woodworkers and laser cutting machine operators.
What we like about My Urban Workshop is their emphasis on craftsmanship and originality. They are willing to work on any custom design you can think of provided that you pay for it.
It's unfortunate that they mostly deal with wooden projects because their skills can easily be of use in other materials such as glass and metal. However, they still do laser engravings on materials such as ceramic mugs, small tools, furniture, and more.
Greg and the employees at My Urban Workshop are still very good at what they do and they definitely deserve to be part of this list.
If ever you are in need of laser cutting wooden materials, My Urban Workshop is definitely the place to be.
Good wood selection
Also sells furniture
Smaller store
Not too many options outside of wood
Customer Reviews:
"Absolutely the best customer service!! I'm a novice when it comes installing floating shelves with live edge wood. Had some beautiful, but large slabs of live edge wood that I grabbed from the Lumber Shack in Alymer. This shop milled and cut it to size perfectly. They also provided some amazing advice for a newbie. Would definitely recommend this place and will be coming back for other projects!" – Tan Tran
"Great service, and great customer service. Greg did a fantastic job with the wooden paddles I brought in. The engravings came out great. Communication was open, and price was fantastic! If you need anything engraved, bring it to Greg!" – Alex Picard
5. Virtuocom Metals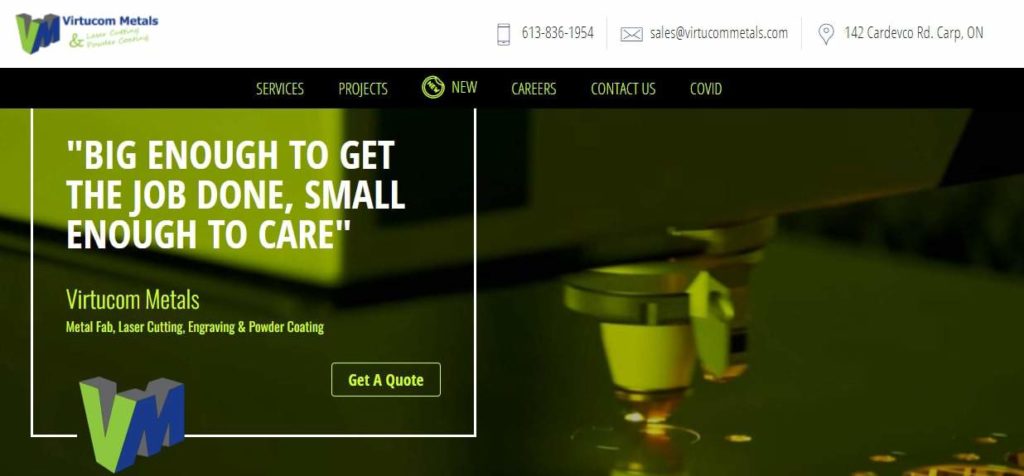 Test
Info
SERVICES
Laser Cutting, Metal Engraving, Metal Fabrication, Powder Coating, Laser Engraving
WEBSITE
https://www.virtucommetals.com/
ADDRESS
142 Cardevco Rd, Carp, ON K0A 1L0, Canada
CONTACT DETAILS
613-836-1954
OPERATING HOURS
Monday to Friday: 8:00 AM - 3:30 PM

Closed on Weekends
| | |
| --- | --- |
| Criteria | Ratings |
| Range of Services | ★★★★★ (5/5) |
| Rates | ★★★★★ (5/5) |
| Availability | ★★★★★(5/5) |
| Location | ★★★★★(5/5) |
Virtucom Metals is also a very good choice for your laser cutting needs. They are known for their fast services and multiple material options.
VIrtucom Metals' speed is due to their employees' training. The employees of Virtucom Metals are required to undergo a safety training every few months to update them on the ins and outs of laser cutting technology and to make sure they know how to use these machines safely.
We appreciate Virtucom Metals' emphasis on safety especially in such a demanding industry. Although most of the tasks are done by machines, they are still operated by humans and it's important to keep them safe.
We also appreciate Virtucom Metals' recycling system for their excess materials. Sometimes when they are done with cutting something, there are excess materials left and these are recycled through different processes and even sold to be used for other projects.
They also provide other services such as metal fabrication, powder coating, and of course, laser engraving. Their range of services proves just how flexible they are and we also appreciate that.
For their laser projects, they are able to work with materials such as metals, papers, acrylic, wood, textiles, and plastics. Their specialties are street signs and even decor.
Overall, Virtucom Metals is an absolute treat to watch work with how creative they are with their projects and how fast they work.
Creative designs
Great choice of services
Hard to contact
Office is smaller
Customer Reviews
"I had 20 custom brake caliper brackets laser cut through Virtucom using a STEP file I provided, in 3/8″ and 1/2″ steel plate. Turnaround time and quality exceeded my expectations, I would definitely use Virtucom again. Thank you!" – Barry G.
"I started using Virtucom almost 2 years ago to supply cut and formed material for fabrication of boats.They have been great to deal with the whole time and i would not hesitate to recommend them for your metal projects. This week i ran into the first problem with an order. They did not hesitate to cut a new one and drive 1 hour across town to deliver it in person. The part was not a cheap piece and i know a lot of other businesses would have fought it or tried to repair it leaving a 2nd grade finished product. Top job guys thank you!" – Jamie Greenfield
FAQs about Laser Cutting Services in Ottawa
---
We hope this information was useful in your search. Laser Cutters are not a readily available tool for everyone. That's why finding the right laser cutting services is important especially for businesses that deal with materials like wood, granite, and glass.
Want to check out other uses of laser beams? Check out this list for the best laser hair removal options in Ottawa.