The 5 Best Kindergartens in Ottawa
A child's brain starts developing at the young age of 5, so it's important to find them a good kindergarten to help boost their cognitive and mental abilities.
In this article, we discuss the best kindergartens in the Ottawa area.
How much do kindergartens charge in Ottawa?
Kindergartens in Ottawa generally charge between $500 to $1500 per month. We've compiled the basic costs of our top picks in the table below so you can peruse them for yourself.
| Service | Yearly Tuition Fee |
| --- | --- |
| Riverside Montessori | $17,696 |
| Joan of Arc Academy | $16,600 |
| VINCI School | $15,000 - 16,000 |
| Fern Hill School | $23,944 |
| OMS Montessori | $18,840 |
The Best Kindergartens in Ottawa
Your children deserve the best. Using the following criteria, we looked for the best kindergartens in the city:
1. Riverside Montessori Pre-School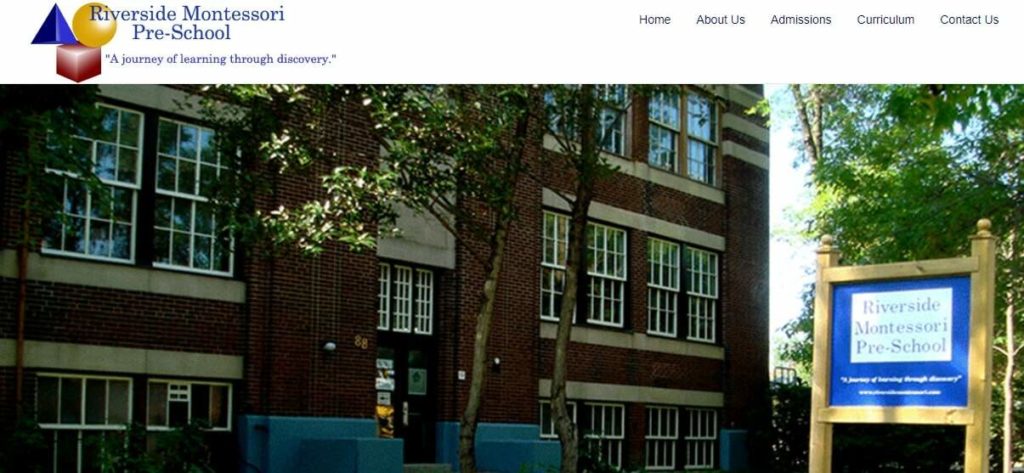 Test
Info
PROGRAMS & GRADE LEVELS
Toddler Program, French Program, Kindergarten Program, Montessori Principles
WEBSITE
ADDRESS
88 Main St, Ottawa, ON K1S 1C2, Canada
CONTACT DETAILS
613-521-4888
OPERATING HOURS
Monday - Friday: 8AM - 5PM

Closed on weekends
| | |
| --- | --- |
| Criteria | Ratings |
| Curriculum | ★★★★★(5/5) |
| Rates | ★★★★ (4/5) |
| Location & Facilities | ★★★★(4/5) |
| Portfolio | ★★★★★(5/5) |
Riverside Montessori Pre-School or RMPS has been around since 2001. It's relatively new compared to most schools in the city, but we believe it's also one of the best.
We appreciate that it uses both traditional and modern methods of learning. Older parents may appreciate the school's more traditional side but younger parents may feel more welcomed by modern approaches.
RMPS is licensed by the Ministry of Education, giving it a legitimate seal of approval from a very respected entity. At the same time, it is a member of the Ontario Federation of Independent Schools and is well-known even outside of Ottawa.
What makes RMPS stand out is its curriculum that teaches students to learn both English and French. Teaching children other languages is actually a good idea because, at a young age, they can absorb the information much more easily.
We definitely appreciate the school's initiative when it comes to this.
The school's pricing is a bit expensive, however. For families on a budget, this may be a huge deal breaker.
But overall, we think that rates are fair, considering that it includes the fees for the school's great facilities and campus. That's in addition to its wide and comprehensive curriculum.
Has senior kindergarten
Offers language-focused classes
Limited students are accepted
Customer Reviews
Very happy

"My sons attended RMPS and I was very happy. I always felt at ease when I dropped them off knowing that they were in good hands. The entire staff is friendly, caring and you can tell they love to be around children. My children learnt a lot and really developed while they attended RMPS. I highly recommend this preschool." – Melissa A.
Healthy environment
"My daughter attended the CASA program here and she loved it. The teachers (esp. Madame Antonella and Tiziana) are dedicated, professional, understanding, and caring. I'm so grateful for everything they did for her and my family. A great place for your kids to learn and grow in a healthy and caring environment." – Noah Fang
2. Joan Of Arc Academy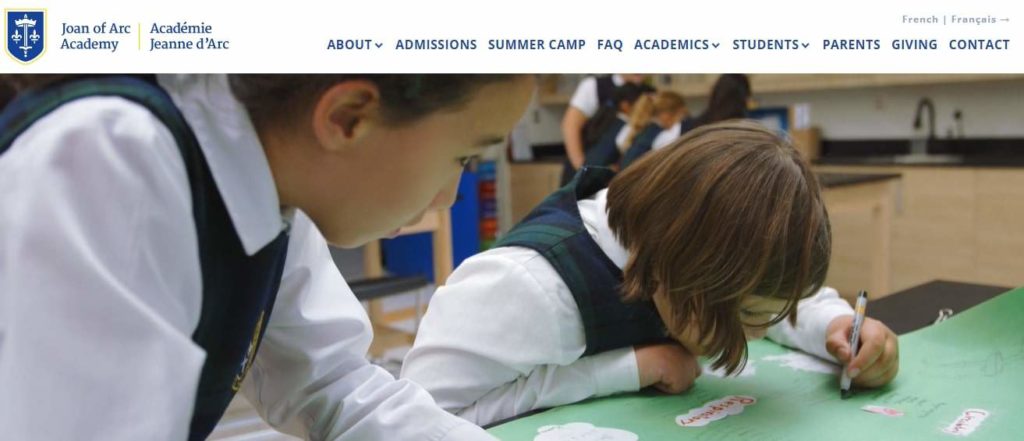 Test
Info
PROGRAMS & GRADE LEVELS
Kindergarten, Language Classes, Math & Science, Arts, Athletics, Elementary Grades 1 - 8
WEBSITE
ADDRESS
2221 Elmira Dr, Ottawa, ON K2C 1H3, Canada
CONTACT DETAILS
613-728-6364
OPERATING HOURS
Monday - Friday: 8:35AM - 3:45PM

Closed on weekends
| | |
| --- | --- |
| Criteria | Ratings |
| Curriculum | ★★★★★(5/5) |
| Rates | ★★★★ (4/5) |
| Location & Facilities | ★★★★(4/5) |
| Portfolio | ★★★★★(5/5) |
The Joan Of Arc Academy is an all-girls exclusive school located in Elmira Drive. It's well-known for its white and blue uniform that looks very formal yet suitable for young girls.
What stood out to us is its creative focus. The school offers lots of classes that bring out the creativity of its students, especially younger ones in preschool to kindergarten.
For kindergarten students, all classes, except for math, are taught entirely in French. This is a good way to make students adapt to both French and English.
The results of this type of teaching are actually impressive as kids learn how to talk in French pretty early on in their academic years.
The teachers are also hired not just for their skills but also for their personalities. The school makes sure that they handle children well, knowing how to communicate with them and give them the best learning experience.
On the downside, the school is exclusive for girls only. So if you have boys, this option is off the table.
However, we think Joan of Arc Academy can help your little girls grow in a strict but fair environment where they will learn how to be proper and also have fun.
Overall, the school is great. Parents of non-Catholic origin should think twice, though, because of the religious aspect of the school.
But we believe that for the age of kindergarteners, it barely matters. What's most important is that they learn the basics of language, math, and athletics.
Bilingual classes
Offers both junior and senior kindergarten
Teachers are screened thoroughly
Religion classes may not be for everyone
School office closes early
Customer Reviews
Good result

"Amazing school, a great big family to raise a happy, smart, confidence girl. The class sizes are small and therefore students get lots of attention from their teachers. Our family loves this school and my husband and I are so happy our daughter is a part of JOA family" – Elly Zamani
Refreshing change
"I transferred my 3 daughters to Joan of Arc from another local private school in December 2020 … what a refreshing change! Even during the pandemic, we felt welcomed into the JOA community, and the teachers have gone above-and-beyond to make online learning engaging. My girls love school again." – Julie Huggan
3. VINCI School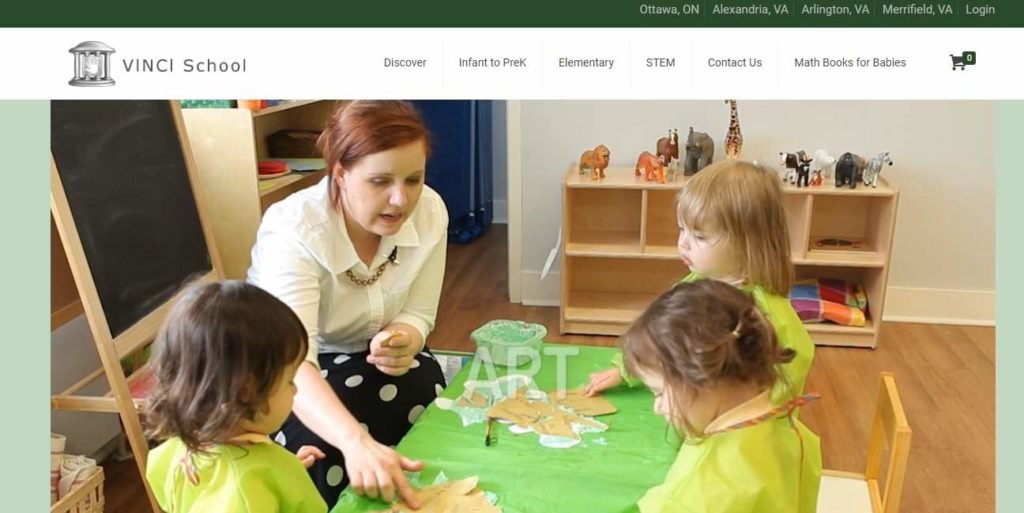 Test
Info
PROGRAMS & GRADE LEVELS
Infant Learning, Toddler Learning, Preschool, Kindergarten, Elementary, STEM
WEBSITE
ADDRESS
149 King George St, Ottawa, ON K1K 1V2, Canada
CONTACT DETAILS
613-842-7557
OPERATING HOURS
Monday - Friday: 8AM - 5PM

Closed on weekends
| | |
| --- | --- |
| Criteria | Ratings |
| Curriculum | ★★★★★(5/5) |
| Rates | ★★★★ (4/5) |
| Location & Facilities | ★★★★(4/5) |
| Portfolio | ★★★★★(5/5) |
VINCI School takes pride in focusing on its students' potential. For example, if the teachers find a child singing his or her heart out, they will encourage that child to keep at it and hone more of their singing skills — and we love that.
We also like VINCI's Skills Versus Knowledge approach where the teachers focus more on teaching kids skills they will use in real life instead of just having them memorize a bunch of trivia from a book.
The school's methods may be unusual to some, but we believe it's a unique and interesting way of teaching. Of course, the teachers still cover the basics, like math, language, and art, but it has also found a way to teach kids other concepts they can use throughout their lifetime.
VINCI's STEM program may be a concern to some parents, but this is an optional method for children who are unusually proficient in subjects like math.
STEM, which is short for science, tech, engineering, and math, is just a more advanced teaching method for these subjects.
The lack of bilingual classes may be a downside, but VINCI's education system is still overall a great option for parents.
With that said, its method of education is solid and is one of the reasons it's on this list. The school's curriculum focuses on both intelligence and emotional quotients to make sure children grow up smart and also emotionally stable.
Offers STEM for children good at math
Also offers pre-kindergarten programs
No bilingual classes
Exact tuition fee price is hidden
Customer Reviews
Caring teachers

"The teachers are very caring and their programs are both fun and educational. The communication with the staff has always been exceptional and cleanliness is a huge plus! I am glad we chose this school for my daughter who has been there for almost 2 yrs now." – Noah M.
STEM is great

"Vinci School provides kids with a wonderful environment and an innovative STEM based curriculum that allows them to develop fundamental skills for the future. My daughter enjoys school and I am amazed every day to see how she develops confidence in topics that could be a bit intimidating even for older kids or adults. She is now interested in developing a robotic arm for one of her classes ( already built a prototype with EV3 Lego), and also she is investigating how to run an online business for her Genius Hour project 🙂 she will just turn 9 in summer."
4. Fern Hill School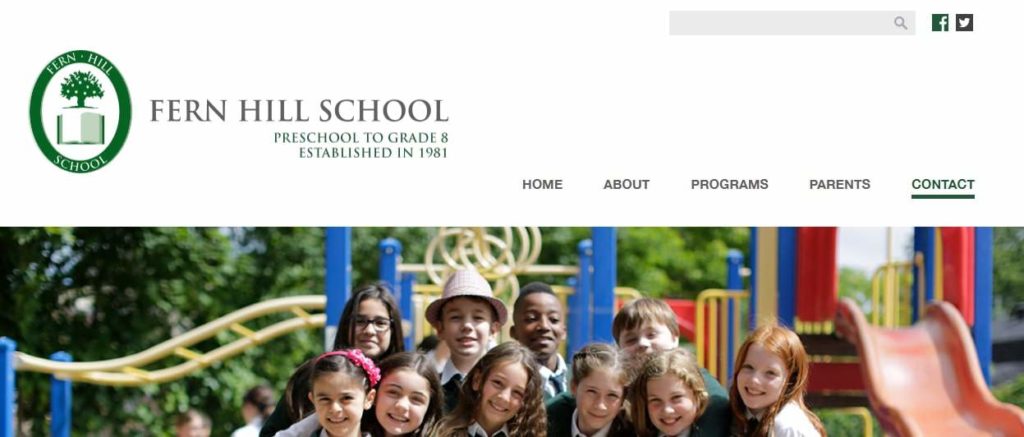 Test
Info
PROGRAMS & GRADE LEVELS
Preschool, Kindergarten, Graded School, Special Subjects, Before & After School
WEBSITE
ADDRESS
50 Vaughan St, Ottawa, ON K1M 1X1, Canada
CONTACT DETAILS
613-746-0255
OPERATING HOURS
Mondays to Fridays: 8:30AM – 5PM

Closed on weekends
| | |
| --- | --- |
| Criteria | Ratings |
| Curriculum | ★★★★★(5/5) |
| Rates | ★★★★ (4/5) |
| Location & Facilities | ★★★★(4/5) |
| Portfolio | ★★★★★(5/5) |
Fern Hill is an expensive school. But many believe the price is worth the beautiful campus, the world-class education, and the critically-acclaimed extracurriculars.
The school likes to focus on basic subjects, such as math and language, especially for younger students like preschoolers and kindergarteners.
This is because the school's admin believes that they will appreciate these subjects more now compared to when they grow older.
Fern Hill also has a great curriculum for art and athletics, allowing gifted children to hone their skills in these areas at an early age.
We also appreciate its method of teaching complicated subjects. The teachers explain topics in a way that helps students understand them better and ensures that every student can follow the lesson plan.
The teachers are friendly to their students and interact with them regularly, resulting in strong and beneficial bonds.
However, as we mentioned, the tuition fee here is expensive. But we still believe what Fern Hill offers is worth the high price, as long as the parents can afford it.
Further, we think it has a complicated evaluation process. It's hard to apply for a program and the school's rigid application process can be tedious and complex.
For some parents, this might be a deal breaker.
Has special courses focused on subjects like art and athletics
Good interaction with students even from the school's higher-ups
Complicated application process
Expensive tuition fees
Customer Reviews:
Good experience

"Ms. Gutierrez and Fern Hill School have been so warm and inviting since we became a member of the community this year. As parents of a new grade 6 student, we were so taken by how the school goes above and beyond during these difficult COVID times. We very much see and feel the added understanding paid to those who matter most, the kids. Thanks again!" – Andrew B.
So grateful

"Dr. Buhrmann of the Ottawa Herzig Eye Institute gave me back my vision. I feel so grateful! My previous surgeon was going to do the cataract operation but it kept getting delayed and then he retired! By that time I had become legally blind. The Ottawa Herzig staff was very patient and I appreciate that. My only suggestion is that they need to work out a way to let a patient know when an appointment has been delayed." – Maria Amati
5. OMS Montessori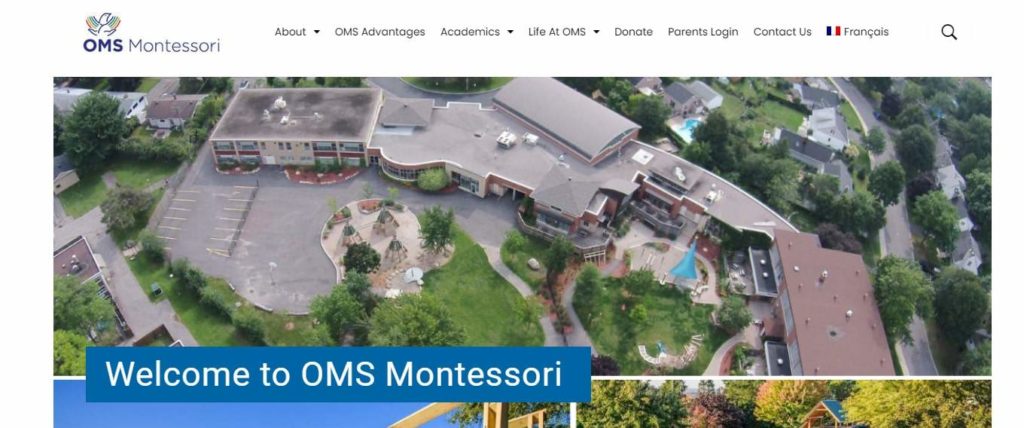 Test
Info
PROGRAMS & GRADE LEVELS
Preschool & Kindergarten, Elementary School, Physical Education, Math, Language, Art, Science
WEBSITE
ADDRESS
335 Lindsay St, Ottawa, ON K1G 0L6, Canada
CONTACT DETAILS
613-521-5185
OPERATING HOURS
Mondays to Friday: 7:30AM–4PM

Closed on weekends
| | |
| --- | --- |
| Criteria | Ratings |
| Curriculum | ★★★★★(5/5) |
| Rates | ★★★★ (4/5) |
| Location & Facilities | ★★★★(4/5) |
| Portfolio | ★★★★★(5/5) |
OMS Montessori is one of the older schools in the area, founded in 1966. Because it's been around a while, some may find its teaching methods a bit too traditional.
However, OMS Montessori is definitely a good school, especially if you want a strict but fair type of education for your child.
The teachers are highly experienced in teaching both English and French, which is always a positive thing, especially for kindergarteners who absorb information pretty quickly. The school also teaches kids as young as 18 months old, which is rare in the city.
OMS Montessori may not offer high school education, but it has connections and partnerships with other schools that can do so. Your child is more or less set up for their next school already, which takes the headache off many parents.
The teachers at this school are also properly background checked and undergo tests of their own to make sure that they are of quality.
The school's campus is impressive and is actually bigger than most preschools and kindergartens in the area.
Overall, OMS Montessori is definitely one of the best choices for your kindergartener. Its campus is good and the teachers are well-mannered and experienced, despite being a bit too traditional.
Experienced teachers from different backgrounds
Great campus located in Ottawa
Bilingual classes
Pricey
Lessons can be too traditional
Customer Reviews:
What a school
"Our children continue to thrive at OMS Montessori – amazing teachers, and a wonderful facility, overall a wonderful school." – Faizal Hashham
Good for my daughter

"My daughter has been with the school since she was 21 months old (a little Chickadee) and over the years, I've seen her flourish intellectually, socially and emotionally. My daughter loves going to school and views it as her second home. OMS is a lovely community of caring people and we're very fortunate that we're part of this community." – A.J.questions you may have. I definitely recommend going to Dr. Yelle! You won't regret it!" – Shaelan Sorensen
FAQs about Kindergartens in Ottawa
---
All kids are unique and special, so they deserve a school that's right for them. Ottawa has many kindergartens, so we went ahead and listed down the best options for you.
Need a guide to the best high schools in Ottawa for your other kid? Drop by and check out our list of the best high schools in the metro.