The 5 Best Home Office Furniture Suppliers in Ottawa
Working at home has its own perks, like being with your family, not needing to wear formal clothes, and saving time you would otherwise spend driving to work.
Even so, if you're going to work from home for a long time, you're going to need to spruce things up in your home office.
In this article, we'll be reviewing the best home office furniture suppliers in Ottawa.
How much does furnishing a home office cost in Ottawa?
An office set up at home is going to cost you around $900 – $7000, depending on how many items you plan on buying. Check out the price table below for a clearer picture.
| Top Home Office Furniture | Average Starting Price |
| --- | --- |
| Desks | $250 – $1,300 |
| Workstations | $300 – $1,500 |
| Computer Chairs | $100 – $1500 |
| Cabinets | $400 – $1,700 |
| Drawers | $250 – $1,300 |
The Best Home Office Furniture Suppliers in Ottawa
To find the best furniture options for your home office, we looked at the following factors:
1. OFL Furniture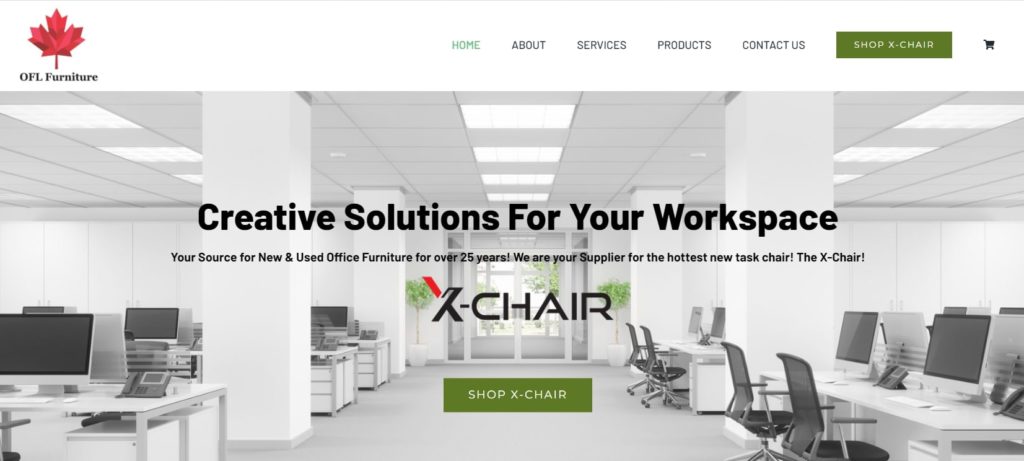 Test
Info
SERVICES
Furniture Supplier, Furniture Recycling, Refurbishing & Cleaning
WEBSITE
https://www.oflfurniture.com/
ADDRESS
383 Catherine St, Ottawa, ON K1R 5T6, Canada
CONTACT DETAILS
613-565-2116
OPERATING HOURS
Monday 9AM–5:30PM

Tuesday 9AM–5:30PM

Wednesday 9AM–5:30PM

Thursday 9AM–5:30PM

Friday 9AM–5:30PM

Saturday 9AM–4PM

Sunday Closed
| | |
| --- | --- |
| Criteria | Ratings |
| Price | ★★★★(4/5) |
| Distance | ★★★★ (4/5) |
| Supply | ★★★★★(5/5) |
| Feedback | ★★★★★(5/5) |
OFL Furniture is a family-owned business that has been active for over 25 years. The experience it has as a supplier is unmatched by many of its other competitors.
OFL boasts uniqueness when it comes to its services and design choices. Other than just supplying furniture, the company also offers furniture recycling and repurposing.
It also has its own repair and cleaning center for furniture that needs maintenance. Nowadays, many people are staying at home to work, which means their furniture will be used much more often.
That is why furniture maintenance is needed now more than ever. This is what makes the company stand out compared to other furniture businesses, in addition to its long existence in the industry.
We are also fans of OFL's showroom where the company's employees are able to showcase all of the products it has on sale. This is a good way of interacting with your new furniture before buying them.
OFL's store is, unfortunately, a bit difficult to locate. But once you do, you'll be treated to multiple good deals.
If you are under a budget, the company's staff will gladly help you figure out the best office furniture set that is fit for your needs, which is why we definitely recommend OFL.
Offers cleaning services as well
Environmentally-friendly
Has own showroom
Store can be hard to find
Customer Reviews
Outstanding
"The service from Will and Duncan is 5 star. We bought a high end chair and after two weeks it wasn't working out. I called up and they resolved the issue right away. They said : "we want you to be happy". That's the kind of customer care we are all looking for. I have bought from them before. Highly recommend this business." – Marc
Extremely helpful
"The staff here are EXTREMELY helpful. I had my eye on the most expensive chair, and Duncan actually took the time to go through what my needs actually were, and recommended a less expensive (and way more comfortable for my body type) chair. I highly recommend them and will use them again." – Chris W.
2. Advanced Business Interiors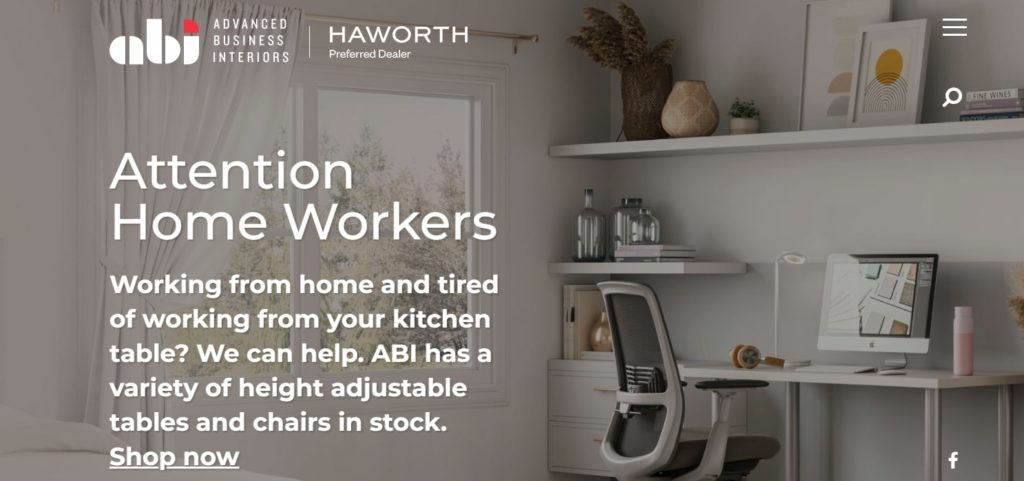 Test
Info
SERVICES
Furniture Supplying, Workspace Designing, Delivery, Project Management, Architectural Interiors, Remanufacturing, Storage
WEBSITE
https://www.makespacework.com/
ADDRESS
2355 St. Laurent Blvd, Ottawa, ON K1G 4L2, Canada
CONTACT DETAILS
613-738-1003
OPERATING HOURS
Monday 8AM–4:30PM

Tuesday 8AM–4:30PM

Wednesday 8AM–4:30PM

Thursday 8AM–4:30PM

Friday 8AM–4:30PM

Saturday Closed
| | |
| --- | --- |
| Criteria | Ratings |
| Price | ★★★★★(5/5) |
| Distance | ★★★★ (4/5) |
| Supply | ★★★★★(5/5) |
| Feedback | ★★★★(4/5) |
As a dealer, Advanced Business Interiors (ABI) focuses on being a partner to its clients by giving them exclusive deals after they purchase their first furniture.
It also offers project management and design assistance. So if you plan on setting up a home office, they will be able to assist in bringing your vision to life.
For convenience, you'll be happy to hear that delivery and installation are also part of this company's services.
Even if you prefer to design your own home office without outside help, you can still have the company's staff come to your home and install the new furniture for you. We think this is a convenient service.
ABI's selection of furniture is no joke. The supplier offers top-notch choices that match each other, so you can select a theme that will fit your home.
Overall, the only issues we noticed are the fact that its products can be pricey and its store is closed on weekends. Weekends are a perfect time for some home redesigning, so it's a shame that it isn't available during these days.
With that said, because of the solid selection and good service, we still happily recommend ABI if you're building your home office.
Solid selection of furniture
Offers installation services
Also has interior design services
Customer Reviews
Helped a lot
"Excellent, highly responsive team here. They helped me find exactly what I needed, first 10 years ago, and again today. If you're looking for quality office equipment (even for your home office), I highly recommend ABI." – Michael Eng
Excellent
"Good service, good staff." – Jasbir Pratik
3. Global Furniture Group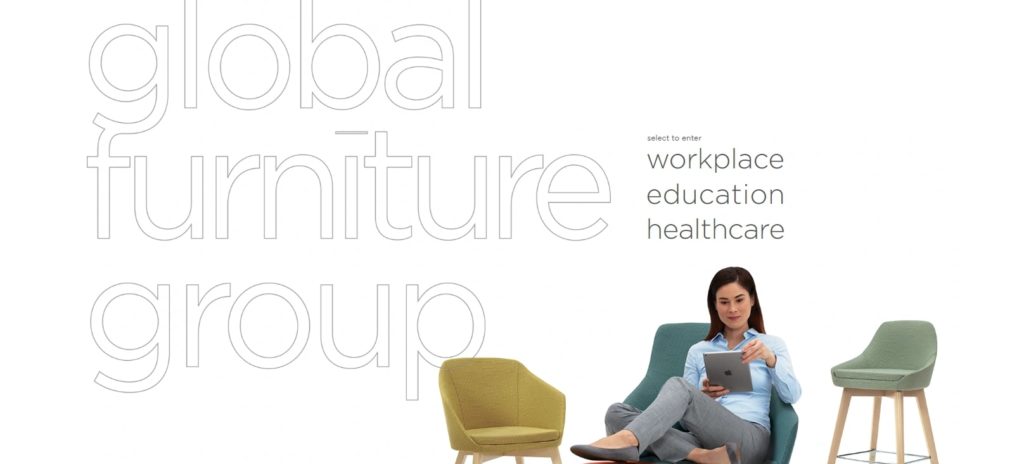 Test
Info
SERVICES
Furniture Supplying, Wellness Solutions, Seatings, Desks and Tables, Filing and Storage, Panel Systems
WEBSITE
https://www.globalfurnituregroup.com/
ADDRESS
251 Laurier Ave W #400, Ottawa, ON K1P 5J6, Canada
CONTACT DETAILS
613-234-2881
OPERATING HOURS
Monday 8:30AM–4:30PM

Tuesday 8:30AM–4:30PM

Wednesday 8:30AM–4:30PM

Thursday 8:30AM–4:30PM

Friday 8:30AM–4:30PM

Saturday Closed

Sunday Closed
| | |
| --- | --- |
| Criteria | Ratings |
| Price | ★★★★★(5/5) |
| Distance | ★★★★ (4/5) |
| Supply | ★★★★★(5/5) |
| Feedback | ★★★★★(5/5) |
The Global Furniture Group, founded in 1966, is now one of the world's largest manufacturers and marketers of office furniture. With over 50 years of experience, it's no question that the people behind this company know the industry.
The company offers multiple options for office desks, chairs, workstations, and even small drawers. It even has its own testing laboratory to make sure that all of its products are working well.
The Global Furniture Group ships its furniture outside the country, so it's an internationally-renowned company. If you're curious to see the products it offers, its showroom is available on weekdays.
The company also has a textile-based selection method. This allows customers to look for certain products that match each other's aesthetic and is perfect for anyone who wants to achieve a themed design.
Unfortunately, the Global Furniture Group is closed on weekends. It's a shame because most clients will want to redesign their homes at the end of the week when they have the most time to.
Prices are also a little high for those on a tight budget. However, if you have the budget and are available during the week, this is a solid option for a furniture supplier due to its designs and selections.
Has own showroom
Also serves international clients
Textile-based selection
4. Upper Room Home Furnishings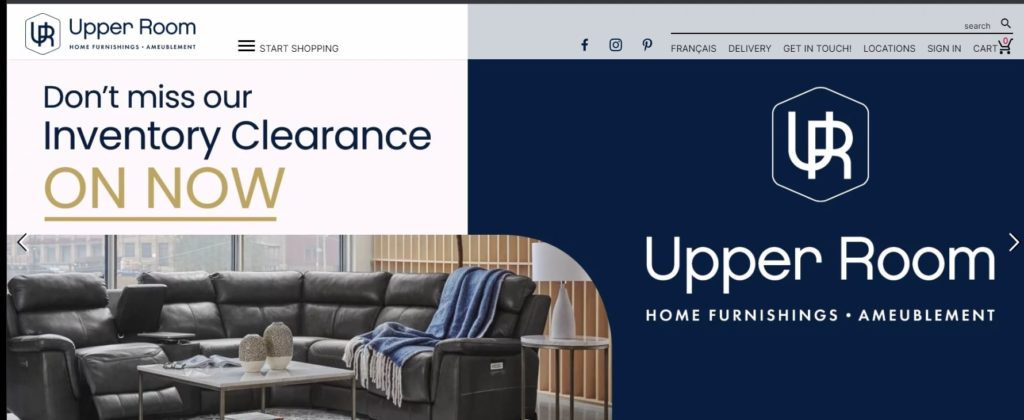 Test
Info
SERVICES
Furniture Supplying, Room-Based Designing, Mattresses, Accessories, Home Office
WEBSITE
https://www.upperroomhome.ca/
ADDRESS
255 Kanata Ave Ottawa, ON K2T 1K5
CONTACT DETAILS
613-222-0465
OPERATING HOURS
Monday 11AM–7PM

Tuesday 11AM–7PM

Wednesday 11AM–7PM

Thursday 11AM–7PM

Friday 11AM–7PM

Saturday 10AM–6PM

Sunday 11AM–5PM
| | |
| --- | --- |
| Criteria | Ratings |
| Price | ★★★★★(5/5) |
| Distance | ★★★★ (4/5) |
| Supply | ★★★★★(5/5) |
| Feedback | ★★★★★(5/5) |
The Upper Room Home Furnishing store is another solid choice for your home office. It's open every day and also offers a virtual tour for its potential customers.
Anyone who's unsure of what design they want and what furniture to buy will have an easier time thanks to the company's very own showroom. Here, customers can find inspiration and know which products are the best for their homes.
Other than that, we are also happy to tell you that Upper Room Home Furnishings has a price matching system. If you have a specific budget that you want to stick to, you can let the company know and it will try to find the best options for you within a month.
It is worth noting that this furniture supplier not only delivers but also installs. This allows you more convenience in your home office project.
With all that said, the few downsides we encountered with the company are its expensive storage fees and the fact that it doesn't deliver fragile items. The best way to avoid storage fees is to have your items picked up or delivered ASAP.
As long as you're willing to pick up your fragile orders, everything should be good.
Has seasonal sales
Offers a virtual tour
Price matching
No delivery options for fragile items
Storage fee is expensive
Customer Reviews
Great service
"In a time when great customer service is sometimes hard to find it is our pleasure to give huge shout out to Joanne at the Upper Room, Kanata. Joanne combined her product knowledge with her professional care and attention to provide us with a more than satisfactory experience. We felt incredibly well looked after throughout the purchasing process and were blown away by how many times she went over and above normal service levels to make sure we were happy. " – Lorna Duncan
Wonderful
"I had a wonderful experience at this store with the sales associate Maryam. She helped me style my living room and pick out furniture that I was looking for. She listened and was very attentive. This was great for me because I have trouble matching things together she took my vision and turned it into a reality. Highly recommend to check her out if you need help!" – Jumanh Hassan
5. Alteriors Furniture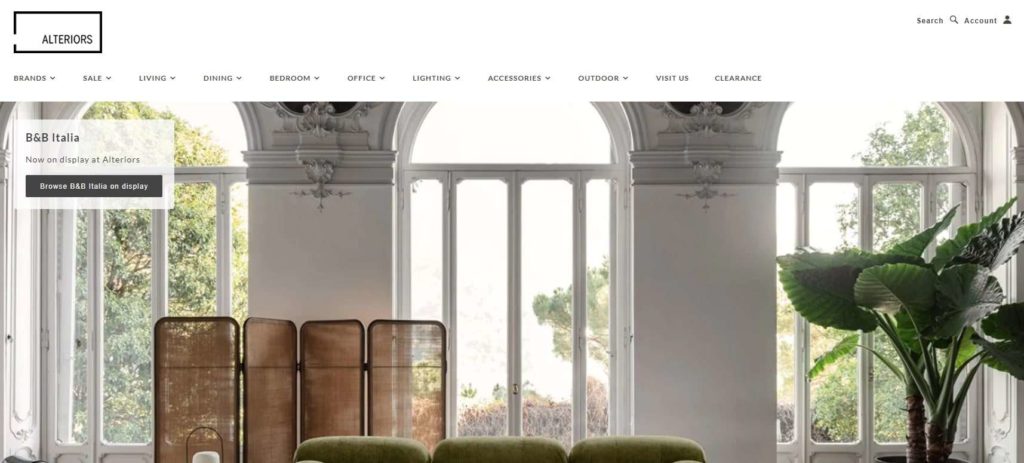 Test
Info
SERVICES
Furniture Supplying, Contemporary Furniture Options, Dining Room, Bedroom, Office Furniture, Lighting, Accessories
WEBSITE
https://alteriors.ca/
ADDRESS
1158 Bank St Ottawa, ON, Canada K1S 3X8
CONTACT DETAILS
613-722-1661
OPERATING HOURS
Monday Closed

Tuesday Closed

Wednesday 11AM–4PM

Thursday 11AM–4PM

Friday 11AM–4PM

Saturday 11AM–4PM

Sunday 11AM–4PM
Alteriors Furniture is the place to go if you want more upscale home office furniture options. It is well-known for its fashionable aesthetic, which combines modern and classic designs.
Alteriors' home selection is quite gorgeous and actually fits in any kind of room because of its neutral aesthetics. The company also offers themed furniture sets such as Italian and Gothic, which are perfect for those looking to make their home office look as artistic as possible.
Of course, fancy products mean fancy prices and it's no different with Alteriors' selection. These high-end furniture sets are quite expensive and will require a thick wallet.
With that said, customers are able to make sure that they are buying their money's worth because of the store's high-tech virtual showroom. The showroom allows customers to check each piece of furniture and see how they would look in different kinds of rooms.
Unfortunately, the store and its showrooms are only available 5 times a week. But luckily, those days include the weekends.
In conclusion, Alteriors' selection is quite extraordinary but it will be difficult to afford for some. If you have the budget and if everything the company offers fits your taste, then it's a solid choice overall.
High-end selection
Has its own virtual showroom
Opens on weekends
Customer Reviews
Top notch
"Jacob (the owner), his wife and his staff are super friendly and helpful.
We moved into a new house, Jacob came by to look at the layout, did an entire interior design for us with various choices of couch, beds, etc. It's worth the wait (Italian furniture takes a long time to get here), and the quality is top notch – lasts forever." – Siming Yuan
Lifelong quality
"Furnishing your home is a tough experience and if it wasn't for Mark I wouldn't have been shopping here. I worked with Mark for almost a year as I slowly furnished my home. The brands of the furniture weren't what kept me coming back but rather it was my experience with Mark and the rest of the staff. They were allies throughout the year long process and never once did I feel like I was working with a sales person. Be it the home visits, honest feedback and opinions but not pushy sales tactics, the many iterations on custom pieces, and in general the friendly nature and responsiveness I always felt taken care off. The customer experience here matched the quality of the brands. Life long customer." – Jarred S.
FAQs about Home Office Furniture
---
Now that you have your home office furniture set up, all you need to do is to make sure it inspires productivity. Our article on setting up a productive home office might be able to help you out!