The 5 Best Used Office Furniture Stores in Ottawa
So you finally started a business and need to furnish the new office space, or maybe you got that unused room in your house redesigned into a home office instead.
Either way, now you need to fill it up with the right office furniture without breaking the bank.
Just because you want to save a buck doesn't mean you have to settle for less, because you can definitely find great items for great prices from the right stores.
In this article, we'll tour you through the best-used office furniture stores in Ottawa.
The Cost of Used Office Furniture in Ottawa
Depending on exactly what sort of used office furniture you're looking to buy, prices can vary from item to item. Generally, you can pay as low as $32 and as high as $385 for a used office desk, for example.
You can refer to the table below for a better look at the estimated costs:
| Service | Average cost |
| --- | --- |
| Office desk | $32 - $385 |
| Office chair | $12 - $664 |
| Filing cabinet | $85 |
| Bookcase | $169 - $274 |
Top Used Office Furniture Stores in Ottawa
It's not easy choosing the best of the best. That's why we used the following criteria while carefully making our final list of choices:
1. Total Home Consignment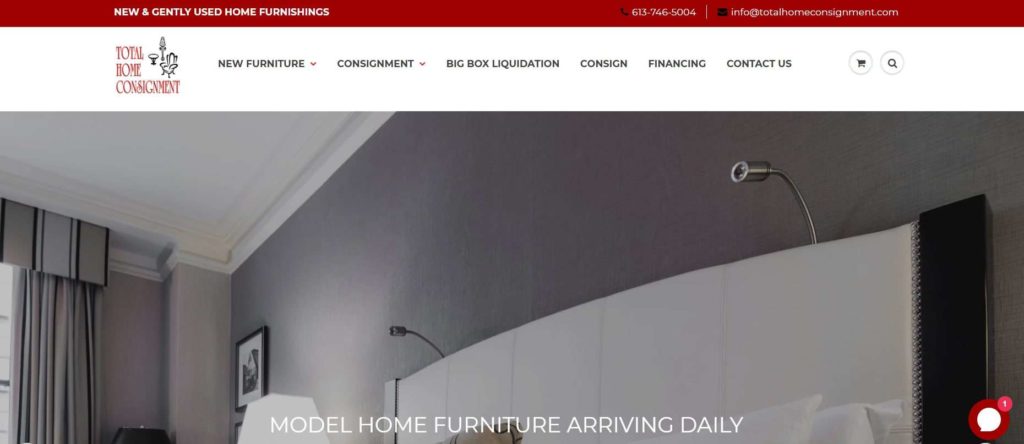 Test
Info
Product

Used office furniture

living room

bedroom

dining room

consignment services

WEBSITE
https://totalhomeconsignment.com/
ADDRESS
1860 Bank St #4, Ottawa, ON K1V 7Z8, Canada
CONTACT DETAILS
613 746 5004
OPERATING HOURS

Monday: CLOSED

Tuesday - Saturday: 10:00 AM - 5:00 PM

Sunday: 12:00 PM - 5:00 PM
| | |
| --- | --- |
| Rates | ★★★★☆ (4/5) |
| Product quality | ★★★★★ (5/5) |
| Professionalism | ★★★★★ (5/5) |
| Customer feedback | ★★★★☆ (4/5) |
Total Home Consignment is a family-owned business that's been running for over 40 years selling furniture and other furnishings in Ottawa. Its 9000 square ft. showroom makes it one of the largest consignment furniture stores in the city.
A lot of its stock is from builder's model homes, store closures, bankruptcies, inventory liquidations, estate sales, and even the finest homes in Ottawa.
This means you'll definitely find the right office furniture for you here with all the available choices.
Its used office furniture ranges from office desks and office chairs to filing cabinets and even bookcases. Additionally, it also has a few new items for sale, including office furniture, if you'd also want to take a look at that.
When you purchase any of its items, its staff will gladly help you load up your brand-new furniture into your vehicle. However, just remember to bring your own padding, rope, and tie-downs because the store doesn't have any of these available.
Its insurance regulations also prevent its employees from securing your load within the vehicle, so you're on your own by that point.
In case you can't immediately pick your item up, Total Home Consignment is also willing to hold on to it for up to 7 days free of charge. Any longer than that will be an additional $5 per day, which will be calculated upon pick-up.
The only complaint we've heard about it is that some people aren't too happy about the prices of its products. We suggest you go and take a look at the products yourself and see if the cost is worth it.
Good variety of used office furniture
Offers other kinds of furniture
Can hold on to purchased items for up to 7 days or longer
Customer Reviews
10/10 all-around
The employees there are so genuine. I was being followed by some middle aged dude and I ended up going into this store to hide. The two guys working there took laps around the building to try and see if he was lurking around, and they told me I could stay for as long as I wanted. One of them ended up walking me home. Anyways, while I was there, I looked around the store. There's tons of variety, it's good quality and a lot of the stuff looks almost new. Plus, the prices are affordable and the decor pieces look really cool. Not to mention the sofas are super comfortable. 10/10 all around. Thanks guys" – Becky C.
Great quality items at a great price
"Great place for some quality items at a great price. Rick and the staff are always professional and helpful. Lots of treasures to be discovered." – Nigel Canuck
2. Snazzy Seconds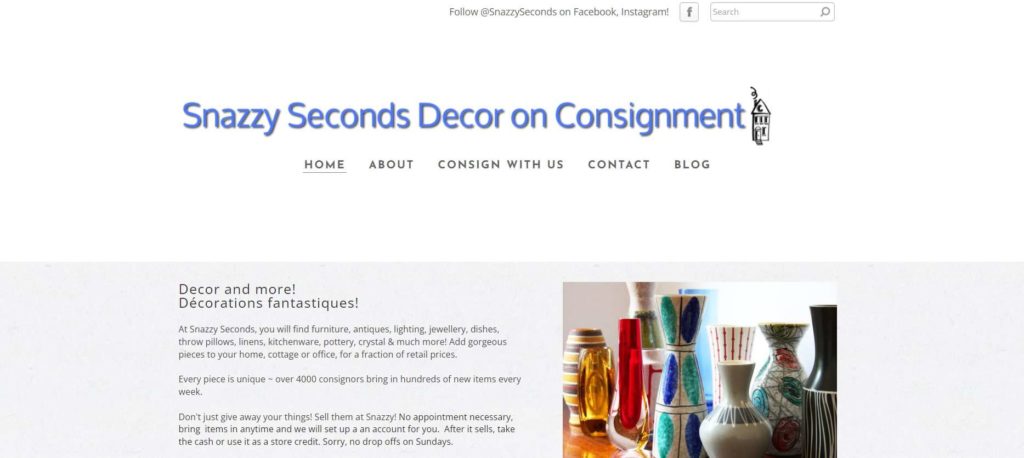 Test
Info
Product

Used furniture

antiques

lighting

jewelry

dishes

dishes

throw pillows

linens

kitchenware

pottery

crystal

WEBSITE
https://www.snazzyseconds.com/
ADDRESS
2405 St Joseph Blvd, Orléans, ON K1C 1E9, Canada
CONTACT DETAILS
613 830 0992
OPERATING HOURS

Monday - Saturday: 10:00 AM - 5:00 PM

Sunday: 11:00 PM - 4:00 PM
| | |
| --- | --- |
| Rates | ★★★★★ (5/5) |
| Product quality | ★★★★★ (5/5) |
| Professionalism | ★★★★☆ (4/5) |
| Customer feedback | ★★★★☆ (4/5) |
A consignment store is basically a business where consignees entrust the items they want to sell to the store itself, and Snazzy Seconds is one such store.
As you can expect, it receives used office furniture, kitchenware, and other kinds of furnishings.
It's another small business that's located in Ottawa's East End and has been running since 1994. It even proudly boasts itself as one of Ottawa's most successful Home Decor and Small Furniture consignment stores due to its success.
This store boasts over 4000 consignors, meaning it has a steady supply of gently used items for you to choose from whenever you pay it a visit. What's more, you can even sell your own used office furniture here as one of its consignees!
Although restrictions have loosened, Snazzy Seconds still does its best to ensure the safety of customers by making sure all furniture is properly cleaned and sanitized.
Items that are frequently touched also get sanitized daily to prevent the spread of disease.
As a busy store that sees a lot of activity and customers, it's great that it does its best to ensure the safety of everyone.
With around 600 – 800 items sold weekly alongside consignees bringing in new, used items, there's always something new to see here.
Based on interviews with some old customers, we learned if there's one thing this store needs to work on, then it would be its professionalism. Its customer service practices can definitely be better with more improvement.
Almost 30 years in the industry
Locally-owned business
Frequently replenished catalog of items
Customer services practices need some work
Customer Reviews
Great customer service
"Always wonderful paying a visit.So many little treasures and great customer service. Always seem to find something to bring home." – Patricia Matamoros
Quality items at great prices
"I always find something of interest there. They have quality items at a great price and friendly helpful staff to help you find it" – Lillian Paul
3. Habitat for Humanity Greater Ottawa ReStore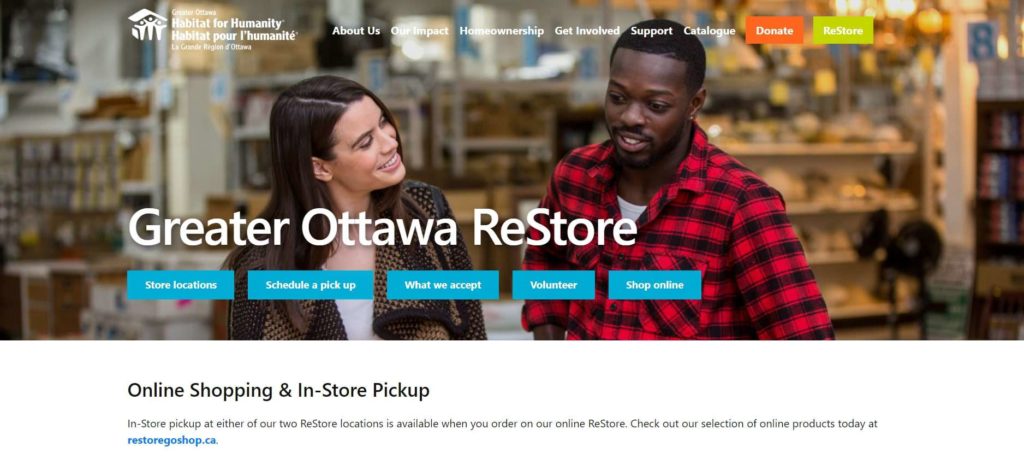 Test
Info
Product

Home furnishings

appliances

renovation materials

WEBSITE
https://habitatgo.com/restore/
ADDRESS
768 Belfast Rd, Ottawa, ON K1G 0Z5, Canada
CONTACT DETAILS
613 744 7769
OPERATING HOURS
Monday - Sunday: 9:00 AM - 5:00 PM
| | |
| --- | --- |
| Rates | ★★★★★ (5/5) |
| Product quality | ★★★★★ (5/5) |
| Professionalism | ★★★★☆ (4/5) |
| Customer feedback | ★★★★☆ (4/5) |
Habitat for Humanity Greater Ottawa is a non-profit organization that builds affordable homes that provide a solid foundation for local families.
Habitat ReStore is a chain of retail stores that sells donated new and gently-used furniture and a variety of items.
Its first store was opened in 1991, and it has since then opened hundreds of locations across Canada and the US.
This means you have several hundred branches to visit and find exactly what you're looking for across the country and even outside of it!
Because ReStore receives a combination of new and used items for sale and the ever-fluctuating stock, prices for similar items may sometimes be different.
Still, this store makes sure that all items are only a fraction of their retail prices.
Because it stocks and is abundant with renovation materials, this is also a great place to visit even when you're only currently renovating that empty room into an office.
It's like hitting two birds with one stone, and what's even better is there are many branches too!
What we love the most about ReStore is that it's another way to help our local community, even if we're just buying used furniture for our own home office.
Knowing that every cent you spend is making a change for the better is an awesome feeling.
With all that said, just watch out for the staff on duty because we've heard more than a few complaints about one set of staff being kind and helpful and the next being rude.
Non-profit charity organization
Many branches nationwide and abroad
Offers renovation materials
Customer Reviews
Great furniture
"Love popping in here. Must frequent often as stock moves and changes rapidly. I've had lots of luck with tile at this location. Also some great furniture; antiques included," – Barb Hill
Awesome staff
"Great place! You need to go often to get the best deals! Good way to help the community while finding what you need. Awesome staff!" – Ben Jean
4. OFL Furniture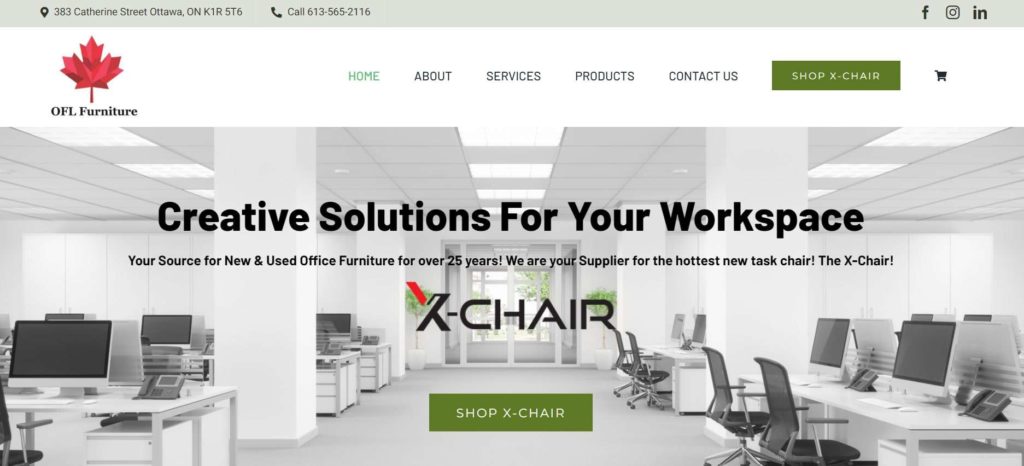 Test
Info
Product

Used & new office furniture

WEBSITE
https://www.oflfurniture.com/
ADDRESS
383 Catherine St, Ottawa, ON K1R 5T6, Canada
CONTACT DETAILS
613 565 2116
OPERATING HOURS

Monday - Friday: 9:00 AM - 5:30 PM

Saturday: 9:00 AM - 4:00 PM

Sunday: CLOSED
| | |
| --- | --- |
| Rates | ★★★★☆ (4/5) |
| Product quality | ★★★★★ (5/5) |
| Professionalism | ★★★★☆ (4/5) |
| Customer feedback | ★★★★★ (5/5) |
OFL Furniture is an office supply store that's been selling new and used office furniture and helping businesses in Ottawa grow since 1995. It's another locally-owned family business that is committed to providing all your office furniture needs.
Unlike all our previous entries so far, this store specifically sells office furniture, so if you're looking forward to seeing other things here, it might not be right for you.
OFL Furniture offers the largest selection of new and used office chairs in Eastern Ontario, with over 300 chairs on display. What's more, its catalog is stocked daily, so you don't have to worry about running out of choices.
Its catalog includes office chairs, workstations, desks, accessories, etc. Another cool thing here is that it offers used furniture recycling services in case you don't want something anymore and would prefer it not to end up in a landfill somewhere.
What OFL does is it recycles your donated office furniture by either selling it as it is or just taking it apart and selling the materials and reimbursing you. Either way, it's a mutually beneficial and eco-friendly solution for everyone.
We're just a bit iffy with a couple of complaints we heard about certain unhelpful staff, so just watch out for that if you drop by.
Wide selection of office furniture
Established business
Offers office furniture recycling services
Customer Reviews
Highly recommend
"The service from Will and Duncan is 5 star. We bought a high end chair and after two weeks it wasn't working out. I called up and they resolved the issue right away. They said : "we want you to be happy". That's the kind of customer care we are all looking for. I have bought from them before. Highly recommend this business." – Marc
Extremely helpful
"The staff here are EXTREMELY helpful. I had my eye on the most expensive chair, and Duncan actually took the time to go through what my needs actually were, and recommended a less expensive (and way more comfortable for my body type) chair. I highly recommend them and will use them again." – Chris Wolfenden
5. Cohen and Cohen Full-Line Office Interiors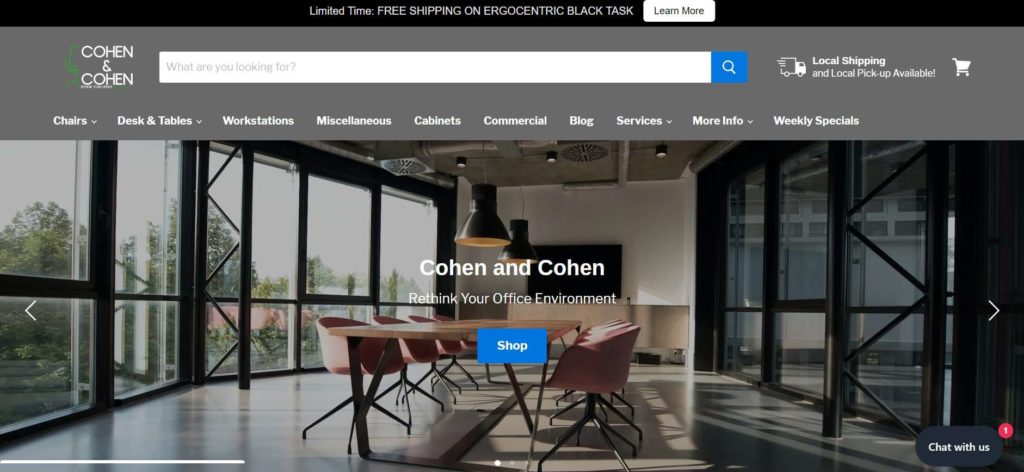 Test
Info
Product

Chairs

desks

tables

workstations

cabinets

miscellaneous

WEBSITE
https://cohenandcohenfurniture.com/
ADDRESS
92 Bentley Ave, Nepean, ON K2E 6T9, Canada
CONTACT DETAILS
613 225 9111
OPERATING HOURS

Monday - Friday: 8:00 AM - 5:00 PM

Saturday: 8:00 AM - 3:00 PM

Sunday: CLOSED
| | |
| --- | --- |
| Rates | ★★★★☆ (4/5) |
| Product quality | ★★★★★ (5/5) |
| Professionalism | ★★★★☆ (4/5) |
| Customer feedback | ★★★★★ (5/5) |
Cohen & Cohen Full-Line Office Interiors has been supplying Ottawa with new and used high-quality furniture for over 50 years. Its used furniture is guaranteed to be sourced locally while affordably priced.
It's also a dealer for some of the largest custom commercial manufacturers in North America, so whether you want something custom or used, it's got your back!
Once you've made your purchase, it offers full-delivery services and even installation services, so you'll barely have to do any work. What's more, its team can dismantle any existing furniture for you.
Friendly reminder that it does charge based on the scope of work, so don't be too surprised if your bill is a bit long if you had the team doing the assembling.
Aside from selling used furniture, Cohen & Cohen Full-Line Office Interiors also rents out its used furniture, which is very helpful if you only need it for a short time. This is a big help for short projects that'll only take a few months up to less than a year.
Once your time is up, the used office furniture you rented will also be picked up, so there's really nothing else you need to do.
The variety of services that it offers is great, but what's not so great is its customer service. Particularly, it takes a while for its online services to get back to you through any of its online contacts.
Great variety of used office furniture
Full-delivery and installation service
Used office furniture rental service
Customer Reviews
Attentive and friendly
"The sales staff and the delivery/installation team are attentive and friendly. No pressure sales and just marking is so we where satisfied with our products!" – Alain Vachon
I would recommend this store to anyone
"As a 5ft tall woman, finding a comfortable chair for an affordable price is extremely difficult. I was happy to find this reseller that sells high-end gently used office chairs at an affordable price. I originally chose the pickup option, but upon arrival couldn't fit the chair in my car (my bad). Jack was super nice about it, and while I ended up returning the chair I originally ordered, I did buy a different one and he was kind enough to have it delivered to my home free of charge despite being just outside the local area. Thanks for your help, Jack! I would recommend this store to anyone looking to get a high-end office chair that is gently used." – Amanda Alice Robinson
FAQs about Used Office Furniture in Ottawa
---
Interested in more cost-effective and environmentally-friendly stores you can visit? Check out our article on the best thrift shops in Ottawa to learn more!