The 5 Best Furniture Movers in Ottawa
Moving furniture can be difficult, especially if you have large ones. Furniture movers have been around for a long time to do the dirty work for you, so there's no shame in hiring one.
In this article, we will be discussing the best furniture movers in Ottawa so you can be sure that you've hired the right one for your needs.
How much do furniture movers charge in Ottawa?
For a typical 2 bedroom apartment, the cost of moving furniture is around $500 to $900 for 5 to 7 hours of service. A more specific price guide is available in the table below:
| Apartment/Home Size | Hours of Service | Average Price |
| --- | --- | --- |
| 2 bedroom home | 5 - 7 hours | $600 - $1000 |
| 3 bedroom home | 7 - 10 hours | $700 - $1,300 |
| 4 bedroom home | 10+ hours | $1,000 - $2,600 |
| 1 bedroom apartment | 3 - 5 hours | $300 - $700 |
| 2 bedroom apartment | 5 - 7 hours | $500 - $900 |
The Best Furniture Movers in Ottawa
To find the best furniture movers in the city, we used the following criteria in our selection process:
1. First Rate Movers Inc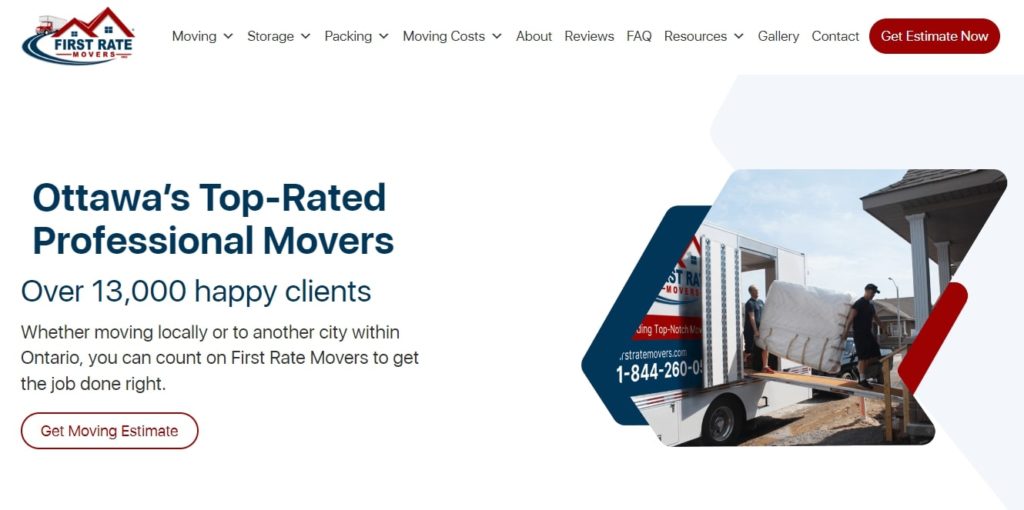 Test
Info
SERVICES
Furniture Moving, Storage, Packing Services
WEBSITE
https://www.firstratemovers.com/
ADDRESS
995 Moodie Dr #6, Ottawa, ON K2R 1H4, Canada
CONTACT DETAILS
613-260-0505
OPERATING HOURS
Monday to Friday: 8:30AM - 5PM

Closed on weekends
| | |
| --- | --- |
| Criteria | Ratings |
| Price | ★★★★★ (5/5) |
| Distance | ★★★★★ (5/5) |
| Service Package | ★★★★★ (5/5) |
| Feedback | ★★★★✩ (4/5) |
First Rate Movers Inc is one of the most well-known movers in the Ottawa area and has been around for more than two decades. It serves other locations as well, such as Toronto, Oakville, Brampton, North York, and more.
This provider's charges are a bit expensive, but it's well known for its high-end packaging and careful delivery. You may be paying higher than what you would pay other movers, but it's only because you're paying extra for your furniture to be moved properly.
This company has gained numerous positive reviews from its customers and currently has over 13,000 clients. Despite this huge number, it is still able to accommodate new service requests 9 out of 10 times.
The people behind this company also offer specific moving packages for special items such as musical instruments, glass displays and decorations, and other fragile items. Some may think that this is unnecessary, but we found this a good option to lessen clients' worries.
Overall, First Rate Movers is a solid choice, as long as you have the budget to pay for a more premium service. If you want to make sure that your furniture arrives safely in your new home, this is the way to go.
Has multiple options for moving services
Also offers storage and packing services
Has a cost calculator on its website
Closed on weekends
Pricey services
Customer Reviews
Good job
"Moving is typically a stressful undertaking but First Rate Movers made this so simple and relaxing. They were responsive through the entire process, and communicated payment terms, expectations, and scheduling from the get-go. On moving day, all I had to do was have my boxes packed, and the moving crew did the rest. I appreciated how quick and professional they were and the care they took to ensure that my belongings or house wouldn't get damaged." – Criss S.
Very careful
Having used a number of movers in my life, I have to say, I was really impressed with First Rate Movers. I hired them on short notice for an end of the month move. Matt provided a great overview of what to expect from their service on our initial call. Moving is usually a stressful affair, but this one went extremely smoothly. Aaron and Jesse were timely, polite, friendly, efficient and most importantly very careful with all my furniture. " – Nikolas Sinnhube
2. Discount Moving & Storage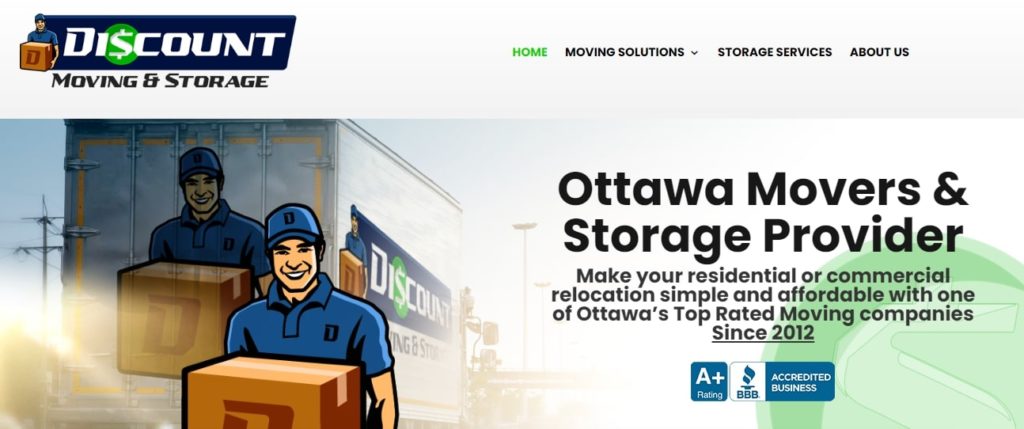 | Test | Info |
| --- | --- |
| SERVICES | Local Moving, Storage Services, Commercial Moving, Long-Distance Moving |
| WEBSITE | https://discountmovingottawa.com/ |
| ADDRESS | 2285 St. Laurent Blvd Unit A10, Ottawa, ON K1G 4Z7, Canada |
| CONTACT DETAILS | 613-601-6683 |
| OPERATING HOURS | Monday - Sunday: 7AM - 11PM |
| | |
| --- | --- |
| Criteria | Ratings |
| Price | ★★★★★ (5/5) |
| Distance | ★★★★★ (5/5) |
| Service Package | ★★★★★ (5/5) |
| Feedback | ★★★★✩ (4/5) |
Discount Moving & Storage is a company that's been around since the early 2000s. It's very well-known in Ottawa not just for moving services but also for storage solutions.
The company takes its name seriously and gives discount options to its customers. If you're on a budget and need to move some furniture or transfer them to a new home, this is the perfect provider for you.
It's also a good thing that it is licensed and insured, so any problems with your furniture can be solved much more easily, especially in case your items are damaged during the move.
Discount Moving & Storage also offers long-distance options if you plan on moving to a farther location. It also uses regularly maintained trucks, so you can count on your furniture's journey being smooth and safe.
The company offers specific moving packages for businesses that need different paperwork. Its employees are regularly trained on road rules as well, which we appreciate.
We like that this is regularly done to lessen the possibility of accidents or smuggling misunderstandings.
With that said, the company is definitely one of the top choices for movers in the city. The only downside is the fact that it doesn't offer truck rentals for self-service.
So for short distances, you still have to wait for it to have an available driver.
BBB accredited
Also offers storage services
Open every day and closes late
Discount options
No truck rental for self-moving
Lots of clients, which can make booking a driver difficult
Customer Reviews
First class service
"After moving a few times in recent years, we decided to contract DISCOUNT MOVING for the first time to move our household last weekend. From the initial contact with Tony, the experience has been nothing but FIRST CLASS" – Guy & Hamza
Friendly workers
"I'm in Alberta but my daughter , in Ottawa, called and said "dad those guys were very friendly and the move was made in 3 hours." I dealt with Tony and he made it all happen within a few days of the call. Very happy to hear and the price was great! I highly recommend those guys for your move. Thanks!" – Conrad Kendell
3. Two Men and a Truck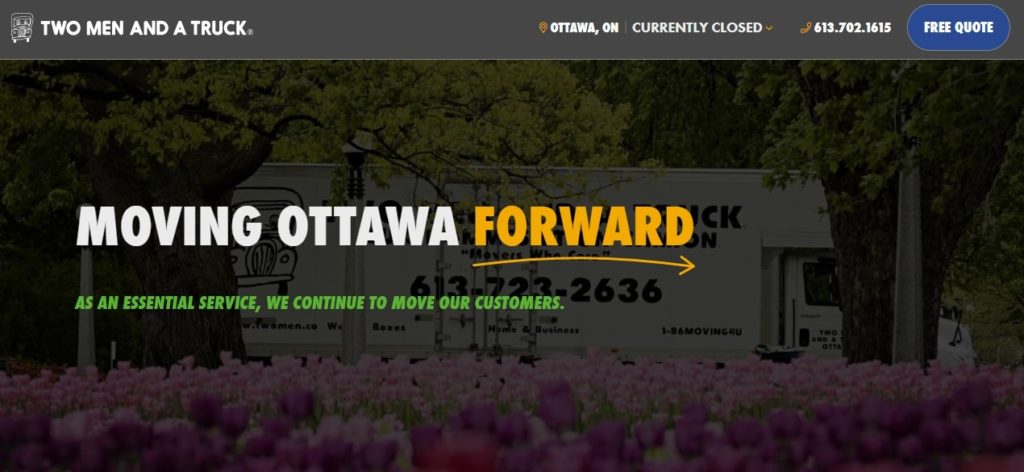 Test
Info
SERVICES
Local Home Moving, Packing Services, Climate-Controller Storage, Business Moving, Box and Supply Moving, Long Distance Moving
WEBSITE
https://twomenandatruck.ca/
ADDRESS
2487 Kaladar Ave #360B, Ottawa, ON K1V 8B9, Canada
CONTACT DETAILS
613-702-1615
OPERATING HOURS
Monday - Saturday: 8AM - 6PM

Closed on Sunday
| | |
| --- | --- |
| Criteria | Ratings |
| Price | ★★★★★ (5/5) |
| Distance | ★★★★★ (5/5) |
| Service Package | ★★★★★ (5/5) |
| Feedback | ★★★★✩ (4/5) |
Two Men And A Truck is (luckily) staffed with more than just 2 men with a truck. It's actually one of the best-rated furniture moving companies in the city.
If you're looking for a stress-free move, Two Men And A Truck can definitely help with that. From the hassle-free online estimates to the actual move itself, this company takes pride in making sure that your experience is smooth and easy.
Other than the virtual estimates, it also provides special packages for confidential, fragile items, and other specific things you need to move. It has trucks big enough to load furniture from a two-bedroom apartment.
We also like that this company offers special discounts to seniors. This type of service is unique to them and is very helpful since many seniors have a problem moving their stuff because of their age.
The company has what they call the "Grandma Rule," which means that it treats every item as how one would treat their own grandma. This encourages its employees to be very careful when it comes to moving fragile items and furniture.
The only downside we found is the fact that the provider's service can be pricey and may not be the right choice for those on a budget.
It should also be mentioned that this company has a lot of clients, so it may not always be able to give you an immediate appointment. Despite that, it is overall a great choice and should still be on your radar.
Offer specific services for seniors and confidential items
Offers long-distance moving services
Also has storage services
Customer Reviews
5 stars!
"Five star experience. We used Two Men and a Truck for two moves in one day. Tamara was great to work with coordinating everything in the office and Eric and the team did an awesome job in the field. Professional, fast, courteous. – Michael O'Brien
Impressive
"We have moved many times over the years and Two Men and a Truck are by far the best movers we have ever used. Efficient, professional, detail oriented. We had a big residential move in the winter using 2 trucks and 5 movers. They were so impressive, like a well oiled machine. Our furniture was wrapped and valuables handled with care. Would highly recommend their services." – Amber Smith
4. Ottawa Pro Movers

Test
Info
SERVICES
Furniture Moving, Residential Moving, Personalized Packing Services
WEBSITE
https://www.ottawapromovers.ca
ADDRESS
453 Preston St, Ottawa, ON K1S 4N5, Canada
CONTACT DETAILS
613-759-2070
OPERATING HOURS
Monday - Friday: 9:30AM - 6PM

Saturday - Sunday: 9:30AM - 5PM
| | |
| --- | --- |
| Criteria | Ratings |
| Price | ★★★★★ (5/5) |
| Distance | ★★★★★ (5/5) |
| Service Package | ★★★★★ (5/5) |
| Feedback | ★★★★✩ (4/5) |
Ottawa Pro Movers is known for its professionalism and confidentiality. It offers residential moving, commercial moving, and more.
It's also able to give personalized packing options for your fragile items, which is a plus, especially for those who have a lot of valuable things that may easily break.
Right off the bat, we noticed that Ottawa Pro Movers' reception is very quick to respond. We were happy to deal with a receptionist who was straight to the point but polite.
It's also great that this company offers truck rentals for those who plan on moving things on their own. All you need are the right papers to let the provider know that you can operate a truck.
Ottawa Pro Movers also offers discounted moving services during holidays. This can usually be found on its website, but you can also contact its landline number to make sure.
For the company's flaws, it should be stated that it has an outdated website that's a bit difficult to navigate. Online appointments are also unavailable, so calling the landline is the best way to get in contact with the people in charge.
Overall, Ottawa Pro Movers is a great choice despite its flaws. The discounts and truck rental service can really save you a lot of money.
Great packing services
Discounted prices
Truck rental is also available
Outdated website
No online appointment
Customer Reviews
Careful and professional
"Had a really easy experience with Ottawa Pro Movers .Easy appointment set up .Good communication prior to move. Easy move to storage. Hopefully getting it all back from storage in a few months will be just as easy! We had packed most things ourselves which the movers very efficiently transferred to the truck. They also carefully wrapped our furniture and packed all our kitchen items for us which was great. Would recommend" – A. J.
No damage!
"Ottawa Pro movers were responsive, professional and courteous in the days leading up to our move, especially the move-day itself. Alex and his team were very well organized with plenty of blankets, straps, tie downs, etc., to secure our household belongings safely with no damage whatsoever. " – David Michael
5. S&C Moving and Delivery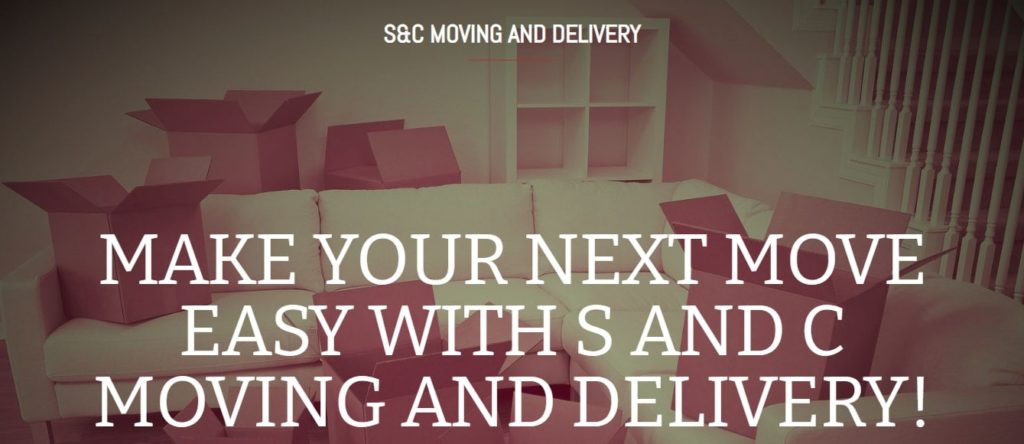 Test
Info
SERVICES
Movers; Commercial Movers; Building Moves; Junk Removal; Moving Company; Residential Movers; Office Movers; Moving Companies; House Movers
WEBSITE
http://www.sandcmovinganddelivery.ca/
ADDRESS
2525 Carling Ave, Ottawa, ON K2B 7Z2, Canada
CONTACT DETAILS
613-316-6116
OPERATING HOURS
Monday to Friday: 7AM - 6PM

Saturday to Sunday: 8AM - 3PM
| | |
| --- | --- |
| Criteria | Ratings |
| Price | ★★★★★ (5/5) |
| Distance | ★★★★★ (5/5) |
| Service Package | ★★★★★ (5/5) |
| Feedback | ★★★★✩ (4/5) |
S&C Moving and Delivery has been around for over 10 years and has gained numerous praise from its clients. From moving huge furniture to small trinkets, it has got you covered.
The company provides the option for non-truck moving. It's willing to move smaller items for a smaller fee, which we think really adds to the convenience of the services it offers.
It has done work not just for residential customers but also for businesses, which is appreciated.
For its packaging services, S&C uses different tools to make sure that your items are safe during travel. So if you have fragile materials that need moving, S&C is a great company to hire.
We also checked the fees and found out that it has guaranteed that it doesn't charge hidden fees. This is optimal, especially for those who are working under a budget.
We are also happy with its response time. The receptionist was easy to talk to and was able to give us an estimated quote immediately.
The only downside is that the company's services can be pricey and it doesn't offer many discounts.
Despite those cons, we are still happy with what we've seen from S&C and we believe it's one of the best moving companies you can hire in the city.
Special packing for specific items
High-end vehicles available
Responds quickly
Customer Reviews
Very efficient
"Got my house moved today, Jun 7. Very fast and efficient. I booked 2 guys and a truck for 3 hours and they arrived 3 guys to get the job done within 1.5h. I absolutely recommend them for friends. Great job guys." – Nguyen Nam

Professional & friendly
"S&C moving company is a very friendly professional team. We used them April 30, 2022. Great packing service, punctionality and careful handling of furniture. I can highly recommend this company with no complaints." – L. Byrne
FAQs about Furniture Movers in Ottawa
---
Making sure your furniture is safe during a move can be troublesome. We've listed down the best furniture movers in the city so you will have an easier time looking for the right one for your needs.
If you're thinking about getting new furniture for your new home instead, drop by our website and check out our article on the best furniture stores in Ottawa!