Top 5 Family Restaurants in Ottawa
Dining out is great as it lets you have some quality time and great food without having to worry about the kitchen mess. But choosing the right place can become more of a challenge if you decide to eat out with kids.
Because of this, we have gathered some of the best family restaurants in Ottawa to help the entire family have a great dining experience outside. But before we get to the list, let's first discuss the costs.
How much does eating out with the family cost in Ottawa?
The cost of eating out with the entire family is dependent on several factors. Among these include the type of restaurant you visit, the number of orders, and the location.
To give you an idea of how much your entire family would spend, below is a table showing the average costs of meals per person.
| Types of Meals | Price Ranges |
| --- | --- |
| Breakfast | $7 - $15 |
| Lunch | $10 - $25 |
| Dinner | $12 - $40 |
Top Family Restaurants in Ottawa
To get the best, we used the following criteria in our selection process:
1. OCCO Kitchen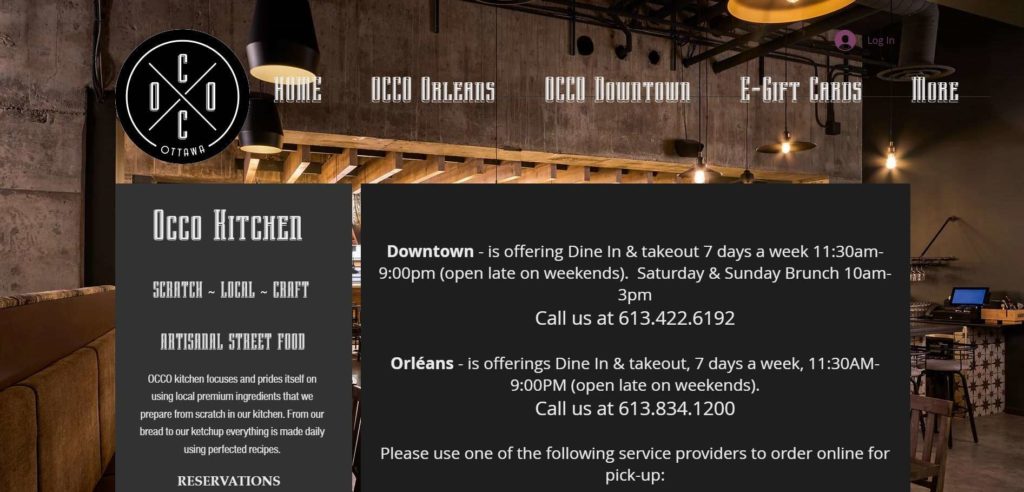 Test
Info
PRODUCTS & SERVICES
Burgers, Sandwiches, Chicken, Mac and Cheese, Fish and Chips, Salads, Sides, Appetizers, Tacos, Poutine
WEBSITE
https://www.occokitchen.com/
ADDRESS
Downtown: 160 Bay St, Ottawa, ON K1R 7X8, Canada

Orléans: 4240 Innes Rd, Orléans, ON K4A 5E6, Canada

CONTACT DETAILS
Downtown: +1 613-422-6192

Orléans: +1 613-834-1200

OPERATING HOURS

Downtown:

Monday to Wednesday 11:30 AM - 9 PM

Thursday to Friday 11:30 AM - 10 PM

Saturday 10 AM - 10 PM

Sunday 10 AM - 9 PM




Orléans:

Monday to Sunday 11:30 AM - 9 PM
| | |
| --- | --- |
| Criteria | Ratings |
| Variety of Options | ★★★★★ (5/5) |
| Price | ★★★★★ (5/5) |
| Location | ★★★★★ (5/5) |
| Customer Feedback | ★★★★✩ (4/5) |
We like that OCCO Kitchen only uses local premium ingredients that are prepared from scratch in its kitchen — from its bread to its ketchup. This is the main reason why it can serve fresh food at all times, which we appreciate.
Some of its products include burgers, sandwiches, and salads. Alongside these great selections is a specially curated kid's menu that offers poutine and favorites like mac n' cheese and fish n' chips.
Browsing through its entire menu, there's always something for everyone.
Another thing we like is that it has 2 locations in Ottawa, with the Orléans branch having a laid-back, friendly atmosphere that even kids would enjoy. It also accepts reservations, which can be done through its 3D portal or a phone call.
It is also worth noting that it is open daily, with the Orleans branch having consistent hours and the one along downtown having longer hours from Thursday to Sunday.
If the children are not up for a night out, you may choose take away or have delivery via iDeliver or Uber Eats. You may also pre-order should you get the sudden desire after their operating hours.
But since the place gets packed with people, it can sometimes get too crowded and noisy. Furthermore, confusions with orders sometimes occur and service can also get slow when the restaurant gets busy.
Nonetheless, with reasonably priced items, a great space, and a friendly staff, OCCO Kitchen is one good family restaurant to visit.
A great selection of products
With a kid's menu
Has 2 locations
Multiple dining options
Can get crowded and loud
Service can be slow
Customer Reviews
Will definitely visit again
"Visited Occo kitchen with my family, we tried their tacos, Donair, blueberry BBQ burger and chicken fingers. Everything tasted delicious, especially the vegetables in the taco. I could feel the freshness of veggies in each bite. My nephew loved their chicken fingers which was a kid's meal. The staff were friendly and make sure our tables and seats were sanitized and I loved the ambiance. Will definitely visit again!" — Sandra, Google Reviews
Good place
"I've been here a couple times, and the food has always been great. The burgers, tacos and fries are highlights. Service is good. The portions are pretty generous, and fairly reasonably priced. Good place for having dinner with friends and family." — Christelle Tan, Google Reviews
2. Oh So Good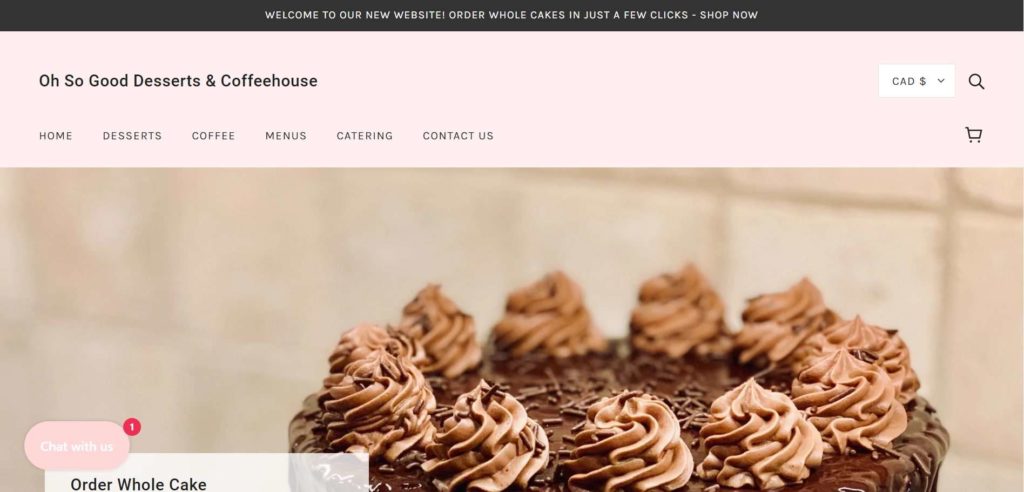 | Test | Info |
| --- | --- |
| PRODUCTS & SERVICES | Hot and Cold Coffee, Tea, Milk, Smoothies, Milkshakes, Floats, Italian Soda, Juice, Perrier, Spring Water, Cake, Cheesecake, Pie, Tarts, Gelato, Sandwich, Panini |
| WEBSITE | https://ohsogood.ca/ |
| ADDRESS | 25 York St, Ottawa, ON K1N 9J6, Canada |
| CONTACT DETAILS | +1 613-241-8028 |
| OPERATING HOURS | Monday to Sunday 10 AM - 11 PM |
| | |
| --- | --- |
| Criteria | Ratings |
| Variety of Options | ★★★★★ (5/5) |
| Price | ★★★★✩ (4/5) |
| Location | ★★★★★ (5/5) |
| Customer Feedback | ★★★★✩ (4/5) |
Conveniently located at Byward Market, Oh So Good is accessible to Ottawa families who would want to spend some time out. Specializing in coffee and desserts, it can be a perfect spot for date nights and some nice family bonding.
While its selections are rather limited to coffee and some nice, tasty pastries, it also has some readily available sandwiches and paninis for you and your kids. We are, however, confident that children would love the desserts.
Currently, Oh So Good offers extend from freshly roasted coffees and milkshakes to cakes and gelatos. There are also vegan and gluten-free options, should a member of the family have some dietary restrictions or preferences.
Apart from having reasonably priced products, it also has a lot of space — making it ideal for larger groups. The place is open daily, too, with consistent hours from 10 AM until 11 PM, which we appreciate.
While the staff is generally nice and friendly, some crew members were deemed rude by patrons. Some of its products can also cling to the pricier end, so you might want to bring along some extra money just in case.
Overall, given its good location and a nice array of desserts that everyone will love, Oh So Good remains one of our top choices.
Specializes in coffee and desserts
Vegan and gluten-free options
Open daily with consistent hours
Relatively fewer options
Some items can cling to the pricier end
Customer Reviews
Good place to be with your friends or family
"Perfect place to go for a desert and a latte after a good dinner . Very nice and helpful staff and amazing variety of cakes . Nice cozy atmosphere. Good place to be with ur friends or family ." — Apoorva Dube, Google Reviews
Definitely a must
"Great location for date night or a coffee and card games hangout. Very tasty pastries, with vegan options, and freshly roasted coffees. The summer opens up the outdoor sheeting, which ties the location into the market well. Definitely a must for cake lovers." — Chris John, Google Review
3. Zak's Diner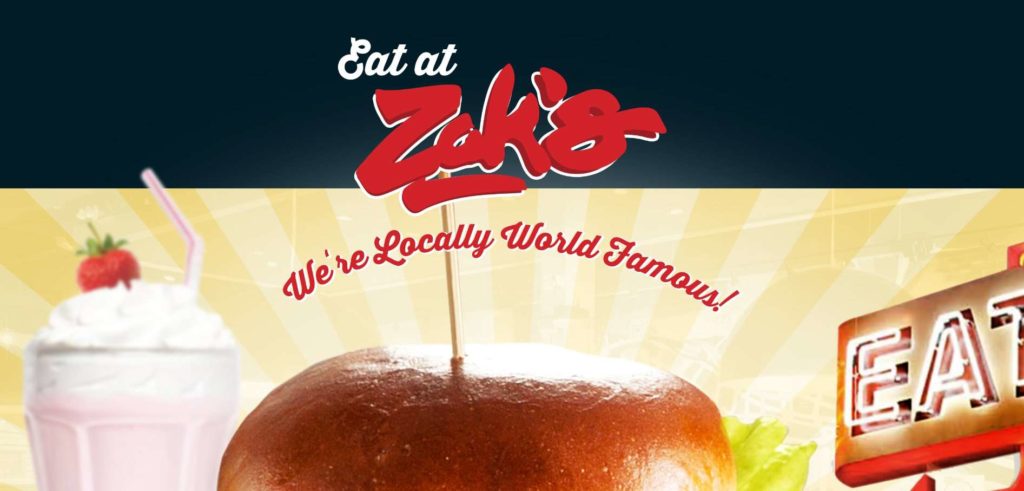 Test
Info
PRODUCTS & SERVICES
Breakfast, Smoothies, Appetizers, Soups, Salads, Sandwiches, Wraps, Burgers, Poutine, Milkshakes, Vegan Shakes, Desserts, Beverages, Cure Caesars, Kid's Menu
WEBSITE
https://www.zaksdiner.com/eat-at-zaks/
ADDRESS
14 Byward Market Square, Ottawa, ON K1N 7A1, Canada
CONTACT DETAILS
+1 613-241-2401
OPERATING HOURS
Sunday to Monday 7 AM - 11 PM

Tuesday to Saturday Open 24 hours
| | |
| --- | --- |
| Criteria | Ratings |
| Variety of Options | ★★★★★ (5/5) |
| Price | ★★★★★ (5/5) |
| Location | ★★★★✩ (4/5) |
| Customer Feedback | ★★★★✩ (4/5) |
Operational since 1986, Zak's Diner has been in the business for decades. Its commitment to offering food of great quality has allowed it to grow over the years and expand to have 4 convenient locations across Ottawa at present.

Its vast menu currently offers classic favorites like burgers, poutines, milkshakes, and some great desserts. There's a kid's menu, too, which is ideal for youngsters.
As a classic diner, we just love its traditional vibe and the fun atmosphere that is perfect for great conversations and good times with family and friends. There are dining rooms and a patio, too, where people can dine in.
But since it doesn't accept reservations, getting a table sometimes will require you to wait, especially during busy hours. At times, it also holds some nice activities such as magic shows, which are great for kids.
We appreciate that it is open 24/7 from Tuesdays to Saturdays and operational from 7 AM to 11 PM on Sundays and Mondays. Take-out and delivery options via Skip the Dishes, DoorDash, and Uber Eats are also available.
Despite having some issues with food consistency and relatively pricier rates on some of its products, it remains one of our top choices when it comes to family restaurants.
A wide variety of options
Traditional vibe
Kid's menu
Open 24/7 for 5 days a week
Issues with food quality consistency
Some products can be pricier
Customer Reviews
Great place to go with friends and family
"This place was amazing, our waiter Gabriel was phenomenal; super friendly and helpful : ) Food was also terrific! Love the atmosphere and the decor and style is beautiful. Great place to go with friends and family. 10/10 will return and recommend" — Jenna Mullins, Google Reviews
Favorite diner
"Favorite diner! Great food, ambience, and service! Good place to eat in Byward Market for kids and families. Enjoy!" — Devin Fatima, Google Reviews
4. Tennessy Willems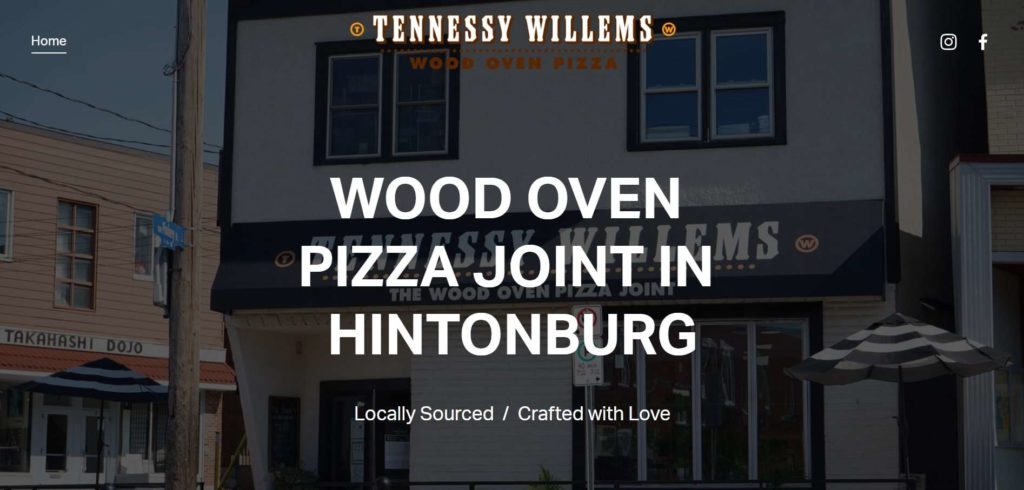 Test
Info
PRODUCTS & SERVICES
Appetizers, Pasta, Pizza, Desserts, Beverages
WEBSITE
https://twpizza.squarespace.com/
ADDRESS
1082 Wellington St. W, Ottawa, ON K1Y 2Y4, Canada
CONTACT DETAILS
+1 613-722-0000
OPERATING HOURS
Monday to Thursday 4 PM - 9 PM

Friday to Saturday 11:30 AM - 10 PM
| | |
| --- | --- |
| Criteria | Ratings |
| Variety of Options | ★★★★★ (5/5) |
| Price | ★★★★✩ (4/5) |
| Location | ★★★★★ (5/5) |
| Customer Feedback | ★★★★✩ (4/5) |
While Tennessy Willems may indeed be a bit more of an upscale pizza restaurant, it is one good place to consider for family night outs. Today, it is one of the most popular kid-friendly destinations in Ottawa.
Known for its cracker-thin crust, it takes pride in its wooden oven pizza, which many locals and visitors love. Offering gluten-free crusts and vegan cheese, it's great that customers can customize their pizza to adhere to specific dietary and allergy restrictions.
There are great selections of appetizers, pasta, desserts, and beverages, too, that you can choose from. Although it may not have a kid's menu, there are spaghetti bolognese and mac n' cheese that you can get for them.
If you're not sure of what to order, we recommend starting things off with a fabulous Caesar salad.
We like the simple yet classy ambiance, although space can be limited. With that, we suggest calling ahead to reserve a table, especially if you're planning to dine in together with more members of the family.
While it is open from 11:30 AM to 10 PM on Fridays and Saturdays, it operates on relatively shorter hours from Monday until Thursday. Sadly enough, it is closed on Sundays.
We appreciate its impeccable service, along with great staff members who are always ready to provide you with a top-notch experience. Unfortunately, while take-outs are available, Tennessy Willems doesn't offer delivery services.
Specializes in wooden oven pizza
A decent array of products
Customizable orders
Simple, classy ambiance
Prices are on the pricier end
Limited space
Customer Reviews
Excellent and friendly
"Excellent wood-oven pizza with many combinations to choose from. We had 2 different pizzas and both were tasty. The restaurant is a busy spot and has an inviting vibe to enjoy and meal and cocktails. Service was also excellent and friendly. Definitely going back soon." — Mike C, Google Reviews
Cozy little pizza place
"Cozy little pizza place with a great atmosphere and vibe to it. I really enjoyed the different flavor combinations they do on their wood oven pizza, the service is great and staff are very pleasant." — Tracy Radford, Google Reviews
5. Elgin Street Diner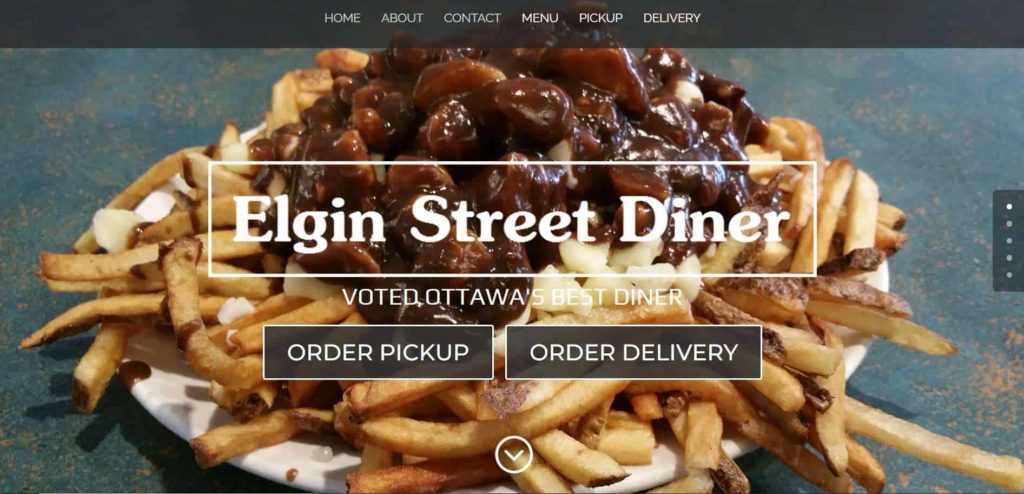 | Test | Info |
| --- | --- |
| PRODUCTS & SERVICES | Pancakes, French Toasts, Omelet, Poutine, Club Sandwiches, Burgers, Hot Dogs, Platters, Fresh Salads, Snacks and Sides, Milkshakes, Beverages |
| WEBSITE | https://www.elginstreetdiner.com/ |
| ADDRESS | 374 Elgin St, Ottawa, ON K2P 1N1, Canada |
| CONTACT DETAILS | +1 613-237-9700 |
| OPERATING HOURS | Open 24 hours |
| | |
| --- | --- |
| Criteria | Ratings |
| Variety of Options | ★★★★★ (5/5) |
| Price | ★★★★★ (5/5) |
| Location | ★★★★★ (5/5) |
| Customer Feedback | ★★★★✩ (4/5) |
The Elgin Street Diner has become one of Ottawa's favorite family restaurants since it opened its doors more than 2 decades ago. Over the years, it has received relevant awards, which is one of the things we like.
It was voted as one of Ottawa's best diners and won recognition for being the best 24-hour spot. It was even considered by readers of Xpress Magazine as the restaurant with the best service.
Today, families come to Elgin Street Diner because of its food. Its menu with a wide array of choices includes pancakes, burgers, poutines, salads, and milkshakes that people love.
We like that it has a huge space with ample seating and amenities like free wifi. The location is also ideal for kids as it is great for people watching, which youngsters can find entertaining.
If you're up for a nice celebration in the comfort of your home, the restaurant has pick-up and delivery options, too. The only downside is that delivery service partners like SkipTheDishes can be problematic at times.
Since the place is popular for families with kids, it can sometimes get crowded and noisy. Further, with a lot of patrons during the busiest hours of the day, things can get slow.
Nonetheless, we still think that 24/7 Elgin Street Diner deserves a visit when you happen to be in the neighborhood.
Won relevant awards and recognition
A variety of options to choose from
Huge space with amenities
Multiple dining options
Open 24 hours
Can get crowded and noisy
Some staff and delivery issues
Customer Reviews
Top-notch
"Family feel and customer service is top notch!! The friendliness from being sat down, during the meal and paying the bill. I highly recommend this diner. I finished my pancakes, it was so fluffy and delicious. Pay them a visit whenever your in the area, it's just a 5 mins walk from the Canadian Museum of Nature and many consulate offices." — Eloho S. Sido, Google Reviews
Beautiful gem
"Elgin Street Diner. What can I add about this beautiful gem! It's located Downtown on Elgin Street with bright lights on the outside and cozy set up on the inside. This diner is always buzzing with family, college kids, and seniors. They have ample seating, free wifi and it's open 24/7. No matter what time you go there the food is always fresh and staff is always friendly." — Almira Tapal, Google Reviews
FAQs about Family Restaurants
---
We hope that our list has helped you find the best place for great food and family night outs!
Since you're on this page, you might also find the following articles interesting: