Top Environmental Consulting in Ottawa
Environmental consulting is mainly concerned with ensuring that clients adhere to environmental regulations as strictly as possible. It is the industry that provides advice relating to managing environmental risks to human health and the environment.
So if you want your land and area to be assessed or consulted, you are at the right place to find one. Here are the best environmental consulting services in Ottawa!
How Much Does Environmental Consulting Cost in Ottawa?
There are a lot of services available in the field of environmental consulting. The trick is finding the right one that will satisfy your needs when it comes to this.
Despite the cost of environmental consulting to secure your area, it also plays a significant role in protecting the environment.
Below is a table that compares the charges and services offered by the best environmental consulting services in the area.
| Services | Average cost |
| --- | --- |
| Phase I: Environmental Site Assessment (ESA) | Starts with $2,400 - $2,500 |
| Phase II: Record of Site Condition (RSC) | Approximately $1,975 |
Top Environment Consulting in Ottawa
Keeping high standards in mind, we combed the city for the best listings. In selecting the best environmental consulting in Ottawa, we evaluated the following factors:
1. OEIS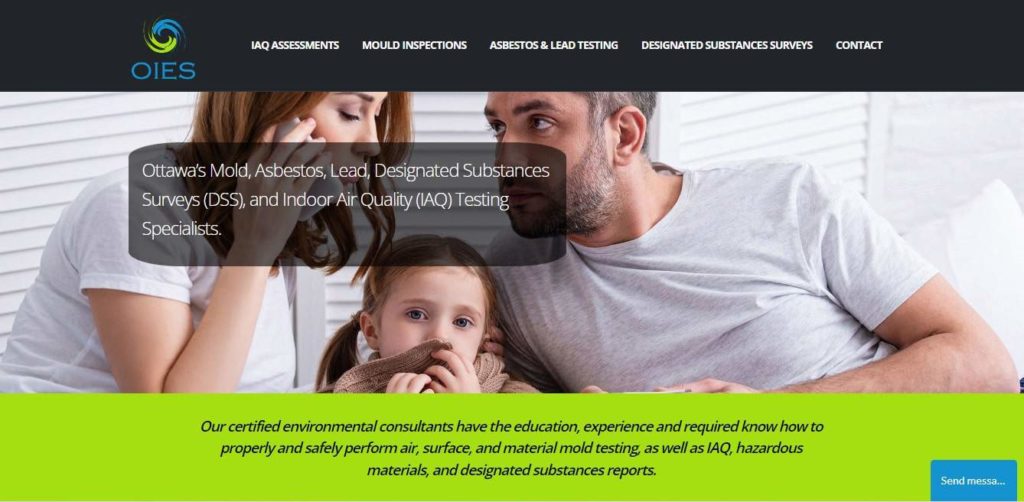 Test
Info
PRODUCTS / SERVICE
IAQ Inspections, Mould Inspections, Asbestos & Lead Testing, Designated Substance Surveys, Environmental Consultant
WEBSITE
ADDRESS
200 -100 Metcalfe St Unit 422, Ottawa, ON K1P 5M1, Canada
CONTACT DETAILS
Phone: 613-366-5226

Email: [email protected]

OPERATING HOURS
Mondays to Fridays: 9:00 AM - 5:00 PM

Saturdays: 9:00 AM - 2:00 PM

Sundays: Closed
| | |
| --- | --- |
| Criteria | Ratings |
| Range of Services | ★★★★☆ (4/5) |
| Customer Service and Availability | ★★★★★ (5/5) |
| Competence | ★★★★★ (5/5) |
| Good Reputation | ★★★★★ (5/5) |
We love how OEIS sets a high professional standard in the goal to help everyone be in a healthy indoor environment. They are committed to providing the Ottawa region with independent and accountable environmental services.
OEIS caught our attention with their certified independent environmental testing services. The best thing about them is that they do not charge expensive rates since their goal is to create a cleaner environment for the community while still being able to continue their operations.
Unlike some of their competitors, we like that OEIS only performs what you ask for and do not try to upsell other services, unless you really need them during their inspection. Thus, you can be confident that you are paying for benefits based on honesty and good customer service.
Working with OIES, we love how their accommodating service made them one of the top-notched companies in Ottawa. We noticed how their staff apply the high standards in their company and how easy they are to work with.
OIES' staff is super friendly and knowledgeable too. They took the time to answer our questions about their different services, even putting it in layman's terms so we can understand it better.
Services may seem limited along with the scope of their work. However, OIES still lives up to its reputation as the number one company for indoor environmental consulting.
Certified independent environmental testing services
Excellent customer service
No pricing guide
Only caters to indoor services
Client Reviews:
Extremely Responsive and Excellent Service
"We had our old Glebe home tested for asbestos mid reno job. OIES was extremely responsive in a short-notice situation. Julio was exceptional – very professional and knowledgeable. He took to the time to explain the process and possible next steps (lucky for us, asbestos was not detected). I would definitely recommend this company and will use them again if needed. Excellent service." – Dave
Friendly, Profession, and Knowledgeable
"Julio and Cameron were helpful, detailed, and attentive to our needs testing for asbestos in a new home. They listened really well to our thoughts and concerns, explained the process clearly, and were honest and strategic about the best way to go about finding areas to test and test them. They offered other helpful insights as we walked through the home, and were generous with their time and expertise when we had more questions to ask after their visit. Would definitely recommend them to anyone looking for friendly, professional, and knowledgeable asbestos testing services at home." – Brian K.
2. Shade Group Inc.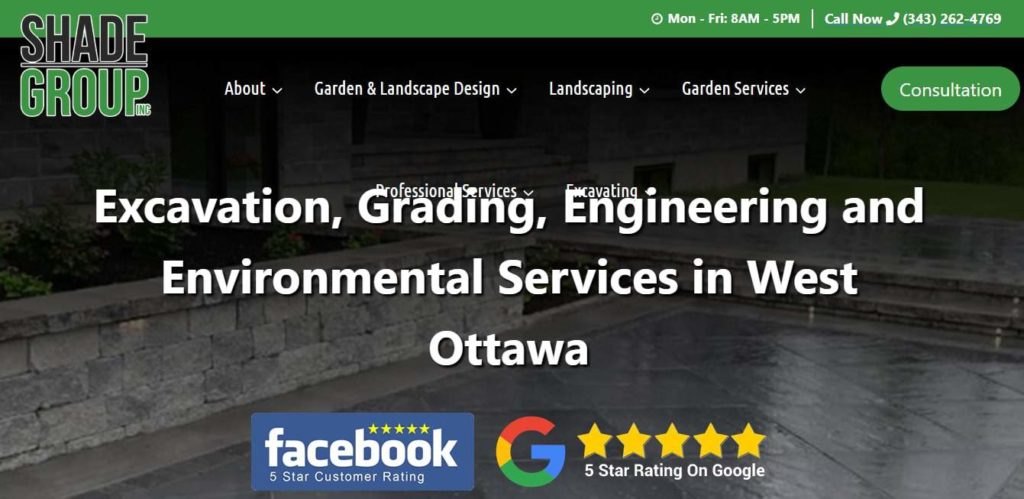 Test
Info
PRODUCTS / SERVICE
Demolition, Excavation, Grading, Engineering, and Environmental Services
WEBSITE
ADDRESS
1909 Sixth Line Rd. Ottawa, Ontario, K0A 1T0
CONTACT DETAILS
Phone: 343-262-4769

Email: [email protected]

OPERATING HOURS
Mondays to Fridays: 8:00 AM - 5:00 PM

Saturdays to Sundays: Closed
| | |
| --- | --- |
| Criteria | Ratings |
| Range of Services | ★★★★☆ (4/5) |
| Customer Service and Availability | ★★★★★ (5/5) |
| Competence | ★★★★★ (5/5) |
| Good Reputation | ★★★★★ (5/5) |
With Shade Group Inc.'s five-star rating on Google, we can't help but include them on this list. They have been in the industry for seven years and counting, offering excellent environmental services in the west of Ottawa.
Generally, Shade Group Inc. is a landscaping, gardening, and outdoor construction/engineering firm. We appreciate how it is locally owned and operated by a family headed by Allan and Hellen with specialties in outdoor and landscape construction plus landscape and garden design.
We're a big fan of the couple's synchrony of their specializations. It enables Shade Group Inc. to provide both indoor and outdoor environmental consulting and provide the necessary work for both.
The best thing about the company is its hands-on specifications in its field of work. Shade Group Inc. also specializes in a wide variety of excavation services that enhance the quality of the environment.
With a clean slate of positive reviews, the company remains top-tier in its customer service and quality of work. We love how they gained a loyal following that shows the product of their hard work and dedication to providing good service.
One of the best things about Shade Group is their investment in quality heavy equipment and a diverse fleet of trucks. This enables them to do their work as smoothly and efficiently as possible.
Follows safety protocols
Diverse fleet of trucks and quality equipment
Closed on weekends
Project delays during peak season
Client Reviews:
Super Accommodating
"It was such a delight working with Alan and Monica over the last month or so. We had major issues with our grading and drainage, and were also interested in putting down a large patio. Monica helped draft a professional drainage plan incorporating our backyard design ideas. Alan and his team executed on that plan and was able to deliver it on schedule with high quality workmanship. Though it wasn't part of the scope, Alan was super accommodating and even moved our patio stones for us to make our lives easier. Monica and Alan were available to answer any questions we had during the process and even provided useful tips so we can finish other aspects of the project. We would love to work with them again in the future! Thanks again, Anh and Dave." – Ahn La
Friendly and Extremely Accommodating
"After a sudden water line break and an urgent need to remove 3′ thick slab of concrete at my front steps in order to fix it, I didn't have a large window to work with. I contacted Alan to see what could be done. He was extremely accommodating and was able to give me a quote on the spot after I sent him a few photos via text message. He was able to squeeze me in between his other jobs on that same day! Alan and Heather showed up with the equipment, did the demolition and removed all the concrete within two hours with enough time to spare for a friendly conversation. I highly recommend it!!" – Mat Dupont
3. Terrapex Environmental Ltd.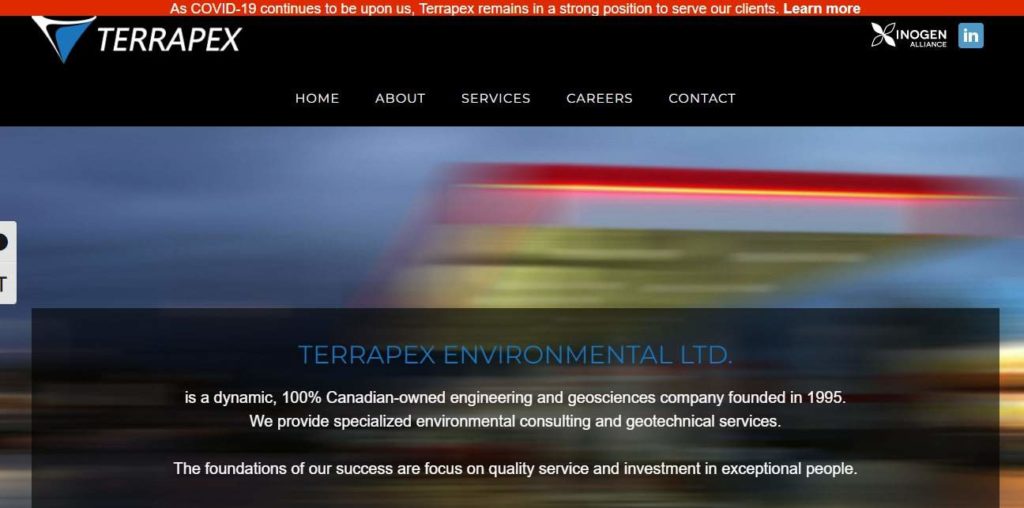 Test
Info
PRODUCTS / SERVICE
Environmental Consulting, Geotechnical Services, Property Transactions, Contaminated Sites, Hydrogeology, Ecological Services
WEBSITE
ADDRESS
20 Gurdwara Road Unit 1, Ottawa, ON K2E 8B3, Canada
CONTACT DETAILS
Phone: 613-745-6471

Email: [email protected]

OPERATING HOURS
Mondays to Fridays: 8:30 AM - 5:00 PM

Saturdays to Sundays: Closed
| | |
| --- | --- |
| Criteria | Ratings |
| Range of Services | ★★★★★ (5/5) |
| Customer Service and Availability | ★★★★☆ (4/5) |
| Competence | ★★★★★ (5/5) |
| Good Reputation | ★★★★★ (5/5) |
Terrapex grabbed our attention for providing specialized environmental consulting since 1995. Their years in the industry enabled them to offer their services globally too.
The company is also 100% Canadian-owned with offices in Hamilton, Toronto, and Ottawa. Aside from environmental consulting, we also enjoy the high standards and great quality of Terrapex's geotechnical services.
Working with Terrapex, we enjoy their focus on providing quality service in a timely manner. We also appreciate their team of exceptional people that helps them in their goals.
We are impressed to see how Terrapex has expanded the scope of its services. Their team is capable of investigating, determining, and mitigating environmental issues on time and within budget based on their technical expertise.
The company also has excellent customer service as they take time to understand their client's concerns and project-specific issues. Terrapex's technical services generally depend on the needs of the client.
One of the best things about Terrapex is that they provide training and resources to better equip their workers during any projects and to maintain a secure workplace.
The long-time clients, suppliers, and subcontractors of Terrapex give us an insight into how professional and great they are as partners in the industry. We love how they take the time to invest in having stronger ties with their network.
Excellent customer service
10+ years in business
Closed on weekends
No pricing guide
Client Reviews:
Great Environmental Team
"They are a great environmental team to work with. Very productive and the work is really polished. I couldn't say anything more. I am so satisfied with their work. Definitely recommendable!" – Jason Nagasawa
Great Company
"Great company with a great set of staff. Highly recommended. They give excellent services. Professional and responsive. Thank you so much! Great job!" – Ryan
4. Ottawa Contaminant Solutions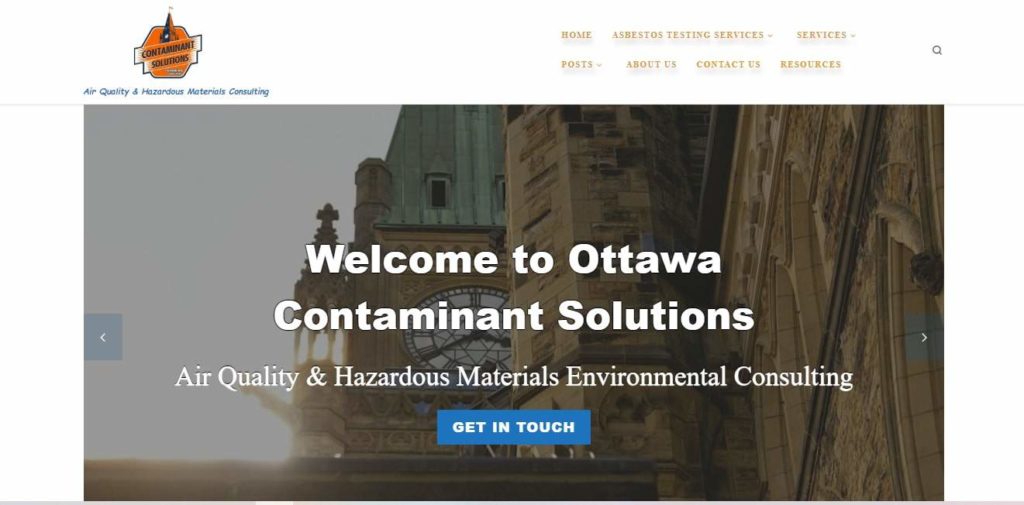 | | |
| --- | --- |
| Criteria | Ratings |
| Range of Services | ★★★★☆ (4/5) |
| Customer Service and Availability | ★★★★★ (5/5) |
| Competence | ★★★★☆ (4/5) |
| Good Reputation | ★★★★★ (5/5) |
Strong and growing for 18 years and counting, Ottawa Contaminant Solutions made it to our list for their quality environmental consulting services. Most of their clients are project heads for residential, commercial, industrial, and institutional buildings in Ottawa.
Aside from having a wide range of services, the best part of Ottawa Contaminant Solutions is their specialty in hazardous materials and air quality consulting. We love how they focus on those areas which are one of the in-demand environmental inspection needs to ensure safe drinking waters and clean air.
Ottawa Contaminant Solutions' 18 years of service garnered clients who have been their long-time and loyal customers. We're impressed with how they keep their client's intact and their clients always give them kudos for never disappointing them.
One of the best things about Ottawa Contaminant Solutions is how cost-effecting their environmental solutions are. We love how efficient and honest they are in their work.
Above all, the company prides itself on prioritizing integrity in their line of work. Ottawa Contaminant Solutions' innovative solutions are suited to their client's specific demands and needs whether it's for a residential project or a commercial one.
What sets Ottawa Contaminant Solutions apart from competitors is their numerous services for testing too. They highlight asbestos testing services on their website but upon further checking and inquiry, they provide so much more and are even open to bulk testings for materials.
Specialize in hazardous materials and air quality consulting
18 years in business
Closed on weekends
No pricing guide
Client Reviews:
Great Customer Service
"I hired Ottawa Contaminant Solutions to assess asbestos for an up-coming project. Worked with Geoff Leclair and he took care of all our needs. He called us back quickly, knew his stuff, and put me in contact with the right contractors. Two thumbs up Geoff!!" – Danny Giroux
Very Polite and Pleasant
"Contacted for a quick estimate for a school project, all hypothetical numbers with no intention of actual hired services. Very polite, pleasant to talk to, and happy to help. Thank you again!" – Leigh Ingram
5. Englobe Corporation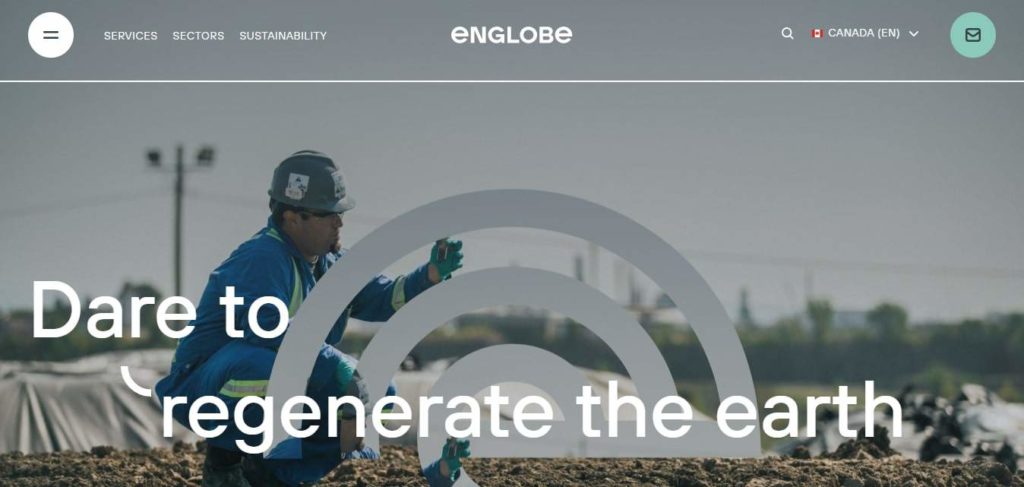 Test
Info
PRODUCTS / SERVICE
Engineering, Design & Inspection, Environmental Consulting & Remediation, Material Management & Beneficial Reuse
WEBSITE
ADDRESS
2713 Lancaster Rd Suite 101, Ottawa, ON K1B 5R6, Canada
CONTACT DETAILS
Phone: 877-300-4800
OPERATING HOURS
Mondays to Fridays: 8:30 AM - 5:00 PM

Saturdays to Sundays: Closed
| | |
| --- | --- |
| Criteria | Ratings |
| Range of Services | ★★★★☆ (4/5) |
| Customer Service and Availability | ★★★★★ (5/5) |
| Competence | ★★★★★ (5/5) |
| Good Reputation | ★★★★★ (5/5) |
Englobe stands tall and unwavering with over 60 years of expertise. We're impressed at how long they have been in the industry, and yet they remain as one of the leaders in the industry in applying the latest technological innovations for the environment.
The great thing about Englobe is their global outreach as they are proud to have 150+ locations worldwide. They also boast of having a network of 2,800+ experts in the industry that ensures they stay ahead of the curve and apply only the latest and best environmental consulting services.
With Englobe's pool of experts, innovations, international network, and equipment, it's best to assume that they have expensive rates. The best thing about it is you get what you pay for with long-term plans of sustainability.
We trust Englobe in upholding local and international standards for their multiple national and international certifications recognized in numerous sectors and industries. They deem themselves as being a one-stop-shop for out-of-the-box solutions for the environment.
What sets Englobe apart from competitors is its climate change solutions. They use their expertise in engineering, soil treatment, ecology, hydraulics, and geomatics to help their clients achieve carbon neutrality that helps lengthen their operations without harming the environment.
60 years in the industry
2,800+ experts worldwide
Closed on weekends
Expensive rates
Client Reviews:
Excellent Service
"Englobe has been such a fine company that offers excellent service. They're doing their job just right to satisfy their customers and I am one of them. They are some of the best companies out there!" – Troy Barbeau
Well-known
"I have been hearing about Englobe for quite some time before I decided to just give it a go and true enough, they serve what you deserve. They are well-known and provide you with quality service." – Richard
FAQs about Environmental Consulting in Ottawa
---
That concludes our list of the top environmental consulting in Ottawa! Please leave a word below if you have any suggestions for content that we should include or address.
How would you rate our options in the city? Let us know what you think and check out our blogs for more best in Ottawa environmental listings: