The 5 Best Design Agencies in Ottawa
Designing is not an easy task, especially if it's for marketing purposes. For this reason, it's better to hire someone professional and experienced to do it.
In this article, we listed down the best design agencies in the Ottawa area so you can decide for yourself which one's most suited for your needs.
How much do design agencies charge in Ottawa?

Designers study for a long time to master their craft, so the price for work is usually high. The average price range of hiring a design agency is around $2500 for a packaged deal of their usual services.
A more specific price range of what they offer can be seen in the table below:
| Services | Average Estimated Costs |
| --- | --- |
| Logo Design | $500- $1500 |
| Web Design | $5,000 – $50,000 |
| Graphic Design | $1000 – $5,000 |
| Marketing Strategy | $10,000 – $40,000 |
| Social Media Management | $4000 – $7000/month |
The Best Design Agencies in Ottawa
Our aim in this article is to give you the top options for designing agencies so you can choose which one best suits your needs. To determine which agencies are the greatest in the city, we assessed them using the following criteria:
1. Excentric Agency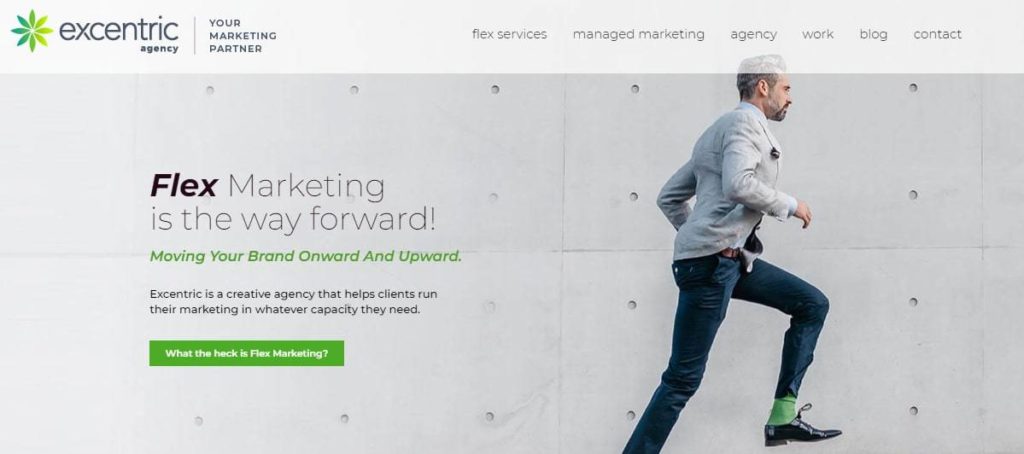 Test
Info
SERVICES
Web Design, Logo Design, Graphic Design, Marketing Strategy, Social Media, Advertising Services
WEBSITE
https://excentric.ca/
ADDRESS
300 Earl Grey Drive, Suite 390, Ottawa, ON K2T 1C1 Canada
CONTACT DETAILS
613-435-8552
OPERATING HOURS
Mondays to Fridays: 9:00 AM - 5:00 PM

Closed on Weekends
| | |
| --- | --- |
| Criteria | Ratings |
| Range of Services | ★★★★ (4/5) |
| Rates | ★★★★★(5/5) |
| Portfolio | ★★★★★(5/5) |
| Location | ★★★★★(5/5) |

Excentric is a solid choice for a design agency simply because of the versatile packaged services it offers. Its services are tailored not just for big corporations but also for startups.
Excentric specializes in the usual design and marketing services, including logo design, marketing strategy, web design, branding, graphic design, social media and other advertising services.
What makes it unique is that it offers these services in packages that can be beneficial, depending on what type of business you have.
For smaller businesses, we think the best choice is to get the project-based package where the company will offer assistance for single projects like logo design, web design, branding, and more.
Medium to large businesses, on the other hand, can take advantage of Excentric's Managed Marketing package, which focuses on making your brand look good regularly. This includes the same services as the project-based pack but is done regularly, depending on your needs.
Another option the company has available is the Pay As You Go package, which basically covers everything you need to make your brand look good and is executed whenever needed.
This means that for a fluctuating price, Excentric's designers and professionals are available to you anytime in case you need design and marketing assistance.
We, however, think that Excentric prices its services a little too high. Even if it caters to small businesses, it might not be the best agency for them considering that small businesses have tight budgets.
Versatile
Packaged services
Expensive
Closed on weekends
Customer Reviews
Incredibly talented staff
"Thank you to the incredibly talented team at Excentric Agency. I'm so appreciative of all the hard work they put into our new website. They're professional, thorough, and everything they delivered was of exceptional quality. Special thanks to Victoria Adams and Kristy Smith for leading the project and making sure everything was perfect for us. Highly recommend Excentric Agency for your digital marketing needs." – Lia Cole
Great to work with

"We reached out to Excentric for our logo design.I, first, noticed their website… it's clean, easy to navigate, nice colours, very well done. We contacted them and the experience was excellent. They were fast and effective. We, absolutely, loved our logo!!!I highly recommend Victoria and her team to anyone! Looking forward to working with them in the near future for our website design and other marketing strategies. Thanks Excentric! :)- Sarah Martins
2. Jackpine Design

Test
Info
SERVICES
Logo Design, Brand Advisory, Digital Design, Copywriting, Brand Strategy, Site Analysis, Packaging
WEBSITE
https://jackpine.co/
ADDRESS
99 Bank St, Ottawa, ON K1P 6B9, Canada
CONTACT DETAILS
613-716-3772
OPERATING HOURS
Mondays to Fridays: 8:30 AM - 6:00 PM

Closed on Weekends
| | |
| --- | --- |
| Criteria | Ratings |
| Range of Services | ★★★★★ (5/5) |
| Rates | ★★★★★ (5/5) |
| Portfolio | ★★★★(4/5) |
| Location | ★★★★(4/5) |
Jackpine is one of the most well-known design agencies in Ottawa. Its CEO Liam Mooney and creative director Emma Cochrane have both created something unique and special with the company, especially when it comes to how they handle their services.
Jackpine has a decent range of services, but it is on this list not just because of what it offers, but mostly because of how it offers them. We really like that it has created tailored teams for every aspect of design and branding for its client's marketing needs.
It is able to provide you with a team specifically for logo design, market research, copywriting, web development, and more. You can be more confident in knowing that these teams are tailored perfectly based on your requirements.
Your branding team won't be distracted by logo designing because that will be taken care of by another set of professionals and experts. We think this makes everything faster and easier for clients and it is our number one reason for putting Jackpine on this list.
The downside of this type of service is that it will most likely only work with big clients who have deep pockets. Smaller businesses may have to find a different agency that is more suitable for their needs.
Overall, however, Jackpine definitely does what it advertises — and it does it well. If you have the budget, give them a call and ask for a consultation.
Great service options
Easy to navigate website
Team-based services
Huge clientele
Closed on weekends
Customer Reviews
Easy to communicate with

"Jackpine helped Compass Rose with rebranding. This included a thorough review of what we do as a unique public and government affairs company and speaking to those who know us best to get an in-depth understanding of who we are. Through this process, Jackpine listened well and was very communicative. Liam's team was incredibly creative and produced not only a logo but a full and comprehensive brand that identifies Compass Rose exactly: finding the common good. We're happy to recommend Jackpine to clients and others as a professional marketing and design company that's easy to work with and truly understands your needs and vision." – Jacquie LaRocque
Quality services

"Jackpine thinks of my problem before I do, are helpful members of any project team and always go the extra few steps to make sure their plans are flexibly executed, consistently seeking and implementing feedback. I have been very pleased with their services!" – Philip D.
3. Xactly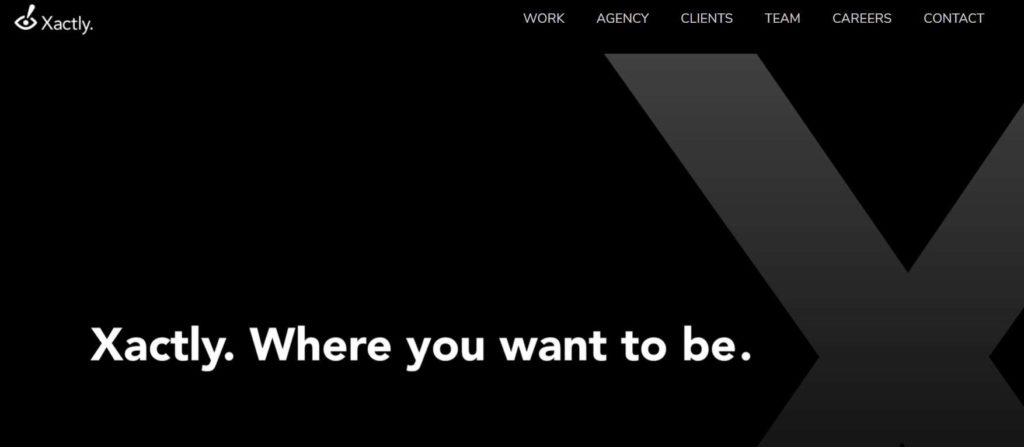 Test
Info
SERVICES
Logo Design, Graphics Design, Social Media, Advertising, Videography, Photography, Copywriting, Web Development, Marketing Strategy
WEBSITE
https://www.xactlydesign.com/
ADDRESS
311 Richmond Rd, Suite 204, Ottawa, ON K1Z 6X3
CONTACT DETAILS
613-745-2225
OPERATING HOURS
Mondays to Fridays: 8:30 AM - 5:30 PM

Closed on Weekends
| | |
| --- | --- |
| Criteria | Ratings |
| Range of Services | ★★★★★ (5/5) |
| Rates | ★★★★(4/5) |
| Portfolio | ★★★★★ (5/5) |
| Location | ★★★★(4/5) |
Founded in 2002 when digital designing was still starting to take on, Xactly was one of the first design agencies to try out more advanced methods of design.
Now, they're one of the most well-known design agencies around, working with notable brands such as Boyd, Brigil, and ADGA.
The people behind Xactly are experts in design, but they also specialize in storytelling. The work they create usually stems from a story perspective, so if you have an interesting anecdote behind your brand, they will definitely sell that idea and create a great design from it.
Another thing we like about Xactly is its full-service marketing department. If you decide to hire the company, this department will be helping you full time to fulfil your vision for your business.
We also appreciate the range of services that it offers. It has teams that specialize in graphic design, social media, advertising, videography, photography and more.
We especially want to highlight its videography and photography services because, unlike most design companies, it doesn't just manipulate photos and videos — it actually makes the effort to shoot them.
This dedication to the craft is something we admire and is definitely one of the many reasons they are on this list. But this also comes with a hefty price tag.
If you're thinking of hiring a design agency for your brand and have the budget to go all out, you can't go wrong with Xactly.
Expert employees
Team-based services
Customer Reviews

Positive results from a great agency

"Overall an amazing experience. The Xactly team understood my needs and then put forth a comprehensive and creative plan. This group is great at what they do and if you want positive results I highly recommend them" – Brent Walllace

Quality work from an incredible team of professionals

"Ever since I was introduced to Denis and his team of professionals… Blair, Jennifer, Chris, Lewis, and the awesome Xactly! team, they have not ceased to impress me with their enthusiasm, hard work, smart solutions, and wit. " – Oscar Acosta
4. Fullview Design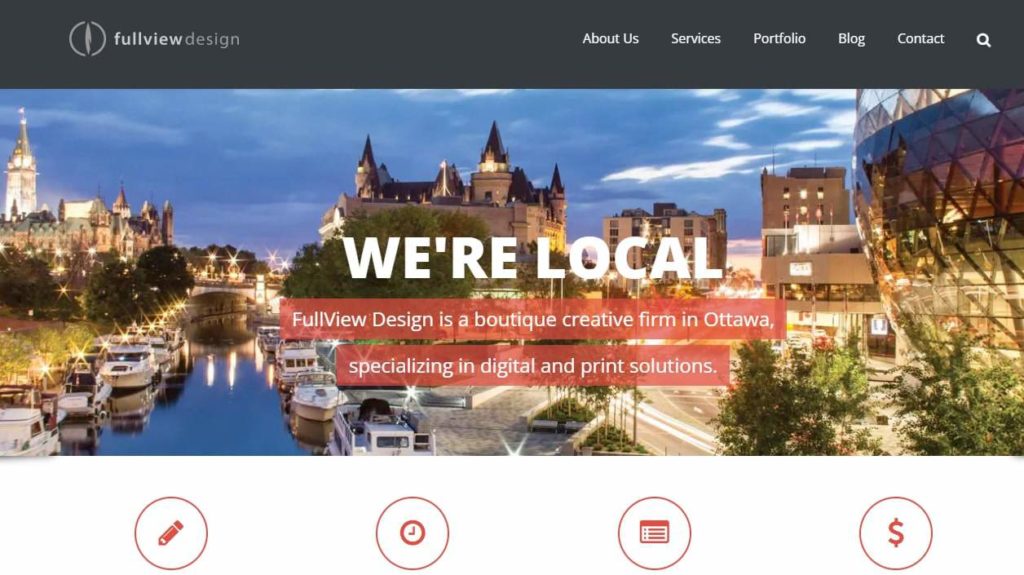 Test
Info
SERVICES
Logo Design, Web Design, Search Engine Optimization, Branding, Print Design, Digital Marketing, Photography, Video Production, Creative Consulting
WEBSITE
https://fullview.ca/
ADDRESS
207 Bank St Suite 407, Ottawa, ON K2P 2N2, Canada
CONTACT DETAILS
613-691-0800
OPERATING HOURS
Open 8:30 AM - 4:30 PM

Closed on Weekends
| | |
| --- | --- |
| Criteria | Ratings |
| Range of Services | ★★★★★ (5/5) |
| Rates | ★★★★(4/5) |
| Portfolio | ★★★★★ (5/5) |
| Location | ★★★★★(5/5) |
Fullview Design is another good choice for your design needs. Established in 2006 by web designer Stephane Trottier, the company is one of the many design agencies that were present during the digital shift.
Because of this, it was able to adapt to new design tools that were not available before.
One of the things we appreciate about Fullview is its knowledgeable employees. All of them are required to have a background in digital design.
That means that anytime you talk or consult with one of its employees, you are already talking to one of the designers who will be working on your project — not customer service or admin staff.
This is very important, especially for clients who want their design done fast and aren't amenable to working with middlemen.
Other than design, Fullview also works on marketing strategies, media techniques, and other ways to make your brand stand out. We also like the fact that it is very transparent with its projects.
Its portfolio is available to look at online and we think it's very extensive. Its team's work speaks for itself.
But should you hire this agency, make sure that you have the budget as its services can be expensive — but we think they're definitely worth it.
Opens early
Great options for services
Closed on weekends
Closes early
Customer Reviews:
Great experience with friendly faces

"When I was in the market for a new website I was referred to Stephane & Full View design. From our initial meeting I was impressed with Stephane's attentiveness, ability to understand what my limited technical mind was trying to express. Stephane asked questions, clearly listened to the answers so that he could provide solutions and options for my needs. Never once did I feel that I was being "SOLD" on a product or service or something I did not need. Stephane took the time to get to know me, my business and my goals. Stephane offered a unified branded solution from the initial logo offering straight through to marketing and collateral pieces. The response I have had to my website design and content has been overwhelming and has brought in new & unsolicited business. Stephane's patience & professionalism through our journey was exceptional and I have come to consider him a reliable partner and friend." – Yasmin Fues
Excellent work
"Excellent service! FullView Design has been working with our agency for years and delivers quality work. We highly recommend using their service for any business or agency." – Danielle Stagg
5. U7 Solutions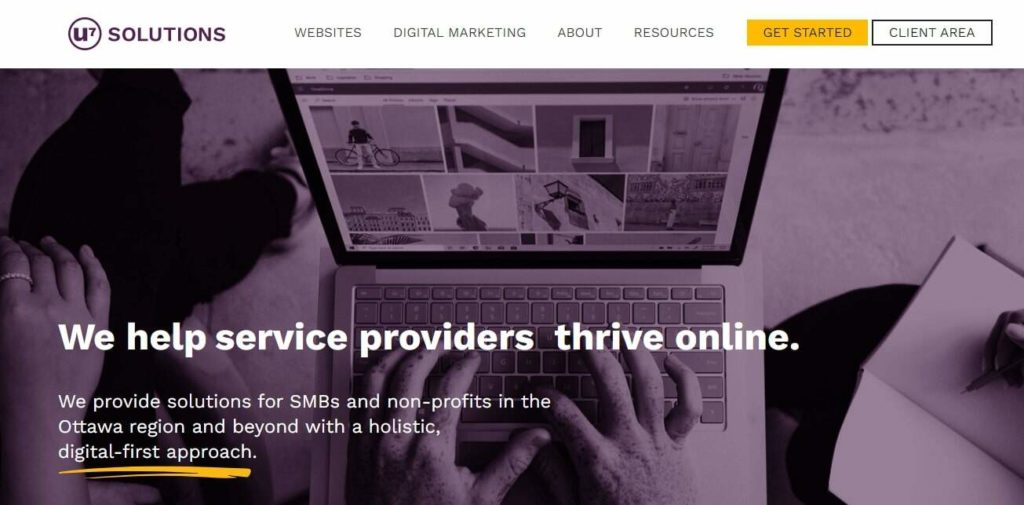 Test
Info
SERVICES
Logo Design, Web Design, Search Engine Optimization, Branding, Print Design, Digital Marketing, Photography, Video Production, Creative Consulting
WEBSITE
https://www.u7solutions.com/
ADDRESS
2647 Alta Vista Dr #615, Ottawa, ON K1V 7T5, Canada
CONTACT DETAILS
613-203-1400
OPERATING HOURS
Monday to Friday: 9:00 AM - 5:00 PM

Closed on Weekends
| | |
| --- | --- |
| Criteria | Ratings |
| Range of Services | ★★★★★ (5/5) |
| Rates | ★★★★★ (5/5) |
| Portfolio | ★★★★★(5/5) |
| Location | ★★★★★(5/5) |
For your web design needs, take a look at U7 solutions. Specializing more in website layout and design, it has worked with almost 300 clients in its 11 years in the business.
This is a big deal because U7 is a pretty young company. Despite that, it was still able to build a large clientele and make a name for itself.
It is also very particular in digital design, which is a bonus for those looking for assistance in creating logos for their brands.
What we like about U7 Solutions is its emphasis on team-based task management. Whenever it takes on a project, each main task is divided and assigned to a specific team.
These teams consist of experts and professionals who know what they're doing. And we think that makes the project easier and faster to finish — plus, it's more convenient for the client.
Of course, this method is done by other companies as well, but we saw that it was brilliantly implemented by U7 after looking at its portfolio.
The past designs its team has created are very good and don't leave any doubt about how it has gained so many clients despite its short ongoing presence in the industry.
We also appreciate that it doesn't outsource its projects. Everything is done by U7 Solutions employees only.
This may not be a good thing for bigger clients who are in a rush. But for us, it's good news because the projects will be done more passionately and with care.

Overall, U7 is another great addition to this list. Its prices vary but bigger projects will obviously cost more.
If you have the budget, it's very much a good deal to work with them.
Good portfolio
Great choice of services
Customer Reviews
Great team that produced great results

"I wanted The ByTowne Cinema's website to reflect the way that customers interacted with our other publicity, so it couldn't be an 'out of the box' solution. Jayson and his team worked hard at making sure users would 'discover' our content in a natural and familiar way. Plus, our calendar of screenings was a unique challenge to format in a way that would work on screens of any size while being simple for us to update regularly. U7 created a site with almost everything we wanted, and then followed up to deliver everything else we had forgotten to put on our wish list." – Bruce White
U7 truly helped us

"U7 helped us create an attractive, modern, and effective website for people to look us up. In the short amount of time since its been launched, I've already got some inquiries and comments that we wouldn't have received before. Everyone at U7 was great to work with and laid out a very simple process for us to follow and make sure out vision was captured!" – Ryan Arbuthnot
FAQs about Design Agencies in Ottawa
---
Hopefully, this information was useful for you. There are a lot of design agencies in the city and it can be hard to choose among them, so we made sure we picked the best for your needs.
Looking for something more specific? Check out our article on the best website design companies in Ottawa.
---