The 5 Best Career Coaches in Ottawa
We know most jobs can really be stressful and work can really take a toll on people. But when do you know when it's time to find a new one?
Finding the right job, whether you want to leave your current one, change career paths, or simply just start to look for employment can be challenging for many. This is where career coaches come in.
Some people think that career coaches are only needed when you're already desperate to find a new job, but getting one can actually be helpful to help you sort out things if you find yourself at a crossroads.
It's not always about finding another job, but they can also help you identify why you should stay in one or discuss other opportunities you may want to consider. They can also help you hone the skills and characteristics you need to be able to pursue the career you've always wanted.
In this article, we rated some of the best career coaches in Ottawa to help you in making these big kinds of life choices, understand what path suits you best, and improve the skills you need to achieve your career goals.
How much is the rate of a career coach in Ottawa?
Most life coaches offer their services in sessions, which can go from $48 to $560 per hour.
The cost of a career coach in Ottawa depends on different factors, like your coach's expertise, your career level and goals, the number of sessions, and if you are doing the sessions online or face to face.
Of course, online consultations will be much cheaper. See the table to compare rates of face-to-face and online coaching sessions.
| Session Type | Range of Consultation Rates |
| --- | --- |
| Face-to-face consultation | $80-$112 per session |
| Online consultation | $48-$80 per session |
Some career coaches can offer bundle packages that include a certain number of sessions that are customized to your career needs. For example, interview coaching rates may differ from career counselling sessions.
To give you an idea, here's a sample of price rates for customized career coaching packages that are tailored for different kinds of consultations:
| Type of Career Coaching Package | Average Rate |
| --- | --- |
| Interview coaching | $402 |
| CV writing coaching | $193 |
| Career coaching for employees and promotions (4 sessions) | $884 |
| Career coaching for job seekers (6 to 8 sessions) | $1,366 |
| Career coaching for entrepreneurs (8 to 10 sessions) | $2,009 |
| Career coaching for executives (3 sessions) | $923 |
Again, these rates may go lower or higher, depending on the expertise of your chosen career coach. Whether you want to shift jobs, get the promotion you want, or simply finally land a new one, career coaches can help you accelerate your professional growth by helping you develop your potential.
If these are things you are really considering, then we'll help you out in finding really good ones here in Ottawa!
Getting the Best Career Coaches
There are many career coaches out there that can help you in achieving your goals? But how do you find really good ones?
In this article, we rated the best career coaches in the area according to the following criteria:
1. Sabrina McTaggart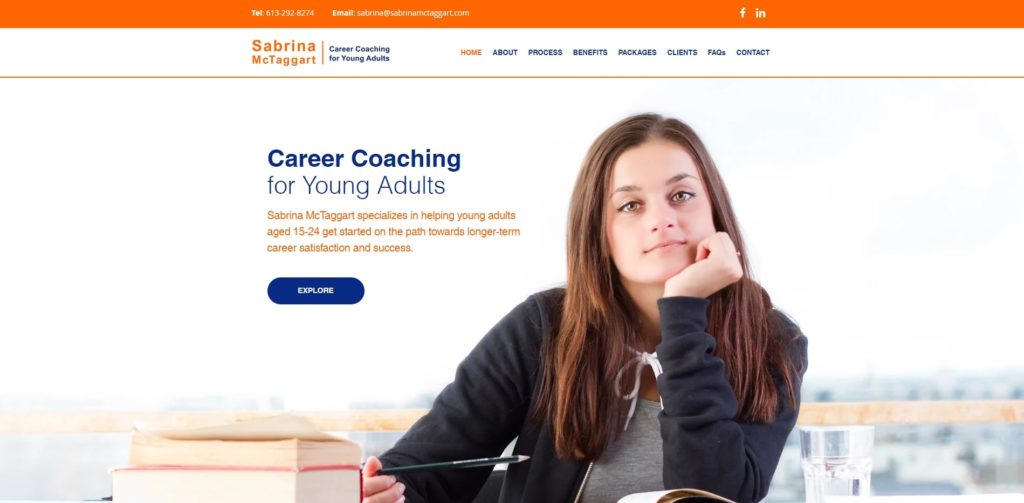 Test
Info
SERVICES
Career coaching for teenagers, those in gap years, undergraduates, and college graduates
WEBSITE
https://www.sabrinamctaggart.com/
ADDRESS
614 Mansfield Ave, Ottawa
CONTACT DETAILS
(613) 292-8274
OFFICE HOURS
Monday to Friday: 8 am to 6 pm

Saturday: 1 pm to 4 pm
| | |
| --- | --- |
| Experience | ★★★★★ (5/5) |
| Expertise | ★★★★★ (5/5) |
| • Knowledge | ★★★★★ (5/5) |
| • Observations skills | ★★★★★ (5/5) |
| • Communication skills | ★★★★★ (5/5) |
| Empathy & sincerity | ★★★★★ (5/5) |
| Professionalism | ★★★★☆ (4/5) |
| • Responsiveness | ★★★★★ (5/5) |
| • Punctuality and availability | ★★★★☆ (4/5) |
| • Reliability | ★★★★★ (5/5) |
Sabrina McTaggart focuses on providing career coaching for young adults. Her specialty in coaching younger people is especially important because the ages 15 to early 20s are crucial years wherein a person tries to really understand and determine what one wants to do in life.
Her clients are usually teenagers trying to identify what career and college degree they want to pursue or fresh college graduates transitioning to the world of employment.
It's not uncommon for teenagers in high school or new graduates to be unsure about what career paths to choose in life. That's why a lot of them experience having to shift degrees in college or lose interest in their current educational pursuit.
They benefit from Sabrina's coaching by not just choosing a career path but also saving themselves and their parents from potential unnecessary tuition costs brought about by having to change undergraduate degrees in college.
Likewise, new graduates also face the pressure of landing their first job. There are even those who find themselves pursuing a career outside of their degrees or those who really can't manage to land a job in the field they are most interested in.
Sabrina helps them not only in developing personal and interpersonal skills needed in the world of employment but also even arranges "information interviews." These are actually like simulation interviews but done with real-life employers and industry professionals that allow her clients to undergo an "actual" employment interview with professionals in an industry they want to pursue.
A graduate in life sciences, she eventually took a course in career planning after she herself experienced the desire to change her own career path. Later on, she took a master's degree in education (counselling) at the University of Ottawa to add to her qualifications.
Her understanding of how the young mind works and how to navigate this very confusing time is a great help for young people who need clarity and direction.
If you are a young person (or a parent or guardian of one) who's considering getting a career coach, it's good to know that Sabrina opens her first meetings at no cost. This is so she can help you identify what type of coaching you need before charging you with her services.
Working with young adults for about two decades, Sabrina is a good career coach choice for young people trying to find a career that matches their personalities, skillsets, and interests.
Best for those who need to identify what career path to pursue
Ideal for teenagers and fresh graduates
No charges for first visit
Limited niche
No price matrix for services on the website
Not available on Sundays
Customer Reviews
Incredibly insightful
My meetings with Sabrina were incredibly insightful, and allowed me to gain a much clearer view not only of what career I want to pursue, but how my strengths and needs align with my career aspirations. Her wide breadth of connections led to informative interviews with like-minded professionals in careers that I may seek to pursue. Overall my time with Sabrina was fantastic and I would recommend her to anybody that is looking for greater clarity regarding their career pursuits! – Alex Wray
Well worth the cost
I am a lawyer in Ottawa with a very busy practice. I refer to Sabrina all of the time. She is excellent. Two of my teenage children worked with her and it helped put them on their path in adulthood. Well worth the cost. She offers an initial visit at no charge. It is a complicated and confusing world for youth. Sabrina can help them through this. Guidance counsellors at school are just too busy. Sabrina knows the employment market and the educational routes that are available. A compassionate, passionate expert. – Darrin L. Clayton
2. Dr. Virginie Mesana of Ariadne Coaching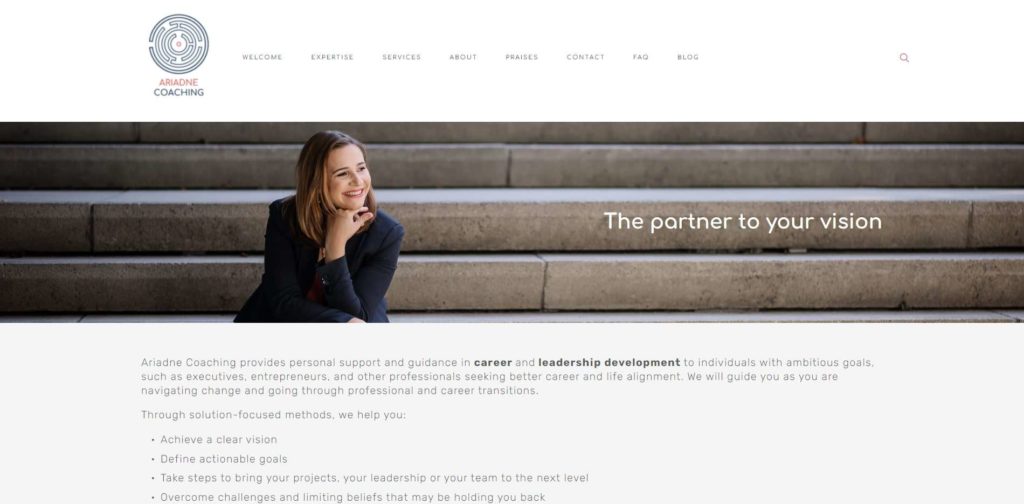 Test
Info
SERVICES
Individual coaching, corporate and team coaching
WEBSITE
https://www.ariadnecoaching.com/
ADDRESS
78 George St #204, Ottawa
CONTACT DETAILS
(613) 818-2201
OFFICE HOURS
Monday to Wednesday: 8:30 am to 5 pm

Thursday and Friday: 8:30 am to 5:30 pm
| | |
| --- | --- |
| Experience | ★★★★★ (5/5) |
| Expertise | ★★★★★ (5/5) |
| • Knowledge | ★★★★★ (5/5) |
| • Observations skills | ★★★★★ (5/5) |
| • Communication skills | ★★★★★ (5/5) |
| Empathy & sincerity | ★★★★★ (5/5) |
| Professionalism | ★★★★☆ (4/5) |
| • Responsiveness | ★★★★★ (5/5) |
| • Punctuality and availability | ★★★★☆ (4/5) |
| • Reliability | ★★★★★ (5/5) |
A certified career and leadership coach, Dr. Virginie Mesana is a certified member of the International Coaching Federation (ICF).
She has proven her proficiency in coaching with multiple certifications in emotional intelligence EQ-i and EQ 360 and uses an approach adapted for neuro-linguistic programming (NLP) of Erickson Coaching International.
Her expertise in career and leadership and development and her services are ideal for corporate professionals. She offers both individual coaching and even corporate and team coaching as well.
Inspired by the Greek mythology princess, Ariadne who guided Theseus out of the Minotaur's labyrinth, her coaching principles are founded on solution-focused methods that help people achieve clarity to find their way out of their own career maze.
We think her services are best suited for people in corporate jobs who are aiming for promotion and career growth. This is because she's good at helping someone unlock his or her passions and motivating people for growth.
Likewise, her solution-focused approach can help in motivating a team to achieve desired results. She also offers one-on-one customized coaching for team leaders and each member of your corporate team so she can really identify and help improve an individual's potential to match your team's goals.
So, if you are an HR manager or a team manager seeking ways to motivate the people in your company, this is a service worth considering.
For personal career coaching, she customizes her coaching sessions per individual. That's what her free 30-minute discovery sessions are for—to help identify a client's areas of need to be improved and resolved.
Her coaching sessions though require a commitment period. For her individual starter package, you need to commit to at least three months that include five coaching sessions so she can really provide you with an optimum amount of coaching time.
After all, self-development doesn't happen overnight and would really need a good amount of time, that's why we find this commitment period a reasonable and worthwhile experience.
Certified member of the ICF
Has Emotional Intelligence Certifications EQ-i and EQ-360
Trained in NLP with Erickson Coaching International
Best for professionals who are seeking career growth
Team consultations are ideal for corporate development
Not available on weekends
No price matrix available on the website
Customer Reviews
Tailored coaching
I came to Virginie looking for help with my professional self-discovery to eventually switch careers. I started with the 6-month commitment which helped me tremendously. She has a tailored approach to coaching, has a flexible schedule, is attentive and present. She also creates an environment where we can have open, (very) honest, and transparent conversations about the issues being worked on. With her breadth of knowledge she's supported me and pushed me in my self-exploration, helping me gain clarity and direction in my personal and professional paths. I highly recommend her to anyone who wants to change and needs guidance and support! – Oscar Zambrano
Unique sessions
I embarked on the 6-month commitment package to dig deeper into my career aspirations and goals with Virginie (Ariadne Coaching). During my time with Virginie I gained insight into what motivates me, what I'm passionate about, my career goals, and how to achieve my goals and aspirations. I achieved each goal and even exceeded them with her expert guidance and support. I appreciated her enthusiasm, attentive listening, and how she pushed me to question and reflect on what it is that I really want. Every session was unique and tailored to my needs at that time. She also builds in accountability, opportunities for self-reflection, and check-ins that kept me on track. I highly recommend Ariadne Coaching to anyone looking for professional and personal growth! – Krys Maki
3. George Muenz – Career Transition Coach at CareerJoy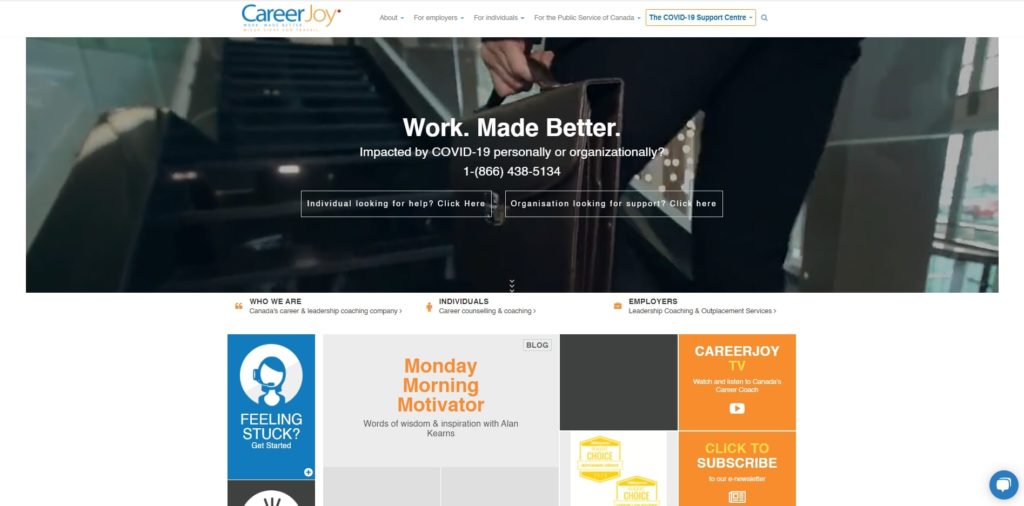 | Test | Info |
| --- | --- |
| SERVICES | Career counselling and coaching |
| WEBSITE | https://www.careerjoy.com/ |
| ADDRESS | 251 Laurier Ave W #900, Ottawa |
| CONTACT DETAILS | (613) 707-7630 |
| OFFICE HOURS | Monday to Friday: 8 am to 6 pm |
| | |
| --- | --- |
| Experience | ★★★★★ (5/5) |
| Expertise | ★★★★★ (5/5) |
| • Knowledge | ★★★★★ (5/5) |
| • Observations skills | ★★★★★ (5/5) |
| • Communication skills | ★★★★★ (5/5) |
| Empathy & sincerity | ★★★★★ (5/5) |
| Professionalism | ★★★★☆ (4/5) |
| • Responsiveness | ★★★★☆ (4/5) |
| • Punctuality and availability | ★★★★☆ (4/5) |
| • Reliability | ★★★★★ (5/5) |
CareerJoy is a company set on helping Canadians find work that is a perfect fit for them as a professional and as a person. They come with a wide range of services for individuals, from creating your resumes to job search assistance for those looking to change careers or those who are transitioning to a new role.
Among their team of excellent career coaches, George Muenz is one of the most sought-after. He specializes as a career transition coach and is one of the most respected careers and leadership coaches in Canada.
We recommend George and his expertise, especially for those who are experiencing a shift in their careers. Be it getting newly promoted or looking to change to an entirely new job, he is the man to go to when you need help in adapting to a new environment or new responsibilities which can be pretty overwhelming.
In CareerJoy, they will pair you up with different career coaches depending on your needs. Several clients who were paired with George have personally attested to how his guidance has dramatically shifted their careers.
George is a certified career development practitioner and has worked with international firms and has helped a lot of senior-level executives. Nevertheless, his expertise applies from entry-level to C-suite clients.
He'd even successfully help a client to land a new job even after 25 years of never applying anywhere, which honestly is as nerve-wracking as applying for your first job.
From resume tips to negotiating your salary, George can help give you the extra push and confidence you need to step up and really be able to achieve your career goals.
His empathy and willingness to understand clients allow him to tailor-fit a solution to their career troubles, which he almost intuitively does with over 40 years of experience.
Definitely one of the best, if not the best, in CareerJoy's team of career coaches, George as your career coach would be a worthwhile investment. Take note though that CareerJoy offers only online career counselling via Zoom video at the moment.
Nevertheless, there are a lot of career-related fields that CareerJoy and its team address for almost all kinds of career-coaching needs. Go check them out!
Certified career development practitioner
Best for senior-level clients and those experiencing transitions in their careers
40 years of experience as a career development professional
Highly empathetic and tailor-fits coaching approach
Coaching rates may be quite expensive
Rates are not available on the website
Available for Zoom consultation only
Not available on weekends
Customer Reviews
Best investment I made
In the summer of 2020, I left a job that I held for over 20 years. I had thought that I'd retire there, but it had become a place that I knew I needed to leave. I was frightened. I was 59 years old, and had neither applied or interviewed for a new job in 25 years! I had been looking forward to winding down my career, not ramping it up. I knew that I needed help.
I contacted several career services, and chose to go with CareerJoy because they were the most responsive; I got a call back that day.
They paired me with someone tailored to my needs (George), and what a gift! George helped me to understand my value in my field, coached me on how to manage an interview, and how to communicate my value to prospective employers. I could say so much more, but by far, that was the best money that I ever spent. It was an investment in myself, because the personal gains I made through my contact with CareerJoy remain with me today. Thank you!! – Erin Bourke
A great decision to work with George
I worked with George and CareerJoy as I looked for a new Job. Working with George was a great choice, he provided expert feedback in terms of preparing myself, for the job search, what and where to look for the type of role I was looking for. His guidance was appreciated, and helped me with my confidence in understanding my value to land the next steps in my career. It was a great decision to work with George and CareerJoy. – Ted Rabbets
4. Pat Parisi M.Ed. – Career Counsellor & Life Coach at Careers by Design Ottawa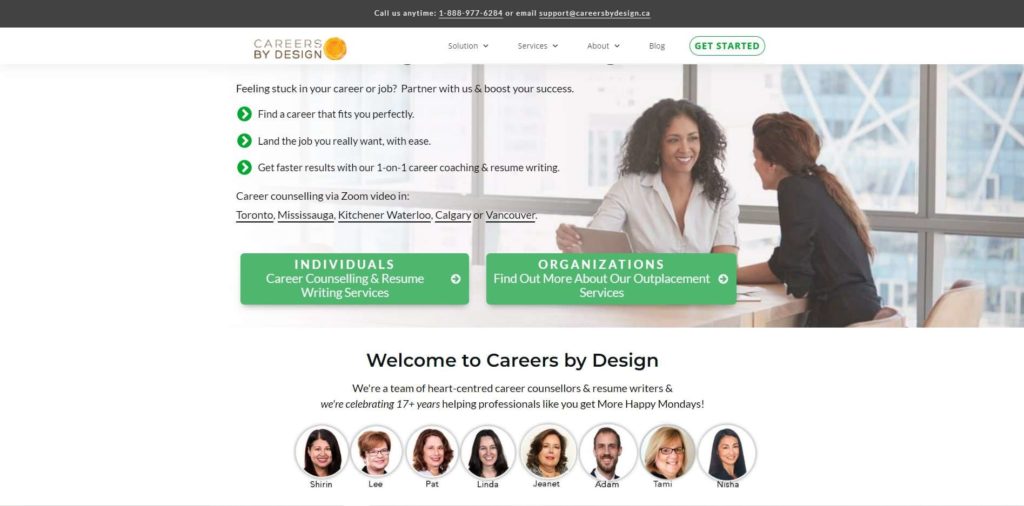 | Test | Info |
| --- | --- |
| SERVICES | Career counselling and life coaching |
| WEBSITE | https://www.careersbydesign.ca/ |
| ADDRESS | 255 Albert St #705, Ottawa |
| CONTACT DETAILS | (613) 454-5297 |
| OFFICE HOURS | Monday to Saturday: 9 am to 9 pm |
| | |
| --- | --- |
| Experience | ★★★★★ (5/5) |
| Expertise | ★★★★★ (5/5) |
| • Knowledge | ★★★★★ (5/5) |
| • Observations skills | ★★★★★ (5/5) |
| • Communication skills | ★★★★★ (5/5) |
| Empathy & sincerity | ★★★★★ (5/5) |
| Professionalism | ★★★★☆ (4/5) |
| • Responsiveness | ★★★★☆ (4/5) |
| • Punctuality and availability | ★★★★☆ (4/5) |
| • Reliability | ★★★★★ (5/5) |
Applying psychotherapy in her approach, Pat Parisi M.Ed. has been practicing as a counsellor for 15 years and has an extensive background in Human Resources with 10 years worth of professional experience in HR and labour relations.
She has been providing career counselling and coaching for around 10 years now, 6 years of which are under Careers by Design. She has handled hundreds of clients over the years and helped them grow meaningful careers.
Being a member of the Ontario Association of Consultants, Counsellors, Psychometrists, and Psychotherapists (OACCPP), she sets herself apart from a lot of other career coaches with how she utilizes her expertise in counselling and sociology.
This allows her to delve deeply into the psychological aspects that need to be addressed by her clients. This approach helps her client improve professionally but also helps them improve their overall selves.
What's great about Pat is that she continues to study and learn so her techniques are current and is applicable throughout the changing times.
Nevertheless, her clients love her for her warm yet honest and straightforward feedback to help get them on the right track.
She listens deeply to her clients and even has this warm kind of humour that makes it easy for her clients to open up. Doing so allows Pat to identify areas that need improvement so she can devise a good strategy to help you out.
Thus, despite her coaching geared toward professional development, her clients also find themselves improving their lives in general.
Her coaching involves not only the psychological aspect though but also gives you tips in finding job options in a very competitive market and equips you with the aptitude you need to go for them.
If you'd like to get an in-depth kind of counselling and coaching, reach out to Careers by Design in their Ottawa location to book an appointment because her schedules fill up fast!
Utilizes psychotherapy for career counselling and coaching
Member of the OACCPP
Extensive background in career counselling and HR
Warm and genial conversations
Schedules are in-demand and often full
No rates available on website
Customer Reviews
Much deeper than I expected
I genuinely enjoyed the process of working with Pat to clarify my goals and learn how to more effectively meet various challenges. We dug deep psychologically, much deeper than I had expected a career coach would go with me, and every step of the way I felt that Pat really got me. This was an exercise in bravery, compassion, and self-reflection in which I felt seen and supported.
I recommend Pat as a career coach (or anything coach) without reservation! – Micheila Storr, Head Editor & Writing Coach
Changed so much in my life
Before I started the coaching sessions with Pat, I was burnt out and discouraged about my career path.
Through the coaching sessions, I got the support and guidance I needed to get in tune with my priorities and values, and to see ways to have a personal work-life balance.
Now that the sessions are completed, I have made substantial changes in how I view my work, opened up my mind to new avenues and a broader perspective, and set personal goals to feed my creativity and well-being! – Jacquie Kolodiejchuk, Educator
5. Dr. Helen Ofosu of I/O Advisory Services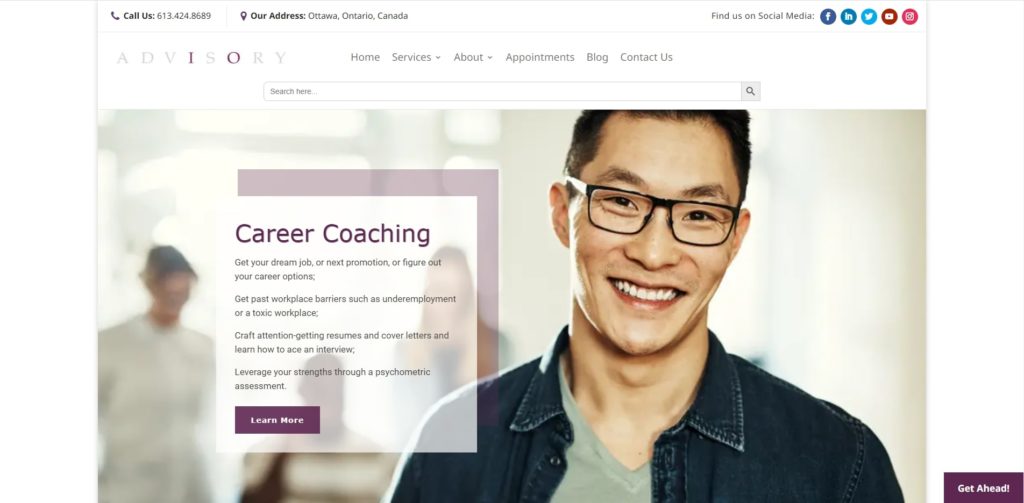 Test
Info
SERVICES
Career counselling, individual and group coaching, executive coaching, and event speaking and training
WEBSITE
https://ioadvisory.com/
ADDRESS
643 Tourelle Dr. Ottawa
CONTACT DETAILS
(613) 424-8689
OFFICE HOURS
Monday, Tuesday, Friday: 9 am to 4 pm

Wednesday and Thursday: 9 am to 5:30 pm

Saturdays by appointment
| | |
| --- | --- |
| Experience | ★★★★★ (5/5) |
| Expertise | ★★★★★ (5/5) |
| • Knowledge | ★★★★★ (5/5) |
| • Observations skills | ★★★★★ (5/5) |
| • Communication skills | ★★★★★ (5/5) |
| Empathy & sincerity | ★★★★★ (5/5) |
| Professionalism | ★★★★☆ (4/5) |
| • Responsiveness | ★★★★★ (5/5) |
| • Punctuality and availability | ★★★★☆ (4/5) |
| • Reliability | ★★★★★ (5/5) |
Specializing in Industrial and Organizational Psychology, Dr. Helen Ofosu is one of the leading experts in this field not just in Ottawa but in all of Canada today.
She is actually one of the founding officers of the Canadian Psychology Association's (CPA) section that focuses on Black psychology, aimed to promote the representation of Black psychology practitioners in the country.
With a Master's and Doctorate Degree in Applied Social Psychology, outstanding credentials in the field of private HR consulting, and a position as an adjunct professor of psychology at Carleton in Ottawa, she is no doubt an expert in the field of career coaching.
In fact, she has actually designed various tools for psychometric assessments for screening applicants for federal government jobs.
Needless to say, her career coaching and counselling sessions are all based on her knowledge of industrial/organizational psychology. That being said, you can expect standardized evaluations with tests and structured interviews that may be quite technical in nature.
This gives Dr. Helen enough data to assess what type of coaching you need to be able to step up your career game. She also provides career leads whenever possible to help push you in the right direction for your next career move.
But that does not mean the consultations are rigid. And do not be intimidated by her outstanding credentials too.
In fact, Dr. Helen exudes a kind of sensitivity and thoughtfulness that allows her to provide insightful counsel to any client, whether you are a seasoned executive or a newcomer in the corporate world.
Consultations for coaching and counselling are done online following an assessment. If you want to try out her services, you may set an appointment for a free 15-minute phone consultation.
Through I/O Advisory Services Inc., she continues to provide different counselling and coaching as well as human resource and outplacement services for individuals and corporations alike.
She also extends her services to speaking and training in corporate and human resource-related functions.
You may learn more about her services on the I/O Advisory website, where you may also conveniently check her booking schedules for appointments.
Excellent qualifications in industrial/organizational psychology
Hands-on expertise in HR processes and systems
Front-runner in diversity in the field of psychology practitioners
Has MA and Ph.D. in Applied Social Psychology
No rates matrix available on the website
Available only for phone and online consultations
Customer Reviews
I'm in the right hands with Helen
Helen has been an amazing coach and during the time I have worked with her she has been able to help me a great deal with my level of confidence at work and continues to be a great sounding board for career guidance. In my first few meetings with Helen I immediately felt like I was in the right hands and also felt that she truly cared. Helen took her time to offer me resources and meaningful advice and guidance. I have recommended Helen to a few friends and working with her has been a real blessing. – Michelle Francis
Expertise and genuine empathy
As a skilled newcomer, I was terrified of becoming one of the many who end up being under-employed when they enter the Canadian job market. Helen worked with my husband and I to target our strategies to suit both the Canadian labour market and our interests. We are both on-track towards fulfilling careers. Helen balances expertise with strong counselling skills. As a result, she is a credible professional who genuinely demonstrates empathy too. – Nicole Dodd
FAQs about Career Coaches in Ottawa
---
No choice is an easy choice if it can affect your life in so many ways, especially in making career choices. We hope this article can lead you to the right person and resources to help you find the right coach who can steer you on the right track for your career.
But there is so much more to life than just our work life, right? If you need help that goes beyond your career, you can also check out our list of the top life coach services in Ottawa.