Top 5 Card Shops in Ottawa
Cards are available in various materials, patterns, and artwork. They come in multiple sizes and shapes, allowing you to use them as greeting cards or trade cards in games.
If you are searching for the best card shops that offer great deals on cards and more, you're in the right place! Read on to discover all about our picks for the top card shops in Ottawa!
How Much Do Card Shops Cost in Ottawa?
The cost of cards varies depending on their quality and the retailer from which they are purchased. In the table below, we've listed pricing from various businesses on our list as a reference to help you choose the finest cards in Ottawa.
Shops
Products
Estimated Price
The Village Quire

Friendship Cards

Congratulation Cards

Sympathy Cards

Blank Art Cards

Cheeky and Offensive Cards

Birthday Cards

Quotable Cards

Sympathy Cards

$4.50

$5.00

$4.95

$4.50

$4.95

$4.95

$5.00

$4.95

The Gifted Type

Anniversary Cards

Baby and Parenting Cards

Birthday Cards

Blank Art Cards

Congratulation Cards

Friendship Cards

Pop-Up Cards

Religious and Cultural Cards

Wedding Cards

$4.95

$4.95

$4.95

$4.95

$4.95

$4.95

$6.95

$4.95

$4.95

Paper Papier

Gift Cards

Greeting Cards

Thank You Cards

$10.00

$13.90

$19.95

The Papery

Graduation Cards

Blank Cards

Birthday Cards

Love Cards

Congratulation Cards

Sympathy Cards

Friendship and Thank You Cards

Thank You Notes

$4.95

$4.95

$4.95

$4.95

$4.49

$4.50

$4.95

$2.95

Hallmark

Birthday Cards

Congratulation Cards

Graduation Cards

Love Cards

Blank Cards

$4.59

$10.59

$7.79

$4.49

$16.99
Top Card Shops in Ottawa
We kept a careful eye on everything as we included the following criteria in our selection process to find the best card shop for you:
1. The Village Quire
Test
Info
SPRODUCTS

SERVICE

Card Shop

Birthday Cards

Wedding Cards

Anniversary Cards

New Baby Cards

Sympathy Cards

Gift-Wrapping

Party Supplies

WEBSITE
https://villagequire.ca/
ADDRESS
312 Richmond Rd, Ottawa, ON K1Z 6X6, Canada
CONTACT DETAILS
613-695-2287
OPERATING HOURS

Mondays: Closed

Tuesdays to Fridays: 11:00 AM - 6:00 PM

Saturdays to Sundays: 11:00 AM - 5:00 PM
| | |
| --- | --- |
| Criteria | Rating |
| Quality of Service | ★★★★★ (5/5) |
| Availability | ★★★★☆ (4/5) |
| Customer Service | ★★★★☆ (4/5) |
| Location | ★★★★★ (5/5) |
The Village Quire is a flourishing small business situated in the exciting suburb of Westboro Village in Ottawa. It is a store for all life events – from engagements to weddings and anniversaries, birthdays, and everything in between.
One of the best aspects about The Village Quire is that they are hands-on and thorough with their work. As a small business, they ensure that everything, including their clients, is handled with care, which is why people adore them.
We love how they also take their business out of the norm by providing customers with unique greeting cards like the cheeky and offensive ones. They also have featured brands like Rifle Paper Company, Joojoo Paper, Baggu, and Rosie Made A Thing.
The Village Quire is on our list also because of their flexible services. They provide curbside pickup, delivery, in-store pickup, and in-store shopping, adhere to health and safety procedures, and are LGBTQ+ friendly.
They are closed on Mondays, which is a pity, and their facility is not wheelchair accessible.
We enjoy how they compensate for things with many product promotions and parking out front.
Aside from their greeting cards, you might also enjoy their stationeries, gift wraps, and gift ideas. They even ship throughout Canada and give free delivery when you spend $45 on greeting cards.
The satisfaction that The Village Quire offers its customers is evident in their 5-star reviews. These demonstrate how competent their store is, although they are a small business thriving in the sector.
Parking spaces available
Wide variety of greeting cards
Closed on Mondays
Tiny space
Customer Reviews:
Great Selection of Cards
"This is a lovely, independent card store in the heart of Westboro Village in Ottawa. It has a great selection of cards and other items from smaller producers. You won't find the major mass card brands, which is good. The shop is locally owned and is not part of a chain." – David Mowbray
Exceptional and Very Friendly Service
"The Village Quire is my new favorite spot for cards and gift wrap, etc.! I recently moved to Westboro and have seen Molly at The Village Quire a couple of times, and it's always a pleasant encounter. They've got a great selection of greeting cards and tons of cute, unique party supplies/decor. Those are just a couple of the things that caught my eye! This time, I ordered online because of COVID; it was super easy and quick. I ordered online one evening, and my order was ready to pick up at the store front just before noon the next day! Molly even included a little handwritten note thanking me for the online order! Thanks, Molly! I highly recommend this shop (visit in person too if you get the chance) because it's one of a kind and provides exceptional and amiable service! Keep it up!" – Claire Hobson
2. The Gifted Type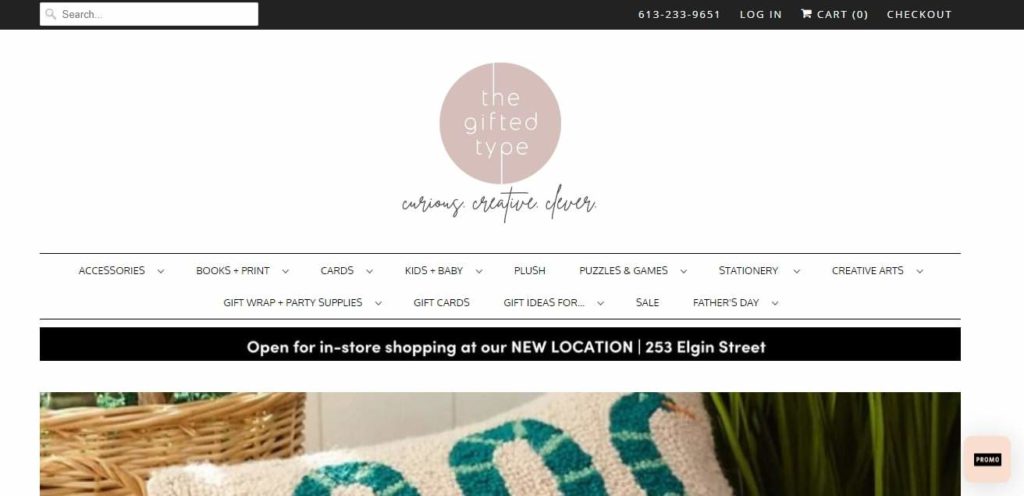 Test
Info
SPRODUCTS

SERVICE

Gift Shop

Card Shop

Accessories

Books and Print

Kids and Baby

Plush

Puzzle and Games

Stationery

Creative Arts

Gift Wrap and Party Supplies

Gift Cards and Ideas

WEBSITE
https://www.thegiftedtype.com/
ADDRESS
253 Elgin St, Ottawa, ON K2P 1L8, Canada
CONTACT DETAILS
613-233-9651
OPERATING HOURS

Mondays to Wednesdays: 10:00 AM - 6:00 PM

Thursdays to Fridays: 10:00 AM - 7:00 PM

Saturdays: 10:00 AM - 6:00 PM

Sundays: 11:00 AM - 5:00 PM
| | |
| --- | --- |
| Criteria | Rating |
| Quality of Service | ★★★★★ (5/5) |
| Availability | ★★★★★ (5/5) |
| Customer Service | ★★★★★ (5/5) |
| Location | ★★★★☆ (4/5) |
The Gifted Type is a boutique and virtual shop that consistently lives up to its tagline by allowing you to express your curious, creative, and witty sides. It's a place where you can discover lots of cute finds.
They are advantageously positioned on Elgin Street, where people flock because of their various items. Despite this, the establishment tends to get crowded relatively quickly, so there is not enough space to serve many customers at once.
One of the best things about the Gifted Type is the grade and range of its products. You can find everything from cards to stationery and everything aesthetic that makes a great gift.
Our favorite thing about the Gifted Type is how they categorize their cards. They have a category for loved ones and friends, special and simple occasions like landing a new job, plus even religious or cultural events.
Also, we love how they offer a variety of promotions on their website. They provide free delivery if you buy at least $145 and have a mystery sock promotion if you spend $50 on all of their items.
The Gifted Shop is your go-to shop for cards, puzzles, and unique gifts. They have friendly and efficient staff that will assist and guide you whenever you have trouble finding a product to your liking.
Aesthetically pleasing products
Great customer service
Tiny space
No parking area
Client Reviews:
Perfect Spot for Unique Gift and Card
"I always make sure to stop by whenever I am in the area and always happen to buy something! They have an array of magazines and books perfectly curated to their vision that you don't tend to find anywhere else. It is also a uniquely organized shop where everything appears to flow together, with one wall near the front always organized into different colors. It is also the perfect spot to pick up a unique gift and card for anyone. The sales staff are always helpful and super informative. It's just a fun store worth looking around." – Michelle G.
Hidden Gem, Friendly Staff
"A hidden gem on Elgin! It's always fun to stop by and check out what's new. There is always something cute to pick up with a wide variety of pins, stuffed animals, cards, mugs, stationary, and more. The staff is always friendly, and this one specific (female) staff member sings beautifully as she's working!" – Katherine W.
3. Paper Papier, ByWard Market, Ottawa
Test
Info
SPRODUCTS

SERVICE

Pen Store

Card Shop

Gift Cards

Greeting Cards

Stationery

Savvy Living

Writing Instruments and Ink

Journals and Planners

WEBSITE
https://www.paperpapier.com/
ADDRESS
18 Clarence St., Ottawa, ON K1N 5M4, Canada
CONTACT DETAILS
613-241-1212
OPERATING HOURS

Mondays to Saturdays: 10:00 AM - 5:00 PM

Sundays: 11:00 AM - 5:00 PM
| | |
| --- | --- |
| Criteria | Rating |
| Quality of Service | ★★★★★ (5/5) |
| Availability | ★★★★★ (5/5) |
| Customer Service | ★★★★☆ (4/5) |
| Location | ★★★★★ (5/5) |
The Paper Papier has provided outstanding products and attentive service to Ottawans for over four decades. They are well-known for producing high-quality writing tools, excellent writing sheets, and related accessories.
Aside from that, we're impressed at how Paper Papier expanded their products over time, adding up stationery and greeting cards as one of their exquisite items. They're undoubtedly one of the shops in the city that provide excellent products.
One of the best things about the Paper Papier is its wonderfully curated products. They never disappoint, for everything inside their shop is top in quality from pens, papers, stationaries, flowers, and greeting cards.
Though prices may appear slightly higher than typical due to their high-quality items, rest assured you won't regret your purchase with them. Furthermore, minor flaws such as misunderstanding with clients may exist, but they compensate for negative feedback by issuing gift cards.
Nevertheless, we like how they offer extended services for their customer's convenience, including their seamless mode of payment and different kinds of deliveries and pick-ups.
Also, you might enjoy free shipping on orders over $99, provided they are open 24/7 online.
They are a tiny sanctuary amid the Byward Market's hustle and bustle. Customer's testimonies say they cannot help but drop by the Paper Papier to see new treasures.
40 years in business
High-quality products
Expensive rates
No parking spaces
Client Reviews:
Perfectly Curated Collection
"There is no other shop as special as Paper Papier! Andrew and Gary have perfectly curated a collection of fine writing instruments, specialty gift wrap supplies, cards, and much more! It's difficult not to fall in love with the unique sheets of wrapping paper draped on display. Or to pass by their vast selection of fine writing instruments without feeling inspired! They are always there to help you find the perfect pen or greeting card or make your gift special with a chic gift wrap. Paper Papier is a true Ottawa gem with something for everyone!" – Christine P.
Great Store, Great Service
"I have been shopping at Paper Papier since they had their original paper store in the 80s, and it remains a favorite store to visit in the market. Buying gifts and cards during the long covid lockdowns, however, proved challenging, and I just want to give the owners a big thank you for their new online presence and efforts. I have been able to buy gorgeous Valentine's Day and Birthday cards, along with great gifts from the new website. I also love the Instagram postings that regularly show what new products are in stock. Great store, great service. Highly recommend." – Debbie Gowling
4. The Papery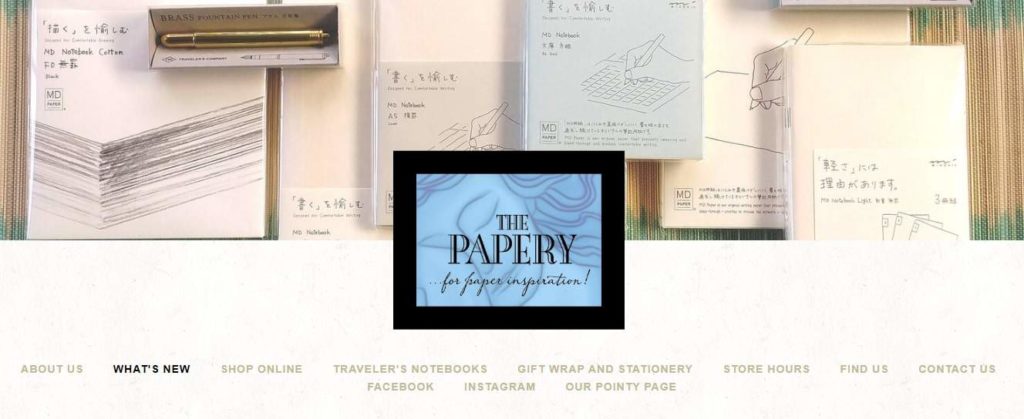 Test
Info
SPRODUCTS

SERVICE

Stationery Store

Traveler's Notebook

Gift Wrap

Card Shop

Pens

Journals

Arts

Crafts

Photo Albums

Guest Books

Puzzles & Games

Notebooks

Origami

Napkins

Gift Bags

Kitchen

WEBSITE
http://www.papery.ca/
ADDRESS
850 Bank St, Ottawa, ON K1S 3W1, Canada
CONTACT DETAILS
613-230-1313
OPERATING HOURS

Mondays: Closed

Tuesdays to Saturdays: 10:00 AM - 6:00 PM

Sundays: 11:00 AM - 5:00 PM
| | |
| --- | --- |
| Criteria | Rating |
| Quality of Service | ★★★★★ (5/5) |
| Availability | ★★★★☆ (4/5) |
| Customer Service | ★★★★☆ (4/5) |
| Location | ★★★★★ (5/5) |
The Papery has been in business since 1986, with branches across Canada. Their distinctive brand focuses on social stationery and other paper items that make life more dynamic and exciting, for they have products that will add beauty and flair to your life.
We love how The Papery gives customers much to explore in their shop. They have a vast range of greeting cards, a fantastic assortment of ribbons and wraps, various invitation alternatives, and a large selection of table napkins.
We're impressed at how The Papery spark up creative minds with the variety of their greeting cards and all of their other stationery products that are useful to make one. If you can't find a card shop, here is another good option.
We like how they have lived up to their reputation as one of the best card shops in Ottawa. Although they are conveniently located in the scenic Glebe neighborhood, which stretches along Bank Street, their established name allowed them to have customers who trust their expertise.
With minimal lapses such as complaints over overpriced products due to the pandemic and misunderstanding between customers and staff, The Papery's services still match the top like no other!
36 years in business
Great selection of cards
No parking area
Expensive rates
Client Reviews:
Unique Printed Cards, Helpful Staff
"I absolutely love this store! It's so cute and lovely! Though it might seem overwhelming walking here at first, you must spend your time perusing. There are some lovely things in here. They have an extensive collection of paper and envelopes and unique printed greeting cards. This is my go-to spot for birthday, get well soon, and congratulations-type cards. They are lovely and special and very different from the typical Hallmark card. In addition to cards and paper stock, they sell various other paper goods, such as stickers, napkins, origami paper, recipe books, phone books, note pads, etc. It's quite a unique and quirky little spot. The staff here are fantastic and always helpful. They even allow dogs in this store! Prices are fairly reasonable. Some things may appear a bit pricey, but they are worth it. Overall, I enjoy this store and would recommend it." – Abbie Sizer McIntosh
Best Selection of Cards
"I always try to go to the papery for my card needs even when it would be more convenient to pick them up in a grocery store aisle or pharmacy. They have cards for any occasion you can think of and the best selection of blank cards if you are feeling bold. The shop itself is adorable and covers all your gifting needs with gift wrap, party supplies, and nifty add-on items. Their seasonal items are always on point and irresistible." – Martina Landry
5. Hallmark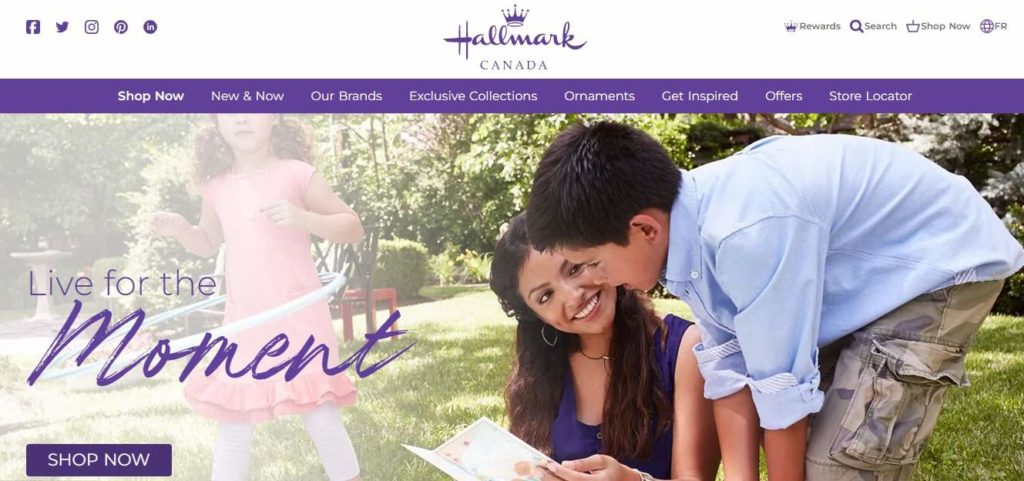 Test
Info
SPRODUCTS

SERVICE

Greeting Card Shop

Birthday

Celebrations

Just Because

Sympathy & Support

Boxed Cards & Stationery

Ornaments

Exclusive Collections

Christmas

Gift Wrap

WEBSITE
https://www.hallmark.ca/en/
ADDRESS
Shopping Centre, 1200 St. Laurent Blvd, Ottawa, ON K1K 3B8,

Canada

CONTACT DETAILS
613-749-1905
OPERATING HOURS

Mondays to Saturdays: 10:00 AM - 8:00 PM

Sundays: 11:00 AM - 5:00 PM
| | |
| --- | --- |
| Criteria | Rating |
| Quality of Service | ★★★★☆ (4/5) |
| Availability | ★★★★★ (5/5) |
| Customer Service | ★★★★★ (5/5) |
| Location | ★★★★☆ (4/5) |
Hallmark has been in the card business for longer than any other company. They have been renowned for the excellence of their greeting card services and have watched how they innovated their ideas in response to what was in demand while never losing sight of their objective.
One of the best aspects of Hallmark is its continuous popularity; when people think of buying greeting cards, they immediately think of this store. We're impressed with the variety of year-round and seasonal presents, gift wrap, Keepsake Ornaments, and greeting cards.
You can find Hallmark branches across the city, and in this featured listing branch, customers love how the post office is directly there. So, if you need to accomplish any business at the post office, you can pass the time by visiting their charming store; it beats the double purpose.
However, as compared to other companies in the area, Hallmark lacks extended deals to serve its clients better. They are often located within a shopping center or mall and do not have a website or accept card deliveries.
They make up for those shortcomings by enhancing their ideas periodically, and we hope their firm can develop something trendy to keep their image and reputation. Yet, it's difficult to forget them because nothing beats Hallmark's established legacy.
Popular brand
Almost a hundred years in business
Does not cater deliveries
Somehow expensive rates
Client Reviews:
Beautiful Gift Wrap and Cards
"Beautiful gift wrap and cards for Christmas. Very nice sales ladies are eager to assist you with your purchases. Canada Post office is located at the back of the Hallmark Store. Great gift ideas for anyone on your list. Wedding gift wrap is available here. Pick up a small Souvenir of Canada while you are here. Hallmark offers a selection of small gift ideas, too! Large selection of pierced earrings to choose from. Browse through the boutique and enjoy your shopping experience at Hallmark. St Laurent Mall." – Sue Dezell
Friendly Staff and Clean Store
"Love going to Hallmark for any cards or little gifts we need for birthdays or holidays. The staff is friendly, the store is kept very clean. Love that the post office is directly in there also." – Anik Boucher
FAQs about Card Shops in Ottawa
---
That ends our listing of the top card shops in Ottawa. Leave a comment for your thoughts, words, and suggestions on articles you want us to write next or topics you'd love to read.
Your feedback is everything, do let us know if our options have been of help. For more Ottawa's card shop listings and everything related to it, check out more of our blogs: