The 5 Best Car Accessories Suppliers in Ottawa
Accessories can help your car look and function better, but it's important to have the right attachments that are both affordable and fit well with your vehicle.
There are lots of accessories out there, and the options can get overwhelming. Luckily there are great suppliers in the city who know exactly what your vehicle needs.
In this article, we list and review the best car accessories suppliers in Ottawa.
How much do car accessories cost in Ottawa?
There are many accessories that can fit different vehicles. In the table below, you will find the most common car accessories you may need and their average prices.
| Top Car Accessories | Average Starting Price |
| --- | --- |
| Spare Tire | $50 - $300 |
| Brake Replacement | $100 - $300 |
| Hood Replacement | $50 - $300 |
| Puncture Repair Kit | $20 - $50 |
| Tire Inflator | $60 - $100 |
| Comprehensive Tool Kit | $200 - $300 |
| Car Cover | $30 - $100 |
| Cleaning Cloth | $30 - $50 |
| Air Freshener | $20 - $40 |
The Best Car Accessories Suppliers in Ottawa
We made sure that we give you the best options for suppliers of car accessories. This list is based on the following criteria:
1. NAPA Auto Parts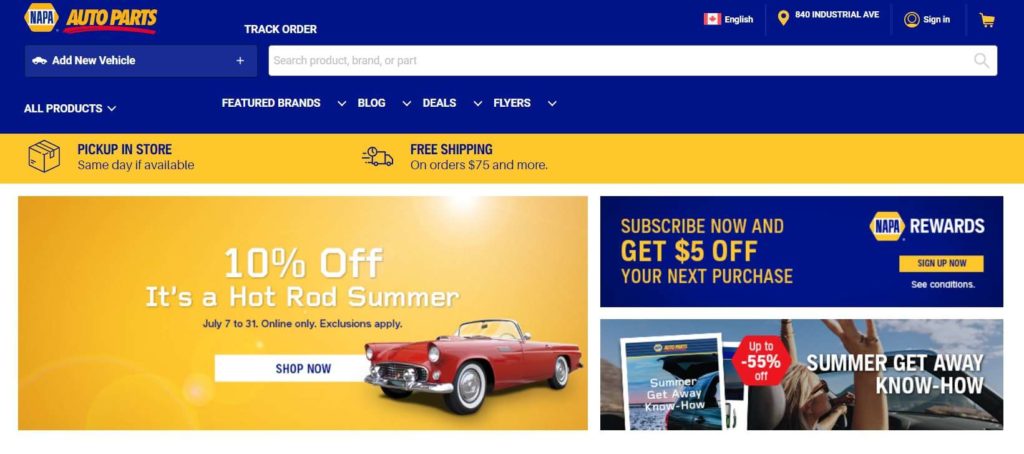 Test
Info
SERVICES
Car Accessories, Coating, Upfitting, Rust Protection, Leer Caps, Window Tinting, Truck Accessories
WEBSITE
https://www.napacanada.com/
ADDRESS
840 Industrial Ave, Ottawa, ON K1G 4B8, Canada
CONTACT DETAILS
613-244-3507
OPERATING HOURS
Monday 7:30AM–4PM

Tuesday 7:30AM–4PM

Wednesday 7:30AM–4PM

Thursday 7:30AM–4PM

Friday 7:30AM–4PM

Saturday 8AM–12PM

Sunday Closed
| | |
| --- | --- |
| Criteria | Ratings |
| Price | ★★★★✩ (4/5) |
| Location | ★★★★★ (5/5) |
| Services | ★★★★★ (5/5) |
| Selection | ★★★★★ (5/5) |
NAPA is a great choice for your car needs simply because of its many locations. Having a car means you will find yourself in many different places in the country, so with various shops for repair, accessories, and other vehicle needs, NAPA provides you with convenience.
The company boasts a stock of around 500,000 quality parts that are all essential to your vehicle, especially if you want to keep it maintained. Among these parts are the basics such as brakes, filters, batteries, steering suspension, car wash supplies, and more.
NAPA also offers seasonal discounts. As of writing, there is a 10% off discount on its many products because of its seasonal summer sale. It's a great choice for anyone in need of car accessories, car parts, car wash services, and even repairs at affordable price points.
The company also has its own online store where customers can order accessories and car parts and have them delivered right to their doorstep. We are really impressed with NAPA's focus on convenience, saving it a spot on our list.
Overall, the only downside we see with this company is its prices which can be high, despite the seasonal sales. If your budget can handle the load, then, by all means, go with NAPA.
But if not, there are other good choices for you on this list.
Has multiple locations all over Canada
Offer delivery services
Offers discounts and deals
Various car parts and accessories in stock
Has an online store
Customer Reviews
Worth the price
"My first time here, much better than Caps. Twice I had to return brake parts to Caps. NAPA gave me the correct parts the first time. Fast friendly staff. This will be my parts place from now on. A bit more expensive than Caps but didn't have to return parts." – Louis B.
Great service
"I dealt with Kervin who spent 40 minutes on the phone with me trying to help me get the best price for my control arms. I ended up purchasing two good quality control arms for half the price I could find anywhere else. I definitely recommend going here if you want great service and great prices" – Jess Bell
2. Capital Auto Parts Ottawa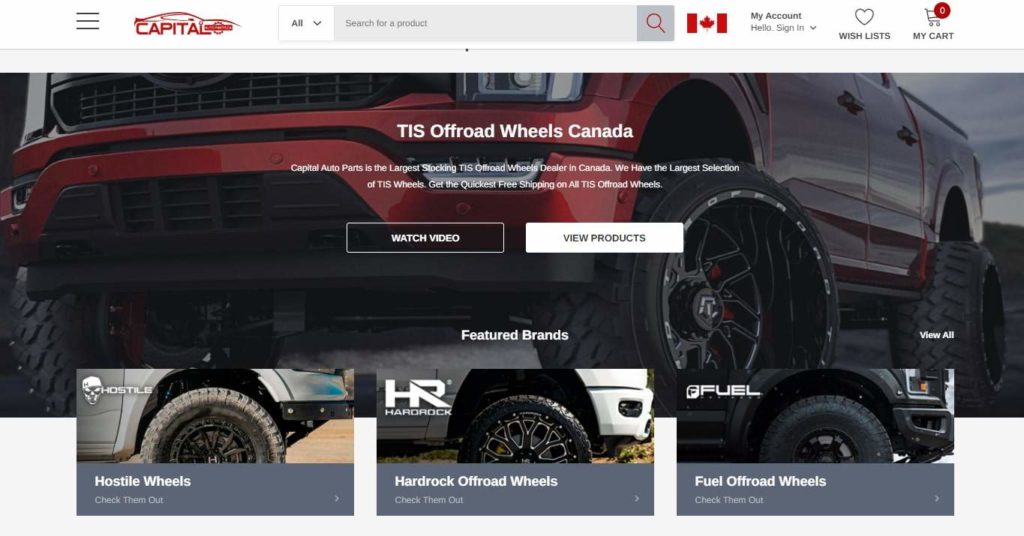 Test
Info
SERVICES
Car Accessories, Wheels, Tires
WEBSITE
https://capitalautoparts.ca/
ADDRESS
1720 Bank St #1, Ottawa, ON K1V 7Y6, Canada
CONTACT DETAILS
866-461-2787
OPERATING HOURS
Monday 8AM–5PM

Tuesday 8AM–5PM

Wednesday 8AM–5PM

Thursday 8AM–5PM

Friday 8AM–5PM

Saturday Closed

Sunday Closed
| | |
| --- | --- |
| Criteria | Ratings |
| Price | ★★★★★ (5/5) |
| Location | ★★★★★ (5/5) |
| Services | ★★★★★ (5/5) |
| Selection | ★★★★★ (5/5) |
Capital Auto Parts is another solid choice for your car accessory needs. It has been supplying and delivering car parts since 1967, making us confident in its experience.
It has its own repair center with professional car engineers that can take a look at your vehicle in case of issues.
Aside from a repair center, Capital also has a help center that customers can contact for help installing any accessories bought and received from Capital.
We are big fans of the customer service that the company is able to provide. This just shows that even if you don't know much about cars, it is still there to assist you with your needs.
There are delivery options available because the company has its own online store. Customers who want to order specific parts and accessories but don't want to visit the store can just go online and have everything delivered in a few days.
We believe that convenience is very important when it comes to dealing with customers, and Capital has done a good job with that as well.
Overall, the only issue we have with this store is its supply of other car parts. Most of the products it has are for wheels and tires only and this can be an issue for customers with other needs.
Has multiple brands available
Promotional discounts
Has an online store with delivery options
Help center
Also does repairs and installations
Mostly sells wheels and tires only
Pricey
Customer Reviews
Great service
"Outstanding customer service, very helpful at the counter. Very knowledgeable service team." – Shane Delorme
Helpful staff
"Friendly, helpful staff and they had exactly what I was looking for on multiple occasions." – Scott Sherry
3. A-16 Automotive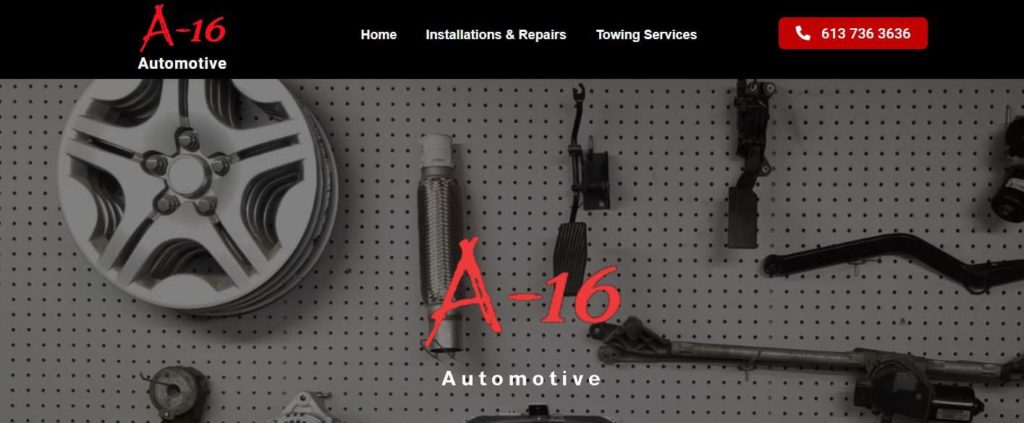 Test
Info
SERVICES
Car Accessories, Accessory Installation, Auto Parts, Towing Services
WEBSITE
http://www.a16automotive.ca/
ADDRESS
1756 Bantree St, Ottawa, ON K1B 3W4, Canada
CONTACT DETAILS
613-736-3636
OPERATING HOURS
Monday 9AM–5PM

Tuesday 9AM–5PM

Wednesday 9AM–5PM

Thursday 9AM–5PM

Friday 9AM–5PM

Saturday Closed

Sunday Closed
| | |
| --- | --- |
| Criteria | Ratings |
| Price | ★★★★✩ (4/5) |
| Location | ★★★★★ (5/5) |
| Services | ★★★★★ (5/5) |
| Selection | ★★★★✩ (4/5) |
A-16 has been supplying automobile parts and accessories since 1991 — it's one of the oldest companies on our list.
The company is known for supplying accessories from established and known brands such as Toyota, Volvo, Mazda, Nissan, and more. Its inventory is from OEM or the Original Equipment Manufacturer, so you know they're legit.
If you're not too confident with handling car parts and accessories, the company has its own installation center where its employees will help you install the stuff you've purchased.
It also has professionals who are experienced when it comes to car repair and accessorizing, so you'll get the expert assistance you need here.
The company also has towing services in case you need your car picked up somewhere.
A-16 is available for repurposing old parts from older vehicles. If you have parts that you think can still work, the company can take them off your hands, which is great for both you and the environment.
Overall, the only issue we have with A-16 is the fact that it doesn't have an online store. Its website is a bit outdated and lacks complete information.
Other than that, everything is good and the company definitely deserves a spot on our list.
Repurposes old parts
Installs parts for you
Also has repair and towing services
No online store
Outdated website
Customer Reviews
Considerate and honest
"Very personable, honest, caring and very considerate dealing with their customers. Price is fair and owner will go beyond to ensure the customer's needs are met. – U. Samuel
Speedy services
"I'm not one to ever buy used parts but I was highly recommended to this establishment for a part for my 2013 MDX. When I first got to the location I never mentioned I was referred. The gentleman at the front desk was on the phone and seemed extremely busy, he paused and greeted me right away. I told him my Issue and within seconds he was on his walkie talkie requesting my part. I was honestly amazed. He then asked if I needed it installed. Being that he had no clue who I was, to be so attentive made me a very satisfied returning customer for sure. I have recommended them several times since then!! Great place!!" – Mia Kaz
4. Action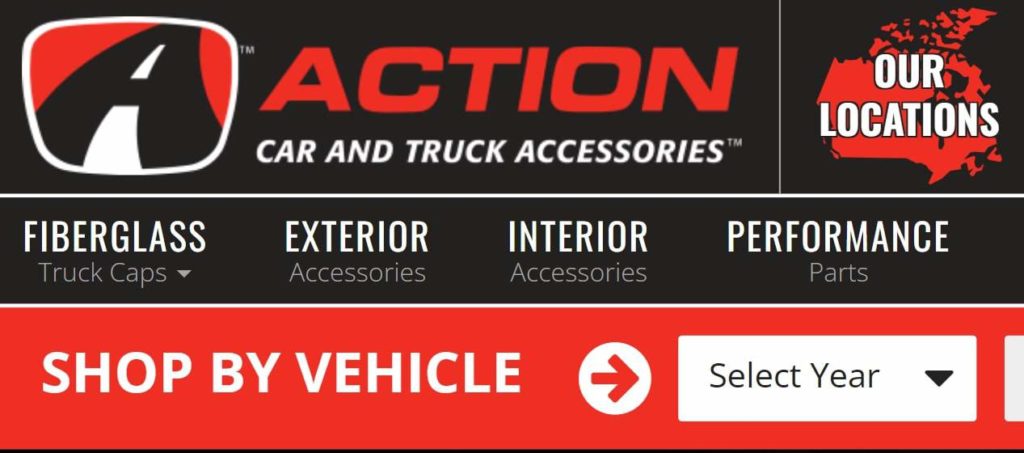 Test
Info
SERVICES
Fiberglass Car Caps, Exterior Accessories, Interior Accessories, Performance Parts, Suspension Parts, Installation of Parts, Lighting Installation
WEBSITE
https://www.actiontrucks.com/ottawa-ontario-location
ADDRESS
1380 Cyrville Rd, Ottawa, ON K1B 3L9, Canada
CONTACT DETAILS
613-738-7777
OPERATING HOURS
Monday 8AM–6PM

Tuesday 8AM–6PM

Wednesday 8AM–6PM

Thursday 8AM–6PM

Friday 8AM–6PM

Saturday 9AM–3PM

Sunday Closed
| | |
| --- | --- |
| Criteria | Ratings |
| Price | ★★★★★ (5/5) |
| Location | ★★★★★ (5/5) |
| Services | ★★★★✩ (4/5) |
| Selection | ★★★★✩ (4/5) |
Established in 1980, Action is also a very experienced company when it comes to car accessories. It has a large store and has made quite a name for itself in Ottawa.
As a big company, it's surprising it is willing to get personal with its customers. Action helps them learn how to install these accessories correctly and even provides maintenance tips.
The company understands that many people who own cars don't actually know how to repair them. So it aims to change this by not only supplying accessories and parts but also educating drivers on how things are done.
Other than car accessories, Action also offers parts for vans and even larger vehicles such as trucks and buses. Its versatility is impressive, which is one of the reasons it's on our list.
The company also has its own online store. Its delivery options add convenience, as customers can get their purchased accessories right on their doorstep.
The only issue we have with Action is its limited supply of accessories. Many of the displayed items on the online store are sold out and a waiting time is needed for restocking.
Overall, it's still a solid choice for car accessories and is a company for you to consider.
Connected with other suppliers
Also sells parts for other vehicles
Has an online store
Educates clients on car parts, repairs, and maintenance
Customer Reviews
Fast delivery
"It was very simple and quick local delivery in Victoria BC via their website." – JD
Great choices
"Easy straight forward shopping, well designed website that confirms the fit of the products. Brand name products from reputable manufacturers." – Daniel O
5. Automotive Outfitters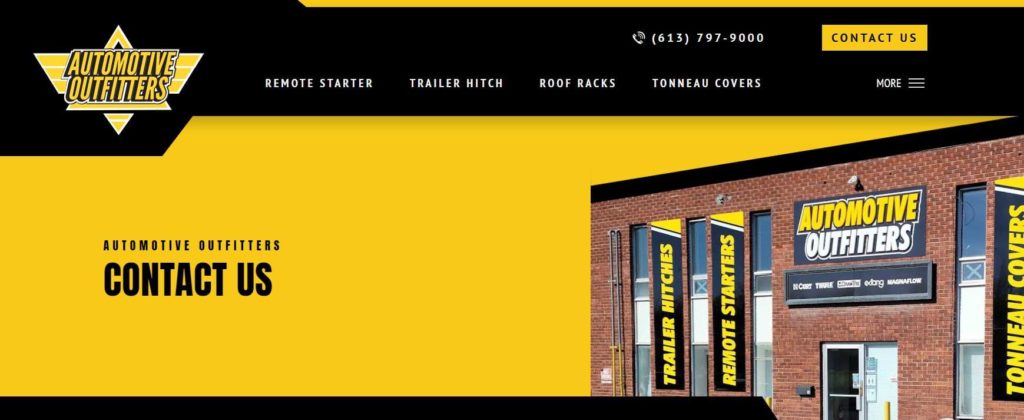 Test
Info
SERVICES
Car Remote Starter, Trailer Hitch, Roof Racks, Tonneau Covers, Car and Car Accessory Installation
WEBSITE
https://automotiveoutfitters.ca/
ADDRESS
3326 Limebank Rd Unit 5A, Ottawa, ON K1V 1H2, Canada
CONTACT DETAILS
613-797-9000
OPERATING HOURS
Monday 9AM–5PM

Tuesday 9AM–5PM

Wednesday 9AM–5PM

Thursday 9AM–5PM

Friday 9AM–5PM

Saturday 10AM–4PM

Sunday Closed
| | |
| --- | --- |
| Criteria | Ratings |
| Price | ★★★★✩ (4/5) |
| Location | ★★★★★ (5/5) |
| Services | ★★★★★ (5/5) |
| Selection | ★★★★✩ (4/5) |
Automotive Outfitters is a car accessory installation company based in Ottawa. It has a long history of working with well-known brands such as Weather Tech, Stealth, Extang, Curt, and others.
This company's impressive selection of car accessories is what we like about it. Dash cams, inflaters, tool kits, and other accessories are available to help you drive better and safer.
To enhance its customers' driving experience, the company also offers a good selection of electronic accessories such as rear sensors and rear cameras.
It has over 15 years of experience not only selling accessories but also assisting customers with installation. You can have its technicians install your newly bought accessories after checking out.
The store is also in an easily accessible location, making supply pickups a breeze.
Overall, the only disadvantages of Automotive Outfitters are that some of its accessories, particularly electronic ones, can be expensive. It also lacks an online store, so you must pick up your order from the company's garage.
Having said that, we still believe Automotive Outfitters is one of the best options for car accessories in the city because of the great selection and services it provides, as well as the easy pickup option.
If you are looking for quality car accessories, this company is a good choice.
In-home installation services
Also installs electronic accessories
Free quote for its services
Accessible location
Customer Reviews
Recommended
"Would definitely recommend Automotive Outfitters for all of your trailer needs! They did a great job installing the wiring for the trailer on my mini (which is a difficult task) and even stayed late on a Friday to make sure I was comfortable with everything. Five stars all around! Thanks guys!" – Mary Whiting
Job well done
"Just got a hitch and wiring harness installed on my 2019 Audi SQ5. The team at Automotive Outfitters have been great to deal with all along the way, taking the time to explain how things work and being friendly and sociable once I visited their shob. They did a great job installing the hitch on my Audi. Not a lot of shops would work on an Audi due to the complications associated with the installation but they've installed so many of it that quote on quote they don't even have to look at the instructions. Highly recommend them and I will be back for any additional needs." – Mizo
FAQs about Car Accessories in Ottawa
---
There you have it with our car accessories suppliers list. We hope you found our reviews helpful.
If you're in the middle of a car upgrade or maintenance project, you should also align your wheels. Read our article on the best wheel alignment services in Ottawa!