The 5 Best Buffet Restaurants in Ottawa
Eating out means different things to different people. It's a form of self-care for some people while for others it's a time to socialize with family and friends.
Knowing the best buffet restaurants in Ottawa can help you enjoy eating out more. With different kinds of foods to choose from, you can have a different experience every time.
Of course, before you head out to the restaurant of your choice, you must be in the know of how much you need to prepare to enjoy a meal. The next section will give you an idea.
How much do buffet meals cost in Ottawa?
The costs of buffet meals depend on their inclusion. Buffets with more choices of courses cost more than those with fewer options.
Buffets usually charge only half or a fraction of the original price for children. Of course, senior citizens enjoy some discounts too.
For some, the location is also a factor in how they price their meals—with restaurants in upscale areas charging more. Lastly, weekends and dinners (where there is expected to have more customers) have higher rates than weekdays or other meal times.
The table below shows the estimated prices of the buffet meals of some of our entries.
| BUFFET RESTAURANT | ESTIMATED PRICE |
| --- | --- |
| Mongolian Village West Grill | All-you-can-load one bowl |
| | |
| | Monday to Thursday: |
| | Before 3 PM $15.99 |
| | After 3 PM $19.99 |
| | |
| | Friday to Sunday, Holiday |
| | Before 3 PM $21.99 |
| | After 3 PM $26.99 |
| Korean House | All-you-can-eat dinner |
| | $31.95 |
| Mandarin Restaurant | Buffet (Friday to Sunday) |
| | Brunch $25.99 |
| | Dinner $35.99 |
These rates are what is reflected in their websites as of writing. It's still best to drop them a message or a call to have more accurate prices.
The Best Buffet Restaurants in Ottawa
Knowing the best buffet restaurants in Ottawa is helpful for times that you wish to destress, experience something new, or celebrate special occasions.
The top ones in their industry share common characteristics. Here are some guidelines we used to handpick our entries.
1. Wilfrid's Restaurant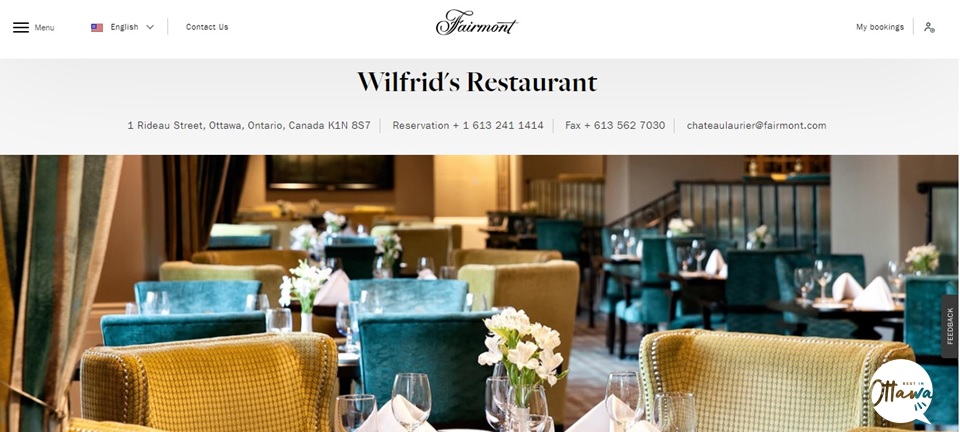 Test
Info
SERVICES
A la Carte breakfast, family-style weekend brunch, Wilfrid's butchery menu
WEBSITE
https://www.fairmont.com/laurier-ottawa/dining/wilfrids/
ADDRESS
1 Rideau Street, Ottawa, Ontario, Canada K1N 8S7
CONTACT DETAILS
(613) 241 1414
OPERATING HOURS
Monday to Friday 8 AM to 11 AM

Saturday 8 AM to 3 PM, 5 PM to 10 PM

Sunday 8 AM to 3 PM
| | |
| --- | --- |
| Criteria | Ratings |
| Selection of food | ★★★★✩ (4/5) |
| • Variety | ★★★★★ (5/5) |
| • Inclusion | ★★★★✩ (4//5) |
| Price point | ★★★✩✩ (3/5) |
| Availability | ★★★✩✩ (3/5) |
| Customer service | ★★★★✩ (4/5) |
| • Promptness | ★★★✩✩ (4/5) |
| • Friendliness | ★★★★✩ (4/5) |
Wilfrid's is located inside the Fairmont Chateau Laurier or more commonly called Ottawa's castle. As such, when you dine in this restaurant, you can expect a high-end vibe to the place.
What makes this restaurant stand out from other buffet restaurants is how you can see the magnificent views of Parliament Hill and Rideau Canal as you enjoy your meal. The picturesque views may help you relish your food more.
Due to the pandemic, they have to change their brunch and dinner buffet to a 4-course or 5-course sitdown meal. Based on the experiences of customers we talked to, the quantity of these courses is generous enough to be compared to a buffet meal.
We appreciate the fact that they have rotating menus that showcase local produce and Canadian cuisines. You don't have to worry if you're a vegan, as they offer plant-based menus as well.
You can make an informed choice before booking a reservation because you can download the menu for the weekend on their website. Though, if you're not that familiar with the terms, the menu may still baffle you a bit (or you can run a quick browse on the internet to help you).
One downside of this buffet restaurant is that they only have brunch and dinner available during weekends. For weekdays, you can only enjoy their breakfast buffet.
Speaking of which, this part of their offerings, unfortunately, received some negative feedback. Some dissatisfied customers commented on how the foods for breakfast are stale or cold.
The quality of some brunch and dinner selections also didn't escape a few criticisms. In our opinion, Wilfrid's must work on the consistency of the quality of food that goes out of their kitchen.
Their customer service could also use some improvements with regards to promptness, as shared by some of our sources. With the relatively steep prices that customers pay, they expect a grand treatment that can contribute to an unforgettable dining experience.
Has a wonderful view
Offers rotating menus
Plant-based menu is available
Locally-sourced ingredients
Prices on the steep side
Dinner only served during weekends
Some complaints on customer service and quality of food
Customer Reviews
Amazing variety
"Best Sunday brunch buffet I've been to. Amazing variety and their selection of cheese is sinful!" — Antonya De La Cruz
Looking forward to the next taste adventure
"The Chateau Laurier staff lived up to their excellent reputation of attentive professionalism. When my friend and I arrived for her birthday supper at Wilfred's, we were greeted by a welcoming and helpful Ambassador. Wilfred's hostess brought us to our table, where we were immediately attended to by our waiter, who took our drink order and explained how the tasting menu worked. We were impressed by the waitstaff who not only described each course they delivered, but also replaced the cutlery for every course so that the flavors of one would not mix with the next. Every course brought to us was absolutely flavorful and delicious. Our taste buds exploded with each bite. It was as if the chef knew us personally and had specifically chosen every dish and ingredient just for us. Our tongues explored every nuance of taste and our palates were never sated, always crying out for more, so happy in the knowledge that more deliciousness was on its way. Finally, with the last bite of the mini pastries, we were filled to the brim with contented satisfaction. We had barely finished our last bite, when we started planning our return to Wilfred's and were already looking forward to the next taste adventure." — Josee
2. Mongolian Village Grill West Ottawa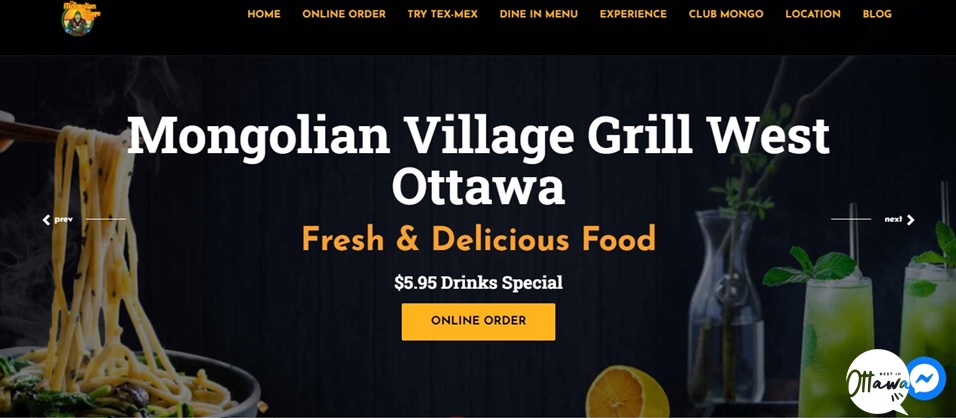 Test
Info
SERVICES
All-you-can-load one bowl, online order, Tex-Mex
WEBSITE
https://www.mongolianvillagewest.ca/
ADDRESS
2150 Robertson Rd, Nepean, ON- K2H 9S1
CONTACT DETAILS
(613) 801-2720
OPERATING HOURS
Sunday to Thursday 12 NN to 9 PM

Friday and Saturday 12 NN to 10 PM
| | |
| --- | --- |
| Criteria | Ratings |
| Selection of food | ★★★★★ (5/5) |
| • Variety | ★★★★★ (5/5) |
| • Inclusion | ★★★★★ (5/5) |
| Price point | ★★★★✩ (4/5) |
| Availability | ★★★★✩ (4/5) |
| Customer service | ★★★★✩ (4/5) |
| • Promptness | ★★★✩✩ (3/5) |
| • Friendliness | ★★★★✩ (4/5) |
If you're craving something Asian and would like to heap your own ingredients, you may want to drop by Mongolian Village Grill. Their all-you-can-load bowl is something that first-time guests and loyal patrons are eager to try.
We also love this idea of just grabbing a bowl and filling it with fresh, local ingredients that are delivered daily in the restaurant. You can assemble it according to your preference (and dietary restrictions, if any).
They have choices of protein, vegetables, noodles, and sauces that you can mix and match. You can go all-meat, all-vegan, gluten-free, or Keto, if you wish.
The next step after you have assembled your bowl is to have a grill master stir-fry the contents of your bowl in front of you. Then, you may enjoy it along with the unlimited soup and rice that comes with the deal.
If you're not a fan of Asian cuisine, it would come as good news to you that they also have Tex-Mex choices on their menu. You can feast on quesadillas, burritos, tacos, and tortillas (though this isn't part of the all-you-can-load bowl).
You also don't have to worry if you want to bring kids along with you. Mongolian Village Grill has a menu meant for kids which includes tacos, chicken wings, chocolate milk, ice cream, among many others.
One letdown, though, is that they are only open starting lunchtime. Thus, if you're looking for a hearty breakfast, this restaurant won't qualify on your list.
Also, Mongolian Village Grill isn't free from negative feedback. Based on what we have gathered with some of their customers, they wanted the restaurant to step up on food quality consistency and the long waiting time.
Unlimited soup and rice included
Has a wide selection of food
Offers a kids' menu
Locally-sourced ingredients
Not open for breakfast
Some complaints on food quality and waiting time
Customer Reviews
Love the idea of customized noodle bowls
" Really enjoyed my experience here, and the food was very nice! It was so awesome watching my food get cooked on the grill with fresh ingredients! Love how easy to get customized noodle bowls! And staffs were super friendly and attentive. Also, so excited to try the new Tex Mex dishes next time!!! It looks so good!" —Lisa
Happy with a full belly
"This venue has tons of delicious meat options as well, but if you're vegetarian or know someone vegetarian, this is an amazing spot that has not only GOOD options (lots of restaurants only offer one vegetarian/vegan meal on their menu) but there are MANY different options that are also wholesome, packed with protein, flavourful and healthy! As for the vibe, service was amazing, tables were properly distanced, pricing was great, we felt safe and comfortable, left happy with full bellies!" — Amanda Redway
3. Korean House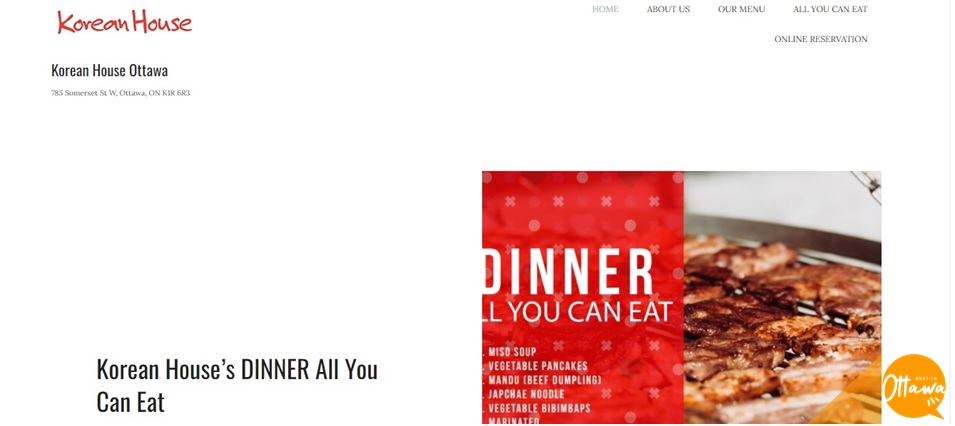 Test
Info
SERVICES
All-you-can-eat lunch, all-you-can-eat dinner, regular order, table BBQ
WEBSITE
https://koreanhouse.ca/
ADDRESS
785 Somerset St W, Ottawa, ON K1R 6R3
CONTACT DETAILS
(613) 237-0808
OPERATING HOURS
Monday to Tuesday 11:30 AM to 8:30 PM

Thursday to Sunday 11:30 AM to 8:30 PM
| | |
| --- | --- |
| Criteria | Ratings |
| Selection of food | ★★★★✩ (4/5) |
| • Variety | ★★★★✩ (4/5) |
| • Inclusion | ★★★★✩ (4/5) |
| Price point | ★★★★✩ (4/5) |
| Availability | ★★★★✩ (4/5) |
| Customer service | ★★★★✩ (4/5) |
| • Promptness | ★★★★✩ (4/5) |
| • Friendliness | ★★★★✩ (4/5) |
If you're on the lookout for a laidback atmosphere and hearty servings of Korean food, dropping by the Korean House in Somerset Street would be a good idea.
This restaurant offers the staples of Korean cuisine such as bulgogi, bibimbap, spicy soups, and noodles, among many others. We only wish that they can update their website to give more information about these dishes and add more appetizing pictures as well.
We love that they get their produce from local suppliers daily. Thus, customers can always be assured of fresh raw ingredients that are used in their dishes.
You can feast on their all-you-can-eat lunch or dinner if you want to enjoy sumptuous servings. It's also fine if you wish to go for regular orders only.
For their AYCE (all-you-can-eat) meals, you can dig in on a variety of dishes such as beef dumplings, marinated meat, miso soup, ribs, vegetable pancakes, noodles, and seafood. It's unfortunate though, that only a plate of seafood and a plate of short ribs are allowed per table in an AYCE set-up.
Another downside to the Korean House is that they are closed on Wednesdays. If you have a special occasion that you want to celebrate and it falls on this day, then you have to just look elsewhere.
It's also unfortunate that the Korean House holds its fair share of negative feedback from previous customers. From what we have gathered, these complaints range from poor customer service to inconsistency of food quality.
In our opinion, the restaurant should take note of such criticisms (no matter how scarce they are). These kinds of issues could make potential customers have second thoughts on trying out their services.
Locally-sourced ingredients
Has many inclusions in the all-you-can-eat meals
Closed on Wednesdays
Some limitations on their all-you-can-eat orders
Some complaints on customer service and quality of food
Customer Reviews
Enjoyed my meal
"I was very impressed with this restaurant. From main dish to side dishes, they were all delicious with right taste and quality. I throughly enjoyed my meal. The staffs were also very friendly. Korean-approved!" —Michelle Lee
Feels like home
"Honestly one of the best Korean restaurants in Ottawa. Having come from Korea myself, I enjoyed all the food, and I enjoyed the way Canada has the ability to express so many cultures in a way that feels like home when one enters the country. Staff and employees were terrific and extremely kind! Keep up the amazing work!" —Ae-Ri Kim
4. Mandarin Restaurant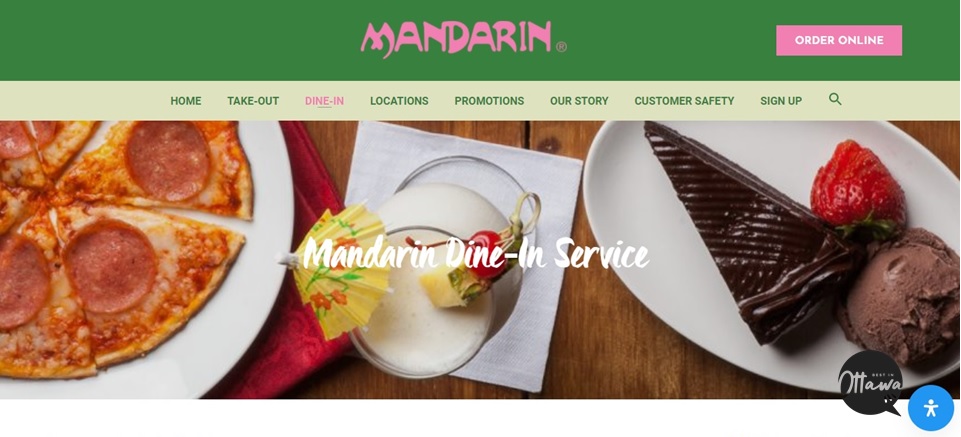 Test
Info
SERVICES
Buffet dine-in, Mandarin Small Eats, take-out
WEBSITE
https://www.mandarinrestaurant.com/
ADDRESS
150B Katimavik Road Ottawa Ontario K2L 2N2
CONTACT DETAILS
(613) 271-6000
OPERATING HOURS
Sunday to Thursday 11:30 AM to 9:30 PM

Friday to Saturday 11:30 AM to 10:30 PM
| | |
| --- | --- |
| Criteria | Ratings |
| Selection of food | ★★★★★ (5/5) |
| • Variety | ★★★★★ (5/5) |
| • Inclusion | ★★★★★ (5/5) |
| Price point | ★★★★✩ (4/5) |
| Availability | ★★★★✩ (4/5) |
| Customer service | ★★★★✩ (4/5) |
| • Promptness | ★★★★✩ (4/5) |
| • Friendliness | ★★★★★ (5/5) |
Mandarin Restaurant has 29 locations in the whole of Ontario. Ottawan residents can choose among the Orleans, Kanata, or Nepean branches.
This restaurant offers two kinds of dine-in experiences. The first is Small Eats which are available from Mondays to Thursdays.
If you wish to sample plated and small servings only of their dishes (around 70 kinds), Small Eats is your best bet. Whatever you order is served at your table.
You don't have to worry because you can share these dishes with your companions. You can even take home whatever you have left.
However, if you want large servings, you may opt for their buffet meals available from Fridays to Sundays.
Here, you can dig into around 150 food items. Some of them include salads, chilled seafood, soups, noodles, steaks, sushi, pizzas, dessert, among many others.
Another good news is that Mandarin offers a 20% buffet discount for senior citizens. Children between 5-12 years old enjoy 50% off, while those 4 years and under eat for free.
With such offerings, it's unfortunate that they don't serve breakfast. It would have been a welcome treat to start the day with a sumptuous meal.
Another letdown is that there are strong negative remarks we've gathered from their unsatisfied customers. According to them, the taste and quality of food leave nothing to be desired.
Their take-out orders also have their fair share of criticisms. In our opinion, Mandarin should work on these areas because consistency is everything in the food industry.
Has three locations in Ottawa
Offers discounts for seniors and children
Has a wide selection of food
Take-home food is allowed in Small Eats
Does not serve breakfast
Some complaints on food quality and take out orders
Customer Review
Will come back for sure
"Good place to have open buffet with family, good respect of social distancing and hygiene,excellent costumer service , will be perfect to add halal beef /mouton , will come back for sure. " —Mounir Fahmi
Toddler-approved
"Beautiful restaurant with a variety of food. We were 2 adults with 1 toddler. We tried a little bit of everything but our favourite items were the Teriyaki meatballs, the General Tao chicken, torpedo shrimp and the noodles. Even our toddler loved the food especially the chicken, the torpedo shrimp, broccoli , and the crispy fries. Our waitress Christina was very nice and always made sure we had everything we needed. They did a COVID-19 screening at the entrance and took our temperature. They had arrows on the floor to show the direction around the buffet tables and they had sanitizer and gloves near the buffet." —Dassine Azouaoui
5. The Green Door Restaurant and Bakery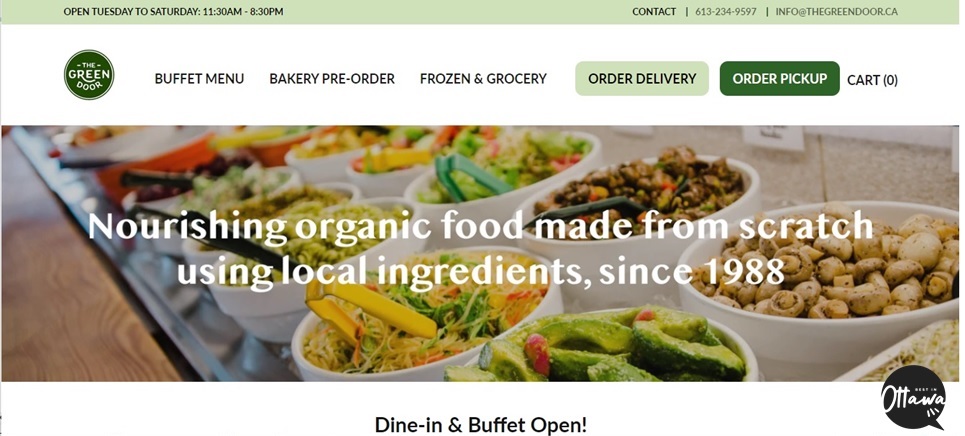 | Test | Info |
| --- | --- |
| SERVICES | Buffet, frozen meals, bakery, take-out, delivery |
| WEBSITE | https://www.thegreendoor.ca/ |
| ADDRESS | 198 Main St, Ottawa, ON K1S 1C6, Canada |
| CONTACT DETAILS | (613) 234-9597 |
| OPERATING HOURS | Tuesday to Saturday 11:30 AM to 8:30 PM |
| | |
| --- | --- |
| Criteria | Ratings |
| Selection of food | ★★★★✩ (4/5) |
| • Variety | ★★★★✩ (4/5) |
| • Inclusion | ★★★★✩ (4/5) |
| Price point | ★★★✩✩ (3/5) |
| Availability | ★★★✩✩ (3/5) |
| Customer service | ★★★★✩ (4/5) |
| • Promptness | ★★★★✩ (4/5) |
| • Friendliness | ★★★★★ (5/5) |
Now, here's a place of choice for vegan customers. Green Door has a wide selection of vegetarian dishes such as mushroom spinach lasagna, cauliflower bechamel, eggplant ratatouille, vegetable salads, and mashed potato kale, among many others.
We love the fact that they get their ingredients from local suppliers. This ensures that what you have on your plate is fresh and in season.
They also have an in-house bakery that offers gluten-free, vegan, or unsweetened cakes and pies. You can enjoy traditional flavors with a healthier twist.
Unlike other buffet restaurants, Green Door operates on a first-come, first-serve basis. This set-up could work both ways.
It could be advantageous when you have sudden cravings and you know you can drop by and be welcomed. However, you may have to endure a long waiting time if you came in a busy hour.
Green Door's buffet works on a pay-by-weight system. In our opinion, this is a smart way to prevent food wastage.
Unfortunately, according to some clients we have talked to, the base price is not that cheap. They also added that the quality of the food falls short of the price that they have to pay it with.
Another letdown is that Green Door doesn't operate on Sundays and Mondays. In our opinion, Sundays are opportune times for people to enjoy the company of each other along with good food.
Offers vegan and gluten-free choices
Locally-sourced ingredients
Operates on a first-come, first-serve basis
Has an in-house bakery
Pay-by-weight buffet
Closed on Sunday and Monday
Some complaints on food quality based on its price
Customer Review
A favorite for three decades
"Always a favorite for 30 years. Good variety of salads and hot dishes, tempting desserts and organic wines. Simple flavorful healthy cuisine, friendly service and comfortable bright dining room. Easy to park nearby." —Aline Maurel
A good place for vegan food
"The Green Door is the only restaurant where my friends and I can all eat. They label allergens with great care, and have the most tasty vegetarian/vegan food I ever had. Love the place, love the french-speaking staff, love the food. Definitely an Ottawa staple!" —Benjamin Ross
FAQs about Buffets in Ottawa
---
With the best buffet restaurants in Ottawa, you would always have a delightful gustatory experience to add to your memories. You would find yourself looking forward to eating out—whether it be on your own, with a significant other, or a group of people.
Have you visited another premier buffet restaurant in Ottawa? Please let us know what we missed by sending us your recommendations.
Going to a buffet is an excellent way to spend more time with a special someone. You can also browse the best date ideas in Ottawa to see more activities that you could try.